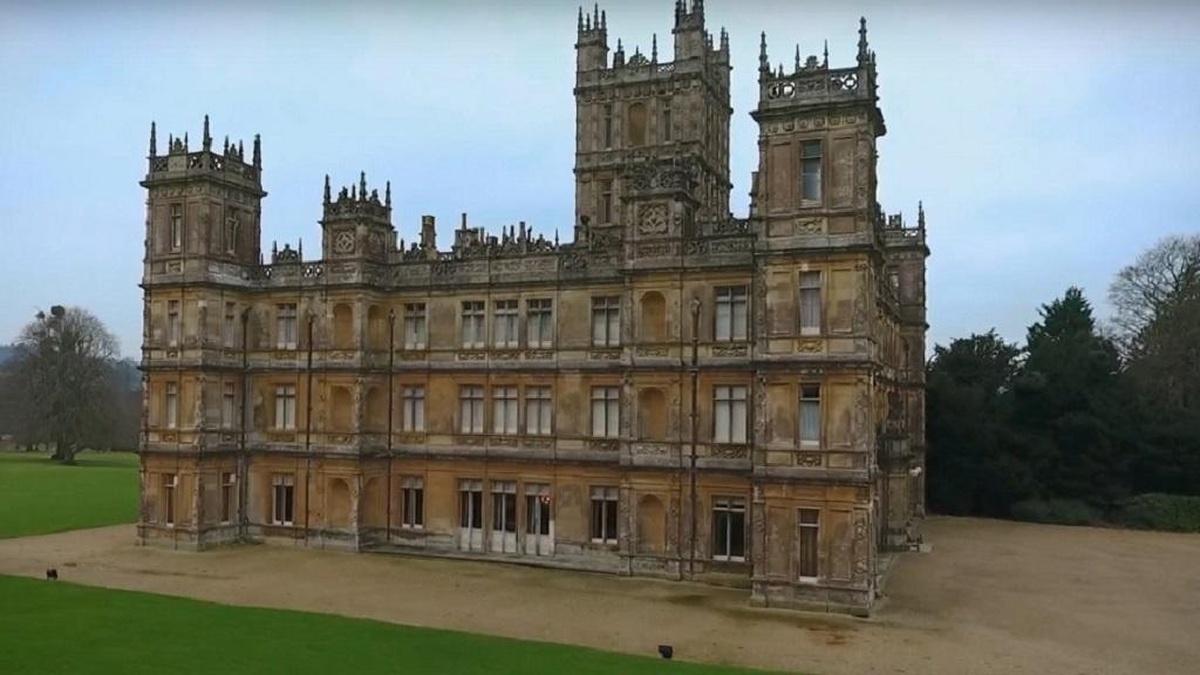 FULL EPISODE
Highclere Castle
Host Holly Holden accepts an invitation from Lady Carnarvon to visit Highclere Castle, which served as the main filming location for the beloved drama "Downton Abbey." Follow Holly on an intimate tour of the castle.
TRANSCRIPT

♪♪

ploring Europe by river,

historic panoramas unfold.

♪♪

Learn more at Viking Cruises dot com.

♪♪

(Intercom audio) Mrs. Holden is on her way up.

Okay, thank you, I'm on my way.

(Sound of heavy door knocker)

Hello, Mrs. Holden.

Hello, Louis, it's lovely to see you again.

Nice to see you, too. Come in.

Thank you.

(Holly) As an interior designer,

I've had the distinct pleasure of being invited to some

of the world's most renowned private houses,

each one distinguished by its celebrated architecture

and landscape, and today is no exception.

I'll take the hat from you?

Oh, certainly.

Thank you so much.

Lady Carnarvon will be with you shortly.

Thank you.

These exemplary houses have their own unique

features and fascinating history.

I truly enjoy looking for the distinctive elements

that contribute to making these houses so remarkable.

We've been invited to Highclere Castle,

the ancestral home of the Carnarvon family.

In just a moment I'll be joined by the

8th Countess of Carnarvon.

She's a bestselling author, an entrepreneur,

and the chatelaine of Highclere.

She lives here with her husband the Earl,

and their house is Highclere Castle.

It is quintessentially English.

Set on over 1,000 acres of parkland, a building has

stood here since the 1300s, though the iconic

castle that you see today was designed in the 1840s

by Sir Charles Barry.

This is the saloon at the center of the castle,

and I mean saloon in the sense of a large hall,

not a bar from the Wild West.

This is an exuberant room.

Gothic stonework lifts the ceiling to soaring heights

as an abundance of natural light streams down from

the skylights 50 feet above.

Lady Carnarvon and her husband have taken on the

major responsibility of preserving and maintaining

their family home, a demanding endeavor indeed.

Oh, I think I hear some footsteps.

Hello, Holly, how lovely to see you.

Fiona!

What a treat.

Lovely to see you.

Thank you for having me.

This is such a treat.

I was just discussing how comfortable this room-

you've made it so inviting for such a grand space.

(Lady Carnarvon) It is a large space, isn't it?

There's a great sense of symmetry in the room

between the wall lamps and the vases and the Antwerp cabinets.

I think that also adds to the inviting atmosphere.

(Lady Carnarvon) It's the architecture and

the symmetry of the house, what is key.

So whenever I'm working in trying to do up or make a

room cozy and comfortable I'm always respecting

Sir Charles Barry, his vision, his work.

(Holly) The renowned architect

Sir Charles Barry, who is most noted for the design of the

British Houses of Parliament, was commissioned in 1838 by

the 3rd Earl to transform Highclere's existing

Georgian mansion into a dramatic neo-Jacobean castle.

The 3rd Earl of Carnarvon in the painting there,

he was the man who commissioned Sir Charles Barry.

So this is their house and I'm just carrying on.

So I'm looking back whilst I'm trying to make it work today.

And he is placed upon the magnificent cordovan

leather panels.

They are extraordinary, aren't they?

They're dated from we think 1661, and I've done

some research, and they were actually covered in

silver gilt and then on top of that they were painted,

then they were gilded and they were embossed.

They're here and they're amazing and I don't really

do anything to them, that's the main secret,

don't touch.

(Holly) Don't touch.

With a castle that encompasses 30,000 square

feet and hundreds of rooms, the decorating and

refurbishment demands are endless.

Highclere is most fortunate to have Lady Carnarvon

looking after it.

I hope it's warm.

This is a new carpet we had made.

We've re-covered the chairs and the ottomans

and you can sit in it with a newspaper and have a cup of tea.

So do you find yourself sitting in here having tea?

Not enough.

But it's a very good place to be.

And then all the lampshades, these, I've

found these around the castle and had them wired

for light and then we've had about 140 lampshades

big and large made over a couple of years.

This room is such a splendid introduction to the castle.

I can't wait to learn more.

Well, I'll be delighted to take you around some more

of the rooms but first of all I've got a surprise.

We're going to meet Lara and Frankie.

So really, follow me.

Ooh, yes, I will.

(Holly) Before meeting these

surprise guests, Lady Carnarvon leads me through

the hallway and out into the courtyard.

Behind me is the original façade of the castle,

untouched by Sir Charles Barry's 19th century

architectural design.

It's like walking back in time.

This is actually the remains of the Georgian

courtyard because it's symmetrical and rather

nice to look at with an archway through the middle.

Music to my ears. I love symmetry.

And it used to go through here and turn left and

drive towards Winchester cause that was the

original capitol of England, and now of course

you turn right and go towards London.

But I'm going to show you who Lara and Frankie are.

May I introduce you to them?

I'm most excited.

(Lady Carnarvon) Come along then.

♪♪

(Holly) Lara and Frankie are

two of Lady Carnarvon's cherished horses.

Their heavy winter coats have been clipped so that

they cool off more readily after riding.

The landscape surrounding Highclere is every bit as

impressive as the castle itself.

The celebrated landscape architect Capability Brown

designed the grounds to be viewed and appreciated

on horseback.

Our ride will take us nearly a mile from the castle,

to London Lodge, Highclere's original formal gate.

Along the way we'll pass the Temple of Diana,

one of the several ornamental structures strategically

placed to enhance the landscape.

These structures are referred to as

eye catchers or follies.

Some of the grandest trees on the property

are Cedars of Lebanon.

In 1770, the Earl of Carnarvon was given 400 seedlings

and they have since grown to tower

gracefully over the parkland.

This is the Temple of Diana.

This was built first in the eighteenth century and

then Sir Charles Barry made it taller and grander

and gave it more height to dominate the landscape

again more.

(Lady Carnarvon) Capability Brown was

really responsible for all this side of the park here.

He created this lake, that's a manmade lake.

So the, the whole story of arriving at Highclere is a

journey and you're supposed to be wondering

and amazed at the size of the Carnarvon's park and

you can see nothing but our land throughout the

ride and approach to the castle.

And every aspect of it is enchanting.

(Lady Carnarvon) It's amazing.

The topography is extraordinary but then

it's been enhanced by man.

So it's really a hymn from Georgies ancestors to the

beauty of the landscape, to this amazing world we

live in, and we're simply trying to look after it.

We're just trying to conserve it and soothe it,

pass it on, plant more trees during our lifetime

so people can enjoy it into the future.

Well you've certainly done a brilliant job of it.

It's fantastic from a horse cause this is how

Capability Brown saw it.

He rode on his horse round here in 1771.

We are in his footsteps.

I'm sure your feet are getting cold.

We must go on now and see London Lodge cause it's fun.

Let's go see London Lodge.

Okee dokie.

(Holly) London Lodge was the main

gate built in 1793 by the 1st Earl.

This grand entrance is dressed with coade stone

and features handsome iron gates.

(Lady Carnarvon) This was all overgrown

with trees.

You could hardly see down there.

(Holly) So this was the main

gate to the castle?

(Lady Carnarvon) Which wasn't used for

about 50 or 60 years.

(Holly) Lady Carnarvon recently

completed the renovation of this historic landmark which she

lovingly converted into a charming guesthouse.

Historic properties compose their fair share

of architectural and design challenges and

London Lodge was no exception.

But Lady Carnarvon had the brilliant vision to use

both sides of this historic gate.

One side of the gate features the living

and dining quarters and the other side a bedroom suite.

♪♪

After a brisk morning outdoors, I looked forward to

the lovely afternoon planned in the castle beginning

in one of Lady Carnarvon's favorite guest bedrooms.

♪♪

This is the Mercia bedroom, which is on the

second floor near the Grand Staircase.

Mercia was the name of an ancient kingdom in the

center of England, and this is such a tranquil bedroom.

The view from these windows is simply spectacular.

The majestic sweep of the grounds

is like a magnet for my eyes.

The design of the room exists in harmony with that view

and this is something that applies to

castles and cottages and everything in between,

when you want to draw people's eyes to the

windows, keep the colors in the room pale and muted.

And conversely, if you want to lessen the effects

of an unpleasant view, use bold and vibrant colors.

When Lady Carnarvon refurbished the Mercia bedroom,

she kept these original silk bed hangings

which date to the 1700s, and within them is a

delicate thread of blue embroidery, which became

the inspiration for the color of the curtains,

and it leaves me feeling like this is a room that truly

invites the outside in.

Little details can make a difference and quietly

contribute to creating a classic interior.

The Mercia bedroom features charming,

decorative details like this delicate curtain trim.

Tieback tassels are another elegant detail and

a lovely method of keeping the curtains pulled back.

Directly down the hallway from the Mercia bedroom

is the Grand Staircase.

The large tapestry at the top of the staircase not

only adds warmth to the stone walls,

it contributes to the artistic ambience around the staircase.

Lady Carnarvon shared with me that, outside,

the largest iconic central tower,

which Sir Charles Barry designed for the castle,

is situated directly overhead.

This magnificent oak staircase took over a year

to carve and install, and of course my eyes were

immediately attracted to the stunning Reynolds painting

at the end of the staircase.

But I'd like to call your attention to a small

design detail, and you don't have to have a

castle in order to use it-the brass stair rods.

They were originally made to hold the carpet runner in place.

Now they're just more decorative items.

You can choose all different finials but the

ones on these staircases are the most traditional.

After our ride, I look forward to enjoying

a traditional afternoon tea with Lady Carnarvon

♪♪

Well, this is the dining room.

I hoped you might recognize it.

(Holly) Ahhh!

(Lady Carnarvon) This dining room was first

created in Georgian times, about 1790, by the first Earl.

(Holly) It's such a lovely grand space

and I always say having a dining room that's hung with portraits

also sparks conversation at dinner.

Well, the frames are quite special, too-that's the

1st Earl of Carnarvon, and it was begun by

Gainsborough, and it was finished by a man called

Gilbert Stuart.

(Holly) Gilbert Stuart was one

of America's foremost portrait artists,

heralded for his many renditions of George Washington.

The State Dining Room tells the story of the

English Civil War.

Van Dyke's stunning equestrian portrait of

King Charles I commands the room.

The Earldom of Carnarvon originated during the

reign of King Charles I.

I noticed that you have the wyverns on your

mantelpiece and they're sprinkled throughout the house.

It greeted me at the door--

(both laugh)

--as well as all the

embellishments around the mantel.

Well the wyverns are a symbol of Wessex.

I always used to say to my little son Edward that,

when he was little, that they were all little dragons.

We used to go look for them underneath all the

gardens and things like that.

But they are a symbol of Wessex and Alfred the Great.

(Holly) And the dining room table,

how many people can you seat here?

Well, it's really happy I think with about 16, 20

for dinner and it gives it a lovely flow

and it fills the room.

I can squidge 30 people if I extend it all the way out.

(Holly) The dining room is anchored

with panels of yellow curtains that are adorned with pelmets,

otherwise known as decorative valances.

The pelmets in the dining room feature a handsome

coat-of-arms.

Shall I now go and show you the library.

It's one of my favorite-ist rooms.

(Holly) Oh, I'm sure it is.

(Lady Carnarvon) But they're all favorite rooms.

(Holly) The double library is masculine

with its dark mahogany bookcases, painted columns,

and gilded ceiling.

All of these handsome elements contribute to its

dramatic aura.

(Lady Carnarvon) I don't think I

ever tire of this room.

(Holly) The number and range

of books are simply extraordinary.

The library contains over 5,600 books.

The 4th Earl had a keen interest in history,

politics, and travel, and collected many of the

books housed in the library.

(Lady Carnarvon) Well, this is a really cute one,

because it was written by the 4th Earl of Carnarvon

who was very knowledgeable man.

Wrote some wonderful speeches

about the Hampshire countryside and this place that he

loved so much.

It reflects a really strong sense of place,

and I think books and gardens and stories

handed down are like an anchor for us all.

Yes.

An anchor of memories that make us feel grounded.

Absolutely.

He was the one who collected a lot of this

and he was the one who arranged the books on the shelf.

(Holly) The library is rich with

mementoes and includes personal touches from the monogram

Lady Carnarvon had woven into the carpet

to the family pictures displayed on the rent table.

The rent table's quite fun because it's organized

alphabetically, so you kept the different

tenants' payments in it on rent days four times a year.

(Holly) If space allows,

placing a table behind a sofa is a lovely way

to position an ornamental lamp.

Wiring an existing vase for light, whether it is

old or new, is an alluring way to create a

one-of-a-kind enchanting lamp.

I'm going to show you a very special part of the library.

Will you come and look at these books?

Yes!

(Lady Carnarvon) There's one I think here

which says Through the Keyhole.

Actually it's door.

(Holly) Oh, it wouldn't be a castle

without a secret door.

(Lady Carnarvon) It's quite fun.

(Holly) Afternoon tea has been a

quintessential English custom since the 1840s.

Today, tea is being served in the Music Room.

(Lady Carnarvon) Would you like to

sit over there Holly?

(Holly) Oh, lovely.

How nice to sit down after being in a saddle,

and I've been looking forward to a cup of tea ever since

I've taken off my riding gloves.

It's a charming room to have tea in.

Yes!

It's really pretty.

This is your music room.

It's got the most beautiful embroideries on

the walls and a lovely painted ceiling.

The embroidery is from Italy.

It is.

It's in pristine condition.

(Lady Carnarvon) It was bought from the

Malatesta family in Italy.

So they're from the 15th, 16th century,

and the Malatestas were sort of defeated, if you like,

by the Medici's.

Yes.

So they ended up, their palaces were taken apart

and their works of art removed, and we're very

lucky to have some beautiful embroideries here.

They're made from silk and they're charming.

It turned out beautifully,

especially the gilded wood that separates them.

And I'm also enamored with the ceiling.

(Holly) The spectacular Baroque ceiling,

painted by Francis Hayman in the 1730s, depicts Athena,

the Goddess of Wisdom and Art.

How appropriate for a music room.

It is ornately painted and framed, adding a rich

dimension to this alluring room.

Lady Carnarvon requested to have the tea served

from the new porcelain which she had commissioned

for the castle.

Whether you are served delicate finger sandwiches,

sweets and savories such as these,

or simply a biscuit, you don't need a butler or two

to enjoy this enchanting tradition.

The table is thoughtfully placed before a splendid

view of yet another folly, Jackdaws Castle,

which was built in 1743.

And it's a fun place to have drinks in the summer.

And once we've managed to have a dinner party in there.

(Holly) Did you?

(Lady Carnarvon) But mainly I plan the

dinner parties and it rains.

What is your philosophy of design?

My thought is always to create a peaceful space

which is cozy and engenders conversation or

meals or a good night's sleep.

So it's bringing some of the beautiful colors

from outside in.

So it's a palette of blues and greens

or shades of off-white.

(Holly) So Napoleon I,

you have acquired his desk, which is behind me.

Do you ever sit and write in his desk?

I have sat in his chair but I don't think I'd dare

lean over the old desk and write.

It's one of the most historically important

pieces of furniture in the house.

It's by Jacob Frères,

The French cabinetmaker

The French cabinetmaker,

thank you.

And then the chair underneath, it's got a C

for Consul and 1802, so it's when he was Consul,

before he became Emperor of France.

So that's how we can sort of date it.

Can I show you another room?

(Holly) A formal drawing room has

always played a crucial role in an English country house.

Traditionally, women would withdraw themselves after

dinner to a more feminine, well-appointed space,

which often displayed the finest works of art and

furnishings in the house.

This is the most divine silk celadon wall

upholstery and curtains in this room.

Do you find yourself closing these in the evening?

No, we do close them in the evening but firstly

the shutters close.

And these shutters date from the Georgian house

they're from about 1790-and there's a

painting over the fireplace with the

children of the 1st Earl of Carnarvon.

(Holly) And that painting has a

very ferocious guard dog.

(Lady Carnarvon) Apparently he was their

pet dog called Pincher but

I don't know.

I think I'd run a mile so he didn't kind of pinch my heels.

It's a big room and it brings it all together

cause it's quite rich with all the decoration of the

plaster work, which has been gilded.

Almina decorated this room in 1895 for the visit of

the Prince of Wales, who became Edward VII, from a

bolt of green silk which her father gave her,

Alfred de Rothschild.

So she did the whole thing in one go through the summer.

And this has been recently replaced since the

original silk was installed.

Yes. It was.

We had a film shot here, called Eyes Wide Shut ,

which was Stanley Kubrick's last film.

And like some Hollywood films it went over its budget,

which was simply wonderful.

So that, fortunately for us, gave us the mon-, my

father-in-law the money, and he had the original

silks copied.

We're standing by this rather lovely tea caddy,

and if you open it you can see this,

Oh! Ah!

This is where all the

different teas were kept.

Charming.

So they were very valued.

And it probably has a lock because tea was so valuable.

Yes.

I see that.

And the lacquer work inside.

It is quite fun actually.

It's charming.

(Holly) And you also have

exquisite collections of porcelain in this room,

which I think is so appropriate for a drawing room

or a living room and I am particularly attracted to the

Meissen collection.

That is from Almina and the Rothschild collection,

so it's beautiful.

(Holly) The collections we keep

tell our story.

A display of family photographs on a piano is

a tradition found in many classic interiors.

Not only are they a lovely decoration, they add a

sense of life to formal spaces,

offering a personal touch.

Fiona, are we looking at an eye catcher or a folly

in the distance up on the hill?

I think it's both cause it certainly catches your eye

and like any folly it requires money again for its upkeep.

But it was built in 1737 by Georgies ancestor, again,

Robert Herbert, and it's on one of the highest

hills in Hampshire.

It's called Heaven's Gate, which I think is because

of a Sonnet, number 29 of Shakespeare's, which is an

amazing sonnet.

He goes on to say basically the grass is

always greener-you desire this man's art and that

man's scope-content at least with what I most

enjoy but I should learn to be like the skylark could

rise from sullen earth to heaven's gate.

Now there's another really cute little sitting room

which I love, and I don't think many people have seen,

so I thought that's where we might go next.

Oh!

What a sweet room!

(Lady Carnarvon) This is a small private

sitting room, very personal.

It's quite a cozy room, isn't it?

High ceiling but a charming room you're right.

And the ceiling, it looks like Wedgwood.

(Holly) The intricate plasterwork

that graces the ceiling adds yet another refined

decorative aspect to this charming space.

My mother-in-law redecorated this room and

she took as her theme the painting of her

mother-in-law, the 6th Countess.

(Holly) So this was your inspiration,

to bring the rest of the Countesses

that have lived in the castle here.

Yes.

(Lady Carnarvon) There's Almina to one

side and Catherine behind me,

two women about whom I've written two books.

(Holly) Thoughtfully placed portraits

of the various Countesses of Carnarvon grace the walls.

Repeating a theme in the artwork, especially in one room,

can create an atmosphere that is

meaningful and memorable.

(Lady Carnarvon) So this is a story of some of

the women who have worked quite hard.

(Holly) And this is your beautiful

portrait as well.

And I see an abundance of curves in this room,

from the curves in the sofa and chairs,

the curves of the Bombay chest.

By Pierre Langlois, so that's one of the most

important pieces of furniture in the house.

(Holly) This elegant bureau was

created in 1865 and features Kingswood,

which was one of the most expensive woods

used for furniture making in the 17th century.

(Lady Carnarvon) It's a small room, which is

quite private, and not always used on tours or never

really used in the bigger receptions, so it's lovely to

have a smaller room which is not always seen.

(Holly) I feel very privileged to

have viewed Highclere through Lady Carnarvon's eyes.

How truly grateful I am to have learned more about

the castle, from discovering the personal

touches which make it so unique, to the design

elements and classic traditions which continue

to be timeless and oh, so inviting.

♪♪

Funding provided by.

♪

For more on this show and more secrets

about Classic Design and living well

please join me at Invited dot TV.