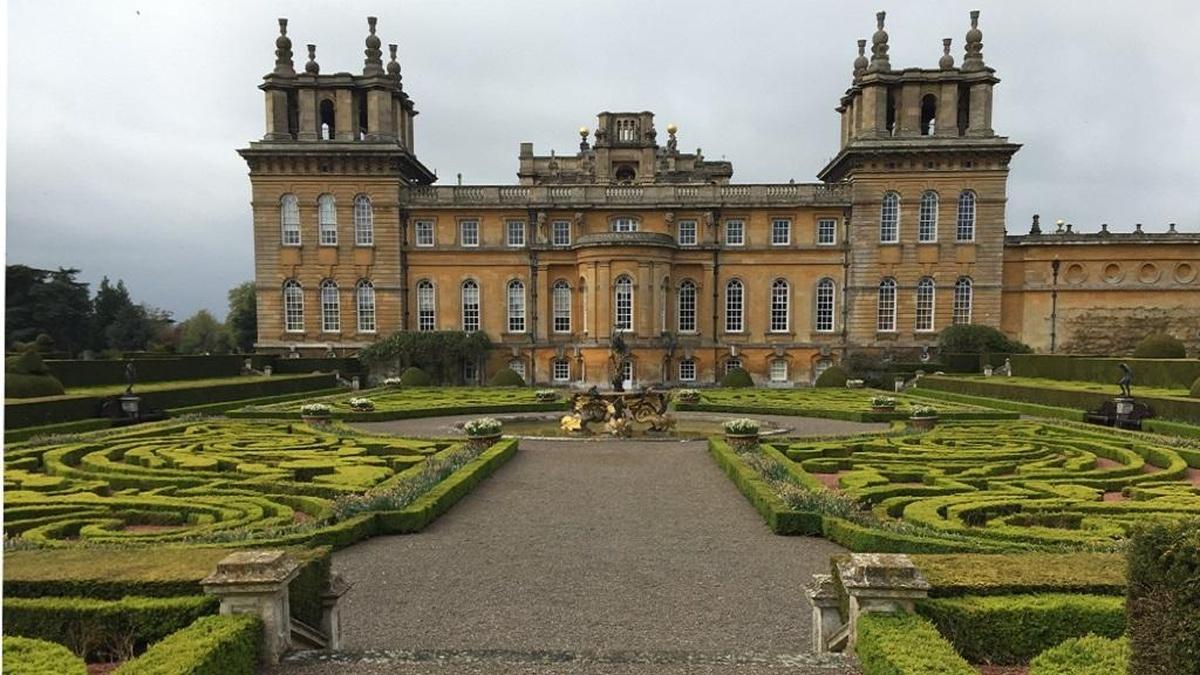 FULL EPISODE
Blenheim Palace
Travel with host Holly Holden to Blenheim Palace, a monumental country house located in Woodstock, Oxfordshire, England, that serves as the principal residence of the Dukes of Marlborough.
TRANSCRIPT

♪♪

Funding provided by.

Exploring Europe by river, historic panoramas unfold.

♪♪

Learn more at Viking Cruises dot com.

♪♪

Hello, I'm Holly Holden, and authenticity is a rare

commodity in any field, especially in my field,

interior design.

Today there'll be no scarcity of authenticity.

It was 1704 when the first Duke of Marlborough, John Churchill,

won a decisive victory for England

at the Battle of Blenheim.

Blenheim Palace was commissioned by Queen Anne

as a monument commemorating that victory

and also as a residence for the victorious Duke,

and it's been in the Spencer-Churchill family

ever since.

This is Blenheim Palace today, and as grand and

majestic and illustrious as it is,

Blenheim is also a family residence.

Today we've received a unique invitation from

Lady Henrietta Spencer-Churchill to visit

the palace's private quarters with her.

♪♪

Holly, hi, welcome.

Hello, Henrietta.

What a lovely time to be here with you.

Thank you for the invitation.

I just love the way the palace presents itself,

it's very inviting.

Well this is sort of typical of Baroque architecture,

which is grand, and it only really works large I always say.

Baroque does not work small.

(Holly) Blenheim is anything but small,

remarkable not only for the enormity of its scale but also

for the intricacy of its ornamentation.

While the palace itself encompasses four and a half

acres, the exquisite stonework and ornate sculpture

enhance its every inch.

Blenheim is a masterpiece of English Baroque architecture.

The palace has such exquisite golden hue to the stone.

Where did the stone come from?

(Lady Henrietta) A lot, a lot of local quarries.

But the thing is it's actually quite a crumbly stone,

so although you say it's hasn't had a lot of

work, if you look around you can see where there's

been a lot of repairs, and we constantly have stone

masons working on the property.

But you know, it did take about 25 years to build,

which is not unsurprising if you think that it was

all done by hand.

(Holly) Well after 300 years,

I think the warm honey glow,

I only wish I could age as well as that.

Well, it would be nice, too.

(Holly) The intricacy of

Blenheim's design extends to its gardens.

The private wing overlooks the Italian garden.

The 9th Duke of Marlborough commissioned

the French landscape architect Achille Duchêne,

to design this formal garden, which features an

elegant scrollwork made of traditional English boxwood.

To maintain these delicate patterns, the hedges are

precisely trimmed entirely by hand.

Boxwood is green year-round and is

complemented by the various seasonal flowering

plants in urns which have been thoughtfully placed

alongside the hedges.

The focal point at the Italian Garden is the

Mermaid Fountain by American sculptor Waldo Story,

who created other notable works in Britain

in the 19th century.

This gilded bronze centerpiece introduces

gentle movement into the garden both with its water

feature and flowing form.

Water plays an even more central role in the

landscape along the west wing of Blenheim,

the magnificent water terraces.

Here, the state rooms overlook similar boxwood scrollwork

enhanced with pools and fountains

which animate the space while stunning statues extend

ornamentation from within the palace to the garden.

While the formal gardens represent order and harmony,

the more than 2,000 acres of parkland beyond

embrace the informality of the

enchanting English countryside.

Though they appear natural, these hills,

groves, and even the lake were all created by man,

the celebrated landscape architect Capability Brown,

at the request of the 4th Duke in the 1700s.

Just beyond the lake stands the magnificent

134 foot tall Column of Victory.

It was commissioned by the first Duchess of Marlborough

to honor her husband's victory at the Battle of Blenheim.

A portion of its inscription proclaims,

"It shall stand as long as the British name and language last."

That was Sarah, the first Duchess, who erected that

after John had died, in his memory.

(Holly) In his memory.

So there's a lot of history.

We've got lots to talk about.

I can't wait. Thank you.

Do you want to come inside?

Let's do it.

(Lady Henrietta) There's plenty to see.

We'll start in the East Wing, which is the private side.

(Holly) In the private side.

Blenheim has always been

open to the public as a monument and is identified

as a world heritage site.

Its great halls and state rooms greet more than

750,000 visitors annually.

But today we've been invited to the private

family apartments, which are currently the home of

the 12th Duke of Marlborough,

Lady Henrietta's brother,

Charles James Spencer-Churchill and his wife.

These beautifully designed rooms in the East Wing

have served as a Spencer-Churchill family's

residence since the palace was built.

(Sound of door shutting)

Such a splendid invitation is truly something to be treasured.

The moment you enter, you feel the difference.

It has the charm, the warmth of a family home.

♪♪

(Lady Henrietta) So we're now on the

ground floor, Holly, which effectively, well we call it

the ground floor because the upper floor is called

the piano nobile,

which is really the main entertaining floor.

And you refer to this as the China Room?

This is the China Room.

But I love this room because it leads out onto

the Italian Gardens.

(Holly) The twelve generations

that have lived here have had

their own distinctive china patterns.

When the patterns are retired from use,

they become part of the collection that adorns

this room.

The China Room is memorable because it is

designed around a single element, china.

While patterns and colors and even shapes may vary,

the repetition of subject unifies the space.

The intricate shelving throughout the room is

uniform in color and style.

A restrained background shifts the emphasis to

objects in the collection and can transform any room

into a statement.

(Lady Henrietta) So would you like to go

and see upstairs, the family apartments?

I would love to see the family apartments.

Let's head that way.

♪♪

(Holly) Oh Henrietta.

(Lady Henrietta) This is really the Piano Nobile.

This is the private quarters.

So this is where we live as a family-my brother and

my sister-in-law and obviously my father before

them and grandfather and all these generations back.

(Holly) When some of those generations

undertook the Grand Tour, they returned to Blenheim with

artifacts and decorative items which now grace every corner of

the private apartments, even under the tables.

Each unique accessory has a story.

The layering of these mementoes creates the

richly textured interiors that define classic design.

And you have an American ancestor?

I do, I do.

My great grandmother was Consuelo Vanderbilt.

My great grandfather managed to spend a lot of

her family money on bringing this house into

the 21st century.

Let me show you one of my favorite portraits of her.

(Holly) Consuelo Vanderbilt was an

American railroad heiress who became the

9th Duchess of Marlborough and

is Lady Henrietta's great grandmother.

(Lady Henrietta) So this is one of my

favorite paintings of Consuelo.

This is by Veruda.

(Holly) Yes.

(Lady Henrietta) And as I said, you know,

when you're walking out in

this corridor it gives you that amazing focal point,

and then we've got this such a lovely composition

of the chairs and the table and the porcelain

which, you know, sits underneath it and focuses

your attention on the portrait.

So actually this is one of my favorite places to come

and sit and relax.

You can either come and have a cup of tea here -

in fact this is where we have our shooting teas or

family teas.

It seems like such an intimate space for such a

grand space, and the lighting is superb coming in here.

Yeah, I mean even on a bleak day-

It is!

-it actually feels sort of nice and bright here.

Come, let me show you more.

In spite of the grand scale we try to make it

feel like a home and try and make it welcoming

because obviously we have lots of guests here.

That brings me to the guest book.

Yes!

So this is our guest book, which dates back to the 1860s.

(Holly) In its three centuries,

Blenheim has received countless illustrious guests.

This one page alone boasts some recognizable names-

Wallis Simpson, Clementine Churchill,

Emerald Cunard.

(Lady Henrietta) If you're royalty then

you get a whole page to yourself.

(Holly) I guess you've earned that.

(Lady Henrietta) He did.

(Holly) He did.

What a beautiful painting!

I would recognize this Sir Alfred Munnings anywhere,

One of my favorites, too.

Is it?

Yeah.

And that was, I believe, that was hunting up in

Leicestershire because they used to live quite a

lot of the time up in Leicestershire, so.

(Holly) And I love how soft

Munnings' brushstrokes are.

(Lady Henrietta) Yeah.

(Holly) But to think that you have

such a celebrated artist painting your relatives

I think is quite extraordinary.

Well, we're very lucky to have it.

But you know, British sporting art is very

important in English country houses and often a

lot of family portraits were actually painted, you

know, in a sporting venue, so it might be out hunting

or it might be out shooting or it might be

with a dog or something.

So you know, that's the way they liked to portray themselves,

and in fact, well that's a portrait

there of my late father, and I like the way that

it's not too formal, it sort of sat in the

landscape of Blenheim, at the park.

So I sure love this corridor because it's,

it's, it's treated like a room.

So it's, although it's a corridor leading to

other spaces, to me it's furnished like a room,

which is so important.

It is.

The philosophy I have as a designer.

Yes.

And one of the things I love are this pair,

in fact they're not a pair, the chinoiserie lacquer cabinets.

(Holly) And what I really enjoy seeing

is the fact that they're very similar

but they're not exact duplicates.

Exactly. Exactly.

This one's a little more decorated.

And this one, if you notice, that has a gilded

base and this one's silver.

(Holly) And again, you've used porcelain

to enhance everything and in the palace itself and

especially it just adds to the intimacy of this area.

It sort of somehow anchors the piece, doesn't it?

It does, and it brings your eyes up to the

painting.

Yeah, yeah.

And it takes courage to use red.

And this is actually the sort of family bar.

So this, if we've got guests staying this is

where people help themselves to drinks.

(Holly) It's a handsome, tiny

little gem box of a room.

(Lady Henrietta) Come, let me show you more.

(Holly) The yellow color of the

Duchess's sitting room is subdued, soft, and harmonizing.

Nothing dominates.

This adds to the calm, serene, even feminine

atmosphere in this room.

Neutral colors are space enhancing and give a

peaceful, classical feel to any interior.

So this is the Dutchess's sitting room.

My most favorite room.

I've always been enamored with photographs of this room,

so to be here is really, really-

It is a wonderful room.

-a treat and an honor.

It's very elegant.

(Holly) And I admire the portrait

of Consuelo, another stunning portrait.

(Lady Henrietta) Well that's, that's by Boldini,

another famous artist, as you know.

And yeah, it has sort of nice, relaxed pose, that one.

It is relaxing.

What I, what I really admire about it is that it

is on an easel in this room.

It adds another dimension to the artwork.

Yeah, that's a good point.

So you didn't always have to feel that you have to

have artwork hung on the walls.

We speak the same language.

Shall we sit down?

Yeah, sounds lovely.

We'll have a longer chat.

Well, talking about speaking the same language.

You've done 11 books.

I refer to your Classic design book,

your very first book, written in 1990.

(Lady Henrietta) Classic English Interiors .

(Holly) Classic English Interiors .

And your first business was here in Woodstock.

I've always had a shop in Woodstock.

Been there now coming up 36 years.

36.

I've been doing it a long time so I think I've had a

bit of experience.

And I've also been very lucky in my career because

I've been able to work on some fabulous houses,

not least my family home, Blenheim.

(Holly) I have long respected

Lady Henrietta Spencer-Churchill.

She's one of the world's preeminent interior designers.

Through her firm, Woodstock Designs, she's

established herself as an absolute master of

Classic English design.

If I could use a single word to describe her work,

it would be 'authentic'.

She's not replicating Classic English design,

she IS Classic English design.

(Lady Henrietta) I try not to,

to be influenced by trends.

I mean but possibly when it, with regards to fabrics.

But as I say, a lot of the houses I work on are

historic buildings.

So, you know, it's very difficult to make those

buildings trendy or-

Exactly.

- and trend doesn't last.

It doesn't.

So you know, if you stick to the Classical, albeit

you can bring it into the contemporary world.

And that's exactly what we're sitting in right now.

Yeah.

This is the essence of timeless design.

Exactly.

Well then may I ask you, what do you think

contributes to making a room feel so warm and inviting?

(Lady Henrietta) Well, I think there's more

than one element.

I think it's personalizing it, you know,

with photographs, with objet.

I mean there's nothing worse in my view than to

go into a room which is completely stark and it

doesn't have any personal touches because that is

really what makes it a home.

When you've lived in a place for a long time I

think you don't want to come in and rip out its soul,

you know, you want to feel as though you're

preserving it for the next generations.

So that's what we try and do here.

Well, we have lots more to see, so let's move on into

the smoking room and we'll have a look at that room.

♪♪

This feels like a family room.

This is, we call this the Smoking Room.

I mean I guess that was in the days when people smoked,

so it was a smoking room.

But it is very much the family room.

As you see we have the television in here, we've

got the newspapers, you can put your feet up.

Actually my father used to quite often just have TV suppers

here if he was on his own.

One of the chairs we did have to finally change.

It's always been green leather but when my

grandfather, he used to sit in there day after day

and it became sort of so worn and so threadbare,

eventually my father said, I think, rather reluctantly,

we've got to change that.

That for must have been a hard decision.

It was but I have an image of him sitting there with

his boxer, Ben the boxer, at his feet.

So, I mean this is, this has always been a dog

friendly room.

(Holly) And the fabric walls make

this room so quiet, and it's been used for centuries,

and I notice that you've used it in this room.

(Lady Henrietta) And a good backdrop for

paintings as you can see here.

Actually, when you've got such huge walls to fill,

it's so nice to have a big tapestry like that.

A focal point for the room.

Exactly.

It just anchors it with its

weight and size.

Yeah, this was actually done in the sort of early

70s after my grandfather died and my father moved in.

So this was sort of him adding his personal touch.

And A, it's a very warm color, but B, as you

rightly said, helps sort of absorb the noise,

so it makes it a sort of cozy room.

(Holly) Another design feature

that contributes to keeping such a large space quiet and cozy

is the use of a drape table.

This one is covered in a handsome velvet and edged

with the traditional bullion trim.

The softness of the drape table creates a pleasing

variety of textures when placed near wood

and lacquer pieces.

This quintessentially English element can bring

warmth and softness to any room.

Anyway, let's move onto the dining room.

Alright.

♪♪

Well, this is really the family dining room, and

actually it's a very versatile room because,

you know, you can either use it en famille for

intimate groups as the tables shown today,

so it's literally laid for four people.

But equally, this table expands, I don't know how many

leaves it has, but you can sit 20, 22 people around it.

(Holly) I'm enamored with

the pier mirrors.

It must be magical at night with the candles lit behind it.

(Lady Henrietta) Yeah, you get the reflection,

so you've got the console tables and the pier glasses which as

you know were made typically to go in between windows

to help sort of reflect the light.

But yeah, with candle light it is,

it is pretty spectacular.

(Holly) But also the soft colors.

There are four different colors on the wall and

it's still very, very quiet in its presence and it

draws your eyes, I think, to the gardens.

It's not, it doesn't distract.

(Lady Henrietta) Well it does that

but I think also what the colors do is

actually enhance the paneling.

It does.

Cause you've got the tones

but it's emphasizing the depth of the panels.

And the columns.

Yeah.

Those are, those are quite spectacular.

Those are some of the Grinling Gibbons.

(Holly) Master craftsman Grinling

Gibbons was renowned for the delicacy of his carvings.

His extraordinarily creative works in both

wood and stone are featured throughout Blenheim.

(Lady Henrietta) But actually it's interesting

that you mentioned about the wall color because my father

decided, I guess it was about six years ago,

he said to me, "We need to change the curtains.

And quickly."

So I said, "Why?"

"Well, the Duke of Edinburgh is coming to

stay and I really think it's high time we had some

updated curtains for that room."

So literally I had to find-

Henrietta!

-something that was available quickly,

you know, not astronomically expensive.

And the other thing was to find a fabric that blended

in with existing wall covers because we weren't

going to repaint the room so.

No, and you did a brilliant job at it.

The nice thing about this fabric is it actually

looks like it's been here for, for quite a few years.

It does.

It doesn't look brand new.

No, it doesn't.

That's right.

And the style, you duplicated what was

originally here as far as your pelmet.

Pretty much, pretty much, cause the Lesage windows,

it's quite difficult to do.

Exactly.

But I think it also enhances the entire window

by having the valance up and mirroring the arch

that's in the ceiling.

The centerpiece here by Garrard, silversmith in London,

is of the first Duke?

(Lady Henrietta) That's the first Duke

on his famous horse, the white horse which he had

at the Battle of Blenheim, which you see depicted

in some of the paintings and tapestries.

But yes, shall we have a look at

some of the bedrooms?

I would love to do that.

(Holly) The hallways of Blenheim's

second floor lead to many guest bedrooms,

each one uniquely designed.

(Lady Henrietta) The master bedroom is

actually on the floor below, the Piano Nobile,

but all the guest bedrooms are up here.

So this is one of our many guest bedrooms.

This is actually called Font 1.

I don't know why it's called Font 1,

but it is called Font 1.

Next door is Font 2.

(Holly) I understand this

is your fabric.

(Lady Henrietta) I did this fabric collection

some time ago and I named it the Blenheim Garden Collection,

and the reason being is that one of my

ancestors who was Susan Blanford,

the 5th Duchess of Marlborough,

she was a very talented watercolorist.

And so I took some of the designs and based a fabric

collection around them.

So shall we go into another bedroom?

(Holly) Yes, let's see another bedroom.

So this, as you can see,

all of the bedrooms are interconnecting.

I guess that was when, in the old days when royalty

came and stayed and they had lots of entourage it

was necessary to have them all interconnecting.

But typically now we make them into individual suites

and rather cleverly use this space in between as,

as a wardrobe which means you don't have to

have a built-in wardrobe, you don't need to have a

freestanding piece in the room.

So Holly, we're now on the south side of the house,

so beautiful view overlooking Bladon.

(Holly) Sir Winston Churchill,

Britain's Prime Minister during World War II,

was born here at Blenheim Palace.

He proposed to his wife Clementine on the grounds

and is buried just a mile away at Bladon.

(Lady Henrietta) And this is Sides Room 2.

It's very calm and serene.

Is this one of the rooms that you just redecorated?

Yeah, we did this last year.

Lovely color, as is the fabric.

Also, I'm noticing how you have such lovely

accoutrements for your guests, your very own

spring water.

That's the Blenheim water.

Yes, actually it does originate from something called

Rosamund's Well, so it is genuinely from the property.

And tell me about the breakfast tray that is on the bed.

If you choose to have breakfast in bed then

someone, you can order it the night before.

It's brought to you at a certain time.

I'm certain you have that

every breakfast when you're here.

♪♪

Henrietta, what a majestic room this is.

Even the ceilings are higher.

Well, it is quite special.

It's called the Tower Room and that's because we are

below one of the four towers,

which is why you have the higher ceiling.

That's why.

We're under the tower.

Well, it's an appropriate room to house this

magnificent chinoiserie bed.

Chinoiserie is a European interpretation of Asian

art and I've noticed that's quite a theme in

Classic English interiors and in all the rooms that

we've been in today.

Yeah, it was very popular in the 18th century and

the 19th century and typically, well here

you've seen a lot of the red lacquer.

But as you know, you get a lot of blue, green, black.

But here for some reason we seem to have a lot of

the red lacquer.

Well, as you know, I mean the four-poster bed was

very much a statement in these sort of houses and

it was typical to have one in virtually every room.

Initially they were used to keep the drafts out,

so you'd pull the curtains and you'd be able to cozy up.

Then they became more of a sort of social statement

and of grandeur.

So there's also some lovely pieces of furniture.

This is the old marquetry piece.

So that would date from the early 1700s.

And again the porcelain

on top of it anchoring it, yes.

And then largely

family portraits.

So which you see all around the house.

(Holly) Making a guest comfortable

is of utmost importance at Blenheim.

To this end, the guest rooms are well appointed.

Familiar and thoughtful details abound,

down pillows, soft throws, scented candles,

as well as access to more functional items.

It's these thoughtful touches that make guests

feel at home even in a palace.

(Lady Henrietta) So well I've shown you some of

the guest bedrooms, I mean we haven't really got time to look

at them all but I think you've had a good cross-section of

some new ones, some old ones.

It's been so delightful.

It's been lovely having you here.

Shame about the weather.

But shall I now show you out through the public's side.

I want to go out through the Great Hall and that

magnificent door with a huge great lock.

♪♪

(Lady Henrietta) So here we are in the

Great Hall, slightly different proportions

to on the private side.

(Holly) It certainly is.

It gives such perspective to the private side,

and this is just a very expansive Great Hall.

Henrietta, it's been an enchanting day.

Seeing Blenheim through your eyes has been a day

I'll never forget.

Oh, well it's been a pleasure having you and I

hope it's been a little bit inspiring and please come back.

Most definitely.

♪♪

It's lovely to see you.

Have a safe trip home.

Thank you for having me.

♪♪

(Holly) I think one of the

greatest achievements of the private quarters at Blenheim

is that they feel so personal and livable.

The private apartments are truly a monument to

Classic interior design.

Seeing these rooms through the eyes of

Lady Henrietta Spencer-Churchill was a unique and authentic

experience and one that I'll always be grateful for.

Thank you very much for joining me today at the

incomparable Blenheim Palace.

♪♪

(violin playing)

Funding provided by.

♪

Classic design like good manners never goes out of style.

For more on this show and more secrets

about Classic Design and living well

please join me at Invited dot TV.