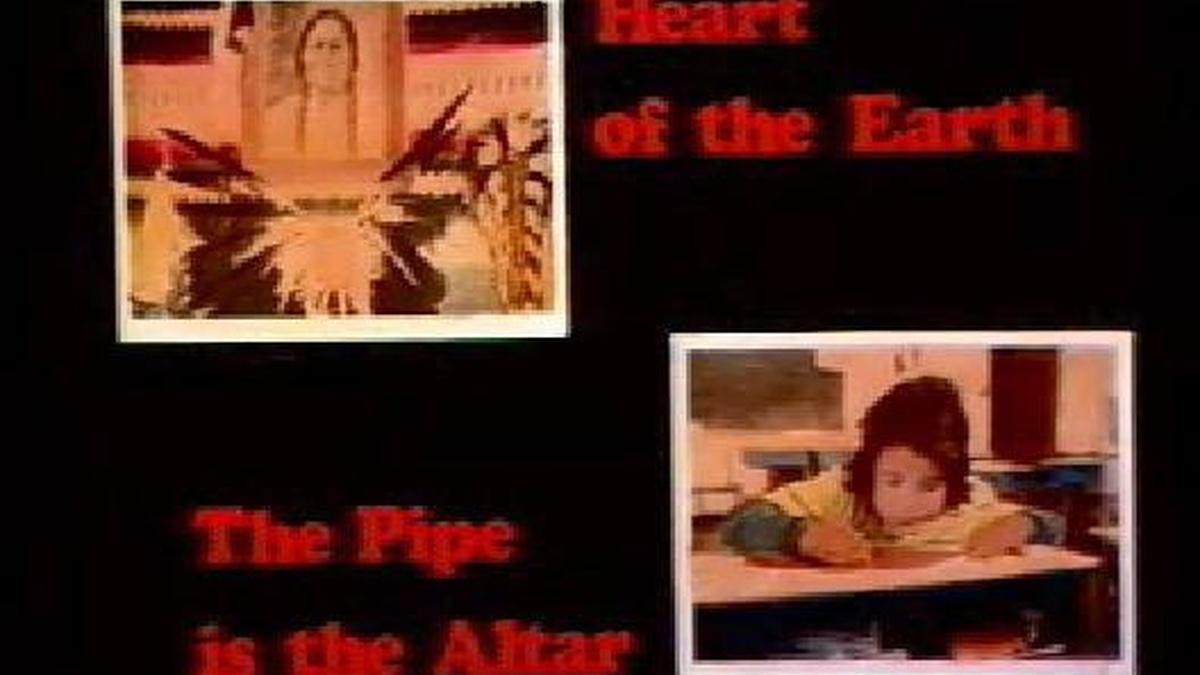 S3 E27 | FULL EPISODE
April 23, 1980
Learn about the Heart of the Earth Survival School for American Indian children and attend and learn about the ceremony of the pipe.
TRANSCRIPT

FOR WYLD RYCE IS PROVIDED BY A

GRANT FROM THE DAYTON HUDSON

FOUNDATION.

[ ♪♪ ]

>> THIS IS THE TWIN CITIES

WEEKLY ARTS MAGAZINE.

IN THIS EDITION OF WYLD RYCE,

WE'LL LEARN ABOUT THE HEART OF

THE EARTH SURVIVAL SCHOOL FOR

AMERICAN INDIAN CHILDREN AND

WE'LL ATTEND THE CEREMONY OF

THE PIPE.

HELLO.

I'M MIKE MUELLER, AND I'M

AMERICAN INDIAN, A CHIPPEWA

ENROLLED AT SAULT STE. MARIE,

MICHIGAN. I'M A MANAGER OF INDIAN

EDUCATION SECTION FOR THE

MINNESOTA DEPARTMENT OF

EDUCATION.

FOR SEVERAL HUNDRED YEARS,

INDIAN PEOPLE HAVE BEEN PUSHED

FROM PLACE TO PLACE, RESETTLED

AND DISBURSED.

THE OLD CLOSELY KNIT COMMUNITY

IS LARGELY GONE, AND NEW WAYS

NEED TO BE FOUND TO PRESERVE

THE CULTURE.

ONE STEP THAT'S BEEN TAKEN IS

A SUBJECT OF OUR FIRST PIECE

ON WYLD RYCE.

THE HEART OF THE EARTH

SURVIVAL SCHOOL.

FOR INDIAN PEOPLE, EDUCATION,

CULTURE, HOME LIFE, AND

RELIGION ARE ALL PART OF A

WHOLE. THEY DON'T MAKE A SEPARATION

BETWEEN BOOK LEARNING AND

TRADITIONAL ACTIVITIES.

FOR MOST, ARITHMETIC, READING,

TANNING HIDES AND CEREMONIAL

DANCING ARE ALL A PART OF

EDUCATION AND ALL IMPORTANT.

I THINK YOU'LL BE ABLE TO SEE

THAT SOMETHING SPECIAL IS

HAPPENING THERE.

>> THIS IS THE HEART OF THE

EARTH SURVIVAL SCHOOL.

BACK IN 1972, MEMBERS OF THE

MINNEAPOLIS INDIAN COMMUNITY

AND THE AMERICAN INDIAN

MOVEMENT STARTED A UNIQUE

SCHOOL AND THE STUDENTS NAMED

IT HEART OF THE EARTH.

IT WAS THE FIRST INDIAN

SURVIVAL SCHOOL IN THE

COUNTRY.

SINCE THEN, OVER 20 OTHER

SURVIVAL SCHOOLS HAVE BEEN

ESTABLISHED THROUGHOUT THE

UNITED STATES AND CANADA.

NOW THIS PROGRAM SERVES INDIAN

YOUTH WHO NEED AN ALTERNATIVE

TO THE PUBLIC SCHOOL SYSTEM.

IT FINALLY FOUND A HOME IN

THIS PRIMITIVE FACILITY NEAR

THE UNIVERSITY OF MINNESOTA

CAMPUS, BOUGHT FOR $315,000.

HEART OF THE EARTH IS

NONPROFIT AND SERVES ABOUT 150

YOUTH FROM PRESCHOOL THROUGH

12th FRAYED.

THE STUDENTS SHARE -- GRADE.

THE STUDENTS SHARE TWO COMMON

TRAITS, THEY ARE NATIVE

AMERICAN AND THEY HAVE SPECIAL

DIFFICULTIES WITH THE PUBLIC

SCHOOL SYSTEM.

THE EXACT CAUSES OF THEIR

PROBLEMS VARY, MOST COMMONLY,

THEY COMPLAIN ABOUT THE

HOSTILE AND INSENSITIVE

ATTITUDES OF THE PEOPLE IN THE

PUBLIC SCHOOLS AND THE LACK OF

INDIAN HISTORY AND CULTURAL

CLASSES.

>> THE SCHOOL HAS BEEN GOING

FOR NINE YEARS NOW.

WE STARTED OUT WITH THREE

YOUNG INDIAN BOYS, WHO WERE

BEING TAKEN AWAY FROM THEIR

NATURAL PARENTS.

THEIR PARENTS WERE GOING TO BE

PLACED IN THE MINNEAPOLIS

WORKHOUSE FOR SIX MONTHS AND

THE CHILDREN WERE GOING TO BE

FOSTERED OUT TO ADOPTION

CENTERS AND ADOPTION HOMES.

RATHER THAN DO THAT, THE COURT

ORDER READ THAT THE PEOPLE HAD

TO PROVIDE THESE CHILDREN WITH

AN ALTERNATIVE EDUCATION

WITHIN TEN DAYS.

SO THE FOLLOWING MONDAY

MORNING, WE OPENED A SCHOOL IN

THE BASEMENT OF THE AMERICAN

INDIAN MOVEMENT OFFICE ON

FRANKLIN AVENUE.

WITHIN A WEEK'S TIME, OF

COURSE, THROUGH THE JUVENILE

COURT PROCESS, THE DIAGNOSTIC

CENTERS WHERE OUR CHILDREN

WERE BEING SENT WHO HAVE

CULTURAL CONFLICTS WITHIN THE

PUBLIC SCHOOL SYSTEM, WE FOUND

OVER 30 STUDENTS THAT NEEDED

THIS TYPE OF SUPPORTIVE

SERVICES.

NEED AN ALTERNATIVE.

THESE WERE THE CHILDREN THAT

WERE ACTUALLY ASKING THEIR

TEACHERS ABOUT WHO DISCOVERED

AMERICA.

THESE WERE THE CHILDREN THAT

WERE ASKING THEIR TEACHERS,

WHO THEIR FATHER AND

GRANDMOTHER WERE.

THESE ARE THE CHILDREN THAT

WERE QUESTIONING A MAN IN HIGH

HEEL SHOES AND SILK STOCKINGS

AND RUFFLED SHIRTS, BLONDE WIG

AND WOODEN TEETH AS BEING THE

FATHER OF OUR COUNTRY.

YET, THE COURTS, THROUGH A

FEDERAL COURT ORDER, GOT THREE

NONINDIAN CLINICAL

PSYCHOLOGISTS TO COME INTO OUR

SCHOOLS TO TEST OUR CHILDREN,

TO FIND OUT IF THEY WERE

LEARNING ANYTHING.

TO FIND OUT IF WE WERE

TEACHIN' THEM ATTITUDES OF

HATE WHITEY TO OVERTHROW THE

FEDERAL GOVERNMENT, ALL OF

THESE STEREOTYPES AND IMAGES

THAT THEY PAINTED IN THE MEDIA

NATIONALLY.

THEY BROUGHT CLINICAL

PSYCHOLOGISTS INTO THE SCHOOL.

WE DIDN'T WANT THAT.

WE FOUGHT THAT BECAUSE WE SAID

WE WOULD NEVER ALLOW THAT TO

HAPPEN TO OUR CHILDREN AGAIN.

BUT THEY HAD TO, BY COURT

ORDER, THEY CAME IN.

THEY TESTED OUR CHILDREN.

WHEN THEY WENT BACK TO THE

COURT, THEY FOUND OUT THAT OUR

CHILDREN, SLOW LEARNERS, THE

SCHOLASTIC RETARDS, YOU KNOW,

KIDS THAT WERE BEHIND, ALL

THESE STEREOTYPE IMAGES THAT

THEY HAD FOR THEM, THEY FOUND

OUT THAT THESE CHILDREN WERE

SOME OF THE BRIGHTEST STUDENTS

WITHIN THE PUBLIC SCHOOL

SYSTEM.

SO, WE'RE MAINTAINING TODAY

THAT IT'S NOT OUR CHILDREN

THAT ARE RETARDED,

SCHOLASTICALLY RETARD IN ANY

WAY.

SO, I'D LIKE TO TURN IT OVER

TO OWNER KING BYRD IN THE

CULTURE DEPARTMENT FOR THE

CEREMONY THAT'S GOING TO TAKE

PLACE.

THANK YOU.

[ Applause ]

>> A DANCE FOR GUESTS AND

STUDENTS.

♪ CHANTING ♪

>> AND THIS IS A PART OF THE

WEEKLY CEREMONIES.

STUDENTS AND STAFF ARE

ENCOURAGED TO PARTICIPATE IN

WEEKLY CEREMONIES AND DANCE.

[ ♪♪ ]

>> COUNSELORS AND TEACHERS AT

THIS SCHOOL ARE OF DIFFERENT

RACIAL BACKGROUND.

-- BACKGROUND.

>> MITCHELL AND MILTON.

THE ENGLISH CLASS.

>> TWO MORE PARTS TO IT.

BROKEN UP IN THREE PARTS.

>> SURVIVAL MEANS DIFFERENT

THINGS TO EVERYONE.

>> I THINK WHEN WE SPEAK OF

THE WORD "SURVIVAL," WHAT WE

MEAN IS THAT WE AS ADULT

INDIAN PEOPLE HAVE AN

OBLIGATION TO PREPARE OUR

CHILDREN FOR THE FUTURE, AND

THAT SURVIVAL CAN MEAN MANY

DIFFERENT THINGS.

IT CAN MEAN SURVIVING

SPIRITUALLY AS AN INDIAN

PERSON.

IT CAN MEAN SURVIVING

PHYSICALLY AND ACADEMICALLY,

AND I THINK THE DAY-TO-DAY

SURVIVAL IN THIS SCHOOL

REVOLVES AROUND THE ACADEMICS

AREA.

>> A LOT OF THESE KIDS HERE

HAVE COME FROM THE MINNEAPOLIS

PUBLIC SCHOOL SYSTEM, AND I

GUESS THE WAY -- THE WAY I SEE

IT IS THAT THE WORD "SURVIVAL"

IS RELATING TO THEIR STRUGGLE

FOR SURVIVAL, EDUCATIONALLY.

NOT ONLY EDUCATIONALLY BUT

ALSO AS INDIAN PEOPLE.

>> WE PLANNED A SURVIVAL TRIP

TO THE BAD RIVER RESERVATION

IN NORTHERN WISCONSIN, AND WE

BROUGHT 75 TO 80 PARENTS,

STAFF, AND STUDENTS TO THE

CAMP.

>> I'VE TAUGHT THE STUDENTS

HOW TO SET SNARES, CLEANING

RABBITS LIKE THAT.

I'VE TAUGHT SOME STUDENTS HOW

TO DRESS A DEER.

THE STUDENTS KNOW HERE THAT WE

CARE FOR THEM, WE'RE WILLING

TO SIT DOWN AND TALK TO THEM,

NOT JUST IGNORE THEM AND MORE

OR LESS ACT LIKE WE DON'T HAVE

THE TIME FOR THEM.

>> ONE OF THE THINGS THAT WE

DO THAT THE PUBLIC SCHOOL

SYSTEM DOESN'T REALLY DO IS

THAT WE INDIVIDUALIZE A LITTLE

MORE.

WE TAKE THE TIME TO FIND OUT

WHAT'S REALLY BOTHERING THE

STUDENT INSTEAD OF SOCIALLY

PROMOTING THEM, WE TRY TO FIND

OUT WHAT THEIR PROBLEM IS.

IN TALKING WITH THE STUDENTS,

ONE OF THE PROBLEMS WAS

TEACHER INSENSITIVITY.

THE CURRICULUM WASN'T THAT BAD,

BUT THERE'S NO INDIAN STUDIES

CLASSES.

>> COME AROUND THE CORNER ONE

DAY, A TEACHER TALKING,

SAYING --

[ AUDIO UNINTELLIGIBLE ]

>> SOME OF THE KIDS IN THERE I

JUST DIDN'T GET ALONG WITH.

THEY MADE FUN OF ME.

AND STUFF LIKE THAT.

MADE FUN OF MY COLOR, YOU

KNOW.

>> ALWAYS GET IN TROUBLE.

TEACHERS GET ME MAD.

TEACHERS SHOOK ME AND STUFF.

>> PULL MY HAIR.

[ AUDIO UNINTELLIGIBLE ] TAKE ME TO THE PRINCIPAL.

>> CALL ME SAVAGE, SQUAW,

CHIEF.

THEY STARTED GOING, WOO WOO

LIKE THAT, STUFF, ALL THE

TIME.

I DIDN'T LIKE IT.

SO I JUST DROPPED OUT.

>> THEY KIND OF, YOU KNOW,

LIKE, IF YOU GET INTO FIGHT,

THEY WOULD STOP YOU, JUST LET

YOU GO.

>> THEY MAKE YOU DO A LOT OF

WORK BEFORE LUNCH.

IF WE DON'T, WE HAVE TO -- WE

DON'T GET TO GO DOWN TO LUNCH.

TEACHERS ARE NICE.

>> WHEN THEY TALK, THEY BRING

YOU DOWN TO THE OFFICE, OUT OF

CLASS.

>> BECAUSE THERE'S MORE PEOPLE

YOU CAN TALK TO.

>> WE CAN SING AND DANCE IN

THE MORNING.

AT PUBLIC SCHOOLS YOU CAN'T DO

THAT.

LEARNING OUR CULTURE, TANNING

HIDES, EVERYTHING.

ALL THE STUDENTS HERE GET

ALONG WELL.

>> TO SPEAK THEIR OWN NATIVE

TONGUE AND PRACTICE THEIR

VALUES, SPEAK WITH THEIR

FAMILIES, IT IS PRIDE, IT IS

TRIBAL.

>> OKAY.

[ INDISTINCT CONVERSATION ]

>> WHAT'S THE OTHER WORD FOR

THIS?

>> WHAT IS IT?

WHAT DOES THAT MEAN?

>> GOOD.

[ INDISTINCT CONVERSATION ]

>> ARE YOU READY?

>> YEAH.

>> YEAH.

>> WHAT BOYS LIKE TO OWN

SOMETIMES. THEY LIKE TO HAVE THIS WHEN

THEY'RE SMALL.

>> UNDER THE G.

[ SPEAKING NATIVE LANGUAGE ]

>> BINGO.

>> MUCH OF WHAT NATIVE

AMERICANS MADE IN THE PAST WAS

VERY USEFUL.

IT WAS UTILITARIAN.

THEY DID NOT SEPARATE THEIR

CREATIVE EFFORTS FROM THE

PRACTICAL REASONS WHY THINGS WERE MADE.

[ ♪♪ ]

>> THE COUNSELING IS PROVIDED

FOR STUDENTS.

>> GOOD.

OKAY.

NOW, I PROMISED YOU THAT WE'D

PLAY A GAME WHEN WE GOT

THROUGH WORKING.

>> YOU KNOW THAT YOU -- NOW

THAT YOU FINISHED THE LESSON

ON THE COMPUTER, I WANT YOU TO

DO THE DEFINITIONS THAT WILL

GO WITH YOUR LESSON.

>> I DID TALK TO HIS PROBATION

OFFICER THIS MORNING -- OR

YESTERDAY AFTERNOON.

AND SHE WAS GOING TO CALL YOU

AND TALK TO YOU ABOUT THE

WHOLE SITUATION.

I DON'T KNOW IF SHE'S DONE

THAT YET.

>> HOW DID THE EARTH ALSO --

HEART OF THE EARTH ALSO TAKES

ITS ADULT EDUCATION PROGRAM

INTO THE PRISONS.

>> SO WHAT WE'RE TRYING TO DO,

OR ATTEMPTING TO DO IS TO

OFFER SOME ALTERNATIVES, EVEN

WITHIN A PRISON SETTING WHERE

THERE ARE VERY FEW

ALTERNATIVES FOR THE MEN IN

PRISON HERE.

WE'RE ATTEMPTING TO EXPAND

HEART OF THE EARTH PROGRAM TO

SERVE THOSE PEOPLE WHO ARE

MOST FORGOTTEN AND THAT'S THE

MEN'S SIDE OF THE PRISONS.

>> WITH PROGRAMS LIKE THIS,

WE'RE ABLE TO PUT EXTRA EFFORT

IN, AND ZERO IN ON WHAT REALLY

INDIAN EDUCATION IS ABOUT AND

WHAT IT MEANS FOR AN INDIAN

PERSON TO GO TO SCHOOL IS TO

BE ABLE TO LEARN FROM

CURRICULUM MATERIALS THAT ARE

RELEVANT, THAT THEY CAN RELATE

BACK TO THEIR CULTURE, BACK TO

THEIR LIFESTYLE AND BACK TO

THEIR WAY OF THINKING.

WITHOUT TALKING ABOUT THE --

ABOUT WHERE THEY'RE AT.

>> WHETHER THE MALE OR FEMALE

POPULATION HAS DECLINED TO NO

MORE THAN 12, ASSISTANCE IS

BEING PROVIDED IN AN EFFORT

TO --

[ AUDIO UNINTELLIGIBLE ]

>> HARMONY, HARMONY IS

PLEASURE.

IS OUR AIM OR OUR JOY.

AND THIS LITTLE BRIEF LESSON,

I HOPE YOU WILL ENLARGE YOUR

MINDS ON IT, TO YOUR LIKING.

AND I THANK YOU ALL.

THIS WILL BE ALL FOR TODAY.

>> SO THAT RAISES THE QUESTION

OF FREEDOM OF RELIGION.

NOW, IF THE PRISON WERE TO

DECIDE THAT NATIVE RELIGIONS

WERE HARMFUL FOR ITS PURPOSES

AND PASSED A RULE SAYING NO

ONE CAN PRACTICE IN THIS

PRISON ANY NATIVE RELIGION, DO

YOU THINK THAT WOULD BE

CONSTITUTIONAL?

IT WOULD BE UNFAIRLY

CONSTITUTIONAL.

IF PEOPLE OBEYED THIS, THE

FIRST AMENDMENT OF THE

CONSTITUTION, WHICH SAYS THERE

WILL BE FREEDOM OF RELIGION TO

EVERYBODY, THEN THAT PROBABLY

WOULD NOT BE NECESSARY.

>> I'VE GOT ABOUT SIX AND A

HALF YEARS INSIDE PENTS OUT

THERE.

AND EVERY TIME I WALKED OUT, I

WALKED OUT PRETTY EMPTY

FEELING.

PENITENTIARIES.

PRETTY LONELY FEELING.

THIS TIME HOPEFULLY WITH HEART

OF THE EARTH, PEOPLE COMING IN,

I CAN WALK OUT A LITTLE BIT

MORE BETTER AS A HUMAN BEING.

I CAN WALK OUT FEELING LIKE,

HEY, I HAD SOMETHING TO GIVE

TO SOMEBODY ELSE.

>> I DON'T KNOW.

I'VE BEEN TRYING TO JUST GET

INVOLVED IN THESE ACTIVITY

HERE SO I CAN OF GET MY MIND

OUT OF THIS -- THIS CRAZY

LITTLE WORLD HERE, INSIDE

THESE WALLS, YOU KNOW, SO I

CAN NOT ONLY LEARN SOMETHING,

JUST KEEP MY MIND OFF WHERE

I'M AT RIGHT NOW.

AND JUST KIND OF GET INVOLVED

WITH THINGS, YOU NEGOTIATION

AND KIND OF JUST --

WHY SOCIETY -- DOMINANT

SOCIETY AND STUFF, STARTS

CONTROLLING YOUR LIFE, AND

SOMEWHERE ALONG THE WAY YOUR

IDENTITY IS OPPRESSED AND THIS

PLACE HERE, THIS PROGRAM HAS

BROUGHT THAT OUT IN ME.

I KNOW WHO I AM NOW.

YOU KNOW, I CARE ABOUT MYSELF.

AS A HUMAN BEING AND I CARE

FOR OTHER PEOPLE.

>> IT'S A PLACE WHERE WE CAN

BE TOGETHER, YOU KNOW.

WE CAN TALK ABOUT

SPIRITUALITY.

WE CAN TALK ABOUT, YOU KNOW,

OUR RIGHT TO SURVIVE.

WE CAN TALK ABOUT OUR

RESENTIMENTS.

AND WE CAN GET THE DRUM OUT.

WE CAN SING WITH THE DRUM.

OR WE CAN TAKE THE PIPE OUT

AND PRAY WITH IT.

♪ DRUMMING ♪

♪ DRUMMING ♪

>> UNLIKE MOST SCHOOLS, HEART

OF THE EARTH ALLOWS FOR

UNSCHEDULED SPEAKERS AND

EVENTS.

>> JOHN ADAMS, GEORGE

WASHINGTON, THESE ARE THE

PEOPLE WHO BUILT THIS COUNTRY,

WHERE WE'RE AT NOW.

THESE TYPE OF PEOPLE TOOK

THEIR IDEAS FROM INDIAN

PEOPLE.

MOST OF THE CONSTITUTION OF

THE UNITED STATES GOVERNMENT

IS TAKEN FROM IROQUOIS

CONFEDERATION.

BUT THEY LEFT OUT ONE THING.

THEY LEFT OUT THE

SPIRITUALITY.

SO THAT'S WHAT INDIAN PEOPLE

HAVE TO OFFER.

THAT'S WHAT WE TELL THE PEOPLE

OF THE WORLD.

WE HAVE SOMETHING TO OFFER,

FIRST, TO TEACH MAN HOW TO

LIVE WITH THE EARTH, HOW TO

RESPECT ALL OF LIFE FIRST AND

THEN BUILD YOUR GOVERNMENT

FROM THERE.

[ ♪♪ ]

>> NATIVE AMERICANS HAVE

DISTINCT AND SEPARATE CULTURES

AND LANGUAGES FROM WESTERN

WORLD.

NATIVE AMERICANS, LEARN TWO

CULTURES IF THEY ARE TO

SURVIVE.

EACH DAY THEY FACE TWO SETS OF

EXPECTATIONS.

THOSE OF THEIR FAMILIES AND

THE COMMUNITY IN WHICH THEY

LIVE AND THOSE OF THE LARGER

SOCIETY.

TO LIVE THE BEST OF TWO

WORLDS.

>> I LOVE TO LOOK AT THOSE

KIDS' HAPPY FACES.

THEY DON'T HAVE TO SIT IN MEET

LITTLE ROWS TO LEARN.

IT'S AS NATURAL TO THEM AS

BREATHING.

ONE OF THE UNUSUAL FEATURES OF

HEART OF THE EARTH IS THAT

THEY HAVE BEEN AWARDED FUNDS

FOR TEACHING AMERICAN INDIAN

LANGUAGE AND CULTURE BY THE

STATE LEGISLATURE.

THE WOMAN WE SAW TEACHING

OJIBWE IS PART OF THAT

PROGRAM.

MINNESOTA IS UNIQUE IN THE

COUNTRY FOR PILOTING PROGRAMS

FOR THE PRESERVATION OF

AMERICAN INDIAN LANGUAGES.

OUR SECOND PIECE ON WYLD RYCE

IS CONCERNED WITH A DIFFERENT

TYPE OF EDUCATION.

A MONTHS OWEN IS A SIOUX WHO

LIVES ON THE PRAIRIE ISLAND

RESERVATION.

HE'S A DEEPLY SPIRITUAL MAN

AND EVERY DAY OF HIS LIFE HE

PERFORMS A RITUAL PRAYER WITH

THE PIPE.

IT'S PART OF A RELIGIOUS

TRADITION THAT GOES BACK MANY

THOUSANDS OF YEARS TO THE TIME

WHEN HUMAN BEINGS FIRST WALKED

ON THIS LAND.

IT'S UNUSUAL THAT AMOS IS

WILLING TO SHARE THIS

EXPERIENCE WITH US.

INDIAN PEOPLE ARE CAUTIOUS

ABOUT THE POSSIBILITY THAT

THEIR RELIGION MIGHT BE

EXPLOITED AND SOME FEEL THAT

THIS CEREMONY IS TOO PERSONAL

AND TO SACRED TO PERFORM

BEFORE A MASS AUDIENCE.

BUT BY ALLOWING US TO WITNESS

HIS PRAYER, HE IS HELPING

TRANSMIT AN IMPORTANT PART OF

AMERICAN INDIAN CULTURE.

>> ONE OF THOSE WORLDS IS

LIVED BY AMOS OWEN, A SIOUX

INDIAN, WHO LIVES ON THE

PRAIRIE ISLAND INDIAN

RESERVATION NEAR RED WING,

MINNESOTA.

AMOS PRACTICES HIS RELIGION

DAILY AND PRAISE WITH HIS

CEREMONIAL PIPE.

MOST NONINDIANS KNOW OF THE

PIPE AS THE PEACE PIPE.

AMOS CARVES AND CREATES HIS

OWN PIPES.

FOR AMOS, THE PIPE IS HIS

ALTAR AND WAY TO COMMUNICATE

WITH THE UNIVERSE AND HIS GOD,

THE GREAT SPIRIT.

AMOS WISHES TO SHARE SOME OF

HIS FEELINGS ABOUT HIS CULTURE

SO THAT IT IS BETTER

UNDERSTOOD AND PRESERVED.

[ SPEAKING NATIVE LANGUAGE ]

>> IN THE BEGINNING, A LADY

THAT BROUGHT US THIS PIPE --

[ SPEAKING NATIVE LANGUAGE ]

-- BROUGHT THIS PIPE TO THE

SIOUX NATION.

AND FROM THERE, THE PIPE HAS

BEEN PART OF OUR -- OUR WAY OF

LIFE, OUR RELIGION, YOU MIGHT

SAY.

SHE BROUGHT IT TO US, AT THE

TIME IT WAS FAR TO THE EAST,

AND SHE TOLD -- TELL OUR

PEOPLE TO MOVE WESTWARD.

WHERE THE BUFFALO IS.

GO WEST.

AND SHARE WITH ALL NATIONS.

[ SPEAKING NATIVE LANGUAGE ]

>> THE PIPE IS A GUIDANCE FOR

YOU.

IT SHOWS YOU A WAY OF LIFE

THAT MODERN CHRISTIANITY, SAME

WAY.

GO TO CHURCH ON SUNDAYS.

TO COMMUNICATE WITH THE LORD

JESUS.

WE DO THE SAME THING, EVERY

DAY.

IN MY WORLD, I USE THAT PIPE

EVERY DAY, EVERY MORNING,

BEFORE THE SUN COMES UP.

I GO PRAY WITH THIS PIPE.

AT THE BEGINNING, WHEN I

STARTED, I POINTED MY PIPE TO

THE HEAVENS.

THIS IS THE FIRST PART OF -- A

SIX-PART PRAYER OF THE GREAT

SPIRIT.

THE PRAYER, I COME AS A HUMBLE

MAN TODAY.

I ASK FOR PRAYERS FOR MY

PEOPLE.

ASK FOR PRAYERS FOR PEOPLE

THAT ARE SICK TODAY.

A SPECIAL PRAYER I SAID TODAY

WAS FOR A FRIEND OF MINE.

WHO I KNOW IS VERY VERY SICK.

AND I WANTED TO DO THIS

ESPECIALLY FOR HIM.

MADE ME FEEL IT.

THAT HE IS THERE.

EVEN HE HEARS MY PRAYERS.

AND THESE THINGS I PRAY TO THE

GREAT SPIRIT, AND THEN I WENT,

THE UNIVERSE, FOUR DIRECTIONS,

THE EAST, THE WEST, WHERE THE

SUN GOES DOWN, OR WHAT WE

CALL --

[ SPEAKING NATIVE LANGUAGE ]

COMFORT IN THE WEST, BRINGS

US --

[ AUDIO UNINTELLIGIBLE ]

CALL BUFFALO PEOPLE.

[ SPEAKING NATIVE LANGUAGE ]

>> I PRAY TO THE NORTH.

[ SPEAKING NATIVE LANGUAGE ]

>> THE HEALING WINDS FROM THE

NORTH COMES TO US.

IT PRESERVES A WAY OF --

[ SPEAKING NATIVE LANGUAGE ]

THESE ARE THINGS THAT, LOOK

AFTER ME, LOOK AFTER MY

PEOPLE.

AND THEN PRAYED TO THE EAST.

THIS IS WHERE THE PIPE

ORIGINALLY CAME FROM.

PRAY TO ASK THE MORNING STAR,

AND BY -- THE BRIGHTEST STAR

IN THE HEAVENS.

GIVE US WISDOM FOR THE DAY.

THESE THINGS I ASK, AND THEN I

PRAY TO THE SOUTH.

[ AUDIO UNINTELLIGIBLE ]

TO MAKE THIS EARTH BEAUTIFUL

AGAIN.

AND THEN, LAST, I ASK, PRAY TO

MOTHER EARTH ITSELF.

PIPE COMES FROM THE GROUND.

THE STONE COMES.

THE PIPE --

[ AUDIO UNINTELLIGIBLE ]

ALL COMES FROM MOTHER EARTH.

SO I GIVE THANKS FOR

EVERYTHING THAT I PRAY -- THE

PIPE ITSELF.

ALL BELONG TO MOTHER EARTH.

>> YOU CAN REALLY SENSE THE

POWER AND SPIRITUALITY IN THAT

MAN.

AMOS CARVES HIS OWN PIPES AND

SERVES AS TRIBAL HISTORIAN, A

LINK IN THE CHAIN OF ORAL

HISTORY THAT STRETCHES BACK

FOR CENTURIES.

NEXT WEEK ON WYLD RYCE, WE'LL

FEATURE A HALF-HOUR

PERFORMANCE.

BE SURE TO WATCH.

I'M MIKE MUELLER.

[ ♪♪ ]

>> Announcer: MAJOR FUNDING

FOR WYLD RYCE IS PROVIDED BY A

GRANT FROM THE DAYTON HUDSON

FOUNDATION.