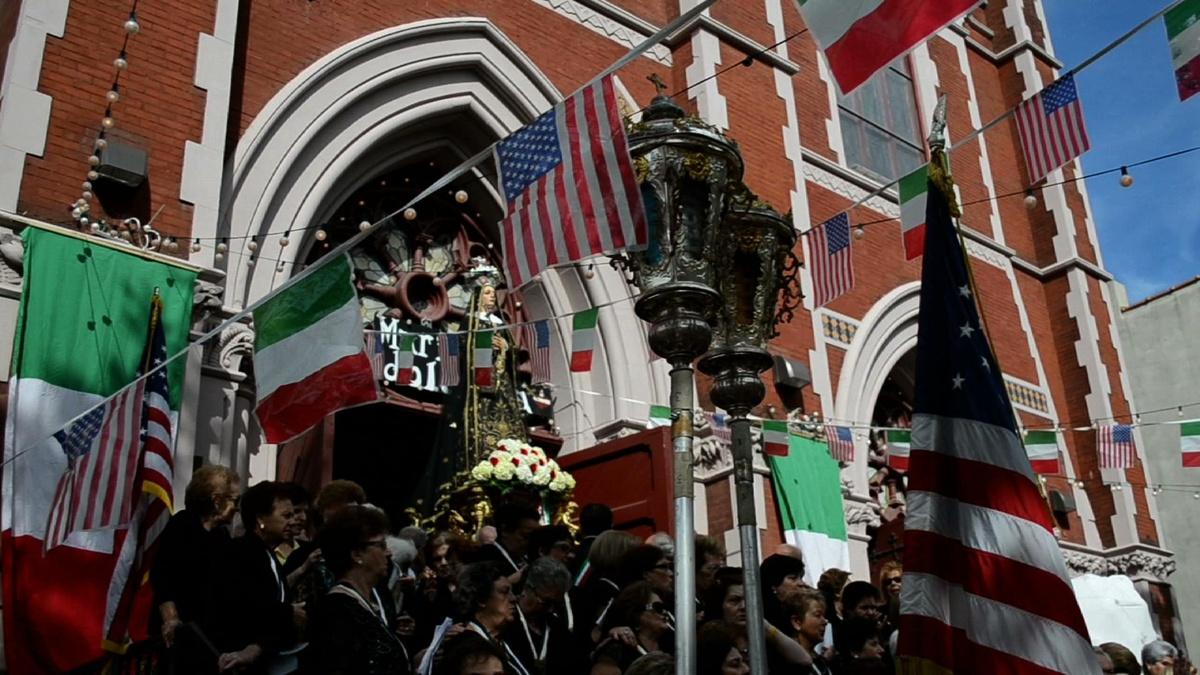 FULL EPISODE
Italian Americans of New York and New Jersey: Part 2
Hosted by journalist Maria Bartiromo, this two-part series features experts in Italian American history and culture and local Italian Americans, including New York City Mayor Bill de Blasio, chef Lidia Bastianich, the late former Governor of New York Mario Cuomo, singer Tony Bennett, actress Susan Lucci, former NY Senator Al D'Amato, NJ Governor Chris Christie, actor Joe Piscopo, and many others.
TRANSCRIPT

>>> THEY LEFT THEIR HOMES IN

ITALY.

>> ONE HOME IN ONE SMALL TOW

NEAR NAPLES.

>> A SMALL TOWN.

>> MY FAMILY COMES FROM ITALY.

>> A LITTLE TOWN

>> AND SETTLED IN AMERICA.

>> I CAN JUST IMAGINE

IMMIGRANT ARRIVING IN NEW YORK

HARBOR AND SEEING THE MADONNA OF

AMERICA, LADY LIBERTY.

>> LANDED IN ELLIS ISLAND AN

MOVED TO EAST HARLEM

>> THEY WORKED

>> MOST OF THE MEN IN THE FAMILY

WERE LONGSHOREMEN.

>> MY GREAT GRANDPARENTS WER

ALL BUTCHERS

>> WHEN THEY GOT TO NEW YORK THE

STREETS WERE NOT PAVED WIT

GOLD

AS A MATTER OF FACT THEY WEREN'T

PAVED.

THESE PEOPLE WHO CAME WERE

EXPECTED TO DO THE PAVING.

>> THEY CREATED COMMUNITIES.

>> THE BUILDING THAT I GREW UP

IN MY MOM, DAD MYSELF ON ONE

FLOOR.

>> MY UNCLE.

>> MY GRANDFATHER AN

GRANDMOTHER LIVED NEXT DOOR.

>> I HAD TWO UNCLES UP THE

BLOCK.

>> MY UNCLE AND HIS CHILDREN

LIVED ON THE FIRST FLOOR

>> MY GREAT AUNT LIVED ON TH

FIRST FLOOR.

>> THEY VALUED LEARNING.

>> IT WAS ALL ABOUT EDUCATION.

>> MY EDUCATION REALLY PAID OFF.

>> HE BROUGHT HIS EDUCATION IN

AND THEN WE HAVE AN EDUCATED

BUTCHER.

>> THEY LOVED THEIR FAMILIES

>> I THOUGHT EVERYONE HAD

MILLION COUSINS.

>> MY MOTHER WAS THE CORE OF OUR

FAMILY

>> THEY LOVED THEIR NEW COUNTRY.

>> WE ARE ALL AMERICANS, FIRST

AND FOREMOST

>> I FEEL VERY AMERICAN AND

FEEL VERY ITALIAN.

>> WE LOVE THIS COUNTRY AND WE

LOVE ITALY

>> MAJOR FUNDING FOR

ITALIAN-AMERICANS OF NEW YOR

AND NEW JERSEY HAS BEEN PROVIDED

BY THE HOPE FOUNDATION, COLUMBUS

CITIZENS FOUNDATION, FRIENDS O

13 INC., THE FAMILY FOUNDATION

MR. AND MRS. JOSEPH PARILA

AND PAUL AND KIMBERLY TANICO

COMMUNITY STATION SUPPORT HA

BEEN PROVIDED BY THE CORPORATION

FOR PUBLIC BROADCASTING.

>> WELCOME TO "ITALIAN AMERICANS

OF NEW YORK AND NEW JERSEY."

I'M A PROUD ITALIAN-AMERICAN

WITH DEEP ROOTS IN OUR REGION.

LIKE SO MANY ITALIAN IMMIGRANT

ITALIAN-AMERICANS HAVE BEE

DETERMINED TO WORK HARD OFTEN IN

PURSUIT OF THE AMERICAN DREAM,

FAMILY, EDUCATION, HARD WORK

THE ESSENCE OF THIS STRONG

PASSIONATE PEOPLE.

IN THIS EPISODE WE TAKE A LOOK

AT HOW THE ITALIAN-AMERICA

COMMUNITY IS EVOLVING.

WE TALK TO PEOPLE ABOU

TRADITIONS, FAITH AND FOOD

I CAN TELL YOU SUNDAY DINNERS TO

THIS DAY ARE A MAIN STAY OF MY

FAMILY

SO JOIN ME AS WE CONTINUE OU

CELEBRATION OF ITALIAN-AMERICANS

OF NEW YORK AND NEW JERSEY

>>> GOOD MORNING, WELCOME TO THE

70th ANNUAL COLUMBUS DAY PARAD

HERE ON FIFTH AVENUE

>> EVERY OCTOBER ITALIAN

AMERICANS HAVE CELEBRATE

CULTURAL PRIDE ALONG FIFTH

AVENUE

I HAVE BEEN HOSTING THE PARADE

FOR THE LAST 20 YEARS.

FOR THE LAST TEN I HAVE HA

ENTERTAINING JOE PISCAPO BY MY

SIDE

>> IT IS A CELEBRATION OF OU

HERITAGE

>> Reporter: NEW YORK'S COLUMBUS

DAY PARADE IS THE LARGEST IN

THIS COUNTRY

>> WE LOVE THIS COUNTRY AND WE

LOVE ITALY

>> Reporter: IT ALL STARTED IN

1929 WITH THE HELP OF AN

ITALIAN-AMERICAN BUSINESSMAN AND

NEWSPAPER PUBLISHER.

TODAY THE PARADE IS ORGANIZED BY

THE COLUMBUS CITIZEN

FOUNDATION, AN ORGANIZATION THAT

SUPPORTS IITALIAN-AMERICAN

HERITAGE AND ACHIEVEMENTS.

MORE THAN 100 ITALIAN-AMERICAN

GROUPS, BANDS AND FLOATS

>> I FEEL COMMITTED.

IT IS KIND OF MY ENDORSEMENT

I WANT TO BE PART OF THAT AN

THAT IS WHAT THE PARADE IS ALL

ABOUT.

>> IT IS A WELL-OILED OPERATIO

WITH MANY PROU

ITALIAN-AMERICANS FROM ALL WALKS

OF LIFE.

EVEN LADY GAGA'S FATHER MAKES IT

A YEARLY TRADITION TO HELP OUT

BEHIND THE SCENES.

>> EVERY YEAR FOR THE PAST 10 OR

12 YEARS I HAVE BEEN DOWN HERE

ON 47th STREET MAKING SURE ALL

THE FLOATS COME OUT IN THE RIGHT

ORDER RIGHT AFTER THE RIGH

BAND

>> WE NEVER MISS IT BECAUSE IT

IS PART OF OUR HERITAGE.

>> THE PARADE IS GLOBALL

TELEVISED AND SEEN BY 1 MILLIO

VIEWERS, MAKING IT THE LARGEST

CELEBRATION OF ITALIAN-AMERICA

CULTURE IN THE WORLD

>> LET'S FACE IT, AMERICA IS

BEAUTIFUL.

>> WE SAY MY PARENTS CAME FROM

ITALY AND ARE NOW AMERICAN

CITIZENS

THEY ARE ITALIAN-AMERICANS

SINCE I WAS BORN IN AMERICA AN

MY BROTHERS AND SISTERS WERE

BORN IN AMERICA WE ARE

AMERICAN-ITALIANS.

>> NO MATTER THE LABEL IT IS

CLEAR THAT THERE IS A SPECIA

BOND AMONG ITALIAN-AMERICANS

>> IT IS AN INSTANTANEOU

CONNECTION BECAUSE WE HAVE

SHARED CULTURAL EXPERIENCES,

SHARED RELIGIOUS EXPERIENCES

SHARED FAM ILEAL EXPERIENCES

THAT WE CAN TALK TO EACH OTHER

ABOUT IN THE SHORTHAND

♪♪

IN NEW YORK WHEN YOU MEET PEOPLE

WHO CAME FROM YOUR OWN COUNTRY

AND DECIDED TO COME HERE THE

ARE VERY CLOSE TO YOU EVEN

THOUGH THEY ARE DIFFERENT.

THESE ARE THE GUYS WHO CAME TO

AMERICA MAYBE IN THE SAME YEAR

EVEN THOUGH HE'S LIKE A HAIR

DRESSER OR A LAWYER IT DOESN'T

MATTER

HE GOES THROUGH AND I WENT

THROUGH THE REALLY MAKES US VERY

LIKE IT'S A BROTHERHOOD SOMEHOW.

>> AND THIS LARGE EXTENDED

IITALIAN-AMERICAN FAMILY SHARE

MANY CHARACTERISTICS

>> I THINK THE TRAIT I MOS

IDENTIFY WITH BEIN

ITALIAN-AMERICAN IS MY

STUBBORNNESS AND PERSEVERANCE.

MY GRANDFATHER SAID WHEN YOU

PLANT TOMATOES YOU GET TOMATOES.

KNOWING MY GRANDPARENTS AN

AUNTS AND UNCLES IT MAKES SENS

I AM STUBBORN.

>> THE WAY WE ACT IN FRONT O

OTHER PEOPLE, THE FACT THAT WE

ARE RUDE AND WE SAY IT IS JUST

BEING AGGRESSIVE, WE FIGHT LIK

CRAZY, THE FAMILY ESPECIALLY A

HOLIDAYS AND THEN MAKE UP LIKE

TWO WEEKS LATER LIKE WE DON'

KNOW WHAT WE FOUGHT ABOUT.

THAT'S WHAT IS CRAZY ABOUT IT.

>> I THINK OVER THE LAST CENTURY

ITALIAN CULTURE, ITALIAN MUSIC

FOOD, A WAY OF LIFE ON A

WILLINGNESS TO EXPRESS OUR

FEELINGS AND EMOTIONS, THA

STEREOTYPE IS NOT UNTRUE

WE ARE JUST COMFORTABLE AS A

PEOPLE EXPRESSING OURSELVES.

AND I THINK THAT HAS ADDED A LOT

TO WHAT WE THINK AS A NEW YORK

CITY CULTURE, THAT

EXPRESSIVENESS AND ENERGY AN

CREATIVITY IS SUBSTANTIALL

SOMETHING BROUGHT TO US FROM

ITALY.

>>> I WAS A FRESHMAN IN HIGH

SCHOOL AND SISTER WHATEVER HER

NAME WAS ASKED ME TO RECITE

POEM

I GOT UP AND I RECITED THE POEM.

SHE STOPPED ME AND SHE SAID AR

YOU ITALIAN?

AND I SAID, WELL, YES, SISTE

I'M OF ITALIAN EXTRACTIO

BECAUSE THAT IS WHAT I HAD BEE

TAUGHT TO SAY.

SHE SAID IT IS OBVIOUS BY TH

WAY YOU MOVE YOUR HANDS.

PUT YOUR HANDS BEHIND YOUR BACK.

I PUT MY HANDS BEHIND MY BAC

AND I CONTINUED RECITING BUT

THEY WERE STILL MOVING

THE KIDS BEHIND ME WERE LAUGHING

AND SHE NEVER COULD UNDERSTAND

WHY.

♪♪

>> HALF SICILIAN AND HALF IRISH.

BOTH OF THOSE TOGETHER ARE

RATHER COMBUSTIBLE COMBINATION

OFTEN, TWO VERY EMOTIONAL SETS

OF ETHNICITIES

I THINK THE EMOTIONS THAT I HAVE

THAT ARE VERY KIND OF OUT ON THE

SURFACE VERY MUCH COMES FROM

THAT SIDE OF THE FAMILY.

>> I'M PROUD TO BE ITALIAN

BECAUSE THE FOOD IS AMAZING.

THE PEOPLE ARE GREAT

EVERYBODY IS FAMILY.

YOU DON'T HAVE TO KNOW THEM.

>> THIS FEELING OF COMMUNITY HAS

BEEN PASSED ON THROUGH THE

GENERATIONS.

>> I THINK I WAS THE FIRST

ITALIAN-AMERICAN ELECTED

STATEWIDE IN NEW YORK, NOT

WITHSTANDING THAT WE HAVE

SIGNIFICANT PORTION OF THE

POPULATION

NOT UNTIL 1980 DID WE HAVE A

ITALIAN AMERICAN ELECTED

STATEWIDE AND I THINK WE HAD 25%

OF THE VOTING POPULATION

I HAVE TO TELL YOU IT WAS TH

ITALIAN-AMERICAN COMMUNITY WHE

I FIRST RAN FOR OFFICE, THEY

GALVINIZED BEHIND ME

IT WAS REPUBLICANS AND

DEMOCRATS, ITALIAN-AMERICANS

THEY SAID WE ARE GOING T

SUPPORT THEM

THEY DIDN'T SUPPORT ME BECAUSE I

WAS HANDSOME

THEY SUPPORT ME BECAUSE TH

ELEPHANTS OF MY SPEECH

I ALWAYS HAD MAMA'S BROOKLYN

ACCENT

>> I WILL BRING A REALISTIC VIEW

THAT WE MISSED IN NEW YORK FOR

SOME TIME.

>> THEY GOT BEHIND BECAUSE THE

WANTED AN OPPORTUNITY TO HAV

ONE OF THEIR OWN, ETHNIC PRIDE

WAS A GREAT THING.

>> ETHNIC PRIDE AND LONG HEL

TRADITIONS

WHAT ABOUT THE TRADITION, TH

SUNDAY AFTERNOON DINNER?

CHURCH ON SUNDAY, THE FAMILY

THE FOOD

ARE THESE TRADITIONS THAT THEY

PRACTICED ALL THE TIME IN ITAL

AND THEN JUST REDID IT WHEN THEY

ARRIVED IN AMERICA

>> THE SUNDAY DINNER, THERE WA

NOTHING LIKE THAT AMONG TH

ITALIAN PEASANTRY, THE ABUNDANCE

OF FOOD AND ORGANIZATION

THAT HAPPENED HERE IN THE UNITED

STATES AS ITALIANS START TO MAKE

MONEY AND HAVE ACCESS TO THING

LIKE MEAT ON A REGULAR BASIS

THEY ARE ABLE TO BUY AND CONSUME

LARGE QUANTITIES OF FOOD THA

THEY WEREN'T ABLE TO DO THERE.

THAT BECOMES AN OPPORTUNITY FO

PEOPLE TO KEEP HOLD OF THEIR

CHILDREN

CHILDREN WHO ARE BECOMIN

INCREASINGLY MODERNIZED WH

START TO REJECT THE OLD WORL

TRADITION OF THEIR PARENTS

THE SUNDAY DINNER BECOMES A WA

OF THE PARENTS MAINTAINING

CONTROL ON THEIR AMERICANIZING

>> THERE WAS NO OPTION

YOU WERE DEAD OR AT MY

GRANDMOTHER'S HOUSE.

>> SUNDAY GET TOGETHER WE HAD TO

BE

YOU DIDN'T MISS THAT

YOU DIDN'T WANT TO MISS IT

>> THE KITCHEN WAS SMALL BUT W

MANAGED TO SKEEZ IN THERE AN

PASS THE FOOD AROUND

THERE WASN'T ROOM TO WAL

AROUND

WE PASSED THE FOOD AROUND.

WHEN IT WAS FINISHED SOM

COOKIES AND SONG, TOO.

>> MY GRANDMOTHER LIVED IN

CLIFTON, NEW JERSEY.

SHE MADE DELICIOUS ITALIAN FOOD,

LASAGNA, EGG PLANT PARM.

WEIRD STUFF LIKE LAMBS HEAD AN

PIGS FEET SAUCE.

>> EVERYONE WAS INVITED ALWAYS

THE MORE THE MERRIER

YOU JUST CRAMMED PEOPLE IN AND

EXTEND THE TABLE

IT WAS VERY RITUALISTIC IN TERMS

OF SETTING UP THE TABLE AN

BRINGING THE BOARDS OUT FOR TH

TABLE TO EXTEND IT

IT USED TO BE THREE KIDS AT TH

KIDS TABLE AND THEN SIX AN

EIGHT.

I'M 35 YEARS OLD AND I HAVEN'T

BEEN UPGRADED TO THE ADULT TABLE

YET.

>> FOOD REALLY IS LOVE

A LOT OF OTHER PEOPLE DON'

REALLY UNDERSTAND THAT

>>> I WOULD WALK WITH MOM AN

EARLY IN THE MORNING LIK

QUARTER TO NINE A LOT OF PEOPL

WOULD BEGIN THEIR TOMATO SAUCE

FOR THE SUNDAY MEAL.

AND PARTICULARLY IN THE SPRING

TIME ALL THE WINDOWS WERE OPEN

SO YOU WOULD SMELL

THE INTERESTING THING IS YOU

COULD SMELL THE VARIETY OF

TOMATO SAUCE DEPENDING ON WHER

PEOPLE CAME FROM, WHAT REGION OF

ITALY THEY WERE FROM

AND IT'S FUNNY HOW YOU TRAIN

YOURSELF OVER TIME

I REMEMBER TELLING MY MOTHER

WHAT IS THAT

THAT MEMORY HAS STUCK WITH M

EVER SINCE

>> MY WIFE, YOU KNOW IT'S TRUE

LOVE WHEN SHE REACHED OUT TO M

AUNT TO GET MY GRANDMOTHER'S

RECIPES FOR HOW SHE MADE HER

SAUCE ON SUNDAY.

IT IS WORTH IT THE EIGHT HOURS

IT TAKES TO GET A NICE SAUCE

GOING ON A LOW SIMMER.

>>> PEOPLE WOULD SAY TOMAT

SAUCE.

IT WAS AGGRESSIVE.

IT WAS NOT SAUCE

-- IT WAS GRAVY.

MY GRANDFATHER WOULD GO TO THE

IRON BOUND SECTION OF NEWARK AND

GET THE TOMATOES

WE WOULD BRING THEM BACK IN TH

BUSHELS.

MY GRANDFATHER WOULD CHURN THE

UNTIL IT FINALLY CAME OUT AND WE

WOULD PUT THEM IN JARS

WE WOULD WORK AND YOU DIDN'T

HAVE A CHOICE.

>> WE MAKE THE SAUCE THAT MY

MOTHER WOULD MAKE.

WE JAR THE TOMATOES.

WE WOULD JAR AS MUCH AS FOUR

BUSHELS.

>> SAUCE IS ALWAYS BIG ON TH

ITALIAN SIDE

ACTUALLY BEFORE MY MOM AND DAD

GOT MARRIED SHE HAD TO SET ASIDE

A DAY TO GO DOWN TO MY

GRANDPARENTS HOUSE AND SPEND THE

DAY WITH MY GRANDMOTHER LEARNING

HOW TO COOK.

>> WE WOULD BE INVOLVED WITH THE

BIG CRATES, BIG BROWN CRATES

MY GRANDFATHER

IT WASN'T LIKE LUCY WHERE YO

ARE STOMPING ON THE GRAPES

WE WOULD MAKE THE WINE EVERY

YEAR

IT WAS A BIG PART OF OUR FAMIL

TRADITION.

>> WHAT WE THINK OF AS TYPICAL

ITALIAN FOOD LIKE SPAGHETTI AN

MEATBALLS AND A SLICE OF PIZZA

ARE ACTUALLY AMERICANIZE

VERSIONS OF RECIPES BROUGHT OVER

FROM ITALY

>> FOR ME IT IS WONDERFU

CUISINES PARALLELED BEIN

ROOTED

MORE MEMORIES OF FLAVOR THAN

ACTUAL RECIPES

AND THEN THEY MADE IT WITH THE

PRODUCTS THAT THEY FOUND HERE.

>> THE ITALIAN-AMERICAN CUISIN

REFLECTS THE FIRST REGIONA

GROUP OF IMMIGRANTS THAT CAM

FROM ITALY, FROM SICILY.

THE ITALIAN-AMERICAN CUISINE

REFLECTS THOSE THREE REGIONS

WHEN YOU SEE THE RED PEPPER, YOU

SEE A LOT OF TOMATOES AND PIZZ

OF COURSE NAPLES

AND THEN EGG PLANTS AND ALL OF

THE FISH IS SICILY

>> I REMEMBER SITTING IN THE

KITCHEN AND MY LITTLE ITALIA

GRANDMA AND HER SPOON LIKE

COOKING THE RONIS.

>> MY DAD WHO ON A SUNDA

EXPECTS TO HAVE PASTA AN

MEATBALLS, THAT IS WHAT AN

ITALIAN-AMERICAN MEATS

WHEN HE COMES TO M

MOTHER-IN-LAW'S HOUSE TODAY WH

IS SICILIAN HERSELF HE DOESN'T

FIND THAT BECAUSE FOR A TRUE

ITALIAN YOU NEVER SERVE PAST

WITH THE MEAT.

A SPAGHETTI AND MEAT BALL IS A

AMERICANIZATION.

MY MOTHER-IN-LAW WILL NOT PU

THE MEATBALLS ON THE TABLE WIT

THE PASTA.

SHE REFUSES.

I BEGGED AND PLEADED WITH MY

WIFE AND MY WIFE WILL DO IT JUST

FOR MY FATHER.

>> AT THE BAKERY A BROOKLY

VERSION OF LARD BREAD HAS BEEN

MADE FOR ALMOST A CENTURY.

MADE OF SALAMI, PROVOLON

CHEESE

HOLIDAYS WE MAKE THOUSANDS AND

THOUSANDS AND THOUSANDS OF LOG

BREAD THAT GO OUT NOT ONE BY ONE

BUT LIKE TEN AT A TIME

>> I MAKE AN INCREDIBLE LASAGNA.

IT TAKES FOREVER

IT'S NOT THE SHORTCUT THING WITH

FAKE NOODLES IN A MICROWAVE.

IT WEIGHS LIKE 7,000 POUNDS.

>> WHEN I WENT TO THE SENATE

MAMA WOULD COOK UP INCREDIBL

LASAGNA AND SEND THEM DOWN

ON THE OCCASION THAT I WOULD

ENTERTAIN SENATE COLLEAGUES THEY

LOVED MAMA'S LASAGNA

>> YOU KIND OF RELIVE MEMORIES

AND TASTES AND FLAVORS BUT ALS

EMOTIONS

>> FOOD IS EXTREMELY IMPORTANT

IN AN IMMIGRANT'S LIFE IN KIND

OF CONNECTING BACK TO WHERE THEY

COME FROM.

>> ONE OF THE TRADITIONS ADAPTED

FROM THE OLD COUNTRY IS TH

TYPICAL CHRISTMAS EVE DINNER

WHEN MANY ITALIAN-AMERICAN

CELEBRATE THE FEAST OF THE SEVEN

FISHES

IT'S A VERSION OF THE ORIGINAL

SOUTHERN ITALIAN VIGIL FOR THE

BIRTH OF JESUS

IN KEEPING WITH THE CATHOLIC

TRADITION OF MEATLESS MEAL

ITALIAN-AMERICAN FAMILIES EA

SEAFOOD.

>> AT CHRISTMAS TIME WE BRIN

DOWN ALL THE ITALIAN FOOD FO

THE FEAST OF THE SEVEN FISHES.

ON CHRISTMAS EVE WE WOULD HAVE

THIS THING

YOU WERE SUPPOSED TO ABSTAIN

FROM MEAT.

ONE WRITER SAID THE ITALIAN IDEA

OF ABSTAINING IS A SEVEN COURS

FISH DINNER.

WE HAVE ANTIPASTA, CLAMS, FRIE

FISH, FRIED VEGETABLES

ASPARGUS

>> IT IS UNCLEAR WHY SEVEN

FISHES IS ON THE MENU, SOME SA

BECAUSE SEVEN IS THE MOS

REPEATED NUMBER IN THE BIBLE

OTHERS SAY IT REFERS TO TH

SEVEN DAYS OF CREATION OR SEVE

SACRAMENTS OF THE CATHOLIC

CHURCH

>> ON MY MOM'S SIDE WE USED TO

MAKE EVERY CHRISTMAS

WE WOULD BE DOWN STAIRS WITH THE

FLOUR EVERYWHERE AND THE DOUGH

ROLLING.

YOU HAD TO CUT THEM A CERTAI

WAY.

>> AFTER THE FEAST THERE I

ANOTHER CHRISTMAS EVE TRADITION,

MIDNIGHT MASS.

MORE ITALIANS WHO CAME T

AMERICA WERE ROMAN CATHOLICS

THEY BROUGHT THAT FAITH ALON

WITH THEM.

>> WE WENT TO CHURCH EVERY

SUNDAY AS A FAMILY

I GREW UP IN THE CATHOLI

CHURCH

I MADE MY COMMUNION AN

CONFIRMATION

>> WHEN THE IMMIGRANTS CAME OVER

THEY DIDN'T HAVE VERY MUCH

WHAT THEY DID HAVE THEY BROUGH

IN A CASE OR THEIR HEARTS.

ONE OF THE THINGS THEY BROUGHT

IN THEIR HEART WAS THEIR FAITH

THEY WERE ABLE TO PASS THA

FAITH DOWN AND THAT IS SOMETHING

THAT THE NEXT GENERATION CAN

STILL HOLD ON TO

>> IS RELIGION STILL A

PREVALENT IN THE COMMUNITY A

WAS THE CASE WHEN TH

IMMIGRATION FIRST STARTED?

>> RELIGION STILL REMAINS A VERY

IMPORTANT PART OF ITALIA

IDENTITY IN NEW YORK CITY.

I THINK IT IS ONE OF THE

ARTISTIC EXAMPLES OF

ITALIAN-AMERICAN CULTURA

EXPRESSIONS.

THEY HAVE LAWNS THAT THE

DECORATE WITH ARCHITECTURA

ACHIEVEMENT AND SKILL THAT ARE

AN EARMARK OF ITALIA

NEIGHBORHOODS.

ONE WHO DOESN'T KNOW WHERE THE

ARE CAN QUICKLY START TO

IDENTIFY AN ITALIAN NEIGHBORHOOD

BY VARIOUS STATUES AND SHRINES

BUILT AROUND THEM.

>> WHAT DOES IT MEAN TO STUD

ITALIAN FOLKLORE

>> ONE OF THE MAJOR THINGS O

ITALIAN-AMERICAN CULTURE IS TH

RELIGIOUS PROCESSION

>> IN MANHATTAN'S LITTLE ITALY

PERHAPS THE MOST FAMOU

RELIGIOUS FESTIVAL IS THE FEAST.

IT TOOK PLACE IN 1926 AND IS

CELEBRATED EVERY SEPTEMBER

>> THE PATRON SAINT OF NAPLES.

>> THAT'S WHY WE CELEBRATE HERE.

>> HISTORICALLY BEEN THIS PLAC

WHERE ITALIANS MADE A PUBLIC

PROCLAMATION OF WHO THEY WER

FOR THEM SELVES AND THE WORLD AT

LARGE.

IT WAS A MIX OF RELIGIOUS AN

SECULAR ASPECTS.

YOU COULD BE CRYING ARDENTLY A

YOU PETITION THE VIRGIN MARY I

PRAYER

YOU COULD BE EATING FOOD

YOU CAN BE ON RIDES.

YOU CAN BE ENJOYING YOURSELF I

A VERY SOCIAL SITUATION ALL PART

OF THIS INCREDIBLE SPECTACLE

THAT WAS THE ITALIAN-AMERICA

PROCESSION

>> WE HAVE PROCESSIONS FOR

EVERYTHING YOU CAN IMAGINE

GROWING UP IN BROOKLYN, THOS

PROCESSIONS, THE FEASTS, THE

OUTDOOR CELEBRATIONS, THE FABRIC

OF THE RHYTHM OF LIFE WHERE YO

MAKE NEW FRIENDS AND CELEBRATE

WHO WE WERE, OUR HERITAGE.

>> AS A KID WE ALWAYS WOULD GO

TO THE FEAST

AND IF I'M NOT MISTAKEN I THIN

THE FEAST MIGHT HAVE BEEN ON

PICKEN AVENUE.

AND IN THOSE DAYS THE FEAST WA

ALL ABOUT FOOD

>> IN NEW JERSEY THE UNOFFICIA

ITALIAN-AMERICAN CAPITAL OF TH

STATE MORE THAN 40% OF THE

RESIDENTS ARE OF ITALIAN

ANCESTRY

THE STANDOUT EVENT IS THE ANNUAL

ITALIAN FESTIVAL

THE OUR LADY OF MT. CARMEL

PROCESSION IS THE CENTER PIECE

OF THE OLDEST FESTIVAL IN TH

UNITED STATES.

>> AT ONE TIME THERE WERE MANY

DIFFERENT FESTIVALS.

ONE THAT CONTINUES TO THIS DAY

IS THE FEAST PROCESSION OF OUR

LADY OF SORROWS.

OUR LADY OF SORROWS IS A

PATRONAGE.

IN 1948 ENOUGH OF THE ITALIA

IMMIGRANTS SETTLED IN THIS ARE

AND HAD AN IMAGE COMMISSIONED IN

THE TOWN WHICH WAS A REPLICA O

THE STATUE OF THEIR PATRON

SAINT.

THAT STATUE MADE EVERYONE FEEL

SAFE BECAUSE THEY COULD LOOK A

IT AND NOT ONLY SEE A STATUE O

THE VIRGIN MARY BUT SA

GENERATIONS AND FAMILIES THE

LEFT BEHIND.

THEY SAW THEIR MOTHER AN

FATHER

EVERY YEAR FOR HER FEAST SINCE

1948 SHE HAS BEEN BROUGHT OUT IN

PROCESSION BY THE FAITHFUL

TODAY EVERYONE FROM THE TRISTATE

AREA WHO IS A DESCENDANT OF THAT

TOWN COMES TOGETHER.

>> EACH YEAR THE DESCENDANTS

RETURN TO THE OLD NEIGHBORHOOD

BECAUSE VERY FEW OF THE ORIGINAL

ITALIAN IMMIGRANTS OR THEI

FAMILIES STILL LIVE IN CAROL

GARDENS.

IT'S A PATTERN OF MIGRATION SEEN

IN MOST ITALIAN-AMERICAN

NEIGHBORHOODS IN OUR AREA.

LITTLE ITALY IN MANHATTAN KNOW

AS THE CENTER OF NEW YORK'

ITALIAN-AMERICAN POPULATION IS A

LITTLE LESS AUTHENTICALL

ITALIAN TODAY.

FEW ITALIAN-AMERICANS STILL LIVE

THERE.

>> I'M ONE OF THE LAST LEFT.

>> ACCORDING TO THE 2010 CENSU

THERE IS NOT ONE ITALIAN BORNE

RESIDENT LEFT IN LITTLE ITALY.

>> NOW IT IS CHINA TOWN.

THAT'S OKAY.

THEY ARE NICE PEOPLE

>> AS DIFFERENT BUSINESSES MOV

IN LITTLE ITALY IS BECOMIN

LITTLER ITALY.

IT'S A SIMILAR STORY IN BENSON

HURST.

>> GROWING UP IN BROOKLYN IN

THAT AREA WAS LIKE BEING BROUGHT

UP IN A LITTLE AREA OF ITALY

BACK THEN.

I REMEMBER I DON'T THINK YOU D

BUT I REMEMBER FOG THERE

>> THERE ARE STILL LOTS OF

AUTHENTIC FAMILY OWNED CHEESE,

MEAT, BREAD STORES AND ITALIAN

RESTAURANTS.

THE OWNERS DON'T LIVE IN THE

NEIGHBORHOOD ANYMORE

ITALIAN-AMERICANS THAT COME TO

SHOP AND EAT ON ARTHUR AVENU

MOSTLY LIVE ELSEWHERE.

PLACES IN OUR AREA WHICH ATTRACT

MANY ITALIAN-AMERICANS ARE

STATEN ISLAND WHERE ALMOST 40%

OF THE POPULATION REPORT

ITALIAN-AMERICANANICISTRY AN

NEW JERSEY

>> THE NUMBERS ARE ALSO QUIT

ASTONISHING.

IT IS ACTUALLY MORE ITALIAN THAN

THE STATE OF NEW YORK.

>> I WAS BORN IN NEW JERSEY AN

A LOT OF MY FAMILY IS IN

HOBOKEN.

>> I CURRENTLY LIVE IN NEW

JERSEY

>> MY MOM'S MAIDEN NAME IS

CARBINI.

DEPENDING ON THE FAMILY LINE

DEPENDS ON WHEN WE GOT HERE.

EVERYONE IS IN NEW JERSEY.

>> EVEN THOUGH ITALIAN-AMERICANS

ARE MORE SPREAD OUT AND MORE

THOROUGHY ASSIMILATED INTO OUR

AREA MANY STILL MAINTAIN A SENSE

OF THE OLD WAYS.

SOME OF THE YOUNGER GENERATION

OF ITALIAN-AMERICANS SOMEWHERE

ALONG THE LINE STOPPED SPEAKIN

ITALIAN.

>> NO ONE EVER SPOKE A SECON

LANGUAGE AMONG FRIENDS BECAUSE

YOU HAD TO BE AMERICAN

>> BOTH MOM AND POP SPOKE FLUENT

ITALIAN BUT THEY SPOKE ITALIAN

WHEN THEY DIDN'T WANT US TO KNOW

WHAT WAS HAPPENING

WE WANTED TO BE PART AND THE

WANTED US TO BE PART AMERICAN.

NOT ITALIAN, AMERICAN.

WE ARE PROUD OF BEING ITALIA

BUT YOU WANTED TO FIRST BE

AMERICAN AND BE ACCEPTED B

EVERYBODY.

>> WHEN MY MOTHER WAS GROWING UP

SHE GREW UP SPEAKING ITALIAN

OVER THE YEARS THE HABIT IS MY

GRANDPARENTS WOULD SPEAK I

ITALIAN.

ENGLISH WAS SPOKEN IN OUR HOUS

BUT YOU WOULD HEAR ITALIAN

WORDS.

I GOT TO NYU FOR COLLEGE

I SAID THIS IS MY OWN HERITAGE

I TOOK FIVE COURSES OF ITALIAN

WITH GREAT PROFESSORS.

THEN IT WAS 1984

I HAPPENED WITH A BARBER

AND HE BECAME A DEAR FRIEND AN

A REALLY WONDERFUL GUY WHO WOULD

QUOTE DANTE TO ME AND REALLY

LOVED THE LANGUAGE

WE ENDED UP WITH A DEAL THAT W

WOULD ONLY SPEAK ITALIAN DURIN

THE HAIRCUT.

A HAIRCUT IS 20 MINUTES OR 3

MINUTES THAT WOULD HAPPEN

NUMBER OF TIMES A YEAR

MY NEW BARBER NOW.

WHENEVER I GO THERE IT IS A JO

TO TRY MY BEST

I LOVE THE LANGUAGE.

NO OFFENSE TO THOSE WHO SPEA

ENGLISH, THE MOST BEAUTIFU

LANGUAGE BY FAR IS ITALIAN

>> MY GRANDFATHER WANTED M

BROTHER AND ME TO SPEAK ITALIAN.

WE WOULD GO OVER THERE AND HAV

AN ITALIAN LESSON.

HE HAD A BOTTLE OF COCA-COLA

YOU GET IT RIGHT YOU GET A SIP

I DIDN'T WANT A SIP FROM M

BROTHER.

HE KEPT US IN THERE AN HOUR.

WE HAD TO COUNT.

IT WAS HORRIBLE.

AND FINALLY HE GAVE UP ON IT

YOU STUPID

WE DIDN'T LEARN ITALIAN.

>> I SUFFERED FROM MY NAME

TEN LETTERS.

ALMOST HALF OF WHICH ARE VOWELS.

>> I DID NOT GROW UP SPEAKIN

ITALIAN HOWEVER I HAPPENED T

FALL IN LOVE WITH A FIRS

GENERATION ITALIAN

HER FIRST LANGUAGE WAS ITALIAN

HER MOM AND DAD WHO IMMIGRATED

TO THE UNITED STATES MUCH LATE

THAN MY FAMILY HAD IN THE 1970

BY THAT POINT THEY EMBRACED TH

IDEA OF AN ITALIAN-AMERICA

TRYING TO HOLD ON TO THE CULTURE

AND LANGUAGE THAT THEY ONCE HAD.

MY DAUGHTER IS LEARNING FROM HER

MOTHER AND HER GRANDMOTHER

>> WHEN I GREW UP MY MOTHE

WOULD SPEAK TO HER MOTHER ON THE

PHONE IN ITALIAN AND THEN SPEA

TO ME IN ENGLISH

SHE WANTED TO MAKE SURE THAT I

KNEW ENGLISH AND I WAS AMERICAN.

I REGRET THAT.

>> ITALIANS COME HERE AND THEY

ARE THE DAGOS.

THEY ARE NOT DEEMED FULLY WHIT

EVEN THOUGH THEY ARE ABLE TO GET

PROPERTY AND MARRY AND SETTL

WHERE THEY WANT AND HAVE THE

PRIVILEGES OF WHITENESS.

BUT THEY ARE NOT TREATED AS FULL

FLEDGED CITIZENS

>> IT WAS NO OVERT ITALIAN

PREJUDICE THAT I WAS

EXPERIENCING FOR THE MOST PART

AND THEN EVERY ONCE IN A WHILE I

WOULD EXPERIENCE THAT.

IT WAS VERY PAINFUL.

>> I HAD DARK SKIN, DARK EYE

AND DARK HAIR.

I WAS A CHEERLEADER.

I DID WELL IN SCHOOL

I HAD THE LEAD IN THE PLAY

I DID REALLY WELL AND ONE DA

OUT OF THE BLUE A BOY ON THE

SCHOOL BUS WHEN I WAS 12 DID

SOMETHING TO ME THAT WAS S

OFFENSIVE AND I HAVE NEVER

REPEATED IT OUT LOUD AND I WOULD

NOT.

IT HAD TO DO WITH HOW I LOOKED

AS OPPOSED TO I SUPPOS

EVERYBODY ELSE

>> MY FATHER WHEN HE FIRST

LEARNED TO SPEAK BECAUSE ITALIAN

WAS SPOKEN WITH AN ACCENT WHEN

HE WENT TO SCHOOL THEY WOULD

MAKE FUN OF HIM.

MY GRANDMOTHER SAYS YOU CAN'

MAKE FUN OF US

THE PRINCIPAL TELLS MY

GRANDMOTHER THIS IS AMERICA,

LEARN THE LANGUAGE

I CAN SAY THAT ON THE RADIO BU

IF A PRINCIPAL EVER SAID THAT IT

WOULD BE A LAWSUIT

IT WOULD BE A DEMONSTRATION.

WE NEVER DID THAT AT THE TIME.

WE TOOK THE HITS

GIVE IT TO ME.

BRING IT ON.

SAY ALL THE RACIST THINGS YO

WANT

WE PUT UP WITH SO MUCH PEOPL

DON'T UNDERSTAND IT.

MY FATHER WENT ON NOT ONLY T

LEARN THE LANGUAGE BUT TO SKIP

TWO GRADES IN THAT SCHOOL.

HE WENT ON TO BECOME A LAWYER TO

REPRESENT THE NONENGLISH

SPEAKING LABORERS.

THAT IS THE ITALIAN-AMERICAN

SPIRIT

>> IT WAS NOT DIFFICULT TO

OSCILLATE BETWEEN BEING AN

AMERICAN AND SPEAKING ENGLISH.

I REMEMBER THE BOBBY SOCKS AND

ELVIS PRESLEY AND ALL OF THAT.

I WAS PART OF ALL OF THAT.

WE WOULD WATCH SATURDAY NIGH

THE ED SULLIVAN SHOW AND ALL O

THAT

ON THE OTHER HAND WHEN WE WOUL

GO TO THE SOCIAL CLUB WITH M

PARENTS SINGING THE LOCAL FOLK

SONGS THAT REMINDED THEM

♪♪

♪♪

THIS IS A SONG TO THE CITY

IF I AM AWAY FROM YOU I FEEL A

GREAT PAIN

THESE ARE THE SONGS THAT W

WOULD SING ALL THE TIME.

>> BETTER THAN MY OWN MOTHER

DID.

>> I'LL TAKE THAT.

>> I TOOK MY ORIGINAL CULTUR

AND SORT OF FUNNELED IT.

I'M A CONDUIT TO MY NEW ADOPTE

CULTURE WHICH IS AMERICA

I FEEL VERY MUCH PART OF BOTH.

I FEEL VERY AMERICAN AND VER

ITALIAN.

>> TO BE AN ITALIAN IN AMERICA

YOU TRY TO LEARN ENGLISH

IT IS A VERY HARD LANGUAGE FOR

US TO LEARN.

BUT WHAT HAPPENS IS THAT YOU TRY

TO SPEAK AND PEOPLE REALLY LOV

YOUR ACCENT.

YOU ARE LIKE MY GOD I REALLY

HATE TO HEAR MYSELF.

I CAN'T SAY THE WORDS THE WAY

WANT TO.

THEY LOVE IT

AFTER A FEW MONTHS YOU TRY AND

YOU SAY THEY LIKE IT SO MUCH I'M

NOT GOING TO TRY TO SPEAK BETTER

AND SAY BETTER OR SAY MILK

I SAY BETTER AND MILK.

SO 20 YEARS LATER I STILL SA

MILK AND EVERYTHING BECAUSE YO

GUYS TOLD ME IT WAS BEAUTIFUL.

SO UNFORTUNATELY I DIDN'T LEAR

TO SPEAK WITHOUT AN ACCENT

>> I NEVER SPOKE ITALIAN GROWING

UP BUT THE ITALIAN JUST FLOW

RIGHT OFF MY TONGUE.

IT IS A BEAUTIFUL EASY LANGUAG

THAT IS EASY TO SING

GREAT VOWELS FOR OPENING UP AN

SINGING THE HIGH STUFF

♪♪

♪♪

>> I REMEMBER GROWING UP MY DA

USED TO LISTEN TO OPERA ALL TH

TIME IN THE HOUSE.

I WOULD MAKE FUN OF HIM AND SA

DAD YOU DON'T UNDERSTAND WHA

THEY ARE SAYING.

HE SAYS YOU DON'T HAVE T

LISTEN TO THE PASSION.

YEARS LATER I TURN OUT TO BE A

PROFESSIONAL OPERA SINGER.

HE SAYS IT WAS THE EXPOSURE

GAVE YOU AS A KID.

>> OPERA IS A CULMINATION OF ALL

DIFFERENT DISCIPLINES THAT MAK

ART GREAT.

THERE IS SCENERY

THERE IS THE COMPOSITION OF TH

MUSIC.

THERE IS ACTING, POETRY AN

DANCE.

ALL OF THIS TOGETHER IN ONE AR

FORM THAT IS UNIQUE WHY ITALIANS

ARE SO PROUD OF IT BECAUSE O

THE IMMENSE CONTRIBUTIONS THAT

ARE STILL LIVING HUNDREDS OF

YEARS LATER TODAY.

>>> STARS LIKE DEAN MARTIN

FRANK SINATRA ALL GREW UP IN OUR

AREA AND LIKE MANY OTHER

ENTERTAINER AND PAINTER TONY

BENNETT CREDITS HIS FAMILY WIT

MUCH OF HIS SUCCESS.

>> MY ITALIAN-AMERICAN FAMIL

WOULD COME OVER AND WE WOULD

PERFORM FOR THEM

AS A YOUNG BOY AND THEY SAID

SOMETHING THAT CHANGED MY LIFE

THEY SAID WE LOVE THE WAY YO

SING AND WE LOVE THE WAY YOU

PAINT FLOWERS.

AND THAT CREATED A PASSION THA

EXISTS TO THIS DAY FOR ME.

I'M 87 FEELING LIKE I'M JUST

STARTING OUT BECAUSE I STILL

HAVE SO MUCH MORE TO LEARN

THE PASSION HAS STAYED WITH ME

MY WHOLE LIFE AND MADE ME

SUCCESS AS AN ENTERTAINER.

IT WAS MY FAMILY THAT DID THAT

>> DEAN MARTIN WAS MORE KIND O

ITALIAN THAN FRANK SINATRA WAS

MY PARENTS GRAVITATED TOWARD

THAT

I ENJOYED IT

I LOVED THAT MUSIC BECAUSE THA

MUSIC KIND OF COMBINED WHAT

WAS KIND OF ITALIAN.

THE WORDS WERE ENGLISH AND SOR

OF THOSE SINGERS WER

COMMUNICATING THE SAME WAY I

WAS.

ONLY I WAS COMMUNICATING WIT

FOOD

>> MY FATHER USED TO TAKE ME T

YANKEE STADIUM AND HE WOULD PLAY

WNEW AND I GOT TO RECOGNIZE AN

CERTAINLY FALL IN LOVE WITH TH

VOCAL GENIUS OF FRANK SINATRA.

THAT WAS MY FIRST INDOCTRINATION

OF FRANK SINATRA

♪ START SPREADING THE NEWS I'

LEAVING TODAY ♪

>> WHEN I WENT TO DO MY AUDITION

FOR "SATURDAY NIGHT LIVE" I DI

A FRANK SINATRA IMPRESSION

I DID THIS SON

♪ I DON'T STAND A GHOST OF

CHANCE WITH YOU ♪

♪♪

>> FUNNY AND WE WALKED THE LINE,

LITTLE EDGY BUT ALWAYS

RESPECTFUL TO THE OLD MAN.

>> OUR OWN LOCAL

ITALIAN-AMERICAN ICONS GREW UP

ADMIRING ITALIAN-AMERICAN IDOLS.

>> MY FATHER HAD A GROCERY STORE

AND A LITTLE RADIO

I WOULD SIT ON THE ICE BOX AND

LISTEN TO THE BALL GAMES

>> JOE DiMAGGIO TO BAT FOR THE

YANKEES.

HE CONNECTS AND WHAT A HIT

>> ONLY ONE REASON, JO

DIMAGGIO

THE BEST PLAYER OF ALL TIME.

HE WAS GREAT

>> SEVENTH WORLD SERIES HOME

RUN.

>> AND HE WAS AN ITALIAN

ONE DAY TONY TOOK ME TO TH

YANKEE STADIUM

OUT OF ALL OTHER MEMORIES AR

BLOTTED OUT EXCEPT FOR WATCHIN

JOE DIMAGGIO

>> MY GRANDFATHER NEVER WANTED

US TO FORGET WHERE WE CAME FROM.

WE TALKED ABOUT MICHELANGELO ALL

THE TIME

YOU ARE STANDING ON TH

SHOULDERS OF GIANTS AND YOU AR

COMPLAINING?

GO INVENT SOMETHING.

GO WRITE SOMETHING

WRITE AN OPERA

DO SOMETHING

AT THE SAME TIME HE WAS TH

FIRST ONE TO ENJOY EVERYTHING,

LIFE, TELLING JOKES, SINGING

HE WOULD BREAK OUT IN SONG I

THE MIDDLE OF EATING

SO IT WAS SOMEONE WHO REALLY

KNEW WHO HE WAS AND THAT

IMPRESSED ME

>> IT FELT LIKE THERE WERE TWO

MORE PEOPLE AT THE DINING ROOM

TABLE BECAUSE THEY WERE TALKED

ABOUT SO WARMLY, SO CONSTANTLY

AND TO MY FAMILY WAS THE

EXEMPLAR

HE WAS EVERYTHING A LEADER

SHOULD BE.

I THINK HE ACTUALLY WAS THAT

I HAVE HIS DESK IN MY OFFICE

EVERY DAY I FEEL A LITTL

CONNECTION

I ALWAYS SAY TO PEOPLE YOU G

AROUND CITY HALL AND LOOK AT THE

PORTRAITS.

HE IS REALLY THE QUINTESSENTIA

EXAMPLE OF A LEADER OF THI

CITY

>> WHILE LA GUARDIA WAS MAYOR OF

NEW YORK FROM 1934 UNTIL 194

ITALIAN IMMIGRANTS CONTINUED

COMING TO OUR AREA AND

IMMIGRATION NEVER ACTUALLY

STOPPED.

NOW NEW IMMIGRANTS ARRIVE UNDE

VERY DIFFERENT CIRCUMSTANCES BUT

THEY ARE STILL LOOKING FOR

OPPORTUNITY.

ASSOCIATE PROFESSOR AND CHAIR IN

STUDIES CAME TO THE UNITED

STATES AS A GRADUATE STUDENT I

1995

>> I CAME BY MYSELF.

MY FAMILY STILL BACK IN ITALY.

IN A WAY YOU CAN READ MY SPAERNS

AS PART OF WHAT WE HAVE CALLED

THE BRAIN DRAIN, PEOPLE WH

BASICALLY AFTER PURSUING STUDIES

ABROAD OR CONTINUE RESEARC

ABROAD

>> MANY OF THOSE WHO ARE COMIN

ARE NOT GOING TO BE AT COLUMBI

UNIVERSITY FOR RESEARCH PROJEC

BUT THEY ARE ALSO MAYBE COMING

HERE TO FIND A JOB AS AN

ORDINARY PERSON THAT WAS NOT

AVAILABLE IN ITALY BECAUSE O

THE HIGH UNEMPLOYMENT.

WE ARE TALKING ABOUT 40% AMONG

YOUNG PEOPLE BETWEEN THE AGE O

15 AND 35.

THEY HAVE RELATIVES WITH A

PIZZERIA IN NEW JERSEY AND THE

THINK WAITING TABLES IS MUCH

SAFER AND REWARDING THAN DOING

IT IN ITALY.

THE CONDITIONS IN ITALY HAVE

DEFINITELY WORSENED.

SO GOING BACK HAS NEVER REALLY

BEEN A POSSIBILITY

CERTAINLY IT HASN'T BEEN A

POSSIBILITY WITH THE ABILITY T

FIND AN EQUIVALENT JOB

THAT'S WHY I STAY HERE

>> ITALIAN BORNE SCULPTOR AN

ACTOR IS A RELATIVELY RECENT

TRANSPLANT

>> I CAME HERE

HE LEFT ME THE KEYS OF HIS NEW

YORK APARTMENT

I NEVER BEEN TO NEW YORK AND

NEVER HAD INTEREST ABOUT NEW

YORK AND UNITED STATES

IN THE THREE WEEKS I STAYED HERE

I JUST FELL IN LOVE WITH NEW

YORK AND EVERYTHING THAT

HAPPENED IN THOSE THREE WEEK

WAS MAGIC.

BASICALLY I HAVE BEEN HERE 2

YEARS.

SOMETHING THAT IS FANTASTIC

THINK EVERYBODY SHOULD TRY

PEOPLE DO IT FOR HORRIBL

REASONS BECAUSE OF WAR O

POVERTY.

I DID IT BECAUSE I WAS A

ARTIST

REALLY WE DIDN'T COME HERE

BECAUSE WE WERE HUNGRY

EVERY DAY I COME TO THE SHOP AND

MAKE MY WORK AS A SCULPTOR

I CLOSE THE SHOP AND I GO PLAY

IN A MOVIE

I GOT THIS ROLE IN THE MOVIE

DIRECTED BY ANGELINA JOLIE

CALLED "UNBROKEN."

IT'S THE STORY OF AN

ITALIAN-AMERICAN IN CALIFORNIA

I PLAY THE FATHER OF THIS GUY.

THE FATHER WAS THE FIRST

GENERATION AND JUST ARRIVED FROM

ITALY.

I AM PROUD TO SAY THAT I LIKE TO

PLAY THE FATHER OF THIS GU

BECAUSE THIS GUY SAID HE COULD

ENDURE ALL THE THINGS THAT

HAPPENED TO HIM BECAUSE OF THE

EDUCATION THAT HIS FATHER GAVE

HIM AND THE WAY HE WAS BROUGHT

UP

VERY LOVING, TOO

IT WAS A BEAUTIFUL ADVENTURE T

TELL THIS STORY.

IT IS A QUALITY TO HAVE HERE

I REMEMBER THE FIRST YEARS I WAS

IN NEW YORK WHENEVER THEY CANNED

ME WHAT WAS THE MOMENT THAT YO

MAYBE WANTED TO GO BACK AND GIVE

UP LIKE IT WAS HARD?

FOR ME ANYTHING THAT WAS A

PROBLEM HERE WAS FANTASTIC

THE MORE PROBLEMS THE MORE

ADVENTURE LIKE IT MADE

EVERYTHING HEROIC.

IF YOU DON'T HAVE THIS KIND OF

ENERGY MAYBE THIS COUNTRY IS NOT

FOR YOU.

>> TODAY EVERYTHING AND ANYTHING

ITALIAN SEEMS TO BE ENVOGUE.

SOME ITALIAN-AMERICANS HAVE MADE

A DEEPER CONNECTION VISITING

ITALY AND THEIR ANCESTRAL HOME

>> A LOT TRY TO DISCOVER THEIR

ROOTS.

>> PEOPLE IN THEIR 20s ARE I

TOUCH THROUGH FACEBOOK WIT

COUSINS.

THIS IS SOMETHING THAT MAY NOT

HAVE HAPPENED TO THEIR PARENTS

OR GRANDPARENTS WITH THE SAM

LEVEL OF FREQUENCY

THEY KNOW ABOUT WHAT YOUNG

PEOPLE DO IN ITALY THEY BECOME

CURIOUS IF THEY WANT TO VISI

AND BE MORE TO THE LANGUAGE.

THIS IS A NEW ENVIRONMENT IN

WHICH ITALIAN-AMERICAN AMERICA

IS PLAYED OUT AND PERFORME

THANKS TO TECHNOLOGY

>> MAYOR DE BLASIO MADE A POIN

OF THANKING HIS ITALIA

RELATIVES.

>> THANK YOU TO MY BROTHER

STEVE AND DON AND ALL MY FAMIL

ASSEMBLED HERE TODAY FROM AL

AROUND THIS COUNTRY AND FROM

ITALY, YOU HAVE ALWAYS GUIDE

AND SUSTAINED ME

>> THE NIGHT I BECAME ELECTE

AND ON MY DAY OF MY INAUGURATION

AND THE FOLKS WHO HELPED M

WRITE THE SPEECH WEREN'T

THINKING OF THAT

I SAID THERE IS SOMETHING I HAVE

TO INCLUDE HERE BECAUSE

WOULDN'T BE ABLE TO PLAY THI

ROLE IF IT WEREN'T FOR WHAT

GOT FROM THE TOWNS

WHEN WE WENT BACK THIS SUMME

THAT IS ONE OF THE REASONS I

WANTED TO DO IT.

I WANTED TO TELL THE PEOPLE THAT

I COULDN'T DO ANYTHING I DO BU

FOR WHAT THEY GAVE US.

THEY GAVE IT TO MY GRANDPARENTS.

I WENT TO THOSE TOWNS TO SAY

THANK YOU BECAUSE WHAT THEY GAVE

MY GRANDPARENTS MADE EVERYTHIN

ELSE POSSIBLE FOR US

REALLY DO ALL YOU CAN TO KNO

YOUR ROOTS

IT IS THE GIFT THAT KEEPS GIVING

NOT JUST BROADLY THINK I'M

ITALIAN-AMERICAN OR WHATEVER YOU

MAY BE

GO THERE IF YOU CAN.

IF YOU ARE LUCKY ENOUGH TO HAV

THE RESOURCES GO TO THE TOWN

YOUR FAMILY IS FROM, FEEL IT

IT WILL SUSTAIN YOU.

IT WILL STRENGTHEN YOU

>> MY CHILDREN SPEAK ITALIAN

THEY UNDERSTAND ITALIAN.

WE HAVE BEEN BACK TO ITALY I

OUR TOWN

WE TRY TO ENCOURAGE THEM T

CONTINUE THE HERITAGE AND NO

FORGET WHERE WE CAME FROM AN

CARRY ON THE TRADITION

>> I'M PROUD TO BE ITALIAN

BECAUSE THE FAMILY THAT I HAVE I

WOULDN'T GIVE UP FOR THE WORLD

I JUST FEEL LIKE EVERYBODY I

CLOSER WHEN YOU ARE ITALIAN.

>> BEING ITALIAN IS SOMETHIN

SPECIAL.

WHY WOULDN'T EVERYBODY WANT TO

BE ITALIAN AND WANT TO GO TO

ITALY I THINK THERE IS A

PHILOSOPHY OF LIFE IN TH

ITALIAN CULTURE.

WHAT IS VERY IMPORTANT IS GOOD

FOOD, GOOD WINE, THAT YOU LOOK

GOOD, THAT YOU FEEL GOOD

BEAUTIFUL SETTING, PAINTINGS

SURROUNDINGS, CHURCHES

BEAUTIFUL MUSIC.

SUCH A SMALL COUNTRY WHERE DOE

THAT CREATIVITY COME FROM.

>> I THINK WHAT IS BEAUTIFUL

ABOUT GOING TO ITALY IS THAT

THEY REALLY APPRECIATE HOW T

LIVE LIFE.

>> I USED TO HAVE AN AD ON M

BULLETIN BOARD THAT WAS AN A

THAT SHOWED VERY GOOD LOOKIN

PEOPLE DRINKING WINE

IT SAID DON'T CALL YOU

THERAPIST, CALL IOTALIA.

I THINK THE ABILITY TO GO BACK

TO ITALY AND FEEL A CONNECTION

TO THIS WONDERFUL COUNTRY IS A

REAL PLUS.

>> THESE CONNECTIONS TO ITAL

AND THE ITALIAN HERITAGE ADD A

CULTURAL RICHNESS TO OUR AREA.

ITALIAN-AMERICAN EMBRACE THEIR

ITALIANNESS.

>> IF YOU DENY WHO YOU ARE B

THE TIME YOU GET TO WHERE YO

WANT TO GO YOU HAVE NOTHING.

YOU DON'T HAVE A HERITAGE.

YOU DON'T KNOW WHO YOU ARE

AND IF YOU ARE EMBARRASSED FRO

THE BEGINNING YOU'RE BEHIND TH

8 BALL

GROWING UP WITH MY GRANDFATHER

IN BROOKLYN, HE WAS SUCH A

INFLUENCE ON MY LIFE HE DEFINE

IN A WAY MY ITALIAN-AMERICAN

EXPERIENCE

>> THE GREATEST ACHIEVEMENT IS

THE STRENGTH OF OUR CHARACTER.

AND THAT PRINCIPLED LIFE THA

IMMIGRANTS FROM ALL OVER THE

WORLD I THINK HAVE

BEING AN ITALIAN-AMERICAN I WA

BENEFICIARY OF IT.

>> I AM BIASSED BUT I DON'

THINK IT IS AN ACCIDENT THAT S

MANY GREAT ARTISTS AND WRITERS

AND ACTORS AND DIRECTORS HAV

COME OUT OF ITALY.

I THINK THERE IS A DEEP AN

SPECIAL APPRECIATION FOR

HUMANITY

I HOPE I HAVE LEARNED SOME O

THAT

I CERTAINLY LEARNED FROM M

GRANDFATHER AN APPRECIATION AN

UNDERSTANDING OF ALL THE PEOPLES

WHO MAKE UP OUR CITY AND

COUNTRY.

♪♪

>>> INDELIBLE MEMORIES OF OU

STRONG HISTORY AND VIBRANT

ONGOING SPIRIT

TO BUILD AND PROVIDE A BETTE

LIFE CONTINUES TO ENRICH OUR

SOCIETY HERE IN NEW YORK AND NEW

JERSEY

TO HEAR MORE STORIES AND PERHAPS

SHARE YOUR OWN PLEASE GO TO TH

ITALIAN-AMERICANS PAGE ON OU

WEBSITE.

THANK YOU FOR WATCHING

"ITALIAN-AMERICANS OF NEW YORK

AND NEW JERSEY."

>> MAJOR FUNDING FOR

"ITALIAN-AMERICANS OF NEW YORK

AND NEW JERSEY" HAS BEEN

PROVIDED BY THE GENROSEO HOP

FOUNDATION, CLUM BN CITIZENS

FOUNDATION, FRIENDS OF 13 INC.

THE MOGLIA FAMILY FOUNDATION

MR. AND MRS. JOSEPH PARILLA, AND

PAUL AND KIMBERLY TANICO

COMMUNITY STATION SUPPORT HA

BEEN PROVIDED BY THE CORPORATION

FOR PUBLIC BROADCASTING.