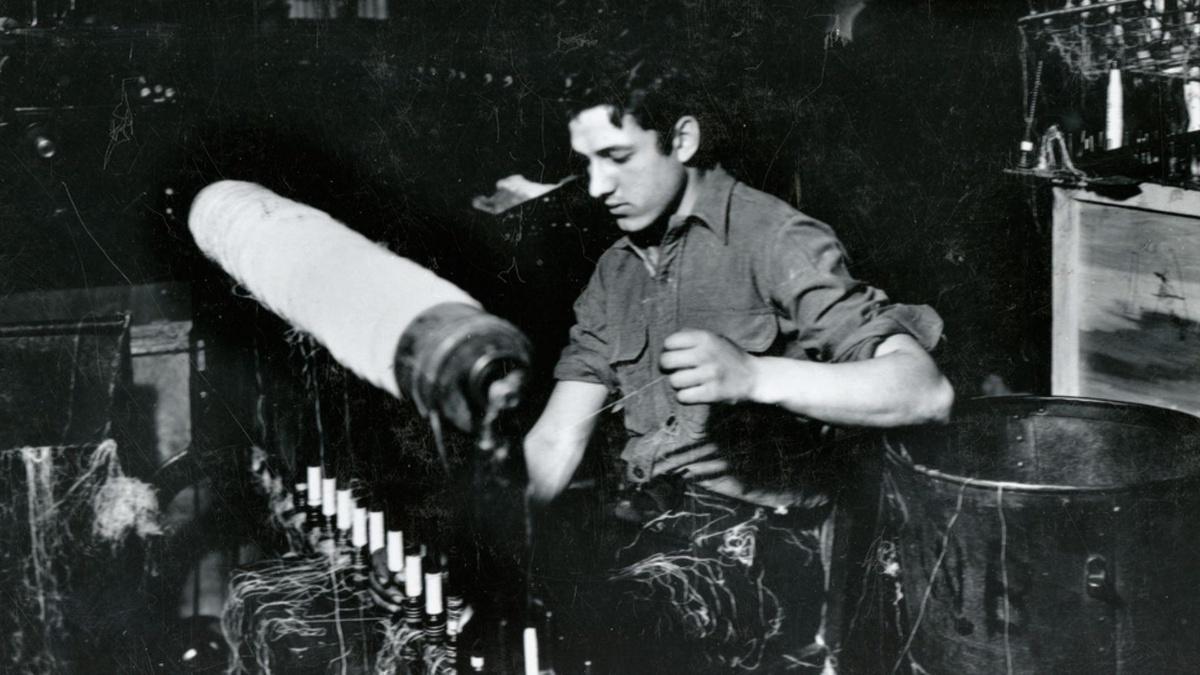 FULL EPISODE
Italian Americans of New York and New Jersey: Part 1
This two-part series features experts in Italian American history and culture and local Italian Americans, including New York City Mayor Bill de Blasio, chef Lidia Bastianich, the late former Governor of New York Mario Cuomo, singer Tony Bennett, actress Susan Lucci, former New York Senator Al D'Amato, New Jersey Governor Chris Christie, journalist Steve Adubato, actor Joe Piscopo and many others.
TRANSCRIPT

♪♪

>>> THEY LEFT THEIR HOMES IN

ITALY.

>> ONE HOME IN ONE SMALL TOW

NEAR NAPLES.

>> A SMALL TOWN.

>> MY FAMILY COMES FROM ABOLIN

IN ITALY

>> A LITTLE TOWN CALLED CAJANO

>> AND SETTLED IN AMERICA.

>> I CAN JUST IMAGINE AN

IMMIGRANT ARRIVING IN NEW YORK

HARBOR AND SEEING THE MADONNA OF

AMERICA, LADY LIBERTY.

>> AND MOVED TO EAST HARLEM.

>> THE STORY WHICH I LOVE VERY

MUCH

>> TO BENSON HURST

>> THEY WORKED

>> MOST OF THE MEN IN THE FAMILY

WERE LONG SHOREMEN

>> MY GRANDPARENTS -- AND MY

GREAT-GRANDPARENTS WHO WERE AL

BUTCHERS

AND WHEN THEY GOT TO NEW YOR

THE STREETS WERE NOT PAVED WIT

GOLD

AS A MATTER OF FACT, THE

WEREN'T PAVED AND THESE PEOPLE

WHO CAME WERE EXPECTED TO DO THE

PAVING

>> THEY CREATED COMMUNITIES.

>> THE BUILDING THAT I GREW UP

IN MY MOM, MY DAD AND MYSELF

LIVED ON ONE FLOOR

>> MY UNCLE EDDIE, HE'S TH

YOUNGSTER.

>> MY GRANDFATHER AN

GRANDMOTHER LIVED NEXT DOOR.

>> I HAD TWO UNCLES THAT LIVED

UP THE BLOCK

>> MY UNCLE AND HIS CHILDREN

LIVED ON THE FIRST FLOOR

>> MY GRANDMOTHER AN

GRANDFATHER LIVED UP THE BLOCK

>> MY MOTHER LIVED NEXT DOOR T

MY GRANDPARENTS.

>> MY EDUCATION REALLY PAID OFF.

>> THEY BROUGHT HIS EDUCATION IN

AND THERE WE HAVE AN EDUCATE

BUTCHER.

>> THEY LOVE THEIR FAMILIES.

>> I THOUGHT EVERYONE HAD

MILLION COUSINS.

>> MY MOTHER WAS THE CORE OF OUR

FAMILY

>> MAMA MIA!

INCREDIBLE

>> AND THEY LOVE THEIR NEW

COUNTRY.

>> WE ARE ALL AMERICANS, FIRST

AND FOREMOST

>> I FEEL VERY AMERICAN, AND I

FEEL VERY ITALIAN.

>> WE LOVE THIS COUNTRY, AND W

LOVE ITALY

>> MAJOR FUNDING FOR "ITALIA

AMERICANS OF NEW YORK AND NE

JERSEY" HAS BEEN PROVIDED BY THE

GENEROSO HOPE FOUNDATION

THE COLUMBUS CITIZEN

FOUNDATION

FRIENDS OF THIRTEEN INC.

THE MOGLIA FAMILY FOUNDATION

MR. AND MRS. JOSEPH PERELLA.

IN MEMORY OF FELIZ SEMBETTI AN

PAUL AND KIMBERLY TANICO I

HONOR OF CHRISTINA MERCURI

TANICO AND THE CORPORATION FOR

PUBLIC BROADCASTING.

>> WELCOME TO ITALIAN AMERICAN

OF NEW YORK AND NEW JERSEY

I'M MARIA BARTIROMO.

A NATIVE OF BROOKLYN AND CHILD

OF ITALIAN AMERICANS AND

GRANDDAUGHTER OF ITALIAN

IMMIGRANTS AND I'M VERY PROUD OF

MY ITALIAN-AMERICAN HERITAGE AND

MY PARENTS AND GRANDPARENTS WERE

AND ARE PEOPLE WITH

TREMENDOUSLY HIGH WORK ETHIC AND

CARMINE BARTIROMO CAME T

AMERICA IN THE EARLY 1900s ON

SHIP CALLED THE REX AS MAN

OTHER ITALIANS DID

HE SETTLED IN BROOKLYN AND BEING

A BRICKLAYER FROM ITALY DECIDE

TO BUILD A BUSINESS.

HE BUILT A RESTAURANT IN

BROOKLYN AND NAMED IT THE RE

MANOR AFTER THAT SHIP.

MY FATHER WORKED THERE AND

EVENTUALLY TOOK OVER THE

RESTAURANT AND GAVE ME MY FIRS

JOB AS A COAT CHECK GIRL

I ATTRIBUTE ANY SUCCESS I HAD TO

THE HARD WORK ETHIC.

YOU CAN IMAGINE THE COURAGE IT

TOOK FOR MY GRANDFATHER AND SO

MANY OTHERS TO LEAVE A PLACE AND

FAMILY AND FRIENDS THAT THEY

LOVED AND KNEW SO WELL TO STAR

ANEW IN AMERICA FOR THE PROMIS

OF OPPORTUNITY

MY GRANDPARENTS TOOK RISKS AND

FOUND SUCCESS IN AMERICA THROUGH

HARD WORK, NO SHORT CUTS

THAT ETHIC INSPIRED MY PARENTS

AND IT CONTINUES TO INSPIRE ME

EVERY DAY.

IN THIS PROGRAM YOU WILL HEA

ABOUT THE HISTORY, THE

TRADITIONS OF OUR LOCA

COMMUNITIES AND THEIR FAMILIES

THEIR ACHIEVEMENTS AND O

COURSE, THE FOOD

PLEASE JOIN ME AS WE CELEBRATE

ITALIAN AMERICANS OF NEW YOR

AND NEW JERSEY

♪♪

♪♪

♪♪

♪♪

♪♪

>>> THERE IS NO QUESTION THA

NEW YORK CITY HAS AN ITALIAN

SOUL IN MANY WAYS.

>> ITALIAN AMERICANS ARE A

VIBRANT PART OF THE FABRIC THA

MAKES UP THE NEW YORK AND NE

JERSEY REGION.

♪♪

♪

>> FROM PASTA TO MUSIC

>> THE ITALIANS INVENTED THE

PIANO AND INVENTED OPERA

[ SPEAKING ITALIAN ]

>> TO BUSINESS

>> SCIENCE AND TECHNOLOGY.

>> WE ARE THE ONLY ITALIANS HERE

IN THE STUDIO.

I'M TELLING YOU.

>> SPORTS, TO FASHION.

♪♪

YOU NAME IT.

♪♪

♪♪

>> THE SPIRIT OF COMMUNITY I

EMBEDDED IN THE CORE OF OU

REGION

>> THE THING I LOVE ABOUT BEIN

AN ITALIAN AMERICAN IS JUST TH

FOOD CULTURE AND THE FAMIL

CULTURE.

>> ITALIAN AMERICANS, WE USE OUR

HANDS ALL OF THE TIME AND WE'R

ALL CRAZY AND PAZZI ALL OF THE

TIME

>> VERY LOUD, VERY BOISTEROUS,

VERY PROUD

♪♪

♪♪

♪♪

>> I AM INCREDIBLY PROUD TO BE

OF ITALIAN DESCENT

I'M EVEN MORE PROUD TO BE FROM

NEW JERSEY

>> GENERATIONS OF ITALIA

AMERICANS HERE MAINTAIN

TREMENDOUS SENSE OF PRIDE IN

THEIR HERITAGE

>> WE'VE GOT TO SUPPORT OU

HERITAGE

>> WE ARE THE GREATEST CULTURE

IN THE WORLD

>> TIGHT-KNIT FAMILIES HAV

WORKED HARD TO ACHIEVE THE

FORGETTING THEIR ROOTS

♪♪

♪♪

>> I FEEL VERY AMERICAN, AND I

FEEL VERY ITALIAN.

>> WE'RE AMERICAN.

WE ARE ALL AMERICANS, FIRST AN

FOREMOST, BUT YOU NEED TO BE

TRUE TO YOURETH MICK ROOT.

>> MY PARENTS AND YOUR PARENTS

ARE ALL FROM ITALY, 100%

ITALIAN.

>> ON MY MOM'S SIDE THEY CAM

FROM BARI AND LANDED ON ELLI

ISLAND AND MOVED TO EAST HARLEM.

>> OUR AREA HAS THE LARGES

POPULATION OF ITALIAN AMERICAN

IN THE COUNTRY

THE EARLY ITALIAN AMERICAN

STORIES CENTERS AROUND THE

EXPLORERS, CHRISTOPHER COLUMBUS,

AMERIGOES HAVE PUCHY AND

GIOVANNI DEER HAVE ZHANNO, THE

FIRST TO ENTER NEW YORK BAY, BUT

IT WAS IN THE 18808s WITH ITAL

FACING POLITICAL INSTABILITY

VIOLENCE, SOCIAL CHAOS AND

POVERTY THAT THE LARGEST INFLU

OF ITALIAN AMERICANS LEFT THEI

HOMES AND CAME TO AMERICA,

MOSTLY THROUGH ELLIS ISLAND.

IN THE 1880s THEY NUMBERED

300,000.

IN THE 1890s, 600,000 AND BY THE

BEGINNING OF THE 20th CENTUR

MORE THAN 2 MILLION ITALIA

AMERICANS HAD MADE THIS COUNTR

THEIR HOME

THE MIGRATION HAS CONTINUE

SINCE THEN AND IN THE LAST

CENTURY MANY ITALIANS HAVE

SETTLED IN OUR AREA.

>> EVERYONE DEBATES IS IT A HALF

MILLION PEOPLE OF ITALIAN ORIGIN

IN NEW YORK CITY, 700,000?

800,000?

WHAT IS IT

>> ONCE HERE THE ITALIANS FACE

A DILEMMA FAMILIAR TO IMMIGRANTS

ALL OVER THE GLOBE, HOW TO FIT

IN AND FIND THEIR WAY.

GENERATIONS OF ITALIAN AMERICANS

HAVE BEEN ABLE TO ASSIMILATE AND

MAINTAIN STRONG BONDS WITH THEIR

ITALIAN HERITAGE, AND FOR MANY

THIS BALANCE OF OLD AND NE

GUIDES THEIR LIVES

>> I THINK WHO YOU ARE ALWAY

AFFECTS EVERYTHING ABOUT YOU

WHERE YOU COME FROM AND WHAT THE

TRADITIONS AND EMOTIONS ARE THAT

GO ALONG WITH THAT

>> YOU JUST FELT YOU WERE PART

OF SOMETHING SO LIVELY, AND YO

DIDN'T EVER WANT TO BE OUTSIDE

THAT CIRCLE.

>> MY MOTHER DECIDED TO TAKE M

TO MY GRANDFATHER'S HOMETOWN

WHEN I WAS 15 YEARS AND THAT

REALLY CHANGED EVERYTHING.

I THINK SEEING, NOT JUST THE

VAGUE IDEA OF WHERE WE CAM

FROM, THE ACTUAL TOWN, AND THE

ACTUAL HOME THAT MY GRANDFATHE

WAS BORN IN WHERE THERE WERE

STILL MEMBERS OF MY FAMILY

LIVING

IT OPENED MY EYES TO SOMETHING

BIGGER AND GAVE ME A SENSE O

SOMETHING MORE ETERNAL, MORE

POSITIVE AND THAT STARTED, FOR

ME, IN EARNEST A DEEPER LOVE O

ITALY, A DEEPER LOVE OF OU

HERITAGE AS ITALIAN AMERICAN

AND A DEEPER EXPLORATION OF IT

BUT IT STARTED VERY, VER

PERSONAL

ONE HOME, IN ONE SMALL TOWN NEAR

NAPLES

>> NAPELS IS IN THE SOUTHERN

PART OF ITALY, THIS LOWER BOOT

AREA IS KNOWN AS THE MESOGIORNO.

75% OF THE ITALIAN IMMIGRANT

THAT HAVE SETTLED IN THE NEW

YORK AND NEW JERSEY AREA ARE

FROM HERE, PLACES LIKE CAMPAGNA,

CALABRIA, BASILICATA AND PUGLI

AND THE ISLAND OF SICILY

>> THEY HAD VERY LITTLE FOOD AND

AFTER THE FEUD ENDED THEY DIDN'T

OWN THE LAND AND THEY HAD TO

RENT IT AND AS THEY RENTED THE

WOULD GO INTO MORE DEBT AND THEY

WERE DOING DELICATE.

WHEN THEY GOT THE OPPORTUNITY TO

GO TO AMERICA IN THE INDUSTRIA

REVOLUTION AND WORK HERE, THEY

CAME

THE IMMIGRANTS MADE THE ARDUOU

TRIP ON OVERCROWDED SHIPS.

IT TOOK TWO WEEKS TO GO FROM

ITALY TO NEW YORK.

>> MY GREAT-GRANDMOTHER GAVE

BIRTH ON THE BOAT COMING FRO

SICILY

>> I CAN JUST IMAGINE AN

IMMIGRANT ARRIVING IN NEW YORK

HARBOR AND SEEING THE MADONNA OF

AMERICA, LADY LIBERTY.

EVERY TOWN IN ITALY HAS THEI

OWN MADONNA, SO COMING T

AMERICA AFTER THAT TERRIBLE TRIP

IN STEERAGE IN THE BOTTOM OF THE

SHIP AND ARRIVING IN NEW YOR

HARBOR AND SEEING THIS GLEAMIN

STATUE WELCOMING THEM, THEY MUST

HAVE DIED AND GONE TO HEAVEN

>> MANY ITALIAN IMMIGRANTS WER

POOR ARTISANS AND PEASANTS

THEIR JOURNEYS MEANT TAKING

CHANCE, RISKING ALL THEY HAD

WHAT THEY TOOK WITH THEM WAS

THEIR STRENGTH, COURAGE AN

PERSEVERANCE, AND AN ARDENT HOPE

FOR A BETTER LIFE IN AMERICA

>> MY MOTHER AND FATHER, THE

WERE PARTICULARLY EAGER TO GET

TO THIS COUNTRY.

MY MOTHER WORKED ON THE SIDE O

A MOUNTAIN AND DECIDED THAT IT

WAS NOT A GOOD LIFE BECAUS

WHERE THEY LIVED THERE WAS N

CHURCH

WHERE THEY LIVED THERE WAS N

HOSPITAL

WHERE THEY LIVED THERE WAS N

SCHOOL, AND IT WASN'T A PLAC

THAT HAD A FUTURE FOR THEM

>> MY PARENTS COME FROM ITALY,

BOTH OF THEM, FROM A SMALL TOW

CALLED PALLA DELL COA, IT'S IN

THE SOUTH TOWARD THE HEEL OF THE

BOOT

♪♪

♪♪

♪♪

>> MY FAMILY COMES FROM ABELIN

IN ITALY

>> THE BENAVENTO PROVINCE.

>> I WAS 18 MONTHS OLD WHEN MY

PARENTS DECIDED TO MOVE HERE

I GAVE THEM A LOT OF CREDI

BECAUSE MY PARENTS WEREN'T

YOUNG, SIX KIDS AND I WAS TH

YOUNGEST OF SIX.

I DON'T KNOW HOW THEY DID IT

I CAN'T IMAGINE MOVING TO

FOREIGN COUNTRY AND NOT KNOWIN

THE LANGUAGE

THEY DID IT, THEY DID IT WIT

THE HELP OF FAMILY, OF COURS

UPON, BUT IT WAS A BIG CHANG

FOR THEM, AND I'M THANKFUL THA

THEY DID IT.

>> I'VE BEEN PARTICULARL

INTERESTED IN ITALIAN AMERICANS.

FOR ONE THING, THEY'RE

UNDERSTUDIED

I DON'T THINK THEY GET THE

RECOGNITION THAT SOME OTHE

GROUPS DO.

>> JOSEPH SIORA IS THE DIRECTO

OF ACADEMIC AND CULTURAL

PROGRAMS AT THE ITALIAN AMERICAN

INSTITUTE AT QUEENS COLLEGE.

HE'S WRITTEN SEVERAL BOOKS O

ITALIAN AMERICANS.

WHAT WAS HAPPENING IN ITALY TO

GET THE WORD OUT THAT THERE WA

THIS OPPORTUNITY IN AMERICA AN

THAT ITALIANS, PERHAPS, COULD DO

WELL THERE

>> IN ITALY, THERE ARE A LOT O

THINGS GOING ON.

FIRST, THAT FACTORIES AN

AMERICAN BUSINESSES AR

PROMOTING JOBS THROUGH THE

CHURCH AND THROUGH TOWNS I

ITALY, BUT A LOT OF WHAT'S GOING

ON IS THIS COMMUNICATION THAT'

GOING ON BETWEEN FAMILY AN

FAMILY

>> OUR GRANDFATHER, PASQUALE

EMIGRATED TO THE UNITED STATES

IN 1900?

>> 1900.

HE WAS A PHYSICIAN

HE CAME FROM A FAMILY OF

PHYSICIANS IN AN AREA IN ITALY

CALLED ATRIPALDA

SOMEHOW HE GOT A COMMUNICATION

FROM THE COMMUNITY IN LITTLE

ITALY IN MANHATTAN, AND THEY

WERE LOOKING FOR A PHYSICIAN T

OPEN UP A PRACTICE IN LITTLE

ITALY.

HE CAME OVER BY HIMSELF AN

GRANDMA FOLLOWED AND THEY MOVE

TO AN APARTMENT ABOVE.

>> FERRARA'S BAKERY SHOP

>> FERRARA'S BAKERY SHOP O

GRANT STREET

♪♪

♪♪

♪♪

>> AND WHAT IS 3,000 LIRE ABOUT?

IS THAT $100

>> NO.

IN THAT DAY IT WAS $3,000.

>> HOW TOUGH WAS IT FOR TH

ITALIANS TO LEAVE A PLACE THAT

THEY KNEW SO WELL, LEAVE FAMIL

AND FRIENDS, TO LEAVE AND COME

TO AMERICA FOR THE PROMISE O

OPPORTUNITY AND START ANEW

>> AS FOR ALL IMMIGRANTS LEAVING

ONE'S HOME IS A DRAMATIC

EXPERIENCE

♪♪

♪♪

♪♪

>> WE KNEW THEM COMING FRO

SMALL, SMALL TOWNS, HAMLETS,

VILLAGES AND THEY GET TO A PLACE

LIKE NEW YORK CITY AND IT'S

MEGALOPOLIS AND UNFATHOMABLE HOW

DISOR YEBTING IT WAS

>> DID THE ITALIANS HAVE A PLAN?

DID THEY MAKE THE JOURNE

TOGETHER AND THEN DECIDE LET'S

SETTLE IN BROOKLYN

LET'S SETTLE IN NEW JERSEY

HOW DID THAT COME UP WITH

PLAN

WAS IT ALL PRECONCEIVED?

>> THEY DO HAVE A PLAN AND IT'

NOT JUST GET ON A BOAT

WILLY-NILLY AND TRY TO FIGUR

THINGS OUT

WE THINK AS THE IMMIGRANTS A

BEING COMPLETELY IGNORANT,

ILLITERATE AND UNSCHOOLED, BUT

THEY KNEW HOW TO SURVIVE AND

THEY KNEW HOW TO FIGURE OUT

WAY IN A STRANGE LAND.

A NUMBER OF THE IMMIGRANTS COM

BECAUSE THEY HAVE A RELATIVE

HERE

THERE'S THE MIGRATION CHAIN THAT

HAPPENS AND PEOPLE ARE TOLD,

COME, YOUR UNCLE IS HERE

YOUR BROTHER IS ALREADY HERE

SOME TOWNS PERSON, SOME PAESAN

IS ALREADY HERE.

>> THE ITALIAN IMMIGRANTS SPREAD

OUT ACROSS THE NEW YORK-NE

JERSEY REGION.

ONE-THIRD SETTLED IN MANHATTAN

WHILE OTHERS PUT DOWN ROOTS IN

BROOKLYN, THE BRONX, QUEENS AN

NEARBY TOWNS IN NEW JERSEY

>> WHEN THEY LEFT ELLIS ISLAND

THEIR FIRST STOP WHERE EVERYBODY

WAS ELIZABETH, NEW JERSEY.

BEING THAT MY GRANDPARENTS

DIDN'T KNOW THE COUNTRY THEY

SETTLED RIGHT THERE IN

ELIZABETH, NEW JERSEY, TO START.

♪♪

♪♪

>> MANY OF THEM WENT TO NE

YORK, BUT MANY OF THEM ALS

STAYED IN NEW JERSEY

IT WAS VERY EASY FROM ELLI

ISLAND TO REACH AN AREA THAT WAS

QUITE ATTRACTIVE IN AGRICULTUR

AND IN THE INDUSTRIAL SECTOR

>> MY GRANDPARENTS CAME FROM

ITALY TO NORTH NEW JERSEY.

RUDY GIULIANI, THE GREAT FORME

MAYOR OF NEW YORK, ALWAYS WOUL

MAKE THE JOKE.

WHY WOULD ANYONE GO FROM ITALY

TO NEW JERSEY?

BUT YOU'D BE SURPRISED

THEY ALL CAME TO JERSEY.

>> MY DAD'S DAD IS FROM CALABRIA

AND MARY GUGGENHEIM WHO OWNS ONE

OF THE HOMES AT LONGBRIDGE

UNIVERSITY WENT OVER TO THIS

VILLAGE IN CALABRIA AND GOT

BUNCH OF FARMERS AND BROUGHT ALL

OF THEIR FAMILIES OVER SO THAT

WAY EVERYONE THAT WORKED ON TH

ESTATE KNEW EACH OTHER

SO MY FAMILY DSHT STOP IN TH

NEW YORK LIKE IN THE TRADITIONAL

STORY.

THEY WENT RIGHT FROM ELLIS

ISLAND TO LONGBRANCH SO I'

RELATED TO MOST OF LONGBRANCH.

>> MY FATHER CAME AND SETTLED IN

THE HARRISON AREA.

>> HARRISON IS ONE OF THE FIRS

INDUSTRIAL CENTERS OF THE UNITED

STATES AND OVER TIME I

SPECIALIZED IN SILK PRODUCTION

AND SILK DYEING, SO IT BECAME

POINT OF ATTRACTION FOR MANY

SKILLED LABORERS FROM MANY PARTS

OF THE WORLD, BUT IN PARTICULA

ITALY.

♪♪

♪♪

♪♪

♪♪

>> THE QUEENS EXPERIENCE HELPE

ME FOR THE REST OF MY LIFE

>> I GREW UP IN NEW AK, NE

JERSEY, AN OLD ITALIAN

COMMUNITY.

>> I'VE BEEN A JERSEY BOY MY

WHOLE LIFE

>> ASTORIA, WHICH I LOVE VER

MUCH

>> FOR ME, BROOKLYN IS CONNECTED

TO FAMILY AND TO MY HERITAGE I

A VERY DIRECT WAY.

>> IT'S INTERESTING THAT NEW

YORK AND NEW JERSEY ARE THE MOST

POPULATED AREAS.

WHY DO ITALIANS CHOOSE NEW YOR

AND NEW JERSEY OVER OTHER AREA

OF THE U.S. WHEN THEY COME HERE?

>> ONE OF THE REASONS IS THA

HISTORICALLY THERE'S BEEN WORK

HERE

♪♪

♪♪

>> NEW YORK CITY WAS THE GREAT

INDUSTRIAL CAPITAL, AND ITALIANS

LIKE OTHER IMMIGRANTS, CAME TO

NEW YORK CITY BECAUSE THERE WA

A LOT OF WORK HERE

THEY ALSO CAME AT A TIME WHE

THE CITY WAS BEING BUILT, TH

INFRASTRUCTURE, THE SUBWAYS, THE

STREETS, ITALIANS HELPED T

BUILD THOSE.

THERE WERE PRINCIPLE PEOPL

INVOLVED IN THE BUILDING OF NE

YORK CITY.

>> WHEN I MADE MY BROADWAY DEBUT

IN "ANNIE GET YOUR GUN" IT WAS

AT THE MARRIOTT MARQUEE.

MY DAD WAS A PART OF THE MEN WHO

BUILT THAT THEATER AND I CAN

DRIVE AROUND TOWN AND SEE SO

MANY OF THE SKYSCRAPERS THAT I

KNOW MY DAD WAS INVOLVED IN TH

STEEL.

THAT'S A WONDERFUL LEGACY TO

HAVE IN THIS GREAT CITY OF NEW

YORK

♪♪

♪♪

♪♪

>> BACK BREAKING ISN'T THE

METAPHOR, RIGHT?

YOU'RE STOOPED OVER, YOU'R

ENGAGING IN REPETITIVE ACTION.

IT'S PAINFUL

IT AGES YOU.

>> IT WAS THE YEAR THAT WE'R

GOING THERE BECAUSE THE STREET

ARE PAVED WITH GOLD AND THEY

WENT LURED BY THAT PICTURE AND

WHEN THEY GOT TO THE UNITE

STATES AND ESPECIALLY TO NEW

YORK THEY DISCOVERED THEY WERE

LIED TO.

THE STREETS WERE NOT PAVED WIT

GOLD

AS A MATTER OF FACT, THE

WEREN'T PAVED AND THESE PEOPLE

WHO CAME WERE EXPECTED TO DO THE

PAVING, AND THEY BECAME TH

WORKERS, AND THEY WEREN'T PAID

VERY WELL FOR IT

♪♪

♪♪

♪♪

♪♪

♪♪

>> MOST OF THE MEN IN THE FAMILY

WERE LONG SHOREMEN GROWING U

AND THEY WERE FROM A GENERATIO

WHERE THEY WERE NOT WELL

EDUCATED

THEY DIDN'T HAVE A LOT OF MONEY,

BUT YOU WOULD NEVER KNOW I

BECAUSE THE WINE WAS ALWAY

PLENTIFUL AT THE TABLE AND THE

BREAD WAS ALWAYS MREBT IFL A

THE TABLE AND THAT WAS PUSHE

DOWN AND THAT'S SOMETHING I WANT

TO SHOW MY KIDS ABOUT HO

GRANDPA ANGELO BUSTED HIS HUMP

ON THAT SHIP EVERY DAY

>> MY FATHER ALWAYS TALKED ABOUT

FIVE EVILS, FLOUR, SUGAR, RICE

BANANAS AND COFFEE

WHY?

BECAUSE THEY WERE ALL 10

POUNDERS

♪♪

♪♪

♪♪

♪♪

>> THE MEN ARE PRIMARILY THE

ONES DOING THE DITCH DIGGING

THE SUBWAY BUILDING, THE HAR

CARRIER, BUT WOMEN ARE PRINCIPAL

WORKERS IN THE FACTORIES AS IN

THE MEAL CRAFTS.

OFTEN WE THINK OF THE ITALIA

FAMILY WHERE THE WOMEN ARE

STAYING AT HOME, BUT IN FACT, IN

THE EARLY DAYS OF IMMIGRATION IN

THE 1880s UP UNTIL THE 1920s I

WAS THE WOMEN WHO WERE THE MAI

BREADWINNERS BECAUSE THEY FOUN

STABLE WORK AS NEEDLEWORKERS

MY GRANDMOTHER WORKED IN A

FACTORY.

>> MINE, TOO

>> A 1905 NEW YORK CITY SURVEY

REVEALED THAT ALMOST HALF OF

ITALIAN WOMEN WORKED OUTSIDE O

THE HOME

80% OF THEM WORKED IN NEEDLE

CRAFTS

SOMETIMES THEY WOULD TAKE ON

PIECEWORK TO SUPPLEMENT TH

FAMILY INCOME.

>> WHEN MY MOM CAME HERE WHE

SHE WAS 14 YEARS OLD SHE

ACTUALLY FORGED HER PAPERS

BECAUSE SHE WANTED TO GE

WORKING RIGHT AWAY

THEY KNEW RIGHT AWAY SHE WASN'

16 AS SHE SAID SHE WAS, BUT HE

BOSS LIKED HER AND DECIDED THA

SHE WAS GOING TO, YOU KNOW, JUST

BE A PART OF THEIR FAMILY INSIDE

OF A FACTORY

>> MY MOTHER WAS A TEACHER, BU

OF COURSE, COULDN'T TEACH HERE

BECAUSE OF THE LANGUAG

DIFFICULTY AND SHE BECAME

SEAMSTRESS IN A FACTORY WORKIN

AS A SEAMSTRESS.

>> THIRD DAY I CAME TO THE BRONX

I STARTED WORKING IN NEW YORK.

♪♪

♪♪

♪♪

>> MY FATHER'S MOTHER, M

GRANDMOTHER, WORKED IN A CIGAR

FACTORY IN LONG ISLAND CITY.

>> IRISH WOMEN WERE EMPLOYED A

DOMESTICS.

ITALIAN WOMEN DIDN'T DO THAT

THEIR FAMILIES DID NOT WANT THEM

EMPLOYED IN THE PRIVATE HOUSES

OF PEOPLE THEY DIDN'T KNOW

THEY FELT THAT THEIR SISTERS

DAUGHTERS WOULD BE VULNERABL

THAT WAY SO THAT WASN'T

PROFESSION THAT WAS VERY COMMON.

♪♪

♪♪

>> SURPRISINGLY, MANY OF THESE

IMMIGRANTS NEVER INTENDED TO

MAKE THE UNITED STATES THEIR

PERMANENT HOME

THEY WERE CALLED BIRDS O

PASSAGE, MOSTLY YOUNG MEN IN

THEIR TEENS AND 20s WHO PLANNE

TO WORK, SAVE MONEY AND RETURN

TO ITALY

>> IT'S FASCINATING THAT SO MANY

OF THE ITALIAN AMERICANS CAM

AND DID VERY SIMILAR THINGS.

FOR EXAMPLE, MY FAMILY ALSO, M

GRANDFATHER CAME TO AMERICA AN

THEN WENT BACK AND THEN CAME

BACK AGAIN

SO WHAT -- THEY WERE CHECKING IT

OUT BEFORE THEY DECIDED TO STA

HERE

>> WE OFTEN THINK THAT ITALIAN

CAME BECAUSE THEY WANTED TO COME

TO THE LAND OF OPPORTUNITY WHEN,

IN FACT, ITALIAN IMMIGRANTS CAME

BECAUSE THEY WANTED TO COME AN

MAKE MONEY AND GO HOME AND BUY A

PIECE OF PROPERTY, A HOUSE

THIS IS A CENTRAL ETHOS FO

ITALIAN IMMIGRANTS AND ITALIAN

AMERICANS IS TO OWN A HOUSE AN

WHETHER THEY OWN IT IN ITALY O

OWN IT HERE, THAT REALLY IS TH

ULTIMATE GOAL FOR MANY, MANY

WORKING CLASS ITALIA

IMMIGRANTS

>> THE AMERICAN DREAM.

THE AMERICAN DREAM

>> THIS DREAM OF OWNING A HOME

MEANT A BETTER LIFE FOR ITALIA

AMERICANS, DRIVING THESE ALREADY

HARD-WORKING IMMIGRANTS TO WOR

EVEN HARDER AT STRENUOUS JOB

WITH LONG HOURS.

>> I'M THE SON OF ITALIA

IMMIGRANTS WHO CAME FROM A

LITTLE TOWN CALLED CAJANO WHIC

IS THE SAME AS MY LAST NAME.

MY FATHER WAS A LONGSHOREMAN

MANY TIMES I CAN REMEMBE

GROWING UP AS A BOY HE WOULD G

TO THE PIER AT 5:30, 6:00 HE WAS

GONE AND WE WOULD GET UP AROUN

6:30 TO GO TO SCHOOL

HE WOULD COME HOME

HE WOULD WASH.

HE WOULD EAT DINNER AND THEN W

WOULD GO OFF TO DO OUR STUFF

MY FATHER WOULD GO BACK TO WOR

AND WORK ALL THROUGH THE NIGHT

BECAUSE IT WAS TIME AND A HALF

IT WAS DOUBLE TIME, AND THAT'S

HOW MY FATHER SAVED ENOUGH MONEY

TO BUY OUR HOME, THE SAME HOME

MY SISTER AND I SHARE, AND H

PUT TWO-THIRDS OF IT IN CASH

DOWN HAVING COME HERE WITH

NOTHING.

♪♪

♪♪

♪♪

>> MOST OF OUR GRANDPARENTS HA

NOTHING.

I MEAN, WE'RE NOT TALKING ABOU

ROYALTY.

WE'RE NOT TALKING ABOUT DOWNTO

ABBY HERE.

WE'RE TALKING ABOUT PEOPLE WHO

CAME AND HAD NOTHING AND WHO

WANTED TO BE AMERICANS AS FAST

AS THEY COULD, WHO LOOKED AT

WORK AS NOT HARD

IT WAS WHAT YOU DID.

>> THEY CAME FROM NOTHING, A

FAMILIAR REFRAIN AMONG THI

GENERATION OF ITALIAN AMERICAN

WHOSE GRANDPARENTS AND

GREAT-GRANDPARENTS DID HAV

OPTIMISM IN ABUNDANCE.

THEY WERE CONVINCED THAT HAR

WORK IN AMERICA WOULD CHANGE

THEIR LIVES.

LIKE OTHER EUROPEAN IMMIGRANTS

THEY WERE PAID VERY LITTLE

AROUND THE TURN OF THE 20t

CENTURY, ONLY 14 CENTS AN HOUR

$1.25 A DAY.

>> MY FAMILY BUILT MY LIFE FOR

ME FROM NOTHING REALLY

AN INGRAINED SENSE OF WORKIN

HARD FOR EVERYTHING YOU'VE

ACHIEVED AND MY WHOLE LIFE I'V

TRIED TO WORK AS HARD AS I CAN

TO REACH MY GOALS AND MY DREAMS.

>> I THINK THAT'S THE DRIVE OF

IMMIGRANTS

IT'S, YOU KNOW, THERE'S NO PLACE

ELSE TO GO

THIS IS THE OPPORTUNITY.

WE'VE GOT TO MAKE IT HAPPE

HERE

>> SO I FEEL ALMOST THAT

IMMIGRANT RESPONSIBILITY AND

WANTING TO MAKE IT AND THA

DRIVES ME IN EVERYTHING I DO

>> GOOD?

>> YEAH.

♪♪

♪♪

♪♪

>> WE ALWAYS WERE INSTILLED WITH

THE FACT THAT YOU CAN DO

WHATEVER YOU HAVE TO IF YO

DEVOTE YOURSELF TO IT, AND DON'T

BE AFRAID OF TRYING, AND YOU CAN

SET WHATEVER GOAL AND GO FOR IT.

♪♪

♪♪

>> MANY OF US LEARNED HOW TO

WORK HARD IN FAMILY BUSINESSES

AS I DID WITH MY FATHER AN

GRANDFATHER IN OUR FAMIL

RESTAURANT IN BROOKLYN

IT WAS AN IMPORTANT PART O

GROWING UP

SUCCESS FOR MANY ITALIAN

AMERICANS DEPENDS A GREAT DEAL

ON STRONG FAMILY TIES.

>> ALL MY UNCLES WERE MEAT MEN

>> MY GRANDPARENTS WERE MEAT

MEN.

MY GREAT-GRANDPARENTS WERE ALL

BUTCHERS AND IT CARRIED ON FRO

GENERATION TO GENERATION

>> THE LAFRIDA FAMILY HAS BEEN

RUNNING THEIR MEAT BUSINESS FO

MORE THAN 100 YEARS.

FIRST IN THE MEAT PACKIN

DISTRICT IN MANHATTAN.

>> IN HERE IS WHERE EVERYTHING

HAPPENS.

>> AND NOW IN NORTH BERGEN, NE

JERSEY

>> MY FATHER NEVER WANTED ME T

BE A BUTCHER

HE TOOK ME TO WORK AS OFTEN AS

HE COULD TO SHOW ME WHAT A HAR

DAY'S WORK WAS

>> I DIDN'T WANT HIM TO BE A

BUTCHER BECAUSE IT WAS ROUGH

BACK THEN.

IT WAS A HARD JOB TO DO, AND YOU

WORKED IN A REFRIGERATOR MOST OF

THE TIME

I WANTED HIM TO GO BETTER.

I FIGURED, HE'S IN COLLEGE

HE WOULD BE ABLE TO COME UP WITH

SOMETHING.

I THOUGHT FOR SURE THAT THAT

WOULD BE THE ROUTE TO GO

>> BUT ALL I EVER WISHED TO DO

WAS TO BUILD THE FAMIL

BUSINESS

>> PABLO, THIS IS TOO HOT.

>> ALL THROUGH COLLEGE IN TH

BACK OF MY HEAD I KEPT THINKIN

THERE WAS NO MARKETING IN TH

MEAT BUSINESS.

SO COMING FRESH OUT OF COLLEGE

WITH THOSE STILLS AND APPLYING

THEM INTO THE FAMILY BUSINES

IT'S REALLY WHAT TURNED THINGS

AROUND

SO MY DAD, SPENDING ALL OF HIS

MONEY ON MY EDUCATION, IT REALLY

PAID OFF

♪♪

♪

>> $1.7 MILLION IN INVENTORY

ABOUT 7,000.

>> BRINGING HIM INTO THE MEA

BUSINESS WAS A BIG PLUS.

I DIDN'T REALIZE IT AT THE TIM

WHAT A PLUS IT WOULD BE, BUT H

BROUGHT HIS EDUCATION IN AND NOW

WE HAVE AN EDUCATED BUTCHER.

>> FAST FORWARD 20 YEARS, WE

HAVE 175 EMPLOYEES NOW AND 120

CUSTOMERS THAT WE SUPPLY DAILY

SIX DAYS A WEEK.

WE HAVE 55 BUTCHERS.

WE HAVE A FLEET OF 30 TRUCKS

WE HAVE A FULL ACCOUNTING ON

STAFF.

>> I'M PROUD TO SAY WHAT I DO IS

BLUE COLLAR WORK, AND I THIN

THAT FOLLOWS TRUE WITH MOS

ITALIAN AMERICAN FAMILIE

ESPECIALLY THOSE THAT CARRIED ON

FROM GENERATION TO GENERATION.

THAT FAMILY BONDING IS ALWAY

SOMETHING THAT MEANT A LOT

>> ONE OF THE THINGS THAT IS

IDENTIFIABLE IS THE CONCEPT OF

LAVORO BEN FATTO, WORK DON

WELL

THERE IS A REAL APPRECIATION FOR

DISPLAY OF SKILLS, NOT THAT YO

BUILD A WALL, BUT YOU BUILD

WALL THAT IS THERE TO LAST AND

YOU DO IT WITH A CERTAIN

INTEGRITY AND A CERTAIN KIND O

ARTISTRY FOR THE MATERIALS

THEMSELVES AND TO THE WORLD AT

LARGE.

THE IDEA OF COOKING WELL AND

DOING AND DISPLAYING IT IN A

CERTAIN WAY IS I THINK A KEY

CENTRAL ASPECT OF ITALIA

AMERICAN ETHOS IN NEW YORK CITY.

LAVORO BUON FATTO.

>> WELCOME TO CAR UTHERS MARKET,

MY FAMILY IS BRINGING YOU --

>> THE PHILOSOPHY OF LAVORO BUON

FATTO CAN BE SEEN HERE IN NE

JERSEY IN THE SUPERMARKET.

>> MY GREAT-GRANDFATHE

EMIGRATED FROM ITALY IN 1921

>> HE BROUGHT HIS HARD WOR

ETHIC WITH HIM TO NEW JERSEY

WHERE HE PASSED IT ON TO

GENERATIONS OF CAROTTO'S

THEIR FAMILY HAS BEEN RUNNIN

THEIR BUSINESS SINCE THE 1950s

IT ALL STARTED AS A SIMPLE FAR

STAND IN PATTER SORN, NE

JERSEY

>> BACK IN THE '40s AND '50s

NEW JERSEY WAS A MAIN HUB FO

ITALIAN AMERICANS.

WHEN THE BUSINESS STARTED WE

WERE PRIMARILY FRUITS AN

VEGETABLES AND ITALIAN

SPECIALTIES.

IT'S TAKEN A LONG TIME AND HAR

WORK TO HELP IT GROW

TODAY WE'RE FOUR SUPERMARKET

AND GROCERY CENTERS.

>> HI, THIS IS MAXIMUS AND I'M

JIMMY CAROTTO.

>> THE LIQUOR STORE AND A HOME

WINEMAKING FACILITY.

MYSELF AND NINE OF MY COUSIN, WE

RUN THE COMPANY TODAY ALONG WITH

MY FATHER AND HIS TWO BROTHERS

WE CAN WALK INTO ANY STORE I

ANY LOCATION AND ASK FOR A

CAROTTO AND BE ABLE TO SEE ONE

♪♪

♪♪

>> ALL FOUR OF MY GRANDPARENTS

WERE BORN IN BROOKLYN AND ALL OF

THEIR PARENTS HAD EMIGRATED FROM

ITALY.

>> THEY CAME TO NEW YORK AND

EVENTUALLY EVERYONE MOVED TO THE

SUBURBS.

>> AND THE LAST NAMES WA

VINDINI AND CARBALOTTO AND

EVERYONE GREW UP WITHIN TE

BLOCKS OF EACH OTHER

>> ITALIAN AMERICANS KNOW HOW TO

STICK TOGETHER

MANY NEIGHBORHOODS AND TOWNS I

OUR AREA ARE KNOWN FOR THEIR

ITALIAN ACCENTS.

>> THEY ARE ATTRACTED TO

NEIGHBORHOODS WHERE THERE AR

OTHER PEOPLE LIKE THEM AND

MEANING WHAT WE CALL ITALIAN

AND THAT'S AN ADESCRIBED

IDENTITY, RIGHT?

THEY DIDN'T COME HERE AND SA

I'M ITALIAN.

THEY WERE SICILIAN OR FROM BAR

AND MY FAMILY WAS FROM FELINO.

THEY BECAME ITALIANS WHEN THEY

GOT HERE SO THEY WOULD SEEK OU

NEIGHBORHOODS WHERE THERE WERE

OTHER PEOPLE FROM THEIR REGIONAL

COMMUNITIES.

♪♪

♪♪

>> IMMIGRANTS FROM THE SOUTH

SETTLED NEAR ARTHUR AVENUE I

THE BRONX.

PEOPLE FROM PASSALO AND SICILY

AND MORA DI BARI PUT DOWN ROOT

IN CAROL GARDENS IN BROOKLYN

AND ITALIANS FROM ALL ACROSS THE

SOUTHERN REGION WOUND UP IN WHAT

IS PROBABLY THE BEST KNOWN

ITALIAN AMERICAN NEIGHBORHOOD,

LITTLE ITALY IN LOWER MANHATTAN.

>> THIS IS WHERE IT AL

HAPPENED

RIGHT HERE IN THE CENTER OF NE

YORK CITY ON THE CORNER OF GRAND

AND MULLBERRY STREET IS TH

EPICENTER OF THE ITALIAN

AMERICAN COMMUNITY

>> ARIVADERI HAS BEEN HERE FOR

122 YEARS.

>> 1892 THE FAMILY STARTED THIS,

IT'S FIVE GENERATIONS.

>> I WAS BORN AND RAISED AROUN

THE CORNER FROM HERE O

MULLBERRY STREET

WE ESTABLISHED IN 1910 AND THERE

WAS A MUSIC PUBLISHING HOUSE

>> I'VE BEEN HERE SINCE I WA

TEN YEARS OLD.

>> AND THE SAINT'S FACE SINCE WE

STARTED.

>> ALMOST 60 YEARS AND WE MAKE

THE BEST BISCOTTI ON PLANE

EARTH.

>> WE'VE BEEN HERE SINCE 190

AND WE'RE A FAMILY-RUN BUSINESS,

HANDS ON 24/7.

>> ELIZABETH STREET AND THER

WOULD BE PUSH CARTS ALL OF THE

WAY UP AND DOWN AND YOU COUL

BUY ANYTHING YOU WANT ON THE

PUSH CARTS, NOT JUST FOOD.

>> THERE IS A VERY RICH, OUTDOOR

PUBLIC COMMUNITY

IT'S ON THE ONE HAND, UNHEALTHY,

UNSANITARY, CRAMPED, NO PRIVAC

AND ON THE OTHER HAND THERE'

THIS REALLY RICH COMMUNITY

BECAUSE PEOPLE HAVE TO BE IN

CONTACT WITH ONE ANOTHER AND

THEY HAVE NOWHERE ELSE TO GO BUT

WHEN YOU'RE OUT IN THE STREETS

YOU'RE MEETING PEOPLE.

♪♪

♪

>> ONE OF THE THINGS THEY DO

VERY QUICKLY IS THEY CREAT

COMMUNITY, THEY CREATE A SENSE

OF PLACE FOR THEMSELVES AND THEY

DO IT AT A VERY, VERY LOCA

LEVEL.

>> MY UNCLE EDDIE WHO IS THE

YOUNGSTER, HE'S 90 YEARS OLD

HE USED TO LIVE UP THE BLOCK

>> 90 YEARS YOUNG.

>> HE USED TO LIVE UP THE BLOC

AND MY MOTHER AND GRANDMOTHE

USED TO LIVE UP THE BLOCK AN

WHOEVER LIVED HERE HAD MAN

RELATIVE THAT LIVED UP THE

BLOCK.

>> IT DIDN'T TAKE LONG FOR THE

ITALIANS TO BRING A LITTLE BIT

OF THE OLD COUNTRY TO THEI

AMERICAN NEIGHBORHOOD.

>> TENAMENT BUILDINGS WERE

BROUGHT BY PEOPLE FROM THE SAM

TOWN AND THEY WERE OCCUPIED BY

JUST PEOPLE FROM THE SAME TOWN

GOING TO ANOTHER BLOCK WAS GOING

TO ANOTHER WORLD IN NEW YORK

CITY

THIS WAS TRUE FOR PLACES LIK

LITTLE ITALY

>> MULBERRY STREET, YOU HAD

LOT OF PEOPLE THAT WERE FROM

NAPLES

YOU HAD A LOT OF PEOPLE FROM

SICILY ESPECIALLY FROM SHAKA AND

IT WAS A VERY SAFE NEIGHBORHOOD,

BUT THERE WAS ALWAYS SOMEONE

AROUND KEEPING AN EYE ON THINGS.

♪♪

♪♪

♪♪

♪

♪♪

>> WHAT WAS IMPORTANT TO B

IMMIGRANT WAS THE REGION AND NOT

ONLY THE REGION, BUT THE LITTL

TOWN WHERE YOU COME FROM AND THE

TRADITIONS OF THE TOWN AND THE

SAINT OF THAT TOWN AND ALL O

THOSE, CERTAINLY TO MY MOTHER.

MY MOTHER IS 94 NOW, THAT IS

STILL VERY IMPORTANT

♪♪

♪

>> THEIR HARD WORK BEGAN TO PA

OFF.

AS ITALIAN AMERICANS BECAME MORE

PROSPEROUS, THEY MOVED OUT O

THE CRAMPED TENAMENTES AND

SPREAD OUT TO MORE SPACIOU

HOMES AND STILL THEY STUCK

TOGETHER CREATING NE

COMMUNITIES OUTSIDE THE CITY

>> THE SICILY OF AMERICA

>> IN NEW JERSEY, EDMONDON HAS

THE HIGHEST NUMBER OF PEOPLE O

ITALIAN ANCESTRY IN THE STATE,

40%.

>> THE NUMBERS IN NEW JERSEY ARE

ALSO QUITE ASTONISHING

IT IS THE STATE, IT IS ACTUALL

MORE ITALIAN THAN THE STATE OF

NEW YORK

>> IMMIGRANTS FROM SOUTHER

REGIONS SETTLED IN AREAS LIK

PATTERSON AND NEWARK, NE

JERSEY

>> MY GRANDMOTHER LIVED NEXT

DOOR, VICENZA CARVALLO AND M

GRANDMOTHER, LUIGI, CAME FROM

SMALL LITTLE TOWN IN ITALY

CALLED FIGIANO

IT WAS VERY SPECIAL.

MY GRANDPARENTS WERE THERE, AN

EVERY FAMILY WAS ITALIAN

AMERICAN AND WE THOUGHT EVERYONE

WAS ITALIAN AMERICAN UNTIL W

ACTUALLY WENT TO SCHOOL, AND

REALIZED THAT THERE WERE OTHER

KIDS OF OTHER NATIONALITIES AN

IT WAS A BEAUTIFUL THING

♪♪

♪♪

♪♪

>> MY GRANDPARENTS CAME HERE

FROM ITALY AND WE NEVER LEFT

THEY GO FROM AOLINO, SALERNO AND

THEY COME TO NEWARK AND WE G

FROM NEWARK AND THEN WE GO T

THE SUBURB, YOU KNOW

YOU TRY TO BECOME AMERICAN, YO

KNOW

KWLOU TRY TO BLEND INTO TH

FABRIC OF THIS GREAT COUNTRY

AND I JUST NEVER LEFT.

I THINK BECAUSE THE FAMILY I

THERE.

>> IN NEW YORK, BENSONHURST HA

BECOME KNOWN AS THE LITTLE ITALY

OF BROOKLYN.

THE NEIGHBORHOOD HAS ATTRACTED

ITALIAN AMERICAN FAMILIES FO

NEARLY 100 YEARS

>> WHY BENSONHURST

IT'S INTERESTING BECAUSE M

PARENTS AND MY GRANDPARENTS ALSO

WENT TO THAT AREA.

WHY?

WHY WAS THAT SUCH AN ATTRACTIV

AREA FOR ITALIANS?

>> ONE OF THE THINGS IS THAT YOU

CAN OWN A SINGLE-FAMILY HOME

YOU KNOW

YOU CAN HAVE A LITTLE PIECE OF

PROPERTY

IN THE 1920s ITALIANS HAVE

ACCRUED ENOUGH MONEY TO DO THA

AND THEY BUY THAT HOUSE.

>> I GREW UP IN A TIME WHEN TH

NEIGHBORHOOD BASICALLY WAS A

EXTENDED FAMILY, WHERE EVERYON

KNEW THEM AND I KNEW JUST ABOU

EVERYONE ELSE.

THERE WERE 1200 OF US IN SCHOOL,

AND I DON'T THINK ANYONE LIVED

MORE THAN EIGHT CITY BLOCKS AWAY

FROM THE SCHOOL AND BECAUSE IT

WAS OVERWHELMINGLY ITALIAN,

GOOD AMOUNT OF PEOPLE ONLY SPOKE

ITALIAN LIKE MY PARENTS.

INITIALLY ONLY SPOKE ITALIAN

>> I WAS BORN IN BROOKLYN AND MY

PARENTS LIVED ABOVE MY

GRANDPARENTS IN A TWO-FAMILY

HOUSE IN BENSONHURST

THE ENTIRE NEIGHBORHOOD WA

ITALIAN AMERICAN, SO THERE WAS

YOU KNOW, THE PORK STORE ON TH

CORNER THAT WAS RUN BY ITALIAN

AND THE CHEESE STORE THAT WA

RUN BY ITALIANS AND THE BAKERY

ET CETERA, ET CETERA

>> WHEN I GOT MARRIED, I MOVED

TO BENSONHURST IN BROOKLYN, AN

I RAISED MY KIDS IN BENSONHURS

IN BROOKLYN WHICH WAS FOUR

BLOCKS FROM THE MARINA

WHEN I'D GET HOME FROM WORK WE'D

GO OUT ON THE BOAT FISHING AND

IN THE AFTERNOON IF THE WEATHE

WAS FINE, WE'D GO OUT.

♪♪

♪♪

♪♪

>> MY DAD DECIDED HE WANTED TO

KEEP A STORE IN BENSONHURST ON

24th AVENUE AND 86th STREET.

IT WAS JUST A GROCERY STORE, A

ITALIAN GROCERY STORE.

THEY HAD ALL OF THE ITALIAN FOOD

AND WE WERE ALL BROUGHT UP INT

THAT STORE AND WE ALL WORKED

THERE.

I'VE BEEN WORKING SINCE I WAS

YEARS OLD.

DON'T TELL ANYBODY

IT WASN'T WORK, IT WAS BEING

THERE WITH MY DAD AND MY UNCLE

AND MY COUSINS AND MY SIBLINGS

AS WELL.

IT WAS THAT HOME AWAY FROM HOME.

>> BECAUSE THESE FAMILY TIES ARE

SO STRONG, MANY ITALIAN AMERICAN

NEIGHBORHOODS HAVE AN ALMOST

SMALLTOWN FEEL WHERE EVERYON

KNOWS EVERYONE ELSE'S BUSINESS

>> THE BUILDING THAT I GREW UP

IN, MY MOM, DAD AND MYSELF LIVED

ON ONE FLOOR AND MY GRANDFATHE

AND GRANDMOTHER LIVED IN THE TOP

FLOOR.

MY UNCLE AND HIS CHILDREN LIVE

ON THE FIRST FLOOR

MY GREAT AUNT LIVED ON THE FIRST

FLOOR NEXT TO MY GRANDPARENT

AND MY COUSIN LIVED NEXT DOOR TO

THAT AND IT WAS A FAMILY

NEIGHBORHOOD AND IT WAS TRUE NOT

ONLY FOR MY FAMILY, AND I WAS IN

CLASS WITH JOE RUSSO, BUT I WA

IN CLASS WITH HIS COUSIN LOU AND

HIS COUSIN MARCY

>> AS CHILDREN YOU DON'T

UNDERSTAND WHAT THAT ALL MEANS

AND HOW UNIQUE IT IS IN A BI

CITY LIKE NEW YORK, BUT TODAY

DEFINITELY LOOK BACK ON IT WIT

GREAT FONDNESS AND LONGING, AS

WELL

♪♪

♪♪

♪♪

♪♪

>> CAROL GARDENS, BROOKLYN, HA

HAD AN ITALIAN AMERICAN IDENTITY

FOR MORE THAN 100 YEARS.

A FAMILIAR SIGHT IN TH

NEIGHBORHOOD ARE THE SOCIA

CLUB, EACH LINKED TO A SPECIFI

REGION OF ITALY.

>> IF YOU WALKED THROUGH COW

GARDENS THERE WERE SOCIAL CLUB

AND MYSELF, AND I BELIEVE MY

SISTER'S SIXTH BIRTHDAY WAS HELD

IN THE NNAPOLI CLUB AND IT I

TRYING TO RETAIN THE FEEL OF A

ITALIAN SOCIAL CLUB.

>> WHEN PEOPLE CAME, MOST OF THE

PEOPLE CAME DOWN TO CARO

GARDENS WHICH I BELIEVE AT THE

TIME WAS CALLED WIDOW.

>> THE CLUB WAS CREATED IN 1919.

PERSONALLY, I THINK IT'S A WAY

TO RECREATE LA PIAZZA, THE

SQUARE, WHERE YOU WOULD GO AND

CHIT-CHAT WITH SOMEBODY.

YOU WOULD ARGUE LIKE THERE'S N

TOMORROW AND THEN YOU ARE LIKE

NOTHING HAPPENED

>> WHEN THEY DON'T KNOW WHAT

THEY'RE GOING TO FIND AND TH

SOCIAL ORGANIZATIONS ALLOW THE

TO NETWORK TO FIND JOBS AND TO

BE ABLE TO FIND AN APARTMENT

WHERE MAYBE THEY COULD LIVE AN

SHARE THE RENT WITH SOME OF TH

OTHER PEOPLE

>> THE CLUBS AND THE CONNECTIONS

THEY RENTED EASED THE WAY FO

NEWLY ARRIVED IMMIGRANTS

>> THIS IS PRE-INTERNET AND AL

OF THAT STUFF.

SO HOW DO YOU FIND OUT WHAT'

GOING ON IN THE WHOLE TOWN

YOU WENT TO THE CLUB AND YOU

HEARD GOSSIP AND YOU'D FIND OU

WHAT'S HAPPENING TO PEOPLE FRO

OUR HOMETOWN THAT IMMIGRATED T

BROOKLYN AND THE U.S

>> SOCIETY WAS UTILIZED IN THE

MOVIE "ANALYZE THIS" AND ROBER

DE NIRO WAS THE CAPO OF MARCIA

THAT'S NOT THE APPROACH.

THAT'S NOT WHO WE ARE.

>> THE CLUB IS WHERE WE AL

GATHER

WHO LIVES IN WESTCHESTER AND

THEY'RE ALL OVER, SO THIS IS

WHERE WE COME TO GET TOGETHE

AND WHETHER WE EAT SOMETHING O

WE COME TO PLAY CARDS OR WATCH A

SOCCER GAME OR FOOTBALL GAME

FOR THAT MATTER, WHATEVER IT MAY

BE, IT'S JUST IMPORTANT TO GET

TOGETHER

>> CONGRATULATIONS, GOOD LUCK,

SALUTE

>> THANK YOU, VITO

♪♪

♪♪

♪♪

♪♪

♪♪

>> ITALIAN IMMIGRANTS REMAIN

CLOSE KNIT, SUPPORTING EAC

OTHER IN THE NEIGHBORHOODS AND

CLUBS AND HIGHER PURSUITS.

MORE OFTEN THAN NOT, THESE NEW

AMERICANS RECOGNIZED THAT TH

BEST WAY TO ACHIEVE THE AMERICAN

DREAM WAS TO GET AN EDUCATION.

THIS GENERATION OF IMMIGRANT

HAD THE OPPORTUNITY TO FINIS

HIGH SCHOOL AND GO TO COLLEGE,

ACHIEVING DEGREES AN

CREDENTIALS FROM UNIVERSITIE

THAT THEIR PARENTS COULD ONL

DREAM OF

>> THEIR WILLINGNESS TO WORK I

THERE.

THE ABILITY TO WORK IS THERE

THE STRENGTH IS THERE.

THEY HAVE ALL OF THAT, BUT -

BUT YOU HAVE TO BE ABLE TO REA

AND WRITE.

MY MOTHER AND FATHER COULDN'

READ OR WRITE, AND THEY COULDN'T

READ OR WRITE IN ITALIAN AND

WHERE THEY CAME FROM THERE WER

NO SCHOOLS AND THAT WAS ONE OF

THE REASONS THEY CAME HERE T

THE UNITED STATES.

>> I REMEMBER WHEN I WOULD COM

HOME FROM P.S. 99 WITH MY REPORT

CARD

LOOK

I GOT A B-PLUS

REALLY

WHO GOT THE A?

>> IT'S NEVER GOOD ENOUGH.

IT WAS ALL ABOUT EDUCATION

IT WASN'T ABOUT CLOTHES, AND I

WASN'T ABOUT CLIQUES

IT WAS ABOUT, ARE YOU GETTIN

THE EDUCATION THAT WE COUL

AREN'T GET

>> MY MOTHER GETS ALL EXCITE

ABOUT THE GREAT OPPORTUNITY THAT

OUR CHILDREN AND THAT IS MYSEL

AND MY BROTHER HAD HERE IN THE

STATES AND SHE WAS VERY MUCH FOR

EDUCATION, THAT WE GET OUR

EDUCATION, THAT MY CHILDREN GE

AN EDUCATION THAT WILL BECOM

PART OF AMERICA, BUT NEVER

FORGET OUR ROOTS

>> MY DAD WAS VERY MUCH, AT 7:00

IN THE MORNING, WE'RE LEAVIN

THE HOUSE AND WE'LL GO TO WORK

AND YOU'RE NOT GETTING BAC

BEFORE 8:00 P.M. AND THIS IS THE

WAY LIFE IS.

HIS BIGGEST THING IS I DON'T

WANT YOU STOCKING SHELVES FO

THE REST OF YOUR LIFE.

I'M SENDING YOU TO COLLEGE, AN

I DON'T WANT YOU TO GET STUC

HERE, YOU KNOW

I WANT YOU TO GO, GET AN

EDUCATION.

>> HAVING GRANDPA AS A PHYSICIAN

AND COMING FROM THE FAMILY W

DID, WE ALL FELT WE HAD TO BE --

>> WE HAD TO ACHIEVE

IT WAS DEFINITELY -- EVERYON

HAD TO GO TO COLLEGE AND

EVERYONE HAD TO GET

PROFESSION

WE WERE NOT UNDER PRESSURE, BU

WE WERE GENTLY PUSHED ALON

THOSE LINES.

>> MY BROTHER IS A PHYSICIAN

AND I'M A PHARMACIST

>> I WAS ACCEPTED INTO YALE, AND

I WENT

MY FATHER WAS THRILLED

OH, MY GOSH, MY FATHER WAS

THRILLED

HE WAS HOPING I WOULD BECOME A

LAWYER OR A POLITICIAN OR TH

MAYOR OR SOMETHING

THE NEXT LaGUARDIA, WHO KNOWS?

>> WHEN YOU GET IT, IT'S GOING

TO BE 50/50!

>> AS THE NEWLY EDUCATED CLASS

OF ITALIAN AMERICANS MADE THEI

WAY IN MANY FIELDS, THEY DIDN'

WASTE ANY TIME IN MAKING THEIR

MARK IN THE POLITICAL ARENA.

FOR THE LATE MARIO CUOMO, FORMER

GOVERNOR OF NEW YORK, TH

CONCEPT OF SWITCHING FROM BEIN

A LAWYER TO BEING A POLITICIAN

WAS A TOUGH SELL TO HIS PARENTS.

>> WE WENT TO MY PARENTS AND

SAID, LOOK, FOR A LITTLE BIT O

TIME NOW I'M NOT GOING TO BE A

LAWYER ANYMORE, BUT JUST FOR A

LITTLE TIME.

I'M GOING TO BE INTO POLITICS,

AND MY FATHER SAID ALL OF YOUR

LIFE YOU'VE BEEN A LAWYER AN

NOW YOU'RE GOING TO BE INT

POLITICS

HE SAID THAT IS NO GOOD.

NO GOOD.

AND I WENT TO MY MOTHER WHO WA

USUALLY THE SOURCE, AND SAID

MA, YOU KNOW IL GIUDICE AND HE'S

UP THERE WITH THE ROBE, HE'S

IMPORTANT, RIGHT

>> OH, YEAH.

IL GIUDICE, AND THE WAY YO

BECOME A JUDGE IS YOU HAVE TO GO

INTO POLITICS.

SHE SAID, REALLY

I SAID YEAH.

YOU GO INTO POLITICS AND THE

YOU BECOME A JUDGE

NOT ALWAYS, BUT THAT'S WHAT

COULD DO

SHE SAYS, I'LL TELL YOUR FATHE

AND SO SHE WENT, SHE TOLD MY

FATHER AND WE GOT BY

AND SO A FEW ELECTIONS LATER

PAPA DIES AND MAMA'S WITH ME O

THE NIGHT THAT I WAS ELECTED

GOVERNOR

>> LIKE EVERYONE IN THIS ROO

TODAY, AND EVERYONE IN THI

STATE TODAY EXCEPT FOR OUR

NATIVE AMERICAN BROTHERS AND

SISTERS, I AM THE OFFSPRING OF

IMMIGRANTS

>> I LEANED DOWN AND SAID TO HER

A LITTLE BIT IN ITALIAN AND

LITTLE BIT IN ENGLISH, MA, WHA

DO YOU THINK ABOUT YOUR BABY

BECAUSE I WAS HER BABY, YOUR

BABY NOW, YOU KNOW

AND I'M THE GOVERNOR OF TH

STATE OF NEW YORK, AND SHE SAYS,

IT'S NICE, BUT WHEN ARE YO

GOING TO BE GIUDICE?

>> FAMILY APPROVAL AND RESPECT

ARE PARAMOUNT AMONG ITALIA

AMERICAN FAMILY, BUT ITALIAN

MOTHERS AS GOVERNOR CUOMO'

STORY ILLUSTRATES ARE OFTEN TH

REAL HEAD OF THE FAMILY.

AN ITALIAN PROVERB SAYS IF THE

FATHER SHOULD DIE, THE FAMIL

WOULD SUFFER

IF THE MOTHER SHOULD DIE, TH

FAMILY CEASES TO EXIST

>> MY MOTHER WAS THE CORE OF OUR

FAMILY

SHE WAS THE ROCK ON WHIC

EVERYTHING ELSE WAS BUILT.

>> MY MOTHER BASICALLY WAS THE

HEART OF THE FAMILY.

ALTHOUGH MY FATHER THOUGHT H

WAS AND MY MOTHER HELD U

TOGETHER

SO THE FAMILY TABLE WAS WHER

EVERYTHING HAPPENED.

>> MY MAMA WAS THE ONE WHO WAS

THE DISCIPLINARIAN, AND I THIN

IN MANY ITALIAN FAMILIES PAP

WAS USED, I'M GOING TO TELL YOUR

FATHER, BUT HE NEVER DID

ANYTHING ANYWAY.

>> MY MOTHER HAD STARTED T

CEASE, AND WHEN I WAS VERY YOUNG

SHE WOULD MAKE OUR OUTFITS FOR

HOLIDAYS AND EASTER WAS A BI

ITALIAN AMERICAN HOLIDAY AND SHE

MADE ME A THREE-PIECE SUIT FOR

EASTER THAT WAS NAVY BLUE.

IT WAS GABARDINE, BABY BLU

LINING AND I REMEMBER IT TO THIS

DAY.

>> HIS MOTHER'S EYE FOR FASHIO

HAD A LASTING IMPACT

MICHAEL McARI IS NOW THE

CREATIVE DIRECTOR OF PERRY

ELLIS.

HIS MOTHER IS PROUDLY IN THE

FRONT ROW FOR HIS SHOWS.

♪♪

♪♪

♪♪

♪♪

♪♪

>> SHE USED TO SAY TO US ALL O

THE TIME, DO WE HAVE TO TALK

ABOUT THIS NOW

YES, I HAVE TO GET IT OFF MY

CHEST AND THIS WAY, SHE SAID

THERE WILL BE NO DEATH BED

CONFESSIONS FROM ME!

YOU'RE HEARING IT NOW.

THAT WAS THE WAY SHE LIVED AND

AT THE END OF HER LIFE OR WHEN

SHE WAS IN THE HOSPITAL AND SA

WITH ME FOR A WHILE AND SHE SAID

WHAT DAY IS IT

I SAID IT'S FRIDAY AND SHE

REACHED OVER AND GRABBED MY HAND

AND SAID CHRISTOPHER, GO T

WORK

IT'S WHERE YOU BELONG AN

THERE'S NOTHING LEFT UNSAI

BETWEEN US AND THAT WAS THE LAST

CONVERSATION I HAD WITH MY

MOTHER AND IT WAS VERY MUCH TH

WAY SHE TAUGHT US TO LIVE.

>> FORMER SENATOR AL DIMAT

OFTEN SAYS HIS MOTHER WAS

STRONG FORCE IN HIS LIFE

>> IT'S HARD TO MAKE ENDS MEET

THESE DAYS, EVERY TIME I GO TO

THE GROCERY STORE HAS GONE U

AND ALL OF US OLDER PEOPLE DON'T

SEE THINGS ON THE STREET

ANYMORE.

>> MY MOTHER MADE THES

INCREDIBLY FAMOUS COMMERCIAL

AND THERE WAS MAMA WITH HE

SHOPPING BAGS, CARRYING HE

GROCERIES DOWN THE STREET, 1980,

INFLATION WAS RAMPANT AND PRIM

INTEREST RATES WERE 20% AND YO

COULD AREN'T GET A MORTGAGE AN

SHE'S TALKING ABOUT HOW WORKIN

MIDDLE-CLASS FAMILIES DIDN'T

FEEL COMFORTABLE

KIDS COULDN'T BUY A HOUSE AN

YOU DIDN'T FEEL SAFE IN YOUR

COMMUNITY AND JUST BEFORE SH

GOES INTO THE DOOR SHE TURNS T

THE TV CAMERA AND SAYS VOTE FO

MY SON AL.

>> VOTE FOR HIM SO HE CAN DO

SOMETHING ABOUT IT

HIS NAME IS AL DIMATO.

>> MAMA MIA, INCREDIBLE!

>> IT'S THE UNWAVERING FAMIL

LOVE THAT MANY ITALIAN AMERICANS

POINT TO AS THE REASON FOR THEIR

SUCCESS.

>> I GREW UP WITH SUCH A

BEAUTIFUL FAMILY

IT WAS TOUGH TIMES GROWING UP.

EVERYBODY IN AMERICA WAS TROUBLE

WITH FINANCE AND WE WERE VER

POOR AND MY ITALIAN AMERICAN

FAMILY WOULD COME OVER EVERY

SUNDAY TO HELP MY MAMA BECAUSE

SHE HAD TO RAISE THREE CHILDREN,

MY BROTHER, MY SISTER AND MYSELF

AND SHE HAD TO WORK ON A PENNY A

DRESS TO PUT FOOD ON THE TABLE

FOR US

>> MY FATHER TAUGHT US THE TWO

MOST IMPORTANT WORDS TO REMEMBER

ARE FAMILY AND RESPECT

♪♪

♪♪

♪♪

♪♪

>> THE MESSAGE WAS ALWAYS THIS

IS YOUR FAMILY

FAMILY FIRST

NO MATTER, MY GRANDFATHER WOUL

SAY YOU'RE SUCH A BIGGER SHOT,

YOU KNOW

FORGET THAT.

IT'S HOW YOU ARE WITH YOUR

FAMILY AND THAT WILL DEFINE YOUR

SUCCESS.

>> I THOUGHT EVERYONE HAD

MILLION COUSINS?

AND THE COUSINS WHO YOU'RE NOT

ACTUALLY RELATED TO BY BLOOD

BUT COUSINS WHO YOU'VE JUS

KNOWN YOUR WHOLE LIFE.

♪♪

♪♪

♪♪

>> WHEN YOU GET ALL OF YOU

NONNAS TOGETHER FOR A BIG FAMILY

PICNIC BOTH MY BROTHER AND I ARE

PRETTY FAIR AND YOU SEE THIS

LITTLE RED-HEADED KID RUNNIN

AROUND THIS BIG ITALIAN FAMILY

PICNIC AND IT'S, LIKE, WHOSE KID

IS THAT?

IS THAT A FAMILY FRIEND?

NO, THAT'S MIKE'S DAUGHTER

>> HOW ARE YOU DOING IT ON A

DAILY BASIS?

HOW DO YOU WORK WITH FAMILY?

THE ANSWER TO US IS VERY SIMPLE.

WE LOVE EACH OTHER

MY GRANDFATHER TAUGHT US A LONG,

LONG TIME AGO THAT AS LONG A

YOU PUT THE FAMILY FIRST THE

BUSINESS WILL SUCCEED AND TO

THIS DAY EVERYONE ASKS WHAT TH

SECRETS WERE TO SUCCESS AND TH

SECRET IS THAT THE FAMILY'

STRONG

>> IN QUEENS WE LIVED NEAR M

ITALIAN RELATIVES AND EVERYTHING

WAS BILINGUAL AND I HAVE A HUG

EXTENDED FAMILY AND IT'S ONE O

THE GREAT THINGS ABOUT BEING M

IS THESE PEOPLE.

>> MY ITALIAN AMERICAN FAMIL

WOULD COME OVER AND WE WOULD

PERFORM FOR THEM AS A YOUNG BO

AND THEY SAID SOMETHING THAT

CHANGED MY LIFE.

THEY SAID WE LOVE THE WAY YO

SING, AND WE LOVE THE WAY YO

PAINT FLOWERS AND THAT CREATED A

PASSION THAT EXISTS TO THIS DA

FOR ME

HERE I AM, 87 FEELING LIKE I'M

JUST STARTING OUT BECAUSE

STILL HAVE SO MUCH MORE TO

LEARN.

THE PASSION HAS STAYED WITH ME

MY WHOLE LIFE AND MADE ME

SUCCESS AS AN ENTERTAINER AND IT

WAS MY FAMILY THAT DID THAT.

>> IT'S CLEAR THAT IF THERE IS

ONE QUALITY THAT HAS HELPED TH

ITALIAN IMMIGRANT MAKE IT IN

AMERICA IT IS THE STRENGTH O

FAMILY

THROUGH ALL OF THE HARDSHIPS

THEY HAVE BECOME AMERICANS, AL

WHILE MAINTAINING THEI

TRADITIONS WITH PRIDE AND DEEPLY

ENRICHING OUR SHARED AMERICA

CULTURE.

>>> IN PART 2 OF OUR DOCUMENTARY

WE WILL SEE HOW THE ITALIA

AMERICAN COMMUNITY IS EVOLVING

WE'LL GO BEHIND THE SCENES T

THE COLUMBUS DAY PARADE, HEA

ABOUT THE FABULOUS SUNDA

DINNERS, UNDERSTAND WHY TH

RELIGIOUS PROCESSIONS ARE STIL

IMPORTANT TO THE COMMUNITY

TODAY, AND YOU WILL HEAR SOM

FANTASTIC OPERA.

TO HEAR MORE STORIES AND PERHAPS

TO SHARE YOUR OWN STORY GO T

THE ITALIAN AMERICANS PAGE O

OUR WEBSITE OR VISIT US ON

FACEBOOK OR TWITTER.

I'M MARIA BARTIROMO.

THANK YOU FOR WATCHING "ITALIA

AMERICANS OF NEW YORK AND NE

JERSEY."

>>> MAJOR FUNDING FOR ITALIA

AMERICANS OF NEW YORK AND NE

JERSEY HAS BEEN PROVIDED BY TH

GENEROSO HOPE FOUNDATION

THE COLUMBUS CITIZEN

FOUNDATION

FRIENDS OF THIRTEEN INC., TH

MOGLIA FAMILY FOUNDATION

MR. AND MRS. JOSEPH PERELLA.

IN MEMORY OF FELIZ ZEMBETTI AN

PAUL AND KIMBERLY TANICO I

HONOR OF CHRISTINA MERCURI

TANICO

COMMUNITY STATION SUPPORT HA

BEEN PROVIDED BY THE CORPORATION

FOR PUBLIC BROADCASTING.