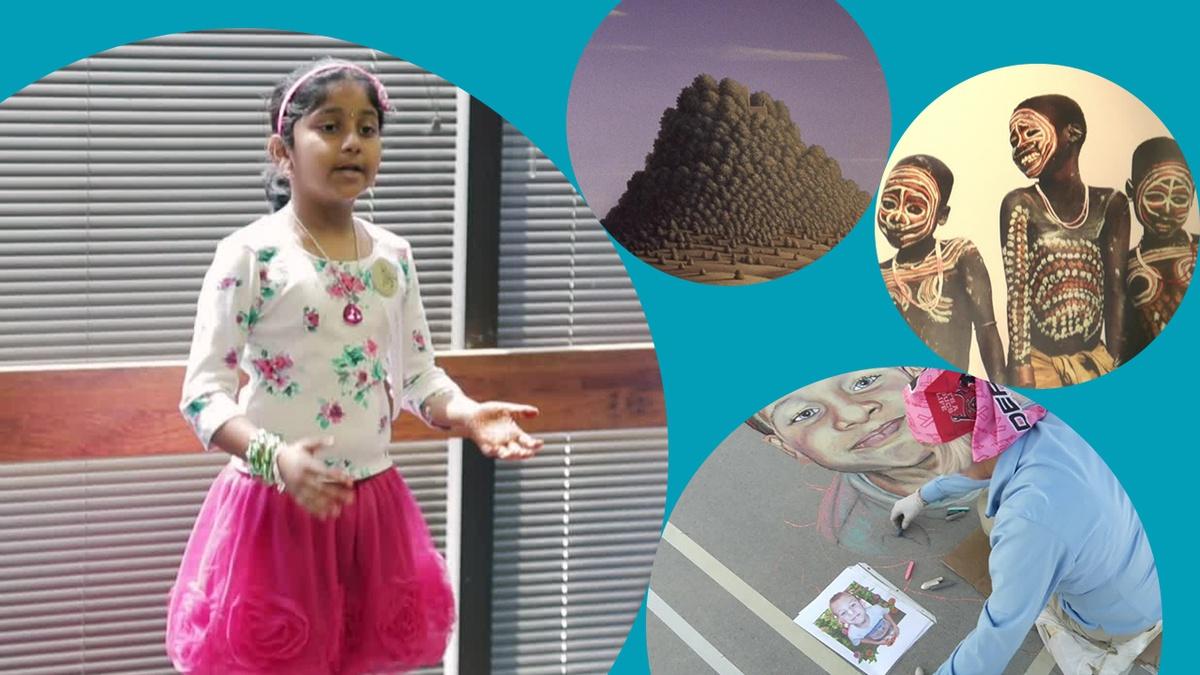 S4 E28 | FULL EPISODE
Episode 428
In this episode of WEDU Arts Plus, the art of storytelling is passed on to the next generation, grand landscapes converge with age-old allegories, meet two explorers who are safeguarding the traditions of tribal Africa, and artists take to the streets.
TRANSCRIPT

THIS SPECIAL PRESENTATION

WAS PRODUCED IN HIGH

DEFINITION BY WEDU -- TAMPA,

ST. PETERSBURG, SARASOTA.

MAJOR FUNDING FOR

"WEDU ARTS PLUS"

IS PROVIDED THROUGH

THE GREATER CINCINNATI

FOUNDATION BY AN ARTS-LOVING

DONOR WHO ENCOURAGES OTHERS TO

SUPPORT YOUR PBS STATION,

WEDU.

FUNDING IS ALSO PROVIDED

BY THE S.L. GIMBEL

FOUNDATION.

IN THIS EDITION OF

"WEDU ARTS PLUS,"

THE ART OF STORYTELLING

IS PASSED ON TO THE

NEXT GENERATION.

SOMETIMES YOU SEE REALLY

LITTLE ONES JUST TELL THE

SIMPLE LITTLE STORY OF THE

THREE BEARS, BUT TO HEAR A

LITTLE ONE TELL THAT STORY,

IT GETS TO YOUR HEART.

GRAND LANDSCAPES CONVERGE

WITH AGE-OLD ALLEGORIES.

WHETHER THAT SERVES A

SOCIAL PURPOSE OR

SOMETHING BEYOND YOURSELF,

THAT'S KIND OF HARD TO SAY.

MEET TWO EXPLORERS WHO ARE

SAFEGUARDING THE TRADITIONS

OF TRIBAL AFRICA.

HERE IS A COMMUNITY THAT

FOR MANY, MANY, MANY CENTURIES

AWARE OF WHATEVER INGREDIENTS

OF HUMAN HAPPINESS.

AND ARTISTS TAKE

TO THE STREETS.

THIS IS A PERFORMANCE.

I'M HERE FOR YOU.

IT'S ALL COMING UP NEXT ON

"WEDU ARTS PLUS."

♪♪

HELLO.

I'M DALIA COLON,

AND THIS IS

"WEDU ARTS PLUS."

THE ART OF STORYTELLING

IS A UNIQUE AND ANCIENT

TRADITION THAT HAS TAKEN

MANY FORMS THROUGHOUT

HISTORY.

AT THE STORYTELLING FESTIVAL

HERE IN TAMPA, THAT TRADITION

IS PASSED ON TO THE NEXT

GENERATION BY ITS

MODERN-DAY EXPERTS.

♪♪

RIGHT NOW, I'M RETIRED.

I WAS 38 YEARS WORKING WITH

THE CITY OF TAMPA WITH THE

PARKS AND RECREATION

DEPARTMENT, AND I WORKED WITH

THE STORYTELLING FESTIVAL

FOR A LONG TIME.

SOMETIMES YOU SEE REALLY

LITTLE ONES, LITTLE CHILDREN,

SAY FIVE OR SIX YEARS OLD,

JUST TELL THE SIMPLE LITTLE

STORY OF THE THREE BEARS OR

THE THREE LITTLE PIGS OR

SOMETHING LIKE THAT, BUT,

YOU KNOW, YOU KNOW THE STORY

BECAUSE YOU HEARD IT AS A

CHILD YOURSELF, BUT TO HEAR

A LITTLE ONE TELL THAT STORY

AND REALLY TELL IT WELL,

IT GETS TO YOUR HEART.

THE CAT SAID, WAIT,

I CAN HELP.

AND THE MOUSE SAID, WAIT,

I CAN HELP.

MY STORYTELLING IS A FUSION

OF MELODY AND POETRY AND PROSE

THAT BRINGS ANCIENT STORIES,

OLD PLOT MATERIAL TO LIFE

FOR MODERN LISTENERS.

THERE WAS ONCE A BAKER WHOSE

BREAD SMELLED SO GOOD, WHEN HE

OPENED HIS OVENS AND TOOK OUT

HIS LOAVES, THE SMELL OF THE

BREAD WOULD RISE UP OUT OF

THOSE LOAVES, DRIFT OUT THE

DOORWAY, GO DOWN THE STREET,

AND COLLECT NOSES.

WE REFLECT ON OUR LIVES AND WE

THINK ABOUT WHO WE ARE AND

WHERE WE ARE FROM BASED ON THE

CONTEXT IN WHICH WE GROW.

AND WHEN WE'RE ABLE TO SEE

SOMEONE ELSE'S WORLD THROUGH

SOMEONE ELSE'S EYES, THROUGH A

FOLKTALE THAT REFLECTS A

CULTURE THAT MIGHT NOT BE SO

FAMILIAR, IT'S A WAY OF

BROADENING OUR OWN

PERSPECTIVES TO REALIZE THAT

WE LIVE ON A PLANET AND WE ALL

SHARE THE SAME SKY.

♪ THERE ARE STORIES

TO TELL ♪

SO THE EMPEROR PROCLAIMED,

WHO COULD EVER DRAW THIS

DRAGON FOR ME WILL WIN THEIR

WEIGHT IN GOLD.

BUT WHO TRIES TO DRAW THE

DRAGON AND FAIL WILL HAVE

THEIR EYES TAKEN OUT.

WHAT BROUGHT ME TO THE CRAFT

OF STORYTELLING WAS

MY OTHER CAREER.

I'M A SCHOOLTEACHER.

AND I WAS TEACHING SCHOOL,

AND I SAW THIS

PROFESSIONAL STORYTELLER.

HER NAME WAS JACKIE TORRENS.

SHE PASSED AWAY, BUT SHE JUST

CAPTIVATED ME.

AND HE HEARD OF THE EMPEROR'S

DEMANDS AND SO HE ASKED

TO BE USHERED IN FRONT

OF THE EMPEROR.

AND WHEN HE GOT THERE,

HE SAID, EMPEROR, I THINK

I CAN DRAW THIS DRAGON FOR

YOU JUST AS YOU PICTURED IT

BUT IT WILL TAKE ME ONE YEAR.

I HAVE A TERRIBLE, TERRIBLE

MEMORY, AND SO I START TRYING

TO MEMORIZE THE STORY, AND I

BREAK THE STORY DOWN INTO

DIFFERENT PARTS.

THE BEGINNING OF THE STORY,

THE MIDDLE OF THE STORY,

AND THE THINGS THAT LEAD TO

A CLIMAX IN THE STORY.

I MAY BE IN THE BACKYARD,

AND I'M TELLING MY STORY

TO MYSELF.

MY WIFE MAY GET CALLS FROM

NEIGHBORS SAYING, UH, WINDELL

IS BACK THERE TALKING TO

HIMSELF IN THE BACKYARD.

THIS YOUNG MAN HAD PRODUCED

THE EXACT RENDERING OF THE

DRAGON THAT THE EMPEROR

HAD PICTURED.

AND THE EMPEROR, HE WAS

CONFUSED, AND THE EMPEROR

SAID, YOUNG MAN,

I DON'T UNDERSTAND.

YOU SAY THAT IT WILL TAKE YOU

A WHOLE YEAR TO DRAW THE

DRAGON, BUT YOU BEGAN

AND FINISHED THE DRAGON

IN FIVE MINUTES!

MY CHILDREN HAVE BENEFITED

FROM ME TELLING STORIES

AND OPENING THEM UP.

A COUPLE OF THEM WERE SHY, AND

I THINK STORYTELLING, ME DOING

IT, KIND OF HELPED THEM OUT.

IN SCHOOL, IT'S BENEFITED ME

A LOT, BECAUSE WHEN I TELL

STORIES, THE KIDS, THEY HAVE A

BELIEF IN ME, WHICH THEY MAY

NOT HAVE HAD THAT TYPE OF

BELIEF IN ME BEFORE.

AND WHEN KIDS HAVE THIS BUY-IN

TO YOU, THEN YOU CAN INTRODUCE

OTHER THINGS TO THEM.

SO IT'S JUST A DOORWAY THAT

MADE THINGS OPEN UP FOR ME

IN A LOT OF WAYS.

AND THE YOUNG MAN SAID,

EMPEROR, IT TOOK ME A WHOLE

YEAR TO LEARN TO DRAW THE

DRAGON IN FIVE MINUTES.

AND THAT'S THE SECRET.

THAT'S THE SECRET OF BEING

A GOOD STORYTELLER.

THE SECRET IS PRACTICE.

WHEN I RETIRED, I SAID, I

WANT TO STAY WITH THE FESTIVAL

BECAUSE I FEEL VERY STRONGLY

ABOUT LITERACY, AND I FEEL

VERY STRONGLY ABOUT CHILDREN

GETTING CONFIDENCE

IN THEMSELVES.

I FEEL IT'S IMPORTANT

FOR CHILDREN.

AND I'VE HEARD GOOD STORIES

FROM A LOT OF OUR KIDS THAT

HAVE ALREADY BEEN THROUGH IT

IN HIGH SCHOOL AND COLLEGE.

ONCE IN A WHILE, THEY'LL WRITE

US AND SAY, I AM ABLE TO DO

THIS BECAUSE I DID

STORYTELLING.

FOR MORE INFORMATION VISIT

TAMPASTORY.ORG.

ARTIST BRUCE LOWNEY EXPLAINS

THE INSPIRATION FOR HIS

NEW MEXICO LANDSCAPES

AND THE METAPHORS

THAT NATURE CAN HOLD.

SEE HOW HIS WORK COMBINES

VISUALS OF INFINITE SPACE WITH

MYTHOLOGICAL OVERTONES TO SHOW

HIS UNIQUE PERSPECTIVE.

♪♪

I FEEL I CAME OF AGE

IN AN APPLE ORCHARD.

TREES BECAME IMPORTANT TO ME

FROM THAT, AND A TREE

IS A GOOD SYMBOL.

I'VE ALWAYS LIKED THE IDEA

THAT IT HAD A TRUNK AND LIMBS,

AS DO WE, AND IT'S REACHING

UPWARD TO THE LIGHT.

SO THAT'S IDEALLY A METAPHOR

FOR MAN, FOR MANKIND.

♪♪

I CAME HERE AS A LITHOGRAPHER,

AND I WAS ONLY LATER

SELF-TRAINED AS A PAINTER.

FOR THE LAST 36 YEARS,

I'VE BEEN IN THE MIDDLE OF A

QUARTER SECTION OF NATURE,

160 ACRES OUT JUST PAST

THE CONTINENTAL DIVIDE,

WEST CENTRAL NEW MEXICO.

AND THE PEACE, THE QUIET, I

NEED IT AS A REFUGE.

I'M JUST GOING TO SELF-PROTECT

IN THAT WAY, BEING A MORE OR

LESS INTERIOR PERSON.

♪♪

I'VE ALWAYS LIKED PERSPECTIVE,

AND THE IDEA OF INFINITY WAS

IMPORTANT, AND IT WAS SORT OF

A CHALLENGE TO PAINT OR DRAW

CLOUDS GOING BACK OVER HILLS.

THAT GRID SYSTEM GIVES A

FRAMEWORK FOR THINGS LINING UP

INTO THE HORIZON.

AND THAT'S A WAY TO INDICATE

INFINITY AND THE SUBLIME

OF SPACE.

♪♪

I CALL THEM IMPOSSIBLE

PROBABILITIES.

THEY ARE NATURALISTIC, ONLY

IT'S NOT PAINTED FROM NATURE

OR DRAWN FROM NATURE.

MAYBE YOU DON'T REALIZE UNTIL

YOU LOOK AT IT MORE CLOSELY

THAT IT'S ALL ARRANGED.

IT'S JUST A PREDILECTION

WITH ME.

I THINK A LITTLE

CERTAIN OBSESSIVENESS

TO LINE THINGS UP.

MAYBE I'M A QUARTER GERMAN AND

MAYBE THAT'S A GERMAN TRAIT.

I WONDER ABOUT ETHNICITY.

ONCE YOU'VE ESTABLISHED THE

IMAGE AND YOU'RE ARTICULATING

WITH ME THE NATURALISM, THERE

IS A POINT WHERE THE PAINTING

TELLS YOU WHAT IT NEEDS.

YOU TRY TO ENGAGE YOUR SPIRIT

IN IT, AND THEY SPEAK OF THAT

INFOLDING WHERE SPIRIT,

CAPITAL "S," IS WITHIN THE

ARTISTIC OBJECT, WHETHER IT'S

MUSIC OR POEM OR PAINTING.

AND IF YOU'RE NOT CAREFUL, YOU

CAN OVERWORK IT AND BURY IT

AND DENY THAT SPIRIT.

SO IT'S A TENUOUS THING.

♪♪

IN THE MYTH OF ACTAEON AND

DIANA, ACTAEON IS OUT WITH HIS

BUDDIES, AND ACTAEON SORT OF

WANDERS AWAY AND COMES

INTO A GLADE AND HERE

IS THIS LITTLE POOL.

AND OF ALL THINGS,

THE CHASE GODDESS, DIANA,

BATHING WITH HER NYMPHS.

THAT IS SOMETHING MORTAL EYES

CANNOT LOOK ON, YOU KNOW, THAT

INNOCENCE AND THAT -- AND I

SEE IT IN A POETIC LIGHT.

BUT THAT'S THE MUSE IN A WAY.

SO SHE SPLASHES WATER IN HIS

FACE AND SAYS, "WHAT YOU'VE

SEEN YOU'LL NEVER SPEAK OF."

AND HE FEELS HORNS, ANTLERS

GROWING OUT OF HIS HEAD,

AND HIS ARMS AND LEGS

TURN INTO A DEER'S LEGS,

AND HE HEARS HIS HOUNDS.

THEY'VE CAUGHT THE SCENT

OF A STAG.

HE REALIZES ITS HIS DOGS,

AND THEY RUN HIM DOWN

AND KILL HIM.

AND MY USE OF THAT MYTH,

ACTAEON, WITH HIS COLLAR UP,

WALKING ALONG A WALL AND ABOUT

TO TURN INTO WHERE THERE ARE

TREES AND ABOVE THAT THE

QUARTER MOON OF DIANA.

AND TO HIS SIDE, HERE ARE ALL

THESE DOGS, ALL HUNTING DOGS,

IN COATS AND TIES.

YOU JUST SEE THE TOP OF THEM.

BUT THEY ARE ALL GOING THERE,

AND HE'S LOOKING LIKE, IF I

CAN JUST GET AROUND THE

CORNER, I MIGHT BE SAFE.

SO THAT'S THE NARROW ESCAPE.

♪♪

HUME TALKS ABOUT THE

SUBCONSCIOUS AND THE

COLLECTIVE UNCONSCIOUS,

AND THAT'S IMPORTANT TO ME

THAT I'M NOT JUST PERSONALLY

SPEAKING FROM MY BACKGROUND

BUT IDEALLY AND HOPEFULLY

SPEAKING ARCHETYPALLY WHERE

IT'S ASSURED IN THE HUMAN

SPECIES TO HAVE DREAMS

THAT ARE RELATED.

NOT THAT WE SHARE EVERYTHING,

BUT WE CAN AGREE ON CERTAIN

SYMBOLS AND THINGS LIKE THAT.

SO IT'S THE COLLECTIVE

UNCONSCIOUS THAT I HOPE

TO TAP INTO.

♪♪

IT'S A STRANGE PROFESSION.

IT IS A PROFESSION.

I ALWAYS COME BACK TO IT

BECAUSE IT'S WHO I HAVE ALWAYS

BEEN -- AN ARTIST WITH THAT

SENSIBILITY AND LIVING

THAT LIFE.

IN WORKING IN ART, IT'S MADE

ME, I THINK, PRETTY SELFISH.

YOU'RE TRYING TO FIND SOME

DEGREE OF SELF-FULFILLMENT,

YOU KNOW, TO DO A REALLY

GOOD PAINTING.

YOU FINISH ONE AND YOU GO ON

TO ANOTHER, AND YOU TRY TO --

YOU KNOW, YOU'RE NEVER

OFF THE HOOK.

YOU'RE TRYING TO DO IT BETTER.

IT'S A COMPLEX ART.

COLOR AND PIGMENT AND HOW YOU

DEVELOP A PAINTING.

LIKE ANY PROFESSION, IT'S

SOMETHING YOU HAVE TO DO,

AND YOU WILL DIE DOING IT.

THERE'S NO RETIREMENT.

THERE'S NO -- YOU KNOW, YOU

DIE WITH A BRUSH IN YOUR HAND.

WHETHER THAT SERVES

A SOCIAL PURPOSE OR

SOMETHING BEYOND YOURSELF,

THAT'S KIND OF HARD TO SAY.

YOU WANT TO MAKE SOMETHING

BEAUTIFUL, AT THE SAME TIME

MAKING IT RIGHT AND TO YOUR

DEMANDS, AND THAT SHOULD STAND

UP TO SCRUTINY.

AND IT MEANS SOMETHING.

TO SEE MORE OF

LOWNEY'S WORK, CHECK OUT:

IN OUR NEXT SEGMENT,

TWO INTREPID EXPLORERS SHARE

STORIES AND PICTURES FROM

THEIR ADVENTURES IN AFRICA.

AFTER ALL THESE YEARS,

THE DUO'S PASSION FOR

CAPTURING AND SAFEGUARDING

THE TRADITIONS THEY'VE

ENCOUNTERED REMAINS AT THE

HEART OF THEIR MISSION.

♪♪

BECAUSE WE MET IN AFRICA,

AND BOTH CAROL AND I HAVE BEEN

WORKING INDEPENDENTLY AND HAD

DONE THREE BOOKS BEFORE WE

STARTED OUR COLLABORATION.

AND WHEN CAROL WAS FINISHING

HER FIRST BOOK ON THE MAASAI,

HER FATHER CAME TO THE BORDER

OF KENYA AND TANZANIA AND

DECIDED TO GIVE HER

A BIRTHDAY PRESENT.

AND THE BIRTHDAY PRESENT WAS A

HOT-AIR BALLOON FLIGHT, AND

THE PILOT WAS MY BROTHER,

SIMON.

AND THEY WERE VERY YOUNG AND

VERY ATTRACTIVE, AND AT A

THOUSAND FEET HIGH IN THE AIR,

SIMON LOOKED VERY CLOSELY INTO

HER EYES AND SAID, YOU KNOW,

THERE'S SOMETHING I WOULD

REALLY LIKE TO TELL YOU.

MY HEART WAS

BEATING WILDLY.

AND THEN HE SAID,

CONTINUING TO LOOK VERY

CLOSELY IN HER EYE, HE SAID,

"I'D REALLY LIKE YOU

TO MEET MY SISTER."

MY HEART SANK.

WE ACTUALLY MET A YEAR

LATER IN NAIROBI.

AND WE REALIZED THAT SIMON

WAS REALLY RIGHT.

WE WERE KINDRED SPIRITS WITH A

SHARED LOVE OF THE TRADITIONAL

CULTURES OF AFRICA AND A

PASSION FOR THE NOMADIC WAY

OF LIFE.

AND IT WAS DURING THAT FIRST

WEEK TOGETHER PHOTOGRAPHING IN

A MAASAI WARRIOR CEREMONY ON

THE BORDER OF TANZANIA

SHORTLY AFTER WE MET THAT

WE SHARED A DREAM.

WE ENVISIONED THAT ONE DAY WE

WOULD CREATE A COMPREHENSIVE

VISUAL RECORD OF THE MOST

POWERFUL CEREMONIES THAT MOVE

AFRICAN PEOPLE THROUGH LIFE

FROM BIRTH TO DEATH.

PEOPLE DON'T REALIZE THAT

AFRICA IS 54 COUNTRIES.

IT'S A VERY, VERY

BIG CONTINENT.

AND THERE'S REALLY ONLY ONE

THING THAT WE TRY TO REMEMBER,

ALTHOUGH EACH COUNTRY IS

DIFFERENT, IS WHEN YOU GO TO

AFRICA, YOU HAVE TO LEAVE ALL

YOUR OWN VALUE SYSTEMS BEHIND,

AND YOU ALSO HAVE TO TAKE ON

AFRICAN TIME, WHICH IS VERY

DIFFERENT TO OUR TIME.

AND WHAT WE DO WHEN WE'RE IN

VERY REMOTE AREAS IS WHEN WE

FIRST ENTER A VILLAGE, WE FIND

THE VILLAGE CHIEF, AND THEN WE

USUALLY SIT WITH HIM, MAYBE

UNDER AN ACACIA TREE, AND TALK

TO HIM, GET TO KNOW HIM,

AND GET INTRODUCED

TO THE COMMUNITY.

AND THEN WE DON'T TAKE

OUR CAMERAS OUT.

WHAT'S REALLY SPECIAL IS

THAT WHEN YOU'RE A WOMAN,

YOU'RE PROTECTED

BY THE COMMUNITY.

YOU'RE NOT A THREAT.

HISTORICALLY, THE MEN WOULD BE

KILLED AND THE WOMEN ABSORBED,

SO THAT WE ALWAYS FELT THAT WE

WERE SURROUNDED AND ENVELOPED

AND HAD AN ADVANTAGE

BEING WOMEN.

WE COULD SIT WITH WOMEN

AND BECOME ONE OF THEM.

THE LONGER YOU SPENT WITH

WOMEN, THE MORE THEY'D WANT TO

DRESS YOU AND PUT LITTLE LINES

OF SCARIFICATION ON YOUR FACE

AND TRESS YOUR HAIR AND GIVE

YOU NEW NAMES AND ABSORB YOU

INTO THEIR COMMUNITY

AND SHARE SECRETS THAT

NO MAN COULD ACCESS.

THE CHALLENGE WAS WHEN YOU

SUDDENLY WANTED TO JUMP OFF

AND GO AND RECORD A MALE

CEREMONY, YOU BECOME A WOMAN

AND IT WASN'T ABSOLUTELY

ACCEPTABLE TO GO RUNNING OFF

WITH A MAN.

AND WE DISCOVERED THAT ONE OF

THE LITTLE TRANSITIONAL

DEVICES WAS OUR CAMERA JACKETS

AND OUR TROUSERS.

BECAUSE THE MINUTE WE PUT ON

OUR WESTERN CLOTHING, OUR

PHOTOGRAPHY CLOTHING, WE WERE

IMMEDIATELY GENDERLESS AND

COULD GO OFF AND PHOTOGRAPH

WITH THE MEN.

I THINK IN A FUNNY KIND OF

WAY ONCE YOU'VE LIVED FOR 40

YEARS IN AFRICA AND YOU SPENT,

SAY, SEVEN MONTHS OF EACH YEAR

TRAVELING IN AFRICA AND OUR

WORK HAS LED US TO NOW COVER

40 COUNTRIES AND PROBABLY 170

CULTURES, EVERYTHING BECOMES

POSSIBLE, FEASIBLE,

UNDERSTANDABLE, BUT THERE ARE

STILL SOME THINGS THAT WE FIND

VERY DIFFICULT AND MAYBE ONE

OF THE HARDEST TO WATCH HAS

BEEN -- AND IT'S SOMETHING

THAT WE'VE ONLY JUST GOT

PERMISSION TO DO BECAUSE IT'S

NOT A RITUAL THAT PEOPLE

USUALLY ALLOW YOU TO RECORD.

IT'S THE RITUAL OF

SCARIFICATION.

AND THE REASON THAT THIS IS

DIFFICULT TO RECORD IS THAT

PEOPLE ACTUALLY DON'T WANT

OUTSIDERS TO SEE THE PROCESS

OF SCARIFICATION.

AND SCARIFICATION IS ONE OF

THE OLDEST FORMS OF

BEAUTIFYING THE BODY, LIKE THE

ART OF BODY PAINTING.

WHAT'S REMARKABLE IS THAT A

GIRL MAY HAVE MAYBE A HUNDRED

CUTS MADE WITH A SMALL KNIFE

OR A RAZOR BLADE CREATING THE

PATTERN AND SHE DOESN'T FLINCH

AND SHE SHOWS NO PAIN.

SHE'S ALMOST GOT A PASSIVE,

STOIC REACTION TO PAIN.

AND WHAT HAPPENS IS VERY SMALL

CUTS ARE MADE AND THEN AN

HERBAL IRRITANT IS RUBBED IN

SO THAT THE CUT HEALS WITH A

RAISED PATTERN, A LITTLE

RAISED BUMP AND CREATES WHAT'S

CONSIDERED TO BE A VERY

BEAUTIFUL, SYMMETRICAL,

CURVILINEAR DESIGN

ON HER CHEST.

SO WHEN YOU SEE THINGS THAT

ARE MAYBE HARD FOR US TO

UNDERSTAND, ONE ALSO REALIZES

THAT HERE IS A COMMUNITY THAT

ACTUALLY FOR MANY, MANY, MANY

CENTURIES AWARE OF WHAT MAKES

IT POSSIBLE TO LIVE IN A

REMOTE AREA, WHAT MAKES IT

POSSIBLE TO SURVIVE, WHAT ARE

THE INGREDIENTS OF HUMAN

HAPPINESS.

WHEN WE COMPLETED OUR LAST

BOOK, "PAINTED BODIES,"

WE TOOK IT BACK TO AFRICA TO

SHARE WITH ALL THOSE AFRICANS

WHO HAD HELPED US MAKE IT AND

OF COURSE TO GIVE THEM COPIES.

WE TOOK IT FIRST TO THE SAHARA

DESERT TO SHOW THE WODAABE

NOMAD CHIEF, MOKAO.

MOKAO HAD SEEN ONLY TWO OR

THREE BOOKS IN HIS ENTIRE

LIFETIME.

HE OPENED "PAINTED BODIES,"

AND HE LOOKED -- HE WENT FROM

PAGE TO PAGE STUDYING EACH

IMAGE METICULOUSLY.

AND AT THE END OF THE BOOK, HE

LOOKED UP AT US AND SAID IN

HIS LANGUAGE, THIS IS --

[ SPEAKING FOREIGN LANGUAGE ]

-- WHICH MEANS

MEDICINE NOT TO FORGET.

FOR MORE, VISIT:

CHALK ARTISTS ARE TAKING

TO THE STREETS.

WHILE THEIR ARTWORK MIGHT NOT

LAST FOREVER, IT IS THE

ELEMENT OF PERFORMANCE ART

THAT REALLY MATTERS

TO THESE ARTISTS.

JOIN US NOW BEFORE THEIR

STUNNING DESIGNS GET

SWEPT AWAY.

♪♪

WELL, WHEN I WAS LITTLE,

I ACTUALLY ALWAYS SAW MY

DAD DRAWING AND STUFF LIKE

THAT, SO HE STARTED

CREATING CHALK ART.

MY SENIOR YEAR IN HIGH SCHOOL,

I ACTUALLY STARTED DOING IT

WITH HIM.

ABOUT TWO YEARS AFTER THAT, I

STARTED DOING IT BY MYSELF.

WHAT WE DO BASICALLY IN

CHALK ART, WE ARE A

PERFORMANCE ART.

WE PERFORM FOR THE PEOPLE

AROUND, AND THIS TYPE OF

PROCESS, YOU CAN WATCH ART

BEING PRODUCED FROM YOUR

SKETCH ALL THE WAY UP TO

FINISHING A LARGE PIECE.

I WAS BASICALLY WORKING IN

THE STUDIO WITH ACRYLIC PAINT

FOR ABOUT THREE YEARS BEFORE I

STUMBLED ACROSS STREET

PAINTING.

I THOUGHT, WOW, THIS IS A

REALLY COOL MEDIUM AND A

REALLY NEAT WAY TO DO THE

ARTWORK IN FRONT OF PEOPLE.

I WAS ALREADY PAINTING IN

LARGE FORMATS BECAUSE I

PAINTED MURALS, SO I THOUGHT,

WOW, LET'S GIVE THIS A TRY

BECAUSE I'M USED TO PAINTING

REALLY BIG SO WE'LL DO IT ON

THE GROUND NOW.

♪♪

FOR ME AS AN ART TEACHER,

IT'S VERY DIFFICULT TO FIND

THE TIME ON MY OWN

TO DO SOME ARTWORK.

SO FOR ME, THIS BECAME A WAY

FOR ME TO REALLY KIND OF

EXERCISE MY ARTISTIC TALENTS

AND CREATIVITIES, AND IT

REALLY BECAME SOMETHING MORE.

I FELL IN LOVE WITH THE SPORT.

♪♪

ONE OF THE COMMON QUESTIONS

PEOPLE ASK WHEN YOU'RE TALKING

IS, OH, MY GOSH, DON'T YOU

FEEL SO BAD AND SAD WHEN IT

GETS WASHED AWAY AT THE END OR

WHAT HAPPENS WHEN IT'S OVER?

WELL, THEY COME AND THEY

PRESSURE CLEAN IT.

OH, MY GOSH, THAT'S JUST

TERRIBLE.

AND I'M LIKE, NO, NO, NO.

THIS IS A PERFORMANCE.

I'M HERE FOR YOU.

I'M HERE TO DO MY ARTWORK AND

FOR YOU TO SEE WHAT I'M DOING

WHILE IT'S ALL HAPPENING.

THAT'S THE EXCITEMENT OF IT.

AND WHEN IT'S ALL DONE, I WALK

AWAY FROM IT, JUST AS IF I HAD

WALKED OFF THE STAGE.

AND NOT HAVING THE SPACE IN

YOUR HOUSE TO ACTUALLY CREATE

SOMETHING THIS BIG, IT'S GREAT

TO BE ABLE TO JUST GO OUT

THERE AND DO IT, AND YOU GET

TO TALK TO EVERYBODY AND THE

KIDS REALLY ENJOY SEEING WHAT

YOU DO.

THEY HAVE SO MANY DIFFERENT

QUESTIONS, LIKE WHY DO

YOU NOT HAVE SHOES ON?

WHY DO YOU HAVE CHALK

ALL OVER YOUR HAND?

WHY IS THE CHALK DIFFERENT

FROM THE CHALK WE USE?

I LOVE HEARING ALL THE

QUESTIONS AND ANSWERS AND THE

KIDS' FASCINATION WITH, OH,

I WANT TO CREATE CHALK

LIKE THAT WHEN I'M OLDER.

FOR ME, THERE ARE CERTAIN

ARTISTS FROM THE PAST

THAT I'M REALLY DRAWN TO.

I'M USUALLY DRAWN TO THE

ARTISTS THAT HAVE A LOT OF

COLOR, A LOT OF

INTRICATE DESIGNS.

I WANT TO EDUCATE PEOPLE ABOUT

THOSE ARTISTS OF THE PAST AND

KIND OF GET THEM INTO ART AND

GET EXCITED ABOUT IT JUST

THROUGH MY ARTWORK.

YOU KNOW, YOU TEND TO LOOK

AT DOING SMALLER PIECES.

I MEAN, YOU CAN SEE IT.

YOU CAN FOCUS ON IT.

A LARGER PIECE,

YOU CAN'T GET AWAY FROM IT

TO SEE IT AS WELL.

SO IT'S JUST A CHALLENGE.

EVERY CONCRETE IS DIFFERENT.

YES.

THIS CONCRETE IS FAIRLY

NEW CONCRETE.

THIS CONCRETE IS PROBABLY

ABOUT FIVE OR SIX YEARS OLD.

VERY, VERY NEW CONCRETE IS

VERY DIFFICULT TO GET THE

CHALK TO STAY DONE.

THERE HAVE BEEN SOME AREAS,

WE'VE DONE IT ON BRICKS

BEFORE, SO IT'S ALWAYS A

CHALLENGE.

OR ON THE ROADS.

SO YOU HAVE TO DEAL WITH OIL

STAINS OR THE YELLOW MARKS IN

THE MIDDLE OF THE ROAD.

YOU HAVE TO TAKE THE

CHALLENGES THAT MOTHER NATURE

OR WHAT WE DO, AND PUT THEM

FOR YOUR ART THAT A NORMAL

CANVAS WOULDN'T PROVIDE.

♪♪

AND THAT WRAPS IT UP FOR

THIS EDITION OF

"WEDU ARTS PLUS."

FOR MORE ARTS AND CULTURE,

VISIT wedu.org/artsplus

WHERE YOU'LL FIND

FEATURE VIDEOS, LOCAL

EVENTS, AND ARTS

AND CULTURE PARTNERS.

UNTIL NEXT TIME,

I'M DALIA COLON.

THANKS FOR WATCHING.

♪♪

MAJOR FUNDING FOR

"WEDU ARTS PLUS"

IS PROVIDED THROUGH

THE GREATER CINCINNATI

FOUNDATION BY AN ARTS-LOVING

DONOR WHO ENCOURAGES OTHERS TO

SUPPORT YOUR PBS STATION,

WEDU.

FUNDING IS ALSO PROVIDED BY

THE S.L. GIMBEL

FOUNDATION.