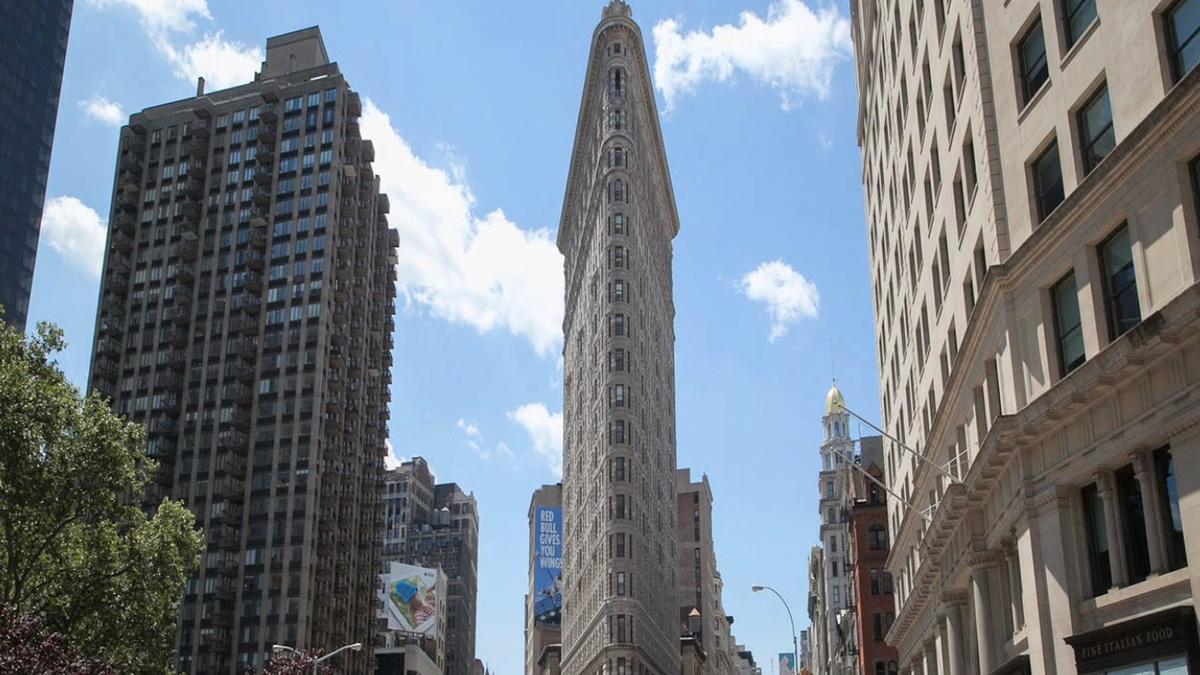 FULL EPISODE
Treasures of New York: The Flatiron Building
A new documentary that reveals the stories behind the iconic New York building that has captivated the world for more than 100 years. Based on Alice Sparberg Alexiou's book "The Flatiron: The New York Landmark and the Incomparable City That Arose with It," "Treasures of New York: The Flatiron Building" is hosted by Mare Winningham.
TRANSCRIPT

>>> TH FLATIRO BUILDING ON OF

TH WORLD'S MOS ICONI

SKYSCRAPERS AND SYMBO O NEW

YORK CITY.

>> THI BUILDIN I PROBABLY TH

MOST PHOTOGRAPHE BUILDING IN

THE WORLD.

>> EVE BEFOR ITS COMPLETION AT

THE TURN OF THE LASTCENTURY, I

WAFAMOUS

>> THE MAN O THE STREET WA

FASCINATED WITH THISBUILDING

AS IT WA GOINGUP I WAS THE

TALK OF THTOWN

>> SOARING 2 STORIES HIG O A

ONCE REVOLUTIONARYALL-STEE

FRAME.

WHEN FIRSTBUILT, THI TECHNICAL

MARVEL ENTHRALLED, ENTRANCED AND

EVEN TERRIFIED.

>> I LOOKS LIKE BUNCH O

TOOTHPICKS HOLDING I U AND

PEOPLE DIDN'T THIN I COULD

STAND UP THAT WAY.

>> I BROKE NEW GROUND IN

SKYSCRAPER CONSTRUCTION AND

BECAME ONE OF TH MOS DYNAMIC

STRUCTURES EVER CREATED.

>> ALMOS LIK THEPROW O A

GREAT SHIP

SHI OF THE GREAFUTURE.

>> TREASURES O NEW YOR TAKES

YOU BACK IN TIME T THE HEADY

DAYS O NEWYORK'S GILDED AGE,

USING RARE EARLY MOTIO PICTURE

AN PHOTOGRAPHS T BRING YOU THE

REMARKABLE STORY O HOW ONE OF

THE WORLD' MOSUNLIKELY AND

UNFORGETTABLE BUILDING WOULD

BECOME FOR ALL TIME A TREASURE

OF NEW YORK.

THIS PROGRAM I MAD POSSIBLE BY

TH GENEROU SUPPORT OF TH

SARGENTI OAMERICA, AND THE

GORA FAMILY FOUNDATION AND NOW

FROM THE FLATIRO BUILDING

HERE'S MAYORWHITINGHAM.

>> GROWING U O THE WEST COAST

IT WAS M DREAM T B A NEW

YORKER, I'VE ALWAY BEEN

PEOPLE WATCHER BUT WHE I MOVED

HERE, I BECAME A BUILDIN

WATCHER.

AND I'LL NEVER FORGET TH FIRST

TIME I SAW THE FLATIRO

BUILDING.

STOPPED I M TRACK AND DID A

DOUBLETAKE

IT FASCINATING SHAPE MAD ME

SMILE WITHWONDER

LIKE THE MILLION O PEOPL WHO

VISIT IT YEA AFTERYEAR I WAS

MESMERIZED BY IT IMPOSSIBLY

NARROW AND PECULIADIMENSIONS

IT WAS NEVER THE TALLEST

SKYSCRAPER OR THE FIRS O THE

MOSTEXPENSIVE, BUT WHA THE

FLATIRONS DID DO I CAPTURE THE

IMAGINATION.

IT MANIFESTED TH SPIRI O

INVENTION, THE DRIVE O A

STEEL-NEW NATION AND THE

ENDURING BELIE THA IN AMERICA

ANYTHING IS POSSIBLE

>> WHEN YO SEE A PICTU O

THIS, YO DIRECTLY SE THAT'S

PICTUR O NEWYORK

>> IT' VERY SPECTACULAR.

>> HOW OLD IS HE

>> THI I A END O THE 19t

CENTURY, THE BEGINNING O THE

20th CENTURY WHE ALL THE PEOPL

COMING FRO EUROPE WERE JUST

ARRIVING IN NEW YORK

>> I THE LAT 19tCENTURY, THE

INDUSTRIAL REVOLUTIO WAS I

FULL SWING AND THE POPULATIO O

THE UNITED STATES MORE THA

TRIPLED FROM 2 T 76 MILLIO

PEOPLE DRIVEN BY A INFLU O

IMMIGRANTS FROM AROUND THE WORLD

IN SEARC O A NEWLIFE

THIS CHEAP AND INDUSTRIOUS

WORKFORCE DROVE THE ECONOMY ON A

SCALE NEVER BEFORESEEN

>> I WAS THE AGE OF TH HUG

INDUSTRIALEXPANSION.

PEOPLE NEEDED BIG OFFICE

BUILDINGS.

THEY WANTE MOR ANDMORE

AND YO SUDNLY HAVEBANKS,

INSURANCCOMPANIES, ALL KINDS

OF COMPANIES HAVING 1,00

EMPLOYEES.

THAT NEVER EXISTED BEFORE.RE

>> AND WIT REAL ESTATE A A

PREMIUM IN NEWYORK INVESTORS

WANTED THEIR BUILDINGSTALL

THE TALLER THE BUILDING, THE

GREATER THE PROFIT

>> AS NEW YORK BEGAN TO BUILD

TALL IN TH SECON HAL OF THE

19thCENTURY, I WAS A

TREMENDOUS CHALLENGE T THE

ARCHITECTS OF NEW YORK

THIS WAS AENTIRELY NEW WAY O

BUILDING, NEW BUILDINTYPE

AN THE EARLIES SKYSCRAPERS

TENDED T BE VERY AWKWARD I

APPEARANCE AS THOUGH THE

ARCHITECTS JUST HADN'T CRACKED

THE PROBLEM OF HOW T DESIG A

TALLBUILDING

>> BULKY AND CUMBERSOME THE

FIRS SKYSCRAPERS WER MADE OF

THIC MASSENR WALLS THA

BLOCKED LIGHT AN TOO U

VALUABLE SPACE BUT THE MODER

AGE OF COMMERCIA ARCHITECTURE

IN AMERICA WAS ABOUT TO IGNITE,

LITERALLY.

>> I I WEREN'T FORCHICAGO,

THE FLATIRON BUILDIN WOULD

NEVE HAVE BEENDEBUILT.

>> ONE OF TH THING THA YOU

HAVE T UNDERSTAN ABOUT CHICAGO

AND ABOU ITS ARCHITECTURE AN

IT MODERNITY I THE GREATFIRE

>> THE GREAT FIR O1871

DESTROYED OVER THREE SQUAR

MILES OFCHICAGO, KILLING

HUNDREDS AND LEAVING100,00

PEOPLE, A THIRD OF THE

POPULATION, HOMELESS

THE FIRE GRE SHOT, THA

MASONR CRUMBLED AN THE IRO

SUPPOR STRUCTURES ON MAN OF

TH TALLE BUILDINGS SIMPL

BUCKLED.

BUT WITH THE DEVASTATION CAUSE

BY THE GREAT FIR CAM GREAT

OPPORTUNITY FO ENTERPRISIN

MEN.

AND ON MAN I PARTICULA WOULD

HELP REVOLUTIONIZE THE URBAN

LANDSCAPE.

>> DANIE BURNHAM WAS ONE OF TH

MOST AMBITIOUS ARCHITECT I THE

COUNTRY.

HE DID VER FAMOU AND

EXTRAORDINARY PLAN FORCHAGO.

>> USING PARISIA DEVELOPED

DESIGN MOTIFS CALLEDBEAUARTS

HE BROUGHT A INCREASINGL

CLASSICA DESIGN TOAMERICA.

HE WAS KNOWN FOR DEVELOPIN THE

CHICAGO STYLE OF ARCHITECTURE

WHER HIGH-RISE RESEMBLED

COLUMN DIVIDED INT THREE

DISTINCTPARTS.

THE FIRST FLOO FUNCTIONE A A

BASE.

TH MIDDL FLOOR ACTED AS A

VERTICAL SHAFT WIT LITTL

ORNAMENTATION, WHILE THE TOP FEW

FLOORS O CAPITAL POSSESSED

MORE OPULENT DETAI AND WER

CAPPED WITH CORNICE.

>> B THE1890 ARCHITECT WIT

THESE IDEA FIGURED OUT HOW T

MAKE SKYSCRAPERS BEAUTIFUL

ADORNMENTS TO THE CITY

>> BUT I1892 CHICAGO PUT A

CAP ON THE HEIGH O ITS

BUILDINGS, WHILE THA SAM YEA

NEW YORK CHANGED ITS BUILDIN

CODE T ALLOW FOR STEEL SKELETO

CONSTRUCTION.

>> CHICAGOD NEW YORK REALL

FOR ONLY ONE DECADE IN

SKYSCRAPERCONSTRUCTION.

TH CONSTRAINTS O BUILDIN

CODES IN NEW YORK REQUIRED THA

MASONRY STIL B A PAR OF TH

MIX FO FIREPROOFIN

CONSIDERATIONS.

THAT CHANGED AFTER1892

AND NEW YORK THE REALL TOO

THE LI OFF I SKYSCRAPE

DESIGNS.

>> WHEN NEW YORK CHANGED THE

BUILDING CODE, THE SKY WAS THE

LIMIT FO AMBITIOUSDEVELOPERS

STEEL CONSTRUCTION WAS STILL I

ITS INFANC AND MAN ARCHITECTS

FEARED IWASN'T STRONENOUGH

BUT NO CHICAGO DEVELOPER GEORG

FULLER.

THIS DARIN FORME ARCHITECT

STUDEN TURNE BUILDER BELIEVED

TH STEEL CONSTRUCTIO WOULD

CHANGE THE FAC OF THE COUNTRY.

FULLER'S DRIVE TO BUIL TALLE

AN TALLE BUILDINGS MAD HIM

WEALTHY IN CHICAGO BUT WIT THA

CITY'S NEW HEIGHRESTRICTIONS,

HE KNE GOING EVE HIGHER WITH

HI BUILDINGS MEANT GOING T NEW

YORK.

>> NEW YORK WAS WHER THE MONEY

WAS.

CHICAGO WAS WHERE TH

SKYSCRAPER BEGAN BUT NEW YOR

BY THE EARLY 20t CENTURY WAS

WHER ANY BUILDER WORTH HIS SAL

WANTED TCOME

>> INCLUDING ONE ESPECIALL

HUNGRY YOUNG DEVELOPER NAMED

HARRY S.BLACK.

>> M FAVORIT CHARACTERLE IS

HARRY BLACK.

IT'S IRRESISTIBLE TO COMPARE HIM

TO DONALTRUMP.

>> STOCK AND SHORT WIT A BIG

VOICE AND PENCHANT FO THE

FINER THINGS ILIFE FRIENDS

DESCRIBE BLACK A IMPOSSIBL

CHARMING ANDRUTHLESS

AT32 AFTER MARRYING GEORGE

FULLER'S 17-YEAR-OLDDAUGHTER

BLACK WA MAD VICE PRESIDEN O

FULLER'SCOMPANY.

AND UNDE DIRECTION FRO HIS NEW

BOSS, BLAC SET OUT TO TAKE NEW

YORK BY STORM.

>> HARRY BLACK COMPETED IN THI

AGGRESSIVESOCIETY.

IT WAS A ENVIRONMENT WHERE

SOMEON WHO WAS SMART AND SAVVY

IN HIS BUSINES DEALING COULD

BORROW SUM OF MONEY, HE COULD

TAP IN TFRIENDS, H COULD

INVEST IRELATIONSHIPS.

>> GEORGFULLER'S FIR HAD

ERECTED 28 OCHICAGO' TALLEST

BUILDINGS AS WELL AS MAN OF TH

STRUCTURES FOR THE1893 CHICAGO

WORLD'S FAIR

BUT NEW YORK WIT ITS BOOMING

POPULATION AND POTENTIAL FOR

WEALTH WAS WHERE FULLE WOULD

BUILD HIEMPIRE

CREATING SUC LANDMARKS A THE

PLAZHOTEL,MACY'S DEPARTMEN

STORE, THE NEW YORK TIME

BUILDING, TH TRINITY BUILDIN

AN THE20-STORY BROAD EXCHANG

BUILDING AT THE TIME THEWORLD'

TALLEST OFFICEBUILDING

AND HE BEGAN TO SE HIS SIGHTS

ON JUST WHER THE HEADQUARTERS

FO HIS GROWING ENTERPRISE WOULD

BE

>> 2rd STREE WAS THE GREAT

CROS TOW THOROUGHFAR LIK

WHAT 4nd STREET WOUL B A FEW

YEARS LATER.

AN WHERE THE TWO MOS FABLE

STREET I NEWYORK FIFTH

AVENUE AND BROADWAINTERSECTED.

>> THI FAMED INTERSECTIO WAS

WHERE WELL-HEELED TURN OF TH

CENTURY NEW YORKERS MADE THEIR

APPEARANCES, WHEREGRANDAME

SHOPPED IN THE LADIE MIL AND

BUSINESSMEN WINED ANNED AT

NEW YORK'S FINESRESTAURANTS.

IT WAS THE PERFECT SETTING FOR

THE KING O SKYSCRAPERS T PLACE

HIHEADQUARTERS

BU I1900 GEORG FULLE

SUCCUMBED TOALS, LATER KNOWN A

LOGEHRIG'S DISEASE AND H

WOULD NEVE SEE THE GRANDEU O

HIS DREAFULFILLED.

HIS AMBITIOU SON-IN-LAW HARRY

BLACK TOOK OVER TH COMPANY AND

THE DREAM.

AND THER WAS ONE PARTICULA

PIEC O REAL ESTATE THA BLACK

WAS DETERMINED TO ACQUIRE.

TH INFAMOU TRIANGULAR LO

KNOWN AS THE FLATIRO BECAUSE O

IT RESEMBLANCE TO TH CLOTHES

IRONS USED AT THE TIME

>> I WAS SAID TO B THE MOS

VALUABLE PIECE OF LAND I THE

WORLD.

>> RIGHT ACROS THE STREE THE

TONY FIFTH AVENU HOTEL BUILT B

DEVELOPER AMOSENOT HAD BECOM

THE SEAT OF COMMERCIAL AND

POLITICAL ACTIVITY

JUST T THE NORTH NEW YORKERS

REGULARLY GATHERED A MADISON

SQUARE PARK TO CHECK OUT THE

ADVERTISEMENTS AND NEW FLASHES

PROJECTE ABOVE THI ODDLY

SHAPED LITTL PIECE O REAL

ESTATE THAT NOBODY QUITE KNEW

WHAT TO DO WH.

>> THE FOOTPRINT WAS S SMALL

THAT PEOPLE WONDERED HOW A

BUILDING OF ANY SIZE COULD B

BUILT THERE.

>> BUT HARRY BLACK KNE WHA T

DO.

IT ALL CAME BACK TSTEEL.

WITH STEEL YOU COULD BUILD

ALMOST ANYTHING.

AND BLAC WOULD NOW REALIZE HIS

AN HIS LATE FATHER-IN-LAW'

DREAM TO BUILD THE FIRST

SKYSCRAPER NORTH O UNION

SQUARE

UNDAUNTED BY MERPHYSICS, BLACK

NEVER CONSIDERED THE SIZ OF TH

LOT' FOOTPRINT O ITS PECULIA

SHAP A DETRIMENT

HE ALREADY HAD A ARCHITECT I

MIND.

A MAN WHO HA HELPE HIS

FATHER-IN-LAW UNLOCK THE FUTUR

OF CONSTRUCTIO BAC IN CHICAGO,

DANIEL HBURNHAM.

>> BURNHAM WAS A GREAT CHICAGO

ARCHITECT, HAD NOT YET BUILT ANY

STRUCTURES IN NEW YORK CITY.

HE WAS GIVEN THE OPPORTUNITY T

REALLY MAK A STATEMENT AT

PRINCIPAL CORNER I NEW YORK.

>> SINCE HIS SUCCESSFU DAY I

CHICAGO DANIEL BURNHAM HAD

BECOME A SHINING STA OF TH

ARCHITECTURE WORLD DESIGNING

SOME OF GEORGEFULLER'S MOS

FAMOUS BUILDINGS A WEL A THE

VAST AND VISIONARY NATIONA MAL

IN WASHINGTO D.C

HI ARTISTI AMBITIO AND

BUILDING SAVVY SEEME LIMITLESS

AND WITH THE FLATIRO BUILDING

HE WOULD SHO THE WORLD O THE

WONDER AND POWER OALL-STEE

CONSTRUCTION.

>> SO, THE DESIG OF TH

FLATIRON BUILDIN WAS REALL

LIKE A EXTRUSION O THI NARRO

PIECE OF PIE TRIANGLE ON THE

SITE

>> AT THVERTEX THE TRIANGULA

TOWE WOULD B JUS 6 1/2 FEE

WIDE AND A VIEWE FRO ABOVE

THIS POINTED END OF TH

STRUCTURE WOUL CUT A EXTREME

ACUT ANGLE O ABOUT 2DEGREES.

IT WOULD B UNLIKE ANYTHING

ANYONE HAD EVER SEEN

AND IN JUN1901 DURIN ONE OF

TH HOTTEST SUMMERS I NEW YOR

HISTOR EXCAVATIOBEGAN.

>> AND THE BUILDIN WAS T B

CALLED, HE ANNOUNCED T THE

PRES AND ANYBODY ELS WHO WOULD

LISTEN THE FULLEBUILDING

AND NOBODY PAI ANYATTENTION.

NOBODY EVE CALLE THI BUILDING

ANYTHING OTHER THAN THE FLATIRON

BUILDING

BECAUS THI BUILDIN SAT O A

FLATIRON LOT AND YOU COULDN'T

SEPARATE THAT ASSOCIATIO

AND NO ONLTHAT, TH MAN O

THE STREET WAS FASCINATED WITH

THIS BUILDIN A I WAS GOING

UP.

IT WAS THE TAL OF THE TOWN

>> I WAS STHIN I LOOKE

LIKE A STIFF BREEZE COULD KNOCK

IT OVER AND, OF COURSE THEY

DIDN'TUNDERSTAND THE STRENGTH

OFSTEEL.

>> KEEPING U A EXCEPTIONALLY

QUICK PACE B FEBRUAR O1902

WORKERS HA ASSEMBLED THE STEEL

FRAM OF TH FLATIRO DRIVING

RE HOT RIVET WIT PNEUMATIC

HAMMERS, IT ROSE A LIGHTNING

FAST ONE FLOOR PERWEEK

BY MID-MAY O1902 THEV-SHAPED

SKELETON WAS HAL SHAPE WIT

SCAFFOLDING WITH COVERED WITH

THOUSANDS OF TERRA-COTTATILES.

>>ALONG TH FACADES O THE

FLATIRON REPETITIV CLASSICALLY

STYLED ORNAMENTATION EXECUTE I

TERRA-COTTA.

THERE ACTUALLY IS QUITE BIT O

IT.

IT I EXTREMELY IMPORTANT

BECAUS THE FACADES O

SKYSCRAPERS PRESENT GREAT

DESIGNPROBLEM.

THEY'RE BIG.

AND THERE AR A LOT O WINDOWS.

IT'S VERY REPETITIVE

AND IT TAKES A LOT O WOR T

KEEP SKYSCRAPE FACADES FRO

BEING JUSTOVERBEARIN OR SIMPLY

BORING

AN THI ORNAMEN HELPS ENLIVEN

THE FACADE

TH POWER O THA BUILDING IS

ITS COMBINATION OF DECORATIO

WITH THESHADOW BUT THEN THE

SHEER CLIFF OF IT.

>> THERE'S MAN STORIES O THE

BUILDING, BUT GUESS ONE O M

FAVORITE STORIES A A DEVELOPER

WAS TH FIGHT THERE W BETWEEN

HARRY BLACK AN DANIE BURNHAM

REGARDING TH EXTENSION OF THE

GLASS STRUCTURE.

>> TBURNHAM, THE ADDITIO O A

PROTRUDING GLASS STRUCTURE AT

TH BAS OF TH NARRO VERTE

WAS AN INSUL TO TH AESTHETIC

INTEGRITY OF THEBUILDING, TO

BLAC I WAS A IRRESISTIBL

PIECE OF REAL ESTATE

>> I WAS HARRY'S DECISION, HE

WANTED T CAPTURE EVERY SQUAR

INCH OF COMMERCE MATTE AND H

WAS ABLE T WIN THI LITTL

BATTLE.

>>FINALLY, I JUN1902 AFTER

ONLY ONE YEA OCONSTRUCTION

WORKERS TOOK DOW THE

SCAFFOLDING AND UNVEILED

BURNHAM'S AND BLACK'S GIFT TO

THE CITY

>> N STRUCTURE EVE PUT I THE

ME DROPADVERTISE TROPOLIS HAS

CREATED AS MUCATTENTION.

>> BUT THE ATTENTION I

ATTRACTED FROM CRITICS WAS

HARDLY HIGH PRAISE

>> THE CRITICS WERFURIOUS.

THEY COULD NOT UNDERSTAN HOW

BURNHAM COULD HAVE PRODUCE SUC

AN UGLBUILDING

>> LIKENED T A STING PIECE O

PIE, THE NEW YOR"TRIBUNE

DUBBED I THE GREATEST INANNI

OBJECT IN NEW YORK

AN I WAS UNFIT T BE IN THE

CENTER OF THE CITY AND "THE NEW

YORK TIMES" CALLED IT

MONSTROSITY.

TH CRITICS MAY HAVE THOUGHT IT

WAS AN ARTISTI DISASTER, BUT

FOR THE PEOPLE O NEW YOR I

WAS AN IMMEDIATE LOVAFFAIR

>> THERE WAS SOMETHING ABOUT I

THAT JUS CAUGH THE MAGE NATIONIMAGINATION

OF NEWYORKERS.

>> IT WA THI PROUD AND SOARING

THING SUCH A THE HAD NEVER

BEFORESEEN

AND NEW YORK BEING THE GREAT

SKYSCRAPER CITY OF THAERA,

THIS BUILDIN WAS THE VER

SYMBOL OF NEW YORK

>> O OCTOBER 8th1902 A THE

FIRS BUSINESSES WERE MOVIN

INTO THEBUILDING A

PHOTOGRAPHER NAMED ROBERVONINE

SET UP ATRIPOD AND CAMERA TO

CAPTURE THE MOMENT NOT WIT

STIL PHOTO BUT WITH THESE

MOVING PICTURES.

FROM ITSINFANCY, NEW YORKERS O

AL STRIPES WER DRAWN T THI

ARCHITECTURAL SENSATION.

>> THE FLATIRO ALWAY HAD A

FUNK ARRAY OTENANTS.

>> FRO TABLOID MAGAZIN MAGNATE

FRAN MUNCI T THE NEW YOR

TOURING COMPANY TO SON WRITERS

HAMMERING OU TUNES FOR TIN PAN

ALLEY JUST DOWN TH STREET AN

EVEN THE NOTORIOUS CRIME

SYNDICATE MURDER, INC., TH

FLATIRONS WELL-LIT ROOMS AND

INSPIRATIONA ARCHITECTUR WER

LIKE A MUS T ITS EARLIES

OCCUPANTS AND FROM THE BEGINNING

ARTISTS FELT COMPELLED T

CAPTURE IT

>> WHAT' INTERESTING LOOKING AT

TH IMAGE OF THFLATIRON

PARTICULARLY THE VERY EARL

ONES, HOW THEY EQUATED THE

BUILDING ALMOST WITH A KIN O A

ROMANCE, KIND OF FAIRY TAL

QUALITY.

>> ONE OF TH REALL THRILLING

IDEAS THAT DEVELOPED JUST AROUND

THE SAME TIME AS THE BUILDIN I

THAT BUILDINGS CAN B SUBJECT

OFART.

THAT THEY'RE A MUCH

TRANSMITTER OF BEAUT A

ANYTHING ELS AND THA THERE'S

SOMETHING REALLY THRILLING ABOUT

THEM.

AN THA JUS LOOKING A A

BUILDING CANENLARGYOU, CAN

MAKE YOU MORE THAN YOU WERE, AND

THAT YOU CAN APPROPRIATE THE

BUILDING AND MAKE IT YOUR OWN.

>> FAMED PHOTOGRAPHER ALFRED

STEGLEITZ WH ELEVATE

PHOTOGRAPHY TO A TRU ART FOR

WAS ONE OF THE FIRST TO FALL

UNDER ITS SPELL.

>>STEGLEIT HAD HIS EYE ON TH

BUILDING BECAUSE HIS GALLERY29

WA BASICALLY UP SEVERAL STREETS

ON FIFTH AVENUE.

WHEN HE WENT T THE GALLERY T

WORK, HE WOULD ALWAY B

SPOTTING THEBUILDING

BUT HEHIMSELF, DID NOTREALLY

REALLY UNDERSTAND TH KIN O

TH MAGIC OF TH FLATIRO UNTIL

ONE DA DURIN A SNOWSTORM H

RECOGNIZED IT DOWN THEAVE.

>> WITH TH TREES O MADISON

SQUARE COVERED WITH FRESSNOW

TH FLATIRON IMPRESSED ME AS

NEVER BEFORE

IT APPEARED TO B MOVIN TOWARDS

ME LIK THEBO O A MONSTER

STEAMER, A PICTURE OF NEW

AMERICA STILL IN THE MAKING.

>> POINTIN NORTHWARD LIK A

STEAMSHIP SAILING INTO THE

FUTURE THE FLATIRON BECAME ONE

OF THECITY'S MOS RECOGNIZABL

SYMBOLS OF PROGRESS, A PLACE

WHERE ART, COMMERCE AN CULTURE

ALCONVERGED.

IT WAS ALSO WHER THE WINDS

CONVERGED.

AND SOON THE FLATIRON BECAME A

FAMOUS FOR ITS FIERC WIN

TUNNELS AS FOR ITS UNUSUAL

SHAPE.

>> WHEN TH FLATIRO BUILDING

WA FIRSTBUILT, I CREATED

POWERFULDOWNDRAFT, SUC THA

23rd STREE BECAM THI UNIQUELY

WINDY PLACE.

AN THE WIN WOULD BLOWOMEN'

DRESSES UP JUS A LITTL BIT AND

EXPOSE THEIRANKLES

BUT, YOU KNOW, THIS WAS AS

EXCITING AS IT GOT FOR THE MEN

OF NEW YORK CITY, SO A LOT O

THEM WOULD SOR OCONGREGATE

LOITER AROUND TH FLATIRO

BUILDING IN TH HOPES OF

SPOTTING ANKLES.

YOU KNOW, THE POLICE WOULD COM

ALONG AND THEY WOULD SAY

SKEDADDLE TO THE MEN AND SINCE

IT OCCURRE O 2rdSTREET THE

PHENOMENON BECAM KNOWN A THE

23SKEDOO

>> ON WINDY DAY IT' EXTREMELY

WINDY AT THE FOOT OF THE

BUILDING.

MOST DAYS THERE IS ABREEZE BUT

ON A WINDY DAY IT' PRETTBAD.

OTHER THAN MY OWN, I'V SEE A

NUMBER OF WOME WAL PAST AN

HAVE TO GRAB

AND THEN W GET THA OLD 2

SKEDOO

>> THE FLATIRONS CAVERNOUS

BASEMENT BECAME HOME O A SERIE

OF RESTAURANTS AND NON WAS MOR

INFLUENTIAL OR FAMOU THA

TAVERNLOUIE.

>> A BOSQUE RESTAURANTEU LEASED

TH RESTAURANT AND HE TURNE I

INTO THI REALL COO CABARET

AND THEY INTRODUCED AL THESE

SCANDALOUS PRACTICES SUCH AS

DANCING INRESTAURANTS.

THEY HAD AWOMAN' BAR WHICH WAS

ALSO A ABSOLUTELUNHEARD OF

THING THAT A WOMAN SHOUL B

ABLE TO GO INT A RESTAURANT

ALONE AND GO TO A BAR.

>> THI EDG NEW RESTAURANT

WOULD ALSO BECOM A PIVOTAL

PLAYER I MODERMUSIC.

>>SO LOUIE DISCOVERE A A

DANCING PART A COMBO FRO

HARLEM, A BLACCOMBO, WHO WER

PLAYING THIS MUSIC CALLERAG.

AND TH LEADE O THI GROUP WAS

A YOUN MAN NAMED LIEUOUIS MITCHEL

AND THEY WENT TO THE TAVERN

LOWEY ANDLOU

LOUIE AND AT THE TIME IT WAS

QUITE UNHEAR O FOR BLACK

MUSICIANS TO B PLAYING I

MAINLY WHITE CLIENTELE

RESTAURANTS.

♪♪

THE NIGHT THEY DEBUTED THERE WAS

VER FAMOU SONGWRITE SITTING

IN THECROWD.

HIS NAME WAS IRVINBERLIN

>>BERLIN WHO WOULD LATER G O

TO BECOME ON OAMERICA'

GREATEST SONWRITERS, HAD NEVER

HEAR ANYTHIN QUITE LIK

MITCHELL'SBAND

HE WOULD HEL MITCHELL TOUR

PARIS IN THE FAMEDMOMA

INTRODUCING TH FRENCH AND TH

WORLD TO THE FIRST NOTES OF

JAZZ.

♪♪

>> AND I ALL STARTED HERE IN

THE FLATIRON BUILDING.

>> I JUS A FEWYEARS, HOWEVER,

THINGS BEGAN TO CHANGE

PROHIBITION SHUT DOW THE

RESTAURANT THAT HA TAKEN NEW

YORK BY STORM, AND THE FLATIRO

BEGA T LOS ITSALLURE

HARRY BLAC WANTE ANEW, MODER

OFFICEBUILDING, AN H SET HIS

SIGHTS ON TH INCREASINGL

UPSCAL NEIGHBORHOODS O MIDTOWN

MANHATTAN.

IN1929 H BUILT A40-STORY ART

DECO DELIGHT O 5th STREE

WHICH BECAME THE FULLER BUILDING

THAT WE KNOW TODAY

>> B CALLING I THE FULLE

BUILDING, HE WAS CONCEDING THA

TH FLATIRO BUILDING WA NEVER

TH FULLEBUILDING, YOU KNOW,

IT NEVER FULLY BELONGE T THE

FULLER COMPANY.

IT BELONGE T THE PEOPL O NEW

YORK WHO NEVER CALLE I

ANYTHING OTHER THAN THE FLATIRON

BUILDING

>> THE FLATIRON BUILDING

CONTINUED TO ATTRACT A ECLECTI

ARRAY OF COMMERCIA TENANTS FRO

THE CLOTHING COMPANIES O THE

1940s TO THE PUBLISHING HOUSES

THAT CALL IT HOME TODAY.

WHAT THEY'VE ALL HAD I COMMON

IS A LOV O THEBUILDING'S

QUIRKY ARCHITECTURAL CHARMS.

>> BECAUSE O LANDMARKS

PRESERVATION, IT'S POSSIBL T

KEEP BUILDINGS LIK THE FLATIRO

BUILDINGALIVE.

>> THE FLATIRO BUILDIN WAS

DESIGNATED A NEW YORK CITY

LANDMARK IN 1966

AND BECAME A NATIONA HISTORIC

LANDMARK IN 1989

MORE THAN CENTURY AFTER I WAS

BUILT, IT IS STILL ONE OF TH

MOST INSTANTLY RECOGNIZABL

SYMBOLS OF THECITY FEATURED IN

MOVIES AND TELEVISIO SHOWS AND

LENDING IT NAM T AENTIRE

NEIGHBORHOOD.

>> I'M NOT SURE CAN THINK O

AN OTHER SKYSCRAPER THAT'S BEE

TURNED INTO TH NAM FOR A WHOLE

PART OF THE CITY, YOU KNOW, WE

DON' THINK O LOWER MANHATTAN

AS THEWOOLWORTDISTRICT W

DON'T THINK TH 30s OF TH

EMPIRE STATEDISTRICT BUT W D

THINK OF THA ARE AROUN

MADISON SQUARE A THE FLATIRON

DISTRICT.

AND I THIN THAT' KIN O COO

ACTUALLY.

>> IT HA LEF A INDELIBLE

IMPRINT NOT ONLY O THE

NEIGHBORHOOD, BUT ACROSS THE

GLOBE.

WHILE NEW YORK CITY GREW U

AROUND I RISIN TALLER AN

TALLER, TH FLATIRO BUILDING

HA CONTINUED T

CAS A SPECIAL

SPELL OVER EACH NEW GENERATION

>> IT' SOMETHINGSPIRITUAL.

IT'S SOMETHINGEMOTIONAL.

WHEN PEOPLE LOOK AIT THE

FEELSOMETHING.

SOMETIMES PEOPLE ALMOST CRY WHEN

THEY SEE THIBUILDING

>> SOMETIMES IT' HAR EVE T

SEPARATE OUT THE MEMORY HAVE

OF SEEIN THE FLATIRO BUILDING

AS I'M COMIN DOW FIFTH AVENU

WITH THE MEMOR I M HEA O

THAT INCREDIBLE PHOTOGRAPH, FOR

EXAMPLE.

THEY ALL KIN O BLEND TOGETHE

TO CREATE THIS SENSE O THI

BUILDING A A INCREDIBLY

IMPORTANT AND SORT OF BELOVED

THING.

>> THE FLATIRON IS MORE THAN

JUST A BUILDING.

IT'S A BOL REMINDER OF WHA W

CAN ACHIEVE WITH VISION AND

DETERMINATION.

LIKE ALL OUS IT IS O A

JOURNEY, PAYIN RESPECT T THE

PAST WHILE FORGING BRAVELY INT

THFUTURE

I'M MAYOWHITINGHAM AND THANK

YOU FO WATCHING "TREASURES O

NEW YORK"THE FLATIRO

BUILDING."

>>> THIS PROGRAM WAS MADE

POSSIBLE BY TH GENEROU

SORGENTI GROUP O

AMERICA.