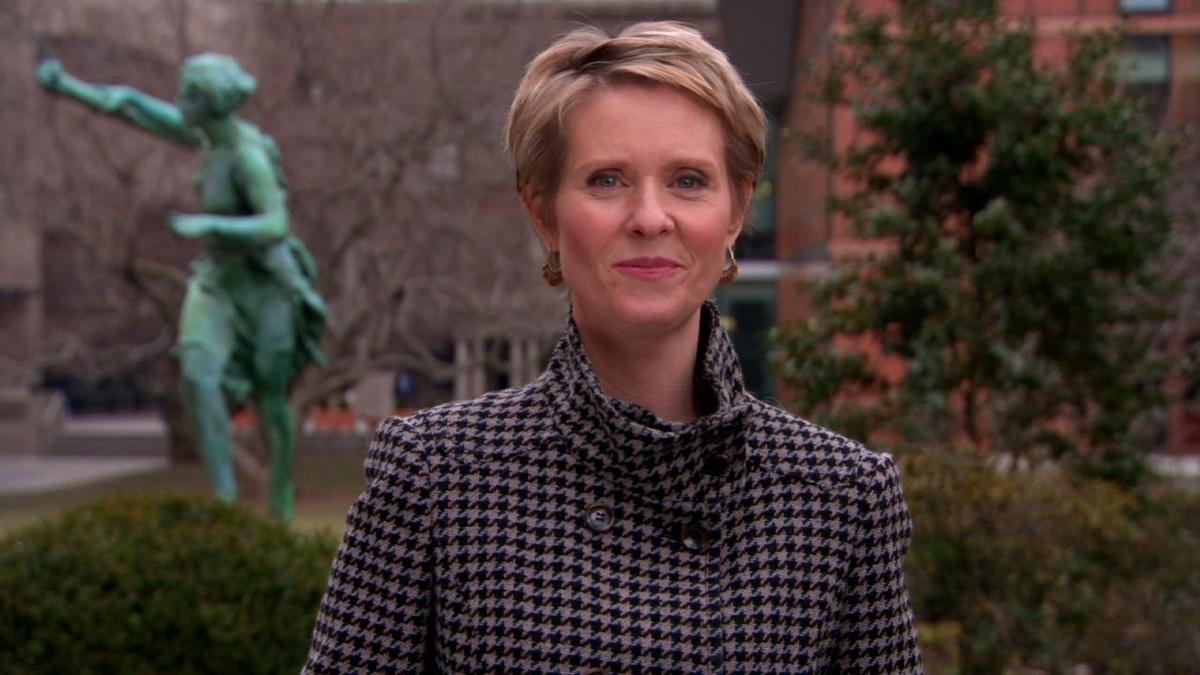 FULL EPISODE
Treasures of New York: Barnard College
TRANSCRIPT

>>> THE FIRST COLLEGE IN NEW

YORK CITY TO GRANT WOMEN

DEGREES.

>> ALWAYS REPRESENTS THE LEADING

EDGE

>> A PLACE WHERE FOR 125 YEARS

WOMEN HAVE RECEIVED THE SAME

UNDERGRADUATE EDUCATION AS MEN

BARNARD COLLEGE DEDICATED TO

TRAINING WOMEN TO BE LEADERS

>> THEY NEVER TWIST THEIR HAIR

THAT'S NOT A LOT OF APOLOGIZING.

THEY KNOW WHO THEY ARE

THAT'S AN UNCOMMON THING

>> INSPIRED BY ACCOMPLISHE

ALUMNI THAT PAVED THE WAY.

>> IF YOU TALK TO BARNARD ALUM

THEY'LL SAY THE FOLLOWIN

SENTENCE, BARNARD CHANGED MY

LIFE

>> I DON'T BELIEVE I WOULD BE

COLUMNIST IF I HADN'T GONE T

BARNARD.

>> ISSUES TO PRESENT ON STAG

BEGAN THERE.

>> TREASURES OF BARNARD COLLEGE,

WOMEN MAKING HISTORY

THIS IS MADE POSSIBLE BY

>> NOW OUR HOST CYNTHIA NIXON.

>> I WAS BORN AND RAISED IN NE

YORK CITY.

I STARTED ACTING PROFESSIONALL

WHEN I WAS 12.

I WAS ACCEPTED TO BARNARD AN

COLUMBIA, AND AFTER ASKING A

NUMBER OF FAMILY FRIENDS

ASSOCIATED WITH BOTH SCHOOLS

EVERY SINGLE ONE OF THEM TOLD ME

I SHOULD GO TO BARNARD

THEY SAID I WOULD GET A GREA

EDUCATION AND HAVE PROFESSOR

AND ADVISORS THAT WOULD FOCU

SOLELY ON ME

THAT'S EXACTLY WHAT HAPPENED

AS A FRESHMAN, I TOOK A FULL

COURSE LOAD WHILE APPEARING IN

TWO BROADWAY SHOWS

SIMULTANEOUSLY

DURING MY FOUR YEARS AT BARNAR

NEW YORK CITY WAS AN EXTENSION

OF THE CLASSROOM

>> IT'S A FALL DAY AT BARNAR

COLLEGE IN NEW YORK CITY

DEBORAH IS GIVING ADVICE TO TH

ALL FEMALE STUDENT BODY.

>> WHAT I'M TRYING TO DO I

EXAMINE THE STATUS OF WOME

TODAY.

HOW FAR HAVE WOMEN REALLY COME

WHY WE STILL APPEAR TO HAVE SUCH

A LONG WAY TO GO

>> SHE SHOULD KNOW

SHE'S THE SCHOOL'S PRESIDENT AND

A ROLE MODEL TO MANY WOMEN I

THE AUDIENCE

SEMESTER AFTER SEMESTER, SPA

SAYS WOMEN COME TO BARNARD T

SPEAK UP, ASK QUESTIONS AND MAKE

SURE THEIR VOICES ARE BEIN

HEARD.

AS THE HEAD OF THE MOST SELECTED

WOMEN'S COLLEGE IN THE COUNTRY

SPAR IS KEENLY AWARE OF HE

RESPONSIBILITY TRAININ

TOMORROW'S LEADERS, A LESSON SHE

BELIEVES IS EASIER TO ACHIEVE AT

BARNARD.

>> WOMEN ARE ALWAYS MAJORITY

IF YOU TAKE CALCULUS, TH

SMARTEST PEOPLE IN THE CLASS ARE

GOING TO BE WOMEN.

THE PRESIDENT OF THE STUDENT

GOVERNMENT BY DEFINITION I

ALWAYS FEMALE.

THE EDITOR OF THE NEWSPAPER IS

ALWAYS FEMALE.

OUR YOUNG WOMEN HAVE THE

OPPORTUNITY TO GET THE EDUCATION

THEY WANT IN THE ENVIRONMENT

GENDER IS NEVER AN ISSUE

>> A SCHOOL DEDICATED TO WOMEN

A PLACE THAT PRIDES ITSELF O

CREATING A POSITIVE ENVIRONMEN

FOR WOMEN TO EXCEL WHERE THE

ARE INSPIRED BY THOSE THAT CAM

BEFORE THEM.

TRAILBLAZERS, ARTISTS,

INNOVATORS

>> I DON'T THINK THERE'S ANY

SINGLE WAY TO DEFINE THE BARNARD

WOMAN.

IF YOU LOOK AT SOME OF OUR

ALUMS, WOMEN LIKE MARGARET

MEAD, TWYLA THARPE, SUZANNE

VEGA

THEY ARE A LITTLE BIT QUIRKY

THEY GO OUT AND LEAVE A MARK

>> STRONG WOMEN ARE AT THE COR

OF THE BARNARD HISTORY DATIN

BACK TO THE SCHOOL'S FOUNDER

1885, 18-YEAR-OLD MIRE, AN

ASPIRING WRITER WANTED TO ATTEND

CLASSES AT COLUMBIA COLLEGE, ALL

MALE INSTITUTION

AT THE TIME THE PRESIDENT OF

COLUMBIA, BARNARD WAS IN FAVOR

OF ADMITTING WOMEN BUT HE WAS IN

THE MINORITY

>> BOARD OF TRUSTEES SAID NOT.

>> INSTEAD THE BOARD OF TRUSTEES

CAME UP WITH A COMPROMISE.

MIRE COULD NOT ATTEND CLASSE

BUT COULD FOLLOW THE COURSE WORK

ON HER OWN

>> THEY WOULD ALLOW ANY YOUN

WOMAN WHO PASSED THE EXAM TO

TAKE THE SO CALLED COLLEGE

COURSE

>> FRUSTRATED WITH THAT OPTION

MEYER RESIGNED AND PETITIONE

COLUMBIA TO CREATE A COLLEGE T

OFFER WOMEN THE SAME

OPPORTUNITIES AVAILABLE TO MEN

IN 1889 COLUMBIA APPROVED TH

NEW SCHOOL OR ANNEX AS IT WA

CALLED

THE WOMEN'S COLLEGE WOULD BE

INDEPENDENTLY FINANCED AND

HOUSED IN A SEPARATE LOCATIO

BUT WOULD BE AFFILIATED WITH

COLUMBIA

IN FACT FEMALE STUDENTS WOULD BE

INSTRUCTED BY COLUMBIA

FACULTITY.

THEY NAMED IT BARNARD AFTE

COLUMBIA'S PRESIDENT

>> IT WAS FOUNDED WITH THE

FAILURE OF COLUMBIA COLLEGE TO

ADMIT WOMEN.

>> IT OPENED IN 1889

WOMEN PAID FOR GREEK AND MATH.

IT WAS LOCATED FEW BLOCKS FROM

COLUMBIA

>> IT WOULD BE FACULTY MOVIN

BACK AND FORTH BETWEEN THE TWO

PLACES

>> AN ARRANGEMENT BECAME

CHALLENGING WHEN COLUMBI

DECIDED TO RELOCATE UPTOWN

>> BARNARD SAID IT WOULD MOVE TO

MORNINGSIDE HEIGHTS, OR PERISH

>> BARNARD BOUGHT AN ACRE ACROSS

THE STREET FROM COLUMBIA

FIRST BUILDING OPENED IN 1897.

SOON THE YOUNG COLLEGE FACED

ANOTHER SERIOUS OBSTACLE

AS COLUMBIA CONTINUED TO GROW,

THE FACULTY WAS TOO BUSY T

TEACH AT BARNARD

BARNARD PRESSED TO HIRE OW

FACULTY PUSHING FOR MORE

AUTONOMY

>> BARNARD WAS ALLOWED TO HIRE

FEMALE

ONE-THIRD OF THE FACULTY HIRED

WERE WOMEN

>> THAT WAS A NOVELTY.

THERE WERE NO WOMEN TEACHING A

COLUMBIA

>> A ROLE PLAYED IN BARNARD'

FUTURE

>> THAT MEANT IN THE EARLY 1980s

THE FACT BARNARD HAD IT'S OW

FACULTY WAS CRITICAL

>> THE CAMPUS BECAME A HOT BED

OF ACTIVISTS AS WOMEN FOUGHT FOR

THE RIGHTS TO VOTE

THE FOUNDER, MEYER, DID NO

SUPPORT WOMAN'S SUFFRAGE

THERE WERE LIGHTER MOMENTS

NEW TRADITIONS LIKE THE GREE

GAMES WERE CREATED

1903 THE CONTEST AND CEREMON

STARTED.

THRU THE 1950s, THERE WERE

STRICT RULES FOR WOMEN A

BARNARD.

STUDENTS WERE UNDER CAREFU

WATCH ABOUT WHAT THEY COULD DO

IN THEIR PERSONAL LIVES, DOS

DON'TS, HOW TO BEHAVE.

THEY HAD AWARDS ON POSTURE

>> I HOPE THESE PICTURES DO NO

CONTINUE TO EXIST.

>> JUDGE JUDITH KAY WAS TH

FIRST WOMAN TO SERVE ON TH

COURT, GRADUATE OF CLASS OF '58.

HER TIME WAS FILLED WITH SISTE

HOOD AND SPIRIT.

>> WE WERE VERY GOOD GIRLS

WE DID OUR HOMEWORK.

THE EXPECTATION WAS WE WOULD

MARRY HAVE A FAMILY.

>> THERE WERE OTHER EXPECTATION,

RULES DICTATING HOW WOMEN COUL

DRESS.

THE STUDENT HAND BOOK SAID WOMEN

COULD NOT APPEAR IN ABBREVIATE

DANCE OR SHORT COSTUMES.

SHORTS OR SLACKS SHOULD NOT BE

WORN ON COLUMBIA CAMPUS.

THERE WERE GUIDES ON DICTATING

HOUSING.

STUDENTS UNDER 21 HAD TO LIVE ON

CAMPUS OR WITH A RESPONSIBLE

ADULT.

WOMEN WERE ALLOWED TO ENTERTAI

MEN DURING LIMITED HOURS AND HAD

TO SIGN OUT IF THEY LEFT CAMPU

FOR THE NIGHT.

STUDENTS PROTESTED TO CHANGE

RESTRICTIONS

>> ALMOST OVERNIGHT THE IT WAS

GONE

MEN COULD BE EVERYWHERE IN THE

DORMS.

>> WHEN SHE ATTENDED BARNARD I

THE EARLY 70s, ANNA QUINDLEN

SAYS IT WAS ALL ABOUT WHO WA

RAD ENOUGH

CLASSES WERE OFTEN DISRUPTED

ONCE AGAIN POLITICAL PROTESTS ON

CAMPUS

>> IT WAS THE BEGINNING OF

SECOND WAVE FEMINISM

I FELT I WAS GOING TO BE IN IT

BOSOM.

I FELT I'D GET A GREAT EDUCATION

AND ALSO BE ELEVATED

>> IT WAS SO FUNKY UP HERE

>> THE SUBWAY WAS PRETTY UNSAFE.

IT WAS NOT NECESSARILY A PLACE

WHERE PEOPLE WANTED TO SEN

THEIR 18-YEAR-OLD DAUGHTERS.

>> DESPITE THAT, BARNARD NEEDE

TO KEEP APPLICATIONS COMING IN

THE SCHOOL'S BUDGET WAS MET BY

ANNUAL TUITION

SO AS LONG AS STUDENTS ENROLLE

THE COLLEGE COULD PAY ITS BILLS.

FACING SIMILAR ISSUES, COLUMBI

COLLEGE BEGAN REEXAMINING TH

RELATIONSHIP WITH BARNARD WITH

EYE TOWARDS A POSSIBLE MERGER.

>> CERTAINLY BARNARD BECOMES

ATTRACTIVE TO COLUMBIA

THEY HAVE TWO THINGS, STUDENTS

WHO PAY AND FACULTY PAID LES

THAN COLUMBIA FACULTY.

>> TIME PASSED SINCE ANNIE

FOUGHT FOR THE DECISION.

THE BIG DECISION TO JOIN WIT

THE COLLEGE OR REMAIN AS IT WAS.

>> IT WAS CHALLENGING BEYOND

DESCRIPTION.

>> TO LEAD THE SCHOOL IN THI

TIME, IN 1980, BARNARD TAPPE

THE SCHOOL'S FIFTH PRESIDENT,

GRADUATE OF THE CLASS OF '71

SPUTTER HAD A DEGREE FRO

COLUMBIA

SPUTTER WAS THE YOUNGEST IN TH

COUNTRY.

>> THEY WERE TEN YEARS YOUNGER

THAN I

THERE WAS A FASCINATION TO IT.

>> STUDENTS LIKE HINKSON, NO

THE DEAN OF BARNARD, WAS AT TH

TIME THE REPRESENTATIVE OF THE

TRUSTEES

>> WOULD WE BE ABLE TO THRIVE?

WOULD WE STAND ON OUR OWN WHEN

COLUMBIA WENT COED

THERE WAS THE GREAT UNKNOWN.

>> AT THE CENTER OF THE ISSUE,

BARNARD'S FACULTY.

>> THE MAJORITY OF THE FACULTY

WANTED TO MAINTAIN THEIR

INDEPENDENCE

BARNARD HAD ITS OWN FACULTY.

WE TOOK A LOOK AROUND OTHE

WOMEN'S COLLEGES THAT MERGED

WITH INSTITUTIONS.

WE FELT THOSE COLLEGES IN SOME

WAYS DISAPPEARED

IN THE END BARNARD WAS CONCERNED

A PARTNERSHIP WITH COLUMBI

WOULD MEAN A DISILLUSION

>> AFTER GOING BACK AND FORTH,

IN 1983 BARNARD VOTED TO REMAI

INDEPENDENT.

>> THE COLLEGE ITSELF, EVERY

ASPECT, FACULTY, BOARD

APPLICANTS WERE CLEAR THEY LIKED

IT THE WAY IT WAS.

>> INSTEAD THE COLLEGE

ESTABLISHED A NEW AGREEMENT AN

FORGED A CLOSER RELATIONSHIP

STUDENTS WOULD BE ALLOWED TO

CROSS REGISTER AND ENROLL IN

COURSES ON EITHER CAMPUS

CERTAIN CLASSES WOULD BE LOCATED

ONLY AT BARNARD.

>> IT WAS NOT AN EASY TIME

YOU HAD ANXIETY.

EVERYONE WAS WORRIED ABOUT WHA

WOULD HAPPEN, WHAT IT WOUL

MEAN

THAT'S A LOT OF RESPONSIBILITY

YES IT TOOK FORTITUDE.

IT WAS WORTH IT.

>> TO CONTINUE TO BE

ECONOMICALLY VIABLE, THE

PRESIDENT BELIEVED BARNARD

NEEDED TO BECOME A RESIDENTIAL

COLLEGE AND MOUNTED A CAMPAIGN

TO BUILD A NEW DORM.

FOR THE FIRST TIME IN HISTOR

ALL BARNARD STUDENTS WER

GUARANTEED HOUSING

>> IT MADE US RESIDENTIAL FO

THE FIRST TIME IN HISTORY.

THAT REMAINS TODAY

THAT WAS TRANSFORMATIVE.

>> TODAY THE DECISION TO REMAI

INDEPENDENT HAS CLEARLY PAID OFF

FOR BARNARD.

IN MANY WAYS, BARNARD STUDENTS

GET THE BEST OF BOTH WORLDS,

SMALL LIBERAL ARTS COLLEGE WIT

RESOURCES OF IVY LEAGU

INSTITUTION.

64% OF THE FACULTY IS FEMALE

COMPARED TO 38% NATIONALLY

MORE THAN 2,000 STUDENTS ATTEN

BARNARD FROM 49 STATES

THE SCHOOL DRAWS INTERNATIONAL

STUDENTS FROM 41 COUNTRIES

AROUND THE WORLD

>> RIGHT NOW WE HAVE A LARGE

NUMBER OF STUDENTS ARE FRO

SOUTH ASIA, PAKISTANIS

WHATEVER THE MOST IMMIGRANT WAVE

IS TO NEW YORK CITY, WE SEE THEM

IN OUR CLASSROOM

>> PRESIDENT SPAR SAYS WHAT'

MOST REMARKABLE TO WITNESS I

CHANGE IN STUDENTS BETWEEN MOV

IN DAY AND GRADUATION DAY.

>> I SEE THE GIRLS COME IN THE

DOOR AT 18

THEIR WONDERFUL, EXCITED

ENERGETIC.

THEY'RE YOUNG AND INSECURE A

MOST 18-YEAR-OLDS ARE.

BY THE TIME THEY GRADUATE AT 22,

EVERY STUDENT CAN STAND UP I

FRONT OF THE ROOM AND TALK ABOUT

HER DREAM, EDUCATION

>> TO FOSTER THAT BELIEF, IN

2009, SPAR LAUNCHED THE ATHENA

CENTER TO TEACH FEMALE STUDENT

TO RUN ORGANIZATIONS

>> THE STUDENTS CAN TAKE PART IN

PUBLIC SPEAKING, FUND RAISING,

TEAM MANAGEMENT.

HARDCORE LEADERSHIP SKILLS THA

SERVE THEM QUITE WELL AS THEY GO

OUT IN THEIR LIVES AND CAREERS

>> THE SMALL CLASS SIZES HELPS

STUDENTS TO FIND THEIR VOICE

>> THAT'S WHERE YOU LEARN TO

SPEAK IN A CLASSROOM AND NOT B

AFRAID OF GIVING YOUR PERSON'S

NOT GUILTY ON SOMETHING THAT'S

IMPORTANT.

THAT SHAPED THE REST OF MY

CAREER

YOU GO IN CLASSES WITH NO SENS

OF FEAR.

>> IN A CONSTRUCTIVE WAY

BARNARD STUDENTS ARE NOT AFRAI

TO MAKE THEMSELVES HEARD IN TH

CLASS ROOM

IN THE ALL WOMEN'S ENVIRONMENT

SOMETIMES HELPS STUDENTS COM

OUT OF THEIR SHELLS A LITTLE AND

CONTRIBUTE TO THOSE DISCUSSIONS.

>> I LOVE BEING IN A CLASSROOM

WITH ONLY BARNARD WOMEN.

THINGS THAT HAPPEN MOVE TH

CONVERSATION

>> BARNARD'S ENGLISH PROGRAM HAS

MANY DISTINGUISHED WRITERS

THE WRITER OF "THE TRAVELING

PANTS" AND AUTHOR OF"CLAIRE OF

THE SEA LIGHT.

>> BARNARD REPRESENTS TH

LEADING EDGE IN TERMS OF WHAT'

GOING ON IN THIS WORLD

HOW ARE WE THINKING ABOUT IT AND

WHAT DOES IT POINT TO TH

FUTURE

>> WOMEN'S PROGRESS IS MORE THAN

A MATTER OF MORALITY

>> BEST SELLING AUTHOR AND

FACEBOOK EXECUTIVE CHERY

SANDBURG LEANED IN WHILE

SPEAKING AT BARNARD.

>> YOU'RE GOING TO LEAN WAY INTO

YOUR CAREER.

YOU'RE GOING TO FIND SOMETHING

YOU LOVE DOING AND DO IT

>> PRESIDENT BARACK OBAM

OFFERED THE CLASS OF 2012 THES

WORDS OF WISDOM DURING HIS

COMMENCEMENT ADDRESS

>> DON'T JUST GET INVOLVED

FIGHT FOR YOUR SEAT AT THE

TABLE.

BETTER YET, FIGHT FOR A SEAT A

THE HEAD OF THE TABLE.

>> AND OPRAH WINFREY VISITED

CAMPUS TO TAPE A SHOW TO

CELEBRATE THE LEGENDARY GLORIA

STEINEM.

>> I WAS FORTUNATE ENOUGH TO B

A PART OF THAT AUDIENCE.

I WAS PROUD OF HOW MAN

DIFFERENT TYPES OF WOMEN WER

REPRESENTED IN THAT ROOM

YOU GET THE SENSE OF A HOLISTI

EXPERIENCE

WOMEN THAT WANT TO TAK

OWNERSHIP OF WHO THEY ARE, D

THING, MOVE FORWARD.

LEARNING ISN''T LIMTED TO THE

CLASSROOM.

NEW YORK CITY, AN ACADEMIC AND

CULTURAL MECCA SERVES AS

EXTENSION OF THE CAMPUS.

MANY PROGRAMS INCORPORATE AL

THE CITY HAS TO OFFER LIKE THE

CURRICULUM AND DANCE DEPARTMEN

THAT GIVES STUDENTS TH

OPPORTUNITY TO TRAIN

>> THESE STUDENTS, I HAVE SUCH A

HUNGER TO BE INVOLVED IN THE

CREATIVE PROCESS AND PUT

THEMSELVES LITERALLY INTO TH

WORK

IT'S REALLY IMPORTANT FOR ME T

SHARE AND CREATE THE ATMOSPHER

OF THE ENVIRONMENT OF

PROFESSIONAL ENVIRONMENT

>> MANY BARNARD STUDENTS HAV

MADE IT IN SHOW BUSINESS

PARENTHOOD STAR LAURN GRAHAM WAS

CLASS OF '88

YOU MAY SEE ANOTHER STUDENT THAT

APPEARED ON BROADWAY

>> WHEN I APPLIED TO THE SCHOOL,

I SAID SAVE MY APPLICATION

BECAUSE NEXT YEAR I'M GOING TO

APPLY AS A TRANSFER STUDENT AN

SAVE A STEP.

I GUESS THAT WORKED.

>> SHE SAVED TIME IN THE THEATER

DEPARTMENT

SHE WASN'T CAST IN A PART UNTI

HER SENIOR YEAR.

INSTEAD SHE WAS ENCOURAGED T

WRITE AND DIRECT

>> AT ANOTHER SCHOOL THAT'S WHAT

GUYS DO.

OH, I CAN WRITE A PLAY

I FELT BECAUSE IT WAS A WOMAN'

COLLEGE, IT ALLOWED ME TO BE

ARROGANT AS I WANTED TO BE

>> YOU'RE ENCOURAGED TO SPEA

UP, SPEAK OUT, COMPETE

>>> SINGER/SONGWRITER SUZANNE

VEGA, WHO GRADUATED IN 1981,

CREDITS BARNARD FOR TEACHING

HER TO WRITE IN CHARACTER.

>> THAT SEED CONTINUED

THROUGHOUT MY LIFE

THE ISSUES OF HOW TO PRESENT THE

LIFE ON A STAGE.

THAT REALLY BEGAN THERE.

>> SHE PLAYED ONE OF HER FIRST

GIGS WHILE A STUDENT

>> THAT WAS A REAL THRILL.

THERE WERE A FEW THOUSAND PEOPLE

CRAMMED IN THERE

>> THE BARNARD HANGOUT IS IN ONE

OF HER BEST KNOWN SONGS,

"TOM''S DINER.

IT'S ABOUT THE RESTAURANT ON

BROADWAY LATER MADE FAMOUS B

THE TV SHOW "SEINFELD.

I PICKED IT BECAUSE IT HAD A

STRAIGHT FORWARD NEW YOR

APPEAL

>> BARNARD HAS EDUCATED A LOT OF

SUCCESSFUL SCIENTISTS.

THE SCHOOL PRIDES ITSELF O

BARRIERS TO FIELDS TRADITIONALLY

DOMINATED BY MEN

>> I DIDN'T THINK THERE WA

ANYTHING WEIRD ABOUT A YOUNG

WOMAN DOING SCIENCE.

THAT WAS FINE FOR ME

>> JACKIE BARTON TOOK HER FIRS

CLASS IN BARNARD LAB

SHE'S WINNER OF THE PRESTIGIOU

NATIONAL MEDAL OF SCIENCE.

>> THE COLLEGE NURTURES YOUN

WOMEN SCIENTISTS

YOU'RE NOT AFRAID TO GO OUT, DO,

BE WHAT YOU WANT TO.

>> ONE OF THE THINGS THAT'S PART

OF THE CULTURE IS THERE ARE NO

BARRIERS

NOBODY IS GOING TO TELL YOU,

DON'T DO THAT.

THAT'S NOT FOR YOU

NOBODY IS GOING TO TELL YO

YOU'RE NOT GOING TO BE THE

STRONGEST WOMAN IN THE CLASS O

WOMEN ARE AT THE BOTTOM.

IT REMOVES THAT SUBJECT.

IT WASN'T PART OF TH

CONVERSATION

>> EVEN TODAY AFTER 125 YEARS,

BARNARD IS STILL FACED WIT

QUESTIONS ABOUT RELEVANCE IN THE

21st CENTURY

A 2013 EDITORIAL IN TH

NEWSPAPER ASKED WHY THE TW

SCHOOLS DON'T MERGE.

>> I HAVE A STUBBORN VIEW ON THE

QUESTION OF BARNARD'S RELEVANCE.

I DON'T THINK IT'S A QUESTION WE

NEED TO ASK.

NOBODY GOES UP AND SAYS HOW DO

YOU DEFINE THE RELEVANCE OF

COLLEGE IN NEW HAMPSHIRE

IT'S JUST A COLLEGE.

>> YEAR AFTER YEAR, DECADE AFTER

DECADE, PEOPLE SAY WHY WOMEN'S

COLLEGES

THEY BRING SOMETHING DIFFERENT

AND VALUABLE TO THE TABLE.

I AM DAY-TO-DAY LIVING PROOF O

THAT

I DON'T THINK THERE'S AN

QUESTION THAT THE CONSTANT

QUESTIONS OF THE EXISTENCE O

WOMEN'S COLLEGES IS SEXISM, PURE

AND SIMPLE

>> SIMPLE PUT, YOU NEED TO LOO

NO FURTHER THAN THE GROWIN

DEMAND FOR SPOTS

>> AT ANY POINT STUDENTS ARE N

LONGER INTERESTED IN APPLYING AT

BARNARD, THEY'LL VOTE WITH

APPLICATIONS

THE QUESTION OF RELEVANCE IS

ANSWERED AS OUR APPLICANT POOL

CONTINUES TO GROW.

>> AN EXPANSION SEEN ON CAMPUS

TOO.

ONCE AGAIN, A BUILDING PROJECT

HELPED RESHAPE BARNARD WHEN IN

2010 THE DIANA CENTER OPENED

DOORS.

IT'S A STUDENT HUB THAT HOW HA

CAVES, ART GALLERIES AND A

PERFORMANCE SPACE.

>> LITERALLY AND FIGURATIVELY.

THE BUILDING IS ALMOST ENTIREL

CONSTRUCTED OF GLASS

IT OPENS THE CAMPUS TO BROADWA

IN A WAY THAT HAD NEVER BEEN

POSSIBLE BEFORE.

>> A VIBRANT CAMPUS IN THE

MIDDLE WHERE STUDENTS KICK BAC

ON THE LAWN BETWEEN CLASSES AN

TWEET ABOUT THE ICONIC MAGNOLI

TREE

IT'S ONE SIGN OF BARNARD'S

SCHOOL SPIRIT.

THERE ARE STUDENT RUN EVENTS

WHEN STUDENTS HELP BUILD AND EAT

A ONE MILE LONG SANDWICH THA

STRETCHES ACROSS CAMPUS.

AND TAKE BACK THE NIGHT, A MARCH

AND RALLY HELD EVERY APRIL

>> TAKE BACK THE NIGHT IS ABOU

BASICALLY SAYING WE'RE TAKIN

CONTROL OF THIS ISSUE AS THE

STUDENTS HERE AT BARNARD

WE WANT TO SAY THAT WE HAVE TH

ABILITY TO STOP SEXUAL VIOLENCE.

THAT'S A VERY EMPOWERING

UNDERTAKING.

IT'S A POWERING APPROACH TO TH

ISSUE.

>> PERHAPS THE MOST POPULAR IS

MIDNIGHT BREAKFAST HELD NIGH

BEFORE FINALS EACH SEMESTER.

STUDENTS ARE SERVED BREAKFAST BY

FACULTY AND ADMINISTRATION

>> IT'S A PARTY.

STUDENTS ARE DANCING AROUND.

MUSIC IS LOUD.

THEY'RE EATING MOR

CARBOHYDRATES THAN APPROPRIATE

BUT IT'S A LOT OF FUN.

IT'S REALLY GREAT BECAUSE A LO

OF PEOPLE COMPLAIN AT THEI

SCHOOLS THEY FEEL A DISTANCE

BETWEEN THEMSELVES AND THE

ADMINISTRATION

WE SAY OUR DEAN CATERS TO US

NIGHT BEFORE FINALS.

THAT'S PRETTY COOL

>> PERSONAL ENCOURAGEMENT AT THE

ESSENCE OF THE BARNARD

EXPERIENCE

>> COMING TO BARNARD IN MANY

WAYS WAS UNFAMILIAR.

TO STEP INTO THIS ENVIRONMEN

AND TO HAVE SO MANY AMAZING ROLE

MODELS WHO LOOKED AT ME ON A

DAILY BASIS AND SAID, YOU CA

ACHIEVE WHATEVER IT IS THAT YO

DESIRE TO ACHIEVE, WAS POWERFUL.

>> A POWERFUL MESSAGE FOR SO

MANY WOMEN WHO GRADUATED FRO

BARNARD COLLEGE OVER THE LAS

125 YEARS.

>> WHAT BARNARD DID WAS GAVE M

CONFIDENCE IN MY INTELLECTUA

ABILITY.

IT WAS ONE THING TO THIN

OUTSIDE THE BOX.

IT'S ANOTHER TO THINK OUTSID

THE BOX AND MAKE SURE IT WORKS

>> I CAN'T REMEMBER HOW MANY

YEARS AGO IT IS THAT I

HAZARDOUSLY WROTE WHEN I MAJORED

AT BARNARD IT WAS IN I'M NOT

AFRAID

THEY ASK STUDENTS TO EXPLAIN

THAT NOW

SO MUCH OF WHAT HOLDS WOMEN BACK

IS I CAN'T, I CAN'T, I CAN'T

WHEN I CAME HERE, IT WAS I CAN

>> OUR ALUMNI HAVE GONE OUT AN

LEFT A MARK.

EACH ONE MAJORED IN UNAFRAID

THEY HAVEN'T FOLLOWED TH

UNTROTTED PATH

THEY CREATED THEIR OWN PATH.

>> I RECEIVED MY DEGREE IN 1988.

AFTER THE CEREMONY I SCOOTED

DOWN IN THE SUBWAY IN CAP AN

GOWN AND OFF TO MY MATINEE

PERFORMANCE AS JULIETTE IN ROMEO

AND JULIETTE

I'M CYNTHIA NIXON.

THANK YOU FOR WATCHING TREASURES

OF NEW YORK, BARNARD COLLEGE

THIS PROGRAM IS MADE POSSIBLE BY

THE CHERYL AND PHILLIP

MILSTEIN FAMILY,

AND DIANA AND ROY VAGELOS.