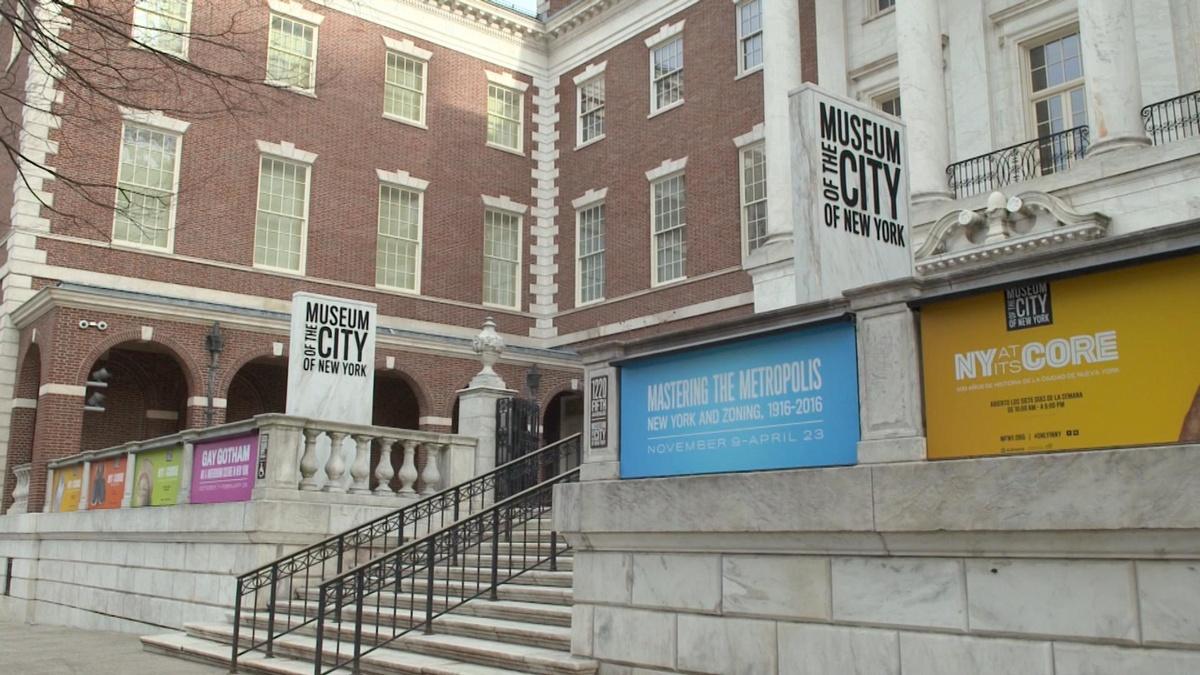 FULL EPISODE
Museum of the City of New York
Treasures of New York: The Museum of the City of New York showcases the nearly 100-year history of the museum from its first days operating out of Gracie Mansion to the recent opening of its ambitious new permanent exhibition, New York at Its Core. Since its founding, the museum has worked to display, explore and celebrate New York City's past, present and future.
TRANSCRIPT

♪♪

>> A museum with an ambitious

mission -- telling the story of

New York City.

>> There's nothing like this in

the entire city.

>> It's a very big mandate, yes.

>> As the Museum of the City of

New York approaches its

centennial, its team of

world-class curators,

historians, and tech innovators

put together something magical.

>> The idea is to make history

come alive.

>> It's challenging.

>> Daunting.

It was very daunting.

>> It's huge.

>> Go behind the scenes of a new

permanent exhibit, telling the

sweeping and complex story of a

great city.

Next, in "Treasures of

New York," Museum of the City of

New York.

This program is made possible by

the Jerome L. Greene Foundation.

From its perch near the top of

Museum Mile, on 5th Avenue and

103rd Street, the Museum of the

City of New York has maintained

a single goal since its founding

in 1923.

>> This museum is dedicated to

displaying and celebrating

New York City's past, present,

and future.

>> The museum originally

operated in Gracie Mansion.

An early exhibit on old New York

was such a smash success that

founders sought a new home.

Architect Joseph Friedlander

created the grand neo-Georgian

building where the museum is

still housed today.

>> We're on city land and we

were designed, always, to be a

museum.

And we have been the only museum

who's inhabited this space.

>> The museum hosts a collection

of 750,000 objects, photographs,

and works of art notably

the 19th century

Stettheimer Dollhouse, that

brings to life New York's

Gilded Age in miniature,

valuable artifacts from the

city's police and fire

departments, and 3,000

lithographs by Currier and Ives.

>> The museum is such an

important portal to the history

of New York for so many people,

from school kids to tourists to

long-term residents of New York.

>> The museum's commitment is

to look at the past, present,

and future of the city and to

see that continuing dialogue

between the past and the

present.

>> Its world-class team of

curators has tackled a wide

variety if subject matter.

>> Everything from baseball to

environmental history, from

architecture to paintings.

>> Starting in 2005,

Susan Henshaw Jones, who led the

museum as its director for

12 years, began planning for

something broader, bigger.

The first step?

A complete renovation of the

historic building.

>> It was worked on inch by

inch, floor by floor.

Space was reconfigured, a

gallery space was added, with

the vision that there would be

some kind of a permanent, core

exhibition about the history of

the city.

>> A team led by then-director

Henshaw Jones and, later, by her

successor, Whitney Donhauser,

would reimagine the whole

museum, weaving together

elements of the massive

collection and many past

displays into an

8,000-square-foot exhibit

occupying the museum's entire

ground floor.

>> The goal of

"New York at Its Core," is to

present 400 years of

New York City history, starting

from when it was a thriving

Dutch village to when it became

the capital of the world, and to

even show the present-day, as

well as contemplating the

future.

>> Creating the three-gallery

"New York at Its Core" exhibit

would be a painstaking five-year

challenge.

>> How do you boil down the

whole history of New York?

>> To help answer that question,

the exhibit's lead curators,

Sarah Henry and Hilary Ballon,

were joined by a team of

scholars, history and

urban-affairs experts from top

universities in and out of the

city.

Working with museum staff, the

scholars integrated their own

original research with the

museum's vast collections to

develop a narrative of New York.

>> It was an enormous task.

And it was enormous because

everything you say could be told

a different way.

>> It's a problem that we always

have as historians.

It's very difficult to cram it

all in.

So it's a constant process of

selection.

>> The important point at the

beginning was to try to develop

themes.

>> Themes that could stretch

across several centuries.

♪♪

>> The scholars came up with

four themes essential to

New York City through its four

centuries -- money...

>> New York started its history

as a for-profit enterprise by

the Dutch West India Company,

and from the beginning, it was a

money town.

>> ...density...

>> There's so many people

pivoting around each other.

They all want their piece of the

pie.

Some get it, some don't.

>> ...diversity...

>> Diversity has existed in this

city from the very beginning,

and that it is a powerful driver

for the city and helps us change

and move and make advancements.

>> ...and creativity.

>> That improvisation that

happens amongst people who are

of different backgrounds and

cultures.

>> The relevance of these

characteristics to modern

New York is obvious.

But the new exhibit aims to step

back in time to show the role

they played in the city's

evolution.

Take diversity.

The 1,500 people who made

New Amsterdam their home in 1664

spoke a total of 18 languages.

And density?

New York was jam-packed from the

start, bringing epidemics and

fires, but also spurring

innovation -- New York's classic

grid of streets and avenues, our

massive aqueduct system, and our

world-class parks.

The team would build on these

four core concepts in the

exhibit's two historical

sections -- Gallery 1,

stretching from Dutch settlers's

arrival in New York to the turn

of the 20th century, and

Gallery 2, taking the story from

1898 all the way to the present

day.

The third gallery would be a

high-tech interactive space

encouraging visitors to imagine

New York's future.

>> You're also trying to figure

out how you get that story to

visitors, how you make it

accessible to them.

>> We've all worked together,

but that didn't mean we always

agreed on everything.

>> There were things we

consistently disagreed about,

and they all had to do with this

question of balance -- balance

between what's going on in

Staten Island and what's going

on in Midtown, balance between

what's going on for mainstream

urban politicians and what's

going on for our community

groups.

>> One area of consensus did

emerge quickly.

Like a book or movie,

"New York at Its Core" should be

character-driven, an exhibit

about the people of New York.

They selected 75 New Yorkers.

Some are familiar, like

Peter Stuyvesant, who led and

expanded the city in its Dutch

colonial days, but fought to

keep out Jews, Quakers, and

other so-called heretics, and

Alexander Hamilton, founding

father and current rock star,

the driving force behind the

Bank of New York, who united

former Revolutionary War foes to

support the endeavor.

>> So much of the history that

many of us have been researching

over the past decades are the

stories that have not been told,

the groups of people that have

kind of been left to the margins

and sides.

>> Like a slave, his name

unknown, who escaped his owners,

the Livingston family...

>> The New York and New Jersey

newspapers were filled with

advertisements for fugitive

slaves.

And, so, Livingston's Runaway

Slave stands in for, you know,

the hundreds and thousands of

voiceless, faceless, and

somewhat nameless people who

were, in fact, the basis of the

economy in New York.

>> ...Felix Varela, a Cuban

priest who ministered to Irish

New Yorkers...

>> Felix Varela went to school

in Cuba, entered the priesthood,

and when he arrived in New York,

he ended up as this Cuban priest

ministering to the newly

arriving Irish immigrants, who

were fleeing poverty back home.

>> ...Helen Jewett, a

prostitute, whose murder

bolstered the newspaper

industry.

>> Helen Jewett -- she was a

famous prostitute, who gained

real notoriety after her death,

because she was murdered in a

sensational crime.

And within a space of less than

five years, the circulation of

the New York City papers more

than quadrupled.

>> ...Emily Roebling, an

overlooked builder of the

Brooklyn Bridge...

>> We're used to hearing about

the Brooklyn Bridge from the

point of view of John Roebling,

Washington Roebling.

The figure here is

Emily Roebling.

She takes over when her husband

becomes ill.

She becomes fairly expert at

doing many of the things that he

did as an engineer for the

bridge, this massive bridge that

captures our imagination even

today.

>> ...Wong Chin Foo, a founder

of the Chinese-American press...

>> Wong Chin Foo was an early

spokesman for New York's

Chinatown.

This population was facing a lot

of discrimination because of the

perception that they were taking

away jobs or undercutting.

And so Wong Chin Foo started

publishing his own newspaper.

He gave speeches.

And he really took on the

stereotypes that were being

lobbed at the Chinese community.

>> ...and Philip Payton, a key

force for developing a thriving,

diverse neighborhood.

>> Philip Payton was an

African-American Realtor, who

developed much of Harlem for

African-Americans in the early

20th century.

>> Along with the human

characters, the team chose

animals which helped shape city

history, like oysters, a cheap

source of food with shells which

could be burned down for lime

and construction, and pigs, once

used to eat garbage on the

streets.

>> We think urban.

We didn't think that there

should be livestock running

around on the street.

And it may be surprising that

they were.

>> As the exhibit's characters

and concepts begin to take

shape, a separate team of

specialists research an array of

objects for display, some from

the museum's extensive

collection, others tracked down

from around the world, like a

sculpted club carved by

New York's original inhabitants,

the Lenape Indian tribe...

>> I'm charmed by the Lenape

club we are borrowing from

Sweden and will be returning to

New York for its first time.

>> It's an incredibly eloquent

object.

>> ...pottery and other

artifacts from Seneca Village,

a community of freed slaves, who

once lived in what is now

Central Park...

>> Artifacts from

Seneca Village, the 19th century

settlement of the free black

community, a real anchor of the

free black community, with

schools and churches in

New York City in the

19th century, which was

destroyed to make Central Park.

>> ...accessories which belonged

to William "Boss" Tweed, the

notorious politician who

controlled city hall in the

mid-19th century.

>> Boss Tweed's walking stick

with a gold-headed tiger as its

handle.

>> William "Boss" Tweed sort of

captures a moment in New York

history and allows you to sort

of look into the creation of the

rise of the political machines

of the 19th century.

>> ...and a beer mug decorated

with intolerant messages,

connecting the past to the

present.

>> It had phrases on it and

images that were anti-Catholic.

In that period and for a good

century beyond, Catholics were

the feared religion.

It immediately put me in the

context of thinking about the

campaign against Muslim in the

contemporary world.

>> There's a question of whether

it's after-hours.

>> The museum is known for its

experienced curators and

researchers, who assemble such

objects.

The ambitious "Core" exhibit

requires an expanded team.

>> We have A.V. integrators,

computer interactive designers,

people who are designing maps,

animators who are dealing with

the computer games.

>> People who specialize in

handling objects and conserving

objects.

>> Specialists like sculptor and

conservator Chris Piazza.

In her workshop in a Brooklyn

carriage house, Piazza is

restoring some of the museum's

most precious objects, like this

miniature chandelier once eyed

by Audrey Hepburn in that

classic opening scene of

"Breakfast at Tiffany's."

>> Oh, it's marvelous.

You know, I get the sense that

I'm really helping this dear

little thing come back.

It's been in storage for many

years.

It has some breaks in the wire.

It needs very much to be

cleaned.

>> Using a Q-TIP dipped in water

and mild detergent, Piazza will

spend days delicately buffing

the piece, crystal by crystal.

And she'll research materials to

find the closest possible

replacements for crystals that

have gone missing over the

years.

>> Well, my job is to make it

look as good as it can look for

the exhibition -- not to

disguise its age, not to alter

it in any way, but to repair

anything that really critically

needs to be repaired.

>> It might sound tedious, but

for Piazza, this work is a

calling and a privilege.

>> There's an extraordinary

power that inanimate objects

have.

This little chandelier sums up

so much about mid-century

New York.

It sums up its glamour and its

beauty, 5th Avenue, the center

of Manhattan, whimsy, the

burgeoning art world at that

time, the post-war enthusiasm.

There's something about this

little thing that, when you look

at it, it's just so surprisingly

hopeful.

>> While dusting off relics of

the city's past, the museum also

looks to the future,

incorporating cutting-edge

technology into the exhibits.

A team of digital innovators

from the design group

Local Projects develops these

new high-tech elements.

>> So, one of the more amazing

parts of this is that it

operates much more like a

website than a static museum

exhibit.

We have this big wall, right?

>> Forget old-fashioned museums,

where you're roped off from the

action.

Local Projects' touch screens

will allow museum-goers to

interact with the stories

directly.

>> So, all of the materials that

are actually inside of here,

from these images to some of the

maps and some of the slide

shows -- these are all

dynamically generated by the

curators.

>> Designers with the futuristic

sensibility would prove

especially useful in creating

Gallery 3 of

"New York at Its Core," the

Future City Lab.

It's a high-tech, interactive

space where visitors can dream

up their own cityscapes and see

them come to life on a colossal

screen.

>> The Future City Lab, which is

kind of an unprecedented

exhibition in any city museum,

to really think about, "How does

the city face the big challenges

over the next generation or

so?", is so telling about the

ambition of the museum.

This is the Future City.

>> The ambition?

Inspiring visitors to help

create solutions to challenges

facing the city through the

21st century.

>> Palm trees have come to

New York because of climate

change.

>> Just like the city it

represents, the museum is

ever-evolving.

The Future City Lab -- and all

of New York at its core --

expands on themes introduced in

previous favorite exhibits, like

"Robert Moses' New York" and

"The Greatest Grid."

>> So, welcome to the Museum of

the City of New York.

>> As part of reimagining the

museum's role in the city, its

event schedule has been ramped

up, like this presentation where

an acclaimed soprano sang from

an Italian opera that inspired

Walt Whitman's poetry...

>> [ Singing in Italian ]

>> Walt, come on up.

>> ...boosted by some commentary

from Whitman himself.

>> It must have been about 1829

or '30 that I went with my

father and mother to hear

Elias Hicks preach in a ballroom

in Brooklyn Heights.

>> And the museum has started a

new summer tradition called

Uptown Bounce.

>> We have up to 1,500 people

dancing on our terrace, going

through our galleries.

We really open the door to our

communities.

And it's really just a vibrant,

fun party.

>> It's what the Museum of the

City of New York does so well --

making an institution of

learning accessible and fun.

Another priority?

Connecting the new, permanent

exhibit with a host of special

short-term offerings.

>> When you think of the

exhibitions that are up right

now, 100th anniversary of the

zoning resolution -- that's all

about density.

When you think about creativity

and diversity, think about

"Gay Gotham."

>> The vibrant "Gay Gotham"

exhibit, showing how the LGBTQ

community both shaped and was

shaped by the city's history,

was timed to coincide

with the opening of

"New York at Its Core."

Each display and video screen in

the new exhibit has been

carefully orchestrated.

But as curators count down to

the opening, there's still room

for unexpected delights.

>> One of my favorite moments of

working on an exhibition is when

the objects start to arrive.

We've seen them together on our

spreadsheets and on the

renderings of our gallery

spaces, but we've never seem

them physically together until

those boxes start to arrive.

>> Just four weeks before

"New York at Its Core's" start

date, one of the exhibit's most

prized artifacts is wheeled into

Gallery 1 -- the 17th century

wooden club carved by the Lenape

Indians, Manhattan's original

inhabitants.

>> After you.

>> Yes, please.

Oh, man. There it is.

>> It is so cool.

>> Hi.

That inlay, I --

>> The inlay is fascinating.

>> Yeah.

>> Really...

And then there's the foot of

the --

>> Oh, see, that I never knew

was -- Oh, my God.

It's almost like seeing a

celebrity, who you know their

picture, but you've never seen

them in the flesh and then they

arrive.

>> For the curators, this

celebrity sighting is a reminder

of the power of precious objects

to spark new perspectives on

history.

>> We always talk about

Henry Hudson discovering the

Indians.

Well, the Lenapes, just as

surely, discovered Henry Hudson

when they looked out one day,

fine day, in September of 1609

and saw this thing, which, in

their later recorded lore, is

described as a huge house

floating towards them.

And it's got people in it.

>> That floating house, actually

a Dutch ship, called the

Half Moon, will be represented

in the exhibit, too, by a

detailed replica.

It's just one of more than

450 artifacts to be displayed,

pieces that, just like the

Stettheimer Dollhouse and

Currier and Ives lithographs,

can be seen nowhere else.

Museum leaders are confident

they've designed something

spectacular.

>> Oh, this was an

all-hands-on-deck project for

everybody at the museum.

Everybody knew we had this

future that we were building

towards and everybody worked

very hard on it every single

day.

>> All to create the right mix

of materials, characters, and

text to reflect the sustained,

frenetic energy that has always

been at New York's core.

>> You cannot sit still in this

city.

You do not stop for lunch.

You do not look people in the

eye in the street.

You move on and you don't stop.

>> The fact that people don't

stop at traffic lights when

they're walking.

>> Even if they're on bikes, not

wearing bike helmets.

>> I find I do it, too.

I mean, I -- And I said, "What

am I doing?"

I'm following the buzz.

>> My European friends say, "Oh,

you're arguing all the time."

I said, "I'm not arguing.

That's a conversation in

New York."

>> There's that quote by

John Adams about how New Yorkers

don't stop moving, and they talk

loudly altogether, all at once.

>> As we do now.

We're all trying to talk.

>> Adams said, of New Yorkers,

"If they ask you a question,

before you can utter three words

of your answer, they will break

out upon you again and talk

away."

>> When people walk through the

exhibit, you know, it's not

gonna be John Adams they're

hearing, but there is, in fact,

a kind of image of New York and

a stereotype of the New Yorker,

which is not unfair, which shows

up and actually is one of the

threads that carries throughout.

>> As the construction and

cleaning crews do their final

buffs and polishes, the whole

exhibit team brims with

excitement...and just a little

trepidation.

>> It's just one of those

moments as you're about to face

the finish line, where you

think, "Gosh, I wish I had one

more week, you know, to get it

done."

>> Finally, five years after

preparations for the exhibit

began and 93 years after the

museum was founded,

"New York at Its Core" is ready.

[ Cheers and applause ]

>> At long last, New York, like

so many other world cities, has

a major exhibition about itself.

>> The holy grail for all who

are interested in understanding

the rich history of

New York City.

>> And I think kids who read

history in a book think that

it's dead.

It's not real.

It's not alive.

When you come to a museum, you

understand that history's about

people.

>> We think this will be the

hottest ticket in town.

>> And with that, the

"New York at Its Core" exhibit,

the new centerpiece of the

Museum of the City of New York,

opens to the public.

Both locals and tourists from

far and wide begin to stream in.

>> We really want our visitors

who come to see

"New York at Its Core" to deepen

their understanding of New York.

It's a celebration, but it's

also really an investigation

about that undefinable thing --

what makes New York New York?

>> And when immigrants came to

this country, did they see the

Statue of Liberty welcoming them

to a new world?

>> Yeah.

>> Yes.

>> I think that that's the

purpose of museums -- to give us

an opportunity to go and find

things about ourselves through

carefully chosen and displayed

objects that belong to all of

us.

>> Who's this artist, Kaia?

>> Oh, yeah.

>> Who is that?

>> Jackson Pollock.

>> Yes. Jackson Pollock.

>> Just as curators hoped, the

objects they worked so hard to

gather are bringing New York's

story to life.

>> So, in school, I'm learning

about Boss Tweed, and they

showed his cane, his cuffs.

It's kind of, like, something

that I'm interested in, so it

kind of intrigued me a little

more to see it.

So it's, like -- It's good that

I finally got to see, like, how

his lifestyle actually was.

>> It's kind of interesting how

they were able to save that

online.

>> I really love this.

It keeps you moving.

You keep moving from one place

to the other.

And I love this over here with

the swipe thing.

That's great.

>> The power of interactive

video is most clear in the

Future City Lab, where the giant

installation allowing visitors

to design their own New York, is

a runaway hit.

>> Do you think families also

would enjoy farm-to-table

restaurants?

>> Yeah.

>> They grow their own

vegetables.

>> Where do you want to put it?

>> Every kid is familiar with

iPads, and it's just giving them

a sense of what you can actually

do, other than video games.

So, we've come here many times,

but this is the freshest it's

ever felt and the most engaging

for our kids.

>> As it approaches its

centennial, the Museum of the

City of New York has developed

into one of the city's most

vibrant cultural institutions.

And with the

"New York at Its Core" exhibit,

the museum inspires visitors to

reconnect to the city's storied

past and envision its future.

>> Visitors will change their

perception of the city.

>> I hope, for visitors, the

exhibit is challenging.

I hope it it challenges them to

think about New York

differently, to think about

their own place in New York

history differently, and to

think about museums differently.

>> I hope that our visitors will

come away with a sense of their

responsibility and opportunity

to shape the present and the

future.

>> History matters.

History is something that's not

just in a dry, dusty textbook

full of boring facts, but

history lives, in that there are

histories to everything.

I want them coming out thinking,

"I love New York."

>> This program was made

possible by the

Jerome L. Greene Foundation.