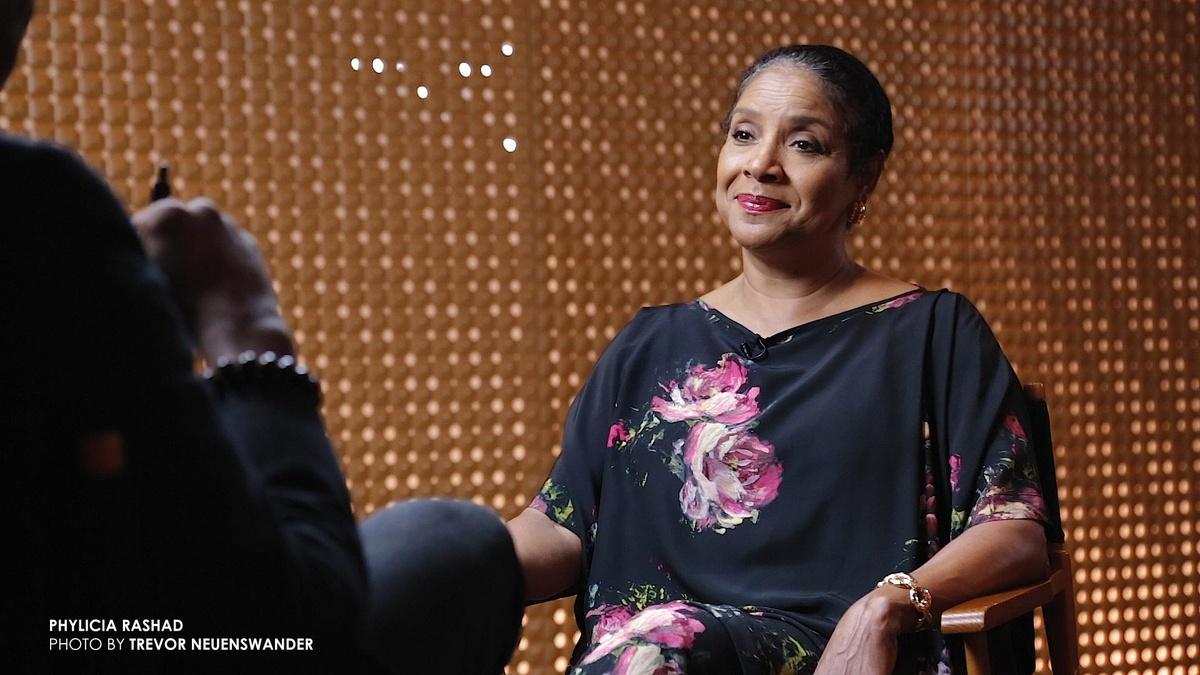 FULL EPISODE
Sheldon Epps and Phylicia Rashad
Today, we sit down with two legendary figures in the entertainment industry, director Sheldon Epps (Frasier, Girlfriends) and Phylicia Rashad (The Cosby Show). Epps discusses his tenure at the Pasadena Playhouse, his favorite pieces he directed, and what it takes to tackle important issues through art. Rashad provides her advice to young actors and details her first acting experience.
TRANSCRIPT

male announcer: Major fundingfor "Theatre Corner" is provided

by UC San Diego.

♪♪♪

announcer: And by The Westgate Hotel.

♪♪♪

announcer: La Jolla Alcohol Research, Incorporated.

♪♪♪

announcer: Cygnet Theatre.

♪♪♪

announcer: And viewers like you.

Thank you.

♪♪♪

Michael Taylor: Hi, welcome to "Theatre Corner."

I'm your host, Michael Taylor.

As a lifelong theater enthusiastand a board member for one of

the top theaters in the country,I've seen firsthand the positive

effects that diversity and inclusion could have on the

stage and the theater seats.

This interview series was created as a way to share my

passion for theater and promotediverse voices throughout the

national theater scene.

We sit down with some of the top professionals in the

entertainment industry to discuss training, careers,

advice for young actors, and howto make theater matter to

more people.

Today I had the opportunity to sit down with two legendary

figures in the entertainment industry, Sheldon Epps and

Phylicia Rashad.

Sheldon Epps served as the artistic director at the

Pasadena Playhouse for over 20years and directed TV shows such

as "Friends," "Frasier," and "Everybody Loves Raymond."

We sat down in the PasadenaPlayhouse library to discuss his

tenure, favorite pieces, and tackling important issues

through art.

So silence your cell phones, folks.

You're entering "Theatre Corner."

Michael: It is such an honor to have you here on

"Theatre Corner."

I really appreciate you, youcomin' to come visit a brother.

Sheldon Epps: Thank you, my pleasure to be here.

Michael: What's goin' on right now as you're ending a

20-year tenure here at the Pasadena Playhouse?

Sheldon: Yes, I started whenI was 15, so--sometimes I think

about it, and I'm not reallysure how I got to two decades in

one place and running a theaterinstitution, but it's a source

of a lot of pride.

I landed here the week after I left San Diego, and I always

intended to, sort of, do it in five-year increments.

Well, I'll go for five years,and after the first five years,

I decided to stay for another five, and somehow those fives

all added up, and I find myselfat the end of a 20-year tenure,

which is--these days in the American theater, after the

founding fathers of these theaters, who stayed for 25

years, 35 years, most people don't stick around quite that

long in one place, so I'm proudof the fact that I've hung in

there for better and for worse for all this time.

Michael: During this time, you're still doing tons

of television.

How are you balancing all of that?

Sheldon: I don't know, Michael.

I don't know.

Sometimes when I look back on those days, my first 10,

12 years here, when, in fact, Iwas running the theater and also

had a busy television career, doing situation comedies like

"Friends" and "Frasier," and for 5 years, I was the primary

director and producer of"Girlfriends," which I was very

proud of, but when I look back on that and think about what

those days were like where I would go early in the morning

and have my full-time televisioncareer, and then run over here

at the end of the day in theevenings and all weekend and try

to run a theater, I say, "What was I thinking, you know?

Were you insane to be trying to do all of that?"

I think being younger probably had something to do with it.

Michael: That always helps.

Sheldon: And having more energy,but when I think back on it,

I really kind of marvel that I was able to keep the balls up

in the air like that, but one served the other.

I think that's really whatmotivated me to do it, that the

work in television and thepeople that I met and the actors

that I was able to attract to work in the theater,

the directors and designers and all of that really,

really served the playhouse andhelped to reestablish it.

Michael: So what would be the most enjoyable and fulfilling

television production that you were involved with?

Sheldon: Well, I'd have to say two.

Doing "Frasier" was tremendouslyfulfilling because the quality

of the writing was so good.

I always said that doing an episode of "Frasier" was like

doing a well-made French farce in 22 minutes, and then

filming it.

But, yeah, the writing was justamazing, and then a great cast

with Kelsey Grammer, David HydePierce, and all of the others

who were like a wonderful theater company ensemble who

just understood, you know, whattheir roles and responsibilities

were the moment they read the script and, sort of, walked

in and did what they did so beautifully.

So I was very lucky to have the opportunity to do over

20 episodes of "Frasier," so that was great.

But the other would be the series "Girlfriends," because

during the first 5 years of thatshow, I directed the majority of

the episodes, 15 or 16 every season.

First of all, I started on the show early on, so I was there

for the growth and development of the show, and we became a

kind of family working on it week after week--sometimes a

dysfunctional family, but generally a very happy family.

But particularly for a show which had its basis in black

culture about this group of black women friends, it was

funny, but we also went intosome dark corners and some very

serious subjects: class differences, gender issues,

economic issues, drug issues, violence in black communities.

So, for a sitcom, we covered a lot of bases and a lot of

territory with the show, and so I was proud to be a part of

that, and because I did so manyepisodes, I felt like I was able

to help shape the show; "Frasier" was more or less the

great show that it was by thetime I started working on that.

I felt, with "Girlfriends," thatI really had the opportunity to

make it a great, classic show.

Michael: Just last month,"American Theatre," there was an

article about successions in artistic directors.

There's 20 theaters, actually, where they're trying to fill

these positions.

And, yourself, it talks about yourself and two other persons

of color really heading major theaters right now.

Sheldon: Right.

Michael: Why are there so few persons of color

heading theaters?

Sheldon: Well, it's a really,really important conversation in

the American theater right now.

It does seem that, as with me, there are suddenly a number of

artistic directors who havedecided to step down from their

positions, so suddenly thefield is going to be looking at

filling not just 1 or 2 positions of artistic director

but 20, 25, 30, maybe, over the next couple of years.

And while theaters have certainly concentrated on--

and, in fact, I believe, beensuccessful like this theater--at

broadening the diversity of theprogramming and the audiences,

it is true that there are stillvery few men or women of color

who are actually leadingtheaters as artistic directors,

and some of the few are about to step down.

So I think it's vital that, asboards and search firms look at

filling these positions, thatthey really broaden the field of

candidates, you know.

A problem is not that therearen't people out there who have

the skill, the intelligence, andthe vitality to do these jobs,

but they're not in the current pipeline, you know?

A search committee, a board at a theater, only has the

opportunity to evaluate what's put in front of them.

You know, here's ten candidates for this job.

If none of those ten is a personof color, that's probably gonna

be the end of that conversationfor that particular position.

So two things have to happen: Those directors who are

interested in leadership of a theater, you have to knock on

the door yourself.

You have to keep up.

You have to read "American Theatre" magazine.

You have to know where those positions are gonna be

available, and come knocking loudly on that door.

Get yourself in front of the search committee.

Get yourself to the search firms.

Insist on being seen.

And the search firms have to do their job.

They have to hear the knocking.

You know, they have to openthat door and get more people of

color into those pipelines.

It's often--it's what I call"passive segregation," you know?

I don't think boards and search firms are saying, "No,

absolutely not.

We will not consider a person of color."

It's just that it's not put before them, you know?

And often, many times, selectionof a new artistic director is

based on who's worked at the theater before, who's directed

at the theater before, and frequently there are not a lot

of people of color with the additional ability to run a

theater, who have worked at that theater.

So that passive kind ofdoor-slamming is not deliberate,

but the result is just as odious, so it has to change.

Michael: So you're doin' a phenomenal job in that regard

here at the Pasadena Playhouse.

You think there's a direct correlation with who's at the

top in terms of person of colorand what the staff--how diverse

the staff looks, the permanent staff of the theater?

Sheldon: Oh, definitely.

I think it affects everything about an arts institution.

When I first came here, as I've often said, I was down

in the beautiful courtyard.

I was often the only person of any color and the only person

under 60, to walk through thecourtyard and into the theater.

So, certainly, that was changedby the programming, by the work

that was on the stage, but I think that the theater became

a more diverse institutionoverall: the work on the stage,

the audiences, the staff.

The overall community of thetheater changed because a person

of color was in a leadership position.

This theater has very much survived, in part, due to the

loyalty of the African-Americancommunity in Greater L.A., who

said, "I'm gonna go, and I'm gonna support this brother.

And, of course, I'm gonna go when he's doing the August

Wilson play and when he's doing a black musical.

But I'm gonna be there at othertimes when he's doing an Oscar

Wilde play, or when he's doing a Neil Simon play, or the full

canon of theater."

I recognize the fact that manypeople in the black community in

this town are coming to supportthis artistic leader because

he's a brother.

He's part of the--I'm part of their family.

I'm part of their community.

So as American communitieschange, that's definitely got to

be a key to the hiring in leadership positions for

American theaters.

Michael: Next, we made our way over to the Mark Taper Forum

to sit down with Phylicia Rashad.

Miss Rashad is known across theglobe as Mrs. Huxtable on "The

Bill Cosby Show."

She gives us advice for young actors, her first acting

experience, and why she loves the stage.

Shelah: If that's the sacrifice,then,

then I lay down on the altar.

I'm layin' down, but my mind's stayed on you, Lord.

Glory, that's it.

[thunder]

These banging and clanging skies, these winds and rains,

they matchin' and equal to the rubbin' and burnin'

in my thundering sides.

I don't mind the black and the blood cookin' up.

Let them come, Father, let them come.

I see now.

I see you.

[thunder]

Michael: Welcome, Phylicia Rashad.

You're so welcome to be here at "Theatre Corner."

Phylicia Rashad: Thank you.

Michael: Thank you so much for coming by to see us.

You're performing in "Head of Passes," at the Mark Taper.

Phylicia: Yes.

Michael: And so tell me a little bit about

this performance.

Phylicia: This is Tarell Alvin McCraney's play.

It was commissioned by the Steppenwolf Theatre Company.

There was a production that followed at Berkeley Rep, and

then last year, last spring, we were in performance at the

Public Theater.

That was when I joined theproduction for that and now here

at the Mark Taper.

It's an inspired text, andlike all inspired texts, it's a

living text, and so it's thegift that keeps giving and that

keeps demanding, but it's good.

It's great.

Michael: Beautiful.

Phylicia: Yes.

Michael: Millions of people know you as the delightful

television mother, ClairHuxtable, but let's take--can I

say, contrast that with the newcharacter, Miss Diana DuBois, on

Fox television series, "Empire."

I suspect you're having fun with that character.

Phylicia: Oh, it's--you know, being naughty can be so much

fun, especially when nobody really gets hurt, you know?

Interacting with the Lyon clan has brought out some of the

not-so-apparent qualities in her character.

They're deeply rooted in thepast, past generations, that she

sought to overcome.

Oh, but they're bringing it out.

Michael: So what did you think when they first brought

this role to you?

What did you think about that?

Phylicia: I thought it would be so much fun.

I thought it would be so muchfun to work with Terrence again

because we had performed on Broadway together in "Cat on a

Hot Tin Roof," and Taraji is a graduate of Howard

University--and very proud of her and her work--and I just

thought it would be great towork with this cast, and it has

been great.

It really has been a lot of fun.

Michael: For you, I mean,you've done television and film

and theater.

Which one of those that makes you feel the most complete?

Phylicia: Theater is certainly the original

discipline, and I'm very happy that I've continued working in

theater all these years, evenwhile working with Mr. Cosby on

"The Cosby Show," never left theater.

And following that show, back in to theater.

I've never left it, and I'm so happy to be able to say that.

Michael: What came about that brought you into the

director role?

Phylicia: Mm, there was a call from Constanza Romero.

August Wilson was her husband.

And she called to say that therewas going to be a production of

"Gem of the Ocean" at the Seattle Repertory Theatre,

and she asked if I would direct it.

I had never considered directingbefore although Geoffrey Holder

had told us in understudy rehearsal, "All actors should

become directors."

I'd not really given that much thought, but I called

Kenny Leon.

I said, "Kenny, what do you think?"

He said, "Go for it, girl."

And so I did.

That was quite a learning experience for me.

And then some years passed.

I was invited to direct at EbonyRepertory, "A Raisin in the

Sun," and from that, just, moreand more things began to come.

Michael: And you directed "Ma Rainey's Black Bottom" here at

the Mark Taper as well.

Phylicia: And "Joe Turner's Come and Gone."

Michael: "Joe Turner's Come and Gone."

Phylicia: And "Immediate Family," Paul Oakley Stovall's

"Immediate Family," both here and at the Goodman in Chicago.

Michael: So there's a August Wilson love story with his

pieces, huh?

Phylicia: Yeah.

Michael: What is it thatspeaks to you about his pieces?

Phylicia: There's so much depth in what he's written.

I mean, there's that which isreadily apparent, but there's so

much more.

He has a way of telling a humanstory in few words, and if

you're willing to do the work and plumb the depths of the

experience, then you begin to arrive at the heart of

the characters.

Michael: Mm.

Phylicia: Oh, sure, youcould, you know, give a good and

decent representation by playingthe rhythms alone, but those

rhythms can lead you to where he's comin' from if you're

willing to go.

Michael: Can you recall whatage that you felt like you were

gonna go into this direction of performance?

Phylicia: Oh, when I was 11.

Michael: Wow, 11.

Phylicia: Yes.

Michael: Wow, was there--I don't know--maybe a church

performance, or what gave you that clear indication?

Phylicia: I wanted to be beautiful because my mother is

very beautiful, and my father is very handsome.

I thought of everybody in the family.

I was the one who was, like, left out of all that, and I

always wanted to be beautiful.

And when I was 11 years old, Iwas selected to be the mistress

of ceremonies for a music festival that would take place

in the largest hall in Houston,and it would be elementary

schools from across the city,and that was great auditions and

everything, and I was selectedbecause of my speech patterns to

be the mistress of ceremonies.

Well, my teachers, Miss Woodruff and Mrs. Brown, they

made me rehearse every day before and after school.

It seems interminable.

It went on forever, and then,when it came time for the actual

program, I had to go on a littleshopping trip downtown, and they

selected a beautiful yellowdress with a white pinafore with

lace, mm, and a bow in the back,and I had a tiara with flowers

and Shirley Temple curls, whitesocks with ruffles, and white

shoes, and all dressed up and everything.

You know, just felt so pretty.

And I stood in the spotlight forthe first time in my life, and

the light was so bright.

I couldn't see anything but thelight, and I held the script in

my hand.

They prepared a lovely folder for me so I could hold it up,

and it had musical notes andsignages on the back, consistent

with the theme of the program; but to my surprise, I didn't

need to read it.

Because we had rehearsed it so much, I knew it by heart.

So instead of reading it, I stood and talked to the light.

And I'd, all evening long, I'dget up and talk to the light and

just talk to the light.

And when it was over and motherswere coming to collect their

children, I heard these two women say, "Oh, there she is.

There's the little girl who spoke so beautifully.

Isn't she beautiful?"

And I heard that, and I thought,"Okay, okay, when I grow up, I'm

gonna be an actress, and I'm gonna be on a stage, and I'mma

be beautiful and play in the light and be beautiful all

the time."

But it was gonna be a longtime before I realized what the

beauty really was, and it had nothing to do with what I was

wearing or how my hair wasarranged or how I looked at all.

I had learned that script, and I knew it by heart, and that's

where I spoke from when I talkedto the light, and that's why I'm

an actor.

Michael: That is incredible.

Phylicia: Yeah, teachers are very important people.

Teachers really do help shapeand frame the direction in which

young people can go.

Whether they are advocating forthe child or mitigating against

them, they're helping to shape a young person's life.

Michael: You're giving that backcause you teach the master

classes as well.

Phylicia: Yeah, I do, I teach a master class.

Michael: How's that experience?

Phylicia: I learn more than I teach.

And I really enjoy it, and I enjoy working with other

performers, whether they'recollege students or whether they

are, say, Lunt-Fontannescholars, 'cause I was a master

teacher there at Ten Chimneys.

So I enjoy working with artists.

I really do, I enjoy working with people.

Michael: If you were to give them one piece of advice, what

is that one piece of advice you give to young actors?

Phylicia: Live.

Live.

Don't be afraid to live becausethere's much that's learned in a

classroom, and there are thingswe learn in performance and in

rehearsal, but it's what we live that we bring to

those processes.

Michael: Right.

Phylicia: And don't be afraid to live.

Now, I don't mean for them to go jump in the gutter or put

themselves in harm's way, butwhen I say, "Live," I mean just

that: Live.

You know, take in nature andsurroundings, and observe people

as you're interacting withthem--and your own thoughts and

reactions, live.

Michael: I hope you enjoyed this season.

I'm Michael Taylor, and thank you for tuning in to

"Theatre Corner."

♪♪♪

female announcer: Support for this program comes from the

KPBS Explore Local Content Fund,supporting new ideas and

programs for San Diego.

male announcer: Watch the full interviews and more at

www.theatrecorner.org.