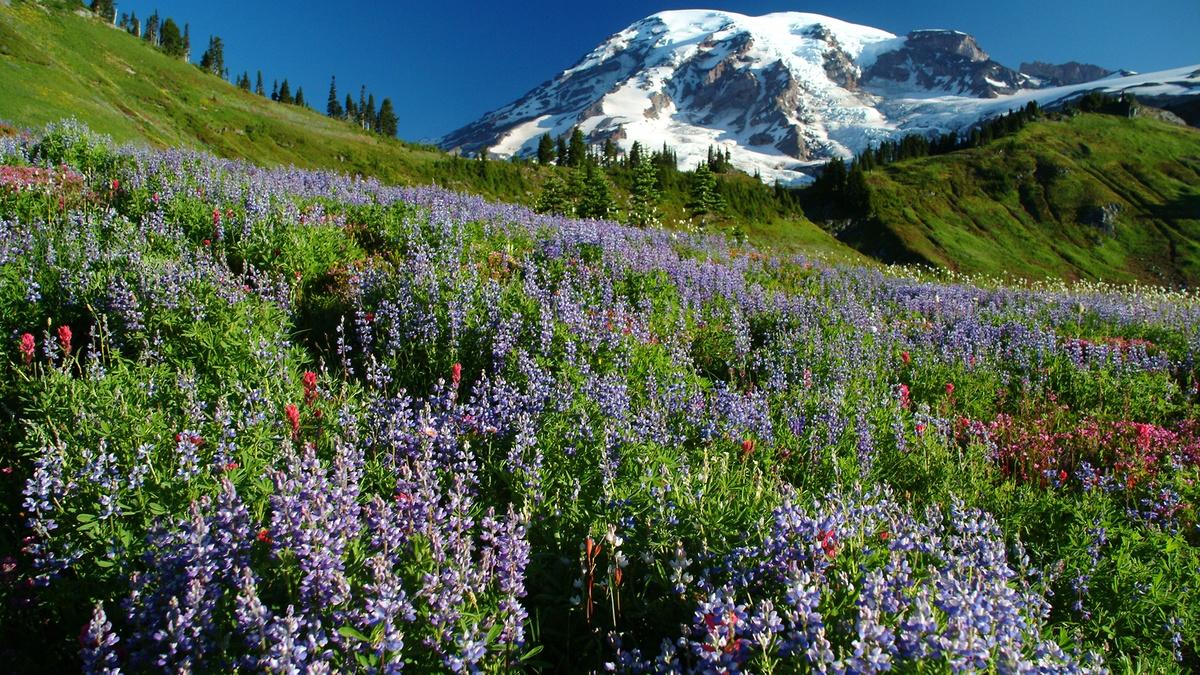 S1 E3 | FULL EPISODE
The Empire Of Grandeur (1915-1919)
In the early 20th century, America has a dozen national parks, but they are a haphazard patchwork of special places under the supervision of different federal agencies. The conservation movement, after failing to stop the Hetch Hetchy dam, pushes the government to establish one unified agency to oversee all the parks, leading to the establishment of the National Park Service in 1916.
TRANSCRIPT

Announcer: Our national parks belong to all of us.

They are places of discovery, they are places of inspiration,

they are America's best idea.

Major funding provided by: the Evelyn & Walter Haas, Jr. Fund.

Additional funding was provided

by the Park Foundation in support

of a clean and healthy environment;

The Arthur Vining Davis Foundations--

dedicated to strengthening America's future

through education;

the National Park Foundation,

the official charity of America's national parks;

the Peter Jay Sharp Foundation;

the Pew Charitable Trusts;

by General Motors;

by the Corporation for Public Broadcasting;

and by generous contributions to this PBS station

from viewers like you.

Thank you.

Bank of America is proud to be

exclusive corporate underwriter

for the films of Ken Burns

and hopes you enjoy this encore presentation.

MAN: I often wonder

what man will do with the mountains.

Will he cut down all the trees to make ships and houses?

If so, what will be the final and far upshot?

Will a better civilization come in accord with obvious nature,

and all this wild beautybe set to human poetry and song?

What is the human part of the mountains' destiny?

John Muir.

MAN: Yes, it's transcendent,just as walking into a cathedral

is transcendent.

But what could be more cathedralin feel than Yosemite Valley

or the Grand Canyon?

I mean, John Muir--I think he

thought it was somewhat ironic

that there's a chapel

in Yosemite Valley

because you're building a church

in the greatest cathedral in America.

And I think that when people go into these spaces,

they find that they have enough spirit

that they can fill the space

and they can be filled by those spaces.

PETER COYOTE: By 1914, the national park idea

had expanded beyond Yellowstone and Yosemite,

where the notion of setting aside special places

for all Americans had first taken root

half a century earlier.

snowcapped Mount Rainier in the Pacific Northwest;

at the ancient cliff dwellings of Mesa Verde

in the Southwestern deserts;

within the dark cavernsof South Dakota's Wind Cave;

in the reflection of the deep blue waters

of Crater Lake in Oregon;

and at half a dozen otherlocations the nation had decided

to preserve,

usually at the urging of individual Americans

willing to turn their passionfor a particular landscape

into a crusade.

MAN: There is no master plan whatsoever for these parks.

What's happening is that people are identifying

interesting places that look

like they're under some kind of threat

or look like they

might be worth preserving.

And a law gets written,

a park gets created, and, boom, it's added to the set.

But the set is not a system.

The set has no coherence to it.

There are no regular rules for governing it all.

It was pretty chaotic in the early years.

COYOTE: The Departments ofAgriculture, Interior, and War

each claimed some responsibility for the parks.

But in truth, no one was in charge.

Nothing proved it more

than the fact that the city of San Francisco

had been given permission to construct a dam

in Yosemite's Hetch Hetchy Valley,

and submerge a scenic wonderunder a massive water reservoir.

MAN: Hetch Hetchy was a crucial turning point

in the history of the national parks

because a valley was lost.

A beautiful valley was lost.

It was a pebble that dropped in everybody's pool.

To make them ask,

"What future do we want?

"Do we want there to be some places where you go

"where things aren't necessarily convenient

"and we don't measure

all of the greatness of theUnited States in a ledger book?"

COYOTE: The battle overHetch Hetchy had been the last

for John Muir--the mountainprophet who had done so much

to save the remaining vestiges of pristine America.

Now an unlikely alliance would carry on in his name

and in his spirit.

Railroad barons, who saw in the parks

a chance to increase their profits,

as well as some of the nation's wealthiest men,

who at a time when the disparity between rich and poor

was growing as never before, would heed a higher calling

and use their fortunes to advance the public good.

The national park idea was nearly 50 years old,

but some of the nation's mostspectacular landscapes were

still unprotected, vulnerable

to the acquisitive and extractive energies

that 20th-century Americapossessed in such abundance.

Special places in every cornerof America were threatened.

Volcanic islands in the Pacific,

where the most elemental forcesof nature were still on display,

and along the Atlantic seaboard of New England,

a much smaller island treasured for its bucolic tranquility,

the continent's highest mountain rising

from the tundra of Alaska--

the nation's most remote territory...

and in the deserts of Arizona,a mile-deep gash in the Earth,

a canyon of equally indescribable immensity

and beauty.

In John Muir's absence, a newleader would step forward--

an impulsive and seeminglyself-confident businessman,

who would promote the parks as never before,

and then struggle to bring them under a single management.

Where Muir had changed things with his words,

he would do it with his wealth and connections.

Where Muir had emphasized the ecstatic,

he would emphasize the economic and patriotic.

But even more than John Muir, Stephen Mather had

his own intensely personal reason

that drew him to the parks.

WOMAN: Our national parks are not only our best idea,

but our highest ideal.

I think that every time we walk into a national park,

we make vows.

We make vows that we will live beyond ourselves.

We make vows

that we will not just care about short-term gains,

but long-term vistas.

We remember

the sweetness of engagement,

that this is

the open space of democracy.

And it is, as John Muir has reminded us,

the beginning of creation.

COYOTE: Not far from Longs Peak in Colorado

in the heart ofthe Rocky Mountains was an inn

owned and operated

by an aspiring nature writer named Enos Mills.

Mills had first come to the Rockies from Kansas

at age 14 on doctor's ordersthat without clean alpine air,

he would not live to adulthood.

Thirty years later, he was still there

traipsing alone fromone mountain peak to another.

Three times a week, Mills lectured his guests,

extolling the beauty of the Rockies

and crusading to havethe Longs Peak region preserved,

not for the rich or royalty,who for years had been buying up

the surrounding area, butfor everyone as a national park.

For his inspiration, Mills credited John Muir.

"I owe everything to Muir," he said.

It was Muir's writings and the chance encounter

with the famous man himselfthat had given Mills' life

new purpose and direction.

"I will glory in your success,"

a sick and aging Muir had written to Mills

as the younger man pushed for a national park

in the Colorado Rockies.

"Strange," Muir added, "that the government is so slow

"to learn the value of parks."

But as congressional hearings began, word arrived

that John Muir had died.

"It will be a great courtesy

to the memory of that grand old man,"

one person testified,

"if you gentlemen unanimously recommend

"creation of this park."

Congress agreed.

Enos Mills' dream came true.

Rocky Mountain National Park was finally established.

And for the rest of his life, Mills would be called

the John Muir of the Rockies.

MAN: I remember one afternoon when I was 25, probably.

I was inRocky Mountain National Park.

And I started walking.

I started climbing up through a pine forest.

And I thought, What would happen if I never turned back?

What would happen if I

just kept walking?

Where would I end up?

Where would this trail take me?

I had no matches, no flashlight,

no poncho.

I did turn back.

But I still wonder what would have happened

if I hadn't turned back.

[Train bell clanging]

MAN AS STEPHEN MATHER: We have as yet no national park system.

The parks have just happened.

Nowhere in official Washington can an enquirer

find an office of the national parks

or a desk devoted solely to their management.

Uncle Sam has simply not wakedup about his precious parks.

COYOTE: In the summer of 1914,

a vacationing millionairenamed Stephen Mather visited

Sequoia and YosemiteNational Parks in California

and was disgusted by what he saw.

With only the army periodically policing the parks,

hiking trails were in poor condition.

Cattle could still be found grazing there,

and speculators had managed to file claims

on choice parcels of land,

planning to log the sequoias that Mather believed

should be protected forever.

Mather dashed off an angry letter

to an old college schoolmate--

Franklin K. Lane,the secretary of the interior,

whose standing among conservationists

was already low since Lane hadpersonally approved construction

of the Hetch Hetchy dam.

MAN AS FRANKLIN K. LANE:Dear Steve, if you don't like

the way the national parks are being run,

why don't you come down to Washington

and run them yourself?

COYOTE: Soon enough, Mathershowed up in Lane's office

and agreed to serve as one of his assistants,

overseeing the national parks.

A nationwide search could not have found

a better man for the job.

Tall and athleticwith prematurely white hair

and piercing blue eyes, Mather possessed what reporters called

"incandescent enthusiasm and an 8-cylinder,

"60-mile-per-hour sort of personality."

WOMAN: To describe Mr. Mather, one must roll

all the matinee idols into one

and then put the red blood of a real man into him.

He has the kindest of blue eyes,as clear and frank as a child's,

but the mouth and chin of a man who has fought his way in life.

"Woman's Magazine."

COYOTE: Born in California

to a family with deep patrician roots in New England,

Mather had taken a job as a reporter

for the "New York Sun"

and thenmoved on as a sales manager

for the Pacific Coast Borax company,

where his special genius for promotion found

a national outlet.

He produced a flood of publicity by glamorizing

the company's beginningsin California's Death Valley.

MAN: He took Death Valleyand made it a romantic place.

He took Borax, this household material,

gave it the romantic name 20-mule team Borax.

He would write letters

to magazines posing

as a contented housewife,

talking about

how her life had beentransformed by the use of Borax.

He wasn't meeting a demand for Borax,

He was creating a demand for Borax.

COYOTE: Mather had quickly realized

he could make more money working for himself

and helpedstart a competing company.

By 1914 at age 47, he was rich beyond belief

and restless for a new challenge.

Years earlier during a climb up Mount Rainier,

he had discovered that duringthe darkest moments of his life,

time in the great outdoors seemed to calm

his sometimes fragile nerves

and revive his prodigious energies.

And he counted as oneof the highlights of his life

meeting the legendary John Muir

on a hike in Sequoia National Park.

Mather told Secretary Lane he would work for him,

but for only one year.

He was assigned a legal assistant

in the secretary's office--

a fellow Californian and Berkeley graduate

named Horace Albright,

an earnest and ambitious young man

who had arrived in Washington a year earlier so poor,

he wore a borrowed suit and took a room at the local YMCA.

Like Mather and so many others, Albright had also been inspired

by a personal encounter with John Muir.

But much of his work so far had been spent responding

to angry letters protesting the decision

to flood the Hetch Hetchy Valley.

MAN AS HORACE ALBRIGHT:I had to learn to counterfeit

Lane's signature and sign letters in reply,

trying to explain why the dam should be built.

I hated this job, for I wasin sympathy with the protests.

COYOTE: Albright had been intending to quit

and returned to Californiato practice law, when Mather

entered his life and persuadedhim to stay for one more year.

MAN AS ALBRIGHT: I was knowledgeable

about Washington, the Interior Department,

and the Congress,

was quite good at detail and administrative work,

which he obviously hated,

and above all, was loyal and conscientious.

He was 47. I was only 24 and a bit in awe of him.

MAN: Mather was a great conceptualizer,

and Horace was a great implementer.

They complemented each other

like father, like son.

I mean, he was the reverse side of the same coin.

COYOTE: After being sworn in,Mather's first action was

to more than doubleHorace Albright's yearly pay

with $2,400 from his own pocket.

Next, he hired Robert Sterling Yard,

a gifted editor of the "New York Herald"

to begin churning out a flurryof publicity for the parks,

luring Yard to Washington withthe promise of $5,000 a year

and a personal secretary,

all of it paid for by Mather, not the government.

MAN: Stephen Mather wasthe right man in the right place

at the right time--

wildly enthusiastic about the national parks,

plus a millionaire who could speak

to all the millionaire industrialists

who were developing the parks, namely the railroads.

Preservationists themselves during the period

are asking for more cooperation

with the railroads,

more responsible development of the national parks

to keep at bay the argument that "nobody goes here."

Because the Hetch Hetchy Valley had only 2,000 visitors a year,

the argument was used against it.

It was said that only effeminate members of the Sierra Club camp

in Hetch Hetchy Valley,

but 500,000 people from San Francisco could get

a drink out of it.

And Stephen Mather understands that if he doesn't get people

in the parks, if he doesn't get 500,000 people visiting a park

in his own right, he's goingto lose out to the arguments

when the dams and reservoirs come down the pike.

COYOTE: Mather wined and dined congressmen and senators,

newspaper and magazine publishers,

pushed through legislation that would allow private individuals

to make gifts of land and money to the parks,

and began making plans for a whirlwind inspecti>; tour

of the national treasures now entrusted to his care.

MAN AS ALBRIGHT: Withideas popping from Mather's head

every minute, he simply couldn't sit still at a desk

and handle details.

Talking over an idea meant listening,

while he restlessly paced,gesturing to make his points,

his words barely keeping up with his mile-a-minute brain.

I thanked my stars I was young, strong, and healthy.

His energy would have killed someone who wasn't.

COYOTE: Before 1915 ended,Mather and Albright would travel

nearly 35,000 miles.

In Colorado, they were there with Enos Mills

and a crowd of 300

for the dedicationof Rocky Mountain National Park.

At Mount Rainier inWashington State, Mather decided

the superintendent was a political hack

and fired him on the spot.

At Yosemite, he learned thatthe 56-mile long Tioga Road,

the only east-west road through the park,

was still in private handsand in terrible disrepair.

Mather got out his checkbook again, putting up

half of the $15,500 price tag

and raising an equal amount from wealthy friends.

Then he just as quickly gave it away

to become part of the park forever.

And during a brief visit with Horace Albright

to the Grand Canyon,still only a national monument

and still under the control of the Forest Service,

Mather became convinced that it needed greater protection.

"Make this unbelievable wonderyour next national park,"

he said.

MAN AS ALBRIGHT: It seemed impossible

that every new national park appeared more spectacular

than the last, or at least more unusual.

[Wind]

As I stood gaping at the awesome beauty, Mather joined me.

[Thunder]

Neither of us spoke for some time.

Then I heard him say, "Horace,what God-given opportunity

"has come our way to preservewonders like these before us."

COYOTE: Mather invited a group of 15 influential Americans--

prominent editorsand publishers, politicians,

leading businessmen, and railroad builders--

to join him for two weeks inthe Sierra Nevada of California.

He called ithis Mather mountain party.

And he paid for it all, fromthe newfangled air mattresses

placed under their sleeping bags

to a Chinese cook, who broughtalong a sheet-metal stove

to prepare gourmet dinners.

Breakfasts included fresh fruit, steak, eggs, sausages,

and hot, freshly-baked rolls.

Suppers were capped off

by English plum pudding withbrandy sauce, all of it served

on white linen tablecloths with fine silverware and china.

GEORGE HARTZOG: He had twoconcepts--pressing the flesh.

You got to go meet them in person. Don't write to them.

Go shake their hands.

And secondly, go show it to thembecause you don't get anywhere

just telling them about it.

They got to experience it like you have.

And he made converts.

And he took people, not the parishioners

who were singing in the choir,

but the memberswho didn't go to church yet.

He was bringing them to the parks

and putting them in the choir.

COYOTE: Coming across a campsite littered

with tin cans and paper, he got his wealthy friends

to help pick up the mess.

They spent a night at Redwood Meadow,

just outside the boundary of Sequoia National Park,

amidst a privately-owned stand of majestic trees

Mather could not bear to think might be cut down.

He bought the grove and donated it to the nation.

Slowly, the group worked its way

up the western flank of the Sierra,

fishing, hiking, and swimming in cold mountain streams.

Then the hardiest of the bunchdecided to ascend Mount Whitney.

At 14,494 feet, the tallest peak in the 48 states,

from which they could surveythe vast wilderness John Muir,

and now Mather, wanted preserved.

By the end of their two weeks in the outdoors, Albright said,

everyone in the party "looked like a caveman,"

but his boss had converted them all

into disciples for his cause.

And when they gathered for their last meal together,

he sent them on their way with an exhortation.

MAN AS MATHER: Now, I want you to know

that our job is not over.

It is just beginning.

Remember that God has given us these beautiful lands,

but none of this willmean anything unless we have

a safe havenfor these wilderness places.

We must have a National Park Service.

Every one of us must pull our oar,

go out and spread the gospel.

DAYTON DUNCAN: He had met John Muir,

and he knew the ecstasythat Muir had talked about.

He knew the healing power of nature, but he added to that

this notion of patriotism.

He called the parks "vastschoolrooms of Americanism,"

that if you bring a personto a park, they will feel better

about the nation that was saving this place.

He was willing to wrap the park idea in the American flag,

and perhaps somewhat justly so,

but he also saw it asa tool to help promote the parks

and to get the political support he needed

to do the things he wanted to do.

MAN: Napi, the old man, camedown from his home in the sun,

to help his people, the Blackfeet.

When his work was done, he went up into the mountains,

where he came to two lakes.

There he said to himself, "I believe I will go up

"on that highest mountainand change myself into stone."

In the crevice in the mountain, he lay down

with just his face peeking out and turned himself into a rock.

He is still there, watching for people to come looking for him.

COYOTE: On the border of Montana and Canada

in the northern reaches of the Rockies,

where glaciers could still be found

sculpting and polishing mountains

rising 10,000 feet into the sky

and alpine cascades tumbled downto form more than 650 lakes,

was Glacier National Park--established by Congress in 1910.

For centuries, the BlackfeetIndians had claimed the land

as their own.

But during a mining boom that brought in

swarms of prospectors, they had been pressured

into signing a new treaty,giving up the mountain portion

of their reservation.

MAN: The mountains have been my last refuge.

Chief mountain is my head. Now my head is cut off.

White Calf.

MAN: When you walk into any natural national park,

you're walking into somebody's homeland.

You're walking into somebody's house.

You're walking

into somebody's church.

You're walking

into somebody's place, where they've lived

since the time the Creator made it for them.

And so you're walking intosomeplace that has been utilized

for generations upon generationsin every form you could imagine.

This was our homeland.

COYOTE: When Congress failedto appropriate adequate funds

for Glacier National Park's administration,

the Great Northern Railway felt free to treat the park

as its own little mountain kingdom.

From the very beginnings of the park movement,

long before Stephen Mather burst upon the scene,

railroad companies had been busily selling America's parks.

More tourists riding the railsmeant more money for them.

ALFRED RUNTE: The railroads make scenery a national asset.

They make scenery a national business.

Every railroad tried to havea national park that would be

its very own.

So the Santa Fe develops the Grand Canyon

and wants it to bea full-fledged national park.

Northern Pacific is in Yellowstone.

Union Pacific will come to West Yellowstone.

The Great Northern Railway will go to Glacier.

Northern Pacific will also go out to Mount Rainier.

The Great Northern Railway will follow it out to Mount Rainier.

The Southern Pacific willdevelop Yosemite and Sequoia.

Their land agents, their people,their passenger agents will be

in the halls of Congress,cajoling Congress silently

from the wings.

"Make national parks, so we can have more tourists going

"to the national parks and have

"this new and wonderful industry."

COYOTE: On every Great Northern Railway brochure and timetable,

on every company press release and billboard,

3 words were always attached, "See America first."

Western boosters had been using

the slogan for more than a decade,

part of a promotional campaign

aimed at a very specific audience---

upper middle class white Americans,

predominantly from the East Coast,

who were spending an estimated $500 million each year

vacationing in Europe.

RUNTE: "You want cathedrals?

"We've got them in Yosemite Valley.

"You want to see

"the architecture here?

"We've got it

"at the Grand Canyon.

"Why are you Americans going to Europe to spend

"your hard-earned dollars over there

"when you have the Alps right here in Glacier National Park?"

"Spend your dollars at home. Be patriotic."

[Man yodeling on soundtrack]

COYOTE: The Great Northern likedto promote Glacier National Park

as America's Switzerland.

When World War I broke out inEurope in 1914, closing off

overseas travel, the railroads saw a golden opportunity.

The Great Northern dispatcheda group of Blackfeet Indians

to tour the East.

They camped in teepees

on the roof of New York City's McAlpin hotel,

rode the subway, and visited the Brooklyn Bridge,

attracted huge crowds when they performed war dances

at the annual Travel and Vacation show.

Everywhere they went, the press referred to them

not as the Blackfeet

but as the Indians of Glacier National Park.

Blackfeet Indians were paidto greet arriving passengers

in full regalia,

and they set up an array ofteepees for those who wanted

what the railroad called "anauthentic Western experience"

at 50 cents a night.

GERARD BAKER: In the earlydays of the national parks,

the Indians were brought back

not as a people who would tell a story,

but as somebody who can dance for the tourists,

as somebody whocan sing for the tourists,

with their feathers,their markings on their faces,

their buckskin outfits, their bells, their drums.

They were expected to bethe Indian--to sing, to dance,

and to use the termsthat the tourists would be using

in those days. For example, "How."

That's all they would say...

and then do their dances.

COYOTE: While some park purists worried that the railroads

already wielded too much influence,

Stephen Mather saw them as partners,

not only to promote the parks,but to help him in his quest

to create a separate park service.

DUNCAN: If you think of Mather

as sort of an acolyte of John Muir

but taking things into a new direction.

He did remember from John Muir, "Nothing dollarable is safe."

And so how do you make it safe? You make it dollarable

by saying, "OK, there is this value to national parks

"beyond the beauty,beyond the sentimentality,

"beyond spirituality.

"There's a dollar value to it.

"We've always had the railroads.

"And if we attach that to it,we can get chambers of commerce,

"and we can form this movement

"that will protect the parks."

And what's interesting about it is while he's pushing

this sort of economic argument as far and as hard as he can,

no one was an example of the healing power,

the spiritual power,

the rejuvenation of being in a national park

more than Stephen Mather.

MAN AS MARK TWAIN: I turned my eyes upon the volcano again.

For a mile and a half in front of us

and half a mile on either side,

the floor of the abysswas magnificently illuminated.

Like the campfires of a great army far away,

it looked like a colossal railroad map

of the state of Massachusetts done in chain lightning

on a midnight sky.

Imagine it. Imagine a coal black sky

shivered into a tangled network of angry fire.

I thought it possible that its like had not been seen

since the children of Israelwandered on their long march

through the desert

over a path illuminated bythe mysterious pillar of fire.

And I was sure that I now had a vivid conception

of what the majestic pillar of fire was like,

which almost amounted to a revelation.

The smell of sulfur is strong, but not unpleasant

to a sinner.

Mark Twain.

COYOTE: Back in 1866, a youngnewspaper reporter writing

under the pen name Mark Twain had been

among the first tourists to stay at the new Volcano House

on the rim of Kilauea--

an active volcano on Hawaii's big island,

the home, according to native Hawaiians, of Pele--

the goddess of destruction and creation.

Twain's colorful descriptions helped launch his career

and brought the islands'attractions to the attention

of thousands of Americans.

"Compared to the huge caldera of Kilauea

"with its lakes of fire," Twain wrote,

"Italy's Mount Vesuvius was just a soup kettle."

The nearby Mauna Loa, also an active volcano,

was even bigger, rising 56,000 feet

from the bottom of the Pacific--13,679 of them above sea level--

the most massive mountain on Earth.

And on the island of Mauiwas the dormant volcano called

Haleakala, the house of the sun.

Twain climbedto its 10,000-foot summit,

peered intoits vast and desolate crater,

and with his companions,

spent the afternoon idly pushing boulders off the edge,

simply to watch them tumble thousands of feet

to the crater's floor.

"It was magnificent sport," he wrote.

"We wore ourselves out at it."

After camping on the crater's edge,

they awoke early the nextmorning with a blanket of clouds

far below their feet,

stretching endlessly across the Pacific

toward the rising sun.

MAN AS TWAIN: I felt like the last man,

neglected of the judgment andleft pinnacled in mid-Heaven--

a forgotten relic of a vanished world.

COYOTE: By 1916, 50 years after Twain's visit,

tourists were now coming in ever greater numbers

to gawk at Kilauea's fiery displays.

As proof that they hadbeen there, some would break off

stalactites in the lava caves or singe their post cards

by extending theminto the furnace-hot fissures.

At Haleakala, the only place in the world

where the distinctive silver sword plant grows,

taking half a century to mature, so many visitors

had gotten into the habit ofcarrying them off as souvenirs

that the species was threatened with extinction.

On August 1, 1916, aftermore than a decade of lobbying

by a coalition of naturalists and scientists,

businessmen and boosters,

and the enthusiastic support of Stephen Mather,

Hawaii National Park was born.

But Congress declined to appropriate any money for it

on the belief, one senator explained,

"that it should notcost anything to run a volcano."

DUNCAN: I think one of the mostmemorable moments of my life was

walking out onto the lava fields at Hawaii Volcanoes.

And this field off in the distance had

these glowing ribbons of light.

And we walked in the darkness over the lava fields

and came over this rise.

And there was the coast of Hawaii.

And over it was flowing a waterfall of lava,

pouring over the top,

and creating steam down in the bottom.

And as the sun came up,we walked farther and farther

until we got to that place.

There was heat. There was this acid smell in the air,

sometimes almost overpowering.

But there you were watching new land.

For an Iowan...

you know, new land is a great notion.

I felt like I was in Earth's maternity ward.

You know that euphoric rush you get if you walk

into a maternity ward and see all those little babies?

Well, here was, you know, a little bit of land being made

where that lava met the sea.

And unlike otherparts that preserve the place

where the monuments of erosion--

of things that had been taken away,

where glaciers have pushed through

or where water has cut a Grand Canyon...

I was watching new land.

[Birds calling]

COYOTE: In 1604, sailing off the coast

of what would one day become the state of Maine,

the French explorer Champlain had made special note

of an island he named Mount Desert--

dominated by looming knobs of bare granite,

with tall peaks rising so close to the Atlantic

that they catch the nation's first rays of sunlight

each morning.

For centuries, it had been the home of the Micmac

and the Abenaki-- the people of the dawn.

Then for the 150 years afterChamplain, the French claimed it

as part of their North American possessions, calling it

Acadia, "earthly paradise"

before it passed to British and then American hands.

The island was a sparsely populated collection

of fishing villages until 1844,

when the celebrated landscapeartist Thomas Cole arrived

in search of new scenery for his palette.

Because of Cole's influence, the island quickly became

the favorite summer locale for other painters,

all of them drawing inspiration from the rugged shorelines,

pristine lakes, and tranquil forests.

Wealthy easterners began showing up, too,

to spend the summer far from crowded and polluted cities

at the place the nation's topartists had made fashionable.

To accentuate the island's early connection to France,

some of the newcomers began calling the island

"Mount Dessert."

[Camera shutter clicks]

Soon they were buying up land

and building their own summer homes--

places with room enough toproperly entertain and impress

their socially prominent friends.

The proud owners had a special name for their new dwellings.

They called them cottages.

MAN: The future at all our leading seashore places

in truth belongs to the cottager,

and it is really useless to resist him.

He moves on all the choice siteswith calm and remorselessness.

His march along the Americancoast is nearly as resistless

as that of the hordes who overthrew the Roman Empire.

WOMAN: Mount Desert Island was, along with Newport,

the social summer institution.

This is where the rich

and the famous

and the patrician families met,

played, partied, had their children marry.

They are exclusive.

They are restrictive.

They do not welcome people whocome from immigrant backgrounds,

from different backgroundsof white Protestant upper class.

COYOTE: But now one cottager worried

that too much of the island was being locked up.

As a boy, Charles Eliot had spent many happy summers

vacationing with his family on Mount Desert.

After joining the landscape architecture firm

of Frederick Law Olmsted in Boston,

Eliot had been inspired by the great public spaces Olmsted

had helped create or preserve,

including New York's Central Park

and Yosemite Valley.

Eliot decided to do the same for Mount Desert,

ambitiously drawing up a planto make more of the island

accessible to the public.

But before he could put any of his ideas to work,

Eliot contracted meningitisand died suddenly at age 38.

Going through his son's papersto prepare a loving biography,

Eliot's grief-stricken father, Charles W. Eliot,

came across hisnamesake's idealistic dreams

for Mount Desert.

As president of Harvard University

and one ofthe most prestigious members

of the island's summer community,

the elder Eliot was in a position to do

everything possible to makehis son's dream come true.

In the late summer of 1901, he summoned his neighbors

and reminded them that many of their favorite places

to hike and picnic and enjoy a scenic vista were

now off-limits because of new owners.

They established

the Hancock County Trustees of Public Reservations

to acquire by gift or purchasefrom the island's residents

land deemed importantfor its scenic or historic value

and then hold on to itand manage it for public use.

MAN: I had seen the wreckage

of the great natural landscape by the hotel builder

and the private owner.

When President Eliot brought out his plan

for the protection and saving ofour Mount Desert landscape,

it made a strong appeal to me.

George Dorr.

COYOTE: George Bucknam Dorr was another cottager on the island.

He was nearly 50 years old in 1901,

but had never needed to work for a living,

thanks to a generous inheritance from his parents,

whose investments in the textile industry had placed them

among New England's social elite.

Now he lived alone in his family's grand house

in Bar Harbor,

where he carried on the family tradition of entertaining

prominent guests,

and insisted on taking a swim

in the frigid watersof the Atlantic every morning.

What Dorr loved best was puttinga few crackers in his pockets

and taking long rigorous hikes.

Many of the island's trails had,in fact, been blazed by him.

Dorr quickly became

the organization's most dedicated worker,

slowly buying up importantscenic parcels of the land.

Once the trustees had acquired

a significant part of the island,

they began looking for a way to protect it forever.

MAN AS GEORGE DORR: Tothe secretary of the interior:

Sir, on behalf

of the Hancock County Trustees of Public Reservations,

state of Maine, I have the honor to offer in free gift

to the United States a unique and noble tract of land

upon our Eastern seacoast.

Sincerely yours, George Dorr.

[Car horn honks]

COYOTE: But in Washington, Dorr learned

that even giving the land awaywas going to be difficult.

At the time, there were

no national parks east of the Mississippi.

And such an idea--to create one from donated land--

had never been proposed.

Horace Albright advised Dorr that Congress could be bypassed

if President Woodrow Wilsoncould be persuaded to use

the Antiquities Act and issue an executive order,

setting aside 5,000 acres of the island

as a national monument.

For 3 years, Dorr kept at it.

And on July 8, 1916,

President Wilson finally signed the proclamation.

But George Dorr was still not satisfied.

If a president could unilaterally create

a national monument, Dorr feared,

he could just as easily take it away.

Although his own inheritance wasbecoming dangerously depleted,

Dorr vowed he wouldn'trest until the national monument

became a congressionally authorized, full-fledged,

permanent national park.

MAN AS MATHER: The nationalparks are an American idea,

the one thing we have not imported.

It came about because earnest men and women became

violently excited

at the possibilityof these great assets passing

from the public control.

COYOTE: Years before StephenMather arrived in Washington,

supporters had arguedthat the haphazard collection

of national parks needed to be brought together

under a single federal agency.

And yet, bill after bill tocreate one had died in Congress,

the victim of quiet but effective lobbying

by powerful commercial interests,

hoping to exploit park lands,

and by John Muir's old nemesis, Gifford Pinchot,

and his forest service.

Pinchot believedthat conservation meant using,

not simply preserving, natural resources,

and most certainly did not want a potential rival

within the government.

MAN AS MATHER: This nation is richer in natural scenery

of the first order than any other nation,

but it does not know it.

It possesses an empire of grandeur,

which it scarcely has heard of.

It owns the most inspiring playgrounds

and the best-equipped nature schools in the world

and is serenely ignorant of the fact.

In its national parks it has neglected

an economic asset of incalculable value.

[Piano playing on soundtrack]

COYOTE: Stephen Mather's promotional crusade

for a national park service now shifted into high gear.

Washington had neverseen anything quite like it.

All over the country, newspapers and magazines ran

glowing feature stories about the parks,

the result ofMather's constant cultivation

of publishers and writers.

Schoolchildren were encouraged to write essays about the parks

for cash prizes.

The General Federation of Women's Clubs

and American Civic Association launched

letter writing campaigns.

The "National Geographic Magazine" devoted

an entire issue to the scenic wonders of America.

And Mather made sure a copy was placed

on every congressman's desk.

Then he directed his publicist, Robert Sterling Yard,

to produce "The National Parks Portfolio,"

a hardbound book of severalhundred glossy pages filled

with photographs of every national park

and every national monument in the country.

The book was such a hit,

Mather ordered up a smaller paperback version.

2.7 million copies were sold in the first year.

Meanwhile, Mather convened a group that drafted

the nuts and bolts language of a bill to create

a separate parks bureau within the Interior Department.

Among them wasFrederick Law Olmsted Jr.,

who was asked to add a statement of purpose meant

to stand the test of time.

It would also enshrine in words the fundamental contradiction

that has always been a part ofthe story of the national parks.

"The new agency," he wrote, "should manage the parks

"for the enjoyment of the American people

"and at the same time, keep them unimpaired

"for the enjoyment of future generations."

MAN AS ALBRIGHT: We were aware of and discussed

the paradox of use and enjoymentof the parks by the people

versus their preservation unimpaired.

Of course, we knew there was this paradox.

We had finally come to the belief

that with rational, careful, and loving thought,

it could be done.

Horace Albright.

DUNCAN: Well, the statement of purpose is broad,

I think deliberately so,and I think magnificently so.

If they had outlined in great detail

what was going to be permitted and what wasn't,

it would be like if the founders of our nation had said

what they meant by all menbeing created equal and said,

"And by the way in case you don't get it,

it's all white men of property that are created equal,"

it wouldn't have been the statement

that drew us into the future.

And so with the parks'Organic Act, as it's called,

being lofty and broad, it allows us--each generation--

to come to grips with it,

just as we do the meaning of liberty.

COYOTE: On August 25, 1916, President Woodrow Wilson

signed into law an act creating the National Park Service

to oversee 5 1/2 million acres

of some of the most beautiful scenery on Earth.

Stephen Mather, whose relentlessenergy had finally achieved

what so many people had been fighting for for so many years,

was named the new agency's first director.

Horace Albright agreed to stayon as his second in command.

MAN AS MATHER: The parks will have

a constantly enlarging, revivifying influence

on our national life,

for which there is no other public agency.

They are our antidote for national restlessness.

They are national character and health builders.

They are giving a new impetus to sane living in this country.

COYOTE: Five months later,

Mather convened a 5-day conference in Washington, D.C.,

a gathering of park supporters from across the country

to celebrate the park movement.

But as the conference went on, Albright found himself having

to find someone to fill in as presiding officer

because his boss

was mysteriously absent from the proceedings.

The nightafter the conference ended,

Albright was summoned to the Cosmos Club

and ushered into a private room,

where he found Mather surroundedby a few of his closest friends.

MAN AS ALBRIGHT: He was rocking back and forth,

alternately crying, moaning,

and hoarsely trying to get something said.

I couldn't understand a thing. He was incoherent.

Suddenly, he broke outof my hold, rushed for the door,

and, with an anguished cry, proclaimed

he couldn't live anylonger feeling the way he did.

We all understood what he said that time.

COYOTE: They contacted Mather's wife, who asked them

to bring him to a family doctor in Pennsylvania.

She confided that her husbandhad suffered a similar breakdown

in 1903.

Three subsequent episodes had been prevented

from spiraling out of control, she added,

only by his retreating

into the wilderness solitudes of the West--

the tripswhich had originally inspired

his passion for the parks.

After accompanying Mather to the doctor,

Albright returned to Washington,

where he and interior secretary Lane agreed

to keep Mather's true condition secret

until more could be learnedabout his chances of recovery.

In his absence, Albright would serve as acting director.

Mather, meanwhile, was sent

to a sanitarium outside Philadelphia.

His condition worsened at first.

Twice, he attempted to kill himself.

But his wife believed he would pull through,

as long as he could be convinced

he had something to look forward to.

On the wall of his hospital room,

she permitted only two decorations.

Both of them were

framed picturesof Yosemite National Park.

MAN: When I first saw

this tremendous upheaval of mountains, this range before me

with McKinley rising in the center,

my impressions were exactlythe same as those given me

by looking down into the Grand Canyon.

One was nature carved downinto the surface of the Earth,

and the other was

the most magnificent upheaval of nature above it.

At such times, man feels

his atomic insignificance in this universe.

Charles Sheldon.

COYOTE: Among the participantsat the National Parks conference

was Charles Sheldon,

a Vermont native, who had made a fortune

in the railroad and mining business, allowing him

to retire at age 35 and devote his energies

to his personal passion--

the study of wild mountain sheep.

Like his friend Stephen Mather,

Sheldon did not do anything halfway.

As an avid hunter and skilled but amateur naturalist,

he embarked on field trips toobserve North American sheep

that took himfrom the mountains of Mexico,

all the way up the Rockies through Canada,

to the territory of Alaska

and the highest point onthe continent--Mount McKinley,

20,320 spectacular feet above sea level.

MAN: And there's something distant and special

about that mountain.

Well, it's bigger than hell,

and it's colder than hell on top.

They said it was cold as

the heart of an elderly whore.

I like it because unlike Everest,

which rises out of a very high plateau--

I think the base camp on Everest is

something like 16,000 feet high.

And here you see the whole magnificence of this peak

rising almost from sea level.

It's very thrilling.

COYOTE: The local Athabaskan Indians reverently called

the perpetually icebound andsnow-covered mountain Denali,

"the high one."

But in 1896 when the region was still marked

as unexplored on official maps,

a failed businessman turned prospector,

who had been arguing politics with his companions,

dubbed it Mount McKinleyafter the presidential candidate

he happened to be supporting.

By 1903, the allure of being the first to scale

the continent's tallest summit had begun to attract

a handful of adventurers.

One of them, Frederick Cook,

president of the prestigious Explorers Club,

announced thathe had made it to the top

in a wild dash of 2 weeks,

and produced a photo to support his claim.

But a later expedition provedthat Cook had been lying--

by replicating his photo at one of the mountain's lower peaks

as proof of his deceit.

A few years later, 4 prospectors in a bar near Fairbanks

decided they would claim the honor of being

the first to conquer McKinley.

Before setting off on their dogsleds,

they promised to place an American flag on the summit,

where their friends in the barmight see it through telescopes.

MAN: And with their bib overallsand boots and canvas parkas

and jug of hot chocolateand a couple of doughnuts,

they headed up

from their 11,000-foot camp

and made it up in one day

to the north peak.

Modern climbers just stand in awe

of this immense gallop up there,

because they went up there with no climbing experience,

no route except as they discover it foot by foot,

and they got up there and they got back in one day.

Two of them made it to the top.

COYOTE: Many people simplyrefuse to believe their story.

Besides, it was pointed out, the north peak is

actually 850 feet lower than the south peak.

Finally, in 1913, a team led by Hudson Stuck,

Alaska's Episcopal archdeacon;

Harry Karstens, an experienced local outdoorsman;

and Walter Harper--

the half-Indian son of a fur trapper,

made it all the wayto the top of the south peak.

MAN: There was no pride of conquest,

no gloating over good fortune that had hoisted us

a few hundred feet higher

than others who had struggled and been discomfited.

Rather was the feelingthat a privileged communion

with the high placesof the earth had been granted.

And to cast our eyes down from them,

seeing all things as they spread out

from the windows of heaven itself.

MAN AS CHARLES SHELDON: I haveoften wondered in listening

to descriptions of emotions evoked by the scenery

of our national parks

why it was that animals are not more mentioned.

Does not, like the spirein the civilized landscape,

a wild animal so adorn it

that we feel that it is complete?

That feeling, the completeness of all your feelings

aroused by such wild scenery,

will be constantly gratified

to the uttermost in this proposed park.

Charles Sheldon.

COYOTE: For the naturalist Charles Sheldon,

what made the region unique

was not justthe awe-inspiring mountain,

but the abundance of wildlife teeming all around it.

Grizzly bears roaming unconcerned

about the presence of any other animal,

including humans;

moose, which Sheldon described

as looking more like prehistoric beasts

than any animal we have;

"caribou," he said, "that surrounded me

"like cattle on a cattle ranch";

And the species that had drawnhim north in the first place--

the distinctive Dall sheep.

Sheldon made 2 visits

to the wilderness around Mount McKinley--

one for an entire year to observe the sheep,

study their habits,

and collect specimens

for the American Museum of Natural History.

Back in New York, Sheldon began promoting

the idea of making McKinley a national park

among his fellow members of the Boone and Crockett Club,

including the founders-- George Bird Grinnell

and ex-President Theodore Roosevelt.

Without protection, he told them,

the wildlife near Mount McKinley would be slaughtered

by market hunters.

DUNCAN: Charles Sheldon, George Bird Grinnell,

Theodore Roosevelt--

they are the closestthing that we had in America

to aristocracy--

really wealthy people whobecause of their heredity were

freed oftentimes from havingto go out and make a living.

That's as close to royalty as we could get.

And while others likethem might be using that status,

using that wealth to accumulate more for themselves,

almost counterintuitively,

they were out there looking out for everybody's benefit.

They were patricians but populists.

They were guardians of the greater good,

though it wasn't going to necessarily benefit them

personally.

BILL BROWN:The movement for the park

that Sheldon initiated occurred at a time

when a clubby atmosphere worked very well.

It was a small power elite.

These people belonged to the same clubs,

had gone to the same schools,

had innumerableinterties with one another.

I mean, it was a place whereabout a dozen people counted,

and you could round up those dozen people

if you were a Charles Sheldon.

MAN AS SHELDON: It has been said

that the mountains would remain there.

Why make it a national park now?

The reason for doing it immediately is

to save the magnificent herds of game,

which are now threatened.

They exist there as a link connecting this life

with the life of the past ages,

just as the records in the rocks show

the records of the past ages there before you.

COYOTE: As they had once donefor Yellowstone's wildlife,

members of the Boone andCrockett Club swung into action.

With his friend Stephen Mather confined to a sanitarium,

Sheldon moved to Washington,

prowling the halls of the Capitol

to push the bill through.

On February 26, 1917,he personally delivered it

to President Wilson for signing.

His only disappointment was that Congress,

in creatingMount McKinley National Park,

had ignored his repeated pleas to return the mountain

and its new parkto its original name--Denali.

In the coming decades,

the highest peak ofNorth America would continue

to attract, challenge, and awe

climbers from all over the world,

includingBradford and Barbara Washburn

from Lexington, Massachusetts.

WOMAN: And a movie company came to Brad

and asked if he would leadan expedition to Mount McKinley.

And one of the peoplefrom R.K.O. came to me and said,

"Mrs. Washburn, I understandyou've climbed the mountain.

"Why don't you come on this trip?"

And I said, "Well, I can't.I've got 3 little children.

"I certainly can't do that."

And so then they got Brad

behind the scenes and said,

"If you could persuade your wife

"to go on this trip, it would make a better movie

"to have a girl in it."

But anyway, I went, and it wasn't that bad.

It was hard work, at least for me, trudging up the mountain.

I had to be concentrating to keep going

and not be a problem to anybody and not have to take a rest.

When you're on a rope with other guys,

you don't want to take a rest.

BRADFORD WASHBURN: I think one of the most exciting things

about having Barbara on the trip was

the fact that we were sharingthe beauty with each other.

We snuggled in bed together atnight there in the mountain.

And I remember a picture I got of her that year

at 18,000 feet looking down

the backside of McKinley.

McKinley's an old pal,

but you have to set foot on that mountain

almost with reverence

because if it wantsto, it can tear you to pieces.

The view from the top is wonderful.

I know the fellow who madethe first ascent of McKinley,

and he was asked later on

what the view from the top of McKinley was,

and he hesitated for a moment.

He said, "That's like lookingout the windows of heaven."

I've never forgotten that.

When we left the last time, we both cried.

It was like leaving a good friend.

MAN AS ALBRIGHT: Each idea I have must be tested.

Each fork of the trail must be examined.

Maybe it'slike constructing a house.

I'm at the stage whereI'm laying the foundations.

I have no blueprints and no architect,

only the ideal and principles

for which the Park Service was created.

I think of myself as an explorer in unknown territory.

Horace Albright.

COYOTE: With his mentor Stephen Mather

still hospitalized, the task of organizing

the brand-new National ParkService fell to Horace Albright.

At 27, he was the youngest person

in the fledgling organization,

2 years younger than the department's messenger boy.

There was so much to be done--

testifying before Congress,

embarking on a 10,000-mileinspection of the western parks,

and fending off questions about his boss' whereabouts.

Albright's task became even more challenging

in April of 1917.

The United States entered the Great War

that had been raging in Europe for almost 3 years.

Western lumber and livestock interests saw

the war mobilization as an opportunity

to exploit the national parks.

President Wilson was persuaded to reduce the size

of Washington's Mount Olympus national monument

by one half in order to open up virgin stands of forest

for timber cutting.

Ranchers eager to graze theirsheep and cattle in the parks

encouraged friendly newspapers to editorialize

that soldiers need meat to eat, not wildflowers.

There were even proposals

that Yellowstone National Park's elk and buffalo herds

be slaughtered for canned meat to send to the troops overseas.

Albright did the best he could to protect the parks

from it all.

When Interior Secretary Lane ordered him

to let 50,000 sheep graze in Yosemite Valley,

Albright stopped the plan by threatening to resign.

During the war, Albright accepted an invitation to visit

southern Utah,where the Virgin River carves

its way through a beautifulcanyon of sandstone cliffs.

It had been set aside as a national monument in 1909,

named Mukuntuweap, fromthe Paiute word for "canyon,"

but had been virtually ignored by the federal government

ever since.

Albright was the first official from the Interior Department

to actually see it.

MAN AS ALBRIGHT: Local Utah people said

that Yosemite was a Mukuntuweap without color.

But this didn't faintly prepare me for the reality

of the towering rock walls splashed

with brilliant hues of tans and reds interspersed with whites.

It was love at first sight for me.

I was so impressed thatI determined we should expand

Mukuntuweap and have it made a national park.

COYOTE: Albright's enthusiasm was enough to persuade

President Wilson to expand the national monument

and to change its name from Mukuntuweap--

which Albright believed was

too hard to pronounce, spell, and remember--

to the name the local Mormons used for the canyon:

for the pure at heart.

At the end of 1919, Congress setit aside as a national park.

MAN: I was brought into the world

on January, 5, 1914,by a midwife in a lumber shack

on the family farm.

That's just about where Zion Park headquarters stands today.

But as I grew up, of course, I

saw the park develop.

I saw roads built.

I saw the lodges come into being.

I can say that I and the park

more or less did grow up together.

Later I became a dishwasher at the Zion Lodge.

Whenever I got the chance,if I get my work done in time,

I'd go down and stand outside the recreation hall

and listen to the naturalist give his talk.

And I was fascinated, of course,

mostly by the fact that, gee, here are these rangers

that are dressed nicely.

They got a good job.

I'd like to be one of those.

Well, after World War II, as I came home from Europe,

I was hired as a seasonal naturalist.

I loved it.

I used to say, "Golly, I'd work for nothing,"

except that I had to eat.

I don't have any Indian genes in me that I know of.

I wouldn't go so far as to say

that I consider the peaks and the rocks have life

and talk to you,

but it has something spiritual about it.

I did write a poem--

where I talked to the mountain and it talks back to me,

but that's fantasy, of course.

But why not dream a little bit?

MAN AS ALBRIGHT: Mr. Mather's doctor recommended

that I be the one and only visitor

other than Mrs. Mather for a while.

"His life depends upon national parks," the doctor said.

"I think I can break him back through the parks.

"But without them, I don't know what may happen."

COYOTE:18 months after his collapse,

Stephen Mather returned to his job.

He threw himself into his work as if he had never been away.

MAN AS MATHER: The national parks seem destined

to play a role in satisfyingthe longings of the people

in times of great nervous tension

through the calming andinspiring influence of nature.

Anyone who has been so fortunate as to witness

their marvels and spend quiet hours

in the inspiring contemplation of their beauties

will surely return home with a burning determination

to love and work for, and if necessary fight and die for,

the glorious land which is his.

TERRY TEMPEST WILLIAMS: Our national parks are

places of pilgrimage--

a place where we returnover and over again to be still,

to be contemplative.

And not only do we save

these lands

or save these national parks.

They save us.

There's somethingabout this wild continuity

that gives us courage,

that allows us to be the bestof who we are as human beings.

COYOTE: Reinvigoratedfrom his time in the parks,

Mather became enthusiastic

about the scenic attractions of Utah

and the southwestern deserts.

He pushed for the creationof Arches national monument,

the world's largest collection

of exquisite red sandstone architecture sculpted

over the eons by wind, rain, and ice.

He also lobbiedfor what eventually became

Great Basin National Park, home

of the toughand gnarled bristlecone pines,

the oldest living things on earth:

some growing for nearly 5,000 years.

And he wasinstrumental in setting aside

a magnificent naturalamphitheater carved by erosion

from the side of a mountain ridge,

filled with eerie rock spiresand minarets called hoodoos:

Bryce Canyon National Park.

It was named in honor of an early settler,

Ebenezer Bryce, who had long since left the area

after reportedly saying,

"It's a hell of a place to lose a cow."

But now Mather set his sights on a even bigger canyon,

whose absence from his list ofnational parks bothered him

more than anything.

MAN AS J.B. PRIESTLEY: Thereis, of course, no sense at all

in tryingto describe the Grand Canyon.

Those who have not seen it will not believe

any possible description.

Those who have seen it know that it cannot be described.

It is not a showplace, a beauty spot, but a revelation.

The Colorado River made it,

but you feel when you are there

that God gave the Colorado River its instructions.

The thing isBeethoven's Ninth Symphony

in stone and magic light.

I hear rumors of visitors who were disappointed--

the same people who will be disappointed

at the Day of Judgment.

J.B. Priestley.

COYOTE: It isthe grandest canyon on earth--

277 miles long, 10 miles wide, a mile deep,

and getting a foot deeper every thousand years

as the Colorado River patiently cuts its way

through layer upon layer of time.

"A grand geological library," John Muir called it.

"A collection of stone books, tier on tier,

"conveniently arranged for the student."

From limestone and sandstone and shale,

all the way down to some of the oldest exposed rock on earth,

Precambrian Vishnu schist formed 1.7 billion years ago.

The home over thousands of years of the ancient Puebloans

and the Hopi, the Walapai, and the Havasupai,

the Paiute and the Navajo.

It entered recorded history in 1540,

when Spanish conquistadors under the command of Coronado

peered into its depths and were awed and staggered

by its immensity,

just as every visitorwho followed them would be.

In 1869, a one-armed Civil War veteran and geology professor

named John Wesley Powell,

hoping to fill in the biggest remaining gap

of unknown territory in the maps of the United States,

set off down the Colorado.

It was a costly, deadly trip.

He began with 9 men in 4 wooden boats

and emerged with 5 men and 2 boats.

But Powell's expedition was a huge success

and brought the Grand Canyon to national attention.

Proposals to make it a national park dated

But they all had failed in Congress

because of fierce opposition from local ranchers,

miners, and settlers who did notwant the federal government

imposing Then Presidentn whatTheodore Roosevelt had stretched

the limits of the newly passed Antiquities Act,

and with the stroke of his pen established

the Grand Canyon National Monument.

"The Canyon," Roosevelt said,

"represented the most impressive piece of scenery I

"have ever looked at,

"the one great site which every American should see.

"Leave it as it is," he hadadvised the people of Arizona.

No one had listened to him.

A few rustic hotels were already perched

on the Canyon's precipicewhen the Atchison, Topeka,

and Santa Fe Railway extendedits tracks to the South Rim

and began construction of even more buildings.

Yearly visitation rose into the tens of thousands.

Among them was an itinerant piano player

and aspiring composer fromLos Angeles named Ferde Grofe,

who was so overwhelmed by the experience

that years later the memory of it would inspire

his masterpiece, the "Grand Canyon Suite."

[Music playing on soundtrack]

Equally impressed was a humorist from Paducah, Kentucky,

named Irvin S. Cobb.

MAN AS IRVIN S. COBB: Ithink my preconceived conception

of the Canyon was the sameconception most people have

before they come out to see it for themselves--

a straight up-and-down slit in the earth.

It is no such thing.

Imagine the very heart of the world laid bare

before our eyes.

There's nothing between you and the undertaker

except 6,000 feet, more or less,of dazzling Arizona climate.

Having seen the Canyon fromthe top, the next thing to do is

to go down into it.

Down a winding footpath moves the procession,

all as nervous as cats and some holding to their saddle pommels

with death grips.

All at once, you notice

that the person immediately ahead of you

has apparently ridden right over the wall of the Canyon.

It is at this point

that some tourists tender their resignations

to take effect immediately.

You reflect that thousands of persons

have already done this thing,

that thousands of others are going to do it,

and that no serious accident has yet occurred,

which is some comfort but not much.

The natives will tell you the tale of a man

who made the trip

by crawling around the more sensational corners

upon his hands and knees.

Presently, when you've begun to piece together

the tattered fringes of your nerves,

you realize that this canyon is even more wonderful

when viewed from within than it is when viewed from without.

Also, you begin to notice now

that it is most extensively autographed.

Apparently, about every other person who came this way

remarked to himself, This canyon was practically completed

and only needed his signature as collaborator

to round it out.

COYOTE: Of all the entrepreneurs who descended

upon the Grand Canyon in the early 20th Century

hoping to earn a living off its scenery,

none worked harder than2 brothers from Pennsylvania--

Ellsworth and Emery Kolb.

In 1902, they had opened a photographic studio

on the South Rim, at first in a canvas tent

near one of the hotels,

and then in a wooden structure they built

at the head of Bright Angel Trail,

the principal route from the rim to the river far below.

Every morning, asthe mule-backed caravans began

their descent, Emery Kolb would take their photograph

at a prearranged spot near the trail head

with his 5-by-7 view camera

and enter information about them in his logbook.

Then he would take off down the trail himself,

carrying his glass plate negatives as he ran

to a makeshift darkroom he and his brother had constructed

near a small spring halfwaybetween the rim and the river.

Kolb would develop his pictures,

then scurry back up the trail in time to offer

the photos for sale when the mule trains returned

from the bottom.

Each trip to the darkroom was

4 1/2 milesand 3,000 vertical feet down,

4 1/2 milesand 3,000 vertical feet back up.

MAN AS COBB:Just under the first terrace,

a halt was made

while the official photographer took a picture.

And when you get back, he hasyour finished copy ready for you

so you can see for yourself just how pale and haggard

and walleyed and like a typhoid patient you looked.

COYOTE: During slow seasons,

the Kolb brothers set offto explore parts of the Canyon

tourists never experienced,

always lugging their bulky camera equipment

and oftentaking great risks to find

the perfect vantage point.

They brought back someof the most stunning photographs

of the Grand Canyon the world had ever seen,

offered them for sale, and had trouble keeping up

with the demand for copies.

And when that wasn't enough, in 1911,

they decided to retrace

John Wesley Powell's historicboat trip down the Colorado

and record it notonly with still photographs,

but witha motion-picture camera.

The trip took 3 rough, exhilarating months

and included a number of close calls on the turbulent river,

including one in which Emery insisted on filming

his brother's precarious situation

before tossing him a life preserver.

They emerged with the world's first moving pictures

of the raging Colorado

and the majestic canyon it had carved,

took their finished product on a lecture tour

to packed theaters all around the East Coast,

and then built an addition to their studio

on the Canyon's rimto house a small auditorium,

where every day Emery Kolb wouldpersonally narrate the film

for tourists, who had come thousands of miles

to see the Grand Canyon but preferred

that at least part oftheir experience be confined

to a movie screen.

MAN AS COBB: Nearly everybody

on taking a look atthe Grand Canyon comes right out

and admits its wondersare absolutely indescribable,

and then proceeds to write

anywhere from 2,000 to 50,000words giving the full details.

In the presence of the Grand Canyon,

language just simply fails you,

and all the parts of speech go dead lame.

When the Creator made it, He failed to make

a word to cover it.

Irvin S. Cobb.

MAN AS MATHER: Inmany of the foreign estimates

of the great natural spectacles of America,

the Grand Canyon stands at the top.

Its absence from the list ofour national parks, therefore,

seems to belittle, in foreign eyes,

our entire national park system.

What can the system amount to, they ask,

if it doesn't even include the Grand Canyon?

MAN AS ALBRIGHT: Mather desperately wanted

the Grand Canyonmade into a national park.

I felt it would be a tremendous boost to his health

and well-being,

so I put in an enormous amount of time and energy

in the project.

COYOTE: In their quest to add the Canyon

to the system of parks they were building,

Stephen Mather andHorace Albright found themselves

blocked at every turn by a man who considered the Canyon

his own private domain,

and was unafraid to take on the federal government,

the Santa Fe Railroad, or anyone else who got in his way.

MAN: I was exploring the Grand Canyon

before other men ever knew there was a Grand Canyon.

I went there to seek a fortune,

which all prospectors expect to make.

And I've always said that I would make more money

out of the Grand Canyon than any other man.

Ralph Henry Cameron.

whose opinion of himself was as grand as the canyon

he planned to exploit.

A few of Cameron's mines actually yielded

some valuable ore,

but the vast majority of his claims seemed

conveniently located

on the most scenicspots along the South Rim,

and he never seemed to do much mining on them.

At one claim near the head of the Bright Angel Trail,

which he preferred to call the Cameron Trail,

he built a cabin, named it Cameron's Hotel,

and dispatched employees to hound tourists

getting off the train to patronize it.

On the trail itself, he erected a gate at the rim,

where his brother would collect a toll of a dollar a person

for its use.

When Coconino County was declared

the trail's proper owner,

Cameron used his influence as a county commissioner

to be awarded the franchise tocontinue collecting the tolls.

Halfway down the trail

at a small oasis called Indian Gardens,

he operated a ramshackle tent camp,

where he charged passingtravelers outrageous prices

for water,

then charged again for the only outhouses

between the rim and the river.

Meanwhile, as Stephen Mather steadily built support

in Congress for his park proposal,

federal officials ruled

virtually all of Cameron's claims invalid

because of their lack of mineral value.

The Secretary of the Interiorordered him to abandon them.

Cameron ignored it all,and instead filed 55 new claims,

bringing his total to 13,000 strategically placed acres.

In a lawsuit working itsway toward the Supreme Court,

his lawyers were even arguing

that Theodore Roosevelt's executive order

creating the national monument had been illegal.

In 1919, Congress at last passed a bill creating

Grand Canyon National Park.

A year later when the Supreme Court

finally and unequivocally ruled against Cameron,

Mather and Albright figured thattheir troubles with him were

over at last.

They couldn't have been more wrong.

In the election of 1920,

Arizona sent him to Washington

as a United States senator.

"I feel like getting even,"

Cameron had written a friend.

"And if I live,

"I certainly will."

MAN AS JOHN D. ROCKEFELLER JR.: I never had any doubt

about the existence of a divine being.

To see a tree coming out in the spring was

enough to impress me with the fact that God existed.

John D. Rockefeller Jr.

COYOTE: John D. Rockefeller Jr. was the only son

of the richest and, some said,most hated man in America--

John D. Rockefeller Sr.,

the founder of the vast Standard Oil trust--

which at the time refined more than 90% of the oil

sold in America.

John D. Jr. had been raised in accordance

with his father's strict Baptist creed--

to work hard, to watch every penny,

and remember to give to charity.

In 1908, he had come to Mount Desert Island

with his wife Abby, a New Englander

who instilled in him an abiding love of the Maine coast.

Two years later, he purchasedan estate near Seal Harbor

on the quiet side of the island,

where his growing family could spend their summers

in relative privacy and enjoy

what he called one ofthe greatest views in the world.

That same year at age 36,

Rockefeller had made a momentous decision.

He would step away

from the pursuit of even greater wealth and the management

of his father'sextensive business interests,

and devote himself instead to a single goal--

the social purposes, he said,to which a great fortune

could be dedicated.

Then he was introduced to George Dorr,

who was still seeking funds to acquire

even more land on Mount Desert Island

and still hoping to turn the new national monument

into a national park.

MAN AS ROCKEFELLER JR:George Dorr is an impulsive,

enthusiastic, eager personwho works at high tension,

neglects his meals,sits up too late at night,

and rushes about fromone pressing thing to another.

But he is very diligent, as well as highly inventive.

COYOTE: Rockefeller soon became Dorr's principal patron.

As he quietly began buying up land,

Rockefeller also launched

the most ambitious networkof wilderness carriage roads

New England had ever seen,

not only paying for it all,but overseeing every detail.

Meant for the aesthetic enjoyment of people

riding in open carriages,on horseback, or on a bicycle,

the paths were painstakingly located to present

a series of scenic vistas displaying

Mount Desert at its best.

Each bridge, made of local granite

so it would blend into its setting,

was individually designed,including one that was given

a graceful curve to save 2trees from being destroyed

and orientedso that a nearby waterfall was

in the same line of the sight as the bridge's arch.

By the time he was through,

Rockefeller had built 57 milesof carriage roads weaving

through the island,donated 10,000 additional acres,

and spent $3.5 million for the dream

that had begun as youngCharles Eliot's fanciful notion,

his father's noble tribute,

and George Dorr's magnificent obsession.

Stephen Mather was enthusiastic about the plans.

Having a national park in the East

closer to the nation's major population centers

would help buildsupport for the larger system

he was trying to create.

It would also be a different kind of park--

smaller, more intimate, and set aside not from federal land,

but as a gift

from some of the country's wealthiest citizens.

On February 26, 1919,

the same day the Grand Canyonwas brought into the system,

15,000 acres of Mount Desert Island--

triple the original gift--

also became a national park, eventually named Acadia,

the French word for "heaven on earth."

MAN AS DORR: The present generation will pass

as my own has done.

But the mountains and the woods, the coasts and streams

that have now passed through the agency of the park

to the national government will continue

as a national possession,a public possession henceforth

for all time to come.

It never will be givenup to private ownership again.

Then men in control will change,

the government itself will change,

but its possession by the people will remain.

George Dorr.

COYOTE: George Dorr was now 65.

Despite his age,

he was immediately named superintendent.

He would remain in that job for the next 25 years.

He would continue badgeringmore of his summertime neighbors

to donate their property,

and would so thoroughly sacrifice

what remained of his inheritance to the cause

that when he died in 1944,

his estate had money for his funeral

only because its trusteeshad secretly put $2,000 aside

to prevent Dorr from giving it all away.

Circling over a part of the island he had especially loved,

friends scattered his ashes from a plane.

Two wealthy matrons enjoying lunch on the terrace

of their summer cottage looked up

as some of the plane's wafting cargo drifted down

into their teacups.

"Oh, dear," one of them exclaimed.

"It's Mr. Dorr."

DUNCAN: One of myfavorite Robert Frost poems is

"West-Running Brook," where he describes

this beautiful stream coming down.

And the narrator is pointingout this one spot in the brook

where the water hitsa rock and is thrown backward,

and the beauty of that spot where it sparkles in the light.

And he saysit's from that that we spring.

It's going back

toward the source, toward,

as he said, "the beginning of the beginnings."

And I think national parks are a part of that--

that sparkle in the water.

Life pushes us forward.

Our society moves forward in a great rush,

but the parks are that place that throws us back

a little bit.

That makes us pause, makes us reflect,

and points us back to the source,

to the beginning of beginnings.

And that's their value, and that's their beauty.

COYOTE: National parks could now be found

in the territories of Hawaii and Alaska,

from the coast of Maine tothe canyons of Utah and Arizona.

And there was a new agency trying to figure out

how to care for them all.

Stephen Mather could easily claim victory

for setting it in motion and step down.

But he was feeling strong again and bursting with more ideas,

ideas that would bring even more Americans to their parks.

MAN AS MATHER: What is it that inspires love of the flag,

that tunes the ear of America to sing

"My Country 'tis of Thee"?

Is it industrial efficiency, irrigation statistics,

or trade output?

Is it the hideous ore dumps of the sordid mining camp?

Is it the grim powerhousein which is harnessed Niagara?

Is it the blackened waste that follows the devastation

of much of our forest wealth?

Is it the smoking factory of the grimy mill town,

the malodorous wharves along navigable rivers?

Is it even the lofty metropolitan skyscraper

that shuts out the sunand throws its dismal shadow

over all below?

No. Our devotion to the flag is inspired by love of country.

Patriotism is the religion of the soil,

and national parksare our richest patrimony.

ANNOUNCER: Next time on "The National Parks,"

as American embraces the automobile,

a Nebraska housewife seeks peace in the parks...

WOMAN: At last, I have foundthe spirit of the woods.

ANNOUNCER: a honeymoon couple searches for adventure

in the Grand Canyon,

and the fate of the Great Smokies

becomes a race with the lumberman''s saw...

MAN: It was wrecked, ruined.

Did anyone ever thank Godfor a lumberman''s slashing?

ANNOUNCER: as"The National Parks" continues.

DIFFERENT ANNOUNCER: To furtherexplore "The National Parks:

America''s Best Idea," visit PBS on-line at...

"The National Parks: America''s Best Idea,"

a film by Ken Burns,

is available on DVD and Blu-ray.

A companion book and CD are also available.

To order, visit shopPBS.org

or call 1-800-PLAY-PBS.

Captioning made possible by Friends of NCI

Captioning made possible by Friends of NCI

Bank of America is proud to be

exclusive corporate underwriter

for the films of Ken Burns

and hopes you enjoyed this encore presentation.

Announcer: Our national parks belong to all of us.

They are places of discovery, they are places of inspiration,

they are America's best idea.

Major funding provided by: the Evelyn & Walter Haas, Jr. Fund.

Additional funding was provided

by the Park Foundation in support

of a clean and healthy environment;

The Arthur Vining Davis Foundations--

dedicated to strengthening America's future

through education;

the National Park Foundation,

the official charity of America's national parks;

the Peter Jay Sharp Foundation;

the Pew Charitable Trusts;

by General Motors;

by the Corporation for Public Broadcasting;

and by generous contributions to this PBS station

from viewers like you.

Thank you.