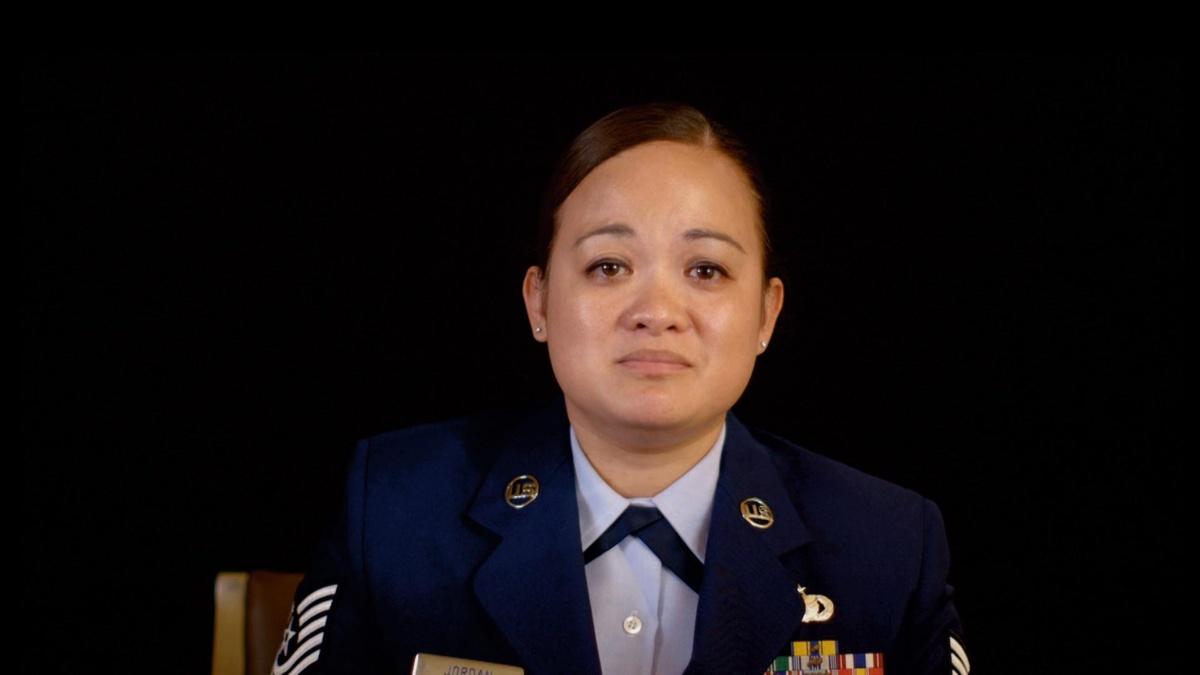 S1 E2 | CLIP
War & Peace: Talk of War
Talking with children about war can be a difficult task for parents. But military families have no choice – for them, war is both a global and a personal issue. This film shows military mothers and fathers as they handle this tough topic with their children.
TRANSCRIPT

MAN: SOME CIVILIANS, YOU KNOW, GO ON TRIPS AND WHATNOT,

BUT THEY'RE NOT ALWAYS GOING ON TRIPS OVERSEAS

PUTTING THEIR LIFE ON THE LINE,

SO IT'S--IT'S TOUGH BEING GONE,

UH, NOT KNOWING IF YOU'RE GOING TO SEE YOUR CHILDREN AGAIN.

WHEN MY DAD TOLD ME HE WAS BEING DEPLOYED,

I--I WAS--I WAS VERY SAD.

I, UH--I DIDN'T KNOW HOW LONG HE--

HOW LONG HE WAS GOING TO BE GONE

BECAUSE HE DIDN'T TELL ME YET.

I--I--I DIDN'T KNOW WHY.

SOMETIMES THEY'RE OK WITH IT,

SOMETIMES IT'S JUST A-- IT'S A BIG ORDEAL,

SO I THINK THAT'S WHAT PEOPLE

DON'T UNDERSTAND ABOUT THE MILITARY

IS SOMETIMES WE JUST GOT TO GET UP AND--AND LEAVE,

AND THERE'S NO NOTICE.

I WORRY THAT SHE, UM, IS GOING TO GET DEPLOYED AGAIN

TO, LIKE, SOME OTHER PLACE

THAT DOES HAVE TO GO THROUGH, LIKE, WAR AND EVERYTHING.

I TOLD THEM THAT IT WAS GOING TO BE OK,

THAT, YOU KNOW, WE WERE GOING TO DO THIS TOGETHER,

AND, UM, I WOULD BE HOME WHEN IT WAS TIME TO COME HOME.

I WAS OK WITH THE MONTHLY DRILLS

AND, YOU KNOW, KEEPING IT IN THE COUNTRY,

BUT KNOWING THAT YOU HAD TO GO SO FAR AWAY

TO SOME PLACE SO DANGEROUS,

I--THAT WAS MOST WORRIED I'VE EVER BEEN IN MY LIFE.

THERE'S A PART OF ME THAT DOESN'T WANT TO TELL THEM

EVERYTHING THAT THEIR DAD IS DOING OR GOING THROUGH.

WE ALSO DIDN'T TALK ABOUT NEGATIVE THINGS

THAT WERE GOING ON AT HOME.

WE ALWAYS JUST WOULD KEEP IT VERY POSITIVE

AND TALK ABOUT THE POSITIVE THINGS.

WE TEND NOT TO WATCH THE NEWS

JUST BECAUSE WE DON'T WANT TO WORRY.

WE WANT OUR EVERYDAY LIFE TO CONTINUE AS IT IS,

AND I WANTED THINGS TO BE NORMAL FOR THEM.

YOU BASICALLY JUST HAVE TO LET THEM KNOW AS THEIR FATHER

THAT WHAT YOU SAY IS WHAT THEY NEED TO FOCUS ON,

NOT THE CHATTER, NOT THE--THE RUMOR MILL,

NOT WHAT THEY HEAR ON THE NEWS.

YOU JUST LET THEM KNOW

THAT MOM'S GOING TO BE FINE, YOU KNOW.

"MOM'S GOING TO BE BACK, DON'T WORRY.

"IT'S GOING TO BE SOON.

IT'S NOT GOING TO BE TOO MUCH LONGER,"

YOU KNOW, "YOU CAN BE STRONG."

I JUST WANT TO MAKE SURE THAT MY KIDS DON'T--

DON'T THINK THAT THEY'RE--

THAT MY JOB IS MORE IMPORTANT THAN THEY ARE.

EVEN THOUGH YOU ARE FAR AWAY,

AND, LIKE, YOU HAVE TO GO THROUGH HARD THINGS AT WORK,

I THINK IT'S JUST REALLY AMAZING

THAT YOU CAN, LIKE, HELP OUR COUNTRY.

I UNDERSTAND, YOU KNOW?

I UNDERSTAND THAT SOMEBODY HAS TO DO IT,

AND SOMETIMES I'M MAD THAT IT'S YOU,

SOMETIMES I'M SAD THAT IT'S YOU,

BUT I'M PROUD THAT IT'S YOU.

I'M PROUD THAT I CAN SAY THAT MY DAD DOES THOSE THINGS.