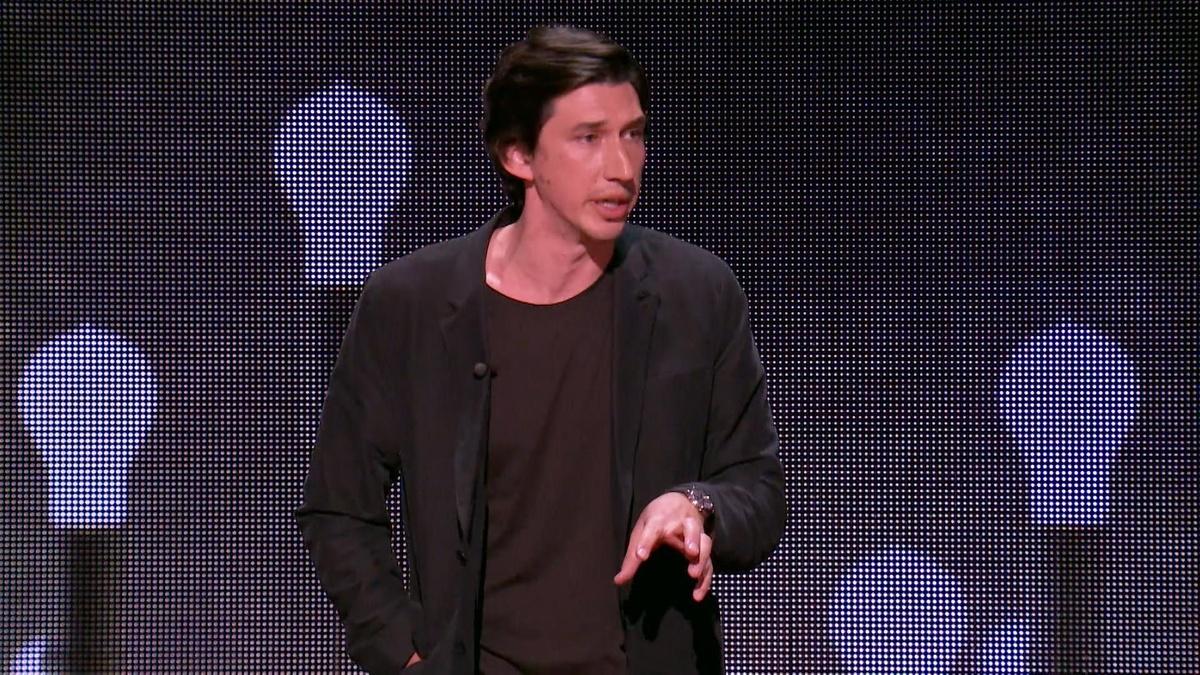 S1 E2 | CLIP
Adam Driver on Why He Joined the Marines
In this excerpt from TED Talks: War and Peace, actor (Star Wars; Girls) and veteran Adam Driver talks about what led him to join the Marine Corps after September 11, 2001, and what ultimately appealed to him the most about his time in the Marines: his fellow soldiers, an oddball group of people.
TRANSCRIPT

AND--AND THE MILITARY AND THEATER COMMUNITIES

ARE ACTUALLY VERY SIMILAR.

YOU HAVE A GROUP OF PEOPLE

TRYING TO ACCOMPLISH A MISSION GREATER THAN THEMSELVES,

IT IS NOT ABOUT YOU,

YOU HAVE A ROLE,

YOU HAVE TO KNOW YOUR ROLE WITHIN THAT TEAM,

EVERY TEAM HAS A LEADER OR A DIRECTOR,

SOMETIMES THEY'RE SMART, SOMETIMES THEY'RE NOT,

YOU'RE FORCED TO BE INTIMATE WITH--WITH COMPLETE STRANGERS

IN A SHORT AMOUNT OF TIME,

THE--THE SELF-DISCIPLINE, THE SELF-MAINTENANCE.

I THOUGHT HOW GREAT WOULD IT BE TO CREATE A SPACE

THAT COMBINED THESE TWO SEEMINGLY DISSIMILAR COMMUNITIES

THAT BROUGHT ENTERTAINMENT TO A GROUP OF PEOPLE THAT,

CONSIDERING THEIR OCCUPATION,

COULD HANDLE SOMETHING A BIT MORE THOUGHT PROVOKING

THAN THE TYPICAL MANDATORY FUN EVENTS

THAT I REMEMBER BEING "VOLUN-TOLD" TO GO TO

IN THE MILITARY,

ALL WELL INTENDED, BUT SLIGHTLY OFFENSIVE EVENTS,

LIKE "WIN A DATE WITH A SAN DIEGO CHARGERS CHEERLEADER,"

WHERE YOU ANSWER A QUESTION ABOUT POP CULTURE,

AND IF YOU GET IT RIGHT, YOU WIN A DATE,

WHICH WAS A CHAPERONED WALK AROUND THE PARADE DECK

WITH THIS, YOU KNOW, ALREADY MARRIED, PREGNANT CHEERLEADER--

NOTHING AGAINST CHEERLEADERS, I LOVE CHEERLEADERS.

THE--THE POINT IS MORE HOW GREAT WOULD IT BE

TO HAVE THEATER PRESENTED THROUGH CHARACTERS

THAT WERE ACCESSIBLE WITHOUT BEING CONDESCENDING.

SO WE STARTED THIS NON-PROFIT CALLED ARTS IN THE ARMED FORCES

WHERE--WHERE WE TRIED TO DO THAT,

TRIED TO JOIN THESE TWO SEEMINGLY DISSIMILAR COMMUNITIES.

WE--WE PICK A PLAY

OR SELECT MONOLOGUES FROM CONTEMPORARY AMERICAN PLAYS

THAT ARE DIVERSE IN AGE AND RACE LIKE A MILITARY AUDIENCE IS,

GRAB A GROUP OF INCREDIBLE THEATER-TRAINED ACTORS,

ARM THEM WITH INCREDIBLE MATERIAL,

KEEP PRODUCTION VALUE AS MINIMAL AS POSSIBLE--

NO SETS, NO COSTUMES, NO LIGHTS, JUST READING IT--

TO THROW ALL THE EMPHASIS ON THE LANGUAGE

AND TO SHOW THAT THEATER CAN BE CREATED IN ANY SETTING.

AND IT'S A POWERFUL THING,

GETTING IN A ROOM WITH COMPLETE STRANGERS

AND REMINDING US-- OURSELVES OF OUR HUMANITY,

AND THAT SELF-EXPRESSION IS JUST AS VALUABLE A TOOL

AS A RIFLE ON YOUR SHOULDER,

AND I CAN THINK OF NO BETTER COMMUNITY

TO ARM WITH THE NEW MEANS OF SELF-EXPRESSION

THAN THOSE PROTECTING OUR COUNTRY.