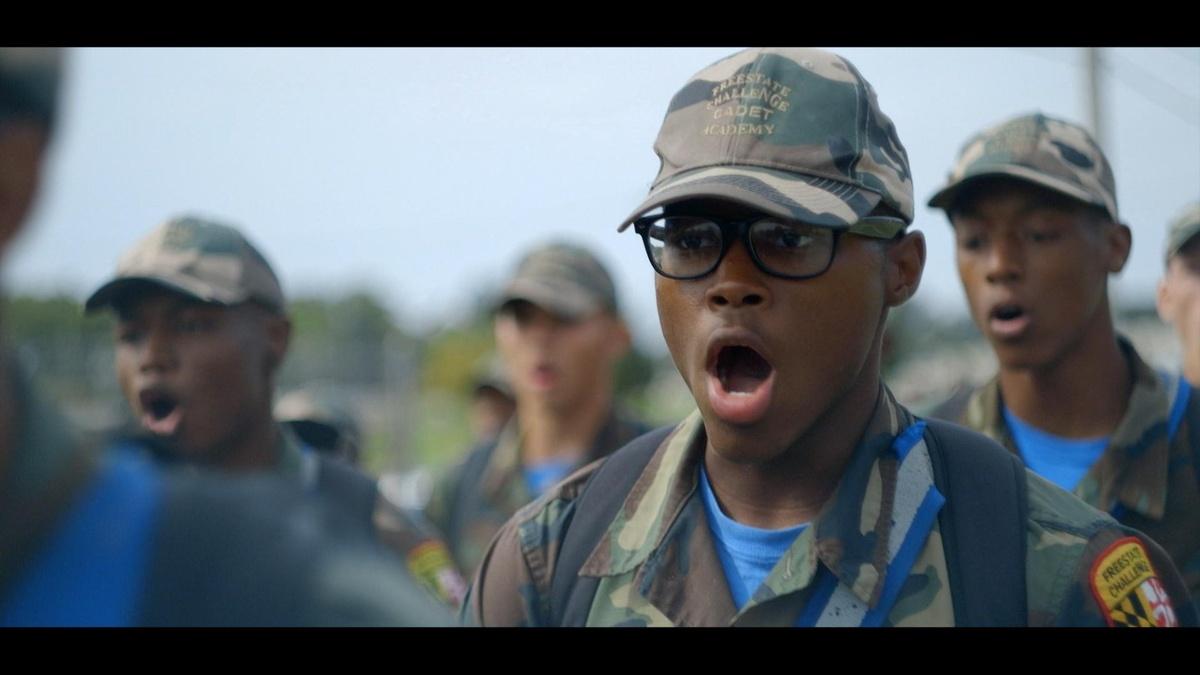 S1 E2 | CLIP
War & Peace: All Roads Point Home
General Linda Singh, Maryland's highest-ranking soldier, served combat tours in Afghanistan and Kosovo and raised two children while confronting racism, sexism, and inequity. Fast-forward to the Baltimore riots of 2015, when she is called upon to use the same skills she honed in the military, but on a national stage.
TRANSCRIPT

ARE YOU DEDICATED?

MALE CADETS: DEDICATED, DEDICATED,

DOWNRIGHT DEDICATED,

YOU CAN CHECK US OUT, YOU CAN CHECK US, WHOA!

WOMAN: [INDISTINCT] ARE YOU MOTIVATED?

FEMALE CADETS: MOTIVATED, MOTIVATED,

DOWNRIGHT MOTIVATED,

YOU CAN CHECK US OUT, YOU CAN CHECK US OUT, WHOA!

ARE YOU MOTIVATED?

YES, MA'AM.

YEAH?

YES, MA'AM.

THAT DIDN'T SEEM LIKE IT.

WHAT'S WRONG?

NOTHING, MA'AM.

AH, DIDN'T THINK I WAS WATCHING YOU.

BIG DIFFERENCE FROM WHEN I WAS HERE THE LAST TIME.

YOU GUYS ARE LOOKING REALLY, REALLY, REALLY, REALLY GOOD.

SOME OF YOU ARE STILL A LITTLE SLACK.

DO YOU THINK THAT I'M NOT GOING

TO CALL YOU OUT ON IT WHEN I SEE IT?

CADET: NO, MA'AM!

OH, "NO, MA'AM"?

CADETS: NO, MA'AM!

SINGH: YES, MA'AM.

I'M GOING TO CALL YOU OUT ON IT.

SINGH, VOICEOVER: PEOPLE LOOK AT SENIOR OFFICERS

IN THE MILITARY

AND THINK THAT WE WENT TO WEST POINT,

AND WE'VE HAD A VERY PRIVILEGED LIFE.

MANY OF US GO IN THE MILITARY

BECAUSE WE MAY NOT BE ABLE TO AFFORD TO MAKE ENDS MEET.

I LEFT HOME AT AGE 16.

I ACTUALLY HAD SOMEONE THAT OFFERED

FOR ME TO BE A PROSTITUTE,

AND I THOUGHT, "IF I DON'T GET AWAY FROM HERE,

"I'M GOING TO END UP EVEN IN A WORSE PLACE

THAN JUST BEING SEXUALLY ABUSED,"

WHICH IS WHAT CAUSED ME TO LEAVE HOME TO BEGIN WITH.

A RECRUITER IN THE MALL

SAID THAT "NOT ONLY ARE WE GOING TO PAY YOU,

"WE GIVE YOU 3 MEALS A DAY,

AND YOU'RE GOING TO HAVE A ROOF OVER YOUR HEAD."

I SIGNED UP JUNE 3rd.

I DID NOT WANT TO BE ON THE STREETS IN THE WINTER.

IT WAS A BIG COMMUNITY.

THE MILITARY REALLY DID SAVE MY LIFE.

HOGAN: I HAVE DECLARED A STATE OF EMERGENCY

AT THE REQUEST OF BALTIMORE CITY.

THIS ORDER DEPLOYS THE MARYLAND NATIONAL GUARD.

THE NATIONAL GUARD REPRESENTS A LAST RESORT.

MAN: HE'S A PHOTOGRAPHER!

HE'S PRESS!

PHOTOGRAPHER!

SINGH: I WOULD HIGHLY RECOMMEND

THAT WE ALL GO IN AND TAKE COVER FOR THE NIGHT

AND ACTUALLY GET SOME REST AND LET THINGS SETTLE DOWN.

IF THERE ARE ANY QUESTIONS ABOUT MARTIAL LAW,

WE ARE NOT AT THAT POINT.

I REPEAT, NOT AT THAT POINT.

SINGH, VOICEOVER: IN SOME COUNTRIES,

WE THINK THAT WE CAN MAKE 300 YEARS OF CHANGE OVER NIGHT.

IF I RELATE THAT BACK TO WHAT WE'RE SEEING IN BALTIMORE,

I JUST DON'T THINK WE'VE GOTTEN THE RECIPE RIGHT.

WHAT WE NEED TO LOOK AT

IS IN THE EVENT THAT WE HAVE TO COME IN,

WE SHOULD BE TALKING TO THE COMMUNITY LEADERS IN ADVANCE.

MAN: YES.

WE NEED TO ASK THEM,

DO THEY NEED ANYTHING FROM US?

SINGH, VOICE-OVER: I THINK THE MISUNDERSTOOD PIECE

IS THAT THE MILITARY COMES IN FIRING OUR WEAPONS,

AND THAT'S NOT EVERY SINGLE UNIT IN THE MILITARY.

OUR FIRST MISSION IS TO REALLY WIN

THE HEARTS AND MINDS OF THE PEOPLE.

WE'RE THERE TO SERVE OUR COMMUNITY.

WE HAVE TO ENSURE THAT WE'RE NOT TRYING TO IMPART

WHAT WE THINK THEIR COMMUNITY SHOULD LOOK LIKE.

WE NEED THEM TELLING US

WHAT DO THEY WANT TO SEE THEIR COMMUNITY BE.

IF IT WASN'T RIGHT YESTERDAY,

CHANGE IT TODAY.

YOU'RE GOING TO MAKE ME PROUD.

WHOA?

CADETS: WHOA!

AND I GUARANTEE YOU,

I'LL HUG EVERY SINGLE ONE OF YOU

WHEN YOU COME ACROSS THE STAGE.

WHOA?

CADETS: WHOA!

SINGH, VOICE-OVER: JUST AS MUCH AS BALTIMORE HAS TO HEAL,

MY SOLDIERS HAVE TO HEAL

BECAUSE THEY'RE ALSO A PART OF THOSE COMMUNITIES.

I'M JUST ASKING THEM TO DO MORE COMMUNITY ENGAGEMENT

AS AN INDIVIDUAL, AS A PERSON,

AS A SOCIAL RESPONSIBILITY.