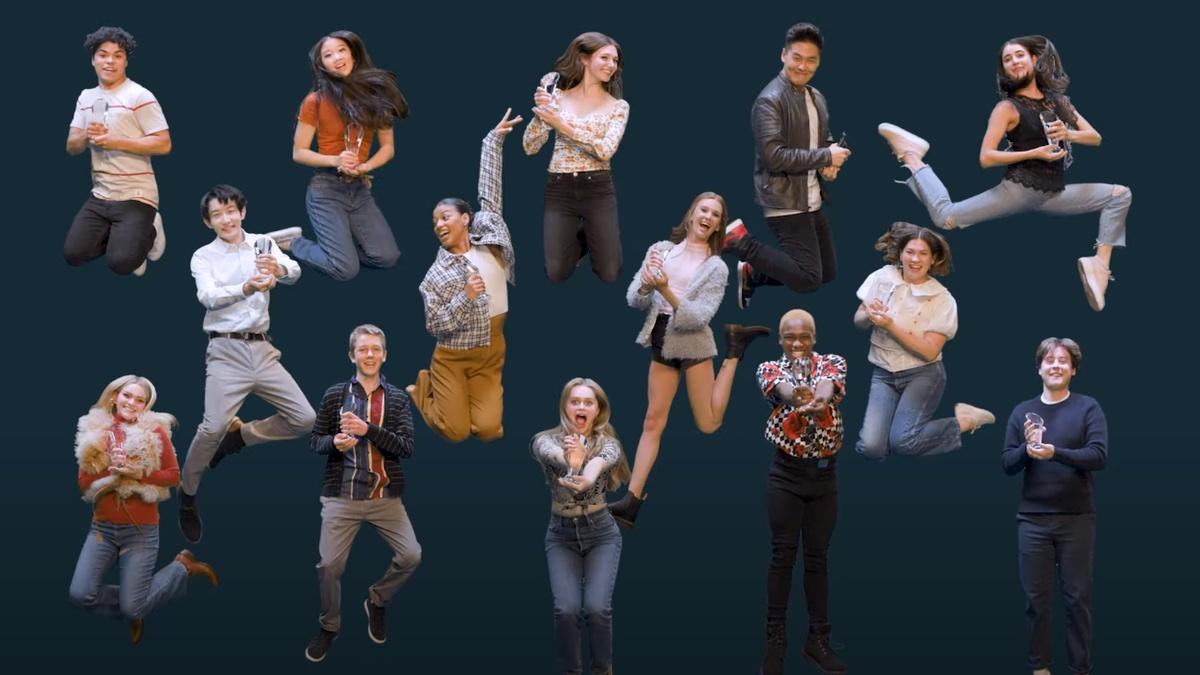 S1 E19 | FULL EPISODE
The Music Center's Spotlight Grand Finale
"Spotlight" alum Josh Groban hosts The Music Center's 33rd annual Spotlight Grand Finale featuring Southern California's most talented young artists. While showcasing the 14 finalists' individual performances in acting, ballet, dance and music, the program shines the light on their stories and their Spotlight experience, from virtual auditions to mastery classes with industry experts.
TRANSCRIPT

[MUSIC PLAYING]

>> ♪♪ I TRIED TO CUT

THESE CORNERS ♪♪

>> ♪♪ TRIED TO TAKE

THE EASY WAY OUT ♪♪

>> ♪♪ I KEPT ON FALLING SHORT

OF SOMETHING ♪♪

>> ♪♪ I COULD'VE GAVE UP

THEN, BUT... ♪♪

>> ♪♪ THEN AGAIN

I COULDN'T HAVE 'CAUSE... ♪♪

>> ♪♪ I'VE TRAVELED ALL THIS WAY

FOR SOMETHING

TAKE IT IN

BUT DON'T LOOK DOWN

I'M ON TOP OF THE WORLD, EH

I'M ON TOP OF THE WORLD, EH

WAITING ON THIS

FOR A WHILE NOW

I PAID MY DUES TO THE DIRT

I'VE BEEN WAITING TO SMILE, EH

BEEN HOLDING IT IN

FOR A WHILE, EH

TAKE IT WITH ME IF I CAN

BEEN DREAMING OF THIS

SINCE A CHILD

I'M ON TOP OF THE WORLD ♪♪

>> [VOCALIZING]

>> ♪♪ AND I KNOW IT'S HARD

WHEN YOU'RE FALLING DOWN

AND IT'S A LONG WAY UP

WHEN YOU HIT THE GROUND

GET UP NOW, GET UP

GET UP NOW

AND I KNOW IT'S HARD

WHEN YOU'RE FALLING DOWN

AND IT'S A LONG WAY UP

WHEN YOU HIT THE GROUND

GET UP NOW, GET UP

GET UP NOW

I'M ON TOP OF THE WORLD ♪♪

JOSH GROBAN: HOW ABSOLUTELY

AWESOME WAS THAT? THE YOUNG

ARTISTS YOU JUST SAW ARE ALL

THIS YEAR'S SPOTLIGHT GRAND

PRIZE FINALISTS. WELCOME. I'M

JOSH GROBAN, AND I'M THRILLED

AND HONORED TO BE YOUR HOST FOR

THE SPOTLIGHT 2021 GRAND

FINALE. IT'S ESPECIALLY

MEANINGFUL TO ME BECAUSE AS A

LOS ANGELINO, I WAS ALSO A

SPOTLIGHT ARTIST WHEN I WAS IN

HIGH SCHOOL. I DIDN'T MAKE IT

TO THE GRAND FINAL--I DID OK,

ANYWAY--BUT SPOTLIGHT HELPED ME

ON MY OWN PATH AND MADE ME

REALIZE HOW DETERMINED AND HOW

RESILIENT I NEEDED TO BE TO

BECOME A BETTER ARTIST. LET'S

TAKE A QUICK LOOK AT WHAT

SPOTLIGHT'S ALL ABOUT AND THEN

MEET OUR FIRST PERFORMER--

SELENA HAMILTON.

ANNOUNCER: THE MUSIC CENTER

SPOTLIGHT IS AN INCREDIBLE,

FREE, ALL-YEAR-LONG PROGRAM

THAT PROVIDES COACHING AND

FEEDBACK AND TREMENDOUS

PERFORMANCE OPPORTUNITIES FOR

STUDENTS FROM ALL OVER SOUTHERN

CALIFORNIA. THE PROGRAM HAS

PROVIDED MORE THAN 49,000 YOUNG

ARTISTS WITH OVER $2.5 MILLION

IN SCHOLARSHIPS. 1,500 STUDENTS

PARTICIPATE IN 7 DIFFERENT

PERFORMING ARTS CATEGORIES, AND

FROM THAT, 14 STUDENTS ARE

CHOSEN AS GRAND PRIZE

FINALISTS. IN ITS 33 YEARS,

SPOTLIGHT HAS LAUNCHED SOME OF

THE WORLD'S LEADING PERFORMING

ARTISTS, AND WHILE MANY GO ON

TO PROFESSIONAL CAREERS IN THE

ARTS, OTHERS TAKE THE

EXPERIENCE AND DISCIPLINE

GAINED TO SUCCEED IN WHATEVER

DREAM THEY FOLLOW.

HAMILTON: I LOVE SHOPPING,

THINK I JUST LOVE PUTTING,

LIKE, PIECES TOGETHER, KIND OF

LIKE DANCE. I STARTED DANCING

WHEN I WAS 4, AND I HAVE NEVER

STOPPED SINCE. THE THING I LOVE

IS HOW I GET TO EXPRESS MYSELF

THROUGH MY MOVEMENT. I'M NOT A

VERY GOOD SPEAKER, SO IT'S,

LIKE, NICE TO HAVE DANCE TO LAY

BACK ON. THE BIGGEST THING I'VE

HAD TO OVERCOME IS SOCIAL MEDIA

AND KNOWING THAT EVERYONE'S

PATHS ARE DIFFERENT THAN MINE

AND NOT TO COMPARE MYSELF TO

OTHERS. IF I HAD TO PUT

SPOTLIGHT IN ONE WORD, IT WOULD

BE "OPPORTUNITIES" BECAUSE I

THINK IT JUST LOOKS GREAT FOR

YOUR FUTURE. IT ALSO GETS YOU

PREPARED FOR THE AUDITIONING

PROCESS.

[MUSIC PLAYING]

[SIMULATED GUNSHOTS]

>> REMORSE IS MEMORY AWAKENED.

HER COMPANY...

[CONTINUES INDISTINCTLY]

ITS PATH IS SET DOWN...

[CONTINUES INDISTINCTLY]

REMORSE IS GERMAN, A DISEASE

NOT EVEN GOD CAN CURE.

[CONTINUES INDISTINCTLY]

REMORSE IS...

[CONTINUES INDISTINCTLY]

HER COMPANY...

REMORSE IS MEMORY AWAKENED.

[CONTINUES INDISTINCTLY]

REMORSE IS MEMORY AWAKENED...

MEMORY AWAKENED...

GROBAN: A POWERFUL PIECE,

INCREDIBLE. NEXT UP, A FELLOW

SINGER--MEGAN COLTON.

COLTON: WHEN I STEP ON STAGE

AND THERE'S THOUSANDS OF PEOPLE

WATCHING YOU, THERE'S NO BETTER

FEELING THAN THAT. I'M THE

SIXTH KID IN MY FAMILY. I WANT

ATTENTION. HA HA! SPOTLIGHT

CHANGED MY PERFORMANCE. ONE OF

THE ISSUES WAS MY BODY IMAGE.

I'VE ALWAYS WANTED TO BE THE

ARIEL, BUT I WAS ALWAYS CAST AS

THE URSULA. IT TOOK A LONG TIME

TO GET OVER THAT, BUT I'M THERE

NOW, AND I LOVE MY BODY. I LOVE

HOW I PERFORM.

♪♪ WHAT DO I DO?

I AM NOTHING WITHOUT YOU

TO MY ANGELS

BELIEVING IS TOUGH

WHEN I'VE LOST MY FAITH

DON'T KNOW MY FACE

I'M SO BEATEN UP

TO MY ANGELS

THERE'S NOTHING I SEE

THAT'S DIVINE

AND I'M WAITING

FOR SOME LITTLE SIGN ♪♪

♪♪ SHOW ME

SHOW ME

I'M SCARED TO THE BONE

AND I'M TERRIBLY LONELY

WOULD YOU HOLD ME

HOLD ME?

JUST SHOW ME A SIGN

SHOW ME SOMETHING THAT'S MINE

TO MY ANGELS

I'M NOT STRONG ENOUGH

TO GET OUT OF HERE

TO FIGHT MY FEAR

NO, I CAN'T GET UP

TO MY ANGELS

I BEG YOU DON'T LEAVE ME BEHIND

JUST GIVE ME

MY OWN PEACE OF MIND

AND POINT ME THE WAY

TO THE LIGHT

JUST SHOW ME YOU'RE WITH ME ♪♪

♪♪ JUST SHOW ME

YOU'RE WITH ME

TONIGHT ♪♪

GROBAN: A BEAUTIFUL VOICE AND A

BEAUTIFUL MESSAGE. THANK YOU SO

MUCH. NEXT UP, TWO ARTISTS,

DANIEL BAE AND ACTOR JORDAN

ANDERSON, PERFORMING THE ROLE

OF AN EX-CON TRYING TO ESCAPE

HIS PAST FROM THE PLAY "SWEAT."

BAE: I REALLY LOVE PLAYING THE

VIOLIN BECAUSE I FEEL SO

CONNECTED TO IT, FEELS LIKE

IT'S ANOTHER EXTENSION OF MY

BODY. I CAN EXPRESS MY FEELING

SO MUCH BETTER THROUGH THE

MUSIC THAT I'M PERFORMING AND

FEEL HAPPY WHEN I PLAY. IT'S

VERY IMPORTANT TO MAKE

CLASSICAL MUSIC MORE

ACCESSIBLE. SHOWCASING IN A

CONTEMPORARY SETTING WOULD MAKE

IT MORE FUN. SPOTLIGHT FEEDBACK

IS SO IMPORTANT BECAUSE NOT

ONLY YOU LEARN FROM IT, BUT

KEEP GETTING INSPIRED.

[PIANO PLAYING]

ANDERSON: I AM A HUGE GEEK. I

LOVE VIDEO GAME CODING. GAMING

IS KIND OF LIKE THEATER, AND

YOU GET A BUNCH OF PEOPLE WHO

ARE GOOD AT A BUNCH OF

DIFFERENT THINGS COMING

TOGETHER AND BEING ABLE TO

CREATE ONE BIG PIECE OF ART AS

A TEAM. WHEN I WAS A CHILD, I

NEVER PERFORMED BECAUSE I WAS

ALWAYS TOO SCARED TO DO IT, AND

FINALLY GETTING UP THE GUTS TO

GO ON A STAGE REALLY JUST

HELPED ME AS A PERSON GROW.

SPOTLIGHT IS AMAZING. THE FACT

THAT THEY GIVE MONEY TO KIDS,

ESPECIALLY GOING INTO COLLEGE,

AND BEING ABLE TO SHOW YOUNG

ARTISTS WHO ARE GOING INTO A

FIELD THAT IS SO COMPETITIVE

AND HEART-WRENCHING, "I CAN DO

THIS WITH MY LIFE," AND I THINK

THAT'S A WONDERFUL AND GREAT

LESSON THAT, YOU KNOW,

SPOTLIGHT IS TEACHING.

I RAN INTO JASON. I WASN'T

EXPECTING IT. IT WAS A WEIRD.

HE LOOKED DIFFERENT. HE HAD

TATS ALL OVER HIS FACE, YOU

KNOW, BIG TATS.

HE LOOKED RIDICULOUS. I HAD TO

DEAL WITH THAT INSIDE, YOU

KNOW, ARYAN BROTHERHOOD.

JASON, HE LOOKED OLD, LIKE A

MAN, LIKE HIS DAD USED TO

BEFORE HE DIED. I DON'T KNOW.

IT JUST KIND OF FREAKED ME OUT,

A COUPLE MINUTES, AND YOUR

WHOLE LIFE CHANGES. THAT'S IT.

IT'S GONE. EVERY DAY, I THINK

ABOUT WHAT IF I HADN'T, YOU

KNOW? I RUN IT AND RUN IT, A

TAPE, OVER AND OVER AGAIN--

"WHAT IF?" "WHAT IF?" ALL NIGHT

IN MY HEAD, CAN'T TURN IT OFF.

REVEREND DUCKETT SAYS, "LEAN ON

GOD FOR FORGIVENESS. LEAN ON

GOD TO FIND YOUR WAY THROUGH

THE TERRIBLE STORM." I'M

LEANING IN THE WIND. I'M ...

LEANING, AND THEN THERE'S JASON

CROSSING PENN, YOU KNOW, AND

I'M JUST CHILLING HERE, LOOKING

THROUGH THE WINDOW OF A SNEAKER

VILLA, NOT THINKING ABOUT

ANYTHING, AND HE SEES ME, AND

I'LL SEE HIM, AND NEITHER OF US

COULD--

IT WAS--

I'VE BEEN THINKING ABOUT WHAT I

WOULD DO, WHAT I WOULD SAY, HOW

I WOULD REACT. I MEAN, WHAT WE

DID WAS UNFORGIVABLE, AND NEXT

THING YOU KNOW, I'M WALKING

FAST TOWARDS HIM, AND I DON'T

KNOW WHAT I'M GONNA DO, BUT THE

EMOTIONS ARE RIGHT HERE IN MY

CHEST, A FIST PRESSING RIGHT

HERE. I'M EXPECTING HIM TO WALK

AWAY, DO SOMETHING, BUT HE JUST

STANDS THERE LIKE HE'S BEEN

WAITING FOR ME ALL THESE YEARS.

WE COME FACE TO FACE. I'M RIGHT

HERE. I CAN SMELL HIS BREATH.

THAT'S HOW CLOSE WE ARE. I CAN

SEE THE ... VEINS IN HIS EYES.

MY FISTS CLENCHED. MY

FINGERNAILS DIG INTO MY PALMS,

AND THEN...IT HAPPENS. SO WEIRD.

WEIRD. WE'RE HUGGING. I DON'T

KNOW WHY, BUT FOR THE FIRST

TIME IN 8 YEARS, I FEEL LIKE I

COULD GO HOME.

GROBAN: OUR NEXT TWO PERFORMERS

TAKE US INTO THE OPERA AND JAZZ

WORLDS. SAXOPHONIST SANTIAGO

LOPEZ WILL PLAY A CHARLIE

PARKER CLASSIC, BUT FIRST UP,

CATHERINE JOHNSTON WILL PERFORM

A PIECE FROM THE OPERA "LA

FILLE DU REGIMENT."

JOHNSTON: SOMETHING I'VE

LEARNED IN THE PAST YEAR IS

THAT YOU DON'T HAVE TO BE

PERFORMING IN PERSON TO CONNECT

WITH AN AUDIENCE. ONE OF MY

FAVORITE PERSONAL HOBBIES IS

DEFINITELY READING. I DO

EXTENSIVE RESEARCH BEFORE I

100% COMMIT TO A PIECE BECAUSE

I NEED TO KNOW ALL ABOUT THE

TIME PERIOD, THE CHARACTER THAT

I'M SINGING ABOUT, AND THAT

REALLY HELPS ME, HOW I AM AS A

PERFORMER. SPOTLIGHT HAS GIVEN

ME THE ABILITY TO FORM A GROUP

OF FRIENDS THAT LOVES WHAT I

LOVE TO DO.

[VOCALIZING]

♪♪ CHACUN LE SAIT

CHACUN LE DIT

LE REGIMENT PAR EXCELLENCE

LE SEUL A QUI

L'ON FASS' CREDIT

DANS TOUS LES CABARETS

DE FRANCE

LE REGIMENT

EN TOUS PAYS

L'EFFROI DES AMANTS DES MARIS

MAIS DE LA BEAUTE

BIEN SUPRE...

E-E-E-E-E-E-E-E-E-E...MME

IL EST LA, IL EST LA

IL EST LA, MORBLEU

LE VOILA, LE VOILA

LE VOILA, CORBLEU

IL EST LA, IL EST LA

LE VOILA

LE BEAU VINGT-ET-UNIEME

LE BEAU VINGT-ET-UNIEME ♪♪

♪♪ IL A GAGNE

TANT DE COMBATS

QUE NOTRE EMPEREUR

ON LE PENSE

FERA CHACUN

DE SES SOLDATS

A LA PAIX

MARECHAL DE FRANCE

CAR, C'EST CONNU

AH AH AH

LE PLUS VAINQUEUR

AH AH AH AH AH

QU'UN SEXE CRAINT

ET QUE L'AUTRE

AI-AI-AI-AI-AI-AI-AI-AI-

AI-AI...ME

IL EST LA, IL EST LA

IL EST LA, AH, AH

LE VOILA, LE VOILA

LE VOILA, AH, AH

IL EST LA, IL EST LA

LE VOILA

LE BEAU VINGT-ET-UNIEME

LE BEAU VINGT-ET-UNIEME ♪♪

LOPEZ: ONE GRANDFATHER

INTRODUCED ME TO THE LOVE OF

MUSIC, AND THE OTHER INTRODUCED

ME TO THE LOVE OF PLAYING GOLF.

WHAT I LOVE ABOUT GOLF IS THE

CHALLENGE OF TRYING TO BEAT

YOURSELF. IT GOES HAND IN HAND

WITH MUSIC TO WHERE YOU NEED TO

FIND YOUR RHYTHM. YOU KNOW,

EACH GOLFER IS DIFFERENT JUST

LIKE EVERY OTHER MUSICIAN IS

DIFFERENT, SO I THINK WITH

MUSIC, IT'S KIND OF MY PERSONAL

OUTLET TO, LIKE, TELL MY STORY

THROUGH MY INSTRUMENT. IT'S NOT

ALWAYS EASY TO GET OUT WORDS,

BUT WHEN YOU'RE BEHIND AN

INSTRUMENT, YOU CAN REALLY

EXPRESS YOURSELF AND TOUCH

PEOPLE A DIFFERENT WAY.

SPOTLIGHT IS A GREAT WAY FOR

YOU TO KNOW WHERE YOU ARE IN

YOUR MUSICAL GROWTH. THIS YEAR,

I REALLY MADE IT MY GOAL TO

PLAY MY BEST AND REALLY SHOWING

THEM, LIKE, WHAT I COULD DO.

♪♪ 1, 2, 1, 2, 3, 4 ♪♪

GORBAN: SANTIAGO, THAT WAS

INCREDIBLE--YOU MADE BIRD

PROUD--AND, CATHERINE,

ABSOLUTELY STUNNING.

CONGRATULATIONS. NEXT UP, MIA

SCHLOSSER.

SCHLOSSER: I LOVE TO BAKE

BECAUSE IT'S, LIKE, STRAIGHT

OUT JUST REALLY FUN. THERE'S A

VERY BIG STEREOTYPE AROUND

BALLET DANCERS HAVING A VERY

STRICT DIET, BUT I REALLY LIKE

TO EAT WHAT I BAKE. I LOVE

BALLET BECAUSE I'M THE BEST,

MOST HAPPIEST VERSION OF MYSELF

WHEN I DO IT. I REALLY LIKE HOW

YOU CAN MAKE SOME THINGS SUPER

LONG OR SUPER SHORT OR FASTER,

QUICK, AND REALLY PLAY WITH THE

MOVEMENT. THE BEST THING ABOUT

SPOTLIGHT IS THE KIND WORDS AND

THE FEEDBACK. IT'S JUST HELPED

ME A LOT WITH MY CONFIDENCE

THIS YEAR.

[HARP PLAYING]

[ORCHESTRA PLAYING]

GROBAN: YOU MAY HAVE ALREADY

SEEN OUR NEXT PERFORMER HANNAH

NORDBERG IN THE DRAMA SERIES

"EUPHORIA." TODAY SHE PLAYS A

GIRL WHO STRUGGLES WITH

BELONGING AND ACCEPTANCE IN A

SCENE FROM "BLOOD AT THE ROOT."

FOLLOWING HANNAH IS EMMY

CHEUNG, WHO ALSO PLANS TO MAKE

A LIFE IN THE WORLD OF DANCE.

NORDBERG: I HAVE BEEN A

CROCHETER SINCE I WAS 11 YEARS

OLD. CROCHETING HELPS TO BRING

ME DOWN IN BETWEEN SCENES

BECAUSE IT'S THE SAME THING

OVER AND OVER AGAIN AND I CAN

JUST CALM DOWN AND IT'S A NICE,

REPETITIVE PATTERN. I'VE BEEN

ACTING PROFESSIONALLY SINCE I

WAS 9 YEARS OLD. I CAN'T HELP

BUT ACT. I COULD BE COOKING,

GRABBING SOMETHING FROM THE

FRIDGE, AND LITTLE DO YOU KNOW

I'M RECITING SHAKESPEARE. FAIN,

FAIN DENY WHAT I HAVE SPOKE BUT

FAREWELL COMPLIMENT. SPOTLIGHT

MEANS GROWTH TO ME. EVERY YEAR

THAT I COME BACK, I CAN FEEL

THE CHANGES THAT I'VE MADE, BUT

SPOTLIGHT REALLY CATERS TO YOU

AS A PERFORMER, AND THEY REALLY

CARE ABOUT YOU, AND IT SHOWS.

WHEN I WAS ABOUT 10, I STARTED

GETTING IN ALL THIS TROUBLE AT

SCHOOL, YOU KNOW. FIGHTS AND

EVERYTHING, JUST MAD ALL THE

TIME AND DIDN'T KNOW WHY, SO,

YOU KNOW, MAMA SENT ME OVER TO

LIVE WITH DADDY IN GEORGIA FOR

A COUPLE OF YEARS. HE HAD

HIMSELF A NEW WIFE AND

EVERYTHING, LIVING GOOD IN

HOTLANTA WITH A NEW HOUSE AND

ALL THAT, YOU KNOW, LIFE WITH A

BLACK WOMAN. HER NAME'S SHARON,

AND SHE WAS COOL AS HELL,

TREATED ME LIKE A DAUGHTER, HAD

A BUNCH OF NIECES AND NEPHEWS,

AND SHE TOLD THEM TO CALL ME

COUSIN. THEY'D SAY, "WHAT UP,

CUZ?" AND I REMEMBER FEELING

FOR THE FIRST TIME LIKE I

BELONGED SOMEWHERE, AND I

STOPPED BEING SO ANGRY ALL THE

TIME--ANGRY AT MAMA AND DADDY,

ANGRY AT MYSELF, EVEN, ANGRY AT

THE WORLD.

THEY USED TO CALL ME BLACK BY

ASSOCIATION, ALL OF MY FRIENDS

AND PLAY COUSINS IN HOTLANTA,

BUT HERE, THEY JUST CALL ME

FAKE OR WANNABE OR ACTING

BLACK, BUT YOU KNOW WHAT I

THINK? IF ACTING BLACK MEAN

BEING LIKE SHARON, MEAN FINDING

FAMILY AND LOVE IN PLACES YOU

WOULDN'T EXPECT THEM, IF IT

MEANT NOT BEING ANGRY UNLESS

YOU GOT GOOD REASON, THEN MAYBE

WE SHOULD ALL BE ACTING BLACK

MORE OFTEN. THAT'S ALL I GOT TO

SAY ABOUT THAT.

CHEUNG: I LOVE THAT DANCING

TAKES ME INTO MY OWN SPACE

WHERE I'M FREE TO BE ANYTHING I

WANT. SOMETIMES I CAN BE A

LITTLE BIT MORE SHY, BUT ON

STAGE, I'M SUPER OPEN. I HAVE,

OF COURSE, HAD MY FAIR SHARE OF

MESS-UPS ON STAGE, BUT WHAT I

LIKE TO DO IS MAKE A COLLAGE

VIDEO JUST TO LOOK BACK AND

LAUGH ON.

THE BEST THING ABOUT SPOTLIGHT

HAS BEEN THE INCREDIBLY

POSITIVE ENVIRONMENT. I CAN

FEEL IT IN THE FEEDBACK FROM

ALL THE JUDGES THAT THEY REALLY

WANT TO HELP ME GROW AS AN

ARTIST.

[SAMPHA'S "(NO ONE KNOWS ME)

LIKE THE PIANO" PLAYING]

SAMPHA: ♪♪ NO ONE KNOWS ME

LIKE THE PIANO

IN MY MOTHER'S HOME ♪♪

♪♪ YOU WOULD SHOW ME

I HAD SOMETHING

SOME PEOPLE CALL A SOUL ♪♪

♪♪ AND YOU DROPPED OUT THE SKY

OH, YOU ARRIVED

WHEN I WAS 3 YEARS OLD ♪♪

♪♪ NO ONE KNOWS ME

LIKE THE PIANO

IN MY MOTHER'S HOME ♪♪

♪♪ YOU KNOW I LEFT

I FLEW THE NEST

AND YOU KNOW I WON'T BE LONG

AND IN MY CHEST

YOU KNOW ME BEST

AND YOU KNOW

I'LL BE BACK HOME ♪♪

♪♪ AN ANGEL BY HER SIDE

ALL OF THE TIMES

I KNEW WE COULDN'T COPE ♪♪

♪♪ YOU TOOK HOLD OF ME

AND NEVER, NEVER

NEVER LET ME GO ♪♪

♪♪ NO ONE KNOWS ME

LIKE THE PIANO

IN MY MOTHER'S HOME ♪♪

GROBAN: I LOVE THAT ALL THESE

TEENAGERS HAVE INTERESTS AND

PASSIONS THAT GO BEYOND THEIR

ART. AS AN ARTIST, EVERYTHING

YOU DO HELPS MAKE YOU A

WELL-ROUNDED PERSON AND AN EVEN

BETTER PERFORMER. YOU'LL SEE

WHAT I MEAN WITH THESE NEXT TWO

PERFORMERS--OBOIST FENGYANG JU

AND NATALIE STEELE.

JU: WHEN I PLAY MY OBOE, I FEEL

THAT I AM ON THE TOP OF THE

WORLD. THE OBOE HAS, LIKE, A

UNIQUE SOUND LIKE A ANGEL FROM

THE HEAVEN AND, LIKE, SINGING

OUT LIKE...

♪♪ AH... ♪♪

YOU GUYS WOULD NOT EXPECT ME AS

BEING A HIP-HOP DANCER. I

TOTALLY ROLL NICE SONGS. I LOVE

PLAYING DRONES BECAUSE I CAN BE

LIKE A BIRD AND JUST SEE WHERE,

LIKE, HUMAN NORMALLY CAN'T SEE.

THIS IS MY THIRD TIME ATTENDING

SPOTLIGHT. THIS IS THE, LIKE,

REALLY UNIQUE OPPORTUNITY THAT

YOU WOULDN'T GET FROM SCHOOL

TO, LIKE, PROGRESS YOURSELF,

LIKE, TECHNICALLY, MENTALLY,

EVERYTHING. I THINK SPOTLIGHT

HELPED ME A LOT.

[PIANO PLAYING]

STEELE: I REALLY FELL IN LOVE

WITH BALLET AROUND THE AGE OF

6, AND I SAW POINTE SHOES, AND

EVERY LITTLE GIRL LOVES POINTE

SHOES, AND HERE I AM TODAY. ONE

THING YOU DEFINITELY MIGHT NOT

KNOW ABOUT ME IS THAT I LOVE TO

SKATE AND I LOVE TO SURF. IT'S

ALMOST LIKE BALLET BUT JUST ON

THE OCEAN, ON A BOARD, WHICH

WHEN I'M DANCING, MY TEACHER

ACTUALLY SAYS, "THINK OF IT

LIKE YOU'RE SURFING," SO I

CANNOT GET OVERWHELMED. I HAVE

A LOT OF SELF-DOUBT, SO

SPOTLIGHT HAS GIVEN ME SO MUCH

CONFIDENCE, AND IT'S BEEN SUCH

A GREAT LEARNING PROCESS, IT'S

JUST SUCH A NURTURING AND

INSPIRING ENVIRONMENT.

[ORCHESTRA PLAYING]

GROBAN: WELL, THAT WAS

INCREDIBLE, AND I CANNOT SAY

ENOUGH ABOUT THE IMPORTANCE OF

INVESTING OUR TIME, TALENT, AND

RESOURCES ON YOUNG ARTISTS, AND

WE DO IT BECAUSE THEY ARE OUR

FUTURE. COMING UP,

PERCUSSIONIST J.J. LYBBERT WILL

TAKE US BACK TO THE SPOTLIGHT

JAZZ CLUB, BUT FIRST, AVA

KOONTZ WILL PERFORM AN ARIA

FROM THE OPERA "DER

FRIESCHUTZ."

KOONTZ: RIGHT BEFORE I GO ON TO

PERFORM, I CHANNEL MY INNER

SHARPAY EVANS...

[TRILLS]

AND THEN THE PERFORMANCE SEEMS

TO ALWAYS GO WELL. WHAT I LOVE

ABOUT SINGING IS THE ABILITY TO

CONNECT WITH PEOPLE OF

DIFFERENT RACES, RELIGIONS

AROUND THE WORLD THROUGH MY

MUSIC. SOMETHING YOU'D NEVER

GUESS ABOUT ME IS THAT I LOVE

FOLDING FANCY NAPKINS. I LOVE

HOW ACCOMPLISHED I FEEL

AFTERWARD. THE BEST THING ABOUT

SPOTLIGHT IS, YOU ARE WELCOMED

FROM EVERYONE THE MOMENT YOU

WALK INTO THE DOOR.

[PIANO PLAYING]

♪♪ TRUBE AUGEN, LIEBCHEN, TAUGEN

EINEM HOLDEN BRAUTCHEN NICHT

TRUBE AUGEN

LIEBCHEN, TAUGEN NICHT

TRUBE AUGEN

LIEBCHEN, TAUGEN

EINEM HOLDEN

BRAUTCHEN NICHT ♪♪

♪♪ DASS DURCH BLICKE

SIE ERQUICKE

UND BEGLUCKE, UND BESTRICKE

ALLES UM SICH HER ENTZUCKE

DAS IST IHRE SCHONSTE

SCHONSTE PFLICHT

DAS IST IHRE SCHONSTE

SCHONSTE PFLICHT ♪♪

♪♪ LASS IN ODEN MAUERN

BUSSERINNEN TRAUERN

DIR WINKT ROS'GER

HOFFNUNG LICHT

SCHON ENTZUNDET

SIND DIE KERZEN

ZUM VEREIN GETREUER HERZEN

SCHON ENTZUNDET

SIND DIE KERZEN

ZUM VEREIN GETREUER HERZEN

HOLDE FREUNDIN

ZAGE NICHT

HOLDE FREUNDIN

HOLDE ZAGE NICHT

HOLDE FREUNDIN

ZAGE NICHT

HOLDE FREUNDIN

HOLDE ZAGE NICHT

HOLDE FREUNDIN

HOLDE FREUNDIN

ZAGE NICHT

ZAGE NICHT ♪♪

LYBBERT: I STARTED PLAYING THE

DRUMS WHEN I WAS 4 YEARS OLD.

MY DAD WAS A DRUMMER IN

COLLEGE, AND I JUST KIND OF

PICKED UP THE DRUM SET. I LOVE

HOW, LIKE, YOU CAN HAVE

SOMETHING GOING ON IN YOUR FEET

AND THEN SOMETHING COMPLETELY

DIFFERENT IN YOUR HANDS, JUST A

BUNCH OF DIFFERENT LIMBS DOING

A BUNCH OF DIFFERENT THINGS. I

LOVE TO FIND INSPIRATION IN

THINGS, LIKE, OTHER THAN MUSIC.

BIKING RELATES TO MUSIC A LOT

BECAUSE YOU HAVE TO CHANGE

GEARS. TO ME, SPOTLIGHT IS AN

INSPIRATION FOR, LIKE, YOUNG

MUSICIANS TO WANT TO SHOW THEIR

ART TO A BIGGER AUDIENCE. WITH

SPOTLIGHT, THERE'S 8 JUDGES

THAT PROVIDE REALLY IMPORTANT

FEEDBACK TO YOU ABOUT WHAT

YOU'RE DOING, AND IT CAN BE

REALLY COOL.

GROBAN: THIS HAS BEEN THE BEST

NIGHT FOR ME IN A LONG TIME. I

WANT TO CONGRATULATE ALL OF OUR

GRAND PRIZE FINALISTS AS WELL

AS ALL OF THE YOUNG ARTISTS WHO

PARTICIPATED IN THIS YEAR'S

SPOTLIGHT PROGRAM. I WANT TO

ENCOURAGE ALL OF THE YOUNG

PERFORMERS OUT THERE TO JUST,

SAY, GO AFTER YOUR DREAMS. KEEP

DOING WHAT YOU LOVE, NO MATTER

WHAT. THERE ARE GOING TO BE

TRIALS. THERE ARE GONNA BE

MOMENTS WHERE YOU DON'T FEEL

LIKE YOU GOT IT, BUT THAT'S

WHERE THE GROWING HAPPENS.

BEFORE WE MEET OUR LAST

PERFORMER, I WANT TO

ACKNOWLEDGE EVERYONE WHO MADE

THE SPOTLIGHT 2021 GRAND FINALE

POSSIBLE. THANK YOU SO VERY

MUCH. OUR FINAL PERFORMER IS

CHRISTIAN TYLER DOREY

PERFORMING THE CLASSIC "AS WE

STUMBLE ALONG," AND WHILE THIS

YEAR HAS PROVIDED SOME

STUMBLING AND BUMBLING

OPPORTUNITIES, TO SAY THE

LEAST, THE FUTURE LOOKS

BRIGHTER THAN EVER FOR THESE

YOUNG PERFORMERS, AND THIS

CELEBRATION OF THEIR TALENT IS

JUST THE BEGINNING. IT'S ALL

YOURS, CHRISTIAN.

DOREY: I AM OBSESSED WITH

FASHION. FASHION IS ABOUT BEING

ABLE TO EXPRESS YOURSELF BEYOND

WHAT'S VISIBLE IN WORDS, AND

IT'S VERY SIMILAR TO WHY I LOVE

PERFORMING SO MUCH. I STARTED

PERFORMING WHEN I WAS 4 YEARS

OLD AFTER SEEING THE TV SHOWS.

I TOLD MY MOM, "I WANT TO DO

THAT." BILLY PORTER IS SUCH A

HUGE INSPIRATION BECAUSE HE'S

FEARLESSLY HIMSELF. ONE OF THE

BEST THINGS ABOUT SPOTLIGHT IS

THAT IT ENABLES YOU TO DO WHAT

YOU LOVE. I'VE STRUGGLED WITH

MY CONFIDENCE AS A PERFORMER,

AND BEING ABLE TO HEAR THAT I'M

SPECIAL, I COULDN'T BE MORE

THANKFUL TO BE GIVEN THAT

MESSAGE.

[MUSIC PLAYING]

♪♪ AS WE STUMBLE ALONG

ON LIFE'S FUNNY JOURNEY

AS WE STUMBLE ALONG

INTO THE BLUE

WE LOOK HERE, AND WE LOOK THERE

SEEKING ANSWERS EVERYWHERE

NEVER SURE OF WHERE TO TURN

OR WHAT TO DO

STILL, WE BUMBLE OUR WAY

ON LIFE'S CRAZY LABYRINTH

BARELY KNOWING LEFT FROM RIGHT

NOR RIGHT FROM WRONG

AND THE BEST THAT WE CAN DO

IS HOPE THE BLUEBIRD

WILL SING A SONG

AS WE STUMBLE ALONG

IT'S A DISMAL, LITTLE WORLD

IN WHICH WE LIVE

IT CAN BORE YOU TILL

YOU'VE NOTHING LEFT TO GIVE

7 OVERRATED WONDERS

7 UNDERRATED SEAS

6 EXCRUCIATING CONTINENTS

ANTARCTICA? OH, PLEASE

STILL, YOU MUSTN'T

LET IT LICK YOU

THIS PLANET, OH, SO BLAND

KEEP YOUR EYEBALL

ON THE HIGHBALL IN YOUR HAND

AS WE STUMBLE ALONG

ON LIFE'S CROWDED DANCE FLOOR

AS WE PUSH AND WE SHOVE

WE LIVE, AND WE LEARN

AND WHEN WE FINALLY

LEAVE THE BAR

AND WE SEE THAT MORNING STAR

WE PULL OUR BOOT STRAPS UP

AND HOMEWARD TURN

TILL WE STUMBLE AWAY

ON DAWN'S BLINDING SUNBEAM

BARELY KNOWING LEFT FROM RIGHT

NOR RIGHT FROM WRONG

AND THE BEST THAT WE CAN DO

IS HOPE THE BLUEBIRD

WILL SING A SONG

AS WE STUMBLE ALONG

AS WE STUMBLE, TUMBLE

CRUMBLE, PLUMBLE

AS WE STUMBLE ALONG ♪♪

ANNOUNCER: MAJOR FUNDING FOR

THIS PROGRAM WAS PROVIDED BY

THE CITY OF LOS ANGELES

DEPARTMENT OF CULTURAL AFFAIRS.

ADDITIONAL FUNDING WAS PROVIDED

BY THE NATIONAL ENDOWMENT FOR

THE ARTS AND THE LOS ANGELES

COUNTY DEPARTMENT OF ARTS

& CULTURE.