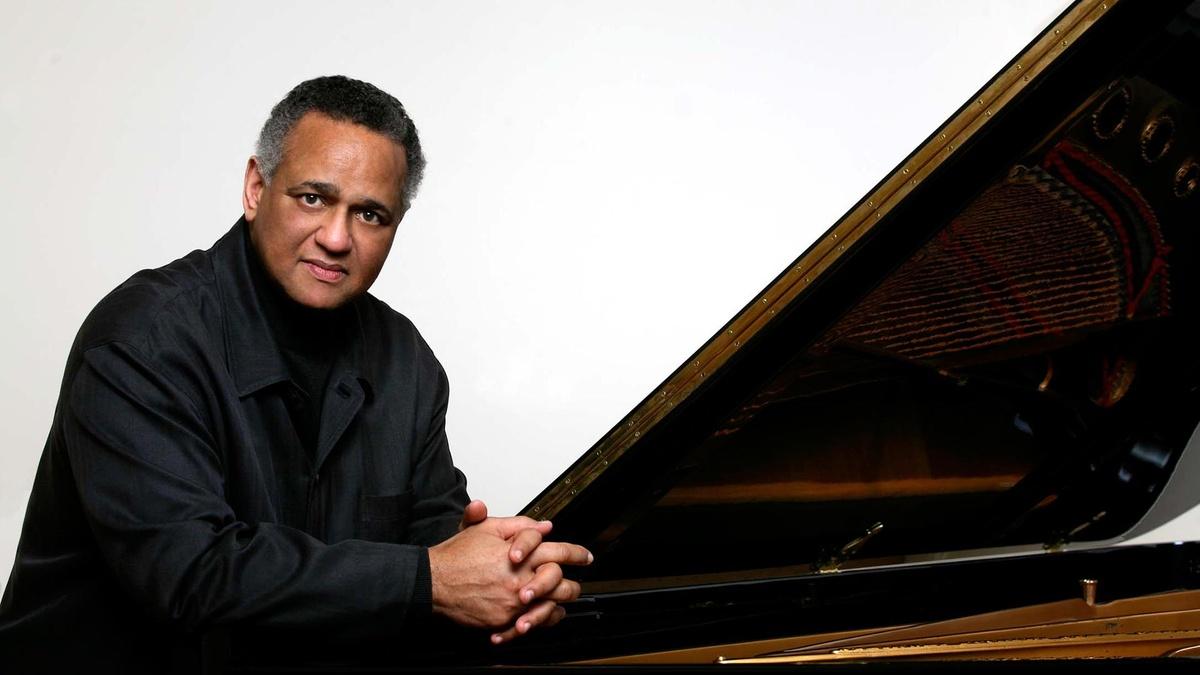 S1 E8 | FULL EPISODE
Opening Night with Pacific Symphony
Join Maestro Carl St. Clair, Pacific Symphony and five world-class pianists as they celebrate the opening of their 42nd season featuring performances by Andre Watts, Christina as well as Michelle Naughton and Olga Kern.
TRANSCRIPT

ANNOUNCER: MAJOR FUNDING FOR

THIS PROGRAM WAS PROVIDED BY THE

CITY OF LOS ANGELES DEPARTMENT

OF CULTURAL AFFAIRS. ADDITIONAL

FUNDING WAS PROVIDED BY THE

NATIONAL ENDOWMENT FOR THE ARTS

AND THE LOS ANGELES COUNTY

DEPARTMENT OF ARTS AND CULTURE.

[TAP, TAP, TAP]

ST. CLAIR: GOOD EVENING, AND

WELCOME TO THE RENEE AND HENRY

SEGERSTROM CONCERT HALL AND TO

THE OPENING NIGHT OF THE PACIFIC

SYMPHONY'S 42nd SEASON.

NORMALLY, THE CONCERT HALL WOULD

BE FILLED WITH YOU, OUR PACIFIC

SYMPHONY FAMILY, AND I WOULD BE

SURROUNDED ON THIS STAGE WITH

ALL MY WONDERFUL COLLEAGUES, THE

MUSICIANS OF THE PACIFIC

SYMPHONY. YES, OF COURSE, WE'RE

GOING TO MISS OUR USUAL OPENING

NIGHT CELEBRATION, AND I CAN

CERTAINLY GUARANTEE YOU THAT THE

PACIFIC SYMPHONY MUSICIANS ARE

GOING TO MISS PERFORMING FOR

YOU, BUT WE'RE GONNA TAKE THIS

OPPORTUNITY TO CREATE A VERY,

VERY SPECIAL OFFERING, ONE OF

THE MOST UNIQUE OPENING NIGHT

CONCERTS IN THE ORCHESTRA'S

HISTORY. YOU WILL HEAR AND SEE

SOME EXCITING PERFORMANCES FROM

RECENT SEASONS, AND WE WILL BE

JOINED BY SOME OF MY CLOSEST

MUSICAL FRIENDS AND FRIENDS OF

THE PACIFIC SYMPHONY, RENOWNED

PIANISTS LITERALLY FROM ALL OVER

THE WORLD, BUT FIRST, LET'S KICK

OFF THIS EXCITING EVENING WITH

THE EXPLOSIVE "CARNIVAL

OVERTURE" OF ANTONIN DVORAK,

FEATURING THE VIRTUOSITY OF THE

PACIFIC SYMPHONY.

[CHEERING AND APPLAUSE]

WELL, IF YOU DIDN'T MISS THE

PACIFIC SYMPHONY BEFORE HEARING

THAT, I'M SURE YOU DO NOW. FOR

OPENING NIGHT, I OFTEN PROGRAM

GREAT PIANO CONCERTOS, AND THESE

TWO INCREDIBLE HAMBURG STEINWAYS

WERE TO BE FEATURED ON TONIGHT'S

CONCERT BY THE DYNAMIC DUO OF

CHRISTINA AND MICHELLE NAUGHTON.

YOU KNOW, THEY WERE SO SAD NOT

TO BE ABLE TO BE WITH US THIS

EVENING, BUT THEY WANTED TO

OFFER US SOMETHING VERY, VERY

SPECIAL. PLEASE WELCOME

CHRISTINA AND MICHELLE FROM

THEIR HOME IN WISCONSIN.

LET'S TURN NOW TO A WORK BY

MAURICE RAVEL. HE ORIGINALLY

COMPOSED THIS WORK FOR PIANO,

BUT IN 1919, HE DECIDED TO MAKE

A CHAMBER ORCHESTRA VERSION.

LET'S HEAR THE PACIFIC SYMPHONY

PERFORM "RIGAUDON" FROM RAVEL'S

"LE TOMBEAU DE COUPERIN."

[APPLAUSE]

AS WE GET CLOSER TO BEETHOVEN'S

250th BIRTHDAY, NO CONCERT

FEATURING THE PIANO WOULD BE

COMPLETE WITHOUT A WORK FROM THE

GREAT MASTER. PLEASE WELCOME THE

INTERNATIONALLY RENOWNED

PIANIST, MY FRIEND, LOUIS

LORTIE, WHO WILL BE PERFORMING

FOR YOU THE ADAGIO SOSTENUTO.

MOVEMENT FROM NONE OTHER THAN

BEETHOVEN'S "MOONLIGHT SONATA."

AH. THE "MOONLIGHT SONATA." WHAT

PROFOUND BEAUTY, AND THE FIRST

MOVEMENT OF BEETHOVEN'S "FIFTH."

WHAT OPTIMISTIC POWER! YOU CAN

SEE WHY BEETHOVEN'S MUSIC OFTEN

FINDS ITSELF ON OPENING NIGHT

PROGRAMS ON STAGES ALL ACROSS

THE WORLD. DID YOU KNOW THAT ON

THE 22nd OF DECEMBER IN 1808

BEETHOVEN CONDUCTED A CONCERT OF

ONLY HIS MUSIC? IT FEATURED NOT

ONLY THE "FIFTH SYMPHONY" BUT:

THE "SIXTH SYMPHONY"; THE

"CHORAL FANTASY" FOR PIANO,

ORCHESTRA, AND CHORUS; "AH!

PERFIDO," AN ARIA; 3 SECTIONS

FROM THE "MASS"; AND, WHAT MOST

PEOPLE CAME TO HEAR, BEETHOVEN

IMPROVISING ON THE PIANO. ALONG

WITH ALL OF THIS, BEETHOVEN MADE

HIS LAST PUBLIC PERFORMANCE WITH

ORCHESTRA, PERFORMING HIS

"FOURTH PIANO CONCERTO." JOINING

THE PACIFIC SYMPHONY NOW IS OUR

VERY, VERY SPECIAL GUEST AND A

DEAR FRIEND ANDRE WATTS

PERFORMING THE SECOND MOVEMENT,

THE ANDANTE CON MOTO FROM THE

"G MAJOR PIANO CONCERTO" OF

BEETHOVEN.

NOW I HAVE THE CHANCE TO SIT AND

TALK WITH A DEAR FRIEND--OLGA

KERN--WHO'S OPENED OUR SEASON IN

THE PAST. WELL, OLGA, IT'S SO

GREAT THAT YOU'RE WITH US AND

THAT YOU'RE TAKING THE TIME OUT

TO BE WITH OUR OPENING NIGHT

AUDIENCE. I KNOW THAT YOU AND

YOUR FAMILY HAVE VERY, VERY

CLOSE AND VERY SPECIAL TIES AND

RELATIONSHIPS TO SERGEI

RACHMANINOFF. TELL US A LITTLE

BIT ABOUT THAT.

KERN: YES, OF COURSE. YOU KNOW,

MY GREAT GRANDMOTHER, SHE WAS A

SINGER. SHE HAD A MEZZO-SOPRANO

VOICE, AND SHE WAS TRAVELING A

LOT IN RUSSIA, PERFORMING, DOING

CONCERTS, RECITALS, AND IN A FEW

CONCERTS LIKE THIS, RACHMANINOFF

HIMSELF ACCOMPANIED HER. SHE WAS

OF COURSE PERFORMING

RACHMANINOFF SONGS, WHICH ARE

INCREDIBLE, BEAUTIFUL SONGS, AND

IT REQUIRES A VERY GOOD PIANIST,

YOU KNOW, AS ACCOMPANIST, SO I'M

SURE THAT SHE WAS REALLY HAPPY

WITH RACHMANINOFF ON THE PIANO.

I FEEL LIKE RACHMANINOFF TOUCHED

OUR FAMILY, YOU KNOW, WITH HIS

GENIUS.

ST. CLAIR: WELL, I FEEL WHEN YOU

PLAY RACHMANINOFF YOU SEEM TO

HAVE A VERY, VERY, VERY PERSONAL

INSPIRATION FROM THAT IN YOUR

PERFORMANCES AND IN YOUR

INTERPRETATIONS.

KERN: THANK YOU BECAUSE, YOU

KNOW, I FEEL LIKE HE IS, YOU

KNOW, BEHIND MY SHOULDERS.

SOMEHOW, HIS SPIRIT IS BEHIND MY

SHOULDERS.

ST. CLAIR: WELL, TELL US A

LITTLE BIT ABOUT THE PIECE.

KERN: YEAH. SO IT'S ONE OF HIS

"SIX MOMENTS MUSICAUX." IT'S A

MUSICAL MOMENT. FIRST, OF

COURSE, IT'S VERY DRAMATIC. IT'S

E MINOR. IT'S IN A MINOR KEY,

AND THEN IT GOES SUDDENLY TO

SOME VERY NOSTALGIC MELODY. THEN

IT GOES TO PLAYFUL, LITTLE

PHRASES. THEN IT COMES BACK TO

THAT WAVE OF DRAMA, AND THEN

IT'S OF COURSE GOING TO A BIG,

BIG CULMINATION IN THE END.

ST. CLAIR: WELL, OLGA, EVERY

TIME YOU COME TO PERFORM WITH ME

AND THE PACIFIC SYMPHONY, WE

ARE ALWAYS SO HAPPY TO GREET YOU

WITH SUCH EXCITEMENT BECAUSE

WHAT YOU BRING TO EVERY PIECE

YOU PLAY IS, LIKE--IT'S SO

CATCHY. I MEAN, WE JUST ARE SO

ON FIRE FROM YOUR PASSION AND

FROM YOUR PERFORMANCES.

KERN: CARL, IT'S ALWAYS SO GREAT

TO WORK WITH YOU AND PACIFIC

SYMPHONY AND TO BE IN THIS

BEAUTIFUL HALL. EVERYTHING

TOGETHER IS SPECIAL THERE, SO

EVERY TIME IS VERY SPECIAL.

ST. CLAIR: THANK YOU SO MUCH FOR

JOINING US ON OUR OPENING NIGHT.

KERN: THANK YOU. PLEASE STAY

HEALTHY, ALL, AND I'LL SEE YOU

NEXT TIME LIVE.

ST. CLAIR: AND NOW LET'S ENJOY

OLGA PERFORMING RACHMANINOFF'S

"MOMENTS MUSICAUX" FROM HER

STUDIO IN PRAGUE.

TO CLOSE THIS SPECIAL OPENING

NIGHT CONCERT, PLEASE WELCOME

BACK OLGA KERN, WHO PLAYS THE

FINAL VARIATIONS OF

RACHMANINOFF'S BEAUTIFUL

"RHAPSODY ON A THEME OF

PAGANINI."

[LAUGHTER]

[CHEERING AND APPLAUSE]

THANK YOU FOR JOINING US, AND I

CERTAINLY HOPE THAT YOU'VE

ENJOYED THIS UNIQUE CONCERT

OPENING AS MUCH AS WE HAVE. OUR

SPECIAL GUESTS JOIN ME IN SAYING

A WARM THANK YOU AND GOOD NIGHT.