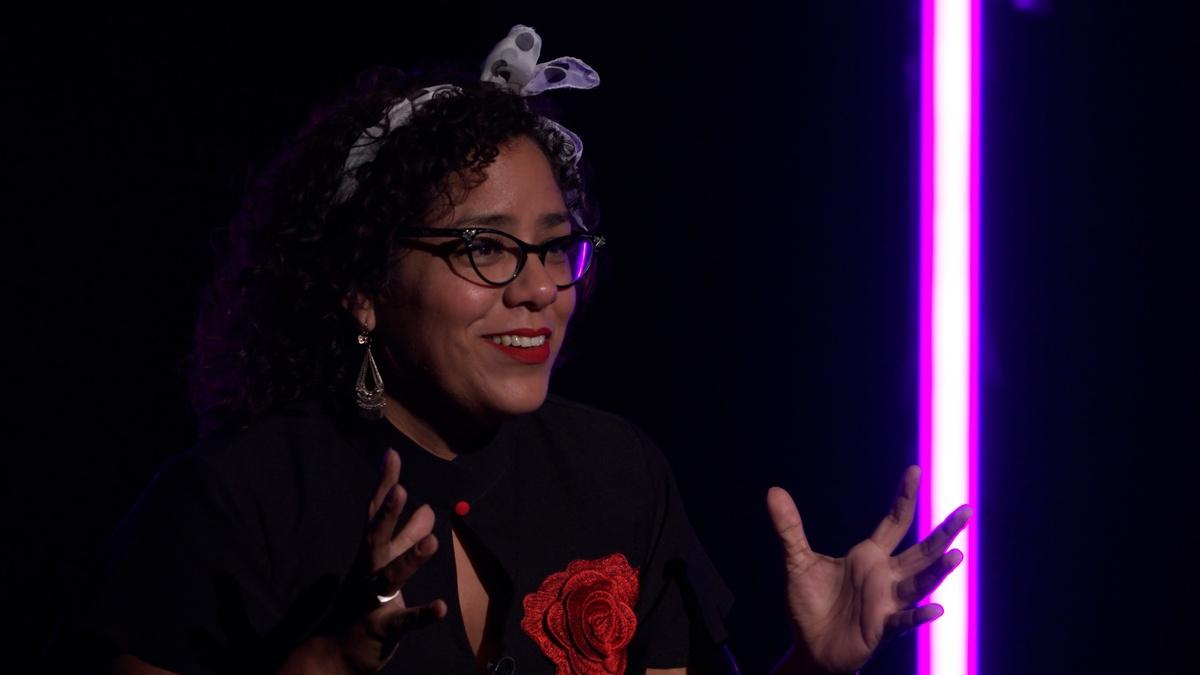 S1 E14 | CLIP
Extended Interview with La Marisoul
In this extended interview with La Marisoul for "A Tribute to Linda Ronstadt at The Soraya," the singer speaks frankly about working alongside Aída Cuevas and Cheche Alara in homage to Linda Ronstadt. She also recounts her views on the interrelationship of Mexican music and country music, as well as the reasons why she chose to sing "Desperado" and "Somewhere Out There" for this special episode.
TRANSCRIPT

Marisol: It feels so, so good to be back here right now

because I feel like The Soraya

Soraya Theater feels like home

They've been always so welcoming to us

so welcoming to the band La Santa Cecilia,

and we've had great shows here.

It feels good to hit the stage once again after seven months

back here at The Soraya. A lot of emotions.

I know that when we did soundcheck--

The first time I did soundcheck

and I sang into the microphone and heard my voice in the

in the room was like

like, "I'm back. I missed you, friend. I missed you, stage."

I missed all of it, the lights, too.

It's definitely like coming back home

We're going through a very traumatic time.

We're going through a pandemic

Our grandparents didn't go through a pandemic

or our parents didn't go through something like this.

I think that it's okay to feel emotional

and to feel like we're adjusting to-- Even when you're coming back

to something that you love so much and that you do all the time

when you stopped doing it abruptly for seven months

and you come back, it's like

seeing an old friend. Of course, you're going to feel emotional

you're going to cry, you're going to feel all these things

It's definitely been one of those coming back here to The Soraya,

reuniting with friends and musicians.

It's a lot of different kinds of feelings

but beautiful feelings

Feelings that remind us that we're human

and that we're going through a tough time

We're going through this pandemic,

but it's okay. It's okay to feel and to feel emotional.

First of all, it makes me feel super happy, super grateful

Very excited to be able to honor Linda Ronstadt,

who was an amazing, legendary American singer

and not just a pop singer, country, rock, a traditional Mexican singer.

This is a singer that for me is someone that paves

a way of how you want to create music

It's definitely an honor to sing for Linda Ronstadt,

to tribute Linda Ronstadt, and to be able to do it with Aída Cuevas,

who is another queen that I admire

It's mind-blowing. I haven't been on stage

I haven't really done things like this in seven months,

and then all of a sudden I get to tribute Linda Ronstadt

and do it with Aída Cuevas in a mariachi and my friends in the band

It's like, how am I not going to cry of joy

or of all these emotions, or smile a lot. I feel grateful.

I was definitely super nervous about having our Zoom conversation.

In the morning I was so nervous.

I feel like I haven't felt like that in a while

Do you remember, when you would pick up the phone

and call someone and feel nervous about calling them

and talking to someone that you liked

or someone that you admired or somebody, and to hear their voice?

That's the feeling that I felt like, "Oh my God,

I'm going to talk to Linda. I'm going to see her and share with Aída.

I feel like I have to pinch myself because I get to be

in the presence of these amazing queens

these amazing women. I was so full of joy, and of course, emotions.

All I wanted to do was listen.

If they could just keep conversating like [Spanish language]

like just them two about, "Oh, when we went to this, or remember

when we sang here. " I would have been just great,

just sitting there listening like, "Go on, please, tell me everything."

It was a great moment.

It was fun. It was a lot of fun. Linda is so easy to talk to and Aída-

I think that's what I love and what I cherish about that conversation

[Spanish language]. A lot of the times

I don't like to meet my heroes. I'm not one that,

if I really admire someone

I won't go out of my way to try to meet them.

I love them. I respect their work

but sometimes it's like I'm almost afraid

because I don't want to break that idea

that I have of this artist and it's such a beautiful breath of fresh air

that when you get to meet someone like Linda

who is such an amazing artist, but when you see

and you meet them and you see that they're such kind people

People that you can just talk to about music,

about life, about what they like

Same thing with Aída. Such a beautiful, beautiful person

beyond her music and her presence

and who she is in Mexican traditional music

She is just a sweet, sweet person and I love that.

I feel like I didn't know Linda Ronstadt's music

like, something that was super familiar when I was growing up

There wasn't records of hers at home.

My mom just listened to the radio

and my dad was always scratching the guitar and singing

and playing really bad but there was always music

I was a TV kid from the '80s, so I was watching all these TV

I remember watching-- it was a TV show of this comedian

this Chicano comedian, and I saw this woman dressed

in a veracruzano outfit, and it was Linda.

She was speaking in English and she was talking

about Canciones De Mi Padre and that's when I heard her,

and I thought, "Oh, wow, that's beautiful."

I was growing up in that music.

I think I started singing when I was around 10

when I said, "I want to sing, I want to learn a song."

What I learned was Mexican music. My mom taught me

how to sing musica mexicana [Spanish language].

That's how I heard Linda first, through Canciones De Mi Padre.

Then, I knew her because of all of her pop hits,

like You're No Good and Desperado and all that

I feel like she's been around, but it wasn't until later

when I felt really inspired

by Mexican American people

that have made music here from Lalo Guerrero or Los Lobos or--

Being on this musical journey, I feel like you never stop learning

and trying to learn more of about who you are

and why do you make music like this?

I feel like definitely Linda has been like a discovery

for me on this journey to see,

"Wow, I didn't know that she was Mexican-American."

I saw her when I was a kid on TV, but later on, years later

I realized, this is a woman that conquered American pop music

and country-rock music and then she came back home.

She came back to the root.

I feel like, man, that's such an inspiration

I wanted to celebrate her.

I want to celebrate that because maybe there's a lot of other people

that are younger than me now that might not know

and one day might look back and be like,

"Wait a minute. There's artists like Linda Ronstadt

that have been doing this, crossfading or going back

and forth and always returning home."

I love that. I love that about her.

I chose to sing Desperado.

I love that song.

It's such a beautiful ballad.

It's just incredible how you can mix the combination of lyrics

and melody and how they can make you feel so much

I feel connected to that song.

The song Desperado for me just reminds me a lot of my dad.

My dad passed away about a year and a half ago.

He was my biggest inspiration, my best friend.

He was also one of those people that live hard, play hard

One of those beautiful lights that don't last too long here

but that shine bright.

I feel like when you lose somebody

you go through the process of accepting that they're gone

and understanding and letting them go

but man, when I heard the song, I felt like,

like, I guess I never told him that

that he should have taken care of himself,

that he should have saved a little bit

for us [Spanish language].

That's why I wanted to sing that song.

It was hard to sing, but it felt so good, too

because I feel like I'm letting something out

I'm letting my own heart cry out. Then, we did

we did Silver Threads and Golden Needles

because I think that's just such a super, awesome song.

I feel like it's punk rock, like, "You can''t buy my love with money

because I was never that kind," I love the lyrics

and I got to play with my band, with La Santa Cecilia,

with Bogs, with Dave, with Cheche.

That was a big treat to have Cheche be our musical director

on this Linda tribute. It was really cool.

I had met him before, we had played music before

but never like this, where we were in a team working

for something to honor this queen, our queen Linda.

It was great to share with Cheche, he's such a great person.

I love just how it flowed. None of this is work or was work

this is all joy, just to get together, play, and rehearse.

To be in this room, and to feel the lights on our faces

I think we were all missing it, and wanting to be here.

I feel like Mexican music, country music, norteño music,

I feel like we're all related.

There's so many more similarities to us than there are differences,

and I feel music is always a great example of that,

of when you might make something that may seem

a little bit strange when you see it, and then when you hear it

you can feel that they go right there,

right along with each other. It was, definitely, a treat.

I had never really sing country music,

for me it's getting out of my own comfort zone,

and trying something new

something different.

We get the chance to have Sara Watkins play the fiddle

I've never sang with a fiddle player

Now, I want to sing with her more

I want to see what we can do together what else can we play together?

Man, I get to sing with mariachi too

it's like thank you, Linda

Thank you, Linda for singing all these styles of music,

because here we are, paying tribute to her, to her amazing career,

and I get to sing with a fiddle player like Sara Watkins

then I get to sing with a mariachi, and sing with Aida Cuevas

It's mind-blowing for me, it's everything I ever wanted.

be on a stage with that, with a rock band,

with a string section and with a mariachi es lo maximo

it's a lot of fun

Like I said, I'm honored. For me, to stand with Aida Cuevas

I've seen this woman on TV, I've heard her music.

She is one of the only Mexican mariachi singers

out there,

and she's been doing it forever.

She's just a huge inspiration, too.

I think that, definitely, Linda is an artist that does pave the way

for people and musicians like me, that are bicultural,

that are Mexican-American

very much love to experiment,

we are very much American, we love to rock and roll

we love to swing, and we love all that stuff,

but we also love our heritage, our roots, our Mexican music,

our tradition. To be able to follow the footsteps and see that,

Hey, there was an amazing singer, there's an amazing singer

like Linda Ronstadt who was so free enough to be able to do it,

and to do it so well.

There's so many of my peers, of musicians

that are now in mariachi bands that are like,

What was the first record you heard that got you into Mexican music?

Well, it was Linda Ronstadt, Canciones de mi Padre.

That's why I got into mariachi music, that's why I'm a mariachi.

I know many musicians like this

I feel like the path

and the adventure that an artist like Linda takes,

the risks that she takes are things that we can benefit from now

in the future. Now, that we're here to do

what we want, to play music

however we want it to be in those two sides

That is American music. For sure, that is American music.

Now, I'm also singing a song with David Hidalgo

the song is called Somewhere Out There.

That's another time when I heard Linda that I didn't know

I was listening to Linda Ronstadt.

I watched the American Tail cartoon movie with Fievel

was the little mouse who got lost on his way to America,

to the United States, and he gets lost.

He gets separated from his parents, not by ICE

[chuckles],

and he's trying to find it. It's a story of this

of this little child mouse that was trying to find his family.

I love the soundtrack. It was a big hit,

it was Linda singing with James Ingram

this duet called Somewhere Out There.

I chose to sing that song because in Hollywood,

and in music business, the United States is a huge influence

on the whole world with the music and the movies

that are produced here, the stories that are told

I feel this movie, An American Tail,

this song Somewhere Out There is

a beautiful story. Yes, we're doing a Mexican

mariachi version of Somewhere Out There

It's a new way of telling this story.

Also, I feel like it's my way of reminding us

these are the stories that we can tell.

We can tell stories about people coming to the United States

to find opportunities

we can tell stories about families reuniting, growing

and living in peace.

Or, we can tell stories like the ones we're telling now

where we have kids in cages, where we're separating families.

That's the story that America

and that the United States is also sharing with the world.

I just wanted to remind everyone of these beautiful stories

that we grow up watching, learning from

our stories, our American stories.

We should continue to tell these stories, these,

and stop creating these stories of hate that we see so much now.