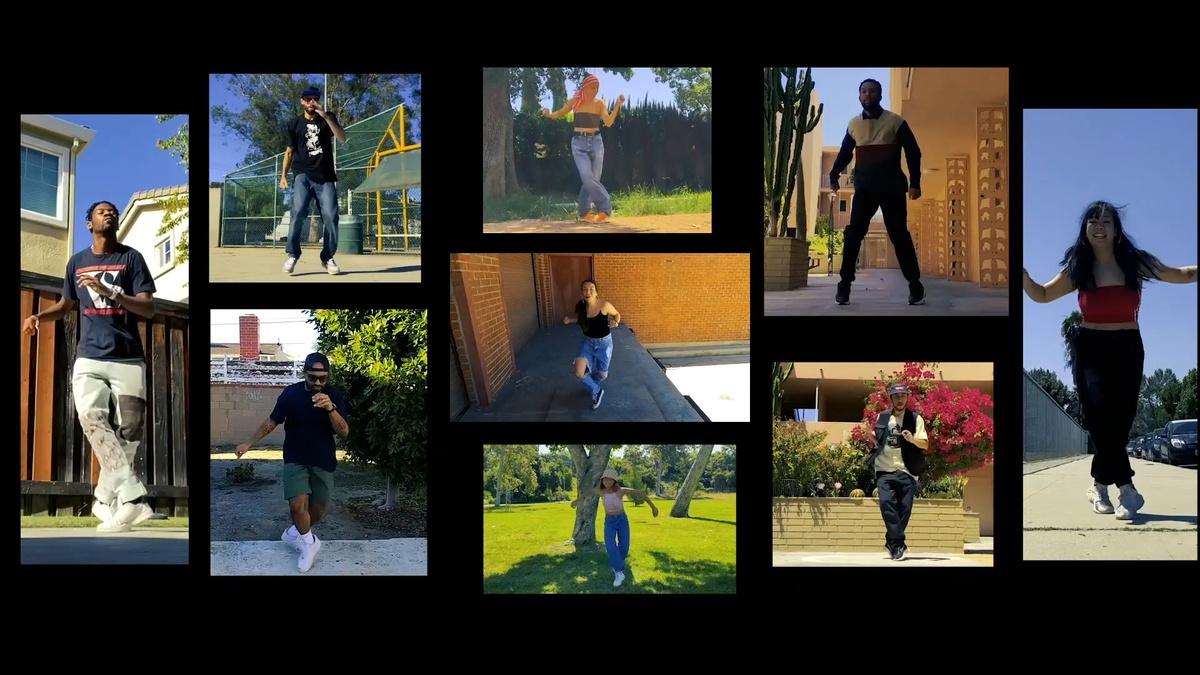 S1 E4 | FULL EPISODE
Dance Break
Tour L.A.'s wild and diverse dance community in this showcase of the city's vibrant scene. See uplifting homages to L.A. by Syncopated Ladies and a parking lot turned performance space from Jacob Jonas. Explore how the body's movements can reflect the community's cry for change with Lula Washington and Infinite Flow.
TRANSCRIPT

HOST: WELCOME TO "SOUTHLAND

SESSIONS." EVERY WEEK, WE

SHOWCASE THE VIBRANCY AND

RESILIENCE OF SOUTHERN

CALIFORNIA'S CREATIVE

COMMUNITY. I'M TAMICA

WASHINGTON-MILLER, ASSOCIATE

DIRECTOR FOR THE LULA

WASHINGTON DANCE THEATRE,

PERFORMING ARTIST,

CHOREOGRAPHER, COMMUNITY

COLLABORATOR, AND EDUCATOR.

I'VE BEEN IN DANCE STUDIOS AND

THEATERS ALL OF MY LIFE. MY

PARENTS ERWIN AND LULA

WASHINGTON HAVE FORGED A SPACE

FOR BLACK, BROWN, AND

MARGINALIZED COMMUNITIES TO

DANCE AND CREATE. I WAS BLESSED

TO BE SURROUNDED BY DANCE

LEGENDS LIKE DONALD McKAYLE,

KATHERINE DUNHAM, AND ALVIN

AILEY. I'VE LEARNED FROM ALL

OF THEM WHAT DANCE MEANS FOR

HUMANITY AND SOCIETY, AND THIS

IS WHAT INSPIRED ME TO TAKE UP

THE TORCH AND CONTINUE ON MY

PATH AS MY PARENTS AND

DANCE PIONEERS DID THROUGH THE

ART OF DANCE.

BUT IN MARCH 2020, OUR OWN

COMPANY HAD TO SHUT ITS DOORS.

LIKE SO MANY,

WE WERE FACED WITH THE QUESTION

"WHAT NOW?"

ANNOUNCER: MAJOR FUNDING FOR

THIS PROGRAM WAS PROVIDED BY...

THE CITY OF LOS ANGELES

DEPARTMENT OF CULTURAL AFFAIRS.

ADDITIONAL FUNDING WAS PROVIDED

BY THE NATIONAL ENDOWMENT FOR

THE ARTS AND THE LOS ANGELES

COUNTY DEPARTMENT OF ARTS &

CULTURE.

TAMICA: WE MISS SHARING SPACE

AND TIME IN THE STUDIO TOGETHER,

BUT THIS TIME HAS MADE DANCE

COMPANIES AND DANCE SCHOOLS DIG

DEEP TO FIGURE OUT HOW TO STAY

CONNECTED.

PEOPLE AND DANCE

COMPANIES ARE SHARING THEIR

CHOREOGRAPHY AND THEIR STORIES

THROUGH TECHNOLOGY WORLDWIDE.

[WHITE LIES' "DEATH" PLAYING]

♪ I LOVE THE FEELING

WHEN WE LIFT OFF

WATCHING THE WORLD

SO SMALL BELOW

I LOVE THE DREAMING

WHEN I THINK OF

THE SAFETY IN THE CLOUDS

OUT MY WINDOW

I WONDER WHAT KEEPS US

SO HIGH UP

COULD THERE BE A LOVE

BENEATH THESE WINGS?

IF WE SUDDENLY FALL

SHOULD I SCREAM OUT

OR KEEP VERY QUIET

AND CLING TO MY MOUTH?

AS I'M CRYING, SO FRIGHTENED

OF DYING

RELAX, YES, I'M TRYING

BUT FEAR'S GOT A HOLD ON ME

YES, THIS FEAR'S

GOT A HOLD ON ME

YES, THIS FEAR'S

GOT A HOLD ON ME

I LOVE THE QUIET

OF THE NIGHTTIME

WHEN THE SUN IS DROWNING

A DEATHLY SEA

I CAN FEEL MY HEART BEATING

AS I SPEED FROM

THE SENSE OF TIME CATCHING

UP WITH ME

THE SKY SET OUT LIKE A PATHWAY

BUT WHO DECIDES WHICH

ROUTE WE TAKE?

AS PEOPLE DRIFT INTO

A DREAM WORLD

I CLOSE MY EYES AS

MY HANDS SHAKE

AND WHEN I SEE A NEW DAY

WHO'S DRIVING THIS ANYWAY?

I PICTURE MY OWN GRAVE

'CAUSE FEAR'S GOT A HOLD ON ME

YES, THIS FEAR'S

GOT A HOLD ON ME

YES, THIS FEAR'S

GOT A HOLD ON ME

YES, THIS FEAR'S

GOT A HOLD ON ME

YES, THIS FEAR'S

GOT A HOLD ON ME

FLOATING NEITHER UP OR DOWN

I WONDER WHEN I'LL

HIT THE GROUND

WILL THE EARTH BENEATH

MY BODY SHAKE

AND CAST YOUR SLEEPING

HEARTS AWAKE?

COULD IT TREMBLE STARS

FROM MOONLIT SKIES?

COULD IT DRAG A TEAR

FROM YOUR COLD EYES?

I LIVE ON THE RIGHT SIDE,

I SLEEP ON THE LEFT

THAT'S WHY EVERYTHING

HAS GOTTA BE LOVE OR DEATH

[CAT MEOWING]

YES, THIS FEAR'S

GOT A HOLD ON ME

YES, THIS FEAR'S

GOT A HOLD ON ME

YES, THIS FEAR'S

GOT A HOLD ON ME

YES, THIS FEAR'S

GOT A HOLD ON ME

YES, THIS FEAR'S

GOT A HOLD ON ME

YES, THIS FEAR'S

GOT A HOLD ON ME

GOT A HOLD ON ME

YES, THIS FEAR'S

GOT A HOLD ON ME ♪

[UPBEAT MUSIC PLAYING]

CHILDREN, ECHOING: YEAH!

[HANDS CLAPPING RHYTHMICALLY]

TAMICA: WOO! THAT WAS SO MUCH

FUN! I LOVED IT! I LOVED THE

BEAT. IT JUST MAKES ME

WANT TO MOVE! AFTER SEEING THAT,

I JUST HAD TO SIT

DOWN WITH VERSA-STYLE

CO-FOUNDER, JACKY LOPEZ AND

PRINCIPAL DANCER BRANDON JUEZAN.

HEY, JACKY AND BRANDON!

IT'S GOOD TO SEE YOU GUYS.

I'M HUGGING YOU.

JACKY: HEY, TAMICA.

BRANDON: HELLO.

JACKY: WE'RE SENDING YOU

VIRTUAL HUGS. IT'S GOOD TO SEE

YOU.

BRANDON: MUTUAL HUGS. GOOD TO

SEE YOU, TAMICA.

TAMICA: GREAT TO SEE Y'ALL.

CAN YOU TELL US A LITTLE BIT

ABOUT "PLAYGROUND"?

JACKY: "PLAYGROUND" WAS VERY

MUCH INSPIRED IN THE SENSE OF

JUST HOW COULD WE STILL PLAY

EVEN IN THESE TOUGH

CIRCUMSTANCES? I RECALL GOING TO

THE PARK WITH MY NEPHEW IN THE

VERY BEGINNING OF QUARANTINE.

I WENT TO THE PLAYGROUND. IT WAS

THE FIRST TIME IN MY EXPERIENCE

THAT A PLAYGROUND IS COMPLETELY

EMPTY. AND YOU KNOW, WE DON'T

TAKE THAT FOR GRANTED. COMING

FROM TOUGH CIRCUMSTANCES AND THE

LACK OF RESOURCES, THE PARK IS

ONE OF THE THINGS YOU GET JOY

OUT OF 'CAUSE IT'S FREE AND IT'S

OPEN TO THE PUBLIC.

I SPOKE TO LEE, WHO IS ALSO THE

CO-ARTISTIC DIRECTOR AND

CO-FOUNDER OF VERSA-STYLE DANCE

COMPANY, AND TOGETHER WE CAME TO

CREATE CHOREOGRAPHY VIRTUALLY,

AND WE'RE TRYING TO TEACH THE

DANCERS THE CHOREOGRAPHY

VIRTUALLY WHILE ALSO HOW COULD

WE HEIGHTEN AND SHOW OFF THEIR

SKILLS AS FREESTYLE DANCERS,

BECAUSE THAT'S ALSO AN

EVER-EVOLVING SKILL THAT THEY

KEEP GROWING AND WE LIKE

SHOWING, SHOWCASING THAT.

TAMICA: JACKY, YOU'RE ONE OF THE

MOST INSPIRING PEOPLE I KNOW.

YOU KNOW, YOU SPOKE ABOUT DANCE

AS A TOOL, AND IT'S A TOOL FOR

SO MANY DIFFERENT THINGS. BUT I

KNOW THAT YOU GUYS HAVE

SOME REALLY IMPORTANT AND RICH

WORK.

JACKY: YEAH, SO WE HAVE A PIECE

CALLED "POWERS THAT BE." SO IT'S

ACTUALLY BEEN PERFORMED BEFORE

WITH ONE OF OUR FULL-LENGTH

PRODUCTIONS FROM "BOX OF HOPE."

BRANDON: I THINK FROM ITS

INCEPTION, EVEN WHEN IT WAS PART

OF "BOX OF HOPE," PIECE

"POWERS THAT BE" ALWAYS KIND OF

STOOD FOR OR REPRESENTED OUR

INNER-CITY COMMUNITIES, OUR

MARGINALIZED COMMUNITIES DEALING

WITH SYSTEMATIC OPPRESSION. SO

IT HAS EVOLVED IN THAT WAY OVER

THE YEARS, ESPECIALLY TO WHAT IS

REPRESENTING NOW IN TODAY'S DAY

AND AGE. FOR ME NOW WHEN I

REHEARSE THE PIECE, MY

IMPROVISATIONAL MOVEMENT HAS

BECOME SOMETHING A LOT DEEPER.

IT HAS BECOME A FORM OF

STORYTELLING. I'M NOT JUST DOING

HIP-HOP MOVES. I'M DOING HIP-HOP

AND STREET DANCE MOVEMENTS THAT

ARE GOING TO MAKE THE AUDIENCE

FEEL OR SEE A CERTAIN NARRATIVE.

NOW IT'S LIKE I HAVE A REALLY

PURPOSEFUL INTENTION.

TAMICA: I WANT TO LIFT UP THAT

YOU GUYS ARE TALKING ABOUT THE

HUMAN EVOLVING THROUGH THE

MOVEMENT, YOU KNOW, AND THAT'S

SO IMPORTANT AS A DANCE MOVEMENT

ARTIST IS THAT WE CAN REALLY

EMBODY THE PHYSICALITY AND

RESONATE OUT THROUGH OUR BODY

WHAT WE GOTTA SAY, WHAT WE'RE

TRYING TO SAY. THANK YOU SO

MUCH, JACKY. THANK YOU, BRANDON.

BRANDON: THANK YOU.

TAMICA: THIS IS WONDERFUL. THANK

YOU SO MUCH FOR SHARING. I'M

INSPIRED. I'M GONNA GO HOME AND

GET ON--DO THE "PLAYGROUND" AT

MY HOUSE IN MY BACKYARD.

JACKY: THAT'S WHAT WE NEED TO

DO, MAKE UP OUR OWN PLAYGROUNDS

IN OUR HOUSES.

TAMICA: YES. WITH THAT, BEFORE

WE LET YOU ALL THE WAY GO, I'M

SHOUTING OUT TO THE PEOPLE. I'M

TRYIN' TO INSPIRE Y'ALL TO GET

YOUR OWN HIP-HOP AND RESPECT

HIP-HOP AS AN ART FORM AND NOT

JUST A LITTLE THING. IT'S A REAL

THING. IT'S A REAL EXPRESSION.

IT'S A REAL ART FORM. THANK YOU.

BRANDON: THANK YOU.

JACKY: THANK YOU, TAMICA. WE

LOVE YOU SO MUCH. THANK YOU.

IT'S GOOD TO CONNECT WITH YOU,

AND LET'S JUST KEEP DOING WHAT

WE DO AND BE OUR AUTHENTIC

SELVES IN CELEBRATING.

TAMICA: CHOREOGRAPHERS, DANCERS,

AND COMPANIES HAVE ALL TAKEN A

DIFFERENT APPROACH TO KEEP

THEIR CRAFT ALIVE. ONCE IT

BECAME REAL THAT THINGS WEREN'T

GOING BACK TO NORMAL, ONE

COMPANY QUARANTINED TOGETHER

DECIDED THEY NEEDED TO FIND A

WAY TO PERFORM AND SAFELY BE

WITH A LIVE AUDIENCE.

MAN: SO, TODAY WE'RE AT THE

SANTA MONICA AIRPORT DURING THE

LOCKDOWN TO TRY TO FIND A

NON-TRADITIONAL WAY TO BRING

LIVE DANCE TO AUDIENCES. THERE'S

BEEN A LOT OF DIFFERENT WAVES OF

EMOTIONS DURING THIS TIME. TO

KNOW THAT EVERY THEATER, EVERY

THEATER IN THE WORLD IS CLOSED

RIGHT NOW, THERE'S SOMETHING

REALLY EMOTIONAL ABOUT HAVING TO

COMPREHEND THAT.

WOMAN: PROBABLY GONNA ARRIVE

AROUND HERE, AND YOU CAN JUST

POINT 'EM TOWARDS THE...

I GUESS THE THING I DO MISS THE

MOST IS HUMAN CONNECTION,

ESPECIALLY AS A DANCER, BEING

ABLE TO PHYSICALLY TOUCH AND

PHYSICALLY WORK TOGETHER.

MAN: THE MOTIVATION FOR "PARKS"

WAS REALLY JUST TO STAY CREATIVE

IN A TIME OF CRISIS.

MAN: TONIGHT, WE'RE HERE JUST TO

WATCH THIS DANCE. I DON'T EVEN

KNOW WHAT TO EXPECT.

CHILD: WAITING FOR A DANCE

PERFORMANCE TO START IN A

PARKING LOT.

MAN: IT'S A NICE CHANGE OF

SCENERY, GETTING TO INTERACT

WITH PEOPLE FOR ONCE.

[SLOW MUSIC PLAYING]

MARISSA: I LOVE THIS OPPORTUNITY

TO BE WITH PEOPLE, JUST TO EVEN

KNOW THAT THERE'S PEOPLE AROUND

AND EVEN TO ENGAGE WITH SOMEONE,

EVEN IF WE ARE 6 FEET APART.

MAN: THIS IS SO COOL.

MARISSA: THIS IS A DIFFERENT

KIND OF PERFORMANCE. IT'S MORE

ABOUT OUR EXPERIENCE OF BEING

TOGETHER THAT IS THE ART FORM.

THERE IS SOMETHING THAT IS SO

BEAUTIFUL ABOUT BEING IN THE

PRESENCE OF ANOTHER HUMAN BEING.

MAN: I HOPE WHEN PEOPLE LEAVE

THIS PERFORMANCE THAT IT

MOTIVATES PEOPLE TO NOT FEEL

TRAPPED DURING THIS TIME.

[HORNS HONKING AND APPLAUSE]

WOMAN: IT WAS THE MOST MOVING

PIECE OF ART THAT I'VE SEEN IN

A VERY LONG TIME AND SO HAPPY TO

BE A PART OF IT.

[HONKING AND APPLAUSE CONTINUES]

MAN: EVERYONE NEEDS TO KEEP

MAKING ART. DANCERS NEED TO KEEP

DANCING. AUDIENCES NEED TO KEEP

SEEING IT. PEOPLE NEED TO BE

INSPIRED, AND THAT WILL NEVER GO

AWAY.

MEGAN THEE STALLION: ♪ I'M A

SAVAGE, YEAH

CLASSY, BOUGIE, RATCHET

YEAH

SASSY, MOODY, NASTY, YEAH

ACTING STUPID, WHAT'S HAPPENING?

WHOA, WHOA

WHAT'S HAPPENING?

I'M A SAVAGE, YEAH

CLASSY, BOUGIE, RATCHET

YEAH

SASSY, MOODY, NASTY, YEAH

ACTING STUPID, WHAT'S HAPPENING?

WHOA, WHOA

WHAT'S HAPPENING?

BEYONCE: HIPS TICK-TOCK WHEN

I DANCE

ON THAT ... SHE MIGHT START...

BIG B AND THAT B STAND FOR BANDS

IF YOU WANNA SEE SOME...

BABY, HERE'S YOUR CHANCE

I SAY, LEFT CHEEK, RIGHT CHEEK,

DROP IT LOW, THEN SWANG

TEXAS UP IN THIS THANG

PUT YOU UP ON THIS GAME

IVY PARK ON MY FRAME

GANG, GANG, GANG, GANG

IF YOU DON'T JUMP

TO PUT JEANS ON

BABY, YOU DON'T FEEL MY PAIN

PLEASE DON'T GET ME HYPED

WRITE MY NAME IN ICE

CAN'T ARGUE WITH THESE LAZY ...

I JUST RAISED MY PRICE

I'M A BOSS, I'M A LEADER

I PULL UP IN MY TWO-SEATER

AND MY MOMMA WAS A SAVAGE

...GOT THIS ... FROM TINA

I'M A SAVAGE, YEAH

CLASSY, BOUGIE, RATCHET... ♪

TAMICA: THOSE WERE THE

SYNCOPATED LADIES

SAFELY PERFORMING IN THE

SEPULVEDA BASIN AT THE

L.A. RIVER,

AND I HAD A CHANCE TO SIT

DOWN WITH ONE OF THE FOUNDERS,

MY FRIEND THE BEAUTIFUL AND SO

TALENTED CHLOE ARNOLD.

WE JUST SAW AN AMAZING PIECE

THAT YOU GUYS JUST DID IN THE

L.A. BASIN.

CHLOE: YOU KNOW, IT'S

INTERESTING. THE "SAVAGE" SONG

HAD COME OUT, AND IT WAS MOSTLY

ON TIKTOK. I DECIDED, YOU KNOW,

I'M GOING TO APPROACH TIKTOK

WITH THE SAME WAY THAT I

APPROACH EVERYTHING, WHICH IS

SHARE THE WORK THAT INSPIRES ME

VERSUS, LIKE, TRYING TO

NECESSARILY DO TIKTOK VIDEOS. SO

WITH THAT BEING SAID, OUR

"SAVAGE REMIX" WAS A WHOLE ART

PIECE. I WANT TO EMBODY THE

FEROCITY OF WHAT WE'RE FEELING

RIGHT NOW. LIKE EVERYBODY,

EVERYBODY THAT NEEDS A RELEASE,

EVERYBODY NEEDS TO JUST FEEL

FREE AND BE OUTSIDE AND BE IN

THE SUN AND BE DOING WHAT YOU

LOVE AND FINDING THAT ABILITY TO

DO IT SAFELY. AND SO, THAT

WAS--YOU KNOW, I FEEL LIKE WHEN

WE DID THAT DANCE, I FEEL LIKE

IT WAS HONESTLY LIKE JUST THE

UNLEASHING, LIKE THE FREEDOM OF

LIKE, "OH, YEAH, I KNOW WHO I

AM. I KNOW WHAT I CAME TO DO."

SO FOR US, YOU KNOW, WE WANTED

TO THINK WHERE IN L.A. KIND OF

DEPICTS THIS FEELING THAT WE

HAVE. AND, YOU KNOW, THE L.A.

BASIN IS EMPTY IN THAT AREA.

THIS KIND OF ABANDONMENT OF THE

WORLD. I MEAN, YOU KNOW, FOR

PROBABLY 2 MILES EVERY

DIRECTION, THERE'S NOBODY EXCEPT

US. YOU CAN'T EVEN UNDERSTAND

HOW CRAZY WE ARE. SO THIS IS

WHERE, LIKE, NOT--THIS IS WHERE

LIKE, YOU THINK, "OK, I WANT TO

GET IT DONE," BUT YOU DON'T

THINK, LIKE, HOW HARD IT'S GONNA

BE TO GET IT DONE--

TAMICA: RIGHT, RIGHT.

CHLOE: WITH COVID AND THE

CHALLENGES AND REST--YOU

KNOW, JUST HOW TO STAY SAFE. SO

THOSE BOARDS THAT YOU WERE

TALKING ABOUT, THOSE TAP BOARDS?

WE CARRIED THEM, I THINK, FOR A

MILE IN THE SUN ON ONE OF THE

MOST SCORCHING DAYS IN THE

VALLEY.

TAMICA: Y'ALL BETTER WORK.

CHLOE: HA! I WAS LIKE...WE GOT

TO A CERTAIN POINT--

TAMICA: COULDN'T YOU HAVE A

DOLLY? YOU COULDN'T BRING A

DOLLY?

CHLOE: TAMICA, THAT WOULD HAVE

BEEN LOGICAL. OK? THAT--THAT--

THAT WOULD HAVE BEEN THE WAY TO

GO. BUT AGAIN, IT'S A PANDEMIC,

AND YOU'RE NOT THINKING ABOUT,

LIKE, WHAT STORE HAS A DOLLY.

AND YOU'RE JUST LIKE "WE'RE

GONNA MAKE IT HAPPEN!"

TAMICA: "DO IT! WE'LL DO IT!"

CHLOE: YEAH, IT GOT REALLY REAL.

AND WE GOT TO THAT POINT WHERE

WE HAD TO DECIDE KEEP GOING OR

TURN BACK. AND WE WERE LIKE, "WE

MADE IT THIS FAR. LET'S GO." AND

THEN WE, YOU KNOW, TREKKED THAT

NEXT AMOUNT. IT WAS PROBABLY

LIKE 1/4 MILE MORE.

TAMICA: WOW.

CHLOE: WE'RE NUTS. BUT AGAIN,

THIS IS LIKE YOU SAID. THE LOVE

OF DANCE AND THE NEED, THE

NECESSITY FOR FREEDOM THAT COMES

WHEN YOU DANCE IS SO AMAZING.

HONESTLY, THAT DANCING OUTSIDE

IN THE DEAD OF THE HEAT, DRIPPED

IN SWEAT, YOU KNOW, LIKE, DOING

THIS GIRL POWER MOMENT, WAS

EVERYTHING I NEEDED TO LIKE TO

RE-ENERGIZE ME, 'CAUSE WE'VE

BEEN DOING SO MUCH BUSINESS AND

ZOOMING AND A REMINDER OF LIKE

THE REASON WE'RE DOING THE

BUSINESS AND ZOOMING IS BECAUSE

WE WANT TO BRING PEOPLE TOGETHER

TO DO ART. AND I'M SURE YOU

KNOW, TAMICA, THE BALANCE OF

BEING AN ARTIST AND, YOU KNOW,

BEING A BUSINESSWOMAN AND THAT--

YOU HAVE TO KEEP DOING THE ART

TO REMEMBER WHY THE BUSINESS

STUFF MATTERS--TO KEEP GETTING

THE ART OUT THERE.

TAMICA: YEP. THAT'S REAL TOUGH.

AND THE DANCE JUST HELPS TO KIND

OF KEEP US ALIVE, KEEP US GOING.

CHLOE: EXACTLY.

TAMICA: HOWEVER WE DO IT--

CHLOE: EXACTLY.

TAMICA: FOR OUR PERSONAL SELVES,

THOSE OF US WHO ARE MAKING IT

HAPPEN AND LEADING. THAT'S--

CHLOE: EXACTLY. EXACTLY. 'CAUSE

WE DIDN'T MAKE THAT VIDEO FOR--

THAT WAS NOT A JOB. THERE'S NO

MONEY IN MAKING THAT VIDEO.

NOBODY PAID US TO WALK A MILE

WITH TAP BOARDS. THAT IS SOLELY

OUR LOVE FOR CREATING AND US

SEEING A PLACE IN L.A. THAT

SPOKE TO US IN A WAY THAT

MATCHED THE SONG.

TAMICA: MM-HMM. WELL, YOU'VE

BEEN SPEAKING TO ALL OF US

THROUGH Y'ALL'S FEET. HA HA!

CHLOE: THANK YOU.

TAMICA: THANK YOU, CHLOE. THIS

IS WONDERFUL.

CHLOE: THANK YOU, TAMICA.

TAMICA: SEND YOUR LOVE AND HUG--

MY LOVE AND HUGS TO YOUR SISTER,

'CAUSE I HAVEN'T SEEN HER IN A

LONG TIME.

CHLOE: YES, I WILL. WE ALL LOVE

YOU. LOVE FROM MY SISTER AND THE

SYNCOPATED LADIES AND, YOU KNOW,

ESTADA.

TAMICA: AND LOVE BACK TO YOU

FROM LULA WASHINGTON DANCE

STUDIO AND THE KCET BURBANK

STUDIOS.

CHLOE: WHOO HOO!

NOW WE HAVE SEEN HOW

PEOPLE ARE WORKING WITH SPACE,

TECHNOLOGY, AND DANCE, BUT WHAT

ABOUT TIME? HOW HAS TIME

CHANGED, SHIFTED,

AND EVEN SLOWED DOWN?

SINCE COVID, I'VE HEARD SO

MANY PEOPLE TALK ABOUT HOW THIS

WAS THE DIVINE GIVING THE WORLD

A TIME-OUT, THAT WE WERE ALL

MOVING TOO FAST. I WAS

RELIEVED BY WHAT SEEMED

LIKE NEW TIME TO GET BACK

INTO THE PHYSICAL PRACTICE OF

DANCE IN MY OWN SPACE AND TO

REMEMBER WHY I DANCE IN THE

FIRST PLACE. THIS NEXT FILM

BEAUTIFULLY COMMUNICATES HOW

DANCE CAN CAPTURE THE WAY TIME

HAS SHIFTED FOR ALL OF US

DURING COVID.

MAN: PEOPLE ARE SCARED, AND I

AM NOT--NOT OF THE VIRUS. I

COVER MY FACE AND I WASH MY

HANDS, BUT IF IT CHOOSES ME

ANYHOW, I HAD A GOOD RUN. THE

SCARED PEOPLE, HOWEVER, THEY'RE

FRIGHTENING OR AT LEAST

UNSETTLING--CONTINUALLY

REPEATING "WE WILL ALL GET

THROUGH THIS." AND SO FAR, I

HAVE REFRAINED FROM REPLYING

"MAYBE, BUT MAYBE NOT."

WOMAN: IN MY OWN PERSONAL

EXPERIENCE OF THIS PANDEMIC,

IT'S BEEN A DOUBLE DOSE OF

ISOLATION. MY HUSBAND DIED

UNEXPECTEDLY IN LATE JANUARY,

AND JUST TWO WEEKS AFTER HIS

MEMORIAL, THE CITY WENT INTO

LOCKDOWN.

WOMAN: THE DAYS ARE HEAVY, AND

THE NIGHTS ARE SLEEPLESS. I'VE

BEEN RESISTING DANCE, MY ONE

DEEP WELL IN CONNECTION TO

LEVITATION. I'VE FELT SMALL AND

CONFINED, TRAPPED, AND RESTLESS

IN THE UNKNOWNS AND MASSIVE

LOOSE ENDS.

MAN: QUARANTINE HAS GOT ME

CONFUSED, SCARED...JUST DON'T

KNOW WHEN IT'S GONNA END.

WOMAN: HOW AM I DOING DURING

THIS QUARANTINE?

[SIGHS]

IT HAS BEEN A STRUGGLE, AND IT'S

REALLY BEEN A LOT ABOUT ME

SHIFTING PERSPECTIVES ALL THE

TIME FROM MINUTE TO MINUTE

DURING EACH DAY.

WOMAN: I ALWAYS FIND THAT IN THE

DARKNESS, THERE IS LIGHT. AND

WHEN THAT LIGHT SHINES, IT GROWS

AND GROWS ON EVERY INCH OF MY

SOUL. I FEEL THAT LIGHT IS

COMING FOR THE WORLD, AND IT

WILL SHINE BRIGHTER THAN BEFORE.

WOMAN: QUARANTINE HAS BEEN A

VARIETY OF THINGS FOR ME. IT

STARTED OUT AS A KIND OF COCOON

OF SHOCK, A HEAVY HEART, AND AT

THE SAME TIME, A SOMEWHAT DEEP

BREATH, AND A

RELAXATION--TURNING OFF,

SHUTTING DOWN.

WOMAN: I'VE REALLY BEEN ENJOYING

THIS TIME. I KNOW THAT THAT IS

WEIRD TO HEAR. I FEEL LIKE A LOT

OF PEOPLE ARE REALLY STRUGGLING

WITH THIS AND FOR GOOD REASON.

MAN: I PURCHASED THE DRUGSTORE

LOTION MY MOM USED TO BUY,

APPLYING IT BEFORE BED EACH

NIGHT AS I TALK WITH HER GHOST.

IN THESE MOMENTS, I'M AT MY

LEAST LONELY.

IF HONEST, I'D BEEN EXPECTING

THIS. SINCE LAST YEAR WHEN

EVERYONE MARCHED FOR THE PLANET,

WE HAD TAKEN TOO LONG. THE EARTH

WAS BOUND TO TAKE BACK HER

REINS--THE ONES WE ALWAYS FORGET

ARE NOT OURS. HOW MUCH LESS

EMPOWERING THAN A PROTEST SIGN,

OUR CULLING WILL ULTIMATELY

PROVE MORE EFFECTIVE IN MAKING

A CHANGE. NOW WITH IT HERE, ANY

PRECOGNITION OF IT HAS HELPED ME

LITTLE IF AT ALL. MY BRAIN AND

MY HEART HAVE NEVER BEEN MORE AT

ODDS, WITH NO SIGNS OF

RECONCILIATION.

WOMAN: BEFORE THIS EVEN STARTED,

I'VE ALWAYS KIND OF WISHED THAT

TIME WOULD SLOW DOWN. I KEPT

ASKING THE UNIVERSE TO, LIKE,

SLOW DOWN TIME. SLOW DOWN TIME.

I FELT LIKE IT WAS MOVING REALLY

FAST. AND WHEN THIS HAPPENED, I

FELT LIKE IT WAS, TO ME, SUCH A

GIFT BECAUSE I WAS ABLE TO STOP

AND TIME SLOWED DOWN.

WOMAN: IN THE POSITIVE SENSE,

THIS ADJUSTMENT TO LIFE WITHOUT

HIM, ALONE IN MY HOUSE, HAS

BEEN A TIME OF REFLECTION, NOT

ONLY OF MY OWN LOSS BUT THE

TREMENDOUS LOSS FELT AROUND THE

WORLD, A TIME TO PROCESS WHAT'S

IN MY HEART AND IN MY THOUGHTS.

AND IT'S BEEN TOUGH, BUT IN THE

MIDST OF DEALING WITH ALL OF

THIS, I'M SO GRATEFUL FOR MY

LIFELONG CONNECTION TO DANCE. IT

TAKES ME OUT OF THE DARKER

PLACES, MAKES ME FEEL ALIVE, AND

THAT THIS WILL ALL BE OK.

WOMAN: AT THIS POINT, I THINK

WE'RE LIKE 50 DAYS IN, MAYBE. I

FEEL LIKE I'M STARTING TO SEE

SOME LIGHT. IT'S REALLY FORCED

ME TO LOOK AT MYSELF AND HOW I'M

PERCEIVING THINGS, HOW I AM

DIGESTING THINGS. IT'S TESTING

MY PATIENCE. IT'S TESTING THE

WAY THAT MY STRESS LEVELS ARE

MANIFESTING IN MY PHYSICAL BODY.

AND SO KNOWING THAT THAT'S NOT

SUSTAINABLE, I HAVE BEEN TAKING

VERY INTENTIONAL STEPS TO TREAT

MY BODY IN A WAY WHERE IT'S NOT

AFFECTED BY THAT ANXIETY OR

STRESS.

WOMAN: EVERY DAY IS DIFFERENT,

WHETHER IT'S DANCING ALL DAY;

LAUGHING ALL DAY; LAUGHING AND

CRYING ALL DAY; WRITING,

LAUGHING, CRYING. TIME HAS

ALWAYS BEEN EXPONENTIAL, AND NOW

IT IS SLIPPING AWAY, SLIPPING

AWAY THROUGH OUR FINGERTIPS, AND

THAT'S A BLESSING, BECAUSE WE

NEED TO LIVE OUTSIDE OF TIME AND

SPACE AND THE EARTH NEEDS TO

BREATHE ALL THE TIME. AND

CONSCIOUSNESS NEEDS TO SHIFT A

LITTLE BIT FASTER THAN THE SPEED

IT'S GOING. MOVEMENT HAS BEEN MY

THERAPY SINCE I WAS BORN, AND

I'M FINDING IT TO BE SO

ENJOYABLE RIGHT NOW IN THIS TIME

OF STILLNESS.

MAN: REMINISCING ABOUT THE TIMES

WE COULD GO OUTSIDE...ALL THE

THINGS WE TOOK FOR GRANTED...

ALL THE FRIENDS AND FAMILY

MEMBERS WE CAN'T SEE...

'CAUSE WE PUT THEM AT RISK OF

BEING INFECTED.

WOMAN: TIME IS TURNING IN ON

ITSELF, AND WITHOUT A SENSE OF

TIME, EXISTENCE FEELS

INTANGIBLE, AS PURPOSE

DISAPPEARS INTO THE ETHER.

AND WHILE THE SUN STILL RISES

AND THE BIRDS SING LOUDER, IT'S

HARD NOT TO FEEL INVISIBLE IN

THE VAST GAME OF LIFE...

AND NATURE MARCHES ON.

WOMAN: THIS TIME HAS REALLY

ROOTED ME DEEPER INTO MY OWN

VESSEL AND INTO MY CRAFT.

MOVEMENT FOR ME HAS ALWAYS BEEN

A RITUAL. IT IS MY PLACE OF

SPIRITUAL GROWTH AND PURE

HAPPINESS. BUT IN THIS TIME,

MOVEMENT HAS BECOME A CEREMONIAL

GRATITUDE FOR MY EXISTENCE HERE

ON EARTH. IT IS MY WAY OF GIVING

BACK ENERGY INTO THE WOMB THAT

CREATED ME AND TO THE WOMB THAT

CREATED ALL--MOTHER EARTH. I AM

BLESSING HER WITH LOVE AND

STRENGTH. I AM BREATHING FOR THE

WORLD, AND I AM DANCING FOR

PEACE. IN THIS PRESENT MOMENT,

IN THIS SANCTUARY, IN THIS

MOVEMENT, I AM ALL AND I AM

NOTHING. I AM SPIRIT, AND I AM

ME. I AM THE SUN AND I AM THE

MOON, THE LIGHT AND THE DARK.

WOMAN: IT ALSO HELPS THAT WE'RE

ALL IN THIS TOGETHER, THAT NONE

OF US CAN DO ANYTHING, WHICH,

FOR ME, FEELS LIBERATING--LIKE,

WE'RE ALL GIVING EACH OTHER

PERMISSION TO BREATHE.

TAMICA: THE KILLING OF GEORGE

FLOYD GAVE WAY TO UPRISINGS AND

PROTESTS AROUND THE WORLD. AND

DANCE BECAME A TOOL TO EXPRESS

OUR ANGER, TO MOURN, TO FIGHT

INEQUITIES, AS WELL AS TO

UNIFY THOSE ON THE STREETS IN

COMMUNAL ACTS OF INSISTENCE.

THIS DANCE UNITY OUTWEIGHED

SOCIAL DISTANCING AND SOMETIMES

EVEN THE MASK. IT JUST GOES TO

SHOW YOU THE POWER OF THE

DANCE.

[HELICOPTER BLADES WHIRRING]

[MUSIC INTRO PLAYING]

[SIRENS]

CROWD CHANTING: NO JUSTICE,

NO PEACE! NO JUSTICE, NO PEACE!

NO JUSTICE, NO PEACE!

SAM COOKE: ♪ I WAS BORN

BY THE RIVER

IN A LITTLE TENT

OH, AND JUST LIKE THE RIVER

I BEEN RUNNING EVER SINCE

IT'S BEEN A LONG

A LONG TIME COMING, BUT I KNOW

A CHANGE GONNA COME

OH, YES, IT WILL

IT'S BEEN TOO HARD LIVING

BUT I'M AFRAID TO DIE

'CAUSE I DON'T KNOW WHAT'S

UP THERE

BEYOND THE SKY

IT'S BEEN A LONG

A LONG TIME COMING

BUT I KNOW A CHANGE GONNA

COME ♪

WOMAN: HOW LONG Y'ALL GOTTA

HOLD HIM DOWN?

[PEOPLE SPEAKING INDISTINCTLY]

SAM: ♪ I GO TO THE MOVIES

AND I GO DOWNTOWN

SOMEBODY KEEP TELLING ME

DON'T HANG AROUND

IT'S BEEN A LONG... ♪

TAMICA: AHH...KRUMPIN'!

SO POWERFUL. IT'S SO DEEP.

IT'S PERSONAL. IT'S

A PERSONAL EXPRESSION. I MEAN AS

A MOTHER OF TWO YOUNG BLACK MEN,

THIS IS HOW I FEEL ON THE

INSIDE. THIS IS WHAT DANCE IS,

IT GIVES US COURAGE TO SAY IN

MOVEMENT WHAT'S OFTEN HARD TO

SAY OUT LOUD. UNFORTUNATELY,

THIS IS NOTHING NEW. IN 1992,

LULA WASHINGTON CREATED A PIECE

CALLED "CHECK THIS OUT"

ADDRESSING THE RODNEY KING

BEATINGS AND PROTESTS THAT

FOLLOWED. WHEN I HEARD THE "NOT

GUILTY" VERDICTS, I REMEMBER

FEELING SO ANGRY, AND EVEN

THOUGH OUR CITY WAS ON FIRE WE

SHOWED UP TO REHEARSAL.

WE NEEDED THAT SPACE

TO EXPRESS OURSELVES.

LULA ULTIMATELY PUT OUR

PERSONAL SPOKEN WORD STATEMENTS

IN THE PIECE. WE CREATED A RAP,

AND LULA USED IMAGES AND VIDEO

FROM THE UPRISINGS AND THE

BEATINGS AND OF CONGRESSWOMAN

MAXINE WATERS SPEAKING OUT AND

SAYING "THIS WAS NOT THE FIRST

TIME."

SINGERS: ♪ ALL AROUND THE WORLD

THERE'S SOME INJUSTICE ♪

TAMICA: I SAT DOWN

WITH LULA WASHINGTON

TO TALK ABOUT HOW SHE USES

DANCE AS A TOOL FOR SOCIAL

CHANGE AND JUSTICE.

I'M SO HAPPY TO SEE YOU. IT'S

EXCITING TO HAVE THIS

OPPORTUNITY TO ACTUALLY

INTERVIEW YOU AND TALK TO YOU

ABOUT YOUR WORK.

LULA: SO THE PANDEMIC POSES A

LOT OF INTERESTING, UH...

INTERESTING OBSTACLES IN THE

SENSE THAT IT'S AN EXPERIENCE

THAT I'VE NEVER EXPERIENCED IN

MY WHOLE 70 YEARS AND THE 50 IN

DANCE. THE PANDEMIC HAS CAUSED

ME TO DO SOME REFLECTION ON HOW

TO CREATE, HOW TO UTILIZE THE

DANCERS' TIME AND ENERGY, AND

HOW TO UTILIZE MY TIME AND

ENERGY DUE TO TIMELINES THAT ARE

OUT OF MY CONTROL.

TAMICA: IT'S ALMOST LIKE THE

STUDIO CULTURE HAD TO CHANGE.

LIKE, WE HAVE TO REMEMBER ALL OF

THESE LITTLE THINGS THAT WE

DIDN'T HAVE TO--WE TOOK FOR

GRANTED BEFORE.

LULA: THEIR NATURE IS NORMALLY

TO BE TOGETHER, TO BE AROUND

EACH OTHER, TO BE CLOSE. AND

THIS IS A NEW WAY OF WORKING.

TAMICA: THEN WE WERE HIT WITH

GEORGE FLOYD. AND WE KNOW THIS

IS--WHAT HAPPENED TO HIM IS

NOTHING NEW.

LULA: THE INCIDENT THAT HAPPENED

WITH GEORGE FLOYD IS AN INCIDENT

THAT I HOPE I NEVER HAVE TO

WITNESS AGAIN IN MY WHOLE LIFE.

FOR ME, AS AN ARTIST, IT GAVE ME

FOCUS, IT GAVE ME PURPOSE TO

WANT TO CREATE A WORK BASED

AROUND THAT FEELING AND THAT

EXPRESSION. SO EVERYTHING THAT

I'M WORKING ON NOW, WORKED AT,

IS COMING OUT OF WHAT IS

HAPPENING TODAY. WHEN I SAY

"TODAY," I MEAN 2020--FROM NOW

UNTIL NOVEMBER. THEN IN

NOVEMBER, WE'LL HAVE SOMETHING

ELSE TO SAY.

TAMICA: WOW! MOM, YOU'VE MADE

THIS INTERVIEW VERY EASY. HA HA!

YOU GAVE US SO MUCH RICH AND

IMPORTANT INFORMATION.

LULA: I HAVE ONE MORE THING I'D

LIKE TO SHARE.

TAMICA: OK.

LULA: IT'S ABOUT THE DANCE...

♪ AND WHAT IT MEANS TO ME

IT'S ABOUT THE DANCE

'CAUSE DANCERS HAVE TO BE FREE

IT'S ABOUT THE DANCE

AND WHAT IT MEANS TO ME

IT'S ABOUT THE D--

BOTH: D-A-N, THE D-A-N-C-E

DANCE

TAMICA: DANCE! ♪ HA!

THAT WAS MY FAVORITE DANCE. THAT

WAS MY FAVORITE DANCE.

ALL RIGHT, LULA! HAVE A GREAT

DAY.

LULA: OK.

TAMICA: THANK YOU.

[DRUM BEATING SLOWLY]

[WHISTLE BLOWS]

WOMAN: STOP VOTER SUPPRESSION!

VOTE!

WE ALL DESERVE FREEDOM,

JUSTICE, AND EQUALITY!

[WHISTLE BLOWING RHYTHMICALLY]

♪ EVERY VOICE!

AND SING!

TO EVERY VOICE AND SING

TILL EARTH AND HEAVEN RING

RING WITH THE HARMONY

OF LIBERTY

NOT HATE, LOVE, NOT HATE

STOP POLICE BRUTALITY

STOP POLICE BRUTALITY

ALL HUMAN BEINGS, WE ALL DESERVE

FREEDOM, JUSTICE, AND EQUALITY

AS HIGH AS THE LISTENING SKIES

VOTE, VOTE, VOTE

VOTE, VOTE

NOT HATE. BLACK LIVES MATTER!

NO, NOT HATE. BLACK LIVES

MATTER. BLACK LIVES MATTER!

BLACK LIVES MATTER! ARREST

THOSE COPS! END RACISM!

STOP! END RACISM! BLACK LIVES

MATTER! BLACK LIVES MATTER!

STOP...IN THE NAME OF LOVE ♪

TAMICA: IN MANY CULTURES, DANCE

IS USED AS A FORM OF HEALING,

AS A WAY TO CONNECT AND TO

CONTINUE OUR CULTURAL HERITAGE.

FOR THE FILIPINO COMMUNITY,

DANCE IS A TOOL OF TRANSFERENCE

AND CURE. IN THE FOLLOWING

DANCE, A WARRIOR ENTERS A

TRANCE-LIKE STATE THROUGH

SYNCOPATED SOUNDS INTENDED TO

CLEAR THE AIR OF EVIL SPIRITS

AND REMOVE AILMENTS,

SOMETHING WE ALL NEED DURING

THESE TIMES.

[INSTRUMENTS PLAYING

RHYTHMICALLY]

[RHYTHMIC TAPPING]

[SLOW MUSIC PLAYING]

TAMICA: WE COULDN'T END THIS

EPISODE WITHOUT CELEBRATING THE

MEXICAN AND MEXICAN-AMERICAN

TRADITIONS OF OUR SOUTHERN

CALIFORNIA COMMUNITY. MARIACHI

MUSIC AND FOLKLORICO DANCE AND

DANCE STUDIOS DOT OUR

NEIGHBORHOOD AND COMMUNITIES,

KEEPING OUR TRADITIONS ALIVE

EVEN IN TIMES OF CHANGE AND

DISTRESS.

KARELI MONTOYA, THE FOUNDER OF

THE BALLET FOLKLORICO DE LOS

ANGELES, HAS BEEN CONTINUING TO

DANCE AND TEACH FROM THEIR

STUDIO IN EAST L.A.

I HAD THE CHANCE TO SPEAK WITH

KARELI, ABOUT THE BALLET IN

TIMES OF COVID.

HI, KARELI! HOW ARE YOU?

KARELI: I'M DOING GOOD, THANK

YOU.

TAMICA: IT'S WONDERFUL TO SEE

YOU THROUGH THE SCREEN.

KARELI: SAME HERE. HA HA!

TAMICA: WELL, CAN YOU TELL US

A LITTLE BIT ABOUT HOW YOU GUYS

HAVE BEEN WORKING THROUGH THIS

TIME OF COVID?

KARELI: JUST LIKE EVERYONE ELSE,

THIS TOOK US BY SURPRISE

MID-MARCH. WE HAVE NOT ONLY A

PROFESSIONAL FOLKLORICO DANCE

TROOP, BALLET FOLKLORICO DE LOS

ANGELES, BUT WE ALSO HAVE AN

ACADEMY CALLED "THE ACADEMY" IN

MONTEBELLO, CALIFORNIA. AND WE

HAVE AROUND 150 STUDENTS THAT

ALL TOOK CLASS IN PERSON. SO OF

COURSE, I WAS VERY CONCERNED

THAT WEEK THAT WE DISCOVERED

THAT WE WERE GONNA HAVE TO SHUT

DOORS AND THEN STOP REHEARSALS

FOR AN UPCOMING SHOW THAT WE HAD

IN MAY. BUT LUCKILY, I DO HAVE

AN ONLINE SCHOOL OF FOLKLORICO.

IT'S CALLED THE ONLINE--KARELI

ONLINE SCHOOL FOLKLORICO THAT I

LAUNCHED A YEAR AGO, SO WITHOUT

KNOWING THIS WOULD EVER HAPPEN.

AND WHAT I'VE BEEN DOING FOR THE

PAST 6 YEARS IS JUST

PRERECORDING FOLKLORICO

TUTORIALS ON YOUTUBE AND THEN

ALSO OTHER TUTORIALS THAT I'VE

UPLOADED TO MY ONLINE SCHOOL

FOLKLORICO. SO THAT WAS A

RESOURCE THAT I GAVE MY STUDENTS

WHILE WE FIGURED OUT WHAT THE

NEXT STEP WAS GONNA BE. SO,

YEAH.

TAMICA: THAT'S AMAZING. YOU WERE

AHEAD OF THE SWING A LITTLE BIT.

HA HA!

KARELI: WE ARE LOOKING AT THIS

WITH--FROM A DIFFERENT

PERSPECTIVE. I THINK IT'S

SOMETHING VERY POSITIVE THAT WE

PROBABLY WOULDN'T HAVE

DISCOVERED IF WE WOULDN'T BE

GOING THROUGH THE TIMES THAT WE

ARE NOW. AND I THINK THAT THIS

HAS OPENED UP THE EYES OF A LOT

OF DANCE INSTRUCTORS, A LOT OF

DANCERS, A LOT OF MUSICIANS,

ARTISTS, AND HAS BROUGHT US ALL

TOGETHER IN A WAY. AND WE'VE

BEEN ABLE TO MAKE A LOT OF

FRIENDS AND A LOT OF LINKS WITH

PEOPLE WHO WE WOULDN'T HAVE EVER

MET IF IT WASN'T FOR THE

SITUATION WE'RE FACING RIGHT

NOW. SO I THINK THAT'S SOMETHING

WE SHOULD BE GRATEFUL FOR AND

THAT WE SHOULD CONSIDER JUST

KEEPING ALIVE FOR THE LONG RUN.

TAMICA: SO GRATEFUL TO HAVE HAD

YOU ON THE SHOW AND JUST WISHING

YOU GUYS SUCCESS AND HEALTH.

KARELI: THANK YOU SO MUCH FOR

HAVING ME.

TAMICA: THE LAST MEXICAN

GOVERNOR

OF ALTA, CALIFORNIA, PIO PICO,

BUILT THE FIRST HOTEL

IN LOS ANGELES BACK IN 1869.

KNOWN AS THE PICO HOUSE,

IT'S BEEN RENOVATED

AND NOW STANDS PROUDLY ON OLVERA

STREET. WE THOUGHT IT WAS

APPROPRIATE TO END OUR EPISODE

WITH THE BALLET FOLKLORICO

PERFORMING SAFELY IN THE

BEAUTIFUL PATIO OF THE PICO

HOUSE AND CELEBRATE HISTORY

AND RESILIENCE OF OUR

PEOPLE THROUGH DANCE.

[GUITAR MUSIC PLAYING]

[MEN SINGING IN SPANISH]

ANNOUNCER: MAJOR FUNDING FOR

THIS PROGRAM WAS PROVIDED BY...

THE CITY OF LOS ANGELES

DEPARTMENT OF CULTURAL AFFAIRS.

ADDITIONAL FUNDING WAS PROVIDED

BY THE NATIONAL ENDOWMENT FOR

THE ARTS AND THE LOS ANGELES

COUNTY DEPARTMENT OF ARTS &

CULTURE.