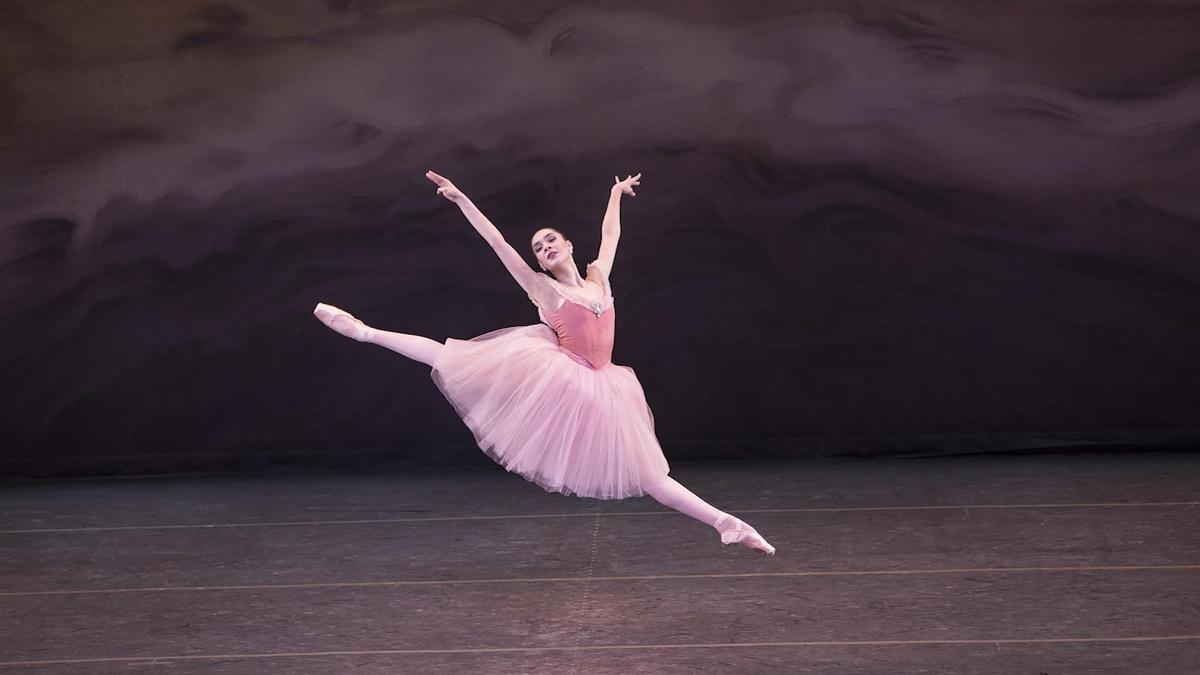 FULL EPISODE
Mira Nadon
Mira Nadon started her dance training at the age of seven. A graduate of the School of American Ballet, at 16 she became a member of New York City Ballet as an apprentice. The following year, she was offered a contract as a member of the corps de ballet. She originated a corps role in Gianna Reisen's Judah.
TRANSCRIPT

(classical ballet music)

- It takes a lot of hard work

to be a professional ballet dancer.

You have to train for years and years.

And then once you build up that skill set

and join a company, then you are rehearsing all day long

and performing almost every night,

and that brings its own set of challenges.

My name is Mira Nadon, I'm 19 years old.

I'm from Claremont, California,

and I'm a Corps de ballet dancer with New York City Ballet.

I remember watching a video of George Balanchine's,

"The Nutcracker" when I was probably four or five.

And I remember watching the party children

and thinking, "I could do that."

And I wanted to try it out.

At that point, I didn't have any Corps de ballet training,

so I definitely couldn't do it,

but it sparked an interest in classical ballet.

I started my classical ballet training

at Pacific Ballet Academy.

I felt like they gave me a really good base.

One of my teachers taught my class an excerpt

from Seranade by George Balanchine.

And I absolutely loved them.

They were so much fun just to learn in class.

So that led me to researching Balanchine and then finding

out about the New York City Ballet

and the School of American Ballet.

And from there, I decided to audition for SAB,

the School of American Ballet summer program.

And I got in and I loved it.

I loved the training, I loved the teachers

and I went back the next year.

And that year I was asked to stay for the winter term,

which is SAB's year round program.

It's a big change moving to New York.

I wasn't living with my family anymore.

I was living in the dormitories.

All of a sudden I was attending high school

and there wasn't anyone to remind me to wake up on time

or do my homework or prepare for tests.

It's really all up to you.

So you have to take a lot more of the responsibility

for yourself, but it also taught me a lot of skills

that I think were really beneficial.

At SAB, they really emphasize musicality and fast foot work

and placing your feet, and you hold your arms

in a different way,

you hold your hands in a different way.

So it's a lot to take in,

but the teachers are very patient and they're persistent

and they'll work with you until you get it right

because they just care about their students

so much and just want everyone to succeed.

I think I felt a change in the way I approached dance

after my workshop performance.

So at SAB, at the end of the year,

the students put on a workshop and you work

on this performance for a couple months before.

It's kind of the culmination of a whole year's work.

And I got to dance the principal couple in Balanchine's

Scotch Symphony and that was just an amazing experience

and I not only got stronger physically,

I also felt like I really built my confidence up

in that period, and coming out of that period of training

and then doing the show, I felt like I approached dancing

in a different way.

And I was then able to look at steps and see how I

wanted to dance them that was maybe slightly different

from what other people were doing,

and I felt a newfound strength in my body.

I think everything just came together

after being at SAB for a couple of years

and growing into my body, but I definitely felt a shift.

- I think when we really noticed that Mira

was going to be a special dancer,

a special talent to come to New York City Ballet,

we noticed it in her workshop performance.

When she came out on stage,

she all of a sudden showed us that she was a ballerina.

And I mean that in the truest sense of the word.

She was making artistic decisions on the stage in the moment

that a ballerina was much older

and much more mature would make.

She has a beautiful line.

She has this quality where she moves through things very

naturally, moves through steps naturally.

She never has a put, what we would call an awkward moment.

You know, she places her feet well, she's a good turner,

she's a strong jumper.

And with her length, she's able to fit into a variety

of roles, which is really exciting for us.

- In November of 2017, I was invited to become an apprentice

with the New York City Ballet and it was very unexpected.

And I found out on Monday afternoon,

and then I started on Tuesday, so it was super fast.

I was 16, so I was pretty young,

but I definitely felt like I was ready to make

the transition from student to professional.

At least when I was at SAB,

I was very aware of the fact that getting into City Ballet

wasn't a guarantee and that, you know,

I could work really hard and do well, but who knows,

maybe it just, it wouldn't align that I

wouldn't get in the company, so I really tried

to keep my options open, but it's hard

because there's just an element of luck.

Usually it just comes down to what a company

is looking for that year.

Maybe they need two short girls and one tall girl,

or they just need boys, you never know.

And I think often it is just being in the right place

at the right time.

Being in the studio every day with the dancers

that I get to watch and be next to you is mind blowing.

I'm very inspired by all my colleagues.

Everyone in my company is so talented at every single rank.

And I love getting to watch them dance every day

and learn from their dancing and also learn

from who they are as people.

I'm also so inspired by the ballets that I get to dance

and the music and the musicians,

just everything coming together so special,

and New York City Ballet is a really inspiring place.

I'm currently in California with my parents and my brother.

And I've been here for, I think about three months now,

it's been awhile.

I'd say the biggest challenge

is definitely keeping my motivation up.

So uncertain when we're going to be back

and what performance, live performance is going to be like

after this, but I think that there will be definitely

a renewed sense of gratitude and joy from everyone involved

when we do come back.

And I think it'll be really special.