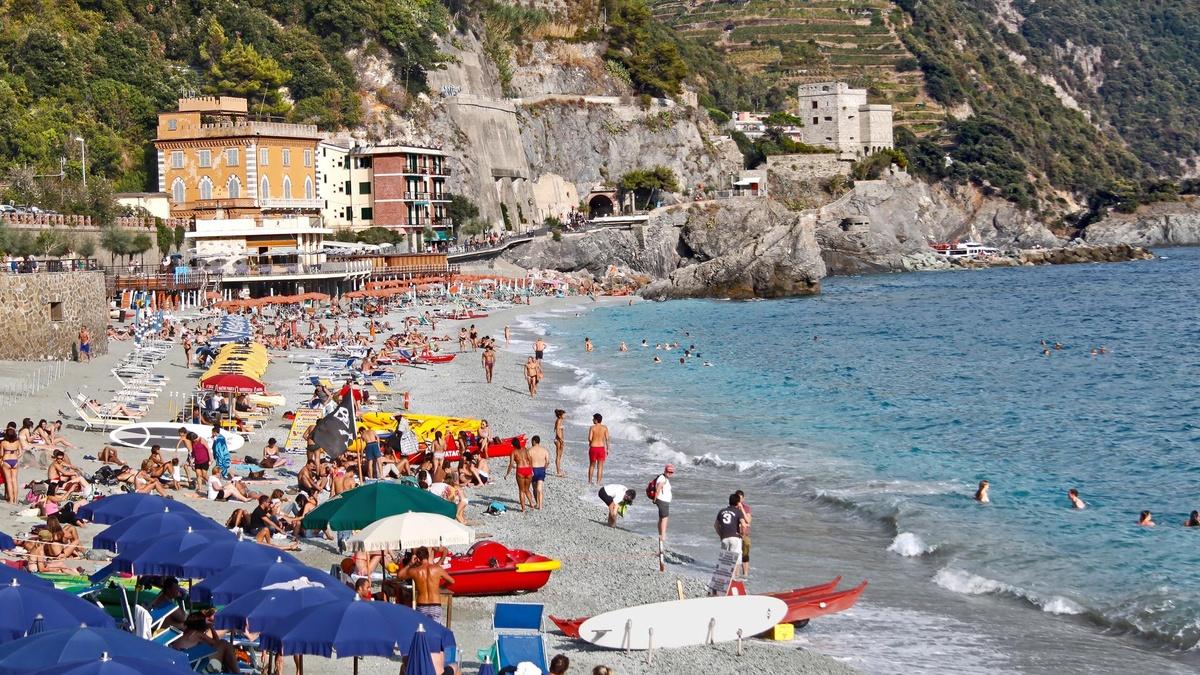 S8 E7 | CLIP
Monterosso al Mare, Italy: Cinque Terre Resort Town
Monterosso al Mare is the Cinque Terre's most resorty town of the group, with cars, larger hotels, rentable umbrellas, and the best beach around.
TRANSCRIPT

This is the most resorty town of the group.

With cars, larger hotels, rentable umbrellas,

and the best beach around.

If you want the kind of beach scene that leaps to mind

when you hear the word "Riviera,"

you'll find it here.

Warm water, colorful umbrellas,

plenty of bodies soaking up that Mediterranean sun,

and an inviting promenade.

Complimenting Monterosso's happy beach scene

is Restaurant Miky.

And my son, Andy, is joining us

for the region's most elegant dining experience.

While tourism has brought a new affluence here,

even high-end places are still family run.

The father, Miky, runs the kitchen

with an impressive mix of artistry and precision.

Meanwhile, the mother and daughter

help wait tables and charm their guests.

Miky's pasta is cooked with a unique twist,

capped with pizza dough

and finished in a wood-fried oven.

Sara is bringing us the house specialties

and making sure we know what we're eating.

-It's delicious. -Buon appetito.

When our pasta arrives and the crust is broken,

the steamy aroma heralds a taste treat to come.

[Laughs]

And to cap a great meal,

chef Miky drops by as we're enjoying

our traditional sciacchetrà and biscotti.

Complimenti. Tutti delicioso.

From the beach resort half of Monterosso,

a tunnel leads under the castle and into the old town.

Here you'll find more restaurants,

characteristic shops,

and a world of colorful lanes.

Sure, it's touristy, and virtually every storefront

caters to visitors' needs,

but there's a low-key ambience where you're reminded

that we're all in this life together,

so let's enjoy the moment.

It's aperitivo time,

and as everywhere in Italy right about now,

families are out, kids and parents,

children enlivening main squares.

One tradition that thrives oblivious to all the tourism

is that special time when people are out, socializing,

enjoying the cool of the early evening.