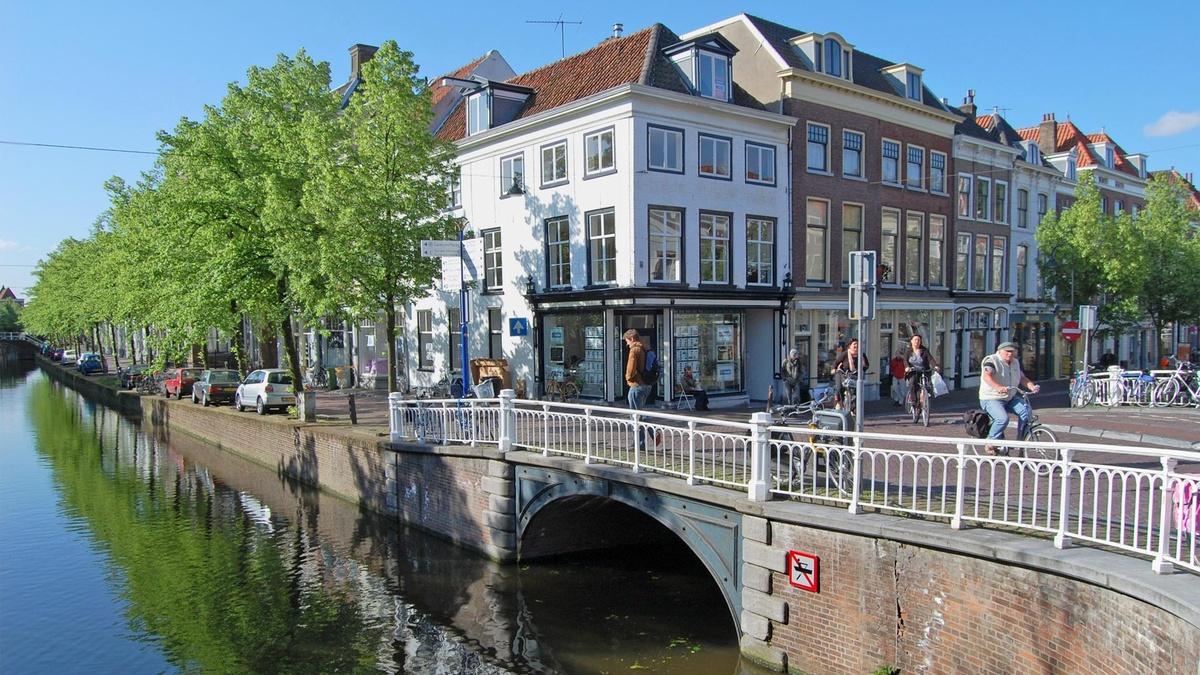 S8 E10 | CLIP
Delft, Netherlands: Town Square and Delftware
We stroll along Delft's idyllic canals and markets, and see how its famous Delftware porcelain is made.
TRANSCRIPT

Like many fortified old cities,

Delft, welcomes you with the twin towers of its city gate,

graced by an old drawbridge and a canal moat.

It's delightful architecture recalls the Golden Age --

the 17th century pinnacle of Dutch trade and sea power.

Quaint scenes line intimate canals.

It's Thursday, and that means market day in Delft.

In towns all over the Netherlands,

main squares become thriving markets one day a week.

It's late June,

and the Herring are in season.

And every market comes with a cheesemonger,

almost evangelical about the tastiness of Dutch cheese.

Ask a question and you're in for an education

complete with samples.

This is young -- how young is this?

Um, about four to six weeks.

So, tell me about this one.

MAN: Four and a half years old, hand-made and quite strong.

We have -- sometimes is, we have them even older.

I like that -- give me a glass of port and this is my dessert.

Towering over the square is the church,

with its brick steeple rocketing skyward.

And facing that, overseeing the town's commerce

as it has for nearly a thousand years,

is the City Hall.

Much of the Netherlands is built on soggy land.

The City Hall, with its heavy stone jail,

was built on the most solid land in town.

The leaning church, just down the canal,

not so much.

The town's historic canals both drained the land

and provided a transportation network for barges.

Today, the old barges are retired --

many are permanently moored

in front of cafes and restaurants

for outdoor dining.

Over the centuries, these little canals

shipped out countless barge loads

of the town's famed earthenware.

Delftware is famous all around the world.

Royal Delft, the oldest surviving workshop,

established back in the 1600s,

welcomes visitors to drop in and see how it's made.

Visitors to the factory follow the process.

First, the liquid clay is poured into plaster molds.

When dry, it's removed

and the seams are smoothed off.

Then it's baked.

And then, lovingly painted by hand.

A mesmerizing scene unchanged for centuries.

After being glazed to fix the paint,

it's baked a second time

during which the paint turns blue.

That's the secret of Royal Delft Blue since 1653.

The finished product -- this highly valued earthenware.

Rooms of historic Delftware show off this art.

This table setting is laid out

as if it was the home of a wealthy person here in Delft.