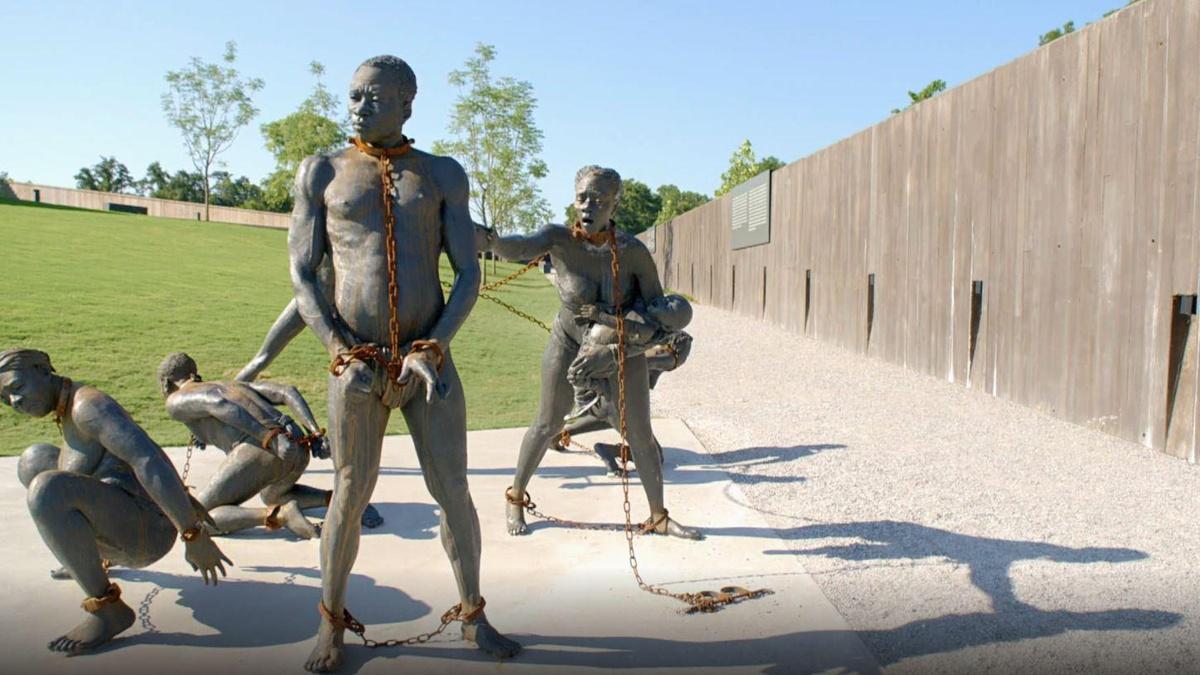 S2019 E3 | FULL EPISODE
Reconstruction | Part 2, Hour 1
Hour three of the series examines the years 1877-1896, a transitional period that saw visions of a "New South" set the stage for the rise of Jim Crow and the undermining of Reconstruction's legal and political legacy. While some African Americans attempted to migrate, the vast majority remained in the South, where sharecropping, convict leasing, disfranchisement, and lynchings drew a "color line".
TRANSCRIPT

GATES JR: TWELVE YEARS AFTER THE END OF THE CIVIL WAR,

RECONSTRUCTION WAS DEALT A DEVASTATING BLOW.

YOU MIGHT EVEN SAY IT WAS OVERTHROWN,

AS SOUTHERN DEMOCRATS TOOK THEIR STATES BACK, ONE BY ONE.

FONER: THE 1880S IS A KIND OF A TWILIGHT ZONE BETWEEN

RECONSTRUCTION AND THE FULL IMPLEMENTATION OF THE

JIM CROW SYSTEM.

BLACK PEOPLE CONTINUED TO VOTE IN MANY PARTS OF THE SOUTH.

THERE WAS STILL VIOLENCE AGAINST THEM,

BUT THERE WERE STILL SOME BLACK PEOPLE HOLDING OFFICE IN

MANY PARTS OF THE SOUTH.

CIVIL RIGHTS LAWS REMAINED ON THE BOOKS.

GATES JR: ONE OF THE CRUEL IRONIES OF RECONSTRUCTION IS

THAT BLACK PEOPLE COULD CLAIM CERTAIN RIGHTS IN THE 1870'S,

THAT THEY WOULD HAVE TO FIGHT TO RECLAIM IN THE 1960'S.

THANKS TO THE CIVIL RIGHTS ACT OF 1875 AFRICAN-AMERICANS WERE

GUARANTEED EQUAL ACCESS TO HOTELS, RESTAURANTS, THEATERS,

AND PUBLIC TRANSPORTATION.

THOSE WHO WERE DENIED SERVICE COULD EXPECT THEIR RIGHTS TO

BE UPHELD IN A COURT OF LAW.

BUT ALL THAT WAS ABOUT TO CHANGE.

IDA B. WELLS,

A CHILD OF SLAVERY AND RECONSTRUCTION,

TAUGHT IN A SEGREGATED SCHOOL OUTSIDE MEMPHIS TENNESSEE.

BEING DENIED ACCESS TO THE ALL-WHITE,

FIRST CLASS CAR ON A RAILROAD TRIP WOULD PROPEL HER

TO THE FRONT LINES OF CIVIL RIGHTS ACTIVISM.

WELLS: ONE DAY WHILE RIDING BACK TO MY SCHOOL,

I TOOK A SEAT IN THE LADIES COACH OF THE TRAIN AS USUAL.

THE CONDUCTOR CAME ALONG TO COLLECT TICKETS.

HE TOLD ME I WOULD HAVE TO GO IN THE OTHER CAR.

I REFUSED.

HE TRIED TO DRAG ME OUT OF THE SEAT.

I FASTENED MY TEETH IN THE BACK OF HIS HAND.

HE GOT THE BAGGAGE MAN TO HELP HIM,

AND THEY SUCCEEDED IN DRAGGING ME OUT.

WHITE LADIES AND GENTLEMAN STOOD ON THE SEATS APPLAUDING

THE CONDUCTOR FOR HIS BRAVE STAND.

HANNAH-JONES: SHE CHALLENGES SEGREGATION ON PUBLIC

TRANSPORTATION DECADES BEFORE WE WOULD EVER HEAR

THE NAME ROSA PARKS.

BAY: SHE SUED. SHE WON IN THE LOWER COURTS.

BUT THE RAILROAD APPEALED THE DECISION,

AND WHEN THE COURT CASE WENT TO THE TENNESSEE STATE

SUPREME COURT IDA B. WELLS LOST.

GATES JR: W.E.B DUBOIS SUMMARIZED RECONSTRUCTION IN

ONE SENTENCE, "THE SLAVE WENT FREE,

STOOD A BRIEF MOMENT IN THE SUN,

AND THEN MOVED BACK AGAIN, TOWARDS SLAVERY."

YET, AFRICAN-AMERICANS HAD TASTED FREEDOM.

THEY HAD BEGUN TO ACQUIRE LAND, BUILD SCHOOLS,

AND CREATE SOCIAL INSTITUTIONS OF THEIR OWN.

AND THOUGH THE TIDE WAS TURNING,

THEY REFUSED TO GIVE UP ON THE PROMISE OF RECONSTRUCTION.

AFTER THE DEFEAT OF THE CONFEDERACY,

MANY WHITE SOUTHERNERS STILL LONGED FOR WAYS TO HOLD ON TO

THEIR CIVILIZATION.

AND EVEN WHEN THEY TRIED TO CONVINCE THE REST OF THE

COUNTRY THAT THEY ACCEPTED THE OUTCOME OF THE WAR,

THEIR VISION OF THE FUTURE LOOKED DISTURBINGLY

SIMILAR TO THE PAST.

THE CHIEF EVANGELIST OF THIS NEW ORDER WAS HENRY GRADY,

AN ENTERPRISING NEWSPAPER EDITOR FROM ATLANTA.

AND IN LATE 1886 HE JOURNEYED TO NEW YORK CITY TO OUTLINE

HIS VISION OF WHAT HE CALLED THE "NEW SOUTH."

HAHN: SO MUCH OF THE COUNTRY SAW THE SOUTH AS THIS KIND OF

BENIGHTED, YOU KNOW, SECTION THAT HAD ENDURED CIVIL WAR,

THAT HAD BEEN IMPOVERISHED,

THAT WAS BESET BY POLITICAL TURMOIL AND RACIAL VIOLENCE.

HENRY GRADY TRAVELED THE COUNTRY.

HE WENT TO THE NORTHEAST TRYING TO SELL HIS VISION OF A

DIFFERENT KIND OF SOUTH, ONE THAT WAS MORE MODERN,

ONE THAT WAS MORE ECONOMICALLY DIVERSIFIED,

ONE THAT COULD ATTRACT NORTHERN INVESTMENT,

ONE THAT WOULD SEE ECONOMIC GROWTH,

AND ONE IN WHICH THE TENSIONS AND CONFLICTS OF

RECONSTRUCTION WOULD BE PUT ASIDE.

GATES JR: BUT GRADY'S ROSY DESCRIPTION OF HOW THE SOUTH

HAD "SOLVED" THE NEGRO PROBLEM IGNORED THE DANGEROUS REALITY

THAT BLACK PEOPLE FACED.

WHEN IT CAME TO THE POSSIBILITIES OF OWNING LAND

OR EARNING A LIVING, THE NEW SOUTH LOOKED QUITE

A LOT LIKE THE OLD SOUTH.

HUNTER: WHAT AFRICAN-AMERICANS WANT MOST IS TO OWN LAND,

AND SOME OF THEM ARE ABLE TO ACCESS LAND,

BUT BY NO MEANS AS MANY PEOPLE AS WOULD DESIRE LAND.

SHARECROPPING EMERGES STARTING AROUND THE LATE 1860'S GOING

INTO THE 1870'S, BUT IT REALLY DOESN'T BECOME

PREDOMINANT UNTIL AROUND 1880.

AFRICAN-AMERICANS ARE GIVEN ACCESS TO PLOTS OF LAND,

TYPICALLY 30 TO 50-ACRE PLOTS,

WHICH THEY ESSENTIALLY CONTROL.

THEY DON'T OWN THE LAND,

BUT THEY WORK THE LAND AS A FAMILY UNIT.

BUT THERE ARE A LOT OF THINGS ABOUT SHARECROPPING

THAT BECOME QUITE OPPRESSIVE.

ALI: YOU WOULD LIVE ON SOMEBODY'S LAND AND YOU WOULD

GIVE OVER A SHARE OF YOUR CROP AS RENT.

BUT THE WAY THAT IT WORKED IS THAT PEOPLE BECAME

INCREASINGLY IN DEBT BECAUSE THERE WAS ALWAYS INTEREST ON

WHATEVER YOU WERE USING, WHETHER IT WAS TOOLS,

OR SEEDS, OR THE USE OF ANIMALS.

HUNTER: THERE ARE YEARLY CONTRACTS THAT THEY

HAVE TO SIGN.

MOST AFRICAN-AMERICANS ARE NOT LITERATES.

THEY'RE NOT QUITE SURE EXACTLY WHAT THEY'RE SIGNING ONTO.

THEY'RE SIGNING AWAY MANY ASPECTS OF THEIR INDEPENDENCE.

ALI: MANY OF THE SHARECROPPERS WORKED ON THE SAME PLANTATIONS

THAT THEY WERE IN AS SLAVES.

MANY OF THEM DO BECOME MORE IMPOVERISHED OVER

THIS PERIOD OF TIME.

GATES JR: SHARECROPPING WASN'T EVEN THE WORST OF IT.

IN A REGION STILL SCARRED BY WAR AND ECONOMIC DISLOCATION

THE LABOR SYSTEM THAT TOOK SHAPE IN THE LATE 19TH CENTURY

DEVELOPED COERCIVE MEANS TO ENSURE THAT

COTTON REMAINED KING.

IT WAS CALLED CONVICT LEASING.

GET ARRESTED ON A MINOR CHARGE OR A TRUMPED-UP CHARGE,

YOU COULD FIND YOURSELF LOCKED UP AND THEN HIRED OUT TO A

PLANTER OR EVEN A CORPORATION, BIDDING ON INMATE LABOR.

THE PIPELINE FROM PRISONS TO PROFITS IN THIS

COUNTRY HAS DEEP ROOTS.

WILLIAMS: THE CONVICT LEASE SYSTEM WAS A INHUMANE AND

BARBARIC FORM OF PUNISHMENT, REALLY EMPHASIZING THAT

AFRICAN-AMERICANS WERE NOT AFFORDED EQUAL OPPORTUNITY

BEFORE THE LAW.

THE CONVICT LEASE SYSTEM WAS IN EFFECT A FORM OF SLAVERY.

CRENSHAW: BLACK WOMEN WERE ALSO PART OF CONVICT LEASING

AND WERE OFTEN INCARCERATED ALONGSIDE MEN.

THEY WERE SUBJECT TO SEXUAL ABUSE AND ASSAULT.

MUHAMMAD: CONVICT LEASING USED THE CRIMINAL JUSTICE SYSTEM TO

DISCIPLINE THE BLACK COMMUNITY TO BE SUBSERVIENT TO THE

ECONOMIC INTEREST OF WHITE, SOUTHERN ELITES,

AND THEY WERE SNATCHING UP BODIES EVERYWHERE TO

FUEL THE SYSTEM.

GATES JR: AFTER RECONSTRUCTION ENDED,

AFRICAN-AMERICANS IN THE SOUTH FACED A STARK CHOICE.

STAY AND LIVE IN OPPRESSIVE CONDITIONS OR FIND A WAY OUT.

THEY SOUGHT A PLACE WHERE THEY COULD SUPPORT THEIR FAMILIES,

SAFE FROM VIOLENCE AND OPPRESSION.

FOR MANY, THAT PROMISED LAND WAS KANSAS.

DRAY: IN KANSAS YOU COULD LIVE FREE.

YOU WERE FREE FROM THE SORT OF PLANTATION SYSTEM,

FREE FROM THE DENIAL OF ONE'S EQUAL RIGHTS AS WELL

AS NIGHT RIDER TERRORISM.

GATES JR: IN 1879 AN ESTIMATED SIX THOUSAND SO-CALLED

EXODUSTERS LEFT THE SOUTH FOR KANSAS.

WITHIN A FEW YEARS, THOUSANDS MORE WOULD UPROOT

AND MOVE WEST.

PAINTER: IT'S THE FIRST LARGE MIGRATION OF BLACK PEOPLE,

AND SO IT ATTRACTED ATTENTION BECAUSE THESE WERE PEOPLE WHO

WERE MOVING OF THEIR OWN VOLITION.

BLIGHT: THEY WERE LEAVING VIRULENT RACISM.

THEY WERE LEAVING DEAD-END SHARECROPPING.

PAINTER: MOST BLACK SOUTHERNERS THOUGHT OF

THEMSELVES AS CHRISTIANS.

THEY IDENTIFIED WITH THE BIBLE OF EXODUS,

AND THEY FELT THAT THEY WERE BEING DELIVERED INTO A

PROMISED LAND OR AT LEAST A SAFER LAND.

♪ MAN: OPPRESSED SO HARD THEY COULD NOT STAND. ♪

♪ GROUP: LET MY PEOPLE GO. ♪

BLIGHT: IT BECAME LIKE A POLITICAL TEST QUESTION AMONG

BLACK LEADERSHIP OF HOW A LOT OF BLACK FOLK IN THE SOUTH SAW

RECONSTRUCTION AND HAD NO HOPE IN FEDERAL INTERVENTION

TO HELP THEM ANYMORE.

AND THEY WERE LOOKING FOR ANY POSSIBILITY.

DRAY: IT HAD ITS OPPOSITION IN SOME VERY FAMILIAR FIGURES,

MAINLY FREDERICK DOUGLASS, BLANCHE K. BRUCE,

ROBERT BROWN ELLIOT, WHO WERE BLACK CONGRESSMAN.

THEY WERE VERY WEDDED TO THE KIND OF LINCOLN-ESQUE

VIEW OF AMERICA.

THEY BELIEVED IN THE CONSTITUTION.

THEY BELIEVED IN THE RECONSTRUCTION AMENDMENTS,

AND TO THEM THE IDEA OF TURNING YOUR BACK ON THAT

INSTEAD OF STANDING AND TRYING TO STAY AND FIGHT FOR ONE'S

RIGHTS WAS INIMICAL TO THEM.

GATES JR: WHILE NOWHERE NEAR AS MASSIVE IN SCALE AS THE

GREAT MIGRATION THAT WOULD COME A FEW DECADES LATER,

THE EXODUSTER MOVEMENT WAS LARGE ENOUGH THAT IT CAUGHT

THE ATTENTION OF POLITICIANS IN WASHINGTON WHO DEMANDED TO

KNOW WHAT WAS GOING ON AND WHY.

PAINTER: THE SENATE HEARINGS WERE IMPORTANT.

WE CAN LEARN A LOT ABOUT THE CONDITIONS OF LIFE BECAUSE

OF THE TESTIMONY.

ADAMS: WE FOUND OURSELVES IN SUCH A CONDITION THAT THERE

WAS NO WAY ON EARTH THAT WE COULD BETTER

OUR CONDITIONS THERE.

WE APPEAL TO THE PRESIDENT OF THE UNITED STATES AND TO

CONGRESS TO HELP US OUT OF OUR DISTRESS OR PROTECT US

IN OUR RIGHTS AND PRIVILEGES.

BLIGHT: IT TURNS OUT A LOT OF PEOPLE WHO WENT TO KANSAS

DIDN'T EXACTLY FIND SHANGRI-LA.

THEY DIDN'T FIND A GREATER DEAL IN MOST CASES.

THEY DID NOT BECOME LAND OWNERS BY THE LARGE MEASURE.

BUT IT WAS ONE OF THOSE MOMENTS AGAIN

THAT TESTED EVERYBODY.

GATES JR: EVEN WHEN AFRICAN-AMERICANS MOVED OUT OF

THE SOUTH, THEY SOON DISCOVERED THAT THEY COULDN'T

OUTRUN JIM CROW.

IN 1875, THEY'D SEEN A GLIMMER OF HOPE WITH THE PASSAGE OF A

CIVIL RIGHTS ACT THAT BANNED RACIAL DISCRIMINATION IN

PUBLIC ACCOMMODATIONS.

BUT JUST EIGHT YEARS LATER, THE SUPREME COURT WOULD STRIKE

DOWN THAT LAW AS UNCONSTITUTIONAL.

CRENSHAW: SEGREGATION IS GROWING, IT'S NOT RECEDING.

AND IT'S NOT JUST IMPACTING THOSE WHO ARE THE FORMER

SLAVES, NOT THOSE WHO ARE AGRICULTURAL WORKERS,

NOT JUST THOSE IN THE RURAL SOUTH,

BUT ELITE AFRICAN-AMERICANS EVERYWHERE.

ALEXANDER: THE SUPREME COURT IS GOING TO RULE ON A NUMBER

OF CASES, COBBLED TOGETHER, WHICH WE HAVE CALLED THE

CIVIL RIGHTS CASES.

CRENSHAW: ONE OF THE CASES CAME OUT OF SAN FRANCISCO

WHERE A COUPLE WAS DENIED THE ABILITY TO SIT IN THE DRESS

CIRCLE OF THE THEATER.

THE DRESS CIRCLE IS THE FIRST-CLASS SEAT.

WE'RE TALKING ABOUT THE THEATER IN THE 1870S.

THIS IS NOT A MOVIE THEATER, THIS IS THEATER.

FONER: MOST BLACK PEOPLE WERE CONCERNED NOT TO BE TREATED IN

AN UNDIGNIFIED MANNER, NOT BE EXCLUDED FROM A RESTAURANT,

NOT BE SENT TO THE BACK OF A RAILROAD CAR,

NOT TO BE PUT ON THE OUTER DECK, LET'S SAY,

OF A STEAMBOAT ON THE MISSISSIPPI RIVER.

ALEXANDER: THE SUPREME COURT ULTIMATELY RULES IN 1883 THAT

THE 14TH AMENDMENT DOES NOT PREVENT PEOPLE FROM DENYING

INDIVIDUALS ACCESS TO HOTELS, RESTAURANTS,

BECAUSE THESE ARE PRIVATE LOCATIONS,

AND THEY CAN MAKE THAT DECISION ON THEIR OWN.

BRADLEY: WHEN A MAN HAS EMERGED FROM SLAVERY THERE

MUST BE SOME STAGE IN THE PROGRESS OF HIS ELEVATION WHEN

HE TAKES THE RANK OF A MERE CITIZEN AND CEASES TO BE THE

SPECIAL FAVORITE OF THE LAWS.

CRENSHAW: THE PARTING SHOT OF JUSTICE BRADLEY IS AN

INSULT TO ALL FREEDMEN.

LESS THAN 20 YEARS AFTER THE END OF SLAVERY,

AFTER THE END OF A SYSTEM THAT HAD LASTED FOR TWO CENTURIES

THE SUPREME COURT IS TALKING ABOUT HOW LAWS AGAINST

DISCRIMINATION IS SOMEHOW PREFERENTIAL TREATMENT.

THE FACT THAT THEY COULD PULL THAT OFF MEANT THAT

AFRICAN-AMERICANS WERE UTTERLY AND TOTALLY ON THEIR

OWN WHEN IT CAME TO LAW.

GATES JR: WHEN AFRICAN-AMERICANS DISCOVERED

THAT THEY WOULDN'T BE ALLOWED TO CROSS THE COLOR LINE,

THEY TURNED INWARD AND CREATED A BLACK WORLD WITHIN

A WHITE WORLD.

WILLIAMS: THE POSSIBILITIES OF FREEDOM HAVE BEEN SHUT DOWN,

THEY'VE BEEN CLOSED OFF.

THE PATHWAYS THAT, YOU KNOW, COULD POTENTIALLY GUARANTEE

SUCCESS FOR A LOT OF PEOPLE HAVE BEEN BLOCKED BY EITHER

VIOLENCE OR BY NEW LAWS THAT ARE BEING PASSED TO SEGREGATE

ON A RACIAL BASIS.

FOR A LOT OF PEOPLE, THEY HAVE TO FIGURE OUT TO WHAT

DEGREE DO THEY TRY TO FIGHT THE SYSTEM,

KNOWING THAT THEY OR THEIR LOVED ONES COULD BE KILLED.

MUHAMMAD: AFRICAN-AMERICANS RALLY THEIR RESOURCES TO BEGIN

TO CREATE COMMUNITIES THAT ARE SAFE SPACES,

THAT ARE PLACES WHERE THEY CAN CONTROL AS MUCH AS

POSSIBLE THEIR DAILY LIVES.

MEDFORD: IT'S SELF-SEGREGATION.

BLACK PEOPLE BELIEVE THAT IF THEY WERE FORCED TO BE IN THE

PRESENCE OF WHITE PEOPLE, THERE WOULD BE CERTAIN THINGS

THEY COULDN'T DO.

THEY COULDN'T EXPECT TO HAVE CONTROL OVER POLITICS.

THEY COULDN'T EXPECT TO HAVE ECONOMIC INDEPENDENCE.

AND THEY CERTAINLY WOULD NOT HAVE THE SOCIAL STANDING THAT

THEY COULD IF THEY HAD THEIR OWN TOWNS.

THEY HAD THEIR OWN BUSINESSES.

THEY HAD THEIR OWN CHURCHES.

THEY HAD EVERYTHING THAT THEY THOUGHT THEY NEEDED

TO LIVE DECENT LIVES.

GATES JR: ALL-BLACK TOWNS AND ALL-BLACK NEIGHBORHOODS

CONTINUED WELL INTO THE TWENTIETH CENTURY,

OFFERING A BUFFER BETWEEN WHAT DU BOIS CALLED,

"LIFE WITHIN THE VEIL" AND THE INDIGNITIES OF

JIM CROW AMERICA.

MEDFORD: THE OWNER OF THE LOCAL DRY GOODS STORE WAS NOT

IN COMPETITION WITH THE WHITE MAN BECAUSE THEY WERE NOT IN

HIS COMMUNITY, AND WE KNOW THAT THESE CLASHES OCCUR WHEN

BLACK MEN ARE COMING UP AGAINST THEIR WHITE COMPETITORS.

MOTLEY: RECONSTRUCTION HAS TWO MOTIFS.

THERE ARE THOSE WHO LEFT, AND THERE ARE THOSE WHO STAYED.

MADISON PARK GIVES EVIDENCE TO THOSE WHO STAYED.

GATES JR: GIVE ME THE HISTORY OF THIS COMMUNITY.

WHERE ARE WE, HOW DID IT COME ABOUT?

MOTLEY: IN 1880 A GROUP OF FREED SLAVES,

NOTHING EXCEPT THE CLOTHES ON THEIR BACK,

SOME MONEY THEY HAD SAVED DECIDED TO PULL THEIR

RESOURCES TOGETHER AND TO ORGANIZE THEMSELVES

TO CREATE COMMUNITY.

THERE WAS ONE IN PARTICULAR, BY THE NAME OF ELI MADISON,

WHO WAS KIND OF THE LEADER OF THE PACK.

AND ELI ORGANIZED THEM TO BUY A SMALL PIECE OF LAND AND TO

WORK THAT LAND AND MAKE IT PROFITABLE.

AND MY GRANDFATHER'S GRANDFATHER WAS ONE OF THOSE

PEOPLE WHO JOINED ELI MADISON LATER WHEN HE ESTABLISHED

THIS PLACE.

HE BELIEVED THAT HE COULD BE IN CHARGE OF HIS OWN DESTINY.

THE UNCERTAINTIES OF GOING TO ANOTHER PLACE WERE JUST AS

GREAT AS THE UNCERTAINTIES THAT HE WAS GOING TO FACE HERE.

THERE ARE FAR MORE PEOPLE WHO STAYED BEHIND THAN

WHO WENT AWAY.

GATES JR: FAR MORE.

MOTLEY: YEAH.

ALL THE DESCENDANTS OF THOSE FOUNDERS WERE THE PEOPLE THAT

WERE IN AND OUT OF MY LIVES DAILY.

I GREW UP IN THE SAME HOUSE, ON THE SAME PIECE OF LAND THAT

MY GRANDFATHER'S GRANDFATHER BUILT.

GATES JR: WHAT POSITIVE THINGS FOR A BLACK PERSON

COMES FROM GROWING UP IN AN ALL-BLACK WORLD?

MOTLEY: I KNEW THAT WHAT I WAS BEING PREPARED TO DO

HERE IN THIS PLACE WAS GONNA PREPARE ME FOR A LARGER

WORLD BEYOND MADISON PARK.

GATES JR: DO WE STILL NEED MADISON PARKS FOR OUR PEOPLE?

MOTLEY: WE NEED MADISON PARK NOW MORE THAN EVER BEFORE.

GATES JR: WHY?

MOTLEY: WE CAN CREATE SUPPORT SYSTEMS THAT CAN ADDRESS MANY

OF THE PROBLEMS AND CHALLENGES THAT WE HAVE IN SOCIETY TODAY.

GATES JR: DESPITE THE DRAWING OF THE COLOR LINE,

AFRICAN-AMERICANS REFUSED TO REMAIN WITHIN THE

CONFINES OF JIM CROW.

LOOKING AT WHITE FARMERS TOILING NEXT TO

THEIR BLACK NEIGHBORS,

IT WAS INEVITABLE TO WONDER IF THEY COULD

TRANSCEND SUPERFICIAL DIFFERENCES OF COLOR AND FORM

ALLIANCES BASED ON MUTUAL ECONOMIC INTERESTS.

AYERS: THE POST-RECONSTRUCTION SOUTH IS A HARD PLACE TO

BE A FARMER.

THE PRICES FOR WHAT THEY'RE GROWING ARE STEADILY

DECLINING, AND IT'S JUST NOT CLEAR HOW YOU'RE SUPPOSED

TO MAKE A LIVING.

BLACK FARMERS ARE IN THE SAME SITUATION AS WHITE FARMERS IN

THIS REGARD.

THEY NEED WHAT THEY ARE GROWING TO BE WORTH MORE.

PAINTER: THE COLORED FARMERS' ALLIANCES DID REPRESENT A

SEEKING OF ECONOMIC AND POLITICAL POWER ON THE

PART OF BLACK FARMERS.

THIS WAS A TIME IN WHICH BLACK MEN WERE LOSING THEIR

POLITICAL POWER.

GATES JR: ORGANIZING WORKERS ALONG CLASS LINES

RATHER THAN RACIAL LINES WAS REVOLUTIONARY,

ESPECIALLY IN THE JIM CROW SOUTH.

THE EFFECTS COULD HAVE TRANSFORMED THE

SOUTH FUNDAMENTALLY.

AYERS: THEY BRING TOGETHER BLACK PEOPLE AND WHITE PEOPLE

AND THEY SAY, WE MIGHT BE ABLE TO MOBILIZE THIS POLITICALLY.

THE REPUBLICANS HAVE WALKED AWAY FROM BLACK PEOPLE

AT THIS POINT.

THE DEMOCRATS SEEM TO HAVE WALKED AWAY FROM

POORER WHITE PEOPLE.

ALI: IT WAS A GRASSROOTS MOVEMENT,

A MOVEMENT OF ORDINARY PEOPLE THAT WERE TRYING TO,

IN SOME WAYS, PUSH BACK ON THE POLITICAL ELITES,

THE BUSINESS ELITES, THE SOCIAL ELITES.

AYERS: THEY WOULD POOL THEIR RESOURCES AND BUY THINGS

COOPERATIVELY AND HELP EACH OTHER,

BUT THE ALLIANCES ARE STRUGGLING.

AND THEY SAY, WELL JUST ECONOMICS ISN'T GOING TO DO IT.

WE NEED POLITICAL POWER.

SO WHAT WE WANT TO DO IS FORM A PEOPLE'S PARTY.

THEIR DETRACTORS CALL IT POPULIST.

AND THEY SAY, ALL RIGHT WE'RE POPULISTS.

THE DEMOCRATS DON'T LIKE THE POPULISTS.

THE REPUBLICANS DON'T LIKE THE POPULISTS BECAUSE THEY'RE

TAKING VOTERS FROM BOTH OF THEM.

IT'S THE LARGEST THIRD-PARTY CHALLENGE IN AMERICAN HISTORY.

BROWN: THAT'S KIND OF REDEMPTION FOR US,

IN AMERICAN HISTORY, TO LOOK BACK AT THOSE MOMENTS WHEN WE

SEE THOSE BROAD, PARTICIPATORY COALITIONS HAPPENING,

AND TO THINK THAT'S WHO WE ARE.

WE ARE THOSE, THOSE COMMON STRUGGLES TO MAKE A

BETTER FUTURE FOR OURSELVES.

THAT'S AMERICA, TOO.

ALI: BLACK AND WHITE PEOPLE TRY TO COME TOGETHER,

AND THEN THEY'RE PIT AGAINST EACH OTHER.

THE DEMOCRATIC PARTY, WHICH IS THE PARTY OF WHITE SUPREMACY,

HAD TO MOBILIZE AND USE EVERYTHING TO CRUSH IT.

THEY USED PROPAGANDA, THEY USED BEATING PEOPLE UP.

THEY USED LEGAL MEANS.

AND THEY CREATED A CULTURE WHERE POOR WHITE PEOPLE SAW

THEMSELVES AS VERY DIFFERENT FROM BLACK PEOPLE.

GATES JR: THE 15TH AMENDMENT HAD REMOVED RACE AS A BARRIER

TO VOTING, AND FOR THE MOST PART,

AFRICAN-AMERICAN MEN VOTED REPUBLICAN.

SOUTHERN DEMOCRATS, ACCORDINGLY,

CAST ABOUT FOR WAYS TO CURB BLACK VOTING WITHOUT

TRIGGERING A RESPONSE FROM WASHINGTON.

THROUGHOUT THE 1890'S, SOUTHERN STATES HELD

CONSTITUTIONAL CONVENTIONS, DOMINATED BY DEMOCRATS,

ESSENTIALLY DESIGNED TO STRIP AFRICAN-AMERICANS OF

THE RIGHT TO VOTE.

AYERS: CONSTITUTIONAL CONVENTIONS IN THE SOUTH WERE

THE LYNCHPINS OF RECONSTRUCTION.

THOSE WERE ESSENTIAL TO PASS THE FOURTEENTH AMENDMENT AND

THEN TO APPLY FOR READMISSION TO THE UNITED STATES.

THE CONSTITUTIONAL CONVENTIONS THAT FOLLOW TWENTY,

TWENTY-FIVE YEARS LATER RUN THE STORY IN REVERSE.

THEY ARE THE PLACES WERE A LOT OF THE GAINS OF RECONSTRUCTION

IN POLITICS ARE TAKEN AWAY.

MEDFORD: THEY'RE NOT ABOUT DEMOCRACY.

THEY'RE NOT ABOUT MAJORITY RULES.

THEY'RE ABOUT ENSURING THAT WHITE AMERICANS HAVE CONTROL

OF THE POLITICAL PROCESS AND HAVE CONTROL OF EVERYTHING

ELSE THAT GOES WITH THAT.

GATES JR: ONLY ONE BLACK DELEGATE ATTENDED

MISSISSIPPI'S CONVENTION IN THE FALL OF 1890,

ISAIAH MONTGOMERY.

AND ISAIAH WOULD VOTE WITH THE MAJORITY.

MEDFORD: ISAIAH MONTGOMERY HAD BEEN BORN INTO SLAVERY ON A

PLANTATION IN MISSISSIPPI THAT WAS OWNED BY

JEFFERSON DAVIS' BROTHER.

MONTGOMERY WAS A MAN WHO WAS EDUCATED.

HE WAS LITERATE.

HE HAD BUSINESS SAVVY.

HE CERTAINLY UNDERSTOOD, IN FREEDOM,

THAT BLACK PEOPLE NEEDED AN ENVIRONMENT WHERE THEY

WERE IN CONTROL.

IN 1887 HE DECIDED TO ESTABLISH MOUND BAYOU THAT WAS

INDEPENDENT OF WHITE CONTROL ECONOMICALLY, POLITICALLY,

AND INDEPENDENT OF WHITE INFLUENCE SOCIALLY.

IN ORDER TO KEEP THIS INDEPENDENCE HE WOULD HAVE TO

MAKE CERTAIN CONCESSIONS.

HE WAS WILLING TO NOT PRESS FOR CERTAIN RIGHTS IF

MOUND BAYOU WAS LEFT ALONE.

MONTGOMERY: MR. PRESIDENT AND GENTLEMEN,

I FREELY STATED TO MY EARNEST CONVICTION THAT THE WORK OF

THIS CONVENTION MUST RESTRICT THE COLORED VOTE TO A GREATER

EXTENT BECAUSE OF THEIR INFERIOR DEVELOPMENT.

MEDFORD: MONTGOMERY DOES WHAT HE'S EXPECTED TO DO.

HE SUPPORTS THE SOUTHERN CAUSE OF DISENFRANCHISEMENT OF

AFRICAN-AMERICANS IN MISSISSIPPI.

HE MAKES A SPEECH AND HE SAYS TO BLACK PEOPLE AND WHITE

MISSISSIPPIANS WE KNOW THAT YOU HAVE TO DO THIS,

WE KNOW THAT IF YOU DENY US THE VOTE THAT'S OKAY BECAUSE

AFTER ALL WE'RE FRESH OUT OF SLAVERY.

MONTGOMERY: MY MISSION HERE IS TO BRIDGE A CHASM THAT HAS

BEEN WIDENING AND DEEPENING FOR A GENERATION.

WE ARE ALL AWARE THAT OUR RACE HAS NOT YET ATTAINED THE HIGH

PLANE OF MORAL, INTELLECTUAL, AND POLITICAL EXCELLENCE

COMMON TO YOURS, BUT IT IS OUR PRIVILEGE TO PRESS

ON AND UPWARD.

MEDFORD: HE WAS REVILED FOR IT.

AFRICAN-AMERICANS FELT THAT HE HAD BETRAYED THE RACE,

THAT HE DIDN'T NEED TO CONCEDE SO DEEPLY,

ESPECIALLY SINCE THAT CONSTITUTION REALLY DID STRIP

BLACK PEOPLE OF ANY KIND OF POLITICAL INFLUENCE

THEY HAD HAD BEFORE.

AYERS: STARTING IN 1890, EVERY SOUTHERN STATE,

WRITES A NEW CONSTITUTION OR PASSES NEW LAWS THAT DEPRIVE

BLACK MEN OF THE VOTE WITHOUT ACTUALLY SAYING THE

PHRASE RACE, OR NEGRO, OR COLORED.

THE SOUTH GOES FROM A TIME IN WHICH BLACK AND WHITE MEN ARE

VOTING IN VERY LARGE NUMBERS TO IN A VERY SHORT PERIOD OF

TIME WHERE THEY ARE NOT.

WE CALL THAT DISFRANCHISEMENT.

GATES JR: OTHER SOUTHERN STATES TOOK THEIR

CUE FROM MISSISSIPPI.

VOTER SUPPRESSION TACTICS INCLUDED LITERACY TESTS,

POLL TAXES, AND THE REQUIREMENT THAT POTENTIAL

VOTERS DEMONSTRATE THAT THEY "UNDERSTOOD"

THE STATE CONSTITUTION.

THEIR COMBINED EFFECT WAS SO SUCCESSFUL THAT THEY DEPRESSED

NOT JUST THE BLACK VOTE, BUT THE POOR WHITE VOTE AS WELL.

COBB: WHEN WE'RE LOOKING AT THIS IN THE CURRENT CONTEXT,

THINGS LIKE VOTER IDS, THE DIMINISHING NUMBER OF POLLING

PLACES THAT STRATEGICALLY COINCIDE WITH COMMUNITIES

WHERE AFRICAN-AMERICANS ARE LOCATED,

IT'S NOT HARD TO SEE A CONNECTION BETWEEN THESE THINGS.

GATES JR: THE DISENFRANCHISEMENT OF

AFRICAN-AMERICANS IN THE DECADES AFTER RECONSTRUCTION

DIDN'T EXIST IN A VACUUM.

IT WAS ONE MANIFESTATION OF A PERVASIVE IDEOLOGY OF WHITE

SUPREMACY THAT PRESUPPOSED THAT BLACK PEOPLE WERE

BIOLOGICALLY INFERIOR.

FROM THE MOST DEBASED FORMS OF POPULAR CULTURE,

TO THE IVORY TOWERS OF ACADEMIA,

THE ONSLAUGHT OF RACIST THEORIES ABOUT

AFRICAN-AMERICANS AMOUNTED TO CHARACTER ASSASSINATION

ON A RACE-WIDE SCALE.

BROWN: ONE OF THE THINGS YOU GET IN PERIODS OF GREAT

INEQUALITY IS A LOT OF LEGITIMATING DISCOURSES,

WHICH TRY TO TELL US WHY THE INEQUALITY THAT WE SEE ALL

AROUND US IS NATURAL,

WHY THAT'S THE NATURAL ORDER OF THINGS.

SCIENTIFIC RACISM IS ONE OF THOSE DISCOURSES.

IT'S PSEUDOSCIENCE.

MASUR: THE EMERGENCE AND KIND OF SURGE OF THIS IDEA OF THE

BIOLOGY OF RACE PLAYS INTO THE HAND OF THESE PEOPLE

WHO WOULD LIKE TO EMPHASIZE THAT WHITE PEOPLE SHOULD

ONLY BE WITH OTHER WHITE PEOPLE,

AND THAT ANYTHING OTHER THAN THAT IS UNNATURAL.

BROWN: THAT'S THE BIGGEST PROBLEM WITH

SCIENTIFIC RACISM.

IT'S NOT SO MUCH THAT IT WAS BAD SCIENCE,

BUT THERE WAS A SCIENTIFIC ARGUMENT THAT WAS TRYING TO

PROVE A SOCIAL ARGUMENT.

GATES JR: WHILE SCIENTIFIC RACISM BECAME ONE OF THE MANY

TOOLS OF JIM CROW, WHITE SUPREMACISTS TOOK IT UPON

THEMSELVES TO POLICE THE BOUNDARIES OF THE COLOR LINE.

THEY WERE JUDGE, JURY, AND EXECUTIONER-SUBSTITUTING

"LYNCH LAW" FOR THE LEGAL SYSTEM.

MUHAMMAD: IT'S REALLY BEGINNING IN THE 1880S AND BY

THE 1890S THAT WE SEE THE EXPLOSION OF THIS FORM OF

VIGILANTE VIOLENCE, OF MOB TERROR DIRECTED TOWARDS THE

AFRICAN-AMERICAN COMMUNITY.

(WHIP CRACKING)

ALEXANDER: THE OVERARCHING PURPOSE OF THE VIOLENCE IS

REALLY CONTROL AND THE ABILITY TO IMPOSE WHITE SUPREMACY ON

THE SOUTH AND ULTIMATELY ON THE ENTIRE NATION.

AND AS LYNCHING BECOMES SOMETHING THAT HAPPENS MORE

AND MORE IN AMERICAN SOCIETY IT OFTEN TAKES ON A MORE

RITUALISTIC CHARACTER.

AYERS: THERE WAS ONE IDEA THAT WHITE PEOPLE DID NOT

CHALLENGE, IS THAT, IT WAS THEIR DESTINY,

THEIR GOD-GIVEN RIGHT, TO BE IN CHARGE OF THE SOUTH.

IT WAS THEIR OBLIGATION, TO DOMINEER OVER BLACK PEOPLE,

AND THAT TOOK LOTS OF DIFFERENT FORMS.

IT COULD GO ALL THE WAY FROM THE MOST BRUTAL AND SIMPLE

VIOLENCE TO THESE ELABORATE REWRITING OF A CONSTITUTION.

THE GOAL WAS TO MAKE SURE THAT THIS REMAINS A

WHITE MAN'S COUNTRY.

ALEXANDER: WE SIT IN AMERICA AND OFTEN JUDGE VIOLENCE

THAT'S PERPETUATED IN OTHER SOCIETIES.

HOW BARBARIAN THEY ARE.

WELL, WE'VE DONE THE SAME THING.

THE PROBLEM IS, THAT IS NOT TALKED ABOUT

IN AMERICAN SOCIETY.

WE SKIP OVER THE VIOLENCE TO TRY ON MANY LEVELS

TO HIDE FROM IT.

GATES JR: I REMEMBER WHEN I READ OF THE COMING OF JOHN,

IN THE SOULS OF BLACK FOLK.

AND THAT WAS MY FIRST ENCOUNTER WITH LYNCHING,

AND IT HAUNTED ME.

YOU KNOW, IT FRIGHTENED ME.

AND IT'S SOMETHING I ALWAYS THOUGHT ABOUT WHENEVER I SAW

IMAGES OF PEOPLE IN THE SOUTH.

STEVENSON: LYNCHING BECAME THE AREA THAT I WAS MOST CONCERNED

ABOUT BECAUSE IT WAS THE THING THAT WE WERE MOST

SILENT ABOUT IN AMERICA.

AND I GUESS I JUST FELT LIKE WE HAVE TO MAKE THIS VISIBLE.

THAT'S WHAT GAVE RISE TO THIS IDEA OF CREATING A MEMORIAL

THAT WOULD EXPOSE PEOPLE, IN A VERY INTENSE WAY,

TO THIS HISTORY OF LYNCHING.

AND FOR ME, YOU KNOW, GOING TO THE HOLOCAUST MEMORIAL IN

BERLIN, THE APARTHEID MUSEUM IN JOHANNESBURG,

THE GENOCIDE MEMORIAL IN RWANDA...

I WANTED IT TO SPEAK TO THE ANGUISH AND THE PAIN IN

A VERY DIRECT WAY.

THE MONUMENTS BEGIN AT EYE-LEVEL IN THE FIRST

CORRIDOR, AND THEY RISE AS WE'RE WALKING DOWN,

AND THEY RISE EVEN MORE, AND NOW YOU'RE STANDING

UNDERNEATH OF THIS HISTORY.

THE PEOPLE WHO CARRIED OUT THESE LYNCHING'S COULD HAVE

BURIED THE BODIES IN THE GROUND AND GOTTEN AWAY WITH

MORE VIOLENCE, BUT HANGING WAS PREFERRED BECAUSE IT LIFTED

THESE BODIES UP TO TERRORIZE AND MENACE AND TAUNT

COMMUNITIES OF COLOR.

PEOPLE WOULD POSE WITH THE BRUTALIZED BODIES AFTER THEY

CONDUCTED THIS VIOLENCE.

THEY WERE PROUD TO HAVE TORTURED AND

MENACED THESE FOLKS.

GATES JR: WHAT WAS THAT ABOUT?

I MEAN YOU'VE THOUGHT ABOUT THAT.

WHAT WOULD FREUD SAY WAS REALLY GOING ON?

STEVENSON: YEAH.

YEAH, I THINK THERE WAS SUCH ANIMOSITY, SUCH BITTERNESS,

SUCH HATRED AT THE IDEA THAT SOMEONE WAS FORCING THEM TO

ACCEPT THE EQUALITY OF BLACK PEOPLE THAT THEY HAD TO

EXPRESS IT, THIS RAGE.

GATES JR: WHO COMPRISED A LYNCH MOB?

STEVENSON: IT WASN'T THE KLAN.

IT WASN'T THE EXTREMISTS.

IT WAS THE FARMERS THAT WERE, IT WAS FREQUENTLY TEACHERS.

IT WAS LAW ENFORCEMENT OFFICERS.

IT WAS THE BUSINESS LEADERS.

IT WAS CLERGY.

IT WAS ANYBODY WHO WAS PART OF THAT COMMUNITY.

GATES JR: WE HAVEN'T BEEN ABLE TO CHANGE THE

NARRATIVE ABOUT SLAVERY.

WHAT MAKES YOU OPTIMISTIC ABOUT CHANGING THE NARRATIVE

ABOUT LYNCHING?

STEVENSON: I THINK THAT NARRATIVE IS GOING TO CHANGE

AS WE BEGIN TO SHOW THIS BRUTALITY.

WE HAVEN'T CREATED SPACES IN AMERICA THAT MOTIVATE PEOPLE

WHEN THEY GO THROUGH IT TO SAY NEVER AGAIN TO

RACIAL VIOLENCE AND RACIAL HIERARCHY.

AND THAT'S, FOR ME, THE REASON WHY THINGS LIKE THE MEMORIAL

AND MUSEUMS, LIKE THIS, THAT ARE DIRECT IN PRESENTING THIS

LEGACY AND VIOLENCE OF LYNCHING BECOME NECESSARY.

I WANT US TO TELL THE TRUTH ABOUT OUR HISTORY.

NOT BECAUSE I WANT TO PUNISH AMERICA.

I WANT TO LIBERATE US, BUT WE CAN'T GET TO LIBERATION

IF WE DON'T ACKNOWLEDGE WHAT WE'VE DONE.

GATES JR: THE FREQUENCY AND BRUTALITY OF VIOLENCE AGAINST

AFRICAN-AMERICANS IS SICKENING TO CONTEMPLATE.

A DISTINCTLY AMERICAN PHENOMENON,

LYNCHING'S INCREASED IN THE YEARS AFTER RECONSTRUCTION,

PEAKING IN THE EARLY 1890S AND REMAINING A SOURCE OF TERROR

DEEP INTO THE 20TH CENTURY.

THE VICTIMS WERE OVERWHELMINGLY BLACK.

BUT WHILE WHITE SUPREMACISTS COULD TERRORIZE BLACK LIVES,

THEY COULDN'T SILENCE THOSE FEARLESS ENOUGH TO EXPOSE

THEIR CRIMES TO THE WORLD.

BAY: THERE WERE A LOT OF NEWSPAPERS IN THE 19TH CENTURY,

PUBLISHED BY BOTH BLACKS AND WHITES.

WHITE NEWSPAPERS WOULD HAVE LIKE AN OCCASIONAL SORT OF

PAGE DEDICATED TO NEGRO NEWS.

OR IF BLACKS WERE COVERED, AT ALL,

IT WAS IN A VERY NEGATIVE FASHION.

COBB: IF WE LOOKED AT THE DOMINANT PUBLICATIONS,

WE ONLY HAD A KIND OF EXCULPATORY STORY OF WHITE

ACTIONS TOWARD BLACK PEOPLE IN, YOU KNOW,

AMERICAN HISTORY, BUT WHEN WE WANT THE, YOU KNOW,

THE FIRST DRAFT OF BLACK HISTORY,

IT REQUIRED THAT WE HAVE ACTUAL BLACK PUBLICATIONS AND

BLACK JOURNALISTS WHO WERE CRAFTING NARRATIVES OF WHAT

THEY SAW AND WHAT THEY EXPERIENCED AND

WHAT THEY HEARD.

GATES JR: A YOUNG JOURNALIST FOUGHT BACK BY CRAFTING

POSITIVE NARRATIVES ABOUT AFRICAN AMERICANS.

HER NAME WAS IDA B. WELLS.

STARTING WITH HER BATTLE WITH THE RAILROAD IN 1883,

WELLS BEGAN CHRONICLING HER FIGHT AGAINST JIM CROW.

THOUGH SHE LOST HER CASE, SHE DIDN'T LOSE MOMENTUM AS A

WRITER, ABANDONING HER CAREER AS A TEACHER,

AND BECOMING A JOURNALIST FULL-TIME.

BAY: SHE WRITES ABOUT WOMEN, POLITICS.

SHE SORT OF WRITES ABOUT WHATEVER IS ON HER MIND.

GIDDINGS: IN 1889 SHE BECOMES ONE-THIRD OWNER OF

"THE FREE SPEECH",

WHICH IS A VERY MILITANT NEWSPAPER IN

MEMPHIS, TENNESSEE, AT A TIME WHEN RACIAL TENSIONS

ARE REALLY RISING.

GATES JR: ONE INCIDENT, IN PARTICULAR,

BROUGHT RACIAL VIOLENCE PAINFULLY CLOSE TO

HOME FOR IDA B. WELLS.

BAY: ONE DAY TWO BOYS WERE PLAYING MARBLES.

THE BLACK BOY BEAT THE WHITE BOY.

THE FATHERS GOT INVOLVED.

EVENTUALLY, THE WHOLE CONFLICT MOVED OVER TO THE PEOPLE'S

GROCERY STORE, A LOCAL BLACK-OWNED GROCERY STORE THAT

WAS COMPETING WITH ANOTHER WHITE-OWNED GROCERY STORE.

GIDDINGS: A NUMBER OF BLACK MEN WERE ARRESTED INCLUDING

THE THREE OWNERS OF THE PEOPLE'S GROCERY, THOMAS MOSS,

CALVIN MCDOWELL, AND WILL STEWART.

IN THE MIDDLE OF THE NIGHT 75 MASKED MEN GRABBED THE THREE

MEN FROM JAIL AND TAKE THEM TO AN ABANDONED RAILWAY YARD

AND LYNCH THEM.

IDA WELLS IS OUT OF TOWN SELLING SUBSCRIPTIONS.

SHE COMES BACK TO A COMMUNITY THAT IS SHOCKED.

BAY: THOMAS MOSS WAS A FRIEND OF IDA B. WELLS,

ALONG WITH HIS WIFE.

GIDDINGS: IN FACT, IDA IS THE GODMOTHER OF HIS CHILD.

BAY: THE WHITE PRESS PORTRAYED ALL THREE MEN

QUITE DISRESPECTFULLY.

THEY PUT UP THESE SKETCH DRAWINGS OF THEM DEAD WITH

BULLET WOUNDS IN THEIR HEADS.

IT WAS ALL VERY GRIZZLY.

GIDDINGS: IDA DECIDES THAT SHE'S GOING TO ACTUALLY

INVESTIGATE THESE LYNCHING'S.

THIS IS A WOMAN, YOU KNOW,

AND SHE'S ONLY ABOUT FIVE FEET TALL.

AND SHE HAS DECIDED THAT SHE IS GOING TO GO TO

THE SCENES OF LYNCHING'S.

SHE'S GOING TO INTERVIEW THOSE WHO ARE WITNESSES.

SHE'S GOING TO COLLECT THE NEWSPAPER ARTICLES ABOUT

LYNCHING'S ALL OVER THE COUNTRY.

BAY: OFTEN, THE ALLEGATION ASSOCIATED WITH LYNCHING WAS

THAT THERE HAD BEEN A RAPE.

IDA B. WELLS WOULD FIND OUT THAT A LOT OF

THESE ALLEGATIONS HAD ABSOLUTELY NO TRUTH TO THEM.

THEY MASKED CONSENSUAL RELATIONSHIP BETWEEN WHITE WOMEN

AND BLACK MEN.

WELLS: EIGHT NEGROS LYNCHED SINCE LAST ISSUE OF

THE FREE SPEECH.

IF SOUTHERN WHITE MEN ARE NOT CAREFUL THEY WILL

OVERREACH THEMSELVES AND PUBLIC SENTIMENT WILL

HAVE A REACTION.

A CONCLUSION WILL THEN BE REACHED,

WHICH WILL BE VERY DAMAGING TO THE MORAL REPUTATION

OF THEIR WOMEN.

WILLIAMS: IDA B. WELLS SAYS IF YOU ACTUALLY LOOK

AT WHAT'S GOING ON WITH THESE LYNCHING'S,

THEY SAY THAT IT'S ABOUT SEXUAL VIOLENCE,

THAT THEY'RE PROTECTING WHITE SOUTHERN WOMANHOOD,

BUT MANY OF THESE VICTIMS ARE ACTUALLY

AFRICAN-AMERICANS WHO ARE DOING QUITE WELL.

AND THE SOLE REASON THEY HAVE BEEN TARGETED IS TO TAKE AWAY

WHAT THEY HAVE ACCOMPLISHED.

BAY: IDA WAS OUT OF TOWN WHEN THIS ARTICLE COMES OUT,

AND NO SOONER THAN IT HITS THE NEWSSTANDS,

THAT A WHITE MOB GATHERS, AND GOES TO THE FREE SPEECH

AND DESTROYED IT.

SHE WENT OUT AND GOT A PISTOL AND PUT IT IN HER PURSE.

SHE DIDN'T THINK THAT SHE WOULD ACTUALLY BE ABLE TO HOLD

OFF LYNCHERS BUT SHE WANTED SOME OF THEM TO DIE

WHILE THEY WERE KILLING HER.

GATES JR: IDA B. WELLS'

INVESTIGATIVE JOURNALISM CAME AT A PRICE.

HER NEWSPAPER ATTACKED, HER LIFE THREATENED,

WELLS WAS DRIVEN OUT OF MEMPHIS.

BUT THIS ONLY SPURRED HER TO WRITE MORE.

AS SHE NOTED IN 1892,

"IT'S WITH NO PLEASURE I HAVE DIPPED MY HANDS IN

THE CORRUPTION HERE EXPOSED.

SOMEBODY MUST SHOW THAT THE AFRO-AMERICAN RACE IS MORE

SINNED AGAINST THAN SINNING, AND IT SEEMS TO HAVE FALLEN

UPON ME TO DO SO."

BAY: SHE'S SUPPORTED BY BLACK WOMEN,

WHO HELP HER PUT TOGETHER THE FUNDS TO PUBLISH HER PAMPHLET.

SHE PROMOTES IT WHEN SHE GOES ON THESE SPEAKING TOURS

AND GIVES LECTURES.

BROWN: IDA B. WELLS ACTUALLY SETS THE RECORD STRAIGHT.

HER JOURNALISM AND THE BLACK PRESS ARE CONSTANTLY KEEPING

THAT DISSENTING VOICE IN AMERICAN SOCIETY.

GATES JR: HOW WOULD YOU DESCRIBE IDA B. WELLS

TO SOMEONE WHO DIDN'T KNOW ANYTHING ABOUT HER?

HANNAH-JONES: SHE WAS JUST ABSOLUTELY FEARLESS.

SHE WROTE ABOUT PROBABLY THE MOST UNTOUCHABLE SUBJECT

AT THAT TIME, WHICH WAS THE EXTRAJUDICIAL KILLING

OF BLACK MEN AND WOMEN BY MOB.

GATES JR: WILL WE ALWAYS NEED AN IDA IN THE

WORLD OF JOURNALISM?

HANNAH-JONES: ABSOLUTELY, HAVING THAT VOICE OF NOT JUST

REPORTING THE FACTS BUT OF MORALITY.

OF SAYING THAT THIS IS AN INJUSTICE THAT NEEDS TO BE

RIGHTED WILL ALWAYS BE NECESSARY,

NOT JUST IN THE UNITED STATES,

BUT I THINK IN ANY PLACE WHERE PEOPLES ARE OPPRESSED.

THE PRESS IS THE ONE WHO HAS INFLUENCE ON

POLICIES AND POLITICS.

FAILING TO TELL OUR OWN STORIES WAS

GIVING UP OUR AGENCY.

WE WERE NEVER GOING TO HAVE A TRUE AND ACCURATE

DEPICTION OF WHAT OUR LIVES WERE LIKE, WHAT OUR AMERICA WAS LIKE,

AS LONG AS OTHER PEOPLE WERE WRITING THOSE STORIES.

AND IDA B. WELLS UNDERSTOOD THAT IN A VERY VISCERAL WAY.

FOR MYSELF, THAT'S WHY I BECAME A JOURNALIST.

HER COURAGE HAS ALWAYS BEEN AN INSPIRATION TO ME.

GATES JR: IDA B. WELLS SOON SEIZED UPON ANOTHER PLATFORM

FOR HER ACTIVISM:

THE CHICAGO WORLD'S FAIR.

THE YEAR WAS 1893, AND THE UNITED STATES WAS PLAYING HOST

TO THE COLUMBIAN EXPOSITION, MARKING THE FOUR HUNDREDTH

ANNIVERSARY OF CHRISTOPHER COLUMBUS' WATERSHED VOYAGE.

THE EXPOSITION'S EXTENSIVE USE OF GLEAMING WHITE PAINTED

FACADES AND BRIGHT STREET LIGHTS EARNED ITS FAIRGROUNDS

AN IRONIC NICKNAME, THE WHITE CITY.

WILLIAMS: THIS WAS AN OPPORTUNITY FOR THE

UNITED STATES TO SHOWCASE ITS PROGRESS AS A MODERN NATION ON

THE WORLD'S STAGE, TO SHOWCASE ALL OF THE TECHNOLOGICAL,

CULTURAL, INTELLECTUAL DEVELOPMENTS TO PROVE THAT IT

WAS NOT JUST ON-PAR WITH EUROPE BUT HAD SURPASSED IT.

BLIGHT: THIS WAS THE UNITED STATES SAYING TO THE WORLD,

"COME HERE."

AND MOST NATIONS DID.

SOMETHING LIKE 25 MILLION PEOPLE VISITED THAT

FAIR IN SIX MONTHS.

THERE HAD NEVER BEEN ANYTHING LIKE THIS.

THERE WERE PAVILIONS FOR ALL THESE OTHER NATIONS AND

COUNTRIES, AND THEY EXHIBITED THEIR WEARS AND

THEY SOLD THEIR GOODS.

THERE'D NEVER BEEN A MINGLING OF THE MARKETPLACE OF WORLD

CULTURE AND ECONOMICS QUITE LIKE THIS.

BAY: BUT THE REPRESENTATION OF DIFFERENT RACES AT

THE WORLD'S FAIR WAS OFTEN KIND OF RACIST.

IT WAS LIKE AFRICANS WHO HAD BEEN IMPORTED AND WERE JUST

KIND OF THERE ALMOST LIKE THEY WERE IN A ZOO.

BLIGHT: THEY WERE DRESSED UP IN AFRICAN GARB,

HALF NAKED DANCING EVERY DAY FOR PEOPLE TO SEE THEM.

THERE WAS A GROUP OF ESKIMOS BROUGHT FROM WAY UP IN

NORTHERN ALASKA AND THEY HAD TO PERFORM IN THE HEAT OF

SUMMER IN ALL OF THEIR FURS.

WILLIAMS: THE WORLD'S FAIR WAS IMPORTANT IN THE PROCESS OF

RECONCILIATION OF THE NORTH AND SOUTH COMING TOGETHER,

OF CREATING A UNIFIED NATION.

HOWEVER, AFRICAN AMERICANS VERY DELIBERATELY WERE NOT

INCLUDED, AND THAT SENT A VERY CLEAR MESSAGE THAT

AFRICAN AMERICANS WERE NOT A PART OF THE NATION.

BAY: IDA B. WELLS WANTED TO BE THERE TO

ADDRESS THE WORLD.

HER IDEA WAS TO HAND OUT PAMPHLETS TO VISITORS.

WILLIAMS: WELLS AND FREDERICK DOUGLASS

CAME TOGETHER TO DEMONSTRATE THAT AFRICAN-AMERICANS HAD

INDEED MADE SIGNIFICANT CONTRIBUTIONS TO THE NATION

IN EDUCATION, IN EMPLOYMENT,

IN RELIGIOUS LIFE.

THAT THEY HAD PROGRESSED FROM SLAVERY.

GATES JR: WHEN "THE WHITE CITY" REFUSED TO GIVE BLACK

AMERICANS A DEDICATED EXHIBITION SPACE TO DISPLAY

THE RACE'S PROGRESS SINCE THE CIVIL WAR, IDA B. WELLS

AND FREDERICK DOUGLASS DECIDED TO FIGHT BACK.

THEIR WIDELY-DISTRIBUTED PROTEST PAMPHLET

SHONE A LIGHT ON AFRICAN AMERICAN ACHIEVEMENT,

WHILE ALSO ILLUMINATING WHAT WELLS CALLED THE

"TWIN INFAMIES" OF LYNCHING AND CONVICT LEASING.

BAY: AFTER MANY BLACK PEOPLE LOBBIED FOR A LONG TIME THEY

ULTIMATELY GOT SOME FORM OF REPRESENTATION AT

THE WORLD'S FAIR, NEGRO DAY,

WHICH PROVED TO BE ENORMOUSLY CONTROVERSIAL.

BLIGHT: THE WORST PART OF THAT NEGRO DAY WAS

WATERMELON STANDS SET UP ALL OVER THE FAIR.

FREDERICK DOUGLASS WAS ASKED TO BE THE PRIMARY SPEAKER.

AND AT FIRST, HE DIDN'T WANNA DO IT,

BUT THEN HE DECIDED YES, HE WOULD.

DOUGLASS: THERE IS NO NEGRO PROBLEM.

THE PROBLEM IS WHETHER THE AMERICAN PEOPLE HAVE

LOYALTY ENOUGH, HONOR ENOUGH, PATRIOTISM ENOUGH,

TO LIVE UP TO THEIR OWN CONSTITUTION.

WE NEGROS LOVE OUR COUNTRY.

WE FOUGHT FOR IT.

WE ASK ONLY THAT WE BE TREATED AS WELL AS THOSE

WHO FOUGHT AGAINST IT.

GATES JR: THE SILVER-TONGUED LION DELIVERED ONE

OF HIS STRONGEST INDICTMENTS.

AND AS FATE WOULD HAVE IT,

IT WOULD BE ONE OF HIS LAST MAJOR SPEECHES.

ON FEBRUARY 20, 1895, FREDERICK DOUGLASS DIED IN

WASHINGTON, DC, AT THE AGE OF 77.

DOUGLASS'S DEATH CLOSED A MAJOR CHAPTER IN THE HISTORY

OF OUR PEOPLE AND BEGGED THE QUESTION,

WHO WOULD STEP FORWARD AND LEAD?

AYERS: BOOKER T. WASHINGTON

IS A GREAT AMERICAN STORY.

HE HEARS THAT THERE IS A SCHOOL IN HAMPTON, VIRGINIA,

WALKS ALL THE WAY ACROSS THE STATE OF VIRGINIA ON

HIS OWN AS A YOUNG BOY.

HE SHOWS UP IN THE SCHOOL AND SAYS,

"I WANT TO COME TO YOUR SCHOOL."

ALEXANDER: BOOKER T. WASHINGTON

BECOMES THE PRINCIPAL AND LEADER OF

TUSKEGEE INSTITUTE, IN TUSKEGEE, ALABAMA,

SITUATED IN THE LION'S MOUTH.

HE ENTERS THIS SPACE TO BUILD A SCHOOL FOR AFRICAN-AMERICANS

AND CREATES IT INTO SOMETHING THAT NO ONE EVER SAW BEFORE.

WILLIAMS: HE THOUGHT THAT IT WAS BEST FOR AFRICAN AMERICANS

ESPECIALLY FROM THE SOUTH, TO GAIN AN INDUSTRIAL EDUCATION,

TO BE ABLE TO MASTER CORE SKILLS THAT THEY COULD THEN

PUT TO USE AND, IDEALLY, TRANSLATE THAT INTO

LAND OWNERSHIP, BUSINESS OWNERSHIP,

INTO THE FIELD OF TEACHING,

AND BUILD UP INSTITUTIONS OF THEIR OWN.

AYERS: HE HAD THE EAR OF LEADING

WHITE NORTHERN PHILANTHROPISTS.

WASHINGTON GAVE THEM A VERY PALATABLE FORMULA TO FOLLOW.

GIVE ME YOUR MONEY, AND I WILL BUILD SCHOOLS THAT WILL

PRODUCE SOME TEACHERS BUT ALSO THE PEOPLE TO DO THE WORK

THAT YOU THINK THESE PEOPLE SHOULD BE DOING.

GATES JR: TWO YEARS AFTER FREDERICK DOUGLASS DENOUNCED

THE SAVAGERY OF LYNCHING, BOOKER T. WASHINGTON,

AT THE ATLANTA COTTON EXPOSITION,

GAVE WHAT WOULD BECOME HIS MOST FAMOUS ADDRESS,

IT SIGNALED A PROFOUND CHANGE OF COURSE.

WASHINGTON: THE THOSE OF MY RACE WHO DEPEND ON BETTERING

THEIR CONDITION OUR GREATEST DANGER IS THAT IN THE GREAT

LEAP FROM SLAVERY TO FREEDOM WE MAY OVERLOOK THE FACT THAT

THE MASSES OF US ARE TO LIVE BY PRODUCTIONS OF OUR HANDS

AND FAIL TO KEEP IN MIND THAT WE SHALL PROSPER IN PROPORTION

AS WE LEARN TO DIGNIFY AND GLORIFY COMMON LABOR AND PUT

BRAINS AND SKILL INTO THE COMMON OCCUPATIONS OF LIFE.

GATES JR: WASHINGTON DECLARED THAT BLACK MEN HAD SOUGHT

POLITICAL POWER TOO PREMATURELY DURING RECONSTRUCTION,

THAT THEY WOULD BE BETTER OFF DEDICATING THEIR LIVES TO

ASPIRING TO OWN THEIR OWN FARMS THAN

DREAMING ABOUT ELECTION TO THE HALLS OF CONGRESS.

DOWNS: WASHINGTON SUGGESTS THAT IF AFRICAN-AMERICANS

BUILD A LIFE OF ECONOMIC INDEPENDENCE IN THE SOUTH THIS

CAN BE A BASIS FOR FUTURE POLITICAL AND LEGAL EQUALITY.

MEDFORD: HE'S TALKING ABOUT BLACK PEOPLE OWNING BUSINESSES,

ACQUIRING LAND AND BECOMING INDEPENDENT FARMERS.

HE'S TALKING ABOUT SELF-HELP.

WILLIAMS: HE WAS ALSO A MASTER OF DISSEMBLANCE,

OF TELLING WHITE PEOPLE WHAT THEY WANTED TO HEAR.

BUT SOMETIMES DOING SOMETHING OPPOSITE BEHIND THE SCENES,

SUPPORTING CASES AGAINST DISCRIMINATION,

DOING THINGS THAT IF THEY WERE MADE PUBLIC,

WOULD CERTAINLY GET HIM IN TROUBLE IN THE EYES OF,

OF MANY OF HIS WHITE SUPPORTERS.

DOWNS: WASHINGTON CAN LOOK LIKE A TRAITOR TO

RECONSTRUCTION AND A DEFENDER OF IT.

BECAUSE HE FORCES US TO EVALUATE HOW WE THINK ABOUT

THE RELATIONSHIP BETWEEN POLITICS AND

ECONOMIC INDEPENDENCE.

FOR THAT REASON HE CAN LOOK LIKE BOTH THE MOST

CONSERVATIVE AND AT TIMES THE MOST RADICAL LEADER

IN A TURN OF THE CENTURY SOUTH.

GATES JR: AS BOOKER T. WASHINGTON

PREACHED THE GOSPEL OF SOCIAL SEPARATION,

THE CONCEPT OF SEPARATE BUT EQUAL WAS PLAYING OUT ON A

MUCH LARGER STAGE.

CRENSHAW: PLESSY VERSUS FERGUSON IS THE CASE THAT TOOK

UP THE QUESTION THAT WAS LEFT BY THE SUPREME COURT

A DECADE EARLIER.

IF SEGREGATION IS MANDATED BY THE STATE,

IS IT UNCONSTITUTIONAL?

PERRY: LOUISIANA PASSED A SEPARATE CARS STATUTE

ESSENTIALLY REQUIRING BLACK AND WHITE PATRONS

TO OCCUPY SEPARATE CARS.

HOMER PLESSY'S CASE WAS ACTUALLY A TEST CASE WHERE

THEY ARRANGED TO HAVE THIS MAN WHO WAS A CREOLE

OF NEW ORLEANS,

MIXED RACE PERSON, ENTER INTO A WHITE CAR AND

THEN IDENTIFY HIMSELF AS A MAN OF COLOR.

IT WASN'T APPARENT VISUALLY.

GATES JR: IN 1892, HOMER PLESSY DELIBERATELY TOOK A

SEAT IN A WHITE-ONLY RAILROAD CAR IN ORDER TO BE ARRESTED TO

MOUNT A LEGAL CHALLENGE TO JIM CROW LEGISLATION.

CRENSHAW: THEY BELIEVED THEY COULD CHALLENGE THE

SEGREGATION LAW BUT THE SUPREME COURT

WASN'T HAVING IT.

GATES JR: FOUR YEARS LATER,

PLESSY'S PLANNED ACT OF RESISTANCE RESULTED

IN AN INFAMOUS SUPREME COURT DECISION THAT LEFT

THE COLOR LINE INDELIBLY PRINTED ON THE

NATION FOR GENERATIONS.

AYERS: THE SUPREME COURT IN 1896 COMES DOWN WITH THE

RULING THAT AS LONG AS PROVISIONS ARE MADE FOR

ACCOMMODATIONS THAT ARE SEPARATE BUT THEY'RE EQUAL TO

THOSE OF THE FIRST-CLASS CAR OR OTHER ACCOMMODATIONS,

THEN IT'S OKAY.

THEY DO NOT PUT A VERY FINE DEFINITION OF WHAT

EQUAL MIGHT MEAN.

SEPARATE IS VERY CLEAR, BUT THE EQUAL PART IS NOT.

CRENSHAW: AND WHAT THEY CONVENIENTLY COVERED OVER IS

THAT THINGS CAN BE CULTURAL.

THEY CAN BE BASED ON HISTORY,

THEY CAN BE BASED ON DISTINCTIONS THAT

PEOPLE THINK ARE NORMAL, AND STILL BE OPPRESSIVE.

JONES: AND THE COURT CREATES A COVER FOR ALL SORTS OF

SEGREGATION, WHETHER IT'S A STREETCAR OR IT'S A SCHOOL OR

A PUBLIC SWIMMING POOL, SEPARATE BUT EQUAL PERMITS THE

SOUTHERN STATES TO FULLY ENACT JIM CROW AND DO SO WITH

CONSTITUTIONAL SANCTION.

MUHAMMAD: AND IN THE PLESSY VERSUS FERGUSON DECISION A LOT

OF WHITE PEOPLE ACCEPTED THE ARGUMENT THAT IN THE END;

PEOPLE OF AFRICAN DECENT WERE A FUNDAMENTALLY INFERIOR RACE.

GATES JR: AS THE 20TH CENTURY APPROACHED,

MANY AFRICAN AMERICANS BELIEVED THAT THE NATION HAD

REVERSED COURSE AFTER THE PROMISING

YEARS OF RECONSTRUCTION.

IN THE BATTLE OVER THE COLOR LINE,

WHITE SUPREMACISTS HAD WON.

AND THOUGH ACTIVISTS, LIKE IDA B. WELLS,

REFUSED TO GIVE UP THE STRUGGLE,

AMERICA HAD ENTERED THE NADIR OF RACE RELATIONS.

THINGS WOULD GET WORSE BEFORE THEY GOT BETTER.

♪

NARRATOR: ON THE NEXT "RECONSTRUCTION."

HIGGINBOTHAM: THE MANTRA WAS TO BE OF SERVICE TO THE RACE.

NARRATOR: A PEOPLE PUSHED FORWARD.

WILLIAMS: IN EDUCATION, EMPLOYMENT, LAND OWNERSHIP.

GATES JR.: THEY TURNED INWARD AND CREATED A BLACK WORLD

WITHIN A WHITE WORLD.

NARRATOR: BUT THE FUTURE.

MUHAMMAD: THINGS PROPAGANDA, VIGILANTE VIOLENCE, MOB, TERROR.

NARRATOR: LOOKED A LOT LIKE THE PAST.

AYERS: THE GOAL WAS TO MAKE SURE THAT THIS REMAINS

A WHITE MAN'S COUNTRY.

NARRATOR: NEXT TIME ON

"RECONSTRUCTION: AMERICA AFTER THE CIVIL WAR"