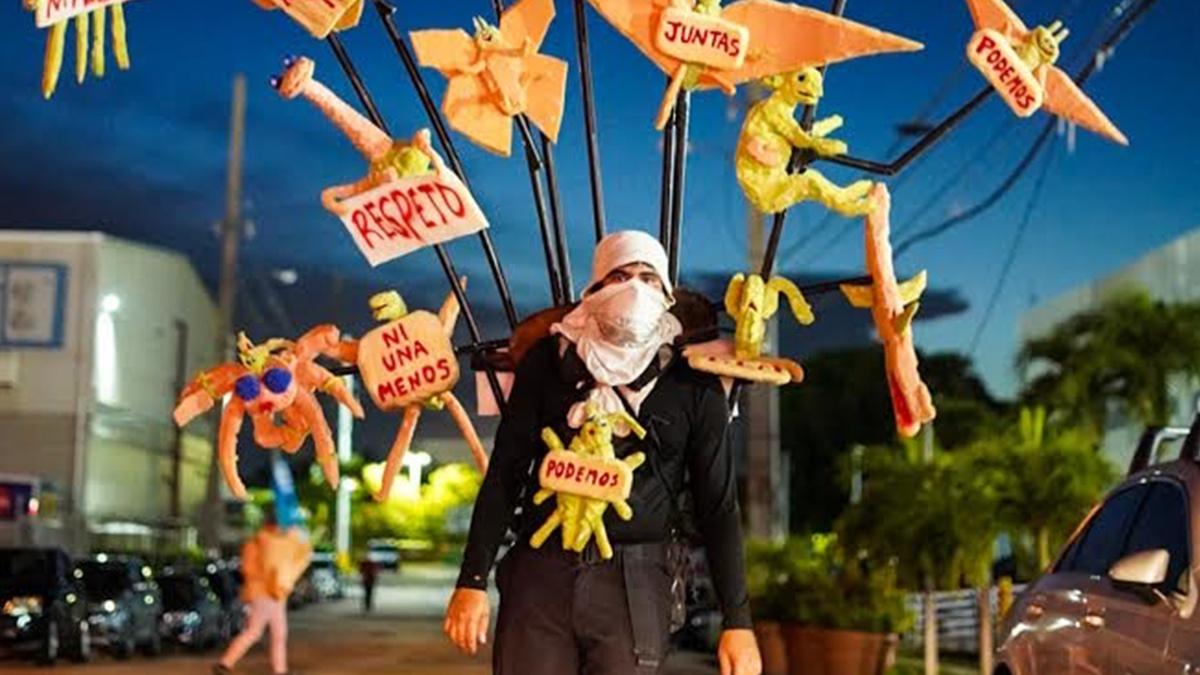 CLIP
Latinx Voices Respond to the Moment | #PBSForTheArts
As museums and galleries limited visitors, El Museo del Barrio in New York presented virtual pieces from Latinx artists, including a recorded performance piece from Poncili Creación in Puerto Rico. In Miami, Locust Projects featured a large-scale video installation examining the Cuban migration experience by Juana Valdes.
TRANSCRIPT

The exhibition is titled "Estamos Bien - La

Trienal" 2020, 2021.

It was originally scheduled to open in

October, 2020.

It features 42 artists from all across the United

States, as well as Puerto Rico.

When we had to shift the schedule in order to

accommodate, you know, this global pandemic that

we were all living with, we decided to commission

five projects that were released online starting

in July 2020, thinking about how we could reach

new audiences and engage with our public using the

digital spaces.

For example, there was, um, a work by Lizania Cruz

called "The Obituaries of the American Dream" in

which she asked participants to submit

testimonials of when the ideal of the American

dream died for them.

We created a special digital site for/the work

by Michael Menchaca, "The Wall," which is a real

critique of number 45's pledge to create a border

wall.

We had been working on the research for this show,

doing studio visits for, you know, more than a year

before the pandemic.

And so we continued to be in dialogue with artists

across, you know, the whole time that we were

all, uh, in our homes experiencing social

distancing.

Juan William Chavez, who works out of St. Louis, he

created a pandemic-specific work

which is a series of, um, survival blankets that he

creates that draw on his Peruvian ancestry, as well

as his role as a beekeeper and a community farmer and

a social practice artist.

Another work that was created just in the last

year is Patrick Martinez's "urban landscape," this

very large scale painting that almost looks like an

extract of a Los Angeles city wall brought into the

gallery that has all kinds of graffiti and layers

included among that are a glove, some Lysol spray,

references to what we're still using today.

The duo Poncili Creación created a very beautiful

piece through the streets of San Juan in the height

of the pandemic.

I'm Juana Valdes.

I was born in Cuba and I came with my family

to the United States in 1971 through

the Freedom Flights.

As a Cuban I know what it means to migrate by sea

because we have been as a community experiencing

this for the last 50 years.

When we think about migration right now, we

imagine people in third world countries coming

to America or even to Europe for escaping

poverty sometimes war, famine but we are

experiencing the pandemic right now that

has made like, if you were in some cities, people

have chosen to leave the city and go to the

country.

So the whole idea with the video and not having an

individual sort of person, or group, be represented

in the video, wants to deal with that.

That due to climate change or due to some

other situation, maybe such as the pandemic, any

one of us at any particular time right now

could or would be forced to migrate.