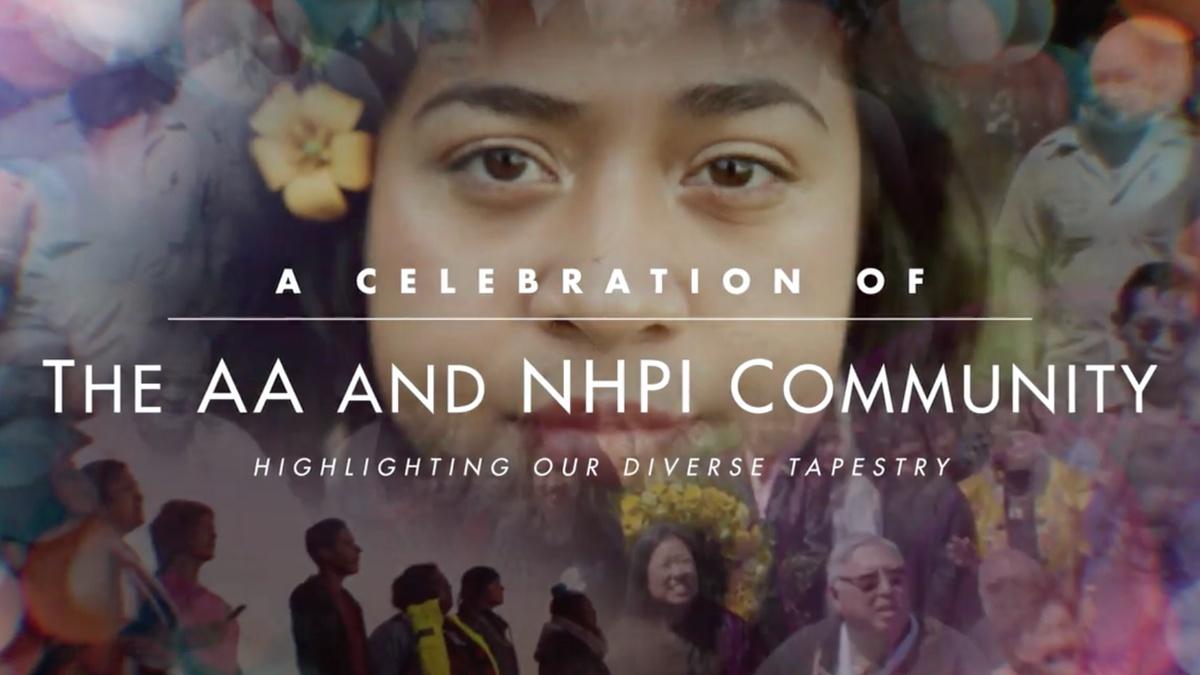 FULL EPISODE
A Celebration of the AA and NHPI Community
A Celebration of the AA and NHPI Community: Highlighting Our Diverse Tapestry brings Asian Americans and Native Hawaiians/Pacific Islanders together to celebrate across their communities, uplift their voices, and look toward a future of healing and strength. Hosted by Amna Nawaz of the PBS NewsHour, the celebration features remarks from President Joe Biden and Vice President Kamala Harris.
TRANSCRIPT

- Hello, everyone.

Jill and I are honored to welcome you to the celebration

of Asian-American, Native Hawaiian

and Pacific Islander Heritage Month.

- We have a wonderful program in store that reflects

the depth and the diversity of this community

whose achievements, cultures, and contributions

have enriched America across the generations.

You'll hear from artists, advocates and public servants

whose courageous family journeys tell the story of America.

- And this celebration embodies a simple truth

of the very ideal America that every person is created equal

and deserves to be treated equally throughout their lives.

But as we know, the truth has too often been elusive

for far too many while the AA and NHPI communities

are on the front lines of helping us beat this pandemic,

Asian Americans in particular are on the front lines

of a rise in hate crimes and xenophobia

that continues to stain the very soul of our nation.

It's wrong, it's un-American.

We must all stand together and lift up the dignity, safety,

and equality of all people.

- And as we do, let us all find strength and joy

in each other and in the nation we love.

Let us imagine the possibilities of all that lies ahead

with light and hope leading the way.

- Together, let's do the hard work ahead

of beating the pandemic, building our economy back better

and advancing racial equity across our nation.

Together, let's be who we are

at our best as fellow Americans,

as the United States of America.

There's nothing we can't do if we do it together.

God bless you all and enjoy this wonderful celebration.

(upbeat music playing)

- Thank you, Mr. President and Dr. Biden

for that warm welcome and welcome to all of you

to tonight's celebration of Asian American

and Native Hawaiian, Pacific Islander Heritage Month,

AA and NHPI as we've come to know it.

Those six letters in one acronym bring together

millions of Americans, but they can hide the complexity

and the diversity within our community.

In a year that's challenged us in so many ways,

our communities have come to realize

how intricately our cultural threads

are interwoven into the fabric of American life.

A fabric made stronger because of our diversity;

Chinese, Japanese, Indian, Korean, Filipino, Thai,

Vietnamese, Cambodian, Native Hawaiian, Pacific Islander,

or Pakistani like me.

These are just a few of the 50 different ethnic groups

in our community,

all united in our common identity as Americans

and all united by the American ideals of equality, justice,

and freedom, all invited here to make better lives

for our families.

Our community in turn contributes back to this country

to make this American tapestry not only more beautiful,

but more resilient.

Tonight, we'll hear from AA and NHPI community members

from across America,

both names you'll immediately recognize,

and those you may be meeting for the first time,

people you may see on TV

and people you may see on the street where you live.

Tonight, all of their stories and all of their voices

are coming together to celebrate our community.

Here now to welcome everyone on behalf of public media,

our President and Chief Executive Officer of the Corporation

for Public Broadcasting, Pat Harrison, and President

and Chief Executive Officer of PBS, Paula Kerger.

- Thank you, Mr. President,

Dr. Biden and Vice President Harris

for hosting this special event tonight

with the Center for Asian American Media

and Pacific Islanders and Communications.

I'm Pat Harrison, President and CEO

of the Corporation for Public Broadcasting, CPB.

We serve as the steward of the federal appropriation,

support that puts the public in public media,

ensuring that the diverse stories

that are part of America's heritage and history are told.

As America's storyteller, public media provides a platform

for voices that might otherwise not be heard.

We are a proud funder of the National Multicultural Alliance

of which CAAM and PIC are members.

And in this tumultuous past year, public media,

through local and national news coverage, public affairs,

programming, documentaries, and virtual forums

address the rise of violence

against the Asian-American, Pacific-Islander community.

Tonight, we're coming together to affirm

and celebrate Asian-American and Native-Hawaiian

Pacific Islander Heritage Month with great appreciation.

And we look forward to a wonderful evening.

- Hello, I'm Paula Kerger, President and CEO of PBS.

And I'd like to thank the Center for Asian American Media

and Pacific Islanders and Communications

for hosting this celebration of Asian-American,

Native-Hawaiian, Pacific-Islander Heritage Month.

As America's home for documentaries,

PBS has a long standing commitment

to stories that deepen awareness, foster dialogue,

and illuminate the many ways in which diversity

makes our country stronger.

Through programs such as the Critically Acclaimed

Asian-Americans, the Chinese Exclusion Act

from American experience,

the Donut King from Independent Lens

and Amy Tan, Unintended Memoir from American Masters,

just to name a few.

Over the coming months and years,

we will continue to present programs that honor

the extraordinary contributions of Asian Americans.

And in partnership with our more than 330 member stations,

we will use our national platform and community presence

to help create a society

in which every human life is valued

and every person is treated equally

with dignity and respect, thank you.

- Thank you, Pat and thank you, Paula.

And now to a message from the chair

of the Congressional Asian Pacific American Caucus or CAPAC.

She served in the US House of Representatives

since July of 2009 and was the first Chinese American woman

elected to Congress in American history.

Ladies and gentlemen, the Chair of CAPAC,

Congress member, Judy Chu.

- Asian Pacific American Heritage Month is an important time

to celebrate the rich history and contributions

of the Asian American, Native Hawaiian

and Pacific Islander community.

And it's also a chance to celebrate how far we've come

with a record 21 AAPI members of Congress

and our first ever woman, Asian,

and black Vice President, Kamala Harris.

But this has also been a challenging year

for the AAPI community as we continue to struggle

with higher infection mortality rates

and long-term unemployment rates

due to the Coronavirus pandemic.

And in the midst of all of this,

we've also experienced a shocking spike

in anti-Asian hate with over 6,600 anti-Asian incidents

reported in the last year alone.

Despite what a challenging year it's been

for the AAPI community,

I'm encouraged by the overwhelming support

that we've seen from all sectors,

from our colleagues in the congressional black

and Hispanic caucuses in Congress to religious groups,

to businesses and community leaders.

And AAPIs have another important ally.

And that is the President of the United States, Joe Biden,

who's made it clear

that hate against the Asian-American community

is unacceptable and will not be tolerated.

I'm proud to have such strong allies

because we know that we are strengthened by our diversity

and that an attack on one of us is an attack on all.

That is why this Asian Pacific American Heritage Month,

I'm proud to celebrate

the way that in the face of unprecedented challenges,

AAPIs and all communities of color banded together

to expand civil rights and stop Asian hate.

So thank you again

and happy Asian Pacific American Heritage Month.

- Thank you, Congress Member, Judy Chu.

Our next speaker also has achieved an historic first

for the AA and NHPI community.

She became the first Asian American woman to serve

in the President's cabinet in history,

and subsequently served in two cabinet positions

as US Secretary of Transportation

and US Secretary of Labor.

Please welcome Secretary Elaine Chao.

- I came to America when I was eight years old.

My father had arrived three years earlier.

It took three years

before he was able to bring us to America.

We came aboard a cargo ship

because that was all he could afford.

I remember how tough it was

adapting to a new country and language.

I wondered if I would ever find my place in America.

I received my citizenship at the age of 19.

To help ensure that the doors of opportunity

remain wide open,

my family and I have launched and supported

many initiatives to help Asian-Americans, Native Hawaiians

and Pacific Islanders find opportunity and influence

in this country.

During the pandemic, there's been an increase

in anti-Asian expressions of hate, harassment and violence.

Our community is learning to find our voice

and become more visible.

I hope this month will increase awareness

of how much AANHPIs are contributing to America

and how America's diversity and freedoms

are our greatest strengths.

- Thank you, Secretary Chao.

For most of us, this has been a year unlike any other;

social isolation, a national reckoning with racism,

economic hardships and for many of us, heartbreaking loss.

But for some of us, it's also been a catalyst

for self-reflection to gain a clearer understanding

of what we need to do and who we need to be to move forward.

Let's take a look.

- [Reporter] At the conference today,

they gave the virus a name, COVID-19, coronavirus.

- [Reporter] WHO has formerly declared the Coronavirus

a global pandemic. - We're deeply concerned,

both by the alarming levels of spread and severity.

- [Reporter] The United States continues to see

increasing cases in so many areas of the country.

- [Reporter] The US now has the most cases in the world.

- [Reporter] Worldwide coronavirus deaths

have passed the 1 million mark.

- [Demonstrators] George Floyd, what do we want?

- [Demonstrators] Justice, when do we want it, now.

- [Reporter] Sections of Minneapolis

hoping for a calm tonight after a former officer

was charged with murder and manslaughter.

- [Reporter] Healthcare workers in New York City

have been on the front lines

of the battle against COVID-19 for months.

- [Reporter] There's a raging right now in California,

more than 11,000 square miles of the west coast

burned so far this year. - Today, the President

and First Lady tests positive for COVID-19

and a massive effort is underway-

- Former Vice President Joe Biden

has been elected President of the United States-

- [Reporter] Tonight, the growing calls

for President Trump's removal

after we incited the assault on the Capitol

that left four dead.

- [Reporter] Clerks setting into motion the process

that will lead to a vote this week

to impeach the President for the second time.

- [Reporter] There have been more than 2,500 incidents

of anti-Asian hate crimes

reported between March and September of last year.

- Eight people are dead in three different massage parlor

shootings that happened near Atlanta, Georgia.

- [Reporter] As demonstrations calling on an end

to anti-Asian violence happen around the nation,

this weekend dozens came together here

in downtown Indianapolis to share the same message.

(people clapping)

- This past year has been incredibly challenging

for our communities.

- This last year has been difficult,

given the global pandemic

and everyone having to readjust their lives.

- For women, for immigrants, for Asian Americans,

for people of color.

- The last year has been very difficult.

- Overwhelming. - This year has been so hard.

- There was a lot, a lot we learned, a lot we lost.

- We needed to change a lot of things for our business.

- Our face-to-face interaction

soon became virtual experiences.

- Last year has been a bumpy rail

because school is different and changes have happened.

- Our community dealt with all the challenges

of the COVID pandemic,

but also the pandemic of racism against AAPIs.

- What is most difficult to see

is our elders being targeted.

People who look like my mom and dad,

and also my aunts and uncles.

- The anti-Asian violence

has even added trauma into the community.

- My child's friend

was told by their teacher has coronavirus.

- Two member, my community members

were assaulted here in central Ohio.

- And my dear nurse friend was told to go back to China.

- I constantly feared for my parents,

my brother, my relatives.

- It is terrifying to think that I'm walking down the street

and someone might attack me for the color of my skin.

- We see so much sadness and loss around us.

That's an illness of loved ones, colleagues and friends,

closure of small businesses that anchored our neighborhoods

and the continued violence against our black siblings.

- I've had over five deaths in my family,

a network of friends.

- The last year has been a roller coaster ride.

- We can see as a country that we have a lot of work to do

if we are truly to be a place that has freedom

for all people.

I find myself still needing to fight the fights

that I fought years ago.

- This year has definitely brought out

a lot of vulnerability and challenges that I'm sure

many of us didn't even know that we could face.

- And I don't know where we need to go,

but I do know that somehow we will persevere.

- 2020 was certainly full of challenges,

struggles, and uncertainty.

As part of our reflection of the last year,

we invited a poet

and the National Endowment

for the Arts 2021 literature fellow to tell us

how her personal and cultural history influences

and inspires her as an artist.

Here now to tell you more and to read an excerpt

from one of her latest poems, is Sally Wen Mao.

- Hi, my name is Sally Wen Mao and I am a poet.

I'm the author of two books of poetry,

"Mad Honey symposium" and "Oculus".

When I was five,

my parents immigrated from Wuhan, China to the US.

And growing up, one of my most significant memories

is visiting the Angel Island Detention Center

back when I was 12.

It was an immigration station in the San Francisco Bay.

It was built to really enforce the Chinese exclusion laws.

A lot of the people detained in the center were Chinese,

although they also came from all over the world.

And I remember just feeling so taken by the poems

on the walls of the center.

There were Chinese poems that were carved by detainees

that were still there, that I can see.

And it was then that I really witnessed for myself

the significance of poetry and to quote Audre Lorde,

"Poetry is not a luxury."

And that experience really proved that to me.

So when I was 12, the same year, I also visited Wuhan

for the first time since leaving.

And last year in 2020 Wuhan became a household name

for the first time in my life.

But it wasn't for a great reason

with the onset of the pandemic.

And so last year in April,

I wrote this poem called "Wet Market".

And I'm going to read you an excerpt from it.

(lighthearted music playing)

The butcher slices an eel in house.

I squint in disbelief at the dying I witness.

Live kill, slit eel.

Slit eyes, I've been called back home.

My sightline, a bloodless gash.

Wet markets flourish with produce,

feeding a generation.

Mine, the offspring of those who starved like my father

in their mother's wombs.

Now pundits call for their ban, citing barbarian diets,

raccoons, offal, civet cats, bushmeat,

not spinach and wood ear, plums and star apples.

At the Berkeley farmer's market, no one bats an eye.

How lovely it must be to possess a body

cleaved of hunger and horrors.

Its stench so inherently clean.

Nightly I dream of Angel Island's quarantine station.

My immigrant body scrubbed, raw with carbolic soap.

My immigrant belongings fumigated in sulfur steam.

The evening I saw death.

We ate eel braised with bitter melon,

drowned it in cloudy broth.

To this day the memory,

how I tasted marrow like an elegy frozen in bone.

- Thank you, Sally, for sharing your story

and your poetry with us tonight.

Last summer, I had the great privilege

of speaking to our next guest for the PBS news hour.

He said to me something then that stuck with me.

He said, as a musician, your job, our job

is to actually move one person at a time.

And this is a man who truly lives by that motto.

Earlier this year, he surprised and delighted

a gymnasium full of nurses and vaccine recipients

with a solo performance

after getting his own second dose of the COVID-19 vaccine.

Now, unfortunately I wasn't there

for that impromptu performance but I am excited

we all get our own solo from him tonight.

Performing a musical medley, including Calvary Ostinato

from Coleridge-Taylor Perkinson,

Lamentations: Black/Folk Song Suite

and Appalachia Waltz by Mark O'Connor.

Here is Yo-Yo Ma.

(gentle guitar music playing)

(gentle guitar music playing)

(gentle guitar music playing)

(gentle guitar music playing)

(gentle guitar music playing)

(gentle guitar music playing)

(gentle guitar music playing)

(gentle guitar music playing)

(gentle guitar music playing)

(gentle guitar music playing)

(gentle guitar music playing)

(gentle guitar music playing)

(gentle guitar music playing)

(gentle guitar music playing)

(dense guitar music playing)

(dense guitar music playing)

(dense guitar music playing)

(dense guitar music playing)

(dense guitar music playing)

(dense guitar music playing)

(dense guitar music playing)

(dense guitar music playing)

- What a gift and what a treat!

Yo-Yo, I think I speak for many watching at home,

when I say you really do move people with your music.

Thank you for contributing to our celebration tonight.

This evening we celebrate,

not just the AA and NHPI communities,

but also the workers who contributed so much

to keeping our entire country running this past year.

It's ironic, it took a global pandemic

to realize the value of our local workforce

so much so that it's created a new classification of labor

that pre-pandemic, many of us took for granted.

We know them now, of course, as essential workers.

- Essential is defined in the dictionary

as absolutely necessary, extremely important.

How fitting a term for workers who kept our societies going,

our everyday heroes who braved a deadly virus

that brought our country to a standstill

while they grew our food, stocked our shelves,

kept our lights on, the water running,

and our trash picked up.

Critical societal infrastructure

that allowed us to keep safe and keep hope alive.

Where would we be without these brave men and women

who showed up for us day after day.

- [Transit Driver] I was born in India.

I am a transit operator for the city

and county of San Francisco.

I drive a 40 foot transit passenger bus.

My job has become very dangerous and scary,

and it is not just about me.

It's not about a single person.

It is about everyone.

(lighthearted music playing)

(lighthearted music playing)

(people applauding)

- [Man Voiceover] We give them mask, they put the mask on,

get in the truck, windows down,

try to keep the mayor flow going on in there.

We're lessening as much as we can,

any exposure they'll have from each other.

And really at this point,

that's the best we can do with our folks in the vehicles.

- We can't honor essential work

without honoring our frontline healthcare workers.

Because day after day,

they suited up in full protective gear.

They showed up to work in hospital units

that often felt like battlefields, racing to save lives,

often with insufficient medical supplies and ICU beds.

And when lives could not be saved

and family could not be present,

it was our healthcare workers who held their patients' hands

and stayed with them in their final moments.

It helped us survive a trauma,

but they've also gone through a trauma of their own.

A CTC exhaustion while staggering numbers of patients suffer

and worried they might get COVID themselves

and pass it on to their families.

They put themselves in harm's way to take care of others.

And I believe our entire country and the world

can take inspiration and reassurance

from their generosity of spirit, their courage

in the face of uncertainty and their unwavering commitment

to their patients.

So to the entire AAPI healthcare community

and to your families,

we thank you for responding to this moment

with your breathtaking bravery and service.

- And while events from the last year have made us value

and appreciate our essential workers,

they've also brought overdue and necessary attention

to our nation's systemic injustice and racism.

It was just one year ago that the world bore witness

to the murder of George Floyd and the year since

has seen a surge of violent and hateful acts,

targeting AA and NHPI Americans.

This past year, the community awakened

to the need for allyship.

Here now to talk about the connection between communities,

our leaders from around the country.

(lighthearted music playing)

- I think that allyship is moving in the right direction,

but there's a lot of work that needs to be done

in our communities to build solidarity.

Being Asian and being immersed into the black community

because of the killing of my boyfriend, Travis Jordan,

has taught me that there needs to be allyship

between black and Asian communities.

This is ground zero.

This is where Philando Castile was murdered.

This was where George Floyd was murdered.

We should not be fighting against each other

when the real root of the issue here is white supremacy.

- Minnesota is this unique place

where the Asian American community is 60% Southeast Asians.

And it's really this segment of the community

that really has had a lot of shared experiences

in particular when it comes to things like police brutality.

- My connection to these issues dates back

really to the Rodney King video, which was,

really in certain ways the first nationwide video proof

of police brutality.

What happened was technology caught up with racism.

- Learning about historical context of other communities,

especially with the black community is empowering.

- Building of these bridges is essential

because we're at an inflection moment right now.

One part of America is going backwards

and one part of America's going forwards.

And the part of America that's going forwards

is beginning to see how the histories of our communities

are intersected, how our interests are intersected,

how white supremacy and racism work against our communities.

- America is not somebody else, it's us, it's our future,

and we have the opportunity to shape it.

- I clearly remember the night, March 16th.

There is a very urgent report, like a breaking news.

There's a shooting in Atlanta in Cherokee county area,

killed six Asian women.

- This is what everyone feared.

They didn't know where it was gonna happen.

They didn't know which city it was,

but it happened in Atlanta.

- We had an entire community

impacted by the misogeous actions of someone

who I'm gonna say had a lot of privilege and felt entitled

to take other people's lives to deal with their own issue.

- And during next morning,

I got a lot of call from national media

and me tell them this is Asian hate crime.

- It's something that we've been trying to work on

and talk about for years.

But now this moment is this sort of crystallized situation.

- The conversation we started about our safety

and our protection and why we had Asian crime

across the country.

- It was an opportunity for us to mobilize,

for despite our differences,

despite the different communities we represent,

we showed up for each other

and we continue to be there for each other.

- I've always known that we had a strong community

here in the south in Atlanta.

And I think with everything

that's happened since March 16th,

just the power of our communities coming together,

I think that's something I'm very, very proud of.

- We point to keep this momentum and we will continue

our collective efforts and work for more solidarity.

It's not just AAPI community, is with the Latin X community

and black and white community as well.

- If we don't think about solidarity really seriously,

and be in conversation with the larger BiPAP community

and be in step with that policy or recommendations,

then that's gonna be a real problem for us in the future.

- That's something that we are still working towards,

that we'll continue to build on

to ensure that our communities are visible

and acknowledge in many spaces.

Where we don't have to prove why we're here,

why we exist here in America but that we are welcomed

and that we are a part of this community.

(lighthearted music playing)

- The local Sikh community is mourning tonight

as news of their loved ones reaches family and friends.

- [Reporter] Finding out four members of central Indiana

Sikh community were among those killed last night

at the FedEx ground facility

has sent shock waves through their community.

- [Reporter] When I look at the AAPI community,

I think a lot of it is framed by what's happened

in the past year from the shootings in Atlanta,

as well as Indianapolis.

- [Reporter] Sikh Americans have experienced

a disproportionate amount of hate and violence

due to our articles of faith and particularly the turban

and people not understanding who we are.

This is really only part of our story.

There's so much more to the Sikh American experience

and so much more I would want people to know.

- The first thing that anybody notices about me

is the fact that I'm wearing a turban

and the turban is very special for me

because it signifies a quality.

- Sikhy comes with such a richness.

It's embodiment of wanting to enact a more just world

for all people.

- It's so critical in the Sikh faith,

organizing around equality, standing up for others.

We see Congressman Dalip Singh Saund in the 1950s.

There's a Sikh American congressman,

First Asian American congressman

who championed farm workers rights and civil rights.

- But I had faith

in the American sense of justice and fair play.

- Members of the Sikh community are standing in solidarity

with Black Lives Matter.

- Service is a big part of our faith,

is a big tenant of our faith.

We call it Seva, is to be of service to community.

- We see most recently during COVID,

Sikh Americans were instrumental in feeding those in need.

We don't see it as an act of charity per se.

It's a fundamental duty, it's an honor to serve.

And I think that's what inspires our activism.

- [Sikh Member] There's lots of issues that divide people.

My day to day looks like, how do we address that locally?

How do we build peace locally?

- Sikh American community came to the United States

in the early 1800s.

You saw from day one, they were discriminated against.

- We have always historically built on allies

from the foundation of Sikhy 500 years ago till now.

And so with the full saying,

(speaks in foreign language)

really what it means is to be relentlessly optimistic

for the peace and prosperity of all mankind,

to make sure that you are showing up for communities

outside of your own community.

When you think about the Black Lives Matter movement,

showing up for black family, showing up for those

that have been marginalized historically

throughout this country, people who might not have a voice.

And for me, I think that is the true embodiment of a Sikh.

(lighthearted music playing)

(people clapping)

- Struggles, especially for Asian Americans

were brought to the surface.

It became a time for both reflection and reckoning.

- As difficult as it has been to see the violence

and hate directed towards our community-

- This year has represented a social change tipping point

in this country.

- It's been amazing to see

how many of us have come together.

- It's reassuring and it's empowering

to see so many different communities come together.

- Despite mounting challenges, we were able to put together

events with the help from Asian American, Native Hawaiian,

and Pacific Islanders community across the nation.

- I feel inspired by the millions of people who showed up

to protest last summer and to fight for justice.

- We put together events like Community Against Hate

and United Against Hate to bring awareness and education

in the larger community.

- We stood shoulder to shoulder

with our black brothers and sisters,

and we exercised one of our most fundamental rights

as being Americans.

- When COVID vaccinations became available,

our organization jumped at the opportunity to volunteer

to help provide free vaccination to the Las Vegas community.

- Much like other organizations and community members,

along with small businesses, we've had to adjust.

- We helped administer thousands of vaccines

each day we volunteered.

- But we have grown closer as a community

and a stronger community as well.

- I was inspired to create something called

the Access Form Fund,

which helped people of color that are disabled

and filmmakers get grants for some of the projects

they're working on.

- Almost 75% of the South Asian community came out to vote

for this past election cycle.

- We have come together in the past year to do everything

to increase accessibility to the ballot box.

- It feels like we're being seen and we're heard

in a way that we never have.

- For the first time,

people felt like their voices were being heard.

- Where we've claimed our space

and we're being unapologetic about it.

- It was very empowering to see all the AANHPI communities

across the nation and even world come together

and stand in solidarity.

- As you can see, even when forces tried to push us apart,

our communities came together to stand together

in the moments that mattered.

And now let's hear from filmmakers and artists

who are changing the narrative about what it means

to be Native Hawaiian and Pacific Islanders.

Voices you may not know of yet,

and a voice you know quite well, Auli'i Cravalho.

- [Man Voiceover] One of the best ways take over someplace

is to instill your own ideas.

So the missionaries who came with their religion

and did very well tried to ban the Hula

and some people who weren't gonna have that

kept it going in hidden places.

When Kalakaua became king, he said,

"Come out, let's talk about the Hula

and let's talk about our language

and let's talk about what we believe in.

And let's be who we are and find some place for this world

to understand that it's okay for us to be here."

- [Erin] When you make stories about a community,

it is no longer just about you

and what you have to say and what you wanna do.

It also has to do with coming in humble to that community

and trying to understand and fully embrace their experiences

and voice and concerns and also injustices and honoring that

that you are in service to them, not yourself.

What I've become more and more attracted to

is I wanna talk about things in our communities

that is difficult to face.

If we don't have the harder stuff

that makes us uncomfortable,

that makes us sometimes upset to watch,

we're never gonna fix or address it.

'Cause at the end of the day, I just wanna be a good person

who lives more selflessly and gives more than I take.

I just wanna make things that help people and that matter.

- I'm looking forward to 10, 20 years from now,

look back at what I've been able to do

and say that I figured something out

and that I've added to the conversation about our community.

And hopefully who we are as a people, how we're portrayed,

how we're not portrayed,

what's missing from the visual record of who we are,

I'm hopeful that in the next 5, 10, 15, 20 years,

that those concerns begin to evaporate

because we will have created more content about ourselves

and found ownership over who we are.

And there's a more richly developed body of work

that we have made about ourselves.

- What we make and what we are become so much deeper.

And that's what's really amazing

about being here in this time at this moment,

as Kanaka in this generation.

- [Artist] To me, my art is in the people.

I can walk away from the piece,

but I cannot walk away from the people.

That's my art, it's my connection to them.

(upbeat music playing)

- The AAPI community is as diverse as it is beautiful.

Growing up in Hawaii with its melting pot of immigrants

and ethnicities, the sense of community I grew up with

shaped my mindset with a lot.

The understanding that under our ethnic group is a family

as vibrant as my own.

Think a little bigger, be just a little more kind.

There's room for all of us.

Be there for your neighbor,

whether that be delivering groceries to an elder

or making a vaccination plan with a friend,

bring the spirit of Aloha and kindness with you

and it will truly make a difference.

Community in its truest of form.

Simply looking out for each other.

As we move through times of violence and hate,

it is so incredibly important to hold together,

whether you're Asian-American, Pacific-Islander,

or simply part of the community that we call home.

Celebrate AAPI month with us

and support us during the time when we need it the most.

(indistinct)

- At this moment in American history,

there are thousands of AA and NHPI Americans

serving their nation in all branches of local state

and federal government and across all political lines.

Here now are just some of their messages

about their service and their stories.

- Hello, my name is Katherine Tai.

- My name is Nadia Hasan.

- I'm Senator Tammy Duckworth of Illinois.

- I'm Congressman Andy Kim from New Jersey.

- Hi, I'm Congresswoman Grace Meng

from Queens, New York.

- My mother and her heritage is Thai.

- And I'm fourth generation Japanese-American

and fifth generation Chinese-American.

- And I am proud to be one of the first

Korean-American woman to serve in Congress.

- This is a month for us to feel pride

in being Asian American, Native Hawaiian,

and Pacific Islander.

Our history is American history.

Our culture is American culture.

- Our students must learn about all of America's history,

and that includes the accomplishments and contributions

of the Asian American committee.

- This heritage month in some ways feels a lot different

than previous ones.

- The fear, frustration and loss we are all experiencing

during this once-in-a-century pandemic is real.

- The systems that have been put in place

have not been working for all of our communities.

- And it cannot be ignored that hate targeting our community

is on the rise.

- And the racism and discrimination

and the violence has been unbearable.

- And now as I step into this new role at the White House,

I have hope and optimism.

- As I ran for office

and talked with people in the community,

I know that they wanted to see their ideas and perspectives

and voices at the table.

- We can and must stand up for what we believe is right.

- It requires all of us to get engaged.

- Our voices matter and we all must band together.

- I ask you to continue to work with me.

- To step up.

- To be allies to one another.

- As we work toward solution for a better future

for the Asian-American, Native Hawaiian

and Pacific Islanders in our country.

(people clapping)

- 2020 has brought us great challenge

and may 2021 and the years ahead

continue to lift our stories.

- To build a better future

for our community in this country first

is to stay true to who we are.

- Lift our voice so that we may remain true to our heritage

and to whom we descend from.

- We need equal representation and overall a show of love

for our people in communities all over the world.

- And to share the vaccine with the rest of the world.

- And to speak up whenever we see injustice.

- And particularly right now, South Asia.

- Because silence should not be an option at this point.

- Especially during this time

with the amount of crazy Asian-American hate going on.

- And we can raise our voices,

we can speak our truths and we can tell our stories.

- Engaging in these dialogues, face to face,

we start to find our shared humanity.

- Being bold and brave,

it starts with honesty and compassion and empathy.

- Encouraging the poets, the filmmakers,

the artists, the muralists.

- We need to come together

so that we can fulfill legislations and objectives

that furthers our causes.

- If we don't show up for each other,

then very little is gonna change.

- And it's not only at the table of commenting,

but also at the table of decision-making.

- I tell my children that the history is now.

So we must continue building bridges

and create a better world for our children.

- We're equipping young people to envision a better world,

as well as giving them the tools to go out

and make that world.

- We can claim our space rightfully

as vital members of the fabric of this country.

- Only when a family is stronger, our community is stronger,

every community in the United States,

our country can be stronger.

- One that is more just, that is equitable,

that is uplifting.

- We will never let anyone define who we are.

- We define what Asian American means

and what it means to be American.

- To stand up in the glory of all the stories

that celebrate all of us, engage all of us,

support all of us.

- We strive not just for acceptance,

but for the spirit of belonging,

belonging like farmers whose hope is to plant roots

and our stories in this American soil.

- Over 50 different ethnic groups,

over 50 unique threads woven into the tapestry

of the Asian American, Native Hawaiian,

Pacific Islander community.

That is something to recognize, to celebrate,

and to be proud of.

Tonight, you've seen the faces of that community.

You've heard their voices through word and through song.

You've seen their ingenuity and art and science.

Each one of their stories is unique in its own way.

And they're all part of the most diverse community

in American history.

At the same time, remember this, the fact is science

has shown us over 99% of all our DNA is the same.

Think about that.

Our uniqueness, what separates one of us from the next

across all races and ethnicities

is less than 1% of who we are.

What we share in common, what links each of us to the other

is so much greater than anything that divides us.

And part of our American story is that each new generation

shows us how to build those bridges.

How the dreams of our ancestors become reality

in our lifetimes.

In my family, we went from my grandparents,

surviving wars in their homes to my parents

who came to the US to make a new home

to me and my sisters today.

First generation, Pakistani Americans,

raising our own daughters in this country

we are proud to call home.

Last year, a new chapter in our nation's history began.

The hopes of one mother who immigrated from India to the US,

took form in her daughter,

the first black and South Asian woman to be elected

to the second highest office in the land.

To close out our program this evening,

may I present Madam Vice President Kamala Harris

and Second Gentlemen, Doug Emhoff.

- Good evening, we hope you have enjoyed this celebration.

Tonight, we have been reminded

that the story of Asian-Americans, Native Hawaiians

and Pacific Islanders is the story of America herself.

It is the story of courage and creativity,

the story of strength and resilience and leadership.

- Chinese Americans built the transcontinental railroad,

Filipino Americans organized farm workers,

Japanese American soldiers fought bravely in World War II,

even as others were being forced into interment camps.

AA and NHPI frontline workers are saving lives today.

This history is profound.

- And we also know that the community has felt so much pain

over this past year.

COVID-19 has brought so much loss, loss of lives,

loss of livelihoods, loss of normalcy.

And as anti-Asian violence has been on the rise,

a loss of safety and security.

And I've said it before, we all must agree,

a harm against any one of us is a harm against all of us.

- And when we join together to root out hate,

to stop violence, we lift up our communities,

we lift up our entire country.

- That's exactly what we must do now.

- One last thing, as we are talking about the contributions

of the AANHPI community,

there is one very important person

we have to mention, your mom.

- Well, yes, my mother is very important,

very important to me and our family.

My mother was 19 when she arrived in the United States

from India to pursue her dream of curing cancer.

And she built a full and wonderful life here.

She made significant advances

in the fight to end breast cancer,

and she raised my sister and me to be proud of our heritage.

And I feel that pride every single day

when I see the creativity and courage,

the resilience and strength, the leadership of so many.

So thank you all and have a good night.

- Goodnight everyone.

(hands clapping)

- Let's start, here we go.

(speaks in foreign language)

(speaks in foreign language)

- This is take two.

Here we go.

(speaks in foreign language)

- I am Filipino

and I identify with the Asian American community.

- I am a Pacific Islander from Rapanui.

- One more time.

- We are Lanny and Wayman Yip.

- I am Taiwanese American.

- I am a first generation Asian American

born and raised in San Francisco, California.

- And identify as a mixed race Sri Lankan.

- And I'm proudly Filipino,

representing the Asian American community.

- I identify as a proud American of Japanese Okinawan

and Filipino descent.

- Hi, my name is Glenn (indistinct).

I'm 53 years old.

- I'm the proud eldest son of the Vietnamese refugee.

- I'm part of the Vietnamese,

Chinese, Asian American community.

- I'm German, Russian, and Japanese, now an American.

- I grew up Filipino culturally

with some influences of Chinese culture.

- I am proud Shia Imami Ismaili Northern American woman.

- And identify with the amazing Pan-Asian community

of New York City.

- I am Chinese American and I'm also biracial.

- I am proud to be Kanaka and I am also proud to be Mahu.

Someone who holds space between the gender binary

of understanding of male and female.

- I am a Vietnamese American organizer in the A-

- [Instructor] One, two, three clap.

(kids clapping)

- And then, hyah!

- Hyah!