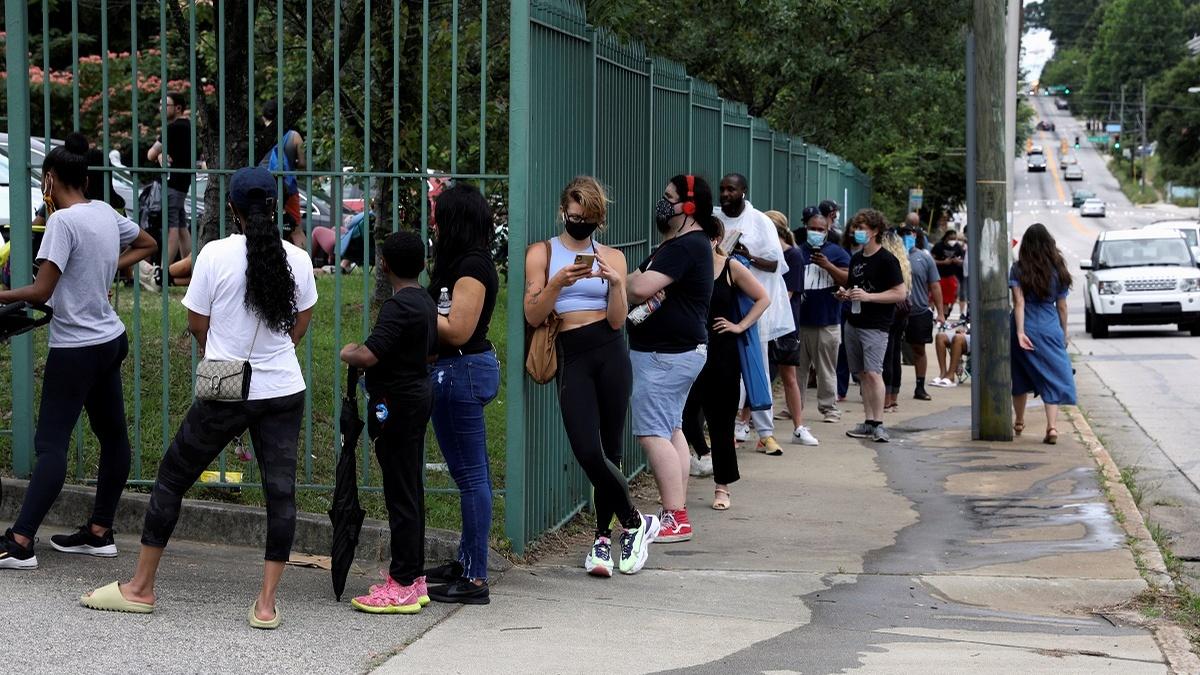 CLIP
With Georgia in dead heat, Trump and Biden woo Black voters
Polls show that Georgia, which President Trump won by nearly five points in 2016, has emerged as a hotly contested state with Biden and Trump battling it out for the Black vote. Meanwhile, officials are recruiting thousands of tech-savvy poll workers and launched a service for voters in the state to track their absentee ballots. Georgia Public Broadcasting's Rickey Bevington joins.
TRANSCRIPT

>> Sreenivasan: FOR MORE ON THE

POLITICAL STATE OF PLAY IN

GEORGIA WHERE BOTH SENATE AND

PRESIDENTIAL RACES ARE HEATING

UP, I SPOKE WITH SENIOR

CORRESPONDENT FOR GEORGIA PUBLIC

BROADCASTING RICKEY BEVINGTON.

RICKEY, A COUPLE OF MONTHS AGO

IT WOULD HAVE BEEN IMPOSSIBLE TO

THINK OF GEORGIA BEING A HOTLY

CONTESTED STATE, BUT THAT'S

WHERE WE'RE AT NOW.

>> THREE DIFFERENT HIGH QUALITY

POLLS THIS WEEK PUT THE BIDEN-

TRUMP PRESIDENTIAL RACE PRETTY

MUCH IN A DEAD HEAT, WHICH IS

EXTRAORDINARY.

TRUMP WON GEORGIA BY JUST UNDER

FIVE POINTS IN 2016.

BIDEN AND THE DEMOCRATS

ANNOUNCED THAT THEY'RE ADDING

GEORGIA TO THEIR 12 STATE

STRATEGY IN TERMS OF SPENDING

MILLIONS OF DOLLARS IN AD BUYS.

BIDEN IS HERE THIS WEEK

TARGETING AFRICAN-AMERICAN MEN.

AND TRUMP IS HERE THIS WEEK ALSO

WITH THE SAME MESSAGE FOR THE

BLACK VOTE.

>> Sreenivasan: WHAT ABOUT WHEN

IT COMES TO GETTING PEOPLE TO

TRUST THE PROCESS, ESPECIALLY IN

LIGHT OF THE FACT THAT THE

PRESIDENT FOR THE LAST SEVERAL

MONTHS HAS MADE UNSUBSTANTIATED

CLAIMS OF MASSIVE MAIL-IN FRAUD?

>> JUST ON FRIDAY, HARI, THE

SECRETARY OF STATE, UNVEILED A

WEB SITE WHERE PEOPLE CAN

ACTUALLY TRACK THEIR ABSENTEE

BALLOT.

THIS IS SIGNIFICANT.

MORE THAN A MILLION GEORGIANS

HAVE REQUESTED AN ABSENTEE

BALLOT SO THAT THEY CAN EITHER

DROP IT OFF AT A DROP BOX OR

MAIL IT IN.

AND NOW WE'RE SEEING THAT THIS,

OF COURSE, TRUST ISSUE IS

IMPORTANT FOR PEOPLE.

AND SO, THE SECRETARY OF STATE

AMONG MANY EFFORTS TO SECURE

PEOPLE'S VOTE AND PROVIDE

CONFIDENCE THAT IT WILL BE

COUNTED, HAS NOW PUBLISHED THIS

WEB SITE.

>> Sreenivasan: CONSIDERING THE

LONG LINES THAT WE SAW IN

GEORGIA DURING THE PRIMARIES,

WHAT HAVE GEORGIA ELECTION

OFFICIALS LEARNED AND WHAT CAN

PEOPLE EXPECT IN NOVEMBER?

>> THERE'S CURRENTLY AN EFFORT

TO RECRUIT 20,000 TECH SAVVY

POLL WORKERS FOR GEORGIA.

THEY'RE AT ABOUT 15,000 RIGHT

NOW.

GEORGIA ROLLED OUT $100 MILLION

NEW VOTING MACHINE SYSTEMS SO

THAT THE MACHINES ARE NEW TO

VOTERS AND TO POLL WORKERS.

>> Sreenivasan: BESIDES THE

PRESIDENTIAL ELECTION, I MEAN,

WE HAVE A TENDENCY TO PUT FOCUS

ON THAT, BUT WE'VE GOT AN

IMPORTANT SENATE RACE AS WELL.

>> WE SURE DO.

AND THOSE SAME POLLS THAT I

MENTIONED ALSO PUT THE RACES

VERY, VERY CLOSE.

WE HAVE TWO REPUBLICAN SENATORS

RUNNING.

KELLY LEFFLER WAS AN APPOINTED

SENATOR AND DAVID PERDUE IS

RUNNING FOR JUST REELECTION

STANDARD.

IT'S ESSENTIALLY A THREE WAY

RACE FOR THE KELLY LEFLER SEAT.

THERE ARE 20 CANDIDATES, WHICH

IS EXTRAORDINARY.

THERE'S NO PRIMARY.

IT'S CALLED A JUNGLE PRIMARY.

THE TOP TWO VOTE GETTERS, IF

NOBODY GETS 50%, WILL GO TO A

RUNOFF REGARDLESS OF PARTY.

CONGRESSMAN DOUG COLLINS IS HER

REPUBLICAN CHALLENGER AND

NEWCOMER, DEMOCRAT REVEREND

RAPHAEL WARNOCK.

COLLINS AND LEFFLER WILL SPLIT

THE REPUBLICAN VOTE ON ELECTION

DAY.

THERE'S ENORMOUS PRESSURE ON

OTHER DEMOCRATIC CANDIDATES TO

DROP OUT TO CONSOLIDATE THE

DEMOCRATIC VOTE BEHIND REVEREND

WARNOCK AND POTENTIALLY WIN

OUTRIGHT ON ELECTION DAY AND

AVOID A RUNOFF ALTOGETHER.

NOW, DAVID PERDUE FACES

DEMOCRATIC ALSO CHALLENGER JOHN

OSOFF.

PRESIDENT BARACK OBAMA ENDORSED

OSOFF.

AND THAT IS PROMISING TO BE A

POTENTIAL FIGHT AS WELL FOR THAT

SENATE SEAT.

>> Sreenivasan: A LOT TO LOOK

FORWARD TO ON ELECTION NIGHT.

RICKEY BEVINGTON FROM GEORGIA

PUBLIC BROADCASTING, THANKS SO

MUCH.

>> THANK YOU, HARI.