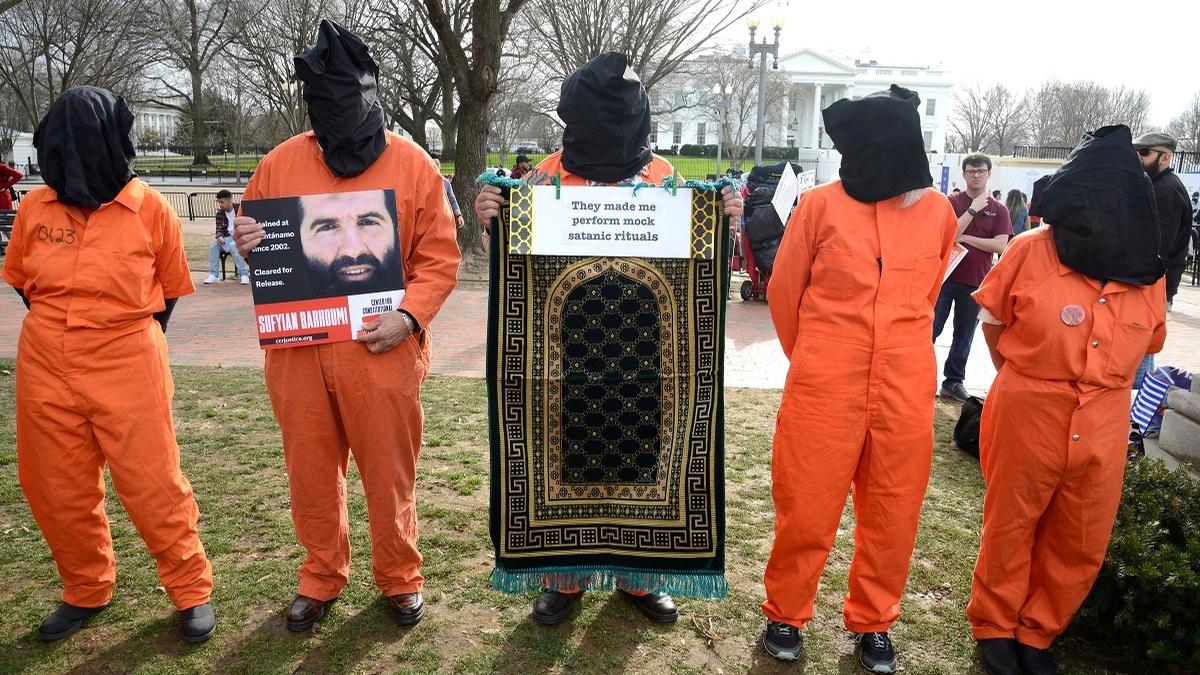 CLIP
Will Biden be able to finally close Guantanamo Bay?
President Biden's Secretary of Defense, General LLoyd Austin has said he would follow through on President Obama's efforts to close Guantanamo Bay, the prison for terrorism detainees. Today, its population is down to nearly 40, including six detainees cleared for release. Michel Paradis who has represented Gitmo detainees and has authored the book " Last Mission To Tokyo" joins for more.
TRANSCRIPT

>> Sreenivasan: IT'S BEEN 19

YEARS SINCE THE UNITED STATES

OPENED A PRISON AT THE

GUANTANAMO BAY NAVY BASE FOR

WAR ON TERRORISM DETAINEES.

THE POPULATION, ONCE CLOSE TO

800 PRISONERS, NOW STANDS AT 40.

MOST WERE HELD WITHOUT A TRIAL.

SIX OF THOSE 40 DETAINEES HAVE

BEEN CLEARED FOR RELEASE, BUT

THE OFFICE TO RELOCATE THEM WAS

CLOSED FOUR YEARS AGO.

THE OBAMA ADMINISTRATION FAILED

TO CLOSE GUANTANAMO.

PRESIDENT JOE BIDEN'S

SECRETARY OF DEFENSE GENERAL

LLOYD AUSTIN SAID HE WILL FOLLOW

THROUGH ON CLOSING IT, BUT THERE

ARE STILL HURDLES IN THE WAY.

MICHEL PARADIS IS A LEADING

HUMAN RIGHTS LAWYER WHO HAS

REPRESENTED GUANTANAMO

DETAINEES.

HE'S ALSO A SCHOLAR OF NATIONAL

SECURITY LAW AND AUTHOR OF THE

BOOK "LAST MISSION TO TOKYO."

FIRST, JUST TO BRING OUR

AUDIENCE UP TO SPEED, GITMO HAS

BEEN UP AND RUNNING FOR SO LONG

NOW THAT THERE'S AN ENTIRE

GENERATION THAT HAS GROWN UP

WITH IT THEIR WHOLE LIVES THAT

THEY DON'T REALLY REALIZE WHAT

IT IS.

SO, WHAT IS GUANTANAMO BAY?

>> GUANTANAMO BAY IS A NAVY BASE

THAT'S EXISTED SINCE THE END OF

THE 19th CENTURY, BUT IN JANUARY

OF 2002, THE BUSH ADMINISTRATION

OPENED A PRISON FOR "WAR ON

TERRORISM DETAINEES" IN

GUANTANAMO, ON THE PREMISE THAT

GUANTANAMO WAS ESSENTIALLY A

LEGAL NO MAN''S LAND.

IT WAS ACTUALLY DESCRIBED AT THE

TIME AS THE LEGAL EQUIVALENT OF

OUTER SPACE, BECAUSE THEY WANTED

TO BE ABLE TO HOLD THESE

DETAINEES IN A PLACE WHERE NO

INTERNATIONAL LAW OR NO AMERICAN

LAW WAS BELIEVED TO APPLY.

>> Sreenivasan: SO HOW MANY

PEOPLE WERE THERE IN THE

BEGINNING?

HOW MANY ARE THERE NOW?

>> SO, THE POPULATION EBBED AND

FLOWED THROUGH THE EARLY YEARS

OF THE BUSH ADMINISTRATION.

ALTOGETHER, ABOUT 800 MEN HAVE

PASSED THROUGH THERE IN SOME WAY

OR ANOTHER.

NOW, TODAY, IN 2021, THAT NUMBER

IS DOWN TO 40.

THERE ARE 40 MEN THERE.

>> Sreenivasan: AND SOMETIMES WE

HAVE FOUND SITUATIONS WHERE

THESE MEN HAVE BEEN CLEARED OR

THEY HAVE BEEN SORT OF EXPORTED

TO THIRD COUNTRIES, NOT TO THE

UNITED STATES, NOT TO THEIR HOME

COUNTRIES.

>> YES.

SO, THE POPULATION HAS LARGELY

BEEN SENT TO FOREIGN COUNTRIES.

IN FACT, SIX OF THE MEN IN

GUANTANAMO TODAY HAVE BEEN

CLEARED FOR RELEASE, SOME FOR AS

MUCH AS A DECADE.

AND THERE HAVE BEEN A VARIETY OF

POLITICAL, LEGAL, DIPLOMATIC

OBSTACLES TO SIMPLY MAKING GOOD

ON THAT RELEASE RECOMMENDATION

TO SEND THEM TO A FOREIGN

COUNTRY WHERE THEY CAN BE HELD.

ALTHOUGH ONE DETAINEE-- IN FACT,

A NUMBER OF GUANTANAMO DETAINEES

HAVE ACTUALLY BEEN HELD FOR

VARIOUS PERIODS IN THE UNITED

STATES.

MOST PEOPLE DON'T KNOW THAT.

THERE WAS ONE INDIVIDUAL BY THE

NAME OF YASSER HAMDI, WHO WAS A

GUANTANAMO DETAINEE WHO TURNED

OUT TO HAVE AMERICAN

CITIZENSHIP.

HE WAS BROUGHT AND HELD FOR A

NUMBER OF YEARS IN THE

CHARLESTON BRIG.

ANOTHER GUANTANAMO DETAINEE BY

THE NAME OF AHMED GHAILANI WAS

BROUGHT TO NEW YORK IN 2009,

PROSECUTED FOR HIS ROLE IN THE

BOMBING OF THE AFRICAN EMBASSIES

IN 1998, AND IS NOW SERVING A

LIFE SENTENCE IN A SUPERMAX

PRISON IN COLORADO.

AND I BET MOST OF YOUR VIEWERS

HAVE NEVER HEARD OF HIM.

SO IT'S NOT ENTIRELY TRUE THAT

NO DETAINEES HAVE EVER COME TO

THE UNITED STATES.

BUT THE VAST MAJORITY, AS YOU

SAID, HAVE BEEN SENT TO THIRD

COUNTRIES, TYPICALLY THEIR

COUNTRY OF ORIGIN OR A CLOSELY

RELATED COUNTRY.

>> Sreenivasan: SO IF THE SIX

THAT ARE THERE NOW COULD GO,

WHY HAVEN'T THEY BEEN SENT AWAY

ALREADY?

>> WELL, THE TRUMP

ADMINISTRATION CLOSED WHAT WAS

CALLED THE GUANTANAMO TRANSFER

OFFICE, THE GUANTANAMO CLOSURE

OFFICE, WHICH WAS AN OFFICE IN

THE DEPARTMENT OF STATE THAT WAS

RESPONSIBLE FOR FINDING PLACES

FOR THE DETAINEES TO GO.

SO THAT WAS CLOSED FOUR YEARS

AGO.

THERE WERE ACTUALLY AN EFFORT BY

A NUMBER OF THE DETAINEES TO TRY

AND GET IT OUT OF THE DOOR IN

JANUARY OF 2017 BEFORE IT WAS

DEEMED TOO LATE.

SO I THINK ONE OF THE MAJOR

THINGS THE BIDEN ADMINISTRATION

HAS TO DO IN ORDER TO

ESSENTIALLY MAKE GOOD ON

PRESIDENT BARACK OBAMA'S PROMISE

TO CLOSE GUANTANAMO AND TO SORT

OF RESOLVE THAT UNFINISHED

BUSINESS IS TO REOPEN THE

GUANTANAMO CLOSURE OFFICE WHO

WILL SPEARHEAD THE EFFORTS TO

FIND A PLACE FOR THOSE SIX

INDIVIDUALS WHO ARE CURRENTLY

CLEARED TO GO, AS WELL AS OTHER

INDIVIDUALS WHO ARE LIKELY TO BE

CLEARED IN THE YEARS TO COME.

>> Sreenivasan: WHAT'S THE

HARD COST OF KEEPING THAT PRISON

OPEN?

AND ALSO, I GUESS THERE'S ALSO A

PRETTY SIGNIFICANT SOFT COST.

>> ABSOLUTELY.

THE HARD COST, JUST IN DOLLAR

TERMS FOR DETAINING THE

DETAINEES IS $13 MILLION A YEAR

EACH.

SO THIS IS THE MOST EXPENSIVE

GATED COMMUNITY IN THE CARIBBEAN

YOU''VE EVER HEARD OF.

BUT THE SOFT COSTS ARE

ASTRONOMICAL.

THEY ARE COSTS TO OUR DIPLOMATIC

CREDIBILITY AROUND THE WORLD,

THERE ARE COSTS TO OUR ABILITY

TO COOPERATE WITH ALLIES IN

WAR-FIGHTING EFFORTS.

THERE ARE A LOT OF COUNTRIES WHO

ACTUALLY NOW-- YOU KNOW,

TRADITIONAL ALLIES IN EUROPE,

FOR EXAMPLE, WHO NOW HAVE TO

THINK TWICE BEFORE

INTERACTING WITH THE UNITED

STATES ON A-- ON DEFENSE

OBJECTIVES BECAUSE OF THE RISK,

FOR EXAMPLE, OF INDIVIDUALS

BEING SENT TO GUANTANAMO.

I THINK THERE'S ALSO A COST HERE

AT HOME.

I DON'T THINK YOU CAN SEE

CHILDREN IN CAGES ON THE

SOUTHERN BORDER IF WE HADN'T IN

SOME WAY OR ANOTHER CREATED THE

LEGAL AND SOCIAL INFRASTRUCTURE

OF SEEING MEN IN CAGES IN

GUANTANAMO A FEW YEARS BEFORE

THAT.

GUANTANAMO IS A PLACE THAT, FROM

ITS VERY INCEPTION WAS DESIGNED

TO BE A PLACE WHERE PEOPLE WERE

NOT PEOPLE.

AND ONCE YOU START CREATING A

LEGAL REGIME AROUND THE IDEA

THAT THERE ARE PEOPLE WHO HAVE

NO RIGHTS AT ALL, THEY ARE

MERELY OBJECTS, IT'S VERY EASY

FOR THAT TO SPILL OVER INTO ALL

MANNER OF-- ALL-- IT'S VERY EASY

FOR THAT TO SPILL OVER INTO ALL

ASPECTS OF AMERICAN SOCIETY,

WHETHER OR NOT IT'S THE TACTICS

USED IN POLICING, WHETHER OR NOT

IT'S THE TREATMENT OF IMMIGRANTS

AT THE BORDER OR NEAR THE

BORDER, THE TREATMENT OF

REFUGEES.

VERY QUICKLY, THE LAW OF

GUANTANAMO HAS BECOME INFECTED

IN A WAY, HAS INFECTED THE LAW

OF THE UNITED STATES.

>> Sreenivasan: IS THE VERY

EXISTENCE OF THIS FACILITY AND

THE PEOPLE THAT ARE IN IT AN

OPPORTUNITY FOR OUR ENEMIES TO

RECRUIT AGAINST US?

>> IT'S NOT JUST AN OPPORTUNITY,

IT''S A PRIMARY RECRUITING TOOL.

THERE IS-- PARTICULARLY FOR

ISLAMIST TERRORISTS AROUND THE

WORLD, THERE IS A LONG TRADITION

GOING BACK TO THE 1950s OF

RADICAL MUSLIM TERRORISTS USING

THE IMPRISONED, ESSENTIALLY

POLITICAL PRISONERS, AS THEIR

PRIMARY RECRUITING TOOL.

AND GUANTANAMO HAS BEEN THE MOST

SPECTACULAR EXAMPLE OF THAT

AROUND THE WORLD.

THERE'S A REASON, THINKING BACK

ONLY A FEW YEARS TO WHEN ISIS

WAS DOING HORRIBLE THINGS ON THE

NEWS EVERY NIGHT, THERE'S A

REASON THAT ISIS PUT MEN IN

ORANGE JUMPSUITS BEFORE BURNING

THEM ALIVE OR BEHEADING THEM--

BECAUSE THEY WERE MAKING IT A

MORAL EQUIVALENCE TO GUANTANAMO,

A MORAL EQUIVALENCE THAT I

CERTAINLY WOULD OBJECT TO, AND

I''M SURE YOU WOULD.

BUT A MORAL EQUIVALENCE THAT CAN

PROBABLY SEEM FAIRLY APPEALING

TO A LOT OF PEOPLE AROUND THE

WORLD, PARTICULARLY PEOPLE WHO

MIGHT BE AMBIVALENT ABOUT

WHETHER OR NOT THE UNITED STATES

IS STILL THE-- THE SHINING CITY

ON THE HILL THAT THEY ALWAYS

BELIEVED IT TO BE.

>> Sreenivasan: SO WHAT IS THE

SOLUTION THEN?

I CAN HEAR PEOPLE LISTENING TO

THIS INTERVIEW SAYING, OKAY,

FINE, WE CLOSE GITMO.

HOW SHOULD WE BE BRINGING PEOPLE

TO JUSTICE?

>> SURE.

SO THE EASIEST, MOST TRIED AND

TRUE WAY TO BRING PEOPLE TO

JUSTICE, SUCH AS THE FIVE MEN

CHARGED FOR PERPETRATING THE

ATTACKS OF SEPTEMBER 11th, ARE

THE FEDERAL COURTS.

ERIC HOLDER, WHEN HE BECAME THE

ATTORNEY GENERAL BACK IN 2009,

PUT TOGETHER A PLAN TO PROSECUTE

ALL OF THE 9/11 CONSPIRATORS IN

A FEDERAL COURT.

AND PEOPLE AT THE TIME, I

REMEMBER, BALKED AT THE IDEA

THAT IT COULD POSSIBLY COST $100

MILLION TO DO THAT.

WE SPEND THAT EVERY YEAR IN

GUANTANAMO.

SO IF IT'S-- IF IT'S SIMPLY A

MATTER OF COST, WE ARE-- WE ARE

ACTING IRRATIONALLY IN

GUANTANAMO.

SO YOU COULD BRING THE PEOPLE

WHO NEED TO BE CHARGED FOR

SERIOUS CRIMES, INCLUDING 9/11,

SOLVE THOSE CRIM-- RESOLVE THOSE

CASES DEFINITIVELY, RESOLVE

THEM CREDIBLY, RESOLVE THEM

PUBLICLY IN NEW YORK CITY.

YOU COULD DO THAT VERY EASILY IN

FEDERAL COURTS.

THE FEDERAL COURTS HAVE A

STERLING TRACK RECORD OF NOT

ONLY CONVICTING PEOPLE IN

TERRORISM CASES, BUT OF GIVING

THEM EXTREMELY STIFF SENTENCES

VERY EASILY.

UNDER THE FEDERAL SENTENCING

GUIDELINES, ANYONE CHARGED WITH

THE TERRORISM OFFENSE GETS A

MINIMUM OF 17 YEARS.

SO IT WOULD, THE FEDERAL COURTS

ARE THERE AND OPEN.

SO FOR THE PEOPLE WHO NEED TO BE

CHARGED, YOU CAN TRY THEM IN A

FEDERAL COURT.

FOR THE OTHER DETAINEES, THE

DETAINEE POPULATION NOW, AS YOU

SAID, THIS HAS BEEN A

GENERATION.

THE MEN WHO WERE BROUGHT THERE

BACK IN 2002, BEFORE THE iPOD--

NOT THE iPHONE, BUT BEFORE THE

iPOD WAS INVENTED, ARE NOW

OLD MEN.

THE YOUNGEST OF THE DETAINEES IS

IN HIS MID-40s.

THE OLDEST OF THE DETAINEES IS

IN HIS MID-70s.

THERE IS SIMPLY NO RATIONAL

SECURITY REASON TO HOLD THE

VAST MAJORITY OF THE 40 MEN WHO

ARE IN GUANTANAMO.

IT'S A SMALL PROBLEM.

IT'S A PROBLEM THAT BIDENCAN

SOLVE, IF THERE'S THE POLITICAL

WILL TO DO IT.

AND THERE ARE VERY

STRAIGHTFORWARD, PRACTICAL STEPS

THAT HE COULD DO TO VERY QUICKLY

REDUCE THE DETAINEE POPULATION

AND CLOSE GUANTANAMO-- CLOSE

THIS CHAPTER IN AMERICAN HISTORY

ONCE AND FOR ALL.

>> Sreenivasan: THIS IS STILL

UNDER THE PURVIEW OF THE

DEPARTMENT OF DEFENSE.

THE PENTAGON RESPONDS TO THE

ADMINISTRATION THAT'S IN POWER,

THE PRESIDENT THAT'S IN POWER.

WHY IS THERE ANY INTEREST IN

THIS NOT BEING IN THE FEDERAL

COURT SYSTEM?

IS THIS A TURF WAR WHERE THE

MILITARY FEELS LIKE THEY SHOULD

HAVE THE RIGHT TO BRING THESE

PEOPLE TO JUSTICE?

>> I THINK, TRADITIONALLY,

THERE'S BEEN AN ELEMENT OF SORT

OF BUEAROCRATIC POLITICS.

I THINK THERE, CERTAINLY DURING

THE OBAMA ADMINISTRATION, THERE

BECAME THIS, I WOULD CALL IT, A

FAUX MACHISMO AROUND THE WAR ON

TERRORISM THAT YOU SAW FORMER

PRESIDENT TRUMP OFTEN PLAY UP,

"AT GUANTANAMO-- WE'RE GOING TO

FILL IT WITH BAD DUDES."

TO SEEM TOUGH ON TERRORISM ON

TV, YOU WOULD SAY YOU'RE IN

FAVOR OF GUANTANAMO WHEN IN

REALITY IT'S THE SOFTEST THING

YOU CAN DO TO RESPOND TO THE

THREAT OF TERRORISM.

SO I THINK THAT'S A BIG PART OF

IT.

POLITICS HAS PLAYED A TREMENDOUS

PART IN MAKING GUANTANAMO AS

DYSFUNCTIONAL AS IT IS.

I THINK THERE ARE ALSO VESTED

INTERESTS INSIDE, NOT SO MUCH

THE DEPARTMENT OF DEFENSE, BUT A

MUCH LOWER LEVEL.

AS WE'RE CONDUCTING THIS

INTERVIEW, YESTERDAY, AS

SOMETHING OF A PARTING SHOT, AN

OUTGOING TRUMP OFFICIAL CHARGED

THREE MORE MEN IN THE MILITARY

COMMISSIONS IN GUANTANAMO.

BY ALL ACCOUNTS AND BY ALL

MEASURES, ONLY TO COMPLICATE

SECRETARY AUSTIN'S ABILITY TO

MAKE GOOD ON HIS PROMISE TO THE

CONGRESS THAT HE WAS GOING TO

REALLY MAKE AN INITIATIVE TO

CLOSE GUANTANAMO.

THERE IS A KIND OF POLITICAL AND

LEGAL VANDALISM THAT GUANTANAMO

HAS ATTRACTED.

AND THE, AND THAT'S JUST

SOMETHING THAT'S MADE IT AN

INCREDIBLY INTRACTABLE PROBLEM

FOR A NUMBER OF YEARS.

>> Sreenivasan: SO WHAT HAPPENS

TO THESE THREE, I THINK IT'S

INDONESIAN MEN THAT HAVE BEEN

CHARGED, OR, THEY MIGHT GO TO

TRIAL NOW?

>> I WOULDN'T PUT MY MONEY ON

IT, TO BE PERFECTLY CANDID.

THESE MEN HAVE BEEN IN

GUANTANAMO OR AT LEAST IN U.S.

CUSTODY SINCE, I THINK, 2003.

THEY HAVE BEEN THEORETICAL

TARGETS FOR PROSECUTION SINCE

2010 WITHOUT ANY ACTION BY

EITHER THE-- THE OBAMA OR TRUMP

ADMINISTRATIONS IN THAT

DIRECTION.

IT'S ONLY, AGAIN, THIS PARTING

SHOT BY AN OFFICIAL SORT OF VERY

DEEP DOWN IN THE DEPARTMENT OF

DEFENSE.

BUT TO GIVE YOU A MEASURE OF HOW

ANY TRIAL MIGHT GO, THE 9/11

CONSPIRATORS, THE FIVE 9/11

CONSPIRATORS HAVE BEEN FACING

TRIAL SINCE 2008--

THERE''S NO TRIAL DATE SET YET.

THEY'RE NOT LOOKING TO ACTUALLY

HAVE A TRIAL IN THAT CASE,

PROBABLY FOR YEARS AND MAYBE

NEVER.

THE ONE, THE ONLY THING THAT HAS

BEEN TRUE ABOUT THE MILITARY

COMMISSIONS, WHICH ARE THESE

TRIBUNALS CREATED IN GUANTANAMO,

HAS BEEN THAT THEY ARE

DYSFUNCTIONAL.

THEY ARE CONSTANTLY BESET BY

ERRORS AND-- AND ISSUES THAT

WOULD NEVER OCCUR IN THE FEDERAL

COURT.

TO GIVE YOU JUST ONE EXAMPLE--

IN THE 9/11 CASE, I THINK

THEY'VE NOW HAD SIX JUDGES IN

THE PAST TWO YEARS.

AND YOU CAN'T BLAME ALL OF THAT

DYSFUNCTION ON THE COVID-19

PANDEMIC.

THE ONLY THING THAT HAS BEEN

UNFLAGGINGLY TRUE ABOUT THE

MILITARY COMMISSIONS IS DELAY.

AND, ONE THING AFTER ANOTHER,

WHETHER IT'S THE SIX JUDGES NOW

IN THE PAST TWO YEARS IN THE

9/11 CASE, WHETHER IT'S JUDGES

IN SOME OF THE OTHER CASES WHO

WERE ACTUALLY APPLYING FOR JOBS

SECRETLY WITH THE GOVERNMENT AND

THEREFORE REQUIRED THE COURT OF

APPEALS TO THROW OUT YEARS OF

THEIR PROCEEDINGS ON THE GROUNDS

OF ESSENTIALLY JUDICIAL

CORRUPTION-- ONE THING AFTER

ANOTHER HAS MADE THESE, SORT OF,

THESE TRIALS INTO A "WAITING FOR

GODOT" EXPERIENCE.

THEY'RE THE TRIALS THAT

EVERYONE'S WAITING FOR, BUT

NEVER COME.

AND THESE THREE INDONESIANS,

IF, ASSUMING THE BIDEN

ADMINISTRATION DOESN'T TAKE

FAIRLY RAPID STEPS TO-- TO PULL

BACK THAT ORDER TO PROSECUTE

THEM, THEY'RE GOING TO BE IN

SOME FORM OF ROPE-A-DOPE TRIAL

PROCESS FOR THE NEXT DECADE.

AND I THINK IT'S REALLY JUST A

STARTLING FEATURE OF GUANTANAMO

AND THE MILITARY COMMISSIONS

THAT WE ACTUALLY ARE HAVING

FAIRLY REALISTIC CONVERSATIONS

ABOUT THE 9/11 CASE NOT ACTUALLY

BEING RESOLVED UNTIL THE PEOPLE

WHO WERE NOT YET BORN ON

SEPTEMBER 11th ARE APPROACHING

MIDDLE AGE.

AND I THINK THAT'S, THAT'S A

TRAGEDY.

THAT'S A DEEP TRAGEDY FOR THIS

COUNTRY.

IT''S A TRAGEDY FOR THE VICTIMS.

I LIVE IN NEW YORK.

IT'S A TRAGEDY FOR ALL NEW

YORKERS WHO STILL EVERY TIME,

YOU KNOW, IF YOU'RE OF A CERTAIN

AGE LIKE I AM, EVERY TIME YOU

SEE THE FREEDOM TOWER, YOU'RE

REMINDED OF THE TWO TOWERS THAT

AREN''T THERE ANYMORE.

AND IT'S A SCAR ON OUR COUNTRY

THAT HAS YET TO HEAL.

AND GUANTANAMO IS THE PRIMARY

REASON THAT SCAR CONTINUES TO

FESTER.

>> Sreenivasan: MICHEL PARADIS,

A SENIOR ATTORNEY AT THE

DEPARTMENT OF DEFENSE OFFICE OF

THE CHIEF DEFENSE COUNSEL,

THANKS SO MUCH FOR JOINING US.

>> THANK YOU SO MUCH FOR HAVING

ME ON.