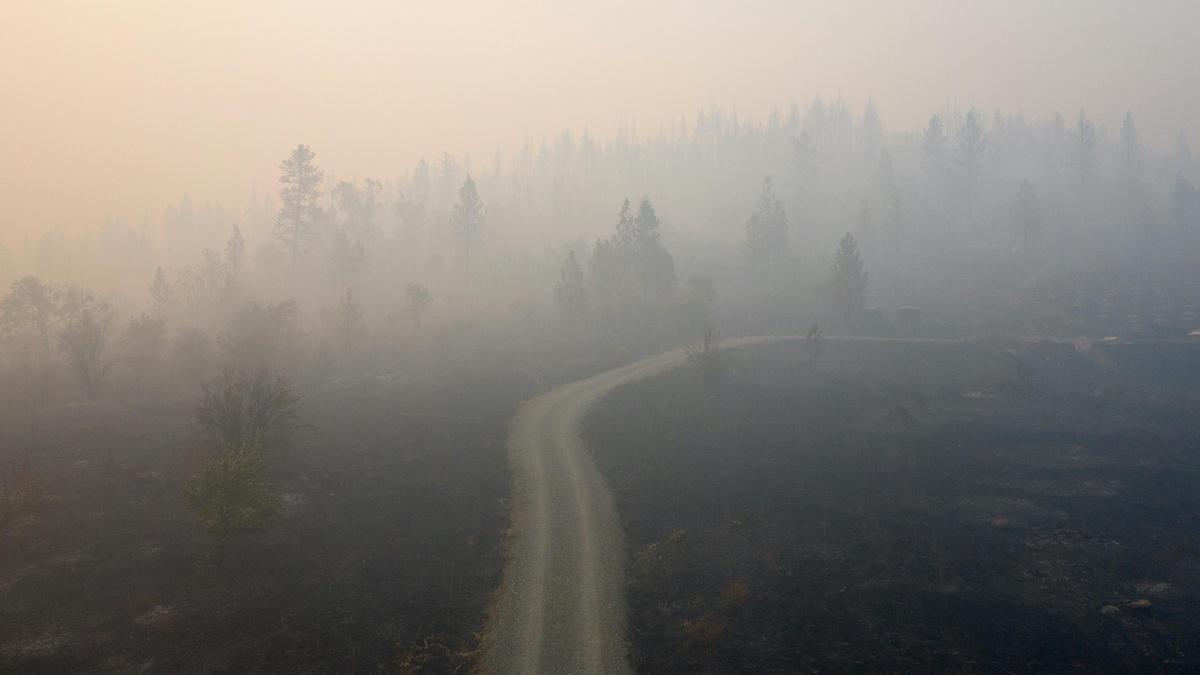 CLIP
'Unprecedented' western wildfires force residents to flee
Wildfires are sweeping across more of the West Coast, with no relief in sight. Dozens of fires have wiped out small towns and destroyed hundreds of homes in Oregon, Washington state and Northern California. At least eight people have been killed. Special correspondent Cat Wise reports, and Judy Woodruff talks to Cat and Kevin Cameron, a county commissioner for Marion County, Oregon.
TRANSCRIPT

JUDY WOODRUFF: Wildfires are sweeping across more of the West Coast tonight, with no end

in sight.

Dozens of fires have killed at least eight people, wiped out small towns and destroyed

hundreds of homes in Washington state, Oregon and Northern California.

Cat Wise begins our coverage, reporting from South of Portland.

CAT WISE: The smoke was thick this morning in Clackamas County, Oregon, as some residents

emerged from cars and tents in the parking lot of the local community college.

The American Red Cross has set up a shelter here, one of 10 locations currently open around

the state.

Many lined up for a warm breakfast, including 70-year-old Nancy Price and her husband Dave

Silverberg (sic), who is 90.

They fled from nearby Molalla and have been here for the last three nights, preferring

to sleep in their car, instead of inside the shelter.

NANCY PRICE, Evacuee: They said, we have been told to evacuate immediately.

So, we just made sure we were dressed, and we headed out the door.

CAT WISE: The couple, who say they are keeping their masks on and trying to stay a safe distance

from other evacuees, have not yet heard if their home has been saved.

NANCY PRICE: We don't know anything.

That's the hardest part, is not knowing anything, and knowing we can't go back.

WOMAN: All of you have been staying in this one car?

TOM WALDON, Evacuee: Yes.

It's been a little tight.

CAT WISE: Tom Waldon and his two sons, James and Jake, are from Estacada, Oregon.

TOM WALDON: There's so many other things going on.

It's -- I don't know to feel or what to do, or -- it's hard.

CAT WISE: Four wildfires have converged in this mostly rural county on the outskirts

of Portland, and thousands are currently evacuated from their homes.

Firefighters have been battling the blazes here for days, but progress has been hard,

due to weather conditions.

And fire crews are stretched thin.

Chad Carter is a spokesman for the Red Cross.

CHAD CARTER, Spokesperson, American Red Cross: The state of Oregon has been impacted by the

wildfires that we're seeing throughout the state.

And it's not just one wildfire.

It's multiple.

And so, right now, there are thousands of people who are being impacted and out of their

homes and really dealing with probably the most stressful and difficult past 48 hours

of their life.

CAT WISE: The fires in Clackamas County are just one of scores racing up and down the

Pacific Coast, from Southern California to Washington state.

In Oregon, officials estimate there are at least three dozen fires currently active,

and they have described the situation as unprecedented.

GOV.

KATE BROWN (D-OR): We are now approaching 900,000 acres burned across the state.

To put that number into perspective, in the last 10 years, we see an average of 500,000

acres burned in an entire year.

We have seen that nearly double in the past three days.

We have never seen this amount of uncontained fire across our state.

CAT WISE: So far, five towns in the state are believed to be all but leveled.

In Talent, Oregon, a hard-hit community in the southern part of the state, evacuees captured

the harrowing scene as they tried to flee, fires stretching for miles and setting off

explosions.

Meanwhile, in nearby Medford, residents returned to survey the damage and recover what little

they could.

MONTY PORTER, Evacuee: My wife passed away five years ago.

And we came here to look for her ashes.

Everything we had is here.

We have nothing but the (INAUDIBLE) clothes on my back.

CAT WISE: At the same time, in Northern California, high winds whipped wildfires there to a new

fury.

The North Complex Fire north of Sacramento grew six times in size in the span of just

24 hours.

It now covers roughly 250,000 acres.

Just days ago, firefighters had managed to contain 50 percent of the blaze.

Today, it's less than 25 percent.

And to the West, the August Complex has become California's largest fire ever, burning more

than 730 square miles.

The speed and intensity of the fires there and in other states have officials worried.

Already, a number of deaths have been reported in both California and Oregon.

And in Washington state, news of a 1-year-old's death has shaken the community and officials

there.

Back in Oregon, for families who have managed to escape immediate danger, there's great

uncertainty about when they might return and what they will find.

And, in fact, many of the people we met here today at this Red Cross shelter in Oregon

City are asking those very questions -- Judy.

JUDY WOODRUFF: Cat, it's just horrible.

And we can see from the color of the sky where you are, people's lives turned upside down.

How are they coping?

CAT WISE: Judy, the people that we talked to today, many of them said that they're still

in a state of shock.

Several people told me that they had to flee their homes really quickly, only got out basically

with the clothes on their back.

And they said -- many of them just said: I'm exhausted after several days of really stressful

situations.

And, of course, this is happening in their lives after a time when many people have been

stressed, with COVID and the pandemic happening.

As you can see around me, the smoke is really, really bad here today.

We saw many people, families, and, in fact, children here did not have masks on.

And then some of the people that I talked to mentioned family members with asthma.

Occasionally, you could hear people coughing outside.

And several people told me like they felt that they could not escape this bad air, the

smoke, because there's just so many wildfires around the state.

They said, where would we go?

The wildfire smoke is everywhere.

JUDY WOODRUFF: Cat, you mentioned the pandemic.

How is that affecting everything?

D+ITOØD-ITOCAT WISE: Some of the people that we talked to here today did say that

they were concerned about going into the shelter due to COVID-19.

The organization is trying to get out the message that they're doing everything they

can to keep people safe, including temperature checks and cleaning surfaces regularly.

And they really want people to know that they're here for them, handing out food and water

outside.

But it is an incredibly difficult time for so many people, with the wildfires and COVID-19.

JUDY WOODRUFF: So hard to imagine all of it.

Cat Wise reporting from Clackamas County in Western Oregon.

Thank you, Cat.

CAT WISE: Thanks, Judy.

JUDY WOODRUFF: As Cat reported, there are a number of small towns that have been just

devastated by the fires.

Marion County, Oregon, has already seen its share.

Kevin Cameron is one of the county commissioners.

He lives in the small city of Detroit, where many homes have burned down.

He joins me now by Skype from Salem.

Mr. Cameron, thank you so much for talking with us.

You were evacuated.

Tell us about that experience.

KEVIN CAMERON, Commissioner, Marion County, Oregon: Well, thank you, Judy.

It's good to be with you.

Tuesday -- actually, Monday evening, about 5:00, we were told, be ready to leave Monday,

potentially, at noon; 10:00, we went to bed.

At midnight, our phones blew up with emergency, get out now, sheriffs going through the town

with their loudspeakers and sirens going.

We got on the road with a caravan about 1:00.

There was a little bit of, go east and then, at the last minute, go west.

They cleared the road, getting down to about a 50-mile drive to Salem.

About halfway down, the traffic backed up.

And the reason why is, there was a fireball right in front of us.

I had two vehicles.

I was in a truck and one following me.

And you can hear on the video -- the person behind me was taking video, and they were

just scared to death.

They, are we going to burn up?

We shouldn't be going this way.

And it was so smoky and so fiery, I was looking down at the center line, just barely seeing.

And it was just nothing I have ever experienced before and nothing I would ever want anybody

else to experience.

JUDY WOODRUFF: What do you know at this point about your own home, your neighborhood, casualties,

and so forth?

KEVIN CAMERON: Well, I'm a Marion County commissioner.

And so, yesterday, Army Corps needed to get people up to do an exchange in the dam.

With our sheriff and fire apparatus, we were able to take a tour.

The town is total destruction.

There are a line of about eight homes on my street.

It's miraculous, and I have a little bit of survival guilt, that my home was one of those

that's standing.

And around the town, there are several homes here and there that are standing.

But the marinas in the town are destroyed.

The only thing standing on Main Street is a little, teeny old post office.

It's just devastating.

And there were still fires and power lines down when we were going around.

It was very, very dangerous still.

JUDY WOODRUFF: And that's what I wanted to ask you.

To what extent are the fires still threatening that area?

KEVIN CAMERON: Well, the fire -- the wind event that happened for almost 48 hours pushed

the fires westbound.

So, there are still spot fires.

So, if the winds swirl around, you can still have more fires up there.

But the fires now throughout the whole state have converged.

And we have other parts of Marion County that have had to be evacuated.

Our state fairgrounds is our evacuation center, and it's almost overflowing with animals and

people that need shelter right now.

JUDY WOODRUFF: Have you, in your years in Oregon, seen anything to compare with this,

Mr. Cameron?

KEVIN CAMERON: Nothing like this, where it's threatened homes and had mass, mass evacuations.

And we're going to have casualties.

We have already -- we already know of two.

And it's not going to -- it's going to be a gruesome few days or weeks, as we actually

get back into the backcountry, where a lot of people live because they don't want to

be bothered.

And it's hard to get to them when something like this happens.

JUDY WOODRUFF: Oh, such a terrible thing that's going on.

Our hearts go out to everyone involved.

Kevin Cameron, a commissioner for Marion County in Oregon, thank you very much.

KEVIN CAMERON: Yes, we will rebuild together.

We will come back stronger.

Thank you very much, Judy.