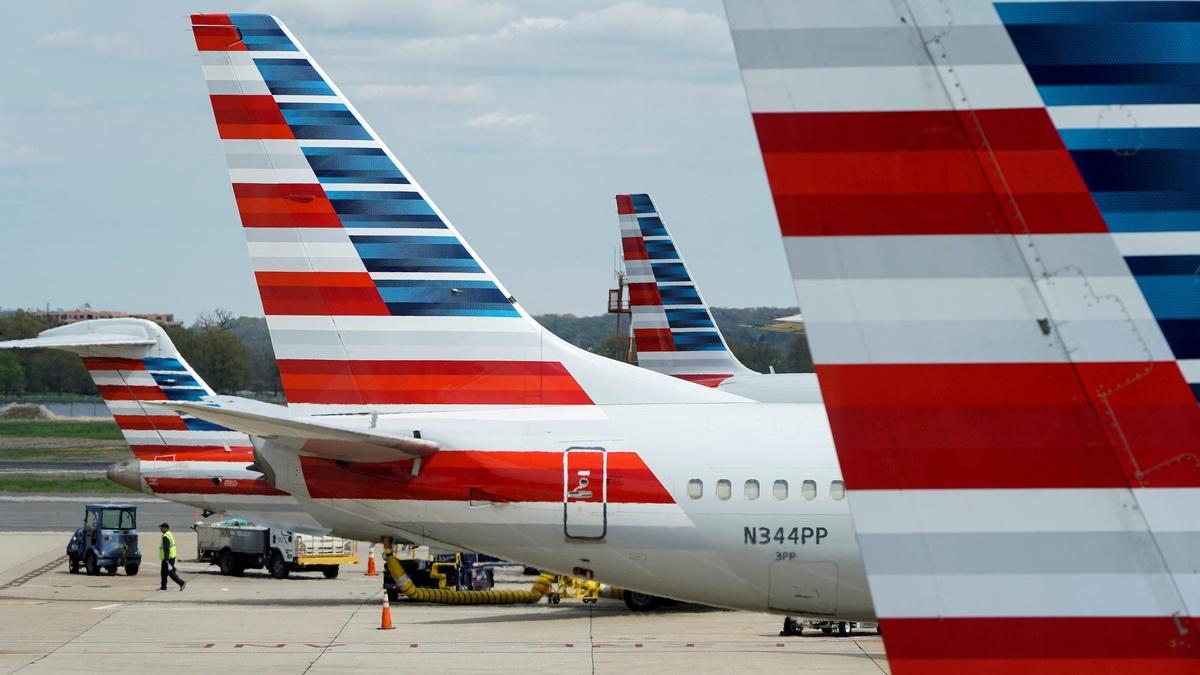 CLIP
Why U.S. airlines say they need more federal aid to survive
U.S. airlines are facing a challenging deadline. A dramatic decrease in travel caused by the coronavirus pandemic has many struggling to stay solvent, and several carriers say they'll be forced to furlough employees unless they receive more federal aid. Amna Nawaz reports and talks to Nick Calio of Airlines for America, the trade association for the country's leading passenger and cargo airlines.
TRANSCRIPT

JUDY WOODRUFF: As September comes to a close, a challenging deadline for U.S. airlines looms.

As Amna Nawaz reports, carriers across the industry are struggling to survive during

the pandemic.

AMNA NAWAZ: Judy, U.S. airlines received about $25 billion in federal assistance earlier

this year as part of the CARES Act. And, as part of that deal, airlines promised to not

cut jobs until October.

But the industry continues to struggle, and several carriers now say they have no choice

but to furlough up to 35,000 employees this week unless they get more federal aid.

For more on this, I'm joined by Nick Calio. He's the president and CEO of Airlines for

America. That's the trade association for the country's leading passenger and cargo

airlines.

Mr. Calio, welcome back to the "NewsHour," and thanks for being with us.

A lot of people look at this and say, once the airlines had the money in hand, the first

chance they got to furlough employees, they took it. So, why give them billions more now,

if they're just going to do the same thing in a few months' time?

NICHOLAS CALIO, President and CEO, Airlines For America: I would say that the facts belie

that notion.

First of all, the airlines have all take -- undertaken measures to do everything they can to keep

themselves liquid and afloat and keep employees on the job, very substantial things, from

cuts in executive compensation, numbers of management, voluntary furloughs and leaves,

voluntary retirements, going to the private markets to increase liquidity.

And that first tranche of money, which was 70 percent grants and 30 percent loans, went

directly through. It was a pass-through directly to employees, who were kept on the job and

kept on the job for very good reasons.

We thought there would be an uptick in travel now, by this time. Early in the summer, it

looked like there would be. Then there was another surge, and there wasn't. And airlines

are a little bit different than most of the other industries involved.

We probably have been the hardest-hit, number one. But, number two, our employees undergo

rigorous training, retraining and recertification all the time. So, if they leave the job, you

can't just bring them back the next day and say, start up the airplane, have it take off.

AMNA NAWAZ: Mr. Calio, I'm confused, though..

You said, back then, you thought that airline traffic would be back up to somewhat normal

or near normal, something you need to sustain the industry. No single health expert we talked

to earlier this year thought it would be that way within six months.

Who were you listening to that told you things would be back to normal by then?

NICHOLAS CALIO: We did not say back to normal. I said I thought -- we thought there would

be an uptick. And there was an uptick. We never thought it would get back to normal.

In 2019, we were flying record numbers of passengers. We were flying 2.5 to 2.8 million

passengers and 58,000 tons of cargo every day. We're not going to reach those levels

for a while. But we can reach levels that make the industry sustainable.

And that's what we're hoping for. We thought we'd be back up to about 50 percent by the

end the summer. We haven't been. At one point, we were down 96 percent, in April. That's

a pre-jet age era number.

Then, right now, we're running down about 70 percent below what we were year over year.

AMNA NAWAZ: You mentioned the record traffic back in 2019.

I found a headline from August of 2019 which said, "U.S. Air Travel Demand Is Booming.

Will the Good Times Last?" If only we knew back then.

But it's worth mentioning, all of the airlines across the board had record profits, double-digit

operating margins, billions in revenue. A lot of people are wondering, shouldn't the

industry have had more of a cushion, more cash reserves to mitigate some of this pandemic

hit?

NICHOLAS CALIO: Amna, if you go back to March 1, and look at some of the financial conferences

that were occurring at the time -- this was just really a couple weeks before things really

got bad -- all of our airlines were judged to have -- quote -- "fortress balance sheets."

Those balance sheets were designed to withstand an event three times greater than 9/11. And

that did not happen. This is a once-in-a -- well, we hope it's a once-in-a-lifetime pandemic,

certainly. But through no fault of our own, those balance sheets were wiped out.

We had taken all sorts of measures. We had hired 186,000 new employees in the last decade.

Their pay had gone up. Their pensions had gone up. There were a lot of good things going

on in the industry. I kept talking about it being the golden age of air travel.

So did J.D. Power, because everybody was flying. It was affordable. It was accessible like

never before in this country. And then the virus arrived, and everything changed.

AMNA NAWAZ: So, United today announced a deal with its pilots. They say they're going to

spread the reduced flying time across their 13,000 pilots, rather than have to furlough

3,000.

Do you think more airlines can come up with more creative solutions like that to save

some of those jobs?

NICHOLAS CALIO: You know, we're a very really resilient industry.

And, if you look at all of A4A's members, they are all being very creative. They're

doing everything they can to keep their employees in place, because they understand the human

cost of losing your job.

And, again, it gets back to, you can't take a pilot off the job and bring him back the

next day, the same with a flight attendant, the same with our machinists, the same with

our gate agents, because of the safety issues and the recertification that has to go on.

So, we're trying to keep them on board, so that, as a recovery happens, the airlines

are there to empower the recovery, to take people where they want to go, to visit their

families, to do their business.

AMNA NAWAZ: Mr. Calio, I have to ask you.

You have a reputation in Washington, in Washington, D.C., as being a very forceful broker over

years there. You worked as a legislative affairs assistant under both Presidents H.W. and George

W. Bush. You know what it is to pull together tough deals.

The Republicans and Democrats have not been able to come together on this next round of

funding. And now there's a lot of distraction with the Supreme Court fight just weeks before

the election.

Do you think now they will be able to come together on another funding deal?

NICHOLAS CALIO: I'm hopeful. I'm not necessarily optimistic.

Times are different, I guess, now. To me, it seems, with where the speaker of the House

is coming out in terms of the number and where the president said he would go up to, that's

ample ground right in the middle. There's got to be a compromise somewhere in the middle,

because it's not just the airline industry.

There's a lot of people suffering. And, again, what happens is, when you knock people out

of their jobs, they then go on unemployment. They're not paying their taxes, federal state

or local taxes. They're not paying into Social Security or Medicare. And then they are drawing

unemployment. They're no longer spending money.

That has a ripple effect through the economy. So, viewed in that context, we believe there's

not only a political imperative here; there's an economic imperative.

So, I'm hopeful they can find a deal. There were some bright spots over the weekend and

today. We, in the airline industry, working with our labor partners, the pilots, the flight

attendants, the machinists, are doing everything we can to ask people to get to the table and

start to talk.

AMNA NAWAZ: That is Nick Calio, president and CEO of Airlines for America.

Thank you so much for your time.

NICHOLAS CALIO: Thank you for the time.