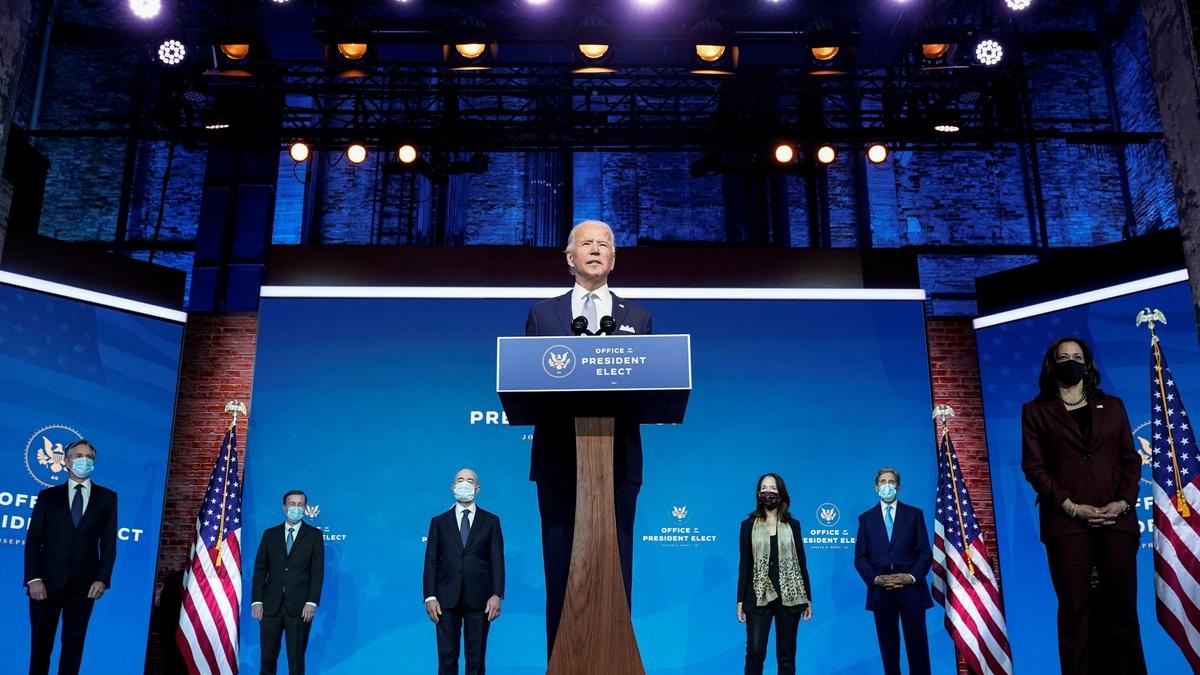 CLIP
Biden formally introduces his national security team
As President-elect Joe Biden on Tuesday continued to ratchet up his cabinet after weeks of delays in the White House transition process, President Trump and White House aides sent contradictory messaging about the handover of power. White House correspondent Yamiche Alcindor joins Judy Woodruff to discuss the transition.
TRANSCRIPT

JUDY WOODRUFF: President-elect Joe Biden has formally introduced his

national security team to the nation. It came today,

as the presidential transition officially got under way, after a three-week delay.

White House correspondent Yamiche Alcindor begins our coverage.

JOE BIDEN (D), President-Elect: Well, good afternoon, everyone.

YAMICHE ALCINDOR: America is back. That's the message president-elect Joe Biden and

his first six Cabinet picks hammered home today in Wilmington, Delaware.

As they took the stage, Mr. Biden declared a break with the last four years.

JOE BIDEN: It's a team that reflects the fact that America is back,

ready to lead the world, not retreat from it.

YAMICHE ALCINDOR: The members of that team include Antony Blinken, a former top State Department

official, as secretary of state, Alejandro Mayorkas as secretary of the Department of

Homeland Security, the first Latino and first immigrant to hold this position, and Avril

Haines as director of national intelligence, the first woman to head the intelligence community.

Vice president-elect Kamala Harris praised the selections and the man who chose them.

SEN. KAMALA HARRIS (D-CA), Vice President-Elect: I look forward to working alongside them

on behalf of the American people and on behalf of a president who will ask tough questions,

demand that we be guided by facts, and expect our team to speak the truth.

YAMICHE ALCINDOR: If he's confirmed by the Senate, Blinken will inherit a legacy

of global relationships in disarray from the Trump administration. Today,

he spoke of his late stepfather, who survived the Holocaust as a child in Poland.

TONY BLINKEN, U.S. Secretary of State Nominee: At the end of the war,

he made a break from a death march into the woods in Bavaria.

From his hiding place, he heard a deep rumbling sound. It was a tank.

But instead of the iron cross, he saw painted on its side a five-pointed white star.

He ran to the tank. The hatch opened.

An African American G.I. looked down at him. He got down on his knees and said the only three

words that he knew in English that his mother had taught him before the war: "God bless America."

YAMICHE ALCINDOR: Mayorkas also talked about his family history.

ALEJANDRO MAYORKAS, U.S. Department of Homeland Security Secretary Nominee: My

father and mother brought me to this country to escape communism. They cherished

our democracy and were intensely proud to become United States citizens, as was I.

YAMICHE ALCINDOR: Haines, who was deputy director of the CIA from 2013 to 2015,

will take on the job of leading and revitalizing the intelligence community,

which outgoing President Trump has frequently criticized.

AVRIL HAINES, U.S. Director of National Intelligence Nominee: To

our intelligence professionals, the work you do,

oftentimes under the most austere conditions imaginable, is just indispensable.

YAMICHE ALCINDOR: Mr. Biden also introduced Linda Thomas-Greenfield

as the United Nations ambassador, Jake Sullivan as national security adviser,

and former Secretary of State John Kerry as special presidential envoy on climate change.

JOHN KERRY, U.S. Special Envoy For Climate Change: President Joe Biden will trust in God,

and he will also trust in science to guide our work on Earth to protect God's creation.

YAMICHE ALCINDOR: Thomas-Greenfield, a 35-year veteran in Foreign Service,

emphasized the importance of reestablishing global partnerships.

LINDA THOMAS-GREENFIELD, U.S. Ambassador to the United Nations Nominee: America is

back. Multilateralism is back. Diplomacy is back.

YAMICHE ALCINDOR: All of this on the day after Emily Murphy, the head of

the General Services Administration, officially ascertained that Mr. Biden is president-elect.

That move authorized the transition to officially begin. President Trump said yesterday that the

move was in the country's best interests. But, today, he fired off another tweet,

saying -- quote -- "The GSA does not determine who the next president of the United States will be."

He also made an historically quick appearance in the White House Briefing Room. In a one-minute

statement, he praised his administration's work on the pandemic and the economy.

DONALD TRUMP, President of the United States: The stock market,

Dow Jones industrial average, just hit 30,000, which is the highest in history. I just want

to congratulate all the people within the administration that worked so hard.

I hereby grant you a full pardon.

YAMICHE ALCINDOR: The president did find time today to carry on the annual tradition

of pardoning the National Thanksgiving Turkey. He again made no comment on the transfer of power

or his legal team's efforts to overturn the election results.

Meanwhile today, three more states, Pennsylvania, Nevada, and Minnesota, certified Biden victories.

JUDY WOODRUFF: And Yamiche joins me now.

So, Yamiche, you were at the news conference in Wilmington,

Delaware, today where Vice President - - or, rather, president-elect Biden

introduced his national security team. Tell us what struck you about what they had to say about

their mission, their outlook as they begin this next administration.

YAMICHE ALCINDOR: Well, president-elect Joe Biden and his picks for Cabinet-level

positions were all hammering home the point that they are going to see a sea change

away from President Trump and his view of America as isolationist and pulling back from the world

and going toward this Biden/Harris view of the world as a place where America should again be

engaging with our allies, again doing things like leading on climate change,

and the policies impacting globally how the environment is handled.

They also, in some ways, were talking about their experience

in government. A lot of these picks that Joe Biden went with,

they're steeped in government. They're people who are alums of the Obama administration.

Now, there are people, critics that are already saying that some of these people

are too elite. We saw Senator Marco Rubio attacking the fact that some of them are

Ivy League graduates, saying that they're going to oversee the decline in America.

So, even though Joe Biden is feeling very good about this

group of people, you're already starting to see the partisan politics at play. And, of course,

many of them are going to be have to be confirmed by the Senate. So, we should watch this space.

JUDY WOODRUFF: And, Yamiche, you also reported on President Trump's two brief appearances today

at the White House. What more do we know, do you know about how he's handling this moment?

YAMICHE ALCINDOR:

Well, President Trump and White House aides are really sending contradictory messages.

President Trump is still lashing out, still very angry, saying that he

recommended that Emily Murphy at the GSA do this and move forward, while Emily

Murphy is saying this was an independent decision. He's still saying he can win.

But then we saw Joe Biden just in the last few minutes here

talk to reporters, saying that he felt that the White House was being very cooperative,

and that they were getting a lot of help.

The other thing that we see is Emily Murphy, with some reporting today, she was ready to be fired

when she made that assertion yesterday that Joe Biden was the official winner of the election.

So that also tells you the mood within the federal government. There are things definitely

still moving along, with all federal agencies now in touch with the Biden transition team.

But things are still very, very tense, as the president continues to lash out.

And he had that quick White House briefing, the shortest that I can remember of his tenure. So,

we have to continue to watch the president continue to be angry.

JUDY WOODRUFF: No question about it.

Yamiche Alcindor reporting again on both the incoming and outgoing administrations.

Thank you, Yamiche.

YAMICHE ALCINDOR: Thanks so much, Judy.