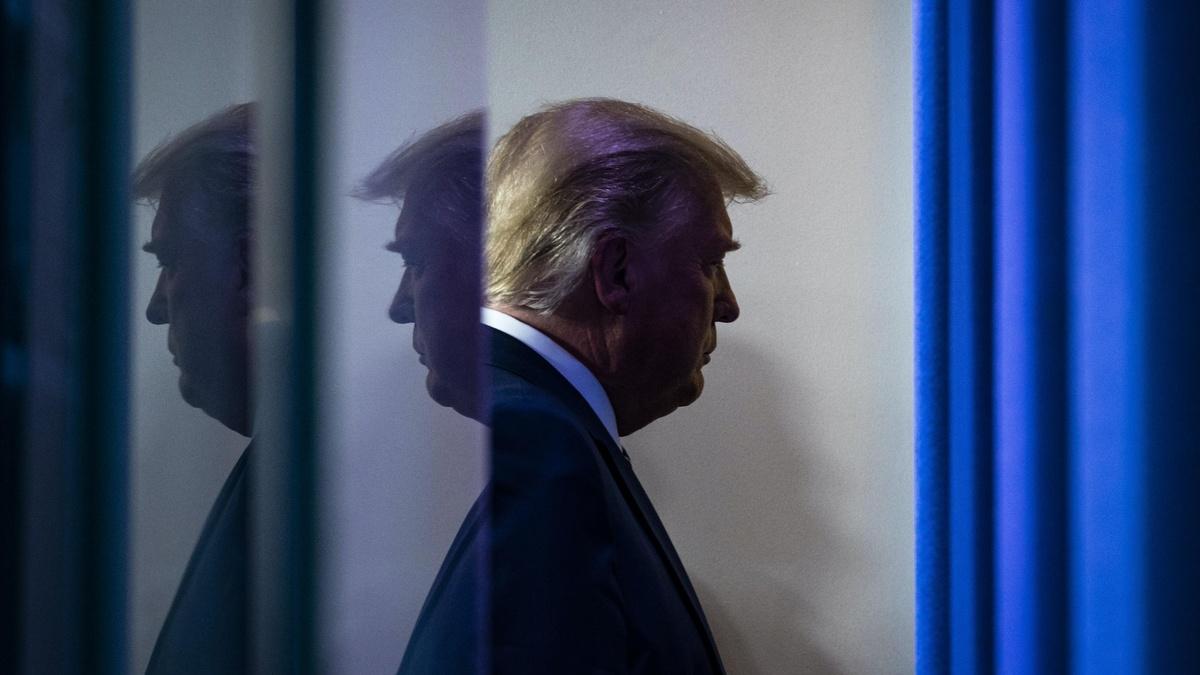 CLIP
Biden names top cabinet posts as transition gains steam
President-elected Joe Biden named the first wave of top cabinet positions on Monday, even as President Trump continued to deny he lost the election. White House correspondent Yamiche Alcindor joins Judy Woodruff to discuss the latest election developments, and how a handful of Republican senators are now telling Trump to give up his fight.
TRANSCRIPT

JUDY WOODRUFF: The coming Biden administration now has some big names penciled in

to fill some of the most important jobs. That process gathered momentum today,

even in the absence of a formal transition.

White House correspondent Yamiche Alcindor reports.

YAMICHE ALCINDOR: Today, the first wave of president-elect Joe Biden's Cabinet announcements.

QUESTION: Why did you go with national security first?

JOE BIDEN (D), President-Elect: Because it's national security.

YAMICHE ALCINDOR: The news came from Wilmington,

Delaware, where Mr. Biden spent part of the day addressing a virtual U.S. Mayors Conference.

His picks, Antony Blinken, a former top State Department official, as secretary of state,

Jake Sullivan as national security adviser,

and Linda Thomas-Greenfield as the United Nations ambassador.

And a pair of firsts, Avril Haines for director of national intelligence, the

first woman to head the intelligence community, and Alejandro Mayorkas to be secretary of the

Department of Homeland Security, the first Latino to hold this position. In addition,

former Secretary of State John Kerry will serve as special presidential envoy on climate change.

And it is widely reported that Janet Yellen, former Federal Reserve chair,

will be Treasury secretary. She'd be the first woman in that role.

The president-elect will formally introduce his picks tomorrow, even as he continues to wait for

the transition to formally begin. The House Oversight and Reform Committee insisted today

on having Emily Murphy, the head of the General Services Administration, join a briefing tomorrow.

Officials want her to explain why she has yet to acknowledge

president-elect Biden and free up transition funds.

On Sunday Mr. Biden's choice for White House chief of staff, Ron Klain,

again urged the Trump administration to accept the results and begin the transition.

RON KLAIN, Incoming White House Chief of Staff: A record number of Americans rejected the Trump

presidency. And since then, Donald Trump has been rejecting democracy. It's corrosive.

It's harmful. But, as Mitt Romney said, it's not going to change the outcome of what happens here.

YAMICHE ALCINDOR: Underscoring that point,

the Michigan State Board of Canvassers met to certify the state's presidential election results.

AARON VAN LANGEVELDE, Michigan Board of State Canvassers: We have a duty to certify

this election based on these returns. That is very clear. We are limited to these returns.

And I'm not going to argue that we're not.

YAMICHE ALCINDOR: Meanwhile, the Trump campaign kept pursuing legal challenges,

including in Pennsylvania. On Sunday, the campaign filed an appeal after a federal judge

sternly rejected their allegations that the state wrongly allowed voters to correct ballots.

Meanwhile, within the Republican Party, criticism of the president's efforts

to block or overturn the election results is slowly growing. Republican Senator Pat Toomey

of Pennsylvania released a statement saying - - quote -- "President Trump has exhausted

all plausible legal options to challenge the result of the presidential race in Pennsylvania."

Another Republican, Ohio Senator Rob Portman, also spoke out. He called for the transition

to begin, with full intelligence and pandemic briefings for the Biden team.

In a newspaper opinion piece today, he wrote - - quote -- "There is no evidence as of now

of any widespread fraud or irregularities that would change the result in any state."

President Trump's legal efforts and sweeping unfounded claims of fraud and conspiracy

also drew criticism on Sunday from former New Jersey Governor Chris Christie.

FMR. GOV. CHRIS CHRISTIE (R-NJ): The conduct of the president's legal team has been a national

embarrassment. I have been a supporter of the president's. I voted for him twice. But elections

have consequences. And we cannot continue to act as if something happened here that didn't happen.

YAMICHE ALCINDOR: Hours later, the Trump campaign issued a statement saying attorney Sidney Powell

is not representing the president. During a news conference last week, she made some of the most

inflammatory claims, including that Venezuelan leaders were trying to rig the U.S. election.

JUDY WOODRUFF: And Yamiche joins me now.

So, Yamiche, as you were reporting, Joe Biden today naming his picks for some of the top jobs

in his administration. What more have you learned about how

Biden and the president are handling this moment?

YAMICHE ALCINDOR: Well, President Trump is continuing to deny that his presidency is,

in fact, coming to an end, but more and more Republicans are starting to acknowledge that.

As we noted in the piece, you're seeing Senator Portman, Senator Toomey, as well as Senator

Alexander, all speaking our, Republican senators, not that many of them, but at least a handful now,

telling the president that it is time to essentially give up this fight.

The president, though, is not willing to do that. In fact, today we saw, of course, Michigan certify

its vote, making Joe Biden the official winner, the president-elect, Biden, the official winner.

But the Trump campaign put out a campaign statement just moments after that saying that

it was a procedural move, and that, in fact, they are going to continue their fight in that state.

The other thing we're seeing from Joe Biden is him rolling out his transition,

making these big announcements for secretary of state, for the United Nations ambassador.

This is not only signaling that he is going to continue to move forward preparing to govern,

but he's also making the case that things need to be moving forward.

We're now seeing pressure rise and continue to rise

on the General Services Administration and the head of that, Emily Murphy. There are sources

telling us that she is continuing to feel the pressure, understanding that this is really

a mood in Washington that is shifting in the direction of having president-elect

Joe Biden get the resources, as well as the official sign-off to start the transition.

That has not happened yet. But we need to watch that space very closely.

JUDY WOODRUFF: And, Yamiche, with regard to the names we heard today

from president-elect Biden, people he wants for some of the very senior jobs in his

administration, what more do we know about them and the choices?

YAMICHE ALCINDOR: Well, a lot of these names that president-elect Biden has announced today

are, one, a lot of alarms from the Obama administration, as well as they are people

who Joe Biden says reflect America and reflect his commitment to diversity.

I want to walk you through two. The first is Alejandro Mayorkas. He is

a Cuban American refugee, came to the United States fleeing political issues in Cuba.

I want to read to you a tweet that he wrote. He said: "When I was very young,

the United States provided my family and me a place of refuge. Now I have been

nominated to the DHS to be the DHS secretary and oversee the protection of all Americans."

We should also note that he oversaw the implementation

of DACA, which was creating dreamers and giving them

some sort of relief and status here in America if they were brought here as minors.

Another thing to note is, John Kerry is going to be the special envoy to climate change. That's a

big deal, because it's a big name, showing that Joe Biden, president-elect Biden, is

focused specifically on climate change, wanting to elevate that issue as a national security threat.

JUDY WOODRUFF: Both of those areas which we saw President Trump trying to roll

back significantly what happened during the Obama administration.

All right, Yamiche Alcindor, thanks so much.