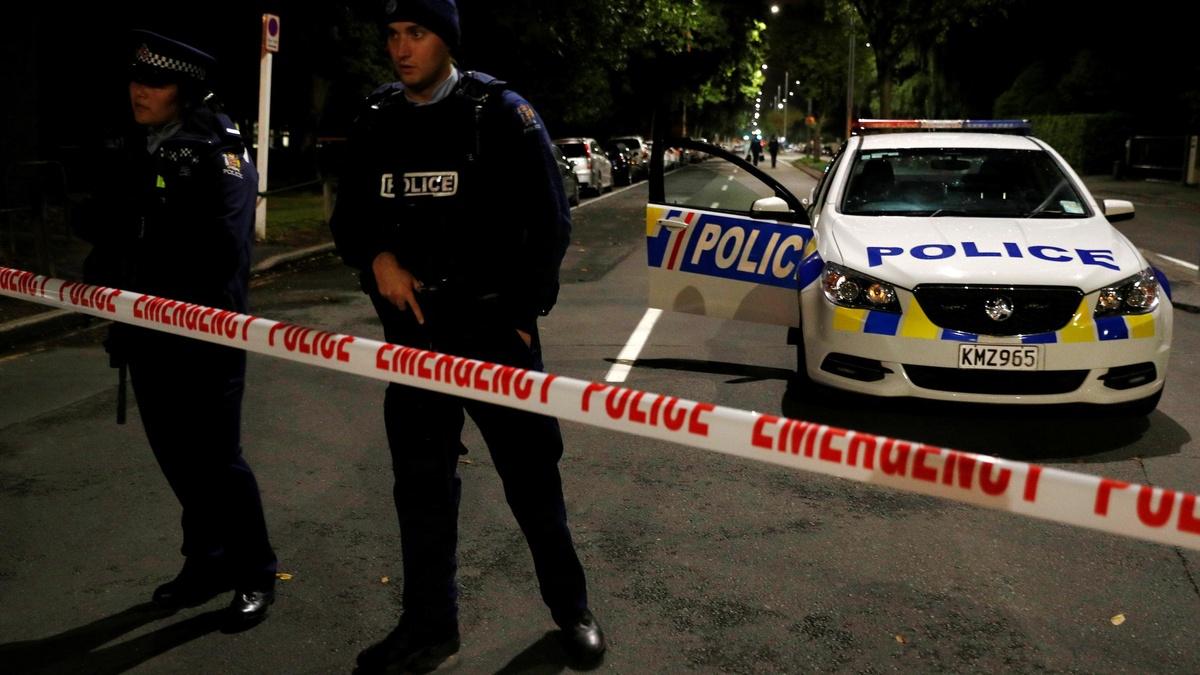 CLIP
New Zealand mosque suspect lauded racist, violent extremism
Christchurch, New Zealand's second-largest city, was the site of horrific carnage Friday, as a gunman stormed two mosques during Friday prayers, killing at least 49 people and injuring dozens more. Police arrested the alleged shooter, who cited other mass killings as inspiration. Amna Nawaz reports on what New Zealand Prime Minister Jacinda Ardern called one of the country's "darkest days."
TRANSCRIPT

JUDY WOODRUFF: New Zealand is a nation stricken tonight.

A self-declared white supremacist gunned down Muslims at prayer today, striking terror into

a country where police rarely carry guns.

The massacre in the city of Christchurch left at least 49 dead and another 48 wounded.

Amna Nawaz begins our coverage.

AMNA NAWAZ: It is the deadliest shooting in New Zealand's modern history.

Prime Minister Jacinda Ardern addressed the nation hours after the horror unfolded.

JACINDA ARDERN, Prime Minister of New Zealand: It is clear that this one of New Zealand's

darkest days.

AMNA NAWAZ: Just before 2:00 p.m. local time, a gunman dressed in all black stormed the

Al-Noor Mosque in Christchurch, crowded with worshipers for Friday prayers.

MAHMOOD NASSIR, Eyewitness: We heard, you know, the firing, and then, everybody just

run to the back doors just to save themselves.

AMNA NAWAZ: Mohammed Jama, former president of the mosque, saw the gunman enter the building.

MOHAMMED JAMA, Former President, Masjid Al-Noor Mosque: He had helmet, and he had glasses,

and he had the dress of the military, and he has gun, machine gun.

AMNA NAWAZ: After two minutes, the gunman walked outside, shooting people on the sidewalk.

He then went back into the mosque to continue shooting some of those already wounded.

Ramzan Ali survived by hiding.

RAMZAN ALI, Survivor: I just lie down under the bench, thinking that, if I get up, I will

get shot.

So I'm just keeping my fingers crossed, so I could be alive.

AMNA NAWAZ: Within two hours, more worshipers killed in a second attack at Linwood Mosque

three miles away.

The gunman live-streamed the attack on Facebook, apparently using a helmet camera.

Facebook said later that it had removed both the shooter's Facebook and Instagram accounts,

and taken down the video after the shooting and all posts supporting the attack.

Police have charged one man with murder and detained two others for investigation.

On social media, the apparent shooter identified himself as Brenton Tarrant, a 28-year-old

Australian.

He posted a 74-page manifesto, calling himself an avowed racist, and citing as inspiration

both the white supremacist who killed 77 people in Norway in 2011 and the white supremacist

who murdered nine black parishioners at a Charleston, South Carolina, church in 2015.

He also mentioned President Donald Trump by name, calling him a -- quote -- "symbol of

renewed white identity."

In Washington this afternoon, President Trump addressed the attack.

DONALD TRUMP, President of the United States: These places of worship were turned into scenes

of evil killing.

You have all been seeing what went on.

It's a horrible, horrible thing.

I told the prime minister that the United States is with them all the way.

AMNA NAWAZ: The massacre left New Zealand's small and close-knit Muslim community, around

50,000 people, reeling.

YASMIN ALI, Resident of Christchurch: Family friends that we have known for 19 years dead,

people who were there for my engagement dead.

AMNA NAWAZ: In neighboring Australia, Prime Minister Scott Morrison denounced the attack.

SCOTT MORRISON, Australian Prime Minister: We grieve, we are shocked, we're appalled,

we are outraged, and we stand here and condemn absolutely the attack which occurred today

by an extremist right-wing violent terrorist.

JACINDA ARDERN: It is clear that this can now only be described as a terrorist attack.

AMNA NAWAZ: The mass shooting, New Zealand's first in more than 20 years, prompted unequivocal

condemnation from the prime minister.

JACINDA ARDERN: There is no place in New Zealand for such acts of extreme and unprecedented

violence, which it is clear this act was.

AMNA NAWAZ: Tonight, police in New Zealand and around the world say they are ramping

up security for mosques.

For the "PBS NewsHour," I'm Amna Nawaz.