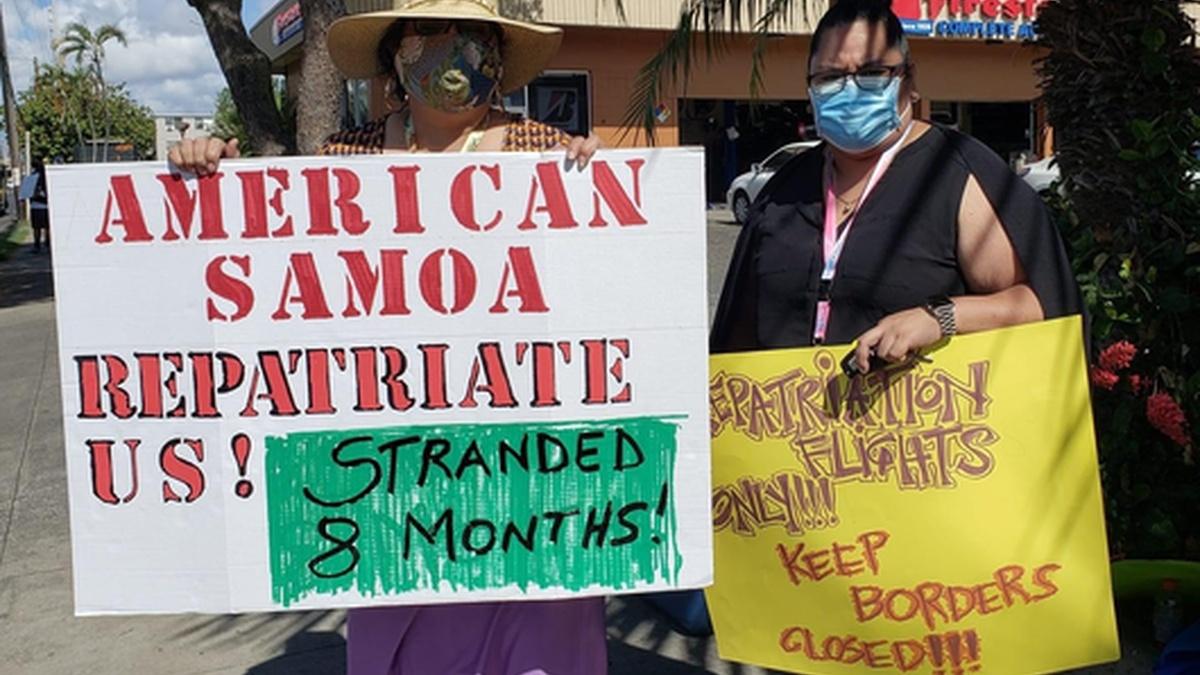 CLIP
Stranded in the U.S., American Samoans are unable to go home
American Samoa is one of the few places in the world with zero reported COVID-19 cases. The U.S. territory, 2,600 miles from Hawaii, shut down its borders in March to commercial flights to prevent the spread of the virus to its 55,000 residents. The cost? An estimated 562 American Samoan residents are stranded and still waiting for when they can get home. Laura Fong reports
TRANSCRIPT

>> Hill: WHILE THE COVID-19

PANDEMIC HAS TOUCHED NEARLY

EVERY COUNTRY IN THE WORLD AND

ALL 50 UNITED STATES, ONE U.S.

TERRITORY HAS ZERO REPORTED

CASES OF THE CORONAVIRUS.

AMERICAN SAMOA SHUT DOWN ITS

BORDERS AND HALTED ALL INCOMING

COMMERCIAL FLIGHTS IN MARCH.

BUT SHUTTING DOWN ITS BORDERS

HAS COME AT A COST; HUNDREDS OF

AMERICAN SAMOANS CANNOT GO HOME

AND ARE STRANDED ACROSS THE U.S.

NEWSHOUR WEEKEND'S LAURA FONG

HAS MORE.

>> AND EVERY TIME, THEY ALWAYS

ASK WHAT-- WHAT TIME ARE YOU

GOING TO COME BACK HOME?

WHEN ARE YOU GOING TO COME BACK

HOME?

>> Reporter: FITI AINA IS

STRANDED IN HONOLULU, HAWAII,

2,600 MILES AWAY FROM HIS HOME,

HIS WIFE DANIELLE AND THEIR SIX

KIDS, WHO ARE IN AMERICAN SAMOA.

HIS YOUNGEST, JOLIZABETH, JUST

TURNED A YEAR OLD LAST WEEK.

>> MY YOUNGEST, SHE STARTED

WALKING.

IT'S SO HARD.

I'M NOT THERE NEXT TO THEM.

>> I-- I TOLD MY KIDS, YOU KNOW,

JUST PRAY ON IT.

PRAY ON IT.

>> Reporter: HIS WIFE DANIELLE

WORKS AS A SIXTH GRADE TEACHER.

>> IT'S NOT GOING TO BE THE

SAME.

LIKE, THERE'S ALWAYS THAT PIECE

MISSING.

WE NEED TO PUT THAT PIECE BACK

IN PLACE.

THAT'S OUR ONLY WISH-- NOT ONLY

ME, BUT MY KIDS, TOO-- IS TO

HAVE HIM HOME, HAVE HIM HOME FOR

THE HOLIDAYS.

>> Reporter: THE AINA FAMILY

LIVE IN AMERICAN SAMOA, A U.S.

TERRITORY WITH ABOUT 55,000

RESIDENTS AND A FIVE-HOUR FLIGHT

FROM HONOLULU.

IN MARCH, AMERICAN SAMOA HALTED

ALL INCOMING COMMERCIAL FLIGHTS

DUE TO THE COVID-19 PANDEMIC.

SINCE THEN, WITH NO COMMERCIAL

FLIGHTS AVAILABLE, GOVERNOR LOLO

MATALASI MOLIGA HAS ALLOWED TWO

CHARTERED FLIGHTS TO LEAVE THE

ISLAND FOR THOSE IN NEED OF

MEDICAL TREATMENT, AS AMERICAN

SAMOA HAS LIMITED MEDICAL

RESOURCES.

FITI AINA NEEDED GALLBLADDER

SURGERY, AND WHEN HE GOT ON ONE

OF THOSE FLIGHTS IN JULY, HE WAS

TOLD IT WAS A ONE-WAY TICKET.

>> IT WAS A SACRIFICE THAT I HAD

TO MAKE WHEN I HEARD THERE'S A--

A ONE-WAY TICKET.

BUT I WAS ON A PLANE AND PRAYING

THAT-- ONE DAY THAT THEY'RE

GOING TO HAVE A-- A FLIGHT TO GO

BACK HOME, YOU KNOW?

>> Reporter: FOUR MONTHS LATER,

HE STILL DOESN'T KNOW WHEN HE

CAN RETURN HOME.

>> IT'S GOING TO GET TO THAT

POINT WHEN, LIKE, GETTING

CRUSHED DOWN, AND YOUR HOPE--

IT'S NOT THERE ANYMORE.

>> Reporter: NOW, FITI AINA IS

ONE OF AN ESTIMATED 562 AMERICAN

SAMOA RESIDENTS TRYING TO GET

BACK FROM THE UNITED STATES.

THE MAJORITY ARE STRANDED IN

HAWAII, WASHINGTON STATE,

CALIFORNIA AND UTAH.

WOULD YOU SAY THAT MOST OF THOSE

FOLKS WANT TO GO HOME IN THE

NEXT FEW WEEKS?

OR, IF THERE WAS A FLIGHT IN THE

NEXT FEW WEEKS, THEY WOULD BE

WANTING TO GET ON THAT FLIGHT?

>> OH, GOSH.

NOT MOST,ALL.

IF THERE WAS, LIKE, A FLIGHT

TOMORROW, THEY WOULD DO WHATEVER

THEY CAN TO-- TO GET HOME.

>> Reporter: EILEEN TYRELL IS

PRESIDENT OF TAGATA TUTU FAATASI

ALLIANCE OF AMERICAN SAMOA.

IN SAMOAN, IT MEANS "PEOPLE

STANDING TOGETHER."

THE ALLIANCE IS PRESSING FOR THE

AMERICAN SAMOA GOVERNMENT TO

REPATRIATE ITS RESIDENTS AS

SAFELY AND AS SOON AS POSSIBLE.

>> IT HAS BECOME THERAPEUTIC

PLATFORM.

IT HAS BECOME AN INFORMATIONAL

HUB.

>> Reporter: TYRELL BEGAN

ORGANIZING THE GROUP WHEN HER

MOTHER, MARAIA MALAE LEIATO,

BECAME STRANDED EARLIER THIS

YEAR WHILE VISITING TYRELL IN

WASHINGTON STATE.

WHILE MANY AMERICAN SAMOAN

RESIDENTS ARE U.S. NATIONALS--

MEANING THEY CAN WORK AND VISIT

THE U.S. EASILY-- SOME ARE

VISITING ON VISITOR VISAS, LIKE

HER MOTHER.

TYRELL ESTIMATES AS MANY AS 100

AMERICAN SAMOA RESIDENTS ARE

STRANDED HERE ON SIX-MONTH

VISAS, WITH A COSTLY FEE TO

RENEW.

>> A LOT OF THEM HAD ALREADY

PAID OUT OF POCKET BECAUSE THEY

WERE AFRAID.

THEY WERE VERY AFRAID OF HAVING

ICE COME AFTER THEM, AND THEY'VE

HAD TO SCRAMBLE TO PAY FOR THE

$455 EXTENSION VISA FEE.

>> Reporter: ON FRIDAY NIGHTS,

THE ALLIANCE HOLDS A WEEKLY

"WELLNESS CHECK-IN" FOR PEOPLE

TO CONNECT AND SHARE THEIR

STORIES.

>> WE'RE ALL GOING THROUGH THE

SAME THING.

WE'RE STRANDED HERE, AND WE MISS

HOME.

>> PEOPLE, THEY GO THROUGH

DEPRESSION.

THEY GO THROUGH GRIEF.

THEY GO-- YOU KNOW, IT'S A

MATTER OF HOW THEY PROCESS, YOU

KNOW, AND WHAT THEY'RE ABLE TO

PROCESS.

IT HAS BEEN AN EMOTIONAL

JOURNEY, FINANCIAL STRAIN FOR

THE FAMILIES.

>> Reporter: THERE IS ALSO THE

FEAR OF GETTING THE CORONAVIRUS.

ACCORDING TO THE PACIFIC

ISLANDER COVID-19 RESPONSE TEAM,

NATIVE HAWAIIAN AND PACIFIC

ISLANDERS CONTRACT THE VIRUS AT

DISPROPORTIONATELY HIGH RATES IN

STATES WHERE DATA IS COLLECTED

BY RACE.

IN HAWAII, PACIFIC ISLANDERS--

INCLUDING SAMOANS-- ARE THE MOST

LIKELY TO BE HOSPITALIZED OR DIE

FROM THE CORONAVIRUS, MORE THAN

ANY OTHER RACIAL OR ETHNIC

GROUP.

AND IS THAT A CONCERN OF SOME OF

YOUR STRANDED RESIDENTS HERE,

THAT THEY COULD GET COVID IN THE

WAITING PROCESS?

>> THAT'S A CONCERN FOR

EVERYBODY,EVERY SINGLE PERSON.

MY BIGGEST, BIGGEST FEAR IS THAT

SOMEONE OF THE STRANDED

RESIDENTS WHO IS WAITING WILL

GET THE VIRUS AND DIE.

SAMOANS-- PACIFIC ISLANDERS, IN

GENERAL-- THEY LIVE IN

MULTIGENERATIONAL HOMES BECAUSE,

YOU KNOW, FAMILY IS SUCH A HUGE

THING FOR THEM.

>> Reporter: WHILE FITI AINA WAS

WAITING IN HAWAII TO GO HOME, HE

FOUND OUT THAT HE HAS AN

ENLARGED HEART, PUTTING HIM AT

HIGH RISK FOR COMPLICATIONS IF

HE CONTRACTS COVID-19.

>> IT'S HARD FOR ME TO-- TO GO

FIND A JOB.

IF I AM GOING TO GET THE VIRUS,

IT'S THE END GAME FOR ME.

>> Reporter: BACK IN AMERICAN

SAMOA, A COVID-19 TASK FORCE AND

THE LOCAL HEALTH DEPARTMENT HAVE

OUTLINED A FOUR-STAGE

REPATRIATION PLAN, INCLUDING A

TEN-DAY QUARANTINE IN HONOLULU

BEFORE THE FLIGHT HOME AND A

14-DAY QUARANTINE AFTER ARRIVAL.

EARLIER THIS MONTH, THE GOVERNOR

APPROVED A PROVISIONAL DATE FOR

JANUARY 19 FOR THE FIRST

REPATRIATION FLIGHT.

AINA DOESN'T KNOW IF WILL BE ON

THAT FLIGHT OR IF IT WILL BE

DELAYED, BUT, FOR HIM AND HIS

FAMILY, IT COULD NOT COME SOON

ENOUGH.