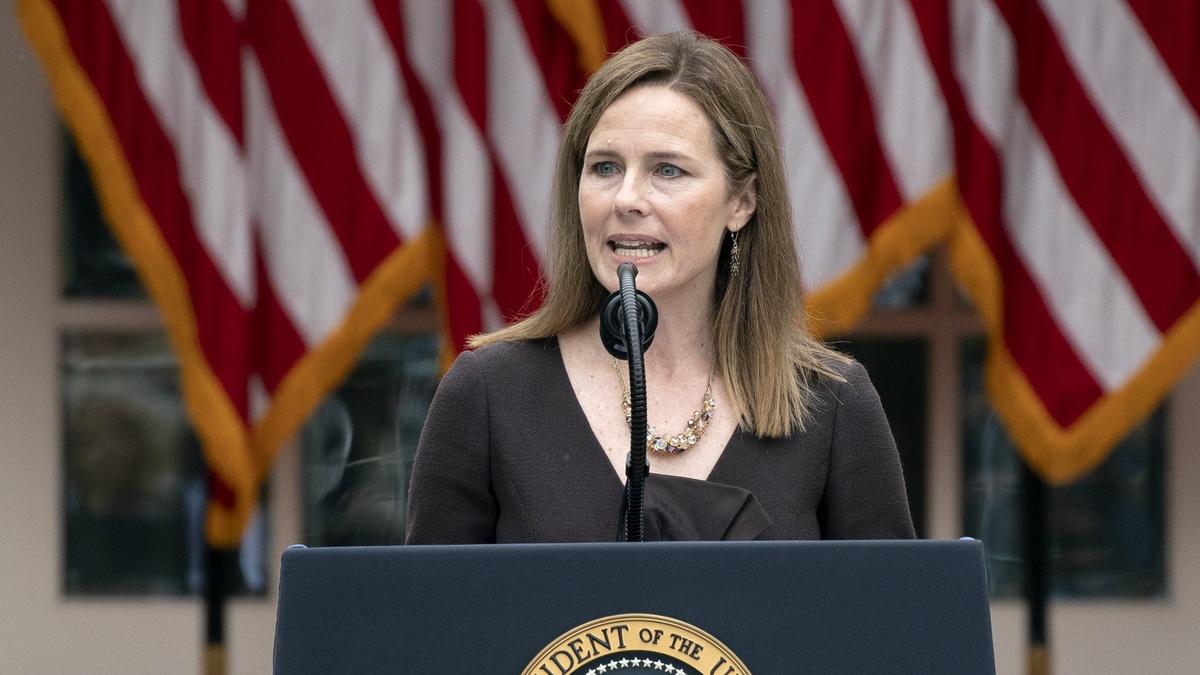 FULL EPISODE
September 27, 2020 - PBS NewsHour Weekend full episode
September 27, 2020 - PBS NewsHour Weekend full episode
TRANSCRIPT

>> Sreenivasan: ON THIS EDITION

FOR SUNDAY, SEPTEMBER 27: THE

PARTISAN FIGHT OVER THE

CONFIRMATION OF SUPREME COURT

NOMINEE JUDGE AMY CONEY BARRETT.

>> I HAVE NO ILLUSIONS THAT THE

ROAD AHEAD OF ME WILL BE EASY.

>> Sreenivasan: THE NEXT STOP IN

OUR ROADS TO ELECTION 2020: THE

STATE OF GEORGIA; AND PUERTO

RICO'S RENEWED PUSH FOR

STATEHOOD.

NEXT ON "PBS NEWSHOUR WEEKEND."

>>PBS NEWSHOUR WEEKEND IS MADE

POSSIBLE BY:

SUE AND EDGAR WACHENHEIM III.

THE ANDERSON FAMILY FUND.

BERNARD AND DENISE SCHWARTZ.

THE CHERYL AND PHILIP MILSTEIN

FAMILY.

BARBARA HOPE ZUCKERBERG.

THE LEONARD AND NORMA KLORFINE

FOUNDATION.

CHARLES ROSENBLUM.

WE TRY TO LIVE IN THE MOMENT,

TO NOT MISS WHAT'S RIGHT IN

FRONT OF US.

AT MUTUAL OF AMERICA, WE

BELIEVE TAKING CARE OF TOMORROW

CAN HELP YOU MAKE THE MOST OF

TODAY.

MUTUAL OF AMERICA FINANCIAL

GROUP, RETIREMENT SERVICES AND

INVESTMENTS.

>> FOR 25 YEARS, CONSUMER

CELLULAR HAS BEEN OFFERING

NO-CONTRACT WIRELESS PLANS,

DESIGNED TO HELP PEOPLE DO MORE

OF WHAT THEY LIKE.

OUR U.S.-BASED CUSTOMER SERVICE

TEAM CAN HELP FIND A PLAN THAT

FITS YOU.

TO LEARN MORE, VISIT

www.consumercellular.tv.

ADDITIONAL SUPPORT HAS BEEN

PROVIDED BY:

AND BY THE CORPORATION FOR

PUBLIC BROADCASTING, A PRIVATE

CORPORATION FUNDED BY THE

AMERICAN PEOPLE.

AND BY CONTRIBUTIONS TO YOUR

PBS STATION FROM VIEWERS LIKE

YOU.

THANK YOU.

>> Sreenivasan: GOOD EVENING AND

THANK YOU FOR JOINING US.

WITHIN HOURS OF THE OFFICIAL

ANNOUNCEMENT OF PRESIDENT

TRUMP'S NOMINEE TO THE SUPREME

COURT, REPUBLICANS ANNOUNCED

THEIR FAST-TRACK SCHEDULE FOR

SENATE CONFIRMATION HEARINGS

BEGINNING OCTOBER 12.

AT THE WHITE HOUSE YESTERDAY,

THE NOMINEE, FEDERAL APPEALS

COURT JUDGE AMY CONEY BARRETT,

SAID SHE IS PREPARED FOR WHAT IS

ALREADY A CONTENTIOUS, PARTISAN

DEBATE OVER HER NOMINATION.

>> I HAVE NO ILLUSIONS THAT THE

ROAD AHEAD OF ME WILL BE EASY,

EITHER FOR THE SHORT TERM OR THE

LONG HAUL.

>> Sreenivasan: SENATE JUDICIARY

CHAIRMAN LINDSEY GRAHAM SAID

AFTER HEARINGS IN HIS COMMITTEE,

THE SENATE SHOULD BE ABLE TO

TAKE UP A VOTE ON BARRETT'S

CONFIRMATION BEFORE NOVEMBER 3.

>> WE'LL START ON THE 12th.

WE'LL HAVE FOUR DAYS OF

HEARINGS.

THEN WE'LL HOLD OVER THE

NOMINATION FOR A WEEK CONSISTENT

WITH THE RULES OF THE JUDICIARY

COMMITTEE, AND HOPEFULLY IT WILL

COME TO THE FLOOR AROUND THE

26th.

>> Sreenivasan: THE REPUBLICAN-

CONTROLLED SENATE NEEDS ONLY A

SIMPLE MAJORITY VOTE TO CONFIRM

BARRETT'S NOMINATION, AND

PRESIDENT TRUMP SAID AGAIN LAST

NIGHT HE THINKS THE VOTE WILL

COME BEFORE ELECTION DAY.

THIS MORNING THE PRESIDENT

CLAIMED THAT THE AFFORDABLE CARE

ACT WOULD BE REPLACED WITH A

"MUCH BETTER AND FAR CHEAPER

ALTERNATIVE" IF OVERTURNED BY

THE SUPREME COURT.

MR. TRUMP HAS CLAIMED TO HAVE

SUCH A PLAN SINCE HE WAS A

CANDIDATE IN 2015 AND HAS YET TO

PRESENT IT.

DEMOCRATIC PRESIDENTIAL NOMINEE

AND FORMER VICE PRESIDENT JOE

BIDEN QUOTED THE PRESIDENT'S

TWEET TODAY AND WARNED THAT IT

SIGNALS THAT HEALTHCARE

PROTECTIONS GUARANTEED UNDER THE

A.C.A. ARE AT STAKE IF JUDGE

BARRETT JOINS THE COURT.

>> IT SHOULD COME AS NO SURPRISE

THAT ON SATURDAY PRESIDENT TRUMP

WOULD NOMINATE AMY CONEY BARRETT

AND ON SUNDAY LAY OUT CLEARLY

WHAT HIS OBJECTIVE IS: TO

TERMINATE OBAMACARE.

THE JUDGE HAS A WRITTEN TRACK

RECORD OF DISAGREEING ADAMANTLY

WITH THE SUPREME COURT'S

DECISIONS ON TWO OCCASIONS

UPHOLDING THE A.C.A.

>> Sreenivasan: THIS TUESDAY

NIGHT, DONALD TRUMP AND JOE

BIDEN MEET AT CASE WESTERN

RESERVE UNIVERSITY IN CLEVELAND,

OHIO, FOR THE FIRST OF THEIR

THREE SCHEDULED DEBATES.

THEY'RE BEING BILLED AS

POTENTIAL "GAME CHANGERS,"

POTENTIALLY DECISIVE EVENTS.

BUT IS THAT WHAT HISTORY SAYS?

WE ASKED SPECIAL CORRESPONDENT

JEFF GREENFIELD TO ANSWER THAT

QUESTION.

>> THE FIRST QUESTION TO SENATOR

KENNEDY FROM--

>> THIS IS WHAT EVERY HISTORY OF

PRESIDENTIAL DEBATES FEATURES.

MOMENTS, LIKE RICHARD NIXON'S

DRAWN FACE FROM THE VERY FIRST

DEBATE, IN 1960.

PRESIDENT GERALD FORD

PREMATURELY LIBERATING POLAND IN

1976.

>> THERE IS NO SOVIET DOMINATION

OF EASTERN EUROPE AND THERE

NEVER WILL BE UNDER A FORD

ADMINISTRATION.

>> RONALD REAGAN'S CLASSIC

CLOSING ARGUMENT IN 1980:

>> ARE YOU BETTER OFF THAN YOU

WERE FOUR YEARS AGO?

>> AND HIS QUIP ABOUT HIS AGE

AFTER A DISASTROUS FIRST DEBATE

IN 1984.

>> I WILL NOT MAKE AGE AN ISSUE

OF THIS CAMPAIGN.

I AM NOT GOING TO EXPLOIT FOR

POLITICAL PURPOSES MY OPPONENTS'

YOUTH AND INEXPERIENCE.

>> THERE WAS PRESIDENT GEORGE

H.W. BUSH LOOKING AT HIS WATCH

IN 1992, SUGGESTING IMPATIENCE,

OR AL GORE, TRYING TO STALK

GEORGE W. BUSH IN 2000.

AND FROM 2016, ENDLESS JABS

BETWEEN CLINTON AND TRUMP.

>> LOOK, PUTIN--

>> WAIT, BUT--

>> FROM EVERYTHING I SEE, HAS NO

RESPECT FOR THIS PERSON.

>> WELL, THAT'S BECAUSE HE'D

RATHER HAVE A PUPPET AS

PRESIDENT OF THE UNITED STATES.

>> NO PUPPET.

NO PUPPET.

>> AND IT'S PRETTY CLEAR--

>> YOU'RE THE PUPPET.

>> IT'S PRETTY CLEAR--

>> AND A COMMENT FROM TRUMP THAT

HAS BEEN HEARD AGAIN FOUR YEARS

LATER.

>> DO YOU MAKE THE SAME

COMMITMENT THAT YOU WILL

ABSOLUTELY-- SIR, THAT YOU WILL

ABSOLUTELY ACCEPT THE RESULT OF

THIS ELECTION?

>> I WILL LOOK AT IT AT THE

TIME.

I'M NOT LOOKING AT ANYTHING NOW.

I'LL LOOK AT IT AT THE TIME.

>> TUESDAY NIGHT'S DEBATE WILL

BE WATCHED VERY CLOSELY FOR SUCH

MOMENTS, ON THE ASSUMPTION THAT

THEY COULD MAKE OR BREAK A

CAMPAIGN.

BUT WHETHER THAT ASSUMPTION IS

VALID IS A VERY DIFFERENT

QUESTION.

HARI?

>> Sreenivasan: JEFF, WHAT DOES

THE EVIDENCE SUGGESTS THERE, IS

THAT ASSUMPTION VALID?

>> THE EVIDENCE AS FAR AS IT CAN

BE DISCERNED IS THAT THE DEBATES

DON'T HAVE THAT MUCH OF AN

IMPACT.

THEY MAY HAVE AN IMPACT FOR A

DAY OR TWO, BUT GENERALLY

SPEAKING, IT'S MARGINAL AT BEST.

I MEAN, REAGAN WAS AHEAD IN THE

POLLS BEFORE THAT CLASSIC

CLOSING COMMENT IN 1980.

GORE WAS SAID NOT TO HAVE DONE

WELL IN THE DEBATES, BUT HE

ACTUALLY CLOSED TO A POPULAR

VOTE VICTORY IN 2000.

HILLARY CLINTON WHO "WON" ALL

THE DEBATES BY CONVENTIONAL

WISDOM WAS NARROWLY AHEAD OF

TRUMP AND THE LATE DECIDERS IN

2016 WENT FOR TRUMP.

SO, IT'S A VERY SHAKY ASSUMPTION

THAT THESE DEBATES DO MORE THAN

MOVE MARGINAL VOTES.

BUT AS WE SAW FOUR YEARS AGO,

EVEN A MARGINAL SHIFT CAN

SOMETIMES MAKE A DIFFERENCE.

>> Sreenivasan: SO, WHY DO WE

THINK THAT PEOPLE WATCH THESE IF

IT ULTIMATELY DOESN'T MATTER AS

MUCH TO THEM?

>> YEAH, I THINK YOU HAVE TO

MAKE A DISTINCTION IN PRIMARIES

WHEN VOTERS MAY NOT BE FAMILIAR

WITH CANDIDATES.

THEY MAY BEGIN TO FORM REAL

IMPRESSIONS DURING THESE ENDLESS

DEBATES, BUT BY GENERAL

ELECTION, A MONTH BEFORE THE

ELECTION, MOST PEOPLE KNOW WHO

THEY'RE VOTING FOR.

POLLS TODAY SHOW THAT 90% OF THE

VOTERS HAVE ALREADY MADE UP

THEIR MIND.

SO, THE SENSE IS THAT THEY'RE

WATCHING MORE LIKE SPORTING

EVENTS, YOU KNOW, WHERE YOU

CHEER ON YOUR CANDIDATE, AND YOU

BOO THE OTHER CANDIDATE.

AND IF YOUR CANDIDATE HAS A BAD

PERFORMANCE, IT'S LIKE YOUR TEAM

LOSES A GAME.

YOU DON'T LEAVE THE TEAM.

AND THAT'S KIND OF WHERE I THINK

WE ARE WITH A LOT OF THESE

DEBATES.

>> Sreenivasan: YOU KNOW, IT

SEEMS ALMOST LIKE THE FINANCIAL

MARKETS, SO MUCH OF THIS IS

MANAGING EXPECTATIONS.

AND, IN A WAY, THE PRESIDENT'S

ATTACKS ON JOE BIDEN, HIS ENERGY

LEVEL, ET CETERA, ARE THEY

SETTING THE BAR TOO LOW?

>> WELL, LET'S SEE, THE

PRESIDENT HAS SUGGESTED THAT

BIDEN IS IN THE EARLY STAGES OF

DEMENTIA.

HE'S PROPOSED A DRUG TEST

BECAUSE HE SAYS THE ONLY

EXPLANATION FOR WHEN BIDEN DOES

WELL IS THAT HE'S ON DRUGS.

SO YOU MIGHT THINK THAT IF BIDEN

SHOWS UP FOR, YOU KNOW, FOR THE

DEBATE AND DOES NOT BEGIN

SPEAKING IN TONGUES, THAT'LL BE

A VICTORY.

NOW, JUST IN THE LAST 24 HOURS,

TRUMP HAS SAID, WELL, YOU KNOW,

HE HAS BEEN AN EXPERIENCED

DEBATER FOR ALL THOSE YEARS IN

THE SENATE.

BUT IT'S FAIR TO POINT OUT THAT

IN THE PRIMARIES, IN WHICH WE

SAW VERY UNEVEN PERFORMANCES BY

BIDEN, YOU KNOW, HE WAS UP, HE

WAS DOWN, MAYBE THE BETTER

MEASURE IS THAT IN THE TWO VICE

PRESIDENTIAL DEBATES HE HAD

AGAINST SARAH PALIN AND PAUL

RYAN, HE WAS BETTER.

BUT I DO THINK THAT IF YOU SEE

WHERE THE POLLS ARE, THEY'VE

BEEN UTTERLY KIND OF ALMOST

STATIC WITH BIDEN HAVING A

SUBSTANTIAL LEAD AND A

REASONABLE LEAD IN THE

BATTLEGROUND STATES THAT

PRESIDENT TRUMP WILL DO ANYTHING

AND EVERYTHING HE CAN.

AND AS WE'VE SEEN FOR FIVE

YEARS, IF YOU TRY TO PREDICT

WHAT DONALD TRUMP IS GOING TO

DO, YOU KNOW, YOU'RE IN FOR A

FOOL'S ERRAND.

>> Sreenivasan: ALL RIGHT.

JEFF GREENFIELD JOINING US FROM

SANTA BARBARA.

THANKS SO MUCH.

>> THANK YOU, HARI.

>> Sreenivasan: FOR MORE ON THE

PRESIDENTIAL DEBATES AND OTHER

NATIONAL AND INTERNATIONAL NEWS,

VISIT pbs.org/newshour.

>> Sreenivasan: HEALTHCARE IS

ALMOST ALWAYS A TOP ISSUE FOR

VOTERS, AND THIS YEAR, AS THE

U.S. REMAINS THE CENTER OF THE

CORONAVIRUS PANDEMIC, ACCESS TO

HEALTH INSURANCE HAS TAKEN ON

EVEN MORE IMPORTANCE.

GEORGIA HAS HAD MORE THAN

300,000 CONFIRMED CORONAVIRUS

INFECTIONS AND 6,900 DEATHS.

IT'S ALSO A STATE WITH ONE OF

THE HIGHEST RATES OF UNINSURED

PEOPLE IN THE COUNTRY.

IN RESPONSE TO SO FEW PEOPLE

BEING COVERED, STATE OFFICIALS

ARE TRYING TO CHANGE THE WAY

GEORGIANS FIND HEALTH INSURANCE

UNDER THE AFFORDABLE CARE ACT OR

OBAMACARE.

BUT WILL THE PROPOSAL, WHICH

NEEDS APPROVAL FROM THE FEDERAL

GOVERNMENT, HELP MORE GEORGIANS

GET COVERED, OR HAVE THE EXACT

OPPOSITE EFFECT?

AS PART OF OUR ONGOING "ROADS TO

ELECTION 2020" SERIES, NEWSHOUR

WEEKEND'S CHRISTOPHER BOOKER HAS

THE STORY.

>> Reporter: WHEN STEVEN CRAYNE

THOUGHT ABOUT STARTING HIS OWN

WEB DESIGN BUSINESS SEVEN YEARS

AGO AFTER A CAREER IN

MERCHANDISING AND MARKETING, ONE

OF THE BIGGEST CONCERNS WAS

HEALTH INSURANCE.

>> AND I WAS ALWAYS DEATHLY

AFRAID OF IT BECAUSE, ONE, YOU

KNOW, YOU KNOW, I NEED

HEALTHCARE BENEFITS.

>> Reporter: OVER THE PAST FOUR

YEARS, THE 62-YEAR-OLD, WHO

LIVES IN GAINESVILLE, GEORGIA,

HAS HAD SKIN CANCER REMOVED FROM

HIS FACE TWICE.

HE'S ON ROUTINE MEDICATION FOR

UNDERLYING HEALTH CONDITIONS AND

HE PROVIDES HEALTH INSURANCE FOR

HIS WIFE AND SON.

SO WHEN CRAYNE LAUNCHED HIS

BUSINESS IN 2014 HE EVENTUALLY

STARTED LOOKING TO GET INSURANCE

ON HIS OWN.

HE TURNED TO THE FEDERAL

MARKETPLACE CREATED BY THE

AFFORDABLE CARE ACT, OR A.C.A.,

THE 2010 HEALTHCARE LAW COMMONLY

KNOWN AS OBAMACARE.

HE WAS NERVOUS, THOUGH, SINCE

ALL HE HAD HEARD WERE NEGATIVE

THINGS ABOUT THE MARKETPLACE.

>> SO, WHEN I CALLED A.C.A., I

WAS LIKE, WOW.

THEY WERE REALLY, REALLY

HELPFUL.

WE WENT THROUGH THE DEDUCTIBLES

AND EVERYTHING.

AND TOGETHER WE FOUND THE RIGHT

PLAN.

>> Reporter: SO IT CAME AS A

SHOCK TO CRAYNE WHEN HE FOUND

OUT VIA A TWEET ONLY LAST MONTH

THAT THE STATE OF GEORGIA WAS

TRYING TO CHANGE HOW PEOPLE

ACCESS HEALTH INSURANCE UNDER

THE A.C.A.

>> WHEN I FIRST SAW IT, I WAS

LIKE, WHAT?

I DIDN'T HEAR ANYTHING ABOUT IT.

I WAS, LIKE, COMPLETELY

BLINDSIDED, OKAY.

AND, YOU KNOW, THAT WAS SCARY,

OKAY.

AND I WAS LIKE, WELL, WHAT IS

IT?

>> Reporter: WHAT IT IS IS A SET

OF TWO PROPOSALS THAT WERE

SUBMITTED TO THE FEDERAL

GOVERNMENT IN JULY FOR APPROVAL.

THE PROPOSALS WOULD, ONE, CREATE

WHAT'S CALLED A REINSURANCE

PROGRAM TO HELP OFFSET THE COST

OF POLICYHOLDERS WITH HIGH

MEDICAL BILLS.

THE SECOND AND MORE CONTENTIOUS

INITIATIVE WOULD ELIMINATE

ACCESS TO THE FEDERAL HEALTHCARE

MARKETPLACE healthcare.gov.

INSTEAD, GEORGIANS SHOPPING FOR

HEALTHCARE COVERAGE WOULD BE

STEERED TO PRIVATE BROKERS AND

INSURANCE WEBSITES IN WHAT'S

CALLED THE "GEORGIA ACCESS

MODEL."

GEORGIA GOVERNOR BRIAN KEMP'S

ADMINISTRATION DECLINED PBS

NEWSHOUR WEEKEND'S INTERVIEW

REQUEST.

BUT IN THE STATES' APPLICATION,

IT CONTENDS THAT MOVING TO THIS

MORE DECENTRALIZED MODEL COULD

INCREASE ENROLLMENT IN HEALTH

INSURANCE BY 25,000 PEOPLE IN

FIVE YEARS, THROUGH "IMPROVED

CUSTOMER SERVICE, OUTREACH, AND

EDUCATION PROVIDED BY THE

PRIVATE MARKET."

>> THE ESTIMATES THAT THE

GOVERNOR'S PLAN WILL INCREASE

THE NUMBER OF GEORGIANS WHO

CHOOSE TO ENROLL IN PRIVATE

HEALTH INSURANCE ARE, FRANKLY,

A LITTLE UNBELIEVABLE.

>> Reporter: LAURA COLBERT IS

EXECUTIVE DIRECTOR AT GEORGIANS

FOR A HEALTHY FUTURE, A NON-

PROFIT CONSUMER HEALTH ADVOCACY

ORGANIZATION.

>> THE TRANSITION FROM ONE

SYSTEM TO ANOTHER IS GOING TO BE

DIFFICULT, EVEN FOR CONSUMERS

WHO KNOW IT'S HAPPENING.

WE KNOW THAT NOT ALL CONSUMERS

WILL KNOW THAT THIS CHANGE IS

TAKING PLACE.

SO, SOME OF THOSE CONSUMERS ARE

GOING TO NEED TO CATCH UP.

SOME OF THEM MAY NOT GET THROUGH

THE PROCESS AT ALL.

IT'S MUCH MORE LIKELY THAT

CONSUMERS ARE GOING TO BECOME

UNINSURED IN THIS PROCESS RATHER

THAN HAVING MORE CONSUMERS

BROUGHT INTO THE PRIVATE

INSURANCE SYSTEM.

>> Reporter: THE KEMP

ADMINISTRATION'S PROPOSAL ARGUES

THAT MOVING AWAY FROM THE

FEDERAL MARKETPLACE WILL GIVE

GEORGIANS MORE OPTIONS FOR

HEALTHCARE PLANS AT LOWER

PRICES.

BUT OPPONENTS ARGUE THAT THE

CHEAPER PLANS THAT GEORGIANS MAY

BE STEERED TO BY A BROKER OR

INSURANCE WEBSITE MAY NOT COVER

PRE-EXISTING CONDITIONS AND ALL

OF THE ESSENTIAL HEALTH BENEFITS

THAT THE A.C.A. PLANS DO.

>> NEARLY ALL OF THESE PLANS

EXCLUDE PREGNANCY CARE.

MANY EXCLUDE MENTAL HEALTH.

SOME EXCLUDE PRESCRIPTION DRUGS.

>> Reporter: TARA STRAW IS A

SENIOR POLICY ANALYST WITH THE

CENTER ON BUDGET AND POLICY

PRIORITIES.

>> CONSUMERS HAVE BECOME

ACCUSTOMED TO THE IDEA THAT

THEIR HEALTH INSURANCE IS GOING

TO COVER PRE-EXISTING CONDITIONS

AND IMPORTANT HEALTH BENEFITS.

AND SO, CONSUMERS DON'T KNOW

THAT THEY MAY HAVE BEEN

HOODWINKED INTO PLANS THAT DON'T

OFFER COMPREHENSIVE COVERAGE.

>> Reporter: STRAW AUTHORED A

REPORT EARLIER THIS MONTH THAT

ESTIMATES THAT TENS OF THOUSANDS

OF GEORGIANS COULD LOSE ACCESS

TO HEALTH INSURANCE UNDER THE

KEMP ADMINISTRATION'S PROPOSAL

AND THAT ENDING ACCESS TO THE

A.C.A.'S EXCHANGE WILL ALSO

REDUCE ACCESS TO MEDICAID.

>> JUST DURING OPEN ENROLLMENT

IN 2020, 38,000 PEOPLE STARTED

AT healthcare.gov AND THEN

RECEIVED MEDICAID COVERAGE.

SO, WE CAN EXPECT THAT MANY OF

THOSE PEOPLE WOULD JUST NEVER

FIND THEIR WAY TO MEDICAID

BECAUSE BROKERS, WEB BROKERS AND

INSURANCE COMPANIES, HAVE NO

INCENTIVE TO ENROLL THEM.

THERE'S NO FINANCIAL BENEFIT TO

THEM TO HELP SEE PEOPLE THROUGH

THAT PROCESS.

>> Reporter: STRAW AND OTHERS

POINT OUT THAT EXPANDING

MEDICAID, WHICH THE STATE HAS

NOT DONE, COULD PROVIDE HEALTH

INSURANCE TO AS MANY AS 500,000

LOW INCOME GEORGIANS.

BUT IT IS PERHAPS THE EXCLUSIVE

USE OF BROKERS AND INSURANCE

WEBSITES THAT HAS CRITICS MOST

WORRIED ABOUT THE PLAN.

UNDER THE AFFORDABLE CARE ACT,

CONSUMERS CAN ALREADY USE

BROKERS AND INSURANCE WEBSITES.

IN FACT, FOR THE 2020 ENROLLMENT

PERIOD, CLOSE TO 90,000

GEORGIANS USED THIS APPROACH TO

SIGN UP FOR INDIVIDUAL

INSURANCE.

BUT ABOUT 380,000 GEORGIANS USED

healthcare.gov.

STEVEN CRAYNE WORRIES ABOUT WHAT

IT MIGHT MEAN TO GO DIRECTLY TO

A BROKER WORKING ON COMMISSION.

>> I WOULD BE CONCERNED ABOUT

THEIR IMPARTIALITY, OKAY.

AND AM I PAYING ADDITIONAL COSTS

FOR THAT BROKER?

>> Reporter: TARA STRAW SAYS

THERE'S A REASON TO BE

CONCERNED.

SHE POINTS TO AN AUDIT RELEASED

THIS MONTH BY THE NONPARTISAN

GOVERNMENT ACCOUNTABILITY

OFFICE.

G.A.O. HAD UNDERCOVER AGENTS

CALL 31 INSURANCE BROKERS POSING

AS CUSTOMERS WITH PRE-EXISTING

CONDITIONS LOOKING FOR

HEALTHCARE COVERAGE.

>> NOW, THIS IS GOING TO COVER

MY DIABETES, RIGHT AND MY

INSULIN AND ALL THAT I NEED?

>> YES.

YES, ABSOLUTELY, BECAUSE YOU

HAVE THAT PRESCRIPTION COVERAGE

IN THERE.

>> Reporter: THE AGENCY

CONCLUDED THAT A QUARTER OF THE

BROKERS, "ENGAGED IN POTENTIALLY

DECEPTIVE MARKETING PRACTICES,"

INCLUDING THIS ONE, WHICH SIGNED

THE UNDERCOVER AGENT UP FOR A

PLAN WHERE "PRE-EXISTING

CONDITIONS AND PRESCRIPTION DRUG

COSTS WERE NOT COVERED."

>> THIS IS DEFINITELY AN ISSUE

THAT'S BEEN FLYING UNDER THE

RADAR, BUT IT IS A REAL THREAT

TO THE A.C.A. AND COULD SERVE AS

A MODEL FOR OTHER STATES THAT

HAVE BEEN TRYING TO DISMANTLE

THE A.C.A. THROUGH THE COURTS

AND THAT HAVE BEEN TRYING TO,

TO, YOU KNOW, ATTACK THE A.C.A.

IN DEATH BY A THOUSAND CUTS.

>> Reporter: AS THE U.S. REACHED

ANOTHER GRIM MILESTONE EARLIER

THIS WEEK WITH THE DEATH TOLL

FROM COVID-19 PASSING 200,000,

LAURA COLBERT WORRIES THAT THIS

PROPOSAL COULDN'T COME AT A

WORSE TIME.

>> THIS PLAN WOULD ROLL OUT NEXT

FALL.

HOPEFULLY AT THAT TIME, THE

COUNTRY IS GOING THROUGH KIND OF

A MASSIVE VACCINE CAMPAIGN.

HOPEFULLY WE'RE ALL, YOU KNOW,

KIND OF, YOU KNOW, GETTING BACK

TO WORK AND THE ECONOMY IS KIND

OF ACCELERATING AGAIN.

AND THERE'S A SENTIMENT

EXPRESSED IN SOME OF THE

COMMENTS THAT, THAT FEEL LIKE

THIS WOULD REALLY JUST PULL THE

RUG OUT FROM UNDER FAMILIES AT A

TIME WHEN, WHEN HOPEFULLY PEOPLE

ARE GETTING BACK ON THEIR FEET.

>> Reporter: THE TRUMP

ADMINISTRATION, OR POTENTIALLY A

BRAND-NEW BIDEN ADMINISTRATION,

WILL DECIDE ON GEORGIA'S PLAN BY

FEBRUARY OF 2021.

>> Sreenivasan: FOR MORE ON THE

POLITICAL STATE OF PLAY IN

GEORGIA WHERE BOTH SENATE AND

PRESIDENTIAL RACES ARE HEATING

UP, I SPOKE WITH SENIOR

CORRESPONDENT FOR GEORGIA PUBLIC

BROADCASTING RICKEY BEVINGTON.

RICKEY, A COUPLE OF MONTHS AGO

IT WOULD HAVE BEEN IMPOSSIBLE TO

THINK OF GEORGIA BEING A HOTLY

CONTESTED STATE, BUT THAT'S

WHERE WE'RE AT NOW.

>> THREE DIFFERENT HIGH QUALITY

POLLS THIS WEEK PUT THE BIDEN-

TRUMP PRESIDENTIAL RACE PRETTY

MUCH IN A DEAD HEAT, WHICH IS

EXTRAORDINARY.

TRUMP WON GEORGIA BY JUST UNDER

FIVE POINTS IN 2016.

BIDEN AND THE DEMOCRATS

ANNOUNCED THAT THEY'RE ADDING

GEORGIA TO THEIR 12 STATE

STRATEGY IN TERMS OF SPENDING

MILLIONS OF DOLLARS IN AD BUYS.

BIDEN IS HERE THIS WEEK

TARGETING AFRICAN-AMERICAN MEN.

AND TRUMP IS HERE THIS WEEK ALSO

WITH THE SAME MESSAGE FOR THE

BLACK VOTE.

>> Sreenivasan: WHAT ABOUT WHEN

IT COMES TO GETTING PEOPLE TO

TRUST THE PROCESS, ESPECIALLY IN

LIGHT OF THE FACT THAT THE

PRESIDENT FOR THE LAST SEVERAL

MONTHS HAS MADE UNSUBSTANTIATED

CLAIMS OF MASSIVE MAIL-IN FRAUD?

>> JUST ON FRIDAY, HARI, THE

SECRETARY OF STATE, UNVEILED A

WEB SITE WHERE PEOPLE CAN

ACTUALLY TRACK THEIR ABSENTEE

BALLOT.

THIS IS SIGNIFICANT.

MORE THAN A MILLION GEORGIANS

HAVE REQUESTED AN ABSENTEE

BALLOT SO THAT THEY CAN EITHER

DROP IT OFF AT A DROP BOX OR

MAIL IT IN.

AND NOW WE'RE SEEING THAT THIS,

OF COURSE, TRUST ISSUE IS

IMPORTANT FOR PEOPLE.

AND SO, THE SECRETARY OF STATE

AMONG MANY EFFORTS TO SECURE

PEOPLE'S VOTE AND PROVIDE

CONFIDENCE THAT IT WILL BE

COUNTED, HAS NOW PUBLISHED THIS

WEB SITE.

>> Sreenivasan: CONSIDERING THE

LONG LINES THAT WE SAW IN

GEORGIA DURING THE PRIMARIES,

WHAT HAVE GEORGIA ELECTION

OFFICIALS LEARNED AND WHAT CAN

PEOPLE EXPECT IN NOVEMBER?

>> THERE'S CURRENTLY AN EFFORT

TO RECRUIT 20,000 TECH SAVVY

POLL WORKERS FOR GEORGIA.

THEY'RE AT ABOUT 15,000 RIGHT

NOW.

GEORGIA ROLLED OUT $100 MILLION

NEW VOTING MACHINE SYSTEMS SO

THAT THE MACHINES ARE NEW TO

VOTERS AND TO POLL WORKERS.

>> Sreenivasan: BESIDES THE

PRESIDENTIAL ELECTION, I MEAN,

WE HAVE A TENDENCY TO PUT FOCUS

ON THAT, BUT WE'VE GOT AN

IMPORTANT SENATE RACE AS WELL.

>> WE SURE DO.

AND THOSE SAME POLLS THAT I

MENTIONED ALSO PUT THE RACES

VERY, VERY CLOSE.

WE HAVE TWO REPUBLICAN SENATORS

RUNNING.

KELLY LEFFLER WAS AN APPOINTED

SENATOR AND DAVID PERDUE IS

RUNNING FOR JUST REELECTION

STANDARD.

IT'S ESSENTIALLY A THREE WAY

RACE FOR THE KELLY LEFLER SEAT.

THERE ARE 20 CANDIDATES, WHICH

IS EXTRAORDINARY.

THERE'S NO PRIMARY.

IT'S CALLED A JUNGLE PRIMARY.

THE TOP TWO VOTE GETTERS, IF

NOBODY GETS 50%, WILL GO TO A

RUNOFF REGARDLESS OF PARTY.

CONGRESSMAN DOUG COLLINS IS HER

REPUBLICAN CHALLENGER AND

NEWCOMER, DEMOCRAT REVEREND

RAPHAEL WARNOCK.

COLLINS AND LEFFLER WILL SPLIT

THE REPUBLICAN VOTE ON ELECTION

DAY.

THERE'S ENORMOUS PRESSURE ON

OTHER DEMOCRATIC CANDIDATES TO

DROP OUT TO CONSOLIDATE THE

DEMOCRATIC VOTE BEHIND REVEREND

WARNOCK AND POTENTIALLY WIN

OUTRIGHT ON ELECTION DAY AND

AVOID A RUNOFF ALTOGETHER.

NOW, DAVID PERDUE FACES

DEMOCRATIC ALSO CHALLENGER JOHN

OSOFF.

PRESIDENT BARACK OBAMA ENDORSED

OSOFF.

AND THAT IS PROMISING TO BE A

POTENTIAL FIGHT AS WELL FOR THAT

SENATE SEAT.

>> Sreenivasan: A LOT TO LOOK

FORWARD TO ON ELECTION NIGHT.

RICKEY BEVINGTON FROM GEORGIA

PUBLIC BROADCASTING, THANKS SO

MUCH.

>> THANK YOU, HARI.

>> Sreenivasan: BECAUSE THEY ARE

RESIDENTS OF A U.S. TERRITORY,

WHEN PUERTO RICANS HEAD TO THE

ISLAND'S POLLS ON NOVEMBER 3,

THEY WILL NOT BE ABLE TO VOTE

FOR THE PRESIDENT.

WHAT THEY WILL BE VOTING ON IS A

REFERENDUM FOR PUERTO RICAN

STATEHOOD AND WHETHER THEY

SHOULD BE ADMITTED TO THE UNION.

IN THE LAST FOUR YEARS, PUERTO

RICO HAS HAD A $72-BILLION DEBT

CRISIS, DEVASTATING HURRICANES

AND EARTHQUAKES, AND HALF A

MILLION PUERTO RICANS HAVE LEFT

FOR THE U.S. MAINLAND.

ALL THESE FACTORS ARE FORCING A

CLOSER LOOK AT THE RELATIONSHIP.

NEWSHOUR WEEKEND'S IVETTE

FELICIANO HAS MORE.

>> MR. SPEAKER, AND MEMBERS...

>> Reporter: RESIDENT

COMMISSIONER JENNIFER GONZAÁLEZ-

COLOÓN REPRESENTS PUERTO RICO IN

CONGRESS AND IS THE FIRST WOMAN

IN HISTORY TO HOLD THE POSITION.

>> WHY WE ARE FIGHTING FOR

EQUALITY AND DEMOCRACY AROUND

THE WORLD, BUT YOU STILL DO HAVE

IN YOUR BACKYARD THE OLDEST

COLONY, AND THAT'S PUERTO RICO.

>> Reporter: HER PARTY, THE NEW

PROGRESSIVE PARTY, CURRENTLY

HOLDS THE GOVERNORSHIP ON THE

ISLAND, AND ORGANIZED THE

REFERENDUM FOR STATEHOOD.

>> AND IT WILL BE THE FIRST TIME

WE WILL HAVE A DIRECT QUESTION

USING THE SAME MODEL, THE SAME

BALLOT THAT WAS USED IN ALASKA

AND HAWAII.

AND THAT SHOULD TRIGGER A

MOVEMENT IN CONGRESS.

>> Reporter: TRIGGER A MOVEMENT

BECAUSE CURRENTLY, GONZAÁLEZ-

COLOÓN HAS LIMITED VOTING POWER

IN CONGRESS, WHICH SHE SAYS

SERVES AS A METAPHOR FOR HOW THE

ISLAND'S GOVERNMENT OPERATES

UNDER ITS CURRENT POLITICAL

STATUS.

BECAUSE PUERTO RICO IS AN

UNINCORPORATED TERRITORY,

CONGRESS CAN OVERRIDE THE

ISLAND'S LAWS.

AND PUERTO RICANS RECEIVE

DISPARATE MEDICAID AND

NUTRITIONAL ASSISTANCE FUNDING.

>> MORE THAN 47% OF THE ISLAND

IS UNDER THE POVERTY LEVEL LINE,

MOST OF THEM WOMEN AND CHILDREN.

AND MANY OF THE REASONS FOR THIS

IS THAT THERE ARE DIFFERENT

KINDS OF FORMULAS FOR ALLOCATING

FUNDS TO THE TERRITORIES.

>> Reporter: AND LIKE MILLIONS

OF U.S. CITIZENS WHO LIVE ON

THE FIVE U.S. TERRITORIAL

ISLANDS, THEY CANNOT VOTE IN THE

NOVEMBER PRESIDENTIAL ELECTION.

>> MANY PUERTO RICANS HAVE

FOUGHT IN ALL THE THEATERS OF

WAR.

THERE IS THE BLOOD OF A LOT OF

PUERTO RICANS THAT CAME BACK IN

A CASKET WITH AN AMERICAN FLAG,

AN AMERICAN FLAG WITH 50 STARS,

BUT NOT ONE REPRESENTING THEM OR

THE STATE OF PUERTO RICO.

>> Reporter: IN 2018, IN

RESPONSE TO THE ISLAND'S DEBT

CRISIS, A CONGRESSIONALLY

APPOINTED FISCAL CONTROL BOARD

ANNOUNCED SWEEPING AUSTERITY

MEASURES IN PUERTO RICO THAT

SLASHED THE LOCAL GOVERNMENT'S

BUDGET BY A THIRD.

IN JULY THE BOARD SUSPENDED

THOSE CUTS FOR ONE YEAR, AS THE

TERRITORY STRUGGLES TO RECOVER

FROM HURRICANES, EARTHQUAKES AND

THE COVID-19 PANDEMIC.

VEROÓNICA NORIEGA RODRIÍGUEZ AND

AMIRA ODEH ARE TWO CLIMATE

ACTIVISTS IN PUERTO RICO.

>> (translated ): THIS

RELATIONSHIP STOPS US FROM

MAKING OUR OWN DECISIONS ABOUT

WHAT AFFECTS US AS PUERTO

RICANS.

WE FEEL POWERLESS, AND I'M

SPEAKING FROM MY PERSPECTIVE AS

A YOUTH.

>> Reporter: ODEH BELIEVES MOST

MAINLAND AMERICANS DON'T

UNDERSTAND THE NUANCES OF PUERTO

RICO'S RELATIONSHIP TO THE U.S.

>> LIKE, THEY ALWAYS TALK ABOUT

POVERTY OR CORRUPTION OR IN

GENERAL JUST HOW BAD THINGS ARE

HERE, BUT THEY NEVER EXPLAIN THE

HISTORICAL CAUSES OF WHY THAT

IS.

>> Reporter: REPRESENTATIVE

GONZAÁLEZ-COLOÓN HAS CO-SPONSORED

A BI-PARTISAN BILL THAT CALLS

UPON CONGRESS AND THE PRESIDENT

TO TAKE ACTION NEXT YEAR IF

PUERTO RICANS VOTE FOR STATEHOOD

IN NOVEMBER.

IT WILL BE THE SIXTH TIME IN

HISTORY THAT PUERTO RICAN'S VOTE

ON THE QUESTION REGARDING THE

TERRITORY'S RELATIONSHIP TO

THE U.S.

>> IT'S NOT GOING TO HAVE ANY

IMPACT WHATSOEVER.

>> Reporter: PEDRO CABAN IS A

PROFESSOR OF LATIN AMERICAN,

CARIBBEAN AND U.S. LATINO

STUDIES AT THE UNIVERSITY AT

ALBANY WHO RESEARCHES WHAT HE

CALLS PUERTO RICO'S STATUS AS A

"COLONIAL STATE."

CABAN SAYS THIS YEAR'S STATUS

VOTE WILL NOT LEAD TO A CHANGE

FOR THE TERRITORY, JUST LIKE

PREVIOUS REFERENDUMS.

>> I WOULD ARGUE THAT THE

FUNDAMENTAL OBJECTION TO

GRANTING PUERTO RICO STATEHOOD

IS THE IDEA THAT PUERTO RICO

WOULD ATTAIN REMARKABLE

POLITICAL POWER.

I THINK IT WOULD RANK 16th AMONG

THE 50 STATES.

>> Reporter: WITH STATEHOOD,

PUERTO RICO WOULD GET FIVE

MEMBERS IN THE HOUSE OF

REPRESENTATIVES AND TWO

SENATORS.

CABAN SUPPORTS A DIFFERENT IDEA

INTRODUCED IN CONGRESS LAST

MONTH BY DEMOCRATIC

CONGRESSWOMEN ALEXANDRIA OCCASIO

CORTEZ AND NYDIA VELASQUEZ.

THEY PROPOSE ADDRESSING PUERTO

RICO'S POLITICAL STATUS BY WAY

OF A CONSTITUTIONAL CONVENTION.

>> THERE'S NOTHING SACRED THAT

SAYS THAT PUERTO RICO HAS TO BE

WITHIN THE TERRITORIAL CLAUSE OF

THE CONSTITUTION.

>> Reporter: IN JUNE, THE

DEPARTMENT OF JUSTICE DECLINED

TO PROVIDE FUNDING IT HAD SET

ASIDE FOR A PUERTO RICAN STATUS

REFERENDUM BACK IN 2014, ARGUING

THE RESULTS OF THIS YEAR'S

REFERENDUM WOULD FAVOR

STATEHOOD, SINCE NO OTHER STATUS

OPTIONS, SUCH AS INDEPENDENCE,

WILL BE ON THE BALLOT.

ALTHOUGH THEY ARE BOTH CRITICAL

OF WHAT THEY SEE AS THE ISLAND'S

COLONIAL STATUS, YOUTH CLIMATE

ACTIVISTS ODEH AND NORIEGA

RODRIÍGUEZ SAY THE REFERENDUM IS

MONEY WASTED, AND A DISTRACTION

FROM MUCH MORE URGENT MATTERS IN

NEED OF ATTENTION.

>> WE'RE IN THE MIDDLE OF A

PANDEMIC WITH HUNDREDS OF PEOPLE

DYING.

THOUSANDS SICK.

AND THEY'RE WASTING MILLIONS IN

ASKING THIS QUESTION OVER AND

OVER AGAIN.

>> (translated ): RIGHT NOW, WE

YOUTH ARE CALLING ATTENTION TO

THE FACT THAT PUERTO RICO'S

LANDFILLS ARE BEING CLOSED, AND

BY 2022 WE WILL HAVE NO PLACE TO

PUT OUR TRASH.

THREE YEARS AFTER HURRICANE

MARIA AND YOU STILL SEE PEOPLE

WITH BLUE TARPS ON THEIR HOMES.

THIS IS NOT THE FIRST TIME WE'VE

HAD A REFERENDUM ON THE COLONIAL

STATUS, AND IT HASN'T MADE A

DIFFERENCE.

WE SHOULD BE SPENDING THIS MONEY

ON NECESSARY THINGS, LIKE

FORTIFYING OUR ELECTRICAL

SYSTEM, WHICH WE NEED SO

DESPERATELY.

>> Reporter: WHY SPEND THE MONEY

ON THIS REFERENDUM VOTE RIGHT

NOW?

>> BECAUSE ACTUALLY THAT MONEY

IS GOING TO BE AN INVESTMENT.

THIS IS LIKE A GATEKEEPER FOR

MANY OTHER FEDERAL FUNDS THAT WE

ARE NOT ACCESSING NOW THAT CAN

HELP WITH, NOT JUST THE

ENVIRONMENT, BUT MANY OTHER

AREAS.

AND WHEN YOU ARE DEALING WITH

CIVIL RIGHTS, IT IS NOT A MONEY

AMOUNT.

IT'S NOT A DOLLAR AMOUNT.

IT IS ABOUT RIGHTS TO THE

PEOPLE.

AND THAT'S, YOU CANNOT MEASURE

THAT.

>> Sreenivasan: FINALLY TONIGHT,

YOM KIPPUR-- A DAY OF ATONEMENT

AND REFLECTION-- BEGINS AT

SUNDOWN, MARKING THE END OF THE

JEWISH HIGH HOLIDAYS.

FOR THOSE OBSERVING, MAY YOU

HAVE AN EASY FAST.

THAT'S ALL FOR THIS EDITION OF

"PBS NEWSHOUR WEEKEND."

FOR THE LATEST NEWS UPDATES

VISIT pbs.org/newshour.

I'M HARI SREENIVASAN.

THANKS FOR WATCHING.

STAY HEALTHY AND HAVE A GOOD

NIGHT.