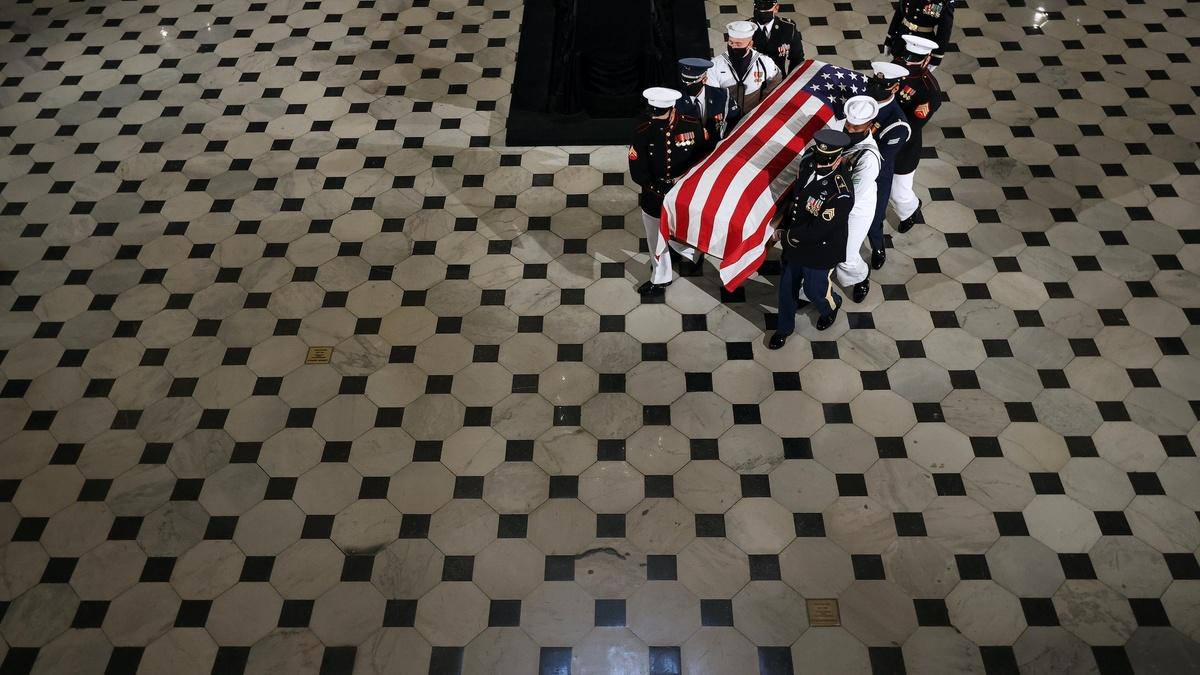 FULL EPISODE
September 25, 2020 - PBS NewsHour full episode
September 25, 2020 - PBS NewsHour full episode
TRANSCRIPT

JUDY WOODRUFF: Good evening. I'm Judy Woodruff.

On the "NewsHour" tonight: race to the finish. President Trump and Joe Biden make their pitches

to voters amid the pandemic and a Supreme Court fight.

Then: the longest war. The lead U.S. envoy for the peace process in Afghanistan discusses

the ongoing violence and negotiations.

ZALMAY KHALILZAD, U.S. Special Representative for Afghanistan Conciliation: Of course, a

cease-fire will be the most desirable outcome, and as soon as possible. But I think, without

a political agreement, a comprehensive, permanent cease-fire is unlikely.

JUDY WOODRUFF: And it's Friday. Mark Shields and David Brooks consider the fight to replace

Justice Ruth Bader Ginsburg and the battle for the White House.

All that and more on tonight's "PBS NewsHour."

(BREAK)

JUDY WOODRUFF: The "NewsHour" has confirmed tonight that President Trump will nominate

federal appeals Judge Amy Coney Barrett to the United States Supreme Court.

A senior White House official says the announcement is set for tomorrow afternoon. Barrett joined

the Seventh Circuit Court of Appeals in Chicago in 2017. Her conservative religious views

dominated her confirmation fight. Before that, she had clerked for the late Justice Antonin

Scalia and she had taught at the University of Notre Dame Law School.

The death of Justice Ruth Bader Ginsburg one week ago tonight created the Supreme Court

vacancy. Today, she was paid final honors before the bruising fight begins over filling

her seat and with just 40 days to go in the presidential campaign.

John Yang has our report.

JOHN YANG: Justice Ruth Bader Ginsburg broke two final barriers today, the first woman

and the first Jewish American to lie in state in the U.S. Capitol.

Rabbi Lauren Holtzblatt, the wife of a former Ginsburg clerk, eulogized her.

RABBI LAUREN HOLTZBLATT, Adas Israel Congregation: She changed the course of American law. And

even when her views did not prevail, she still fought. Justice Ginsburg's dissents were not

cries of defeat. They were blueprints for the future.

JOHN YANG: House Speaker Nancy Pelosi had arranged the honor.

REP. NANCY PELOSI (D-CA): May she rest in peace.

JOHN YANG: Democratic presidential nominee Joe Biden and his wife, Jill, attended, as

did running mate Senator Kamala Harris.

Lawmakers, some accompanied by their families, paid their respects, wearing masks and appropriately

distanced. Bryant Johnson, her longtime personal trainer, gave a personal tribute of his own.

As official Washington mourned Ginsburg, the presidential campaign forged ahead. President

Trump, who paid tribute to Ginsburg yesterday, courted Black voters in Atlanta, raising concerns

about mail-in ballots.

DONALD TRUMP, President of the United States: Democrats are playing games. You see that?

Did you see they found ballots in a waste paper basket? They found ballots dumped in

a stream.

JOHN YANG: Addressing the NAACP's virtual National Convention, Harris raised concerns

about voter suppression.

SEN. KAMALA HARRIS (D-CA), Vice Presidential Candidate: Why is it that so many powerful

people are trying to make us confused about how we can vote, where we can vote, if we

can vote?

JOHN YANG: In Washington, the ceremony in the Capitol capped a week of public memorials

for Ginsburg, who will be buried in a private ceremony next week at Arlington National Cemetery.

For the "PBS NewsHour," I'm John Yang.

JUDY WOODRUFF: In the day's other news: Breonna Taylor's family demanded that officials release

grand jury transcripts in her killing in Louisville, Kentucky.

The panel opted this week not to charge any police officers with fatally shooting Taylor

in her apartment. The state attorney general said they acted in self-defense, after Taylor's

boyfriend fired first.

Today, an aunt read a statement by Taylor's mother, declaring she has no faith in the

authorities.

BIANCA AUSTIN, Aunt of Breonna Taylor: The system as a whole has failed her. You didn't

just rob me and my family. You robbed the world of a queen. I hope you never have to

know the pain of knowing your child is in need of help, and you're not able to give

it.

JUDY WOODRUFF: There were new protests in Louisville last night. Activists vowed today

to continue demonstrating until officers are charged with Taylor's killing.

Meanwhile, the father of Jacob Blake joined Taylor's family today. His son is paralyzed

after being shot by police in Kenosha, Wisconsin, last month.

JACOB BLAKE SR., Father of Jacob Blake: But you don't understand. When it's your child,

you can't fathom the emotions that you go through every night. You hear them talking

to you. They're not there. You hear them talking to you.

I knew this family needed some energy, and I said, I'm coming!

JUDY WOODRUFF: In a related development, an Illinois teenager accused of killing two protesters

in Kenosha will fight extradition to Wisconsin. Attorneys for Kyle Rittenhouse filed notice

at a hearing today.

The federal government has executed a Black inmate for the first time in nearly 20 years.

A Texas man was put to death by lethal injection last night for killing an Iowa couple in 1999.

Blacks make up 13 percent of the U.S. population, but nearly half of the inmates on federal

death row.

Confirmed U.S. cases of COVID-19 hit seven million today. It came amid a new surge in

Midwestern and Western states. But, in Florida, Governor Ron DeSantis lifted all restrictions

on businesses today. He said the costs and benefits must be balanced.

GOV. RON DESANTIS (R-FL): The more businesses that can succeed, the more opportunities for

parents to send their kids to school, I think a lot of those other things become easier

to deal with.

But let's not make any mistake about it. Focusing on only one pathogen, without all these other

things, is not an effective public health strategy.

JUDY WOODRUFF: Elsewhere, two former officials at a veterans home in Massachusetts were charged

with criminal neglect; 76 veterans at the home have died of COVID since March.

An Australian report says that China is rapidly - - or, rather, expanding its widely condemned

detention centers, holding hundreds of thousands of Muslim Uyghurs. The Australian Strategic

Policy Institute says that it found more than 380 suspected sites in Xinjiang Province using

satellite images and construction documents. Beijing called the report disinformation.

Back in this country, a federal judge in California has extended the end date for the 2020 census

by one month. Last night's ruling says that the once-a-decade head count will continue

through October. The judge found the Trump administration's early deadline would leave

minority communities undercounted.

The Trump administration is expected to appeal. In economic news, the U.S. Conference of Mayors

urged Congress and the Trump administration to agree on a new pandemic relief package.

The group said that cities are facing severe revenue losses.

And on Wall Street, tech stocks helped -- or turned higher again, helping the broader market.

The Dow Jones industrial average gained 358 points to close near 27174. The Nasdaq rose

241 points, and the S&P 500 added 51.

Still to come on the "NewsHour": into the woods -- how the Trump administration is opening

up the nation's largest forest to logging; talking peace -- the lead U.S. envoy seeking

an end to America's longest war in Afghanistan; what an unclear election night result could

mean for the future of the U.S.; and much more.

Since he was elected, President Trump has rolled back or weakened more than 100 environmental

regulations.

Today, he added yet another. His administration moved to open up the nation's largest national

forest for development.

Amna Nawaz has the latest.

AMNA NAWAZ: Judy, the Tongass National Forest in Alaska has been called America's Amazon.

It's one of the world's largest temperate rain forests, absorbing carbon dioxide emitted

by the U.S., which is why the plan to roll back protections is worrying environmentalists

and climate scientists.

Coral Davenport has been following this story for The New York Times, and she joins me now.

Coral, welcome back to the "NewsHour."

Let's just start with what exactly it is that the Trump administration is proposing changing.

What would the rollbacks entail?

CORAL DAVENPORT, The New York Times: So, the Trump administration proposed -- has been

working on this role change for a couple of years.

What's about to happen is that, in the next 30 days, it's going to become final. What

they're doing is lifting a Clinton era protection. It's called the roadless rule. It was a national

law that banned logging and road construction in most of the nation's forests.

The Trump administration is lifting the roadless rule in seven million acres of the 16 million-acre

Tongass National Forest. So, that is a huge amount of pretty much pristine wilderness,

including about 160,000 acres of virgin old growth forest that would now be open to logging,

construction, road development.

AMNA NAWAZ: And the Trump administration, we should point out, is not alone and pushing

for this. Officials on the ground in Alaska, including Senator Lisa Murkowski, have been

pushing for this for years.

What is the argument that they make for these changes?

CORAL DAVENPORT: So, the big argument that Alaskan officials, including the governor,

including a lot of state-level officials, say is that this is -- this is part of Alaska's

economic development.

They argue that lifting the -- that lifting the roadless rule would not lead to the entire

pristine forest being devastated, but that it would allow the Alaskan timber industry

to kind of carefully tailor the logging that it would do, the road construction that it

would do in that area.

But, essentially, they're saying that they need it for their state economy.

AMNA NAWAZ: OK, so what about the environmentalists, the climate scientists? Why is it that they

are opposed for a range of issues and reasons here? Why is it they're opposed to this rollback

right now?

CORAL DAVENPORT: So, the Tongass is a special place.

It's not surprising, of course, that environmentalists oppose lifting protections on this wild, pristine

wilderness. It's a rich -- it's an area rich in biodiversity. It houses a lot of species.

It has salmon. It has rivers. These are the kinds of things that environmentalists say,

you don't want to harm that biodiversity.

But the thing that is also special about the Tongass is that it provides a service to the

rest of -- it is one of the world's largest carbon sinks. All of that old growth forests,

those 400-, 500-year-old trees have been absorbing carbon dioxide from the atmosphere for hundreds

of years.

And so environmentalists say that the impact of cutting down those particular trees could

release the equivalent of putting as many as 10 million new cars on the road, the CO2

pollution equivalent.

And so that's -- that is something that has an impact on the planet, far beyond the reaches

just of this one forest in Alaska.

AMNA NAWAZ: Coral, as we have seen with previous proposed rollbacks on the environmental protections

from this administration, they have been met pretty quickly by litigation.

Do we expect the same thing to happen here? And, also, where does this move fit with the

broader agenda from the administration.

CORAL DAVENPORT: Sure.

So, this comes as one of literally over 100 rollbacks or moves to weaken existing environmental

protections that we have seen from the Trump administration. This is really something that

will absolutely stand, in many ways, as President Trump's legacy.

He met the promise to the lift a lot of these environmental protections and open up so much

public land to development. But, as you mentioned, nearly all of these moves are being met with

litigation.

Fully expect that environmental groups and probably state groups and probably Alaskan

Native groups as well are expected to sue this move. And, as with so many of these other

rollbacks, ultimately, they will slog through the courts.

And, also, a lot of these could be done pretty quickly if Joe Biden were to become president.

This is a move that will become effective before the end of this year. But if there

was someone in the White House who thought that was not a good idea, the rule could be

right -- put right back in place.

AMNA NAWAZ: It's a very important environmental story being tracked by Coral Davenport of

The New York Times, joining us tonight.

Thank you so much for your time.

CORAL DAVENPORT: Great to be with you.

JUDY WOODRUFF: And this story is part of Covering Climate Now. It's a global journalism collaboration

strengthening coverage of the climate story.

Now: attempts to end the U.S.' longest war.

The Afghan government and the Taliban are in the early stages of negotiations that are

the most significant attempt yet to find peace.

Nick Schifrin speaks to the U.S. official who's leading the effort.

NICK SCHIFRIN: Judy, as the government and Taliban are negotiating in Doha, the violence

between them in Afghanistan is getting worse.

In just the last few days, government forces have killed dozens of Taliban militants in

the east, while the Taliban killed dozens of police officers in the South.

And, last weekend, Afghan forces conducted airstrikes in a province in the north that

is partially Taliban-controlled, killing Taliban militants, but also causing reports of civilian

deaths.

It was seven months ago that special envoy for Afghan reconciliation Zalmay Khalilzad

signed an agreement with the Taliban. After a bit of a delay, that led to the negotiations

in Doha today designed to end all this violence.

And Ambassador Khalilzad joins me now.

It's good to have you back on the "NewsHour."

You have said that you expect violence in Afghanistan to decrease. But, just to be clear,

the February 29 agreement that you signed was not commitment the Taliban to stop attacking

the Afghan government.

So, what leverage do you really have to reduce the violence?

ZALMAY KHALILZAD, U.S. Special Representative for Afghanistan Conciliation: Compared to

the first six months of last year to this year, despite a recent increase in violence,

the number of casualties, both military and civilians, are down this year.

So, yes, the violence is high at this point. And both sides need to bring down the level

of violence. And we're committed, when I return to work with both sides, to get an agreement

on reduction of violence.

NICK SCHIFRIN: The Afghan government says there's too much violence. You have just said

there's too much violence. The U.S. military says there's too much violence.

The Taliban have indicated they will not accept some kind of cease-fire in Doha until both

sides decide the future of the government, which, of course, will take a long time. So,

how sustainable is the peace process as the violence continues?

ZALMAY KHALILZAD: I think you're right that the Talibs will not accept a cease-fire, comprehensive

and permanent, until there's a political settlement.

And that's not unprecedented in similar conflicts elsewhere. I think they can do a reduction

of violence. They have said they will consider it, depending on what the proposal is. The

government is supportive of it, too.

NICK SCHIFRIN: You have been discussing a road map, a framework agreement that would

leave some of the longer-term issues of what the Afghan government looks like to the future.

Does that require the Afghan government to step aside in the installation of an interim

government?

ZALMAY KHALILZAD: Well, there are various options that they have in front of them.

But it is for the Afghans to agree to a political road map. And the fact that they are sitting

across the table from each other is unprecedented, that warring -- Afghan warring parties have

sat together.

When the Soviets withdrew, before their withdrawal, there was no Afghan meetings. It was an agreement

that Pakistan and the Afghan government signed with the U.S. and USSR as guarantors. And

ever since then, the warring Afghan parties have not sat together.

This is an extraordinary development in contemporary Afghan history.

NICK SCHIFRIN: Are you under pressure from the White House or anyone in the State Department

to announce specific progress before the election?

ZALMAY KHALILZAD: No, I'm not.

We would like the war to end as soon as possible. This is the expectation of the Afghan people.

We have not set any artificial deadline for when these negotiations have to succeed. We

are not directly involved in the negotiations. It's Afghan-Afghan. They did not want a foreigner

to be a mediator or a facilitator, to be in the room.

NICK SCHIFRIN: Let me turn to human rights.

In Doha, the Taliban have refused to say that they respect Shia Islam, which, of course,

is the religion of the minority Afghan Hazaras, even though that respect is enshrined in the

Afghan constitution.

So, does that mean that the Taliban are not going to respect human rights going forward?

ZALMAY KHALILZAD: They have said, on personal matters, the rights of minorities to -- will

be respected and there will be no discrimination against others.

But that's still an unresolved issue in terms of an exact formulation and an agreement.

We obviously support an agreement that respects the right of all Afghans, whether they belong

to one sect or another, whether they're men or women.

NICK SCHIFRIN: On al-Qaida, one of the conditions of the February 29 agreement was that the

Taliban prevent the use of Afghanistan by al-Qaida to attack the U.S.

But the Taliban have not publicly broken with al-Qaida. What does that tell you about the

resistance the Taliban still has to that part of the agreement?

ZALMAY KHALILZAD: We hold them to that agreement.

And what we do is contingent, in terms of reduction of forces, on what they do. We have

seen progress in terms of delivering on the commitment that they have made on terrorism,

but that's unfinished business. And we will see in a couple of months, when we reached

a number between 4,000 to 5,000 in terms of our troops. We will assess where they are.

And we are very much committed to preventing Afghanistan from being a platform to threaten

us. And we will take measures necessary to protect the United States from potential terrorist

threats in Afghanistan or from Afghanistan.

NICK SCHIFRIN: And, finally, Ambassador, in the time I have left, to get to this day,

the Afghan government not only had to release prisoners, Taliban prisoners, who attacked

Afghans, but also who killed U.S. soldiers.

What should Americans think about that?

ZALMAY KHALILZAD: What's happening now, the Talibs and the government sitting across the

table to negotiate a political settlement, is important. And that's what was needed to

get to here.

So, yes, difficult decision. Not happy that it had to happen, but it was required to get

to a hopeful place, which is where we are right now.

NICK SCHIFRIN: Ambassador Zalmay Khalilzad, thank you very much.

ZALMAY KHALILZAD: Well, thank you. It's good to be with you.

JUDY WOODRUFF: This election year is unlike any in modern history, and the challenges

are many.

Part of it is voting during a pandemic. Part of it involves the president's statements

and actions sowing doubts about voting by mail and the integrity of the process, potentially

even challenging the results of the election.

Our system has weathered chaos in the past. How well-positioned is it now?

William Brangham begins there.

WILLIAM BRANGHAM: We are 39 days from November 3, and a growing chorus of analysts, historians

and political elections officials are warning that the country is headed for a confused,

prolonged, and potentially dangerous election and aftermath.

The cover of "The Atlantic" magazine, with nothing but a red warning light, says it's

- - quote -- "The Election That Could Break America."

That cover story was written by Pulitzer Prize-winning reporter Barton Gellman. And he joins me now.

Bart Gellman, very good to have you on the "NewsHour."

You write that worst-case scenario is that President Trump, on election night, just rejects

the outcome of the election. He's already repeatedly said that anything other than his

victory on election night is evidence that the Democrats are trying to steal the election.

Let's say he does say that. How does that play out?

BARTON GELLMAN, "The Atlantic": Election night is a little early for the scene to play out.

I think it's much more likely that he will declare victory on election night, especially

if he is ahead in the early vote, because it's expected right now, based on the best

modeling we have got, which is imperfect. It's expected that he will be ahead when only

the in-person votes are calculated, are tabulated, because he has persuaded a lot of Republicans

that mail-in votes are unsafe, and that many more Democrats are voting by mail, and that,

as the days go by, after the election and the count completes, then Joe Biden will pull

ahead.

That's the forecast as we have it now. No one knows that for sure. But, if that's the

case, he's going to try to stop the count on election night. He's going to say that

the mail votes, as he's already said many times, are fraudulent, are part of an effort

to steal or rig the election, and that the count must be halted.

He's also going to be in court in multiple states around the country saying the same

thing for various things, depending on state law and federal law in the jurisdiction.

If an ordinary candidate would at some point say, all right, well, the vote went against

me, I concede defeat, that is something that Donald Trump is not going to do.

It's the premise of my article in "The Atlantic" that there is no circumstance under which

he will make that concession. And that's a problem for our system, because concession

is the way we end elections. We end elections by having the loser concede and confer implicitly

the authority of that concession on the winner.

WILLIAM BRANGHAM: You write in your piece that Republican election officials have already

been doing dry runs about getting into the election count process and trying to intervene

in that.

And we do know, as been reported by NPR and others, that vote-by-mail ballots have been

getting rejected at considerable number, usually because of voter error. But you sort of put

out that this becomes a ripe target for interrupting that election ballot count.

BARTON GELLMAN: In the general election in November, the Trump campaign intends to have

ballot watchers at every -- at every county commission, at every polling -- every election

tabulation center, and examining every mail-in ballot and saying, we object to this one,

the postmark is unclear, we object to this one, the signature doesn't match, and so on.

The more they can delete mail-in ballots, the fewer Democratic votes.

WILLIAM BRANGHAM: We have also seen two recent cases where local Department of Justice officials

have stepped forward and announced or revealed information about fairly early or, some would

argue, relatively minor cases of ballot fraud.

Do you worry that the DOJ is -- seems to be, as some critics have pointed out, turned into

a political operation for the president leading up to this election?

BARTON GELLMAN: It is highly unusual for DOJ to do what it did in this case.

It is highly unusual to announce an ongoing investigation when it's -- when it's just

begun. It's unusual to imply with sort of rhetorical flourishes that something very

dangerous is going on here, when we don't know yet whether it was simply an error.

It's extremely unusual that they announced that the votes they found that had been mislaid

were votes for Trump. They are feeding conspiracy theories about a Democratic effort to steal

the election, when they don't have anything like evidence for that. And it's just not

the way a normal prosecutor would behave, under -- even under Justice Department guidelines.

WILLIAM BRANGHAM: In your piece, you also spend a good deal of time describing what

happens at the next deadline in this process, which is December 8, when the states start

to assemble their electors.

And you argue and talk to many people who believe that this could be another moment

in which the process goes awry. Can you simply explain what might happen there?

BARTON GELLMAN: So, viewers would be forgiven for not knowing that there's any important

deadline in December or January, because, in most presidential elections, they're purely

formalities. They're milestones.

They're the actual mechanisms by which we choose a president, according to the Constitution.

But they're pro forma, because, by then, the vote count has been settled, and we know who

the country voted for.

But December 8 is the date by which states have to choose the electors, the people who

are going to cast their state's electoral ballots. And if they don't choose by December

8, then Congress will have to resolve who, if anyone, gets to cast the ballots from that

state.

And there are people in the Trump campaign and people among his allies in state governments

who are talking about the possibility that the state legislature could appoint electors

who are going to vote for Trump, whether or not the popular vote in that state is for

Trump.

WILLIAM BRANGHAM: For people who might read something like this and hear what you're saying

and be genuinely worried about what happens in our democratic process, are there things

people can do? Is there any way people can try to address this ahead of time?

BARTON GELLMAN: There is. And smarter people than me will think of more.

I think it's important to be forewarned. I think there is something to worry about. There's

more than one thing to worry about. I think that the first thing to do is to change your

mind-set. We should not expect this to be a normal election. We should not expect it

to proceed as elections usually proceed.

We should expect highly unusual and potentially extraconstitutional events and be ready to

react, because, if we're -- if we are not thinking about it in advance, then our reflexes

will be dulled.

But things as simple as, if you're a voter, think about voting in-person on Election Day

if you can manage the risk to your health and if you can wear PPE and keep your social

distance, because the worst case for chaos is if Trump gets all his votes from the in-person

votes, and Biden votes don't come in until much later.

That is a recipe for enhanced conflict. Everyone has to think about, what role do I play in

this coming election, and how can I plan ahead for unusual events?

WILLIAM BRANGHAM: All right, Barton Gellman.

The piece in "The Atlantic" magazine is called "The Election That Could Break America."

Thank you very much.

BARTON GELLMAN: Thank you for having me.

JUDY WOODRUFF: It feels like a world away since we last heard the analysis of Shields

and Brooks. A lot has happened.

But that is syndicated columnist Mark Shields and New York Times columnist David Brooks.

Hello to both of you on this Friday night.

Not much to ask you about, Mark.

But why don't we start with not only Ruth Bader Ginsburg, who I had planned to begin

with, but now we have learned in the last hour or so, our colleague Yamiche Alcindor

confirmed that the president does plan to name the appellate Judge Amy Coney Barrett

to be the next nominee to the court.

I guess I'm asking you to wrap it together. Early reaction to Barrett, but also final

thoughts about Justice Ginsburg, whom we have seen honored this week.

MARK SHIELDS: Honored, indeed, in a wonderful send-off.

I was just, quite frankly, amazed and touched by how much she had touched women in this

country. I mean, I knew she was a folk hero and a rock star, but the real emotion that

her passing generated.

In a marvelous way, she probably meant more as a litigator than she did as a jurist, not

to offend anybody. But she was the person who pleaded those cases before -- and won

them before the Supreme Court, especially on expanding the 14th Amendment, which was

written after the Civil War, to extend not simply the -- against racial discrimination,

but gender discrimination.

And she won five of the six cases. She changed America in the process. And she gave us a

marvelous example of how to reach across partisan divide. Her friendship with Justice Antonin

Scalia should be an example for all of us in Washington.

JUDY WOODRUFF: And, David, she did come to the court with a legacy already.

DAVID BROOKS: Yes, it's amazing to me first that she's the first woman to lie in state.

That is mind-boggling in 2022, that this is the first time that has happened.

She -- judges, when they go and go to before their confirmation hearings, they all say

their personal feelings won't affect how they judge; it's the legal automatons. I think

that's never true. It was certainly not true with Ruth Bader Ginsburg.

She comes from a neighborhood and a culture I know very well, the Flatbush in Brooklyn,

the Jewish immigrant culture there. And when you grew up in that culture, A, you have a

strong preference for the underdog. You have a strong love of America. She said one of

her heroines was Emma Lazarus, the author of the poem on the Statue of Liberty.

You have a reverential respect for law. And I think she carried those values, not being

unfaithful to being a judge, to the judicial system, but carry those values. And I think

she's admired because of those values.

Amy Coney Barrett also has values. She's a conservative. She is well-regarded. When she

was Supreme Court clerk to Antonin Scalia, all of the clerks, regardless of party affiliation,

admired her. When she was on the Notre Dame Law faculty, all of the faculty members, regardless

of party ideology, admired her, that, personally, she seems -- I have never met her.

She seems reputed to be a wonderful person. But she has a conservative record. She was

a law professor for a long time and wrote a lot of articles, some of which were controversial

and, in her 2017 confirmation hearings, were brought up.

I think it'll be hard to mount personal attacks, given what we know now. But there will be

some conservative attacks.

JUDY WOODRUFF: And, Mark, she does come with a record, as David say. It's a conservative

record.

MARK SHIELDS: She does, Judy.

She -- you could say, if you're a conservative, she's probably not going to be John Roberts.

She is a true-blue and committed conservative.

But I would point out, as David laid out sort of the political land mines for Democrats,

she has admirable personal credentials, the mother of seven, two adopted children. She

brought a Down syndrome pregnancy to birth, a child, is raising it, and was endorsed by

both, not only the conservative members of the law faculty at Notre Dame, but all the

liberals as well.

I think it's a potential land mine for both sides. To the degree that abortion becomes

the centerpiece issue, it's going to be a problem for Republicans among suburban women.

To the degree that it becomes an issue and the Democrats go on the offensive against

Amy Coney Barrett, then Joe Biden's hopes of reaching out across to blue-collar white

voters who had flirted with Trump in the past, maybe former Democrats, becomes a problem.

And I think if, in fact, there is any sort of a mean personal attack mounted against

her, it will only -- it will only hurt the Democrats.

So, I think it's very, very delicate politically for both sides.

JUDY WOODRUFF: Let's talk about that and the process.

David, we look back. There's never been, in an election year, someone nominated to the

Supreme Court in 230 years of the republic this close to an election. The closest we

could find was, what, 1892. It was four months before the election.

We're now within weeks, even days, by the time there'd be a vote. What does that say

about where we are, Republicans and Democrats, and what we should look forward to in the

next several weeks?

DAVID BROOKS: Well, in a platonic, ideal world, I think presidents should be able to nominate

justices until Inauguration Day. You're elected to a four-year term, not a three-and-a-half-year

term.

So I think, in an ideal world, Trump is right. You should be able to nominate somebody.

The problem is with Merrick Garland. Once the Republicans set a standard, to then shred

the standard so quickly shows a complete sign of opportunism, a complete sign that we're

not a nation of laws and precedents, that we're just a ruthless power grab.

And so, in this case, I think it's an error.

As for the process, I think it favors the Democrats, frankly. I think it would not favor

the Democrats if they go after, as Mark said, Barrett personally, or if they go after her

faith, that she's a member of a Christian community people have praised. And some people

have said that's a kind of cult.

I have been reading their magazine, "Vine & Branches." It's a very good magazine, very

intelligent magazine. They seem to be a completely mainstream, charismatic Christian community.

And I don't find anything creepy about it at all.

But I think it's going to be an advantage for a Democrat, because I don't think it's

going to be abortion as the main issue, as it normally is in the Supreme Court. I think

it's going to be health care.

I think the Democrats are smart enough not to go after her faith. They're smart enough

to say, health care is a real issue. People are concerned about losing Obamacare. And

this could tip the balance in the court, so that Obamacare comes under threat.

And I think that's a very strong argument that Democrats can make, and it puts one of

their best issues at the top of the agenda.

JUDY WOODRUFF: Mark, it does look like Democrats are focusing on health care.

How does that shift what's going on? And just, if you would, address the speed of this.

MARK SHIELDS: Well, health, health care, Judy, workers' rights, immigrant rights, women's

rights, consumer rights, I think they have to expand it, no question about it. And it

is legitimate.

I mean, the Affordable Care Act faces extinction in the Supreme Court on the 10th of November.

There were 20 million people added under the Affordable Care Act who got health insurance

during Barack Obama's last six years in office, while that -- while it was in effect.

During Donald Trump's time in office, 2.8 million Americans have lost their health insurance.

And that number will be increased dramatically with the repeal of the Affordable Care Act

that goes with it, and all the empty promises that Republicans have made about a health

care act.

I would simply point out that, since Richard Nixon in 1969, there has never been a Republican

health care plan offered by any president or any Congress.

John Boehner, the speaker of the House said: In 25 years, I have never seen a Republican

health care plan. I have worked on health care, and there has never been one.

And that is the reality. And I think it has to be central to the debate. So I think -- and

Democrats would do well on that issue.

And what you -- we saw today was that a Washington Post/ABC poll, by a margin of 3-2, over -- close

to 60 percent believe that the decision, naming of Supreme Court justice to replace Justice

Ginsburg ought to be done by the next president, the one who is elected in November.

And so I think the Democrats have that on their side.

The only thing worse than a liar, said Tennessee Williams, is a liar who's a hypocrite. And

that's exactly where Lindsey Graham, the chairman of the Republican -- the chairman of the Senate

Judiciary Committee, and too many of his colleagues stand tonight.

JUDY WOODRUFF: David, I do want to ask you both about what President Trump has been saying,

raising questions about the legitimacy of the results if he's not the winner, casting

doubt about mail-in ballots, virtually every day talking about that.

And you just heard the interview that William Brangham did with Bart Gellman.

Are we -- should Americans be worried, as we are almost -- we're just, what, a little

more than five weeks from this Election Day?

DAVID BROOKS: Yes, I was in a call, a conference call, with a bunch of scholars and political

observers yesterday, and we all said, how scared are you, from one to five? And we were

pretty much at 4.5. Some people were at nine and 10.

I have never been more pessimistic about where this country is than I am right now, I mean,

in my whole life. We have had a bad few years with the social fabric fraying. We have had

a president ripping us to top from the -- ripping us apart from the top

The Supreme Court fight maximizes the sense that people have on both sides of the other

side is completely illegitimate and not playing by the rules. And then we walk into an election

night, as Barton Gellman said, where all sorts of bad things could happen.

And I think he makes the core point. I mean, the two moments that I think I'm most afraid

about is, one, election night, when we're sitting there and it looks like Trump is ahead,

and what that psychology does to the country, and then the crucial distinction that he makes,

which is, it's not that Trump is going to lose and refuse to go.

It's that the results could be genuinely unclear, and then we start monkeying with the electors,

especially in states like Arizona and Florida, where you have a Republican governor, Republican

state legislator. A lot of key states, Pennsylvania, Michigan, you have got a Republican legislator,

Democratic governor.

There's all sorts of mayhem.

And one of the things we have learned is that our system depends on the goodwill of the

players involved. And if that goodwill isn't there, then the spiral of accusation and animosity

and enmity -- I don't think we're going to see physical violence, but we will see a level

of psychological violence that we just haven't seen since 1865.

JUDY WOODRUFF: Mark, less than a minute.

Words of reassurance for the American people or not?

MARK SHIELDS: Reassurance, Judy, I mean, let's just hope the example of Al Gore in 2000,

who won the popular vote and said, this is a time when partisanship must yield for patriotism.

Donald Trump, this is not a new song for him. He lost by 2,868,686 votes to Hillary Clinton

in 2016. And what was his explanation? Three to five million illegal undocumented immigrants

voted. That's the only reason he didn't win the popular vote.

So he appointed a commission to examine all those. There were no examples, Judy. There

were no examples of fraud. They came up with nothing.

This is a total fraud. And we will find out, I mean, what this man is made of. Is there

a scintilla of patriotism in his soul? Will he abide by the judgment, as John McCain did

so gallantly in 2008, in saying, I called Senator Obama, who was my opponent, and is

now my president?

That's the example. And I stand with David. I'm concerned deeply. And I just hope an aroused

country and citizenry will not tolerate that kind of behavior, as well as Republicans.

I'm looking, they are -- hoping not that they're an invertebrate, that there is some beat of

a soul still left in the party of Abraham Lincoln.

JUDY WOODRUFF: Well, time for reflection for all of us and for as much transparency as

possible in covering this election.

Mark Shields, David Brooks, we thank you.

We mark more than 200,000 American lives lost and six months of the "NewsHour" honoring

the victims of COVID-19 every Friday evening.

Tonight, we honor five more. Here are their stories.

Howard Croft had no tolerance for injustice. Raised by his grandparents in Harrisburg,

Pennsylvania, Howard learned early on to fight for working people. He spent decades fighting

for social justice and advocating for voting rights and D.C. statehood.

His wife described Howard as entirely fierce, but said he let his gentle sideshow for her

and the rest of their family. Howard was 78.

Ana Maria De La Torre was an icon in her San Jose neighborhood, her friends said. For dozens

of families, she cared for their children as a nanny and cleaned their homes. The Mexican

native loved hosting huge parties and bringing people and cultures together. She was known

for her phenomenal cooking.

Ana was also a fighter. She survived lymphoma in 2012. Her beloved son and granddaughter

were by her side when she passed at the age of 65.

Growing up in Ford City, Pennsylvania, Timothy Russell enjoyed reading so much that his mom

would have to ask the librarian to send him home for dinner. He went on to become an admired

scholar, headmaster of Christian schools, and, most recently, a minister in Memphis,

Tennessee.

A friend said that Tim was a courageous pastor who loved fiercely. He enjoyed traveling the

world with his wife. Tim was 62 years old.

Forty-seven-year-old Raven Voice was a born caregiver. Raised in Tulsa, Oklahoma, as a

member of Creek Nation, Raven's daughter said her mom was always taking care of others.

She tutored and mentored Native American students, and worked for 14 years as a nurse for the

elderly. Above all else, her family said, she was dedicated to her mother, children

and grandchildren.

Ray "Doc" Dougherty would sit on the front porch of the house he lived in for 49 years

in Philadelphia, and smile or chat with anyone who walked by. A letter carrier for the U.S.

Postal Service for almost four decades, Doc was beloved by the community he served.

Doc's wife of 50 years said her U.S. Army veteran husband was a simple man whose greatest

joys were her, their three children and 13 grandchildren. Doc was 70 years old.

We want to thank all the family members who shared these stories tonight. Our hearts go

out to you and to everyone who's lost a loved one in this pandemic.

And finally tonight: As we approach the election, there's a refrain of how divided the country

is, culturally and politically. And some of the starkest differences are between urban

and rural areas.

Now a singer-songwriter from Western Kentucky is hoping her music can help us find some

common ground.

Jeffrey Brown reports.

It's part of our American Creators series and our ongoing arts and culture series, Canvas.

JEFFREY BROWN: S.G. Goodman's debut solo album draws from her experience growing up as a

farmer's daughter in Western Kentucky in Hickman, a town of 3,000 people on the Mississippi

River.

Her songs are often a poignant critique, both of how outsiders view rural communities and

of the social, political and economic systems that have shaped the lives of her family and

neighbors.

S.G. GOODMAN, Musician: I take it very seriously to represent my home and the people there

in a respectful manner. Oftentimes, I feel like people who write about the South want

to just keep pushing stereotypes that does nothing really to capture the true essence

of the South.

JEFFREY BROWN: That focus on authenticity is also reflected in the album's raw sound.

S.G. GOODMAN: My philosophy when it comes to recording is, you're truly capturing a

moment in time, and we are raw, and we are gritty. And I wanted to make sure that people,

when they heard my music, they heard us.

This is the storefront of our local record shop, Terrapin Station. Here it is in all

its glory.

JEFFREY BROWN: The 31-year-old Goodman now lives an hour east of her hometown in the

small college town of Murray, population 19,000. We got a virtual tour, including the local

music scene mecca.

S.G. GOODMAN: When I was a freshman in college, I'd made a C.D., and I dropped off my C.D.

to the manager here.

And I told him. I said, just stick a C.D. in everybody's bag as they leave.

JEFFREY BROWN: That was one way of getting yourself heard, I guess.

S.G. GOODMAN: I do have a lot of DIY roots. So that was my genius marketing plan at the

time.

(LAUGHTER)

JEFFREY BROWN: These days, she makes a living through music. And she made a decision to

stay in Western Kentucky, even when it hasn't been easy.

She's gay and politically liberal in a county that is overwhelmingly conservative.

S.G. GOODMAN: There's multiple reasons why it would benefit me to move to a more urban

area, a more progressive area.

But I feel like the only way for the South and rural areas to change and to progress

is for people to stay and live out those beliefs.

JEFFREY BROWN: It's a sentiment heard in her album's title track, "Old Time Feeling."

Goodman says her Southern roots make people more receptive to her views and her criticisms

than they would be to an outsider's.

S.G. GOODMAN: Actual farmer's daughters, they're a rare breed these days. I can sit down at

a diner in the middle of Mississippi and probably fit right in, and people wouldn't immediately

peg me as a progressive.

JEFFREY BROWN: Old-time feeling, that's a phrase that I might expect as a sort of nostalgic

feel-good old-time feeling.

But you are writing, we're not living in that old-time feeling.

S.G. GOODMAN: The South is a complex place. Southern pride is a complex issue. I'm definitely

proud of where I'm from and the people who surround me.

But, at the same time, there's definitely some generational cycles that need to be broken,

interrogated, and also not held at such high regards.

JEFFREY BROWN: It's a debate playing out in Goodman's own town. A Robert E. Lee statue

that stands in the town square outside the county courthouse has sparked protests and

counterprotests.

S.G. GOODMAN: Many community members and myself find it offensive, and we feel like we could

come to some sort of compromise by at least having it removed from such a public place.

JEFFREY BROWN: Bringing out an album is, of course, difficult amid the pandemic. A tour

to promote it had to be canceled.

Still, it's given Goodman another reason to appreciate her home.

S.G. GOODMAN: For once, I got it right, living in a small town with nature around me.

JEFFREY BROWN: Now you have a lot of people wanting to leave the cities to come to a place

like where you are.

S.G. GOODMAN: Houses are cheap here. Come on down, you know?

JEFFREY BROWN: And if not in-person, then visit through song.

For the "PBS NewsHour," I'm Jeffrey Brown.

JUDY WOODRUFF: And What a beautiful voice.

And we go from finding common ground to staking dividing lines.

Please join us next Tuesday night for special live coverage of the first presidential debate

between Donald Trump and Joe Biden.

WILLIAM BRANGHAM: Taking the stage. It's time for those two candidates to meet.

DONALD TRUMP, President of the United States: If you can't beat him in a debate, you have

got a big problem.

WILLIAM BRANGHAM: Who has what it takes to lead us through these tough times?

JOSEPH BIDEN (D), Presidential Candidate: We're in the battle for the soul of the nation.

WILLIAM BRANGHAM: How will the candidates handle their first one-on-one?

A "PBS NewsHour" Vote 2020 election special: "The First Presidential Debate," September

29 at 9:00/8:00 Central on PBS.

JUDY WOODRUFF: Join us Tuesday night for our live coverage.

And that's the "NewsHour" for tonight. I'm Judy Woodruff.

Have a great weekend. Thank you, please stay safe, and good night.