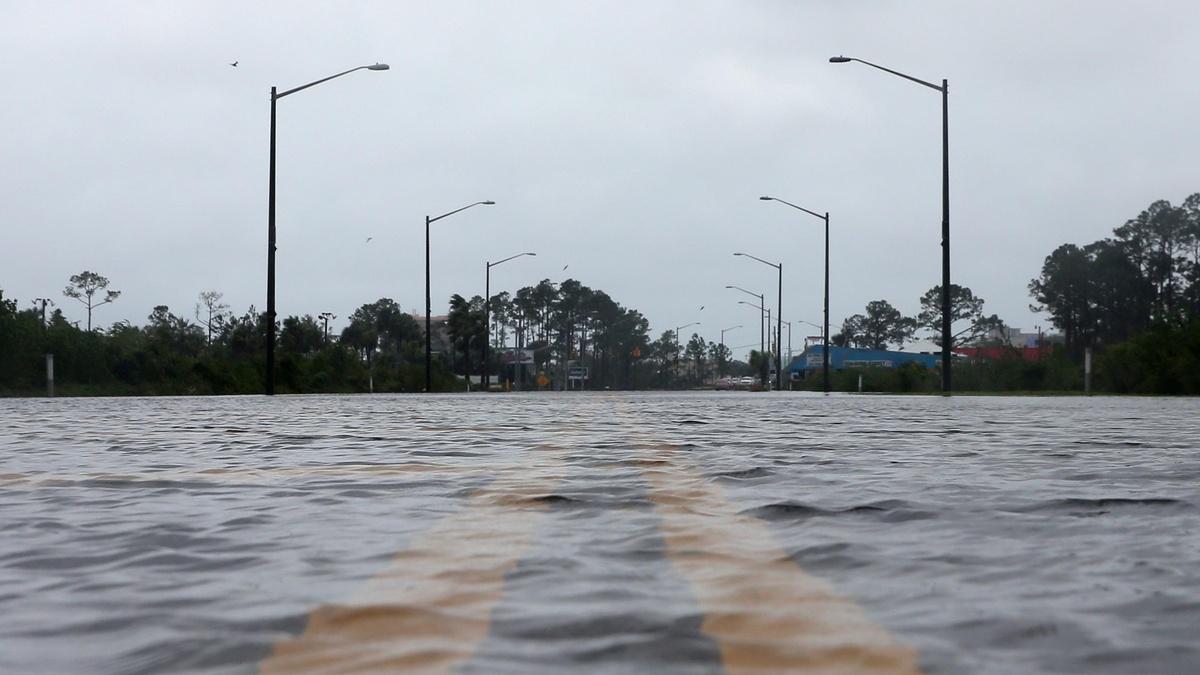 FULL EPISODE
September 16, 2020 - PBS NewsHour full episode
September 16, 2020 - PBS NewsHour full episode
TRANSCRIPT

JUDY WOODRUFF: Good evening. I'm Judy Woodruff.

On the "NewsHour" tonight: A slow-moving hurricane hits the U.S., raising fears of flooding,

as the storm batters the Gulf Coast.

Then: millions of acres ablaze, spreading smoke as far as Europe. How the wildfires

are devastating the Western U.S.

Plus: how to vote, what we know about mail-in ballots and what the country needs to understand

before making their choice in the pandemic.

WILLIAM BRANGHAM: Because of all those mail-in ballots being counted, we may not have a winner

declared on election night.

JUDY WOODRUFF: All that and more on tonight's "PBS NewsHour."

(BREAK)

JUDY WOODRUFF: It's been a long and damaging day along much of

the U.S. Gulf Coast, with hundreds of flooded

homes, plus broken bridges and rain by the bucketful.

Hurricane Sally has weakened since it struck the Alabama-Florida state line before dawn.

But major damage is piling up.

Stephanie Sy has our report.

STEPHANIE SY: Waves of swollen waters crashed onto Southern shores. Hurricane Sally hit

the Gulf Coast this morning as a Category 2 storm, and is moving forward at a glacial

pace.

In Mobile, Alabama, winds of up to 105 miles per hour swept through empty streets...

MAN: There it goes.

STEPHANIE SY: ... and downed trees in backyards near the state border with Florida.

CHILD: Holy moly.

STEPHANIE SY: In Pensacola, Florida, a portion of the massive Three Mile Bridge collapsed

in the high winds, apparently after a crane crashed onto the roadway.

MAN: It's pretty windy. Blow you over.

STEPHANIE SY: Residents like Trent Airhart were left to wade through knee-high water

as rainfall reached 20 inches, and kept coming.

The storm grew rapidly last weekend into hurricane force as it made its way past Southern Florida

and up the Gulf of Mexico. Climate scientists have found evidence that hurricanes are intensifying

more rapidly, while producing more rain and stalling, and they have linked those impacts

to human-caused climate change.

Ken Graham at the National Hurricane Center says Sally illustrates the potential damage.

KEN GRAHAM, Director, National Hurricane Center: When you get a slow-moving storm, it just

compounds the issues. It's longer to be able to put that rain down on the ground, longer

to push that storm surge in.

So, the combination of the rainfall and storm surge, when it's a slow-moving storm, you

just have the opportunity to put torrential, dangerous rainfall down on the ground, leading

to significant flash flooding. In fact, with tropical systems historically, 90 percent

of the fatalities in tropical systems is from the water.

STEPHANIE SY: Officials in Alabama and Mississippi had urged residents in flood-prone areas to

get out. But some ignored the evacuation orders.

Park Painter of Fish River says he's endured false alarms before.

PARK PAINTER, Alabama: A lot of times, there's hurricanes, and they don't end up hitting

as bad as people say they will. So, I guess everyone's thinking it's going to be like

that again, and then everyone just packed up and left last-minute.

STEPHANIE SY: The storm's slow speed also made its path less predictable. Meteorologists

forecast it would hit Biloxi, Mississippi, but that changed last night, sparing the city.

Mayor Andrew "FoFo" Gilich told the "PBS NewsHour" he's relieved.

ANDREW "FOFO" GILICH, Mayor of Biloxi, Mississippi: It had been right on your throat, right on

our backyard. And we would have a lot of issues, which would include the downed trees, the

downed power, those -- even the communications, which is always a big thing.

But I am relieved that people are back at work this morning.

STEPHANIE SY: Hurricane Sally's lashing of the Gulf Coast comes just three weeks after

Hurricane Laura hit with deadly force.

This Atlantic hurricane season has been among the most active on record, with some 20 named

systems so far.

For the "PBS NewsHour," I'm Stephanie Sy.

JUDY WOODRUFF: In the day's other news: Dozens of wildfires kept burning across the Pacific

Northwest and California.

President Trump declared a federal disaster in Oregon, where several small towns have

been razed. But improved weather is helping. In California today, crews stopped a fire

just 500 feet from the famed Mount Wilson Observatory.

Federal health agencies and the Pentagon today outlined plans to make COVID-19 vaccines available

for free to all Americans. The campaign would begin gradually late this year or early next

year.

At a U.S. Senate hearing, the head of the Centers for Disease Control and Prevention

cautioned that the supply will be very limited at first.

DR. ROBERT REDFIELD, CDC Director: If you're asking me when is it going to be generally

available to the American public, so we can begin to take advantage of vaccine to get

back to our regular life, I think we're probably looking at third -- late second quarter, third

quarter 2021.

JUDY WOODRUFF: Later, President Trump said that Director Redfield made a mistake in his

estimate.

Redfield also defended his agency's scientific integrity, and he dismissed claims that CDC

scientists are plotting against President Trump's reelection. That charge came from

Trump appointee Michael Caputo at the Health and Human Services Department.

Today, the department announced that Caputo is taking a two-month leave of absence.

The Big Ten Conference has reversed field and will play college football after all this

fall, with pandemic precautions. Officials today announced eight regular season games,

starting next month, plus a conference title game. That would make the winner eligible

for the national championship.

In the presidential campaign, Democrat Joe Biden blasted President Trump's latest statements

on the pandemic. In a town hall last night, the president played down the need for masks

and said he had done all that could be done.

Biden spoke today in Wilmington, Delaware.

JOSEPH BIDEN (D), Presidential Candidate: All the president had to offer last night,

President Trump, was the same weak and feckless inaction.

Let me be clear: I trust vaccines. I trust scientists. But I don't trust Donald Trump.

And, at this moment, the American people can't either.

JUDY WOODRUFF: Biden also dismissed claims by the Trump campaign that he is trying to

undermine public confidence in a potential vaccine for political gain.

A U.S. House committee has issued a scathing report on the Boeing 737 MAX. It blamed failed

government oversight and Boeing's failure to fix problems for crashes that killed 346

people. It also calls for major reform.

We will discuss all of this after the news summary.

The State Department today defended the firing of Inspector General Steve Linick. He had

been reviewing an $8 billion arms sale to Saudi Arabia, among other things.

At a congressional hearing, department officials rejected Democrats' allegations of a cover-up

led by House Foreign Affairs Chairman Eliot Engel.

REP. ELIOT ENGEL (D-NY): The fact that we had to drag you up here kicking and screaming

itself makes me think that the department has been trying to hide the truth.

BRIAN BULATAO, U.S. Undersecretary of State for Management: The I.G.'s removal was not

about retaliation on any specific report or investigation. There have been a variety of

unsubstantiated allegations in the media that the secretary recommended removal of the I.G.

because of some awareness of these investigations. Nothing could be further from the truth.

JUDY WOODRUFF: Linick is one of several officials who've been dismissed from oversight roles

in the Trump administration.

The Parliament of Japan elected Yoshihide Suga today to be prime minister. He had long

been the top aide to Shinzo Abe, who resigned as prime minister due to chronic illness.

After his election, Suga promised to focus on the pandemic and economic troubles. He

also called for even closer ties with the U.S.

The U.S. Justice Department has charged five Chinese citizens with computer hacking more

than 100 companies and organizations in the U.S. and worldwide. The five suspects remain

at large. Investigators say they found no direct connection between the hackers and

the Chinese government.

The Federal Reserve announced today that it has no plans to raise interest rates, at least

through 2023, in order to boost economic growth. Chairman Jerome Powell said that the economy

has recovered more quickly than expected, but he said the outlook is still uncertain.

JEROME POWELL, Federal Reserve Chairman: The labor market has improved, but it's a long,

long way from max employment. And it will be some time getting back there. I think that's

the best way to think about it. In many parts of the economy, there's just a lot of disruption,

and it's really hard to say precisely where we are.

JUDY WOODRUFF: Powell also urged Congress to do more, but lawmakers remain deadlocked

on a new relief package.

On Wall Street, tech stocks led much of the market lower, despite the Fed's announcement.

The Dow Jones industrial average managed to gain 36 points, to close at 28032. But the

Nasdaq fell nearly 140 points, and the S&P 500 slipped 15.

And the well-known intellectual and jazz authority Stanley Crouch died today in New York. He

gained notice in the 1970s as a highly original and highly confrontational writer and cultural

critic. He championed jazz, he denounced rap music, and wrote extensively, including a

biography of jazz great Charlie Parker.

Stanley Crouch was 74 years old.

Still to come on the "NewsHour": what went wrong with the Boeing 737 MAX?; how to vote,

either by mail or in person, for November; a desperate journey to the Cliffs of Dover;

and much more.

Tragedy in the skies: Two Boeing 737 MAX jets crash in 2019. The cause? Multiple failures

along the way.

Amna Nawaz explores a new blistering report that reveals the extent of errors and the

need for change.

AMNA NAWAZ: Judy, that report was issued by the Democratic members of the House Transportation

Committee.

And their investigation into the crashes in Indonesia and Ethiopia found what they called

- - quote -- "a horrific culmination of a series of faulty technical assumptions by Boeing's

engineers, a lack of transparency on the part of Boeing's management, and grossly insufficient

oversight by the FAA."

The report also found -- quote -- "that Boeing withheld crucial information from the FAA,

its customers and 737 MAX pilots."

Our own aviation correspondent, Miles O'Brien, continues to cover this story, and he joins

me now.

Miles, welcome back. It's always good to see you.

We should note this isn't the first investigation into those crashes, but it is the most comprehensive.

It's also striking that they seemed to find a problem or a failure at every single step

along the way. How unusual is that?

MILES O'BRIEN: It is unusual, Amna.

This is a systemic problem. This is not just an isolated situation. What the report paints

is a picture of a company in a very competitive landscape, trying to get an aircraft to market,

cutting corners financially, seeing problems that crop up at a low level, and those problems

not being addressed by the company.

And, meanwhile, the regulator, the Federal Aviation Administration, using its so-called

designees, that is to say, Boeing employees that are supposed to be watching all of this,

not aware of much of this, and to the extent the FAA was aware, overruling lower-ranking

people at the FAA who raised concerns.

This is a problem that requires a fundamental rethink on how aircraft are designed, built

and flown in this country.

AMNA NAWAZ: Let me ask you what they found about Boeing's role in all of this, because

earlier investigations found there was a problem with something called the MCAS system a lot

of people have about. It was a sensor feeding bad data that would then force the nose of

the plane down.

Did we learn anything from this new report about what Boeing knew about that problem

and how they handled it?

MILES O'BRIEN: Engineers, pilots were all seeing the problem, which ultimately led to

these two fatal crashes.

Those problems were raised, and nothing was done about them internally within Boeing.

That didn't get to the FAA either.

So, what you had was a serious problem, a problem that ultimately led to the loss of

life, that was being papered over and overlooked.

AMNA NAWAZ: The report also found, when it comes to the FAA, that the entire regulatory

system is flawed and that it needs to be repaired.

And the thing we should point out is that, despite all those problems, the FAA signed

off on the plane. It was deemed compliant. How does that happen?

MILES O'BRIEN: Yes, how can it be compliant and still have two -- and considered safe

and still have two crashes? Obviously, that all doesn't add up.

What you have is a system that, over the years, for decades, the FAA has essentially outsourced

its capability to inspect in these processes and sign off to the companies themselves.

So-called designees do the work for them. They don't have their foot soldiers on the

ground. It would require a lot of money and a huge change in the FAA process to change

that.

But maybe it's time to start thinking about not allowing the companies themselves to police

their own procedures.

AMNA NAWAZ: Well, a spokesperson for Boeing has this to say.

They say: "We have been hard at work strengthening our safety culture, rebuilding trust with

our customers, regulators and the flying public."

They also say the company's thoughts and prayers remain with the families of those who died

in the crashes.

But, Miles, those 737 MAX jets remain grounded worldwide right now. Will we see them back

in the air anytime soon?

MILES O'BRIEN: Yes, this is a multination effort right now, the United States, Brazil,

and Canada, regulators in all these countries working together to try to get this aircraft

back in flight.

There are so-called airworthiness directives out there that would fix the technical problems,

but it is going to take a while to get to the point where this plane will be back in

service, including the administrator of the FAA, Steve Dickson, is a very accomplished

airline pilot. He is going to fly it.

There will be several other reports. There will be a final airworthiness directive. And

then, finally, at that point, they will remove the grounding order and give it a new certification

to fly.

But this is going to take some time. No one wants to put a date on the calendar yet.

AMNA NAWAZ: That is Miles O'Brien covering this very important story for us.

Miles, thank you so much.

MILES O'BRIEN: You're welcome, Amna.

JUDY WOODRUFF: And a quick correction.

In my introduction to this report, I said there were two crashes in 2019. In fact, the

first was in the fall of 2018. We regret the error.

How do you break a stalemate?

Lawmakers and the White House remain at odds on how to agree on relief to the economic

casualties of COVID. Despite the odds, a group of U.S. House members on both sides of the

aisle are trying to breach the divide.

John Yang has the story.

JOHN YANG: Judy, the group of 25 House Democrats and 25 House Republicans calls itself the

Problem Solvers Caucus. Its new plan has a $1.5 trillion price tag.

It would provide unemployment benefits, starting at $450 a week, new stimulus checks for lower-income

Americans, $1,200 per adult, $500 per child, $500 billion in new aid for state and local

governments, and as much as $25 billion in rental assistance.

The two co-chairs of the Problem Solvers Caucus are Representative Josh Gottheimer, a Democrat

of New Jersey, and Republican Tom Reed of New York. They join us from Capitol Hill,

as you can see, appropriately distanced for the pandemic.

Mr. Gottheimer, I'd like to start with you.

The leaders of the Democratic Caucus were less than enthusiastic about this -- your

proposal. The eight chairmen issued a statement saying that it was not enough to save lives,

not enough to boost the economy. And they said that, in certain areas, it was even a

step backward.

Given that, how do you use this as a way to chart a path forward to show how compromise

is possible?

REP. JOSH GOTTHEIMER (D-NJ): Well, obviously, I have a deep respect for our chairs and their

priorities, which is why all of them are actually in our package, from state and local support,

to up to $600 a week for unemployment, to $1,200 direct checks.

You know, what we focused on when we came together as Democrats and Republicans was,

how do we get over the humps that have kept us stuck for the last four months without

giving any relief to the American people and to small businesses?

You can talk about something we voted on three, four months ago, but how do we actually get

parties back to the table to get things done, instead of just fighting with each other?

And that's really been our objective here.

We got Democrats and Republicans together and put a framework together of actually bipartisan

agreement. And, to me, doing something is much

better than doing nothing.

JOHN YANG: Mr. Reed, I do want to ask you, what are you hearing from the White House?

What are you hearing from your Republican colleagues in the other chamber, in the Senate?

REP. TOM REED (R-NY): I will tell you, if you look at what the White House has said,

Mark Meadows, what the press secretary said today, they highlighted our Problem Solvers

Caucus work as a great step in the right direction, that they are willing to go in the room.

Just as the speaker said, we are staying here in D.C. until we get a deal done. Those are

all positive statements that we initiated a thaw in this gridlock.

From my perspective, we did what we wanted to do. And that was to show that Congress

should and can do its job.

JOHN YANG: Mr. Reed, your co-chair talked about getting over the hurdles, getting over

some of the bumps in the road that have blocked an agreement.

From your perspective, from the Republicans' perspective, what were some of the toughest

bumps to get over? What were some of the last sticking points to get over?

REP. TOM REED: Well, obviously, when you're discussing state and local aid.

We had a great discussion. And one of the concerns was -- is, when you look at how we

broke that down. We looked at making sure that it covered actual expenses for past and

future COVID-19-related expenses, that when you talked about lost revenue by our local

and state governments, you talked about documented lost revenues as shown before the COVID-19

in comparison to where we're at as a result of COVID-19 impacts on state and local budgets.

And also recognizing, when we got these boosters and reducers, because it could be a $1.3 trillion

deal if we get a vaccine, and if you get hospitalizations under control, and you don't see an outbreak

of the virus going forward.

That got a lot of people going, now we're basing it not on politics, but based on conditions

in reality, based on what is truly needed by the American people, not what's needed

for political purposes.

JOHN YANG: And, Mr. Gottheimer, from the Democrats' point of view, what were some of the priorities

that the Democrats in the caucus had to compromise on? What were some of the tough gives from

the Democratic side?

REP. JOSH GOTTHEIMER: What we figured out was, if we shorten the timetable, and said,

let's just get through the next inauguration, let's get help for food insecurity for those

who -- where we have got to help, let's get help to the state and local, let's get help

for our schools.

And we all came together and said, we can agree to these things.

Now, as Tom just said, we put in these things called boosters and reducers. So, it's at

1.5 right now, but if the virus is still spreading the way it is today, and we don't have a vaccine

that's widely distributed by March, which is why the package is called March to Common

Ground, if, come March, we don't have that, boosters kick in and it becomes a $2 trillion

package.

And, as Tom said, it also gets reduced if we are in a much better place. And that's

where we started to really come together and said, we can meet our priorities. Let's stop

fighting over the top-line number, which everyone keeps talking about. And we're really hoping

our leadership and the White House and that everyone can come to the table and use the

- - our framework as a starting point, but just to get something done, so we can help

people, because we can't go home.

Really, frankly, it's unconscionable to go home without helping folks.

JOHN YANG: Mr. Gottheimer, what does it say about the current situation, the fact that

you have gotten millions of Americans hurting across the country financially, with -- and

also with the coronavirus itself, that is a group of relatively junior members who are

sitting down, reaching across the aisle, while the leadership and the White House aren't

talking?

REP. JOSH GOTTHEIMER: The 50 of us came together, and we have gotten to know each other over

the last year.

As we spend time together, we don't just talk, but we listen to one another. And that's the

best way to break a gridlock, right, by realizing, if you sit in the room together and you just

keep working it -- and we spent at least 100 hours on this just working it, the problem,

over and over again -- that you can get to success.

But you have to be willing to try. And so we're really encouraging all the leaders,

if you just sit in the room and try -- and we're happy to help in any way possible -- that

we can get this done. And I think we owe it to the American people to get it done.

JOHN YANG: Mr. Reed, same question to you.

From your perspective, what does this say, that it is a group of, as your colleague says,

freshmen and lower-ranking members that are sitting down and doing this?

REP. TOM REED: John, the common bond of the Problem Solvers Caucus -- we have been around

now four years -- is that we are committed to putting America first.

We understand we're in a political town here in Washington, D.C., but, also, we are committed

to respecting each other.

I'm a proud Republican. Josh is a proud Democrat. And every member of the Problem Solvers Caucus

carries that with them. But we respect each other. We trust each other. We listen to each

other.

And this is the only forum where this occurs. The Problem Solvers Caucus is about trust

and respect, but being -- and recognizing that we are Republicans, we are Democrats,

but, at our heart, we're Americans first.

JOHN YANG: Representative Josh Gottheimer, Democrat of New Jersey, Representative Tom

Reed, Republican of New York, co-chairs of the Problem Solvers Caucus, gentlemen, thank

you very much.

REP. JOSH GOTTHEIMER: Thanks for having us.

REP. TOM REED: Thank you, John.

JUDY WOODRUFF: Amid the pandemic, tens of millions of more Americans are looking to

vote by mail than in past elections. But there has been a lot of misinformation around the

process.

William Brangham has this report about the current state of voting by mail and how to

make sure your vote is counted.

WILLIAM BRANGHAM: There's a lot of confusion around voting by mail this election season.

People are worried whether the vote will be safe and whether all the votes will be counted.

That's especially critical after more than an estimated 500,000 mail-in ballots were

thrown out or disqualified during primary elections earlier this year. In addition to

user error, another major concern is driven by just the tidal wave of misinformation,

or conflicting information around voting by mail. Some of it is coming from political

parties. Some of it is coming from President Trump. Some of it is even coming from the

U.S. Postal Service.

For example, the state of Colorado recently sued the Postal Service to stop it sending

out this flyer to people, since it included incorrect information about how Coloradans

can get their mail-in ballots.

Colorado and four other states, Hawaii, Oregon, Washington, and Utah, already conduct their

elections entirely by mail. This year, in part because of the pandemic, California,

Montana, Nevada, New Jersey, Vermont and the District of Columbia have decided to mail

ballots to all active voters.

Officials in some red and blue states are trying to increase access to mail-in voting

amid the pandemic. Ohio, a Republican-controlled state, held an entirely mail-in primary election

this April.

DONALD TRUMP, President of the United States: The Democrats are trying to rig this election,

because it's the only way they're going to win.

WILLIAM BRANGHAM: Despite President Trump's repeated baseless claims that mail-in voting

is riddled with fraud, and that Democrats are trying to use it to rig the election,

his own campaign is mailing out flyers to its supporters across the country encouraging

them to vote by mail, and assuring them that it's safe.

Utah's Republican Lieutenant Governor, Republican Spencer Cox, told the "NewsHour" that universal

mail-in voting in his state has increased voter participation, and, like in all states,

mail-in ballots are carefully screened for errors or irregularities.

LT. GOV. SPENCER COX (R-UT): We take painstaking procedures and efforts to make sure that there

is no fraud. And we have not seen rampant voter fraud.

WILLIAM BRANGHAM: Meanwhile, some other organizations have inadvertently sent out bad information

to voters.

The nonprofit Center For Voter Information sent vote-by-mail applications to half-a-million

Virginia residents, but with the wrong return addresses, adding to the confusion.

Meanwhile, the president continues to give voters bad information. Several times, he's

told supporters to vote absentee, which is a type of mail-in voting in some states where

you need to be approved to receive a ballot, and then he's telling them to also try and

vote in person on Election Day, to somehow check whether their first vote was counted.

DONALD TRUMP: Make sure you send the ballot in, and then go to your polling place and

make sure it counts.

WILLIAM BRANGHAM: Not only is voting twice illegal -- it's actually a felony in all 50

states -- elections officials say it will lead to long delays at polling places on Election

Day.

Most states will allow you to track your mail-in ballot online, rather than physically going

into the polling place.

If you're confused about any of this, visit the Web site of your state board of elections

or your secretary of state. There, you can find out how to track your ballot online,

how to fill it out correctly, so it's not rejected, and any other questions you have

about voting.

Another critical piece of this is that, unless the presidential election is a clear landslide

one way or the other, because of all those mail-in ballots being counted, we may not

have a winner declared on election night.

Elections officials in critical battlegrounds of Pennsylvania, Michigan, Wisconsin, and

other states aren't currently allowed to begin counting those mail-in ballots until Election

Day. So, if an estimated 60 percent of voters plan to vote by mail, it could be another

day, a few days, or even weeks to count all those ballots.

President Trump keeps falsely saying that any such delay would be de facto evidence

of fraud.

DONALD TRUMP: You know what? You're not going to know this possibly, if you really did it

right, for months or for years, because these ballots are all going to be lost. They're

all going to be gone.

JOSEPH BIDEN (D), Presidential Candidate: And I think it's all designed to create so

much chaos.

WILLIAM BRANGHAM: The worry for many Democrats is that President Trump might try to declare

victory on election night, without waiting for mail-in ballots to be counted.

Polling shows, in this election, Democrats are more likely to vote by mail than Republicans.

But it's important to stress that a delay does not mean the results will be fraudulent,

according to ProPublica's Jessica Huseman.

JESSICA HUSEMAN, ProPublica: If there is any delay, we just assume that there is a problem,

when, in reality, it allows for time for election administrators to make sure that all of the

counts are accurate.

WILLIAM BRANGHAM: So, we might all have to make some adjustments for our election night

expectations.

For the "PBS NewsHour," I'm William Brangham.

JUDY WOODRUFF: And we want to continue our regular look at how this election is seen

across the country with Patricia Lopez. She's an editorial writer for The Star Tribune.

And she joins us from St. Paul, Minnesota.

And Daniel Garza, he is president of the advocacy group the LIBRE Initiative, which will host

a policy forum with Vice President Pence this Friday. Daniel Garza is also a former White

House staffer in the Bush administration.

And we welcome both of you to the "NewsHour."

We were listening to President Trump's remarks at the White House just about half-an-hour

ago, Patricia Lopez, the president again continuing to cast doubt on mail-in voting.

The people you talk to, how much confidence do they tell you they have in the integrity

of the American voting system?

PATRICIA LOPEZ, Star Tribune: They have a high degree of confidence,.

And, in Minnesota, they have taken special precautions because we have been through this

before with the Franken-Coleman race and others. So there is a ballot tracker. You don't have

to check your ballot at the polling place a second time. There's a bar code that's assigned

to voters that will help match up things, along with personally identifying information.

So this goes way beyond the old signature match. So, they think, given all those things

- - and we have had an unprecedented number of applications for absentee ballots come

in. The secretary of state here thinks that as much as a third of the state could vote

either by mail or early.

JUDY WOODRUFF: Interesting.

Daniel Garza, what about where you are? What are people saying to you about how much confidence

they have in the voting system?

DANIEL GARZA, Executive Director, The LIBRE Initiative: There is confidence in the voting

system.

Latinos in Texas will tell you that where they have most of the confidence is actually

in-person voting, because they feel that there is a high rejection rate for Latinos in Texas

when it comes to mail-in ballots.

The rules change from county to county. For example, we are going to start October 13

early voting, but you have to get your ballot in -- or your application for the ballot by

the 23rd. But some counties ask that it be 45 days prior. So, you have to know what is

going on and you have to do some research.

The reason that they prefer to do voting in person is because names in the mail-in ballots

have to match exactly. And Latinos like to use their mother's surname, and sometimes

that is a problem. Many don't have permanent addresses. We have a high volume of senior

citizens who are in senior citizen homes here and are transient as well, and many require

oral assistance because of language.

So the possibility of disenfranchisement is real when it comes to mail-in ballots. We

know that, in Virginia, 5 percent of all of the primary mail-in ballots were rejected.

This is an extraordinarily high number, and so there's worry about that.

And over two-thirds of Latinos will tell you that they prefer mail-in ballots -- or -- I'm

sorry -- in person.

JUDY WOODRUFF: I was just going to say, we know that there is a lot more attention paid

to all of this, this year. It does put a greater burden on voters themselves to find out what

the rules are.

I want to turn, more broadly, though, now to the Latino vote, the vote among Hispanics.

You know, Patricia Lopez, in Minnesota, I know the Latino community is not enormous,

but to the Hispanic voters, Latino voters you speak with, what are they saying about

this election, about the thinking, the choice between President Trump and Joe Biden?

PATRICIA LOPEZ: There's a lot of energy among these voters. They are engaged in a way that

I think they haven't always been, because, as they told me, they feel a direct connection

between the policies and the effects on their lives.

A lot of them have seen that play out on the immigration front. We have a lot of what are

called mixed status families here. So you have DACA recipients. You have older people

who have been -- immigrated themselves, young American-born children.

And so all of them see a direct connection. There's a lot of, anti-Trump energy. The enthusiasm

for Biden is not quite as high. A lot of them are more intent on voting against Trump than

for Biden.

JUDY WOODRUFF: And, Daniel Garza, what about the Latino -- I know you're very involved

in the organization LIBRE, but, even beyond that, as you talk to people you know about

the Latino vote, what are you hearing?

DANIEL GARZA: Look, I think there's something different this time around for Donald Trump,

in that he actually has a record that he can showcase.

And it was one that benefited the Latino community tremendously, with record unemployment, record

labor participation rates, record wage growth, and record homeownership. These are all things

that help tremendously to increase the prosperity for Latinos. And so they have now, as opposed

to, in 2016, a record to run on.

At the same time. I think they're generating a lot of excitement. They're mobilizing Latinos

to recruit Latinos, to persuade Latinos. This is very important, because, for Latinos, it's

very important that we relate to the messenger, folks who share -- who have a shared language,

a shared culture, shared experiences.

And when Latinos are going door to door talking to Latinos, this generates excitement. The

flotillas, the caravans, the in-person events that the president is doing is also generating

a lot of excitement.

(CROSSTALK)

JUDY WOODRUFF: Just quickly, to clarify, you're saying that's happening, despite the pandemic?

DANIEL GARZA: That is happening despite the pandemic.

Obviously, I think people are trying to take steps in respecting the protocols for the

restrictions in state by state. We're going to make sure that we comply fully with Arizona

state laws when we have our policy meeting with the vice president.

But it will be in-person with an audience. Absolutely, it will.

JUDY WOODRUFF: Patricia Lopez, what about in your -- what kind of outreach are you seeing

from the Biden and the Trump campaigns, door-to-door, vs. virtual?

PATRICIA LOPEZ: I think a lot of it has been virtual.

The candidates themselves -- and we will have both President Trump and Vice President Biden

- - well, former Vice President Biden here on Friday, when early voting starts. So, that

will be sort of a kickoff for that kind of in-person engagement.

But there have been door-to-door volunteers. I don't think there is the sense here that

the Trump record has been particularly positive for Latinos, not among the people I have talked

to. They are -- they're wary. I think they have seen a lot of the effects of deportations,

their concerns about ICE, their concerns about COVID regarding essential workers and a sense

that they don't really count for as much as others do.

And that's been really disturbing to a lot of them.

The one thing I do keep hearing about is that a lot of them are very intrigued by Kamala

Harris. And they feel that she may be part of a new message, a new tone that the Biden

camp is trying to send, disconnecting them a little bit from the Obama administration,

because Obama was a very mixed bag for them.

He did create the DACA program, but there were a lot of deportations under President

Obama. And for some in the Latino community, that's been a little hard to get behind. But

they feel, overall, much worse under Trump.

JUDY WOODRUFF: So interesting.

We're going to continue to reach out to the two of you throughout this campaign. We thank

you.

Patricia Lopez, Daniel Garza, thank you.

PATRICIA LOPEZ: Thank you.

JUDY WOODRUFF: Five years into the refugee and migrant crisis, the numbers of people

fleeing to Europe are dropping, due to the pandemic, except in one place.

A record 6,000-plus asylum seekers crossed the English Channel to the United Kingdom

this summer from the French port of Calais.

Human rights groups are warning of the danger of a right-wing backlash.

From the Port of Dover, special correspondent Malcolm Brabant reports.

PROTESTERS: We want our country back! We want our country back!

MALCOLM BRABANT: The protesters are furious that record numbers of asylum seekers are

landing on these shores.

PROTESTER: These are invaders. You should be protecting us, not them.

MALCOLM BRABANT: One day this summer, more than 400 made it across the channel from France

21 miles away.

PROTESTER: Four hundred and nine was it the other day. Are they ISIS? Are they Da'esh?

Are they Taliban? Are they Somalian pirates? You don't know who you are letting in.

MALCOLM BRABANT: The protest began by the port, where migrants arrive after being rescued.

On the busiest day last week, there were over 200, some saved from this dinghy in the world's

busiest waterway.

Given the callousness of people traffickers, these children were lucky to make it. An unknown

number have drowned.

Brexit appears to be a major factor behind this latest surge in channel crossings. Britain

finally formally leaves the European Union on December the 31st. And the people smugglers

are telling the migrants across the channel in Calais that they have to get here before

that deadline kicks in.

That's when, according to government rhetoric, Britain is really going to take control of

its borders. But, if anything these crossings are proving that Britain is unable to stop

them from coming.

Britain's economy depends on free-flowing traffic in Dover. The demonstrators' weapon?

A blockade.

PROTESTER: Our streets, not yours! Our streets!

We pay you!

PROTESTER: Our streets!

PROTESTER: Do your job!

KEN TRANTER, Former Dover Mayor: We're just reflecting the anger. It's the people who

sit at home who're angry, but don't come out and just tut, keyboard warriors.

MALCOLM BRABANT: Ken Tranter is a former mayor of Dover from the left-leaning Labor Party.

Tranter argues that asylum seekers are treated better than thousands of homeless British

military veterans.

KEN TRANTER: Britain is under attack. I have no racism whatsoever, although I'm called

far right for attending this march. I'm a socialist. I want everyone to have that chance.

But I want to know who we're giving the chance to. We're not having someone who's disappearing

into the black economy.

PROTESTERS: Refugees are welcome here!

MALCOLM BRABANT: The Labor mayor of a neighboring coastal town led a counterprotest.

MICHELLE KEUTENIUS, Mayor of Folkestone: Our culture is not just British. It is not just

English. It is built up of people from all over the world. And I am proud to stand in

solidarity.

PROTESTER: No surrender.

PROTESTERS: We want our country back!

MALCOLM BRABANT: Dover is a symbolic battleground. For 1,000 years, its white cliffs have protected

Britain, especially in the Second World War.

Live streaming a sentimental wartime song from his tent, rally organizer Nigel Marcham,

nicknamed Nobby, or the little veteran.

Marcham's tactics blockaded Dover for several hours. Veterans participated, but so did white

supremacists and other groups.

JOE MULHALL, Hope Not Hate: I think we should always be concerned about the far right, no

matter how small.

MALCOLM BRABANT: Joe Mulhall monitors activities of the far right for the nonprofit Hope Not

Hate.

JOE MULHALL: I don't think we can judge the threat they pose by its scale, necessarily.

It only takes one person to attack someone. It only takes one person on the far right

to attack a migrant or to attack a migrant hotel.

MALCOLM BRABANT: Migrants in temporary accommodation are taunted by an extremist group, Britain

First.

MAN: All the migrants there, look, with their bags, all being ushered out of view.

You stay in a hotel?

MALCOLM BRABANT: In the darkness, another sinister development. Vigilantes have been

going to sea to turn back asylum seekers. They're called Little Boats 2020, and they

are led by Jeremy Davis, a wedding disc jockey.

Davis is infuriated by scenes like this, featured in a tweet from Nigel Farage, who orchestrated

Britain's departure from the European Union.

JEREMY DAVIS, Little Boats 2020: We got involved with this is because we're being absolutely

taken to the cleaners by our own government. They're allowing people to come in. We don't

know whether they're traitors, whether they're terrorists.

JOE MULHALL: Attacks on migrants and anti-refugee rhetoric doesn't only come from the far right.

There's a broader societal issue here.

But I guess the thing the far right offer in terms of a challenge is that they're often

way more extreme, much more violent. And it's worth remembering we're seeing record numbers

of terrorist arrests from the far right. This is a dangerous bunch of people.

MALCOLM BRABANT: But the Cliffs of Dover have been used as a canvas to fight back by Syrian

war refugee Hassan Akkad.

HASSAN AKKAD, Refugee Rights Activist: My name is Hassan. And five years ago, I was

on the other side of this channel trying to cross here. These cliffs were actually visible

from our makeshift camp, and they represented hope that I would live a safe and a stable

life here in Britain.

KOLBASSIA HAOUSSOU, Survivors Speak Out: You know the reality. The resources that us -- that

we, people like us, take in is really, really, really tiny, compared to the resources that

the country has.

MALCOLM BRABANT: Kolbassia Haoussou was a political activist in Chad. He survived torture,

fled Central Africa and arrived in Britain in a shipping container.

KOLBASSIA HAOUSSOU: I have been here. I work. I pay taxes. I do everything that a citizen

needs to do. I also contribute to the economy of this country.

MALCOLM BRABANT: One contentious area for anti-immigrant activists is that refugees

fail to seek asylum in one of the countries between their homeland and Britain.

BEX MOULE, Anti-Immigrant Protester: They are coming through hundreds of safe countries.

They're stopping over at Calais, and they know that we are a soft touch. And that has

got to stop.

SONYA SCEATS, Freedom From Torture: So, there is nothing under international law that requires

an asylum seeker to undertake a particular journey in their quest for safety.

MALCOLM BRABANT: Human Rights lawyer Sonya Sceats heads a nonprofit called Freedom From

Torture. She says asylum claims have been halved in recent years.

SONYA SCEATS: They are very small numbers in the scheme of things, but there is a real

sense of political panic which has been cultivated by the government for political ends.

MALCOLM BRABANT: Last year, Britain was the fifth most attractive European destination

for asylum seekers, with 45,000 applications, a long way behind Germany, France, Spain and

Greece.

Prime Minister Boris Johnson is planning new legislation which will make deportations easier.

BORIS JOHNSON, British Prime Minister: We will address the rigidities in our laws that

make this country, I'm afraid, a target and a magnet for those who would exploit vulnerable

people.

SONYA SCEATS: For hundreds of years, people have come to Britain as a beacon of freedom

and safety. And that tradition is on the line at the moment.

MALCOLM BRABANT: Human rights groups blame government's policies for encouraging right-wingers.

Here, they tried to force the police to take the knee to honor British veterans.

PROTESTER: Who will take the knee for the veterans?

PROTESTERS: Shame on you! Shame on you!

PROTESTER: You will take the knee for Black Lives Matter, but you won't take the knee

for veterans who have died.

PROTESTER: They have got Nobby! They have got Nobby!

MALCOLM BRABANT: After taunting the police for hours, the little veteran was arrested,

but released later the same day.

PROTESTER: You're not English anymore.

MALCOLM BRABANT: The climate confronting asylum seekers may be deteriorating, but the lifeboat

crew honors the international maritime covenant, to protect those in peril on the sea.

For the "PBS NewsHour," I'm Malcolm Brabant in Dover.

JUDY WOODRUFF: It was a momentous decision, a recent Supreme Court ruling much of Eastern

Oklahoma remains Indian country, granting jurisdictional control for criminal justice

cases to the Muscogee Creek Nation and four neighboring tribal nations.

Members of Congress and tribal leaders are in two days of virtual discussions to address

issues facing Indian country today.

One topic of conversation, impact of McGirt v. Oklahoma, which, for Native Americans,

goes well beyond the law.

Jeffrey Brown has the story.

It's part of our ongoing arts and culture series, Canvas.

JEFFREY BROWN: Richinda Sands grew up in rural Oklahoma. As a girl, she worked as a pecan

picker. To family members later in life, she was called Mamagee, Creek for Little Mother.

Last October, she died of complications from diabetes at age 73.

JONODEV CHAUDHURI, Ambassador, Muscogee Creek Nation: She was the symbol of all the sacrifice

that went into ensuring that my family has a tribal identity today.

JEFFREY BROWN: Jonodev Chaudhuri is Richinda Sands nephew.

JONODEV CHAUDHURI: When the decision of McGirt came out, she was the first person I thought

of.

JEFFREY BROWN: Chaudhuri is ambassador for the Muscogee Creek Nation, a diplomatic position

representing the tribe's sovereign interests. He sees his Mamagee as his family's last matriarch,

her life wrapped up in issues the Supreme Court spoke to.

JONODEV CHAUDHURI: It was a life of struggle, and it's consistent with the struggle that

all of our families as Muscogee Creek have faced.

And to have affirmation from the federal government's highest court that, despite our struggles,

and because of the sacrifices of people who came before us, our nation remains whole and

our reservation remains whole, it was a powerful moment that resonated with me on a very deep

personal level.

JEFFREY BROWN: That struggle and sacrifice trace back to what's known as the Trail of

Tears, the 19th century forced removal of the Muscogee and other Indians from their

ancestral lands in the Southeast to reservations in what would become Oklahoma.

Today's map still carries the clues. Tallahassee and Tulsa are variations on the same Creek

word for old town.

JONODEV CHAUDHURI: Our story is a story of difficulties, but rebirth and a continued

chain.

Because of the ravages of time and unfortunate efforts by the state government and the federal

government to dismantle this notion of home in our lands, it was an elusive concept, feeling

at home in your nation's lands. And that's a feeling that many Creeks know and a lot

of Native American folks know wherever the reservation or their territory is.

JEFFREY BROWN: The McGirt decision, written by Justice Neil Gorsuch, declared the lands

remain within Indian reservations.

Its direct impact is on crimes committed by tribal members on the reservation, giving

the tribe and the federal government jurisdiction, rather than the state.

JONODEV CHAUDHURI: Not one inch of land, not one fistful of sand changed ownership by this

ruling. Simply, it was a recognition that the Muscogee Creek Nation's boundaries had

never been disestablished or destroyed.

But that's not what brought tears to so many of our eyes. There's a picture in my living

room of my Mamagee and my mom and their siblings, my uncle Cliff, my aunt Aloween (ph) and my

uncle Leon. They're there with my grandparents.

And each one of them had passed away in many ways due to the direct or indirect effects

of removal, whether it be poverty or lack of resources to health care. My aunt was the

first one to make it out of her 50s.

JEFFREY BROWN: The COVID pandemic is hitting Native communities especially hard. The country

is again focusing on its history of -- past and continuing history of racism.

Do those things play into your feelings too about the ruling and where things are now?

JONODEV CHAUDHURI: Yes, absolutely.

The moment that we find ourselves, I think, is beyond just pure readings of the law. The

case itself was a beautifully written, well-reasoned opinion, but it exists in a larger context.

And that context shows that we have to fight to keep the gains made on a social justice

level.

JEFFREY BROWN: It's a context and history that include Richinda Sands.

For the "PBS NewsHour," I'm Jeffrey Brown.

JUDY WOODRUFF: How do you picture a pandemic?

Tonight's Brief But Spectacular focuses on a photographer documenting funeral homes and

health care workers. His images captured in March appeared in "The New York Times Magazine."

He spoke with us about his work in New York City.

PHILIP MONTGOMERY, Photographer: We were photographing in the emergency department at Queens Hospital,

where two FDNY paramedics had just wheeled in a man who was going into cardiac arrest

from COVID-19. The hospital at the time was completely overwhelmed with patients.

At that moment, it was all hands on deck to save this man's life. And we watched for 10

minutes as these two paramedics, flanked by hospital workers, nurses and doctors alike,

gave this man all of the attention that they possibly could in order to bring him back.

And they brought him back after working tirelessly.

Casually, at the end of it, everyone just got back to work. It was just men and women

operating at the highest level of professionalism and heroism.

Most of the work that I have done for COVID-19 has been done with "The New York Times Magazine."

We really wanted to focus on what we had lost as a city. And what we had lost as a city

were 20,000 lives.

New York is a place of many stories, but it really started to become one story. And the

story was in the hospitals.

Over the course of six days, we ended up visiting nine municipal hospitals and clinics across

five boroughs. Working on this type of story, it requires, I think, an overdose of empathy.

If the moment is emotional, I allow myself to feel emotional. In feeling that, I really

hope that it impacts the picture.

One of the tragic things about being hospitalized with COVID-19 is, from the second that you

are hospitalized and leave your family, you won't see them again until you get out, if

you're lucky enough to get out. There were no flowers. There were no visits. There were

no family members in waiting rooms.

There was a New York before COVID, and there's a New York after. And I have had a few moments

of realizing that the world is going to look very different permanently. This is a moment

that is larger than all of us.

My name is Philip Montgomery, and this is my Brief But Spectacular take on reporting

the pandemic in New York City.

JUDY WOODRUFF: Remarkable. There's something about still pictures that you just don't see

anywhere else.

Thank you, Philip Montgomery.

And you can find all of our Brief But Spectacular stories online at PBS.org/NewsHour/Brief.

And that is the "NewsHour" for tonight. I'm Judy Woodruff.

Join us online and again here tomorrow evening.

For all of us at the "PBS NewsHour," thank you, please stay safe, and we'll see you soon.