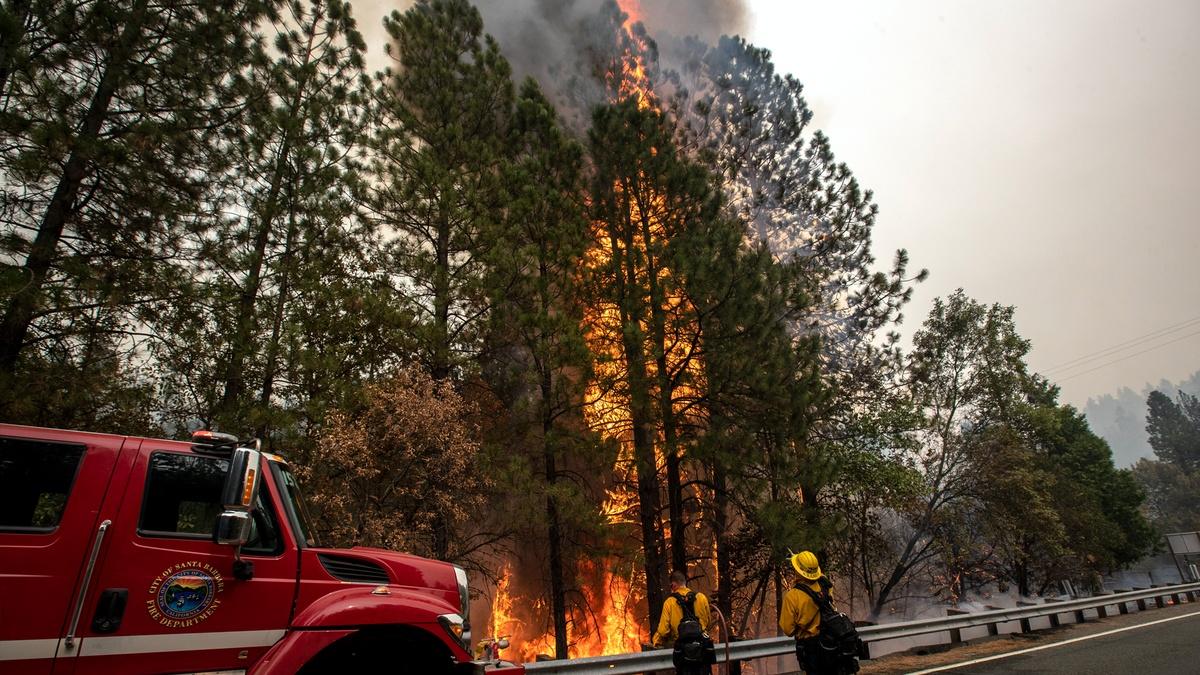 FULL EPISODE
September 13, 2020 - PBS NewsHour Weekend full episode
On this edition for Sunday, September 13, wildfires continue to devastate parts of California and the Pacific Northwest, Jeff Greenfield joins to discuss the latest in the presidential race, and how "upcycling," a technique of turning food scraps into nutritional snacks, is gaining momentum. Hari Sreenivasan anchors from Lehigh Valley, Pennsylvania.
TRANSCRIPT

>> Sreenivasan: ON THIS EDITION

FOR SUNDAY, SEPTEMBER 13:

WILDFIRES CONTINUE TO DEVASTATE

PARTS OF CALIFORNIA AND THE

PACIFIC NORTHWEST.

>> THE TEST THAT WE'RE GOING

TO SEE OVER THE NEXT COUPLE OF

MONTHS, I THINK, IS WHETHER OR

NOT TRUMP CAN GET HIS BASE

PASSIONATE ENOUGH SO THAT THEY

TURN OUT IN UNEXPECTED NUMBERS

THE WAY THEY DID FOUR YEARS

AGO.

>> Sreenivasan: JEFF GREENFIELD

WITH THE LATEST IN POLITICS.

>> CAN WE TASTE IT?

>> YEAH, YOU CAN TASTE IT.

>> Sreenivasan: AND, UPCYCLING:

TURNING FOOD SCRAPS INTO

NUTRITIOUS SNACKS.

NEXT, ON PBS NEWSHOUR WEEKEND.

>>PBS NEWSHOUR WEEKEND IS MADE

POSSIBLE BY:

SUE AND EDGAR WACHENHEIM III.

THE ANDERSON FAMILY FUND.

BERNARD AND DENISE SCHWARTZ.

THE CHERYL AND PHILIP MILSTEIN

FAMILY.

BARBARA HOPE ZUCKERBERG.

THE LEONARD AND NORMA KLORFINE

FOUNDATION.

CHARLES ROSENBLUM.

WE TRY TO LIVE IN THE MOMENT,

TO NOT MISS WHAT'S RIGHT IN

FRONT OF US.

AT MUTUAL OF AMERICA, WE

BELIEVE TAKING CARE OF TOMORROW

CAN HELP YOU MAKE THE MOST OF

TODAY.

MUTUAL OF AMERICA FINANCIAL

GROUP, RETIREMENT SERVICES AND

INVESTMENTS.

>> FOR 25 YEARS, CONSUMER

CELLULAR HAS BEEN OFFERING

NO-CONTRACT WIRELESS PLANS,

DESIGNED TO HELP PEOPLE DO MORE

OF WHAT THEY LIKE.

OUR U.S.-BASED CUSTOMER SERVICE

TEAM CAN HELP FIND A PLAN THAT

FITS YOU.

TO LEARN MORE, VISIT

www.consumercellular.tv.

ADDITIONAL SUPPORT HAS BEEN

PROVIDED BY:

AND BY THE CORPORATION FOR

PUBLIC BROADCASTING, A PRIVATE

CORPORATION FUNDED BY THE

AMERICAN PEOPLE.

AND BY CONTRIBUTIONS TO YOUR

PBS STATION FROM VIEWERS LIKE

YOU.

THANK YOU.

>> Sreenivasan: GOOD EVENING,

AND THANKS FOR JOINING US.

THE CAMPAIGNS FOR PRESIDENT ARE

CLOSING IN ON THE NOVEMBER 3

ELECTION, AND FOR THE NEXT

EIGHT WEEKENDS, WE ARE GOING TO

TRACK THE ISSUES IN OUR "ROADS

TO ELECTION 2020" SERIES.

OUR FIRST STOP IS IN THE

BATTLEGROUND STATE OF

PENNSYLVANIA THIS WEEKEND, WHERE

WE ARE REPORTING IN PERSON.

WE'LL ALSO BE VISITING STATES

VIRTUALLY, TALKING WITH

REPORTERS AND VOTERS.

WE'LL HAVE MORE FROM

PENNSYLVANIA, AFTER TODAY'S NEWS

SUMMARY.

AT LEAST 33 PEOPLE HAVE NOW DIED

IN THE MASSIVE WILDFIRES BURNING

FROM CALIFORNIA TO WASHINGTON

STATE SINCE MID-AUGUST.

THE FIRES HAVE ALSO BROUGHT A

SMOKY HAZE UP AND DOWN THE

WEST COAST, AND SOME OF THE

WORST AIR QUALITY IN THE WORLD.

CALIFORNIA IS BATTLING 28 MAJOR

FIRES SPREADING ACROSS MORE THAN

THREE MILLION ACRES.

IN OREGON, TENS OF THOUSANDS OF

PEOPLE HAVE EVACUATED.

MORE THAN 600,000 ACRES HAVE

BURNED IN WASHINGTON STATE.

SOUTH OF PORTLAND, OREGON, IN

CLACKAMAS COUNTY, LOCAL RELIEF

GROUPS SET UP TEMPORARY SHELTERS

AND PROVIDED AID TO EVACUEES.

IN JACKSON COUNTY IN SOUTHERN

OREGON, LOCAL OFFICIALS CONTINUE

TO SEARCH FOR MISSING PEOPLE,

AND IDENTIFIED THE REMAINS OF

FOUR PEOPLE YESTERDAY WHO DIED

IN A FIRE THERE.

NEWSHOUR WEEKEND'S CHRISTOPHER

BOOKER SPOKE WITH OREGON

PUBLIC BROADCASTING REPORTER

EMILY CURETON EARLIER TODAY FOR

THE LATEST ON THE CONTINUING

FIRE CRISIS.

>> Reporter: WHAT IS THE STATUS

OF THE FIRES AND WHAT IS THE

STATUS OF THE EVACUATION?

>> THE DANGER IS NOT OVER.

TODAY, HALF A MILLION PEOPLE IN

OREGON ARE UNDER SOME LEVEL OF

EVACUATION NOTICE.

ABOUT 40,000 PEOPLE HAVE BEEN

TOLD TO LEAVE THEIR HOMES.

BUT THE MAJORITY OF THOSE HAVE

BEEN TOLD TO PACK A BAG AND GET

READY TO GO.

SO, THIS INCLUDES COMMUNITIES

NOT FAR FROM PORTLAND, AND IN

SOUTHERN OREGON, WE'RE ALSO

BRACED FOR A HARROWING COUPLE OF

DAYS.

TOWNS THAT HAVE ALREADY BURNED

ARE NOW UNDER A RED FLAG WARNING

AGAIN, AND THERE'S HIGH WINDS

EXPECTED IN THAT PART OF THE

STATE.

>> Reporter: A RED FLAG WARNING

BECAUSE THERE'S AN EXPECTATION

OR AN ANTICIPATION THAT THE

FIRES MAY RETURN.

>> CONDITIONS ARE PRIME FOR

EXTREME FIRE ACTIVITY.

>> Reporter: AND WHILE THIS IS

HAPPENING, THERE SEEMS TO BE A

QUITE A BIT OF MISINFORMATION,

OR MISSING INFORMATION.

TELL ME ABOUT WHAT PEOPLE KNOW

AND HOW PEOPLE ARE MAKING

DECISIONS.

>> IT'S VERY DIFFICULT RIGHT

NOW.

YESTERDAY, I SPOKE WITH PEOPLE

WHO HAD FLED THE HOLIDAY FARM

FIRE-- ONE OF DOZENS BURNING

THROUGHOUT THE STATE-- AND THEY

FLED THEIR HOMES IN THE MIDDLE

OF THE NIGHT LAST WEEK.

AND HERE WE ARE, SIX DAYS LATER,

AND THEY DID NOT KNOW THE EXTENT

OF DAMAGE TO THEIR COMMUNITIES

OR WHERE UNACCOUNTED PEOPLE

WERE-- IF THEY WERE MISSING, IF

THEY HAD ESCAPED, OR IF THEY HAD

BEEN CAUGHT IN THE FIRES.

SO THAT IS SOMETHING THAT'S BEEN

REALLY HARD FOR SURVIVORS AND

FOR RESPONDERS.

AND WE'RE ALSO SEEING

MISINFORMATION ON SOCIAL MEDIA

TAKE THE FORM OF RUMORS, AND

THIS HAS WASTED LAW ENFORCEMENT

RESOURCES, SPECIFICALLY FACEBOOK

COMMUNITY GROUPS, WITH RESIDENTS

IN AREAS THAT HAVE BEEN HIT BY

THE FIRES.

PEOPLE ARE POSTING THINGS LIKE,

THAT ANTIFA SET THE FIRES.

O.P.B. SPOKE WITH OFFICIALS.

THERE'S ABSOLUTELY NO EVIDENCE

TO SUPPORT THIS, BUT IT HASN'T

STOPPED PEOPLE FROM SETTING UP

ROADBLOCKS AROUND TOWNS OR

CHECKING WHO'S COMING IN AND OUT

OF SOME OF THESE BURNED

COMMUNITIES.

IN FACT, ONE OF O.P.B.'S OWN

REPORTERS WAS STOPPED BY

ARMED VIGILANTES TRYING TO

ACCESS MOLALLA, OREGON.

>> Reporter: THE GOVERNOR HAS

ALSO TOLD THE STATE TO BRACE FOR

A MASS CASUALTY EVENT.

HAS THERE BEEN ANY UPDATES ABOUT

JUST HOW MANY PEOPLE HAVE DIED?

AND IF NOT, HAS THAT WARNING

CONTINUED?

>> YEAH, WE ARE BRACED FOR A

HIGH DEATH TOLL.

THE GOVERNOR OF OREGON, KATE

BROWN, HAS SAID THIS IS LIKELY

TO BE THE MOST SUBSTANTIAL LOSS

OF LIFE AND PROPERTY FROM FIRE

IN THE STATE'S HISTORY.

AND AGAIN, IT'S NOT LIKE THE

IMMEDIATE DANGER IS OVER.

SO SEARCH AND RESCUE EFFORTS

HAVE BEEN SLOWED, FIREFIGHTERS

AND EMERGENCY RESPONDERS, THEY

SPENT THIS WEEKEND IN SURVIVAL

MODE, AND HAVE NOT YET PIVOTED

TO RECOVERY.

>> Reporter: THE PANDEMIC IS

STILL GOING ON.

WHERE ARE PEOPLE BEING SENT?

ARE THEY OUTSIDE OR THEY IN

TENTS?

ARE THEY COLLECTING IN GYMS?

>> WHAT WE'RE SEEING AT

EVACUATION POINTS SET UP AROUND

THE STATE IS PEOPLE WHO HAVE THE

ABILITY TO REMAIN IN A VEHICLE

OR CAMP AROUND THEIR VEHICLE ARE

DOING THAT.

AND PEOPLE WHO ABSOLUTELY HAVE

NOWHERE ELSE TO GO OR DON'T HAVE

A FAMILY TO GO AND SEE, THEY'RE

BEING REFERRED TO HOTEL ROOMS AS

THEY'RE AVAILABLE.

THE PROBLEM IS, THERE JUST

AREN'T ENOUGH AVAILABLE HOTEL

ROOMS IN THE IMMEDIATE AREA OF

THE EVACUATED COMMUNITIES.

>> Reporter: WHAT IS THE

AIR QUALITY LIKE CURRENTLY IN

OREGON?

>> IT'S TERRIBLE.

THE SMOKE IS BLANKETING THE

ENTIRE STATE RIGHT NOW, AND

MAKING IT HARD TO BREATHE.

I DON'T GO OUTSIDE WITHOUT

WEARING A RESPIRATOR RIGHT NOW,

AND ALL OF OREGON AND WASHINGTON

HAVE UNHEALTHY AIR.

THE PARTICULATE IS SO DENSE,

IT'S CONSIDERED EITHER "VERY

UNHEALTHY" TO "HAZARDOUS,"

OR EVEN ABOVE THE LEVELS FOR

HAZARDOUS, SO IT'S LITERALLY OFF

THE CHARTS.

BAD TO BREATHE OUTSIDE RIGHT

NOW.

>> Reporter: WHAT ARE THE PEOPLE

YOU'VE SPOKEN WITH, WHO HAVE

EVACUATED, WHAT ARE THEY SAYING

TO YOU?

>> THE PEOPLE I'VE SPOKEN WITH

IN THE IMMEDIATE AFTERMATH OF

FLEEING WERE JUST TRAUMATIZED.

I MEAN-- AND THESE ARE PEOPLE

THAT LIVE IN FIRE-PRONE

COMMUNITIES, SO PEOPLE HAVE SEEN

THIS BEFORE.

AND WHAT WAS DIFFERENT ABOUT THE

FIRE STORM OF MONDAY NIGHT WAS

HOW FAST IT MOVED.

>> Reporter: WHAT ARE THE NEXT

STEPS?

>> THE NEXT WEEK IS GOING TO

CONTINUE TO BE AN UPHILL BATTLE

FOR FIREFIGHTERS.

PRESIDENT TRUMP APPROVED AN

EMERGENCY FEDERAL DECLARATION

THURSDAY THAT WILL SUPPLEMENT

STATE RESOURCES.

KEEP IN MIND, OREGON'S BUDGET

ALREADY TOOK A MAJOR HIT FROM

REVENUE LOSS DUE TO THE

PANDEMIC, AND THE STATE ALREADY

HAS A PRETTY NOTORIOUS HOUSING

SHORTAGE.

SO THIS MAKES EVERYTHING REALLY

UNCERTAIN NOW, ESPECIALLY FOR

PEOPLE WHO LOST THEIR RENTALS

AND MOBILE HOMES.

WE KNOW AT THIS POINT THAT THOSE

MOBILE HOMES ALONG RIVERS HAVE

BEEN DECIMATED.

ON THE OPTIMISTIC SIDE OF

THINGS, THE WEATHER THIS WEEKEND

DID IMPROVE, AND THE WILDFIRES

GREW MORE SLOWLY.

OREGON GOVERNOR KATE BROWN HAS

SAID WE STILL HAVE A LONG WAY TO

GO, THOUGH, AND THAT SOME LARGE

FIRES THAT HAVE MERGED TO CREATE

MEGA-FIRES ARE LIKELY TO BURN

UNTIL WE GET FULL RAIN.

>> Reporter: EMILY CURETON FROM

O.P.B., THANK YOU SO MUCH FOR

JOINING US.

>> YOU'RE VERY WELCOME.

♪ ♪

>> Sreenivasan: PRESIDENT TRUMP

THANKED FIREFIGHTERS BATTLING

THE WILDFIRES IN THE WEST AT A

NEVADA RALLY LAST NIGHT.

HE ALSO USED THE EVENT TO ATTACK

MAIL-IN BALLOTING; HIS OPPONENT,

FORMER VICE PRESIDENT JOE BIDEN;

AND DID NOT MENTION CLIMATE

CHANGE AS A FACTOR IN THE RECENT

FIRES, INSTEAD REPEATING HIS

OPINION THAT THE CAUSE HAS TO DO

WITH WHAT HE CALLS "FOREST

MANAGEMENT."

>> THEY REALLY HAVE-- THEY'VE

NEVER HAD ANYTHING LIKE THIS.

BUT, YOU KNOW, IT IS ABOUT

FOREST MANAGEMENT.

PLEASE REMEMBER THE WORDS.

VERY SIMPLE.

FOREST MANAGEMENT.

PLEASE REMEMBER.

>> Sreenivasan: THE PRESIDENT

ADDRESSED A MOSTLY MASK-LESS

CROWD AT THE LATE NIGHT EVENT

AT AN AIRPORT IN MINDEN, NEVADA,

SOUTH OF RENO.

A PLAN TO HOLD THE RALLY IN RENO

WAS REARRANGED WHEN OFFICIALS

SAID IT WOULD VIOLATE A COVID-19

RESTRICTION THAT LIMITS

GATHERINGS TO FEWER THAN 50

PEOPLE.

THE PRESIDENT WILL GO TO

CALIFORNIA FOR A BRIEFING ON THE

FIRES TOMORROW, AFTER MEETINGS

WITH SUPPORTERS AND A SPEECH IN

HENDERSON, NEVADA TONIGHT.

POLICE IN LOS ANGELES ARE

SEARCHING FOR A SUSPECT WHO

AMBUSHED AND SHOT TWO SHERIFF'S

DEPUTIES IN THEIR PATROL CAR

LAST NIGHT.

SURVEILLANCE VIDEO OF THE

SHOOTING, NEAR THE METRO BLUE

LINE STATION IN COMPTON, SHOWS

WHAT APPEARS TO BE A MAN

WALKING UP TO THE PASSENGER SIDE

OF THE VEHICLE AND FIRING

SEVERAL TIMES.

THE SUSPECT THEN RAN OFF ON

FOOT.

THE TWO DEPUTIES SURVIVED, BUT

SUSTAINED MULTIPLE GUNSHOT

WOUNDS AND ARE REPORTEDLY IN

CRITICAL CONDITION.

BOTH HAVE BEEN ON THE JOB FOR

JUST OVER A YEAR.

TROPICAL STORM SALLY IS

PROJECTED TO CROSS THE GULF OF

MEXICO TOMORROW, AND MAY BECOME

A HURRICANE BY THE TIME IT MAKES

LANDFALL.

NEW ORLEANS AND THE GULF COAST,

FROM GRAND ISLE, LOUISIANA, TO

THE ALABAMA-FLORIDA LINE, ARE

UNDER A HURRICANE WATCH.

SALLY BROUGHT HEAVY RAIN AND

STRONG WINDS AS IT CROSSED

SOUTH FLORIDA, AND LOUISIANA

GOVERNOR JOHN BEL EDWARDS

DECLARED A STATE OF EMERGENCY

LATE YESTERDAY.

SALLY IS THE EARLIEST AN "S"-

NAMED STORM HAS EVER FORMED IN

THE ATLANTIC TROPICAL SEASON,

ACCORDING TO THE NATIONAL

HURRICANE CENTER.

THIS AFTERNOON, NEW ORLEANS

OFFICIALS ISSUED MANDATORY

EVACUATION ORDERS FOR ALL OF

ST. CHARLES PARISH, AND WARNED

RESIDENTS TO EXPECT POWER

OUTAGES.

SALLY IS EXPECTED TO SLOW DOWN

AS IT REACHES THE GULF COAST AND

COULD BE A CATEGORY TWO STORM AT

LANDFALL.

IN BELARUS TODAY, MASS ANTI-

GOVERNMENT PROTESTS CONTINUED

FOR A 36th CONSECUTIVE DAY

FOLLOWING THE COUNTRY'S DISPUTED

PRESIDENTIAL VOTE LAST MONTH.

MORE THAN 100,000 PEOPLE MARCHED

IN THE COUNTRY'S CAPITAL OF

MINSK CALLING FOR THE

RESIGNATION OF PRESIDENT

ALEXANDER LUKASHENKO, WHO HAS

BEEN IN POWER FOR 26 YEARS.

PROTESTERS ARE ALSO DEMANDING

THE RELEASE OF JAILED OPPOSITION

LEADERS AFTER THE AUGUST 9

ELECTIONS, WHICH THE OPPOSITION

SAYS WERE RIGGED.

LOCAL ELECTIONS ARE TAKING PLACE

IN DOZENS OF REGIONS ACROSS

RUSSIA TODAY, IN WHAT KREMLIN

CRITICS SAY IS A BIG TEST FOR

THE RULING UNITED RUSSIA PARTY,

WHICH BACKS PRESIDENT VLADIMIR

PUTIN.

THE VOTE FOLLOWS THE SUSPECTED

POISONING OF OPPOSITION LEADER

ALEXEI NAVALNY LAST MONTH AFTER

HE LEFT THE CITY OF TOMSK.

NAVALNY IS NOW IN A HOSPITAL IN

GERMANY.

OPPOSITION GROUPS ALLEGE

WIDESPREAD CORRUPTION AMONG

UNITED RUSSIA DEPUTIES.

MANY OPPOSITION SUPPORTERS ARE

IMPLEMENTING A "SMART VOTING"

STRATEGY AIMED AT IDENTIFYING

CANDIDATES MOST LIKELY TO BEAT

THE RULING PARTY CANDIDATES.

TODAY'S VOTE WILL ELECT 18

GOVERNORS AND AN ARRAY OF LOCAL

MEMBERS OF PARLIAMENTS AND CITY

COUNCILS.

>> Sreenivasan: FOR THE LATEST

NATIONAL AND INTERNATIONAL NEWS,

VISIT www.pbs.org/newshour.

>> Sreenivasan: PENNSYLVANIA

IS ONE OF THE SO-CALLED

BATTLEGROUND STATES, WHERE POLLS

SHOW VOTERS SPLIT ALMOST EVENLY

BETWEEN THE TWO PARTIES, AND

WHERE A TINY MARGIN OF VICTORY

IN THE POPULAR VOTE CAN MEAN AN

ELECTORAL COLLEGE WIN IN THE

RACE FOR PRESIDENT.

FOR MORE ON WHAT'S DEVELOPING IN

THE FINAL WEEKS OF THE CAMPAIGN,

RECENTLY I SPOKE WITH SPECIAL

CORRESPONDENT JEFF GREENFIELD,

WHO JOINS US FROM SANTA BARBARA,

CALIFORNIA.

JEFF, IT'S THE SEASON WHEN

PEOPLE SEE STORIES ABOUT POLLS.

THAT "BIDEN IS UP IN ONE POLL BY

EIGHT POINTS" AND THEN "BIDEN IS

DEAD EVEN IN ANOTHER POLL."

ARE THEY MEASURING THE SAME

THING, THE SAME ELECTORATE?

HOW IS IT POSSIBLE?

>> BASICALLY, THERE ARE A WHOLE

BUNCH OF ASSUMPTIONS THAT ANY

POLLSTER WOULD MAKE.

DO I HAVE THE RIGHT MIX?

DO I HAVE ENOUGH COLLEGE-

EDUCATED WHITES?

DO I HAVE ENOUGH RURAL FOLKS?

DO I HAVE ENOUGH PEOPLE OF

COLOR?

THE OTHER THING IS THAT THEY'RE

BASICALLY GUESSING, ALSO, ABOUT

WHO'S LIKELY TO VOTE, BECAUSE IF

THEY'RE NOT TALKING TO PEOPLE

WHO ARE VOTING, OR IF PEOPLE

TALK TO THEM AND GIVE THEM THEIR

PREFERENCE AND IT TURNS OUT THEY

DON'T VOTE, THEN THE POLL IS

REALLY OF NO PREDICTIVE VALUE.

ASSUMING THESE POLLS HAVE

PREDICTIVE VALUE ANYWAY.

SO IT'S REALLY NOT THAT MUCH OF

A MYSTERY, IT'S JUST THAT EVERY

POLLSTER HAS A DIFFERENT SET OF

ASSUMPTIONS ABOUT WHETHER THEY

GOT THE SAMPLE RIGHT, WHICH IS

WHY BIDEN CAN BE UP BY FIVE

POINTS NATIONALLY IN ONE POLL

AND 12 IN ANOTHER.

>> Sreenivasan: SO IS THERE ANY

KIND OF A REAL, CLEAR PICTURE?

>> HERE'S MY ADVICE--

TAKE THE AVERAGE.

AND THE AVERAGE BASICALLY TELLS

YOU THAT BIDEN IS UP NATIONALLY

BY ABOUT 7.5 POINTS.

I SHOULD MENTION, ON MARCH 28,

BIDEN WAS UP BY ABOUT 7.5

POINTS.

SO IF YOU HAD GONE INTO

HIBERNATION ON MARCH 20 AND

AWAKENED YESTERDAY, YOU WOULD

HAVE ASSUMED NOTHING HAPPENED.

NOT A PANDEMIC, NOT THE GEORGE

FLOYD KILLING, NOT THE ECONOMIC

COLLAPSE-- IT'S REALLY

ASTONISHING HOW UNMOVING THAT

NATIONAL NUMBER IS.

AND AS WE ALL KNEW LAST TIME,

HARI, HOW THAT NATIONAL NUMBER

DOESN'T NECESSARILY TELL YOU THE

SIGNIFICANT THING.

>> Sreenivasan: RIGHT, SO, WHEN

WE GO LOOK AT THE STATE-BY-STATE

PICTURE, WHAT DO WE LEARN?

I MEAN, WE-- WHAT ARE WE-- WHAT

DID WE LEARN LAST TIME?

>> LAST TIME THE STATE POLLS

WERE-- IN WISCONSIN AND

PENNSYLVANIA PARTICULARLY--

WERE WAY OFF.

THE NATIONAL POLL IS KIND OF

RIGHT.

THEY HAD CLINTON WINNING BY

ABOUT TWO OR THREE POINTS

NATIONALLY, AND SHE DID.

AND POLLSTERS HAVE BEEN

SCRATCHING THEIR HEADS ABOUT HOW

THEY GOT THIS SO WRONG.

ONE OF THE EXPLANATIONS IS, THEY

DID NOT MEASURE THE INTENSITY OF

SUPPORT FOR TRUMP AND THE

ANTIPATHY FOR HILLARY CLINTON

AMONG RURAL VOTERS.

THAT KIND OF "LET'S THINK ABOUT

WHO YOU'RE TALKING TO" OR THE

ASSUMPTION ABOUT WHAT PEOPLE

WILL DO, IS PARTLY WHAT MADE

THOSE-- THOSE NUMBERS WRONG.

THE OTHER THEORY IS THAT TRUMP

VOTERS ARE LESS LIKELY TO

RESPOND TO POLLSTERS' PHONE

CALLS OR ONLINE QUESTIONS THAN

OTHERS, AND THERE IS SOMETHING

TO THAT.

>> Sreenivasan: HOW IS THAT

POSSIBLE, THAT THE RACIAL

RECKONING, POST-GEORGE FLOYD,

THE PANDEMIC, THE ECONOMIC

CATASTROPHE THAT SO MANY PEOPLE

FIND THEMSELVES IN THAT ARE NOT

PARTICIPATING IN THE UPSIDE OF

THE STOCK MARKET-- HOW DOES THAT

NOT HAVE AN EFFECT?

>> WE'VE SEEN THIS NOW, I THINK,

FOR FIVE YEARS.

AND TRUMP WAS VERY CANDID,

YEARS AGO, WHEN HE SAID TO

LESLEY STAHL, "I ATTACK THE

PRESS SO THAT WHEN MY FOLLOWERS

HEAR NEGATIVE STORIES, THEY

DON'T BELIEVE THEM."

AND SO I THINK WHAT'S HAPPENED

IS, NOTHING HAS MOVED THE

TRUMP BASE-- BUT TRUMP HAS BEEN

UNABLE TO EXPAND THAT BASE.

THAT'S WHY THE NUMBERS ARE SO

CONSISTENT.

HE'S THE FIRST PRESIDENT IN

RECORDED MEMORY NEVER TO HAVE

HIT 50% IN APPROVAL.

AND THE TEST THAT WE'RE GOING TO

SEE OVER THE NEXT COUPLE OF

MONTHS, I THINK, IS WHETHER OR

NOT TRUMP CAN, CAN GET HIS BASE

PASSIONATE ENOUGH SO THAT THEY

TURN OUT IN UNEXPECTED NUMBERS

THE WAY THEY DID FOUR YEARS AGO.

AND ONCE YOU CAN RENDER THE

PRE-ELECTION POLLS--

WELL, AND I NEED TO SAY ONE

OTHER QUICK THING ABOUT THIS

WHOLE BUSINESS ABOUT PREDICTING,

WHICH IS THAT PEOPLE DON'T SEEM

TO GET THAT WHEN SOMEONE LIKE

NATE SILVER, THE GURU, SAYS THAT

BIDEN HAS A THREE-TO-ONE CHANCE

OF WINNING?

THAT'S NOT A PREDICTION.

THAT'S A PROBABILITY ESTIMATE.

IF YOU RAN THIS CAMPAIGN A

HUNDRED TIMES, BIDEN WOULD WIN

70.

THESE NUMBERS DON'T TELL YOU

WITH ANY KIND OF CERTAINTY WHAT

THEY SEEM TO TELL YOU.

I'M SUGGESTING THAT EVERYBODY

TRY THE DECAF, TAKE A DEEP

BREATH, AND WE'LL KNOW IN SEVEN

WEEKS OR SO.

>> Sreenivasan: ALL RIGHT,

JEFF GREENFIELD, JOINING US FROM

SANTA BARABRA, CALIFORNIA.

THANKS SO MUCH.

>> GOOD TO SEE YOU, HARI.

>> Sreenivasan: ONE ISSUE BOTH

PRESIDENTIAL CANDIDATES FACE

IS THE GROWING PROBLEM OF

FOOD WASTE, WHICH CONTRIBUTES TO

POLLUTION AND GREENHOUSE GASES.

THERE HAVE BEEN SEVERAL EFFORTS,

BOTH GLOBALLY AND NATIONALLY,

TO TACKLE THAT CHALLENGE, BUT

ONE NEW TECHNIQUE IS GAINING

MOMENTUM.

IT'S CALLED UPCYCLING.

RESEARCHERS AT DREXEL UNIVERSITY

IN PHILADELPHIA, ABOUT 60 MILES

FROM HERE, HAVE BEEN PRODUCING

UPCYCLED PRODUCTS, CREATING NEW

CATEGORIES OF FOOD FROM

DISCARDED INGREDIENTS.

NEWSHOUR WEEKEND SPECIAL

CORRESPONDENT ALLISON AUBREY AND

PRODUCER MARY BETH DURKIN HAVE

THE FINAL REPORT FROM THEIR

FIVE-PART SERIES, "WASTE NOT,

WANT NOT."

>> CAN WE TASTE IT?

>> YEAH, YOU CAN TASTE IT!

>> Reporter: THAT WHITE DOUGHY

SUBSTANCE THAT KAITLIN MOGENTAL

AND CLAIRE SCHLEMME ARE TASTING

IS OKARA.

IT'S A PULPY PROTEIN THAT'S LEFT

OVER AFTER YOU MAKE TOFU.

>> OH, IT'S GETTING WET!

>> Reporter: THEY'RE AT HODO,

AN ORGANIC TOFU MANUFACTURER IN

OAKLAND, CALIFORNIA.

SCHLEMME IS THE C.E.O. OF A FOOD

START-UP CALLED RENEWAL MILL,

JUST BLOCKS AWAY.

RENEWAL MILL PAYS HODO TO DRY

OUT THE OKARA INTO STRIPS LIKE

THIS.

THEN, IT'S MILLED INTO A FLOUR

THAT RENEWAL MILL SELLS.

KAITLIN MOGENTAL IS ONE OF

SCHLEMME'S CUSTOMERS, AND SHE'S

HERE TO SEE HOW IT'S DONE.

MOGENTALE IS C.E.O. OF HER OWN

START-UP, CALLED PULP PANTRY.

IT'S LOCATED IN LOS ANGELES.

RENEWAL MILL'S FLOUR IS AN

INGREDIENT IN A NEW LINE OF

CHIPS THAT MOGENTALE'S COMPANY

MAKES.

THEY'RE CALLED PULP CHIPS.

WHY WOULD SOMEBODY WANT TO EAT

SNACKS WITH OKARA IN IT?

>> SO, IT'S FULL OF NUTRITION.

IT'S ABOUT TWO-THIRDS FIBER AND

ONE-THIRD PROTEIN.

SO, IT'S KIND OF LIKE A, JUST A,

A PILE OF, LIKE, DELICIOUS

NUTRITION RIGHT HERE.

>> Reporter: MINH TSAI OWNS

HODO.

IT'S THE THIRD LARGEST TOFU

MANUFACTURER IN THE U.S.

MINH SAYS ALL THIS OKARA IS

TYPICALLY DISCARDED BY MOST

U.S. MANUFACTURERS.

SO YOU'RE TELLING ME, THE MOST

NUTRITIOUS PART OF THE PLANT

USUALLY JUST GETS TOSSED AWAY?

>> ABSOLUTELY.

ONE OF THE MOST NUTRITIOUS PARTS

OF THE PLANT.

AND WE KNOW FIBER IS REALLY

IMPORTANT.

IT'S ACTUALLY NOT FULLY

UTILIZED.

>> Reporter: IN VIETNAM, MINH

TSAI GREW UP EATING OKARA.

THERE, THEY USE IT TO MAKE

VEGETABLE PANCAKES.

>> WE'RE DOING WHAT WE ALREADY

DO IN ASIA, BECAUSE IT'S REALLY

FOR HUMAN CONSUMPTION IN ASIA.

BUT HERE, WE DON'T THINK ABOUT

IT THE SAME WAY.

>> Reporter: MOGENTALE AND

SCHLEMME ARE PART OF A NEW WAVE

OF ENTREPRENEURS WHOARE

THINKING THAT WAY.

THEY'RE TAKING INGREDIENTS ONCE

CONSIDERED TO BE THE DREGS, AND

TRANSFORMING THEM INTO WHOLE NEW

PRODUCTS.

IT'S CALLED UPCYCLING.

>> THIS IS EVEN JUST A SLIVER

OF ALL THOSE FIBROUS BYPRODUCTS

THAT COME OUT OF FOOD

MANUFACTURING EVERY YEAR, IN THE

U.S. AND BEYOND.

AND SO, IT SEEMED LIKE A

TREMENDOUS OPPORTUNITY.

>> Reporter: AN OPPORTUNITY

BECAUSE MANY MANUFACTURERS ARE

HAPPY TO GET RID OF THEIR WASTE.

IT SAVES THEM THE HAULING FEES

TO THROW IT OUT.

AND MOGENTALE'S CHIPS HAVE

ANOTHER UPCYCLED INGREDIENT.

WHAT DO WE HAVE HERE?

>> SO, IT LOOKS LIKE WE HAVE

APPLE.

WE'VE GOT SOME KALE IN THERE,

WE'VE GOT SOME CELERY STALKS.

>> Reporter: IT'S LEFTOVER PULP

FROM COLD-PRESSED JUICE

COMPANIES, AND MOGENTALE MIXES

THAT IN WITH THE OKARA TO MAKE

THESE CHIPS.

HOW MUCH OF THE VOLUME OF A

PIECE OF PRODUCE IS REALLY JUST

THE PULP?

>> IT CAN BE ANYWHERE FROM 15%

TO 50% PULP.

>> Reporter: IN SOME CITIES,

THERE ARE JUICE BARS ON ALMOST

EVERY CORNER.

AND THAT ADDS UP TO A LOT OF

PULP.

>> WE WORK WITH JUICERIES THAT

PROCESS MILLIONS OF POUNDS OF

PULP A YEAR.

AND SOME JUICERIES THAT PROCESS

SOLELY CARROTS, AND MIGHT

PRODUCE AROUND 80,000 POUNDS OF

PULP A DAY.

A LOT OF PEOPLE STRUGGLE TO FIND

THE-- THE END USE FOR IT.

>> Reporter: AND THAT STRUGGLE

PLAYS OUT THROUGHOUT THE FOOD

INDUSTRY.

BUT IT'S A STRUGGLE THAT CAN

TRANSLATE INTO PROFITS FOR

UPCYCLING START-UPS.

ONE COMPANY, BARNANA, IS NOW A

MULTI-MILLION DOLLAR COMPANY

THAT UPCYCLES DAMAGED BANANAS

INTO SNACKS CALLED BANANNA

BITES.

ANOTHER, TREASURE 8, IS A START-

UP WITH A PATENTED DEHYDRATING

PROCESS.

THEY RESCUE AND RE-PURPOSE

DAMAGED PRODUCE BY DEHYDRATING

THE PRODUCE AND MAKING PRODUCTS

LIKE BEET CHIPS AND APPLE CHIPS.

AND THESE COMPANIES HAVE PLENTY

OF INGREDIENTS TO WORK WITH.

A REPORT BY THE NATURAL

RESOURCES DEFENSE COUNCIL FINDS

40% OF THE FOOD THAT'S GROWN

NEVER MAKES IT TO OUR PLATES.

IT ESTIMATES THAT ABOUT 125

BILLION POUNDS OF FOOD GETS

TOSSED OUT EACH YEAR.

AND WHEN FOOD ENDS UP IN A

LANDFILL, IT EMITS POTENT

GREENHOUSE GAS, METHANE, WHICH

CONTRIBUTES TO CLIMATE CHANGE.

A UNITED NATIONS CLIMATE CHANGE

PANEL CONCLUDED THAT WASTED FOOD

IS RESPONSIBLE FOR UP TO 10% OF

ALL HUMAN-INDUCED GREENHOUSE

GASES GLOBALLY.

>> THE MORE THAT WE CAN KEEP

FOOD OUT OF LANDFILLS AND PUT IT

BACK INTO FEEDING PEOPLE, THE

MORE WE CAN NOT ONLY ADDRESS

ISSUES LIKE THE EFFICIENCY OF

OUR FOOD SYSTEM AND MAKING SURE

THAT ALL OF THE RESOURCES THAT

GO INTO GROWING OUR FOOD ARE

ACTUALLY PRESERVED TO THEIR

PURPOSE, WHICH IS FEEDING

PEOPLE.

>> Reporter: AND THESE UPCYCLING

COMPANIES HOPE TO WIN OVER

CUSTOMERS, AND MAKE A PROFIT, BY

TELLING THEIR STORIES.

>> CAT, TELL US ABOUT YOURS AND

WHAT'S IN IT.

AND THEN ALSO, HOW THE UPCYCLED

BROTH PERFORMED.

>> Reporter: JONATHAN DEUTSCH

RUNS THE FOOD LAB AT DREXEL

UNIVERSITY'S FOOD AND

HOSPITALITY DEPARTMENT IN

PHILADELPHIA.

HE'S CONDUCTED SEVERAL STUDIES

ON CONSUMER ATTITUDES TOWARDS

UPCYCLED PRODUCTS.

>> CONSUMERS ARE WILLING TO PAY

MORE IF THEY KNOW THAT THIS

PRODUCT IS UPCYCLED, IF IT'S

GOOD FOR THE ENVIRONMENT, IF

THERE'S GOOD MESSAGING.

THEY DON'T NEED TO KNOW THAT

THEY HAD THE MOST BEAUTIFUL,

PALE PINK, GROCERY STORE

TOMATOES IN THEIR TOMATO SAUCE.

THEY DON'T MIND KNOWING THAT

THESE WERE SPLIT, AND BURST, AND

OVERRIPE.

THAT COULD AND SHOULD BE PART OF

THE STORY.

>> Reporter: DEUTSCH STARTED THE

FOOD LAB BACK IN 2014.

IT'S BECOME A GO-TO HUB FOR FOOD

INNOVATION, AND THESE DAYS, THE

FOCUS IS ON UPCYCLED PRODUCTS.

>> WE'RE WORKING WITH MEDIUM-

SIZED COMPANIES IN THAT, YOU

KNOW, $10 TO $150 MILLION OF

SALES RANGE.

THEY'RE NOT DOING A LOT OF

INNOVATION IN THEIR OWN SYSTEMS.

AND SO, THEY HAVE BEEN ASKING US

TO HELP WITH NEW PRODUCT IDEAS,

WAYS TO DIVERT WASTE INTO

PRODUCTS.

>> Reporter: DEUTSCH SAYS IT'S

NOT JUST START-UPS INTERESTED IN

UPCYCLING.

>> WE'VE SEEN A BIG INCREASE IN

MULTINATIONALS WHO HAVE BEEN

INTERESTED IN UPCYCLING AND

GREENING THEIR OWN PRACTICES.

THINK OF THINGS LIKE LUNCHABLES,

RIGHT, THINGS YOU COULD, LIKE,

STACK, PUT TOGETHER.

>> Reporter: IN CLASS, DEUTSCH

CHALLENGES HIS STUDENTS TO COME

UP WITH NEW WAYS TO USE UPCYCLED

INGREDIENTS AND CREATE NEW

PRODUCTS.

TODAY, CAT ANDRESS IS WORKING

WITH A CONCENTRATED SOUP BROTH

THAT DEUTSCH HELPED A COMPANY

CALLED MATRIARCH DEVELOP.

IT'S MADE FROM DISCARDED

VEGETABLE BITS THAT THE COMPANY

BUYS FROM DISTRIBUTORS.

ANOTHER STUDENT, ANNA WILSON, IS

WORKING WITH FLOUR MADE FROM

SUNFLOWER SEED SHELLS.

THE FLOUR HAS A NUTTY FLAVOR AND

IS A GOOD SOURCE OF PROTEIN.

SHE HOPES TO PERFECT A CRUNCHY

BISCUIT OUT OF IT.

>> WE'RE USING IT FOR SELECTIVE

EATERS.

CHILDREN ON THE AUTISM SPECTRUM

WHO PREFER CRUNCHY, CRISPY

THINGS, OFTEN DON'T GET ENOUGH

PROTEIN, BECAUSE IF YOU THINK

ABOUT PROTEIN-- MEAT AND DAIRY,

AND TOFU, AND BEANS, AND PEANUT

BUTTER-- A LOT OF PROTEIN

SOURCES ARE MUSHY.

>> Reporter: ACCORDING TO

DEUTSCH, UPCYCLING IS HERE TO

STAY.

HE IS WORKING WITH A GROUP

CALLED THE UPCYCLING FOOD

ASSOCIATION TO CONDUCT FOCUS

GROUPS.

ONE GOAL IS TO DETERMINE WHICH

SYMBOLS MAY WORK BEST TO LABEL

THESE PRODUCTS AND MAKE THEM

STAND OUT AS "UPCYCLED."

>> WITHIN A FEW YEARS, UPCYCLED

WON'T BE THIS QUIRKY LITTLE

CORNER OF THE FOOD WORLD, BUT

YOU'LL SEE A MAJOR CEREAL BOX,

OR POTATO CHIP OR A PASTA SAUCE

MANUFACTURER WITH AN LITTLE

"UPCYCLED" LOGO, AND IT WILL BE

JUST AS NORMAL AS SEEING AN

ORGANIC LOGO.

>> Reporter: ONE STUDY ESTIMATES

THAT UPCYCLED FOODS NOW MAKE UP

A $46 BILLION MARKET IN THE U.S.

AND INDUSTRY EXPERTS EXPECT IT

TO CONTINUE TO GROW.

BUT DESPITE DEUTSCH'S OPTIMISM,

UPCYCLING START-UPS, LIKE

EVERYONE ELSE, FACE UNCERTAIN

ECONOMIC TIMES AHEAD.

>> Sreenivasan: THAT'S ALL FOR

THIS EDITION OF PBS NEWSHOUR

WEEKEND.

FOR THE LATEST NEWS UPDATES,

VISIT www.pbs.org/newshour.

I'M HARI SREENIVASAN.

THANKS FOR WATCHING.

STAY HEALTHY, AND HAVE A

GOOD NIGHT.

>>PBS NEWSHOUR WEEKEND IS MADE

POSSIBLE BY:

SUE AND EDGAR WACHENHEIM III.

THE ANDERSON FAMILY FUND.

BERNARD AND DENISE SCHWARTZ.

THE CHERYL AND PHILIP MILSTEIN

FAMILY.

BARBARA HOPE ZUCKERBERG.

THE LEONARD AND NORMA KLORFINE

FOUNDATION.

CHARLES ROSENBLUM.

WE TRY TO LIVE IN THE MOMENT,

TO NOT MISS WHAT'S RIGHT IN

FRONT OF US.

AT MUTUAL OF AMERICA, WE

BELIEVE TAKING CARE OF TOMORROW

CAN HELP YOU MAKE THE MOST OF

TODAY.

MUTUAL OF AMERICA FINANCIAL

GROUP, RETIREMENT SERVICES AND

INVESTMENTS.

ADDITIONAL SUPPORT HAS BEEN

PROVIDED BY:

CONSUMER CELLULAR.

AND BY:

AND BY THE CORPORATION FOR

PUBLIC BROADCASTING, A PRIVATE

CORPORATION FUNDED BY THE

AMERICAN PEOPLE.

AND BY CONTRIBUTIONS TO YOUR

PBS STATION FROM VIEWERS LIKE

YOU.

THANK YOU.