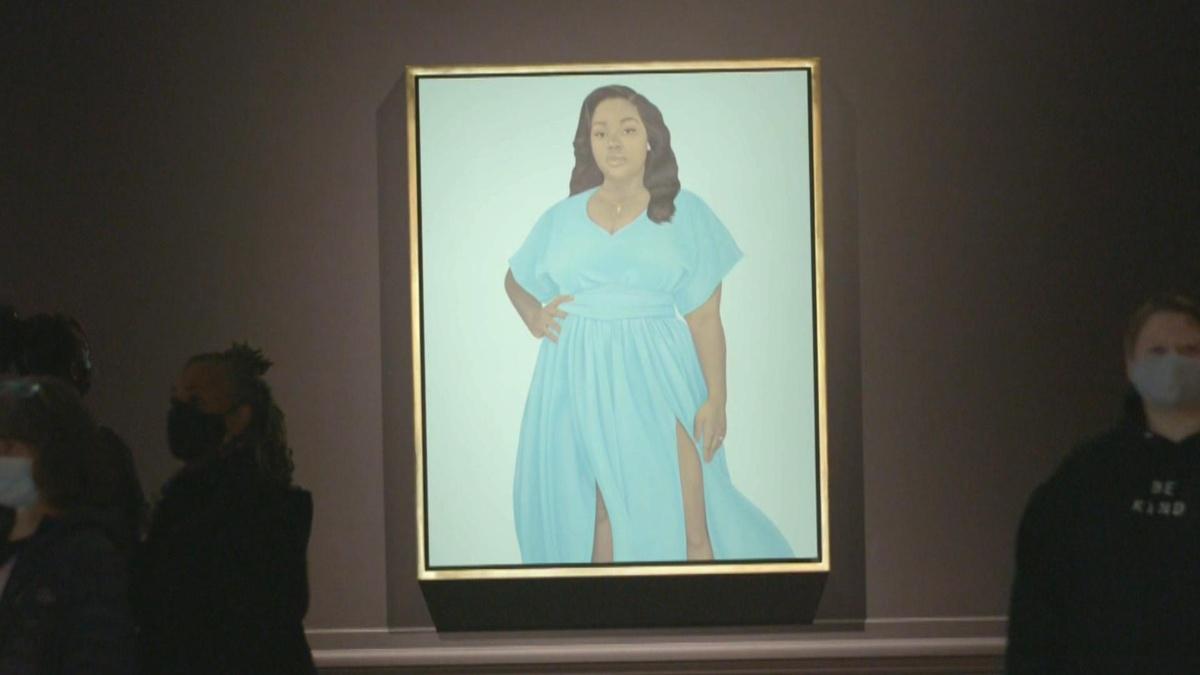 CLIP
What Breonna Taylor's name is teaching US about Black lives
A year and a half after the police killing of Breonna Taylor during a raid of her home, no one has been charged in her death. Now her life, death, and the larger questions they raise about policing, and the value of Black lives in America, are being explored in a new exhibition in her hometown. Jeffrey Brown has the story for our ongoing arts and culture series, CANVAS.
TRANSCRIPT

JUDY WOODRUFF: A year-and-a-half after the killing of Breonna Taylor at the hands of police,

no one has been charged in her death.

Now her life, death, and the larger questions they raise about America today

are being explored in a new exhibition in her hometown.

Jeffrey Brown has the story for our ongoing arts and culture series, Canvas.

JEFFREY BROWN: A large portrait of a young woman in a turquoise dress,

hand on hip, eyes ahead, strong and confident. But this was painted posthumously,

an image to force America to remember a life and say her name, Breonna Taylor.

WOMAN: Family and friends are remembering Breonna Taylor.

JEFFREY BROWN: The 26-year-old medical worker was shot and killed in March 2020 by Louisville,

Kentucky, police officers in a late-night raid on her apartment.

PROTESTER: Say her name!

PROTESTERS: Breonna Taylor!

PROTESTER: Say again!

PROTESTERS: Breonna Taylor!

JEFFREY BROWN: Since then, her name has been chanted during protests worldwide.

Her image has come to represent Black lives taken without accountability or justice.

PROTESTERS: We won't forget!

JEFFREY BROWN: Now a portrait by artist Amy Sherald originally made for the cover

of "Vanity Fair" magazine is the centerpiece of an exhibition at Louisville's Speed Art Museum,

an unusual in-the-moment response by a cultural institution to its city's grief.

Toya Northington oversaw the museum's community outreach.

TOYA NORTHINGTON, Speed Art Museum: We were in a time where we would come in right from protests.

Race relations weren't great in the city, right. It's still very tense, still very divided.

It's one thing to say, hi, we have some memberships, right? But it's another to say,

listen, we're going to take on this subject matter that means so much to

so many people and we're going to do this justice. We need you to join us on that.

JEFFREY BROWN: Most important of all, that meant including Breonna Taylor's mother,

Tamika Palmer, from the beginning.

Allison Glenn of the Crystal Bridges Museum in Arkansas

served as guest curator of this exhibition.

What was important for you to get from her?

ALLISON GLENN, Crystal Bridges Museum of American Art: It was important to get her trust more than

anything. This is her daughter and the story about her daughter within the context of an exhibition,

which is the field that I work within, the field of contemporary art, museum work.

And stepping into the space of telling a story that is focused on a portrait that was painted

of her daughter, it was extremely important to gain her trust.

Everything else would follow, but that was the most important thing.

JEFFREY BROWN: Tamika Palmer provided a wall text about the night her world was shattered

and a timeline of her daughter's life. She also offered three words that became the

exhibition's title, Promise, Witness, Remembrance.

Curator Allison Glenn gathered works, a 2018 sculpture titled Unarmed Nick Cave,

a brand-new print by Maria Magdalena Campos-Pons called Butterfly Eyes for Breonna Taylor, a 1969

draped painting by the renowned Louisville-born artist Sam Gilliam, Carousel Form II.

The Promise section reflected the use and abuse of national ideals

in Bethany Collins' "The Star Spangled Banner: A Hymnal"

and Nari Ward's We the People made from colored shoelaces.

ALLISON GLENN: I feel like this work, it echoes and reverberates, because

the questions you can ask are, who are the people? Who's we'?

JEFFREY BROWN: Witness features recent images by Louisville photographers

documenting the demonstrations in the city and Noel Anderson's

blurred and erased women from the pages of "Ebony" magazine.

Part of the Remembrance section, a video by Jon-Sesrie Goff about the 2016 mass

shooting at Emanuel Church in Charleston, titled A Site of Reckoning: Battlefield.

ALLISON GLENN: So much about curatorial work is about bringing people in.

So, when you walk into the space of the galleries, I'm telling you a story.

I have a narrative that I'm trying to articulate through artworks.

JEFFREY BROWN: And what was the story you wanted to tell?

ALLISON GLENN: The story I wanted to tell was really based on the conversation I had

with Tamika Palmer about what the exhibition could do, looking at perhaps the promise of

a nation and also then looking how artists help us understand the contemporary moment.

JEFFREY BROWN: The museum created local and national advisory panels to guide it.

It also extended evening hours and waived the usual $20 admission fee, unusual steps,

but these are unusual times for museums as well, as they face questions of their own inclusivity

and responsibility to serve a broader, more diverse community.

I asked Toya Northington if this exhibition might serve as a model for others.

TOYA NORTHINGTON: It can only be a model if people commit to the work.

And sometimes that's just one conversation at a time, really listening, hearing people's concerns,

hearing people's dreams and seeing, well, how can we get closest to that?

JEFFREY BROWN: And you're trying to connect to people that perhaps

don't have much relationship to the museum, right?

TOYA NORTHINGTON: The point. Why do an exhibition that reaches so far and connects to so many people

if we weren't going to bring the parts of the community that could benefit the most?

And, really, what's happened with this exhibition is that it's been this

great affirming space. It's heavy. The content is heavy. And it's reflective and it's emotional.

But at the same time, when people come in from the community,

they see themselves, or they see a piece of their experience.

And so I didn't want that to be reserved for the art community, right, art world community,

the usual people that like to come to these exhibitions. I wanted it to be for everybody.

JEFFREY BROWN: The centerpiece, the portrait of Breonna Taylor, is in the process of being

jointly acquired by the Speed Museum and The National Museum of African American History

and culture in Washington, ensuring it will reach a wide audience for many years to come.

For the "PBS NewsHour," I'm Jeffrey Brown.