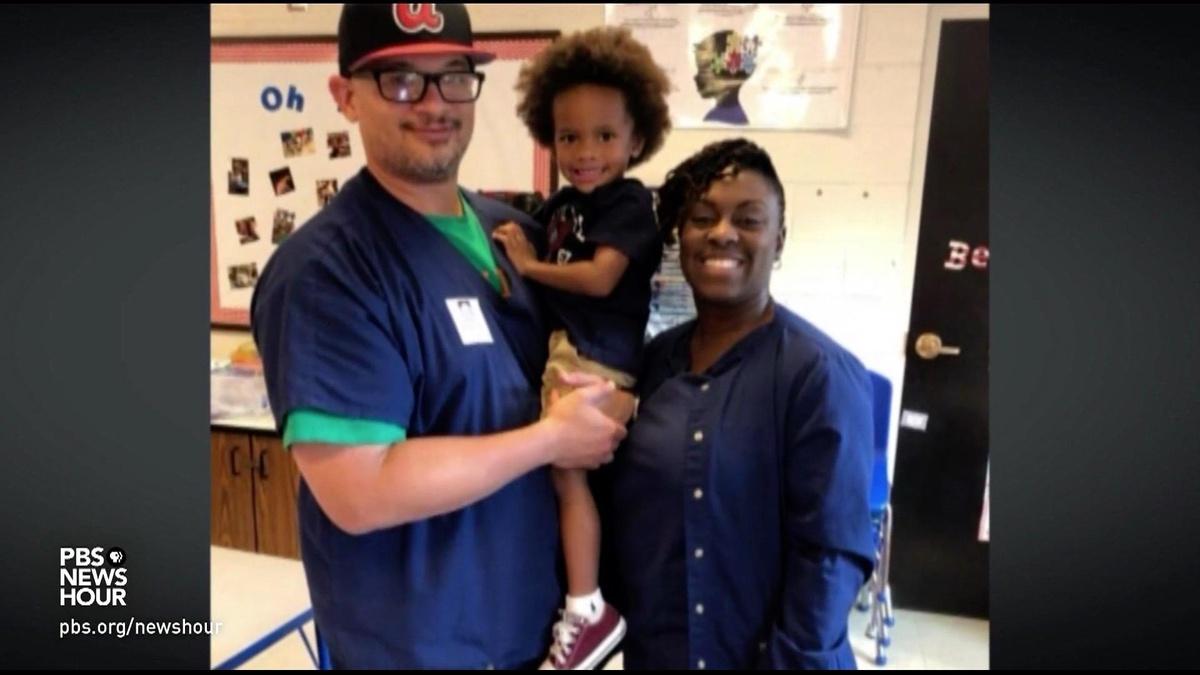 CLIP
Remembering 5 victims of the coronavirus pandemic
This Friday represents the 23rd in which we have paid tribute to casualties of the coronavirus pandemic. As the U.S. approaches another sad threshold -- that of 200,000 deaths from COVID-19 -- we remember five more of those lost. Judy Woodruff has their stories.
TRANSCRIPT

JUDY WOODRUFF: And now we continue our tribute to those lost to COVID-19.

It is our 23rd Friday doing this, as the U.S. approaches a grim milestone of 200,000 lives

lost.

Tonight, we recognize five more.

Yolanda Coar lived by the mantra be exceptional, her husband said. She worked her way up to

become a nurse manager in Augusta, Georgia. When she died at 40, she was studying for

her master's in nursing. While at the hospital, she met her husband of nearly 10 years. They

quickly bonded over their sorority and fraternity memberships.

Lively and outgoing, Yolanda never sat still. She loved the outdoors and attending baseball

games with her two sons.

Nina Popova lived to dance. Born in Russia and raised in Paris, her talent took her to

New York in 1939, when she joined the Original Ballet Russe. Throughout her career, Nina

performed on Broadway, danced with what is today the American Ballet Theatre and served

as the artistic director of the Houston Ballet.

Her daughter said Nina had a strong personality. She was 97 years old.

Growing up in Tuscaloosa, Alyson Mathews donned bows and pearls, but was an expert in Alabama

football. Following in the family business, she went to law school, but never practiced.

She wasn't able to give up her career as a medical social worker in a nursing home. Despite

her loyalty to the Crimson Tide, the 48-year-old fell in love with an Auburn fan. They married

in 2018, after nearly 20 years together.

Bernard Fils-Aime committed his life to activism for immigrant rights. The native of Haiti

was a student activist in New York when he met his wife of more than 40 years. Together,

they moved to Miami and helped create the Haitian Refugee Center in the 1980s.

In 2000, Bernard helped launch a company to provide cell phone services throughout Haiti.

Still, he always had time for his family, his son said. The 67-year-old was warm, gave

sage advice and frequently smiled ear to ear.

Felicia Florine Campbell was always looking for adventure and risk, her daughter said.

The Wisconsin native briefly served in the Marines, moved to Las Vegas and wrote her

dissertation gambling, and embarked on a 30-day trek in Pakistan in her early 50s.

Felicia's daughter described her as funny, opinionated and strong. The longest-serving

professor at the University of Nevada-Las Vegas, Felicia was preparing to teach this

fall, at 89 years old.

And we want to thank family members of all these who shared their stories with us. Our

hearts go out to you and everyone who has lost loved ones through this pandemic.