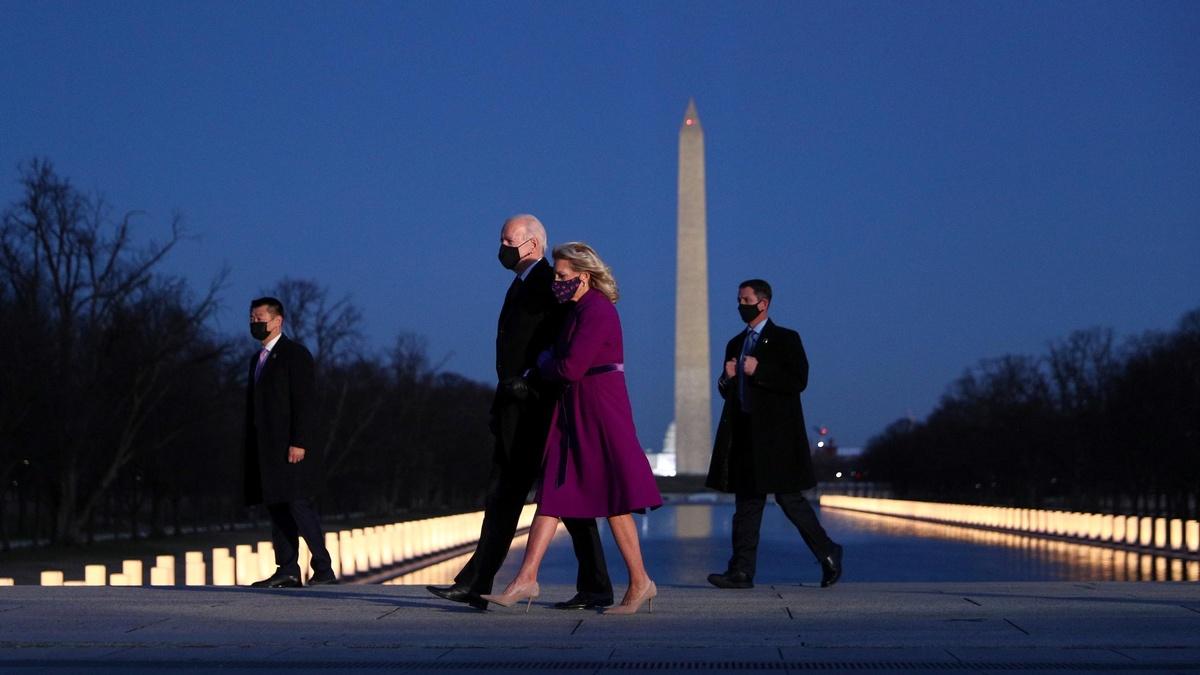 CLIP
Tribute held in nation's capital for those lost to pandemic
The U.S. passed another sad milestone Tuesday with 400,000 COVID-related deaths now recorded. President-elect Biden and Vice President-elect Harris spoke at a special tribute on the National Mall to remember the lives lost in the pandemic. It featured music, remarks and a special lighting of the reflecting pool. Here are some of the moments from the ceremony.
TRANSCRIPT

JUDY WOODRUFF: The day's events in the nation's capital concluded with a special ceremony

today to recognize the human toll of the pandemic.

A short time ago, president-elect Biden and vice president-elect Harris spoke at a tribute

on the National Mall to remember the 400,000 lives already lost in the pandemic.

It featured music, remarks and 400 lights placed around the Reflecting Pool at the Lincoln

Memorial.

The event began with an invocation from the archbishop of Washington, Cardinal Wilton

Gregory.

CARDINAL WILTON GREGORY, Archbishop of Washington: At this twilight hour, our beloved nation

reverently pauses in supplication to remember and to pray for the many thousands of people

who have died from the coronavirus during this past year.

We pray for those who have died and the families and loved ones that they left behind. And

may it be a resounding gesture of gratitude for all those who have cared for the victims

of this virus and their loved ones.

Our sorrow unites us to one another, as a single people with compassionate hearts.

SEN. KAMALA HARRIS (D-CA), Vice President-Elect: Though we may be physically separated, we,

the American people, are united in spirit.

And my abiding hope, my abiding prayer is that we emerge from this ordeal with a new

wisdom to cherish simple moments, to imagine new possibilities, and to open our hearts

just a little bit more to one another.

It is now my great honor to introduce Lori Marie Key. Lori is a nurse at St. Mary Mercy

Livonia Hospital outside of Detroit. Her community was hit hard when the virus struck. And Lori

was assigned to the COVID unit.

Lori is known for singing on the hospital floor. And a video of her sing a certain hymn

inspired our nation.

She joins us this evening to honor those we have lost with that

same hymn, "Amazing Grace."

(SINGING)

JOE BIDEN (D), President-Elect: To heal, we must remember. It's hard sometimes to remember,

but that's how we heal.

It's important to do that as a nation. That's why we're here today. Between sundown and

dusk, let us shine the lights in the darkness along the sacred Pool of Reflection and remember

all whom we lost.

(SINGING)

JUDY WOODRUFF: What a beautiful sight, what beautiful music at such a painful moment.