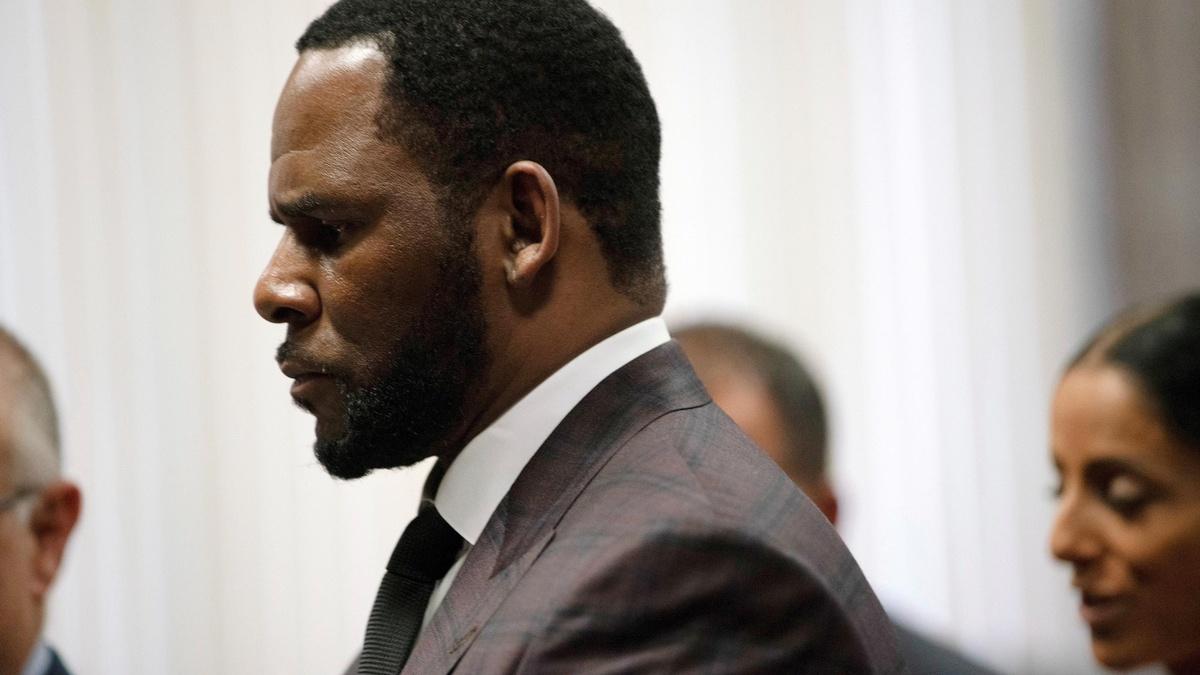 CLIP
Jury begins deliberations in R. Kelly case
R. Kelly has faced sexual abuse allegations for decades, settling multiple cases. In his first criminal trial since being acquitted of child pornography charges in 2008, prosecutors argued Kelly oversaw a criminal enterprise, sexually assaulting and imprisoning underage girls, boys, and young women. Kelly pled not guilty. Reporter Emily Palmer of The New York Times joins Amna Nawaz to discuss.
TRANSCRIPT

JUDY WOODRUFF: A jury began deliberations today in the of federal trial of singer

R. Kelly. The R&B artist is accused of kidnapping,

bribery, sex trafficking, and racketeering, among other charges.

Amna Nawaz is back with our look at the case.

And a warning for some viewers: This story deals with explicit references to sexual assault.

AMNA NAWAZ: Judy, R. Kelly has faced allegations of sexual abuse for more

than two decades and has settled multiple cases.

But this is the first criminal trial he's faced since being acquitted of child pornography charges

back in 2008. Over this trial, prosecutors brought 45 witnesses to prove racketeering charges.

They argue that Kelly oversaw a criminal enterprise, with associates helping

to lure underage girls, boys, and young women, whom he sexually assaulted and imprisoned.

Kelly pled not guilty.

Emily Palmer is covering this for The New York Times. And she joins me now.

Emily, welcome to the "NewsHour."

You have been listening to those witnesses as they're shared their testimony,

horrifying details. Tell us a little bit about who we have heard from and what they have said.

EMILY PALMER, The New York Times: This case

is built on the stories of six women. Five of them testified.

And the first woman to take the stand, the first woman to ever

actually take the stand and testify against R. Kelly was a woman named Jerhonda Pace.

She was nine months' pregnant at the time. And she took the stand.

And, over the course of two days, she delineated what she says was a system of abuse that began

upon her first meeting with R. Kelly when she was just 14 years old and attended his child

pornography trial in Chicago. Two years later, she met up with the singer again,

and he began having sex with her almost from the get-go.

She outlined horrific details of sexual, as well as physical abuse. And from there,

the trial just sort of pushed forward. We heard also from a woman named Stephanie,

Sonya, a woman who testified under the name of Jane, and another Faith.

They all came forward, and they talked about the same thing.

They had testimony that actually stretched all the way back into the 1990s,

all the way into just a few years ago. And they were saying the same story over and over again.

AMNA NAWAZ: And, Emily, as prosecutors say, it wasn't just about the predatory

actions of one man, that there was an entire network of enablers around him.

Tell me a little bit about how they made that case.

EMILY PALMER: Absolutely.

And that network of enablers is actually the whole reason that we're in federal court right now.

The racketeering charge that they have put against R. Kelly allows them to go stretch all

the way back into the 1990s and bring these stories of horrible things that happen to

women like the R&B singer Aaliyah that would normally be too old to actually prosecute.

But by charging him with racketeering, something that's usually used against mobsters,

they have been able to establish that we're not talking about a successful music company,

prosecutors say. We're talking about

an enterprise designed specifically to allow R. Kelly to switch up his -- sorry.

We are talking about an enterprise that allows R. Kelly to cash in his fame and stardom

to have sex with underage women, girls, and even boys.

AMNA NAWAZ: So, Emily, R. Kelly has pled not guilty. He's denied

all the accusations against him. Tell me about his defense team.

How do they answer some of these allegations and handle the witnesses?

EMILY PALMER: His defense, from opening arguments through cross-examination of 45 witnesses,

through their own five witnesses that came and testified earlier this week,

through closing statements, have kept to a very specific story.

They say this is a complete conspiracy to undermine a successful R&B artist

who enjoyed younger women, but there was nothing illegal about it, they say. They say that these

sexual acts were completely -- they say that the women were happy to indulge R. Kelly, were

fans, even super stalkers at times, that they wanted into the relationships, and then they

became jealous and hurt and upset, and they were coming after his money.

AMNA NAWAZ: Emily, I think a lot of people will listen to this and wonder,

how? How did this go on for so long without charges of this kind being brought?

EMILY PALMER: It's really important to look at the people who are accusing R. Kelly.

And most of the people who have taken -- a majority of the people who have taken

the stand are Black women who have historically not been heard, especially in cases like this.

And this is really a huge moment in the MeToo movement.

We have had other trials. We have had Bill Cosby. We have had Harvey Weinstein. But

this is the first big high-profile case where a majority of the accusers are Black women.

And it's really going to be interesting as the jury continues to deliberate, because,

for many years, people knew what was going on.

His employees knew. Even, to a certain extent, the public knew, and yet nobody did anything.

AMNA NAWAZ: And we will be waiting and watching for that verdict.

That is Emily Palmer of The New York Times covering the trial of R. Kelly

and joining us tonight.

Thank you, Emily.

EMILY PALMER: Thank you.