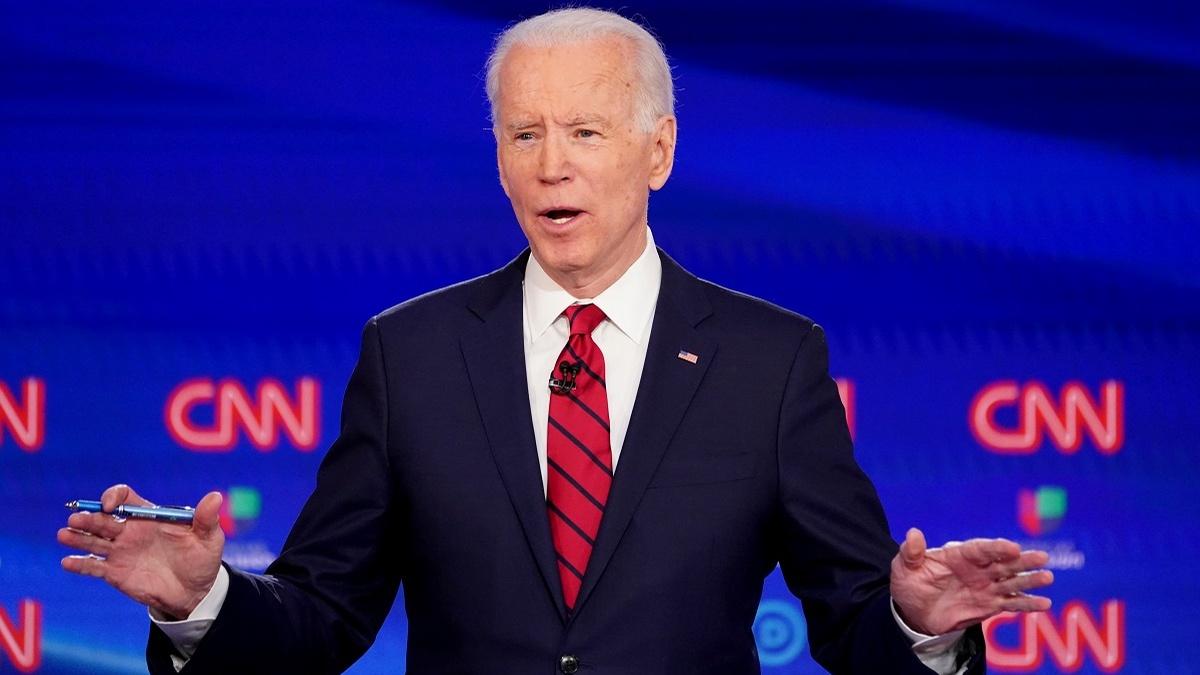 CLIP
Presidential debates make headlines, but do they win votes?
On Tuesday, President Trump and former Vice President Joe Biden will face-off in the first presidential debate, which is being billed as a potential "game changer." Special Correspondent Jeff Greenfield looks at the history of presidential debates and tells us why evidence suggests that the impact of these widely watched events may be overstated.
TRANSCRIPT

>> Sreenivasan: TUESDAY NIGHT,

DONALD TRUMP AND JOE BIDEN MEET

IN THE FIRST OF THEIR THREE

SCHEDULED DEBATES.

THEY'RE BEING BILLED AS

POTENTIAL "GAME CHANGERS,"

POTENTIALLY DECISIVE EVENTS.

BUT IS THAT WHAT HISTORY SAYS?

WE ASKED SPECIAL CORRESPONDENT

JEFF GREENFIELD TO ANSWER THAT

QUESTION.

AND HE BEGINS WITH A REMINDER OF

THE IMAGES THAT MAKE UP THE

HISTORY OF THESE EVENTS.

>> THE FIRST QUESTION TO SENATOR

KENNEDY FROM--

>> THIS IS WHAT EVERY HISTORY OF

PRESIDENTIAL DEBATES FEATURES.

MOMENTS, LIKE RICHARD NIXON'S

DRAWN FACE FROM THE VERY FIRST

DEBATE, IN 1960.

PRESIDENT GERALD FORD

PREMATURELY LIBERATING POLAND IN

1976.

>> THERE IS NO SOVIET DOMINATION

OF EASTERN EUROPE AND THERE

NEVER WILL BE UNDER A FORD

ADMINISTRATION.

>> RONALD REAGAN'S CLASSIC

CLOSING ARGUMENT IN 1980:

>> ARE YOU BETTER OFF THAN YOU

WERE FOUR YEARS AGO?

>> AND HIS QUIP ABOUT HIS AGE

AFTER A DISASTROUS FIRST DEBATE

IN 1984.

>> I WILL NOT MAKE AGE AN ISSUE

OF THIS CAMPAIGN.

I AM NOT GOING TO EXPLOIT FOR

POLITICAL PURPOSES MY OPPONENTS'

YOUTH AND INEXPERIENCE.

>> THERE WAS PRESIDENT GEORGE

H.W. BUSH LOOKING AT HIS WATCH

IN 1992, SUGGESTING IMPATIENCE,

OR AL GORE, TRYING TO STALK

GEORGE W. BUSH IN 2000.

AND FROM 2016, ENDLESS JABS

BETWEEN CLINTON AND TRUMP.

>> LOOK, PUTIN--

>> WAIT, BUT--

>> FROM EVERYTHING I SEE, HAS NO

RESPECT FOR THIS PERSON.

>> WELL, THAT'S BECAUSE HE'D

RATHER HAVE A PUPPET AS

PRESIDENT OF THE UNITED STATES.

>> NO PUPPET.

NO PUPPET.

>> AND IT'S PRETTY CLEAR--

>> YOU'RE THE PUPPET.

>> IT'S PRETTY CLEAR--

>> AND A COMMENT FROM TRUMP THAT

HAS BEEN HEARD AGAIN FOUR YEARS

LATER.

>> DO YOU MAKE THE SAME

COMMITMENT THAT YOU WILL

ABSOLUTELY-- SIR, THAT YOU WILL

ABSOLUTELY ACCEPT THE RESULT OF

THIS ELECTION?

>> I WILL LOOK AT IT AT THE

TIME.

I'M NOT LOOKING AT ANYTHING NOW.

I'LL LOOK AT IT AT THE TIME.

>> TUESDAY NIGHT'S DEBATE WILL

BE WATCHED VERY CLOSELY FOR SUCH

MOMENTS, ON THE ASSUMPTION THAT

THEY COULD MAKE OR BREAK A

CAMPAIGN.

BUT WHETHER THAT ASSUMPTION IS

VALID IS A VERY DIFFERENT

QUESTION.

HARI?

>> Sreenivasan: JEFF, WHAT DOES

THE EVIDENCE SUGGESTS THERE, IS

THAT ASSUMPTION VALID?

>> THE EVIDENCE AS FAR AS IT CAN

BE DISCERNED IS THAT THE DEBATES

DON'T HAVE THAT MUCH OF AN

IMPACT.

THEY MAY HAVE AN IMPACT FOR A

DAY OR TWO, BUT GENERALLY

SPEAKING, IT'S MARGINAL AT BEST.

I MEAN, REAGAN WAS AHEAD IN THE

POLLS BEFORE THAT CLASSIC

CLOSING COMMENT IN 1980.

GORE WAS SAID NOT TO HAVE DONE

WELL IN THE DEBATES, BUT HE

ACTUALLY CLOSED TO A POPULAR

VOTE VICTORY IN 2000.

HILLARY CLINTON WHO "WON" ALL

THE DEBATES BY CONVENTIONAL

WISDOM WAS NARROWLY AHEAD OF

TRUMP AND THE LATE DECIDERS IN

2016 WENT FOR TRUMP.

SO, IT'S A VERY SHAKY ASSUMPTION

THAT THESE DEBATES DO MORE THAN

MOVE MARGINAL VOTES.

BUT AS WE SAW FOUR YEARS AGO,

EVEN A MARGINAL SHIFT CAN

SOMETIMES MAKE A DIFFERENCE.

>> Sreenivasan: SO, WHY DO WE

THINK THAT PEOPLE WATCH THESE IF

IT ULTIMATELY DOESN'T MATTER AS

MUCH TO THEM?

>> YEAH, I THINK YOU HAVE TO

MAKE A DISTINCTION IN PRIMARIES

WHEN VOTERS MAY NOT BE FAMILIAR

WITH CANDIDATES.

THEY MAY BEGIN TO FORM REAL

IMPRESSIONS DURING THESE ENDLESS

DEBATES, BUT BY GENERAL

ELECTION, A MONTH BEFORE THE

ELECTION, MOST PEOPLE KNOW WHO

THEY'RE VOTING FOR.

POLLS TODAY SHOW THAT 90% OF THE

VOTERS HAVE ALREADY MADE UP

THEIR MIND.

SO, THE SENSE IS THAT THEY'RE

WATCHING MORE LIKE SPORTING

EVENTS, YOU KNOW, WHERE YOU

CHEER ON YOUR CANDIDATE, AND YOU

BOO THE OTHER CANDIDATE.

AND IF YOUR CANDIDATE HAS A BAD

PERFORMANCE, IT'S LIKE YOUR TEAM

LOSES A GAME.

YOU DON'T LEAVE THE TEAM.

AND THAT'S KIND OF WHERE I THINK

WE ARE WITH A LOT OF THESE

DEBATES.

>> Sreenivasan: YOU KNOW, IT

SEEMS ALMOST LIKE THE FINANCIAL

MARKETS, SO MUCH OF THIS IS

MANAGING EXPECTATIONS.

AND, IN A WAY, THE PRESIDENT'S

ATTACKS ON JOE BIDEN, HIS ENERGY

LEVEL, ET CETERA, ARE THEY

SETTING THE BAR TOO LOW?

>> WELL, LET'S SEE, THE

PRESIDENT HAS SUGGESTED THAT

BIDEN IS IN THE EARLY STAGES OF

DEMENTIA.

HE'S PROPOSED A DRUG TEST

BECAUSE HE SAYS THE ONLY

EXPLANATION FOR WHEN BIDEN DOES

WELL IS THAT HE'S ON DRUGS.

SO YOU MIGHT THINK THAT IF BIDEN

SHOWS UP FOR, YOU KNOW, FOR THE

DEBATE AND DOES NOT BEGIN

SPEAKING IN TONGUES, THAT'LL BE

A VICTORY.

NOW, JUST IN THE LAST 24 HOURS,

TRUMP HAS SAID, WELL, YOU KNOW,

HE HAS BEEN AN EXPERIENCED

DEBATER FOR ALL THOSE YEARS IN

THE SENATE.

BUT IT'S FAIR TO POINT OUT THAT

IN THE PRIMARIES, IN WHICH WE

SAW VERY UNEVEN PERFORMANCES BY

BIDEN, YOU KNOW, HE WAS UP, HE

WAS DOWN, MAYBE THE BETTER

MEASURE IS THAT IN THE TWO VICE

PRESIDENTIAL DEBATES HE HAD

AGAINST SARAH PALIN AND PAUL

RYAN, HE WAS BETTER.

BUT I DO THINK THAT IF YOU SEE

WHERE THE POLLS ARE, THEY'VE

BEEN UTTERLY KIND OF ALMOST

STATIC WITH BIDEN HAVING A

SUBSTANTIAL LEAD AND A

REASONABLE LEAD IN THE

BATTLEGROUND STATES THAT

PRESIDENT TRUMP WILL DO ANYTHING

AND EVERYTHING HE CAN.

AND AS WE'VE SEEN FOR FIVE

YEARS, IF YOU TRY TO PREDICT

WHAT DONALD TRUMP IS GOING TO

DO, YOU KNOW, YOU'RE IN FOR A

FOOL'S ERRAND.

>> Sreenivasan: ALL RIGHT.

JEFF GREENFIELD JOINING US FROM

SANTA BARBARA.

THANKS SO MUCH.

>> THANK YOU, HARI.