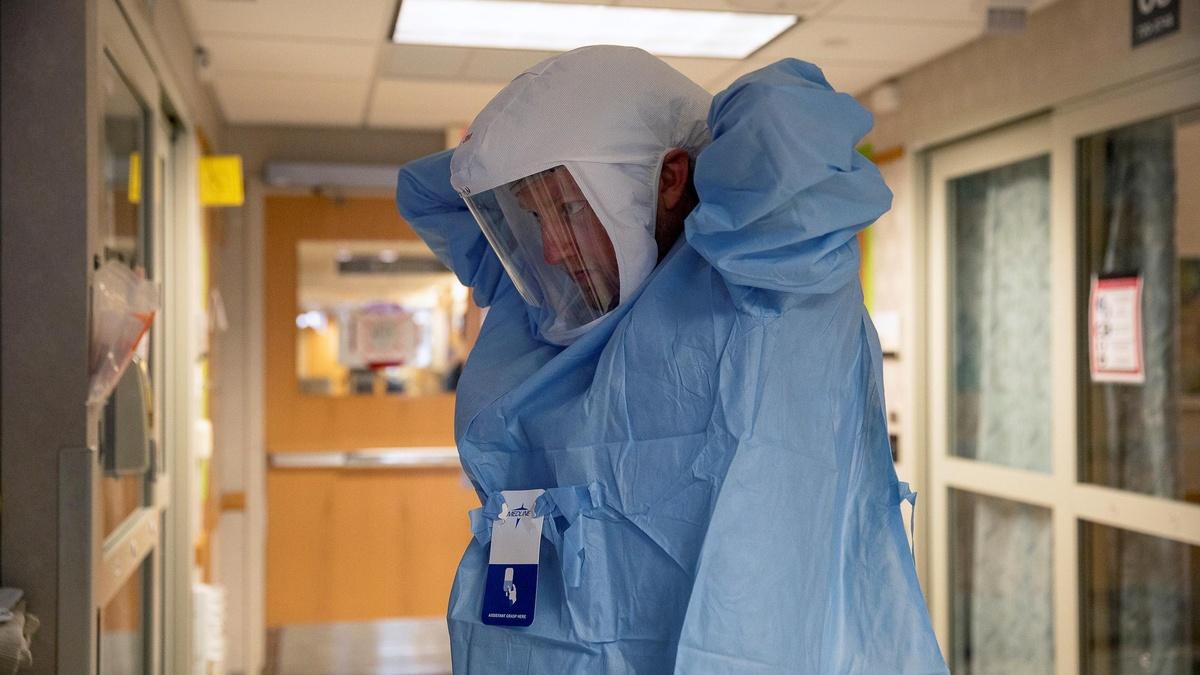 CLIP
Wisconsin hospitals face critical staffing shortages
Wisconsin is in the midst of a month-long surge of cases that is hitting rural areas of the state particularly hard. And about 70 percent of Wisconsin's hospitals will face a dearth of medical professionals by the end of this week. John Yang speaks with William Melms, chief medical officer at Marshfield Clinic Health System in Wisconsin, to learn more.
TRANSCRIPT

JUDY WOODRUFF: It may be Thanksgiving week, but COVID cases are on the rise,

with the country averaging about 180,000 new cases a day for the last several days.

John Yang reports on one hot spot.

JOHN YANG: Judy, Wisconsin is in the midst of a month-long surge in cases. Over the past week, new

cases in the state have been averaging about 5,800 a day. Deaths have been averaging about 52 a day.

Heather Storch is a nurse at Marshfield Medical center in Marshfield, Wisconsin.

HEATHER STORCH, Nurse Manager, Marshfield Clinic Health System: As a manager,

I have been in nursing for 14 years, and I never

imagined that this is something that we would have to go through.

The decisions that I need to make on a daily basis of allowing a family member

to come and see one of their family members who is dying for the last time is extremely hard.

JOHN YANG: The hospital where Storch works is part of the Marshfield Clinic Health System.

Dr. William Melms is chief medical officer for that network of hospitals and clinics,

which serves mostly rural, northern, central and western Wisconsin.

Dr. Melms, thanks so much for joining us.

Heather Storch recorded that video last week, late last week.

What's the latest? What can you tell us what it's like now in the -- in your hospitals?

DR. WILLIAM MELMS, Chief Medical Officer, Marshfield Clinic Health System: Well,

really, it hasn't gotten a whole lot better. I have to say that.

The number of positives in the state, as you have mentioned,

continues to be quite high. That drives the inpatient hospitalization. Our staff is pushed

to the limit. And it's been difficult to care for these patients because of that.

JOHN YANG: You're talking about the staff. And we

heard certainly in that video what it's like on the staff.

What is more critical for you now, capacity in terms of number of beds,

or capacity in terms of the number of staff you have and the number of hours

that they can be working and, quite frankly, their emotional reserves?

DR. WILLIAM MELMS: We have enough space to take care of these patients.

We cannot create more people.

And it is the staff. It's physically demanding to take care of these patients.

And, more importantly, it's an emotional, demanding thing to do.

JOHN YANG: How concerned are you about what happens after Thanksgiving,

if people are gathering, perhaps not doing all the things they should be doing?

You have also got a large number of college students going home and then

going back to campus. How concerned are you about that period after Thanksgiving?

DR. WILLIAM MELMS: We're extremely concerned about that. We feel like we're in a little bit

of an eye of the storm right now, but we will be on the leading edge of that storm

within one to two weeks after Thanksgiving. I have no doubt about that.

JOHN YANG: Do you worry about the long-range or

long-term effect that's going to have on doctors and nurses?

DR. WILLIAM MELMS: I do.

You saw Heather's report that she gave. That was from the heart, very sincere. This is trauma

that these individuals are dealing with on a day-in and day-out basis.

JOHN YANG: Do you worry about burnout? Do you

worry about -- that you're going to see some turnover in staff?

DR. WILLIAM MELMS: Absolutely. We worry about both. We worry

about burnout. We worry about turnover.

We are trying to mobilize staff to become inpatient staff, or at least to be able to help

the inpatient staff, to provide them some relief for the duties that they have to do.

We have a program called Helping Hands, where we're bring in staff of all sorts, receptionists,

M.A.s, anyone that's willing to lend a hand

on the inpatient side to do any of the nursing tasks to help relieve some of their burden.

We are looking to get contracted staff wherever we possibly can. That's a difficult thing,

because surging is occurring around the country now. So, staff is rare.

JOHN YANG: I saw an interview you had done last week, and you talked about, at the beginning

of this pandemic, you were watching the numbers surge in places like New York,

and you were getting ready, preparing yourself to see that come to you in rural Wisconsin.

It didn't come then, but now, six months later, here it is. Why not then, but -- and why now?

DR. WILLIAM MELMS: We were definitely on the sideline at the beginning of this pandemic.

In fact, many of our staff went to New York to help. And we were proud of them for doing so.

But probably because of the rural nature of our delivery area,

we just did not have the close contacts that occur within cities. And now it has caught up with us.

JOHN YANG: There's been a slight case -- and I stress slight dip in new cases across Wisconsin

in the past couple of days. Are you optimistic about that trajectory?

And, if not, what's it going to take for you to feel confident

that cases and numbers are heading in the right direction out there?

DR. WILLIAM MELMS: Well, we're pleased with any

day that has a drop in number of new cases. There's no doubt about that.

But, again, with the holidays coming up, there's nothing magical about this. Every time

people come in contact with one another, it's a potential exposure. And those potential exposures

turn into positive cases, which then turn into hospitalizations. We will deal with many more

hospitalizations that will push our ability to care for these patients to the brink.

JOHN YANG: Dr. William Melms, chief health officer at Marshfield Clinic Health System,

I wish you and your staff a meaningful and safe and healthy Thanksgiving.

DR. WILLIAM MELMS: Thank you very much.