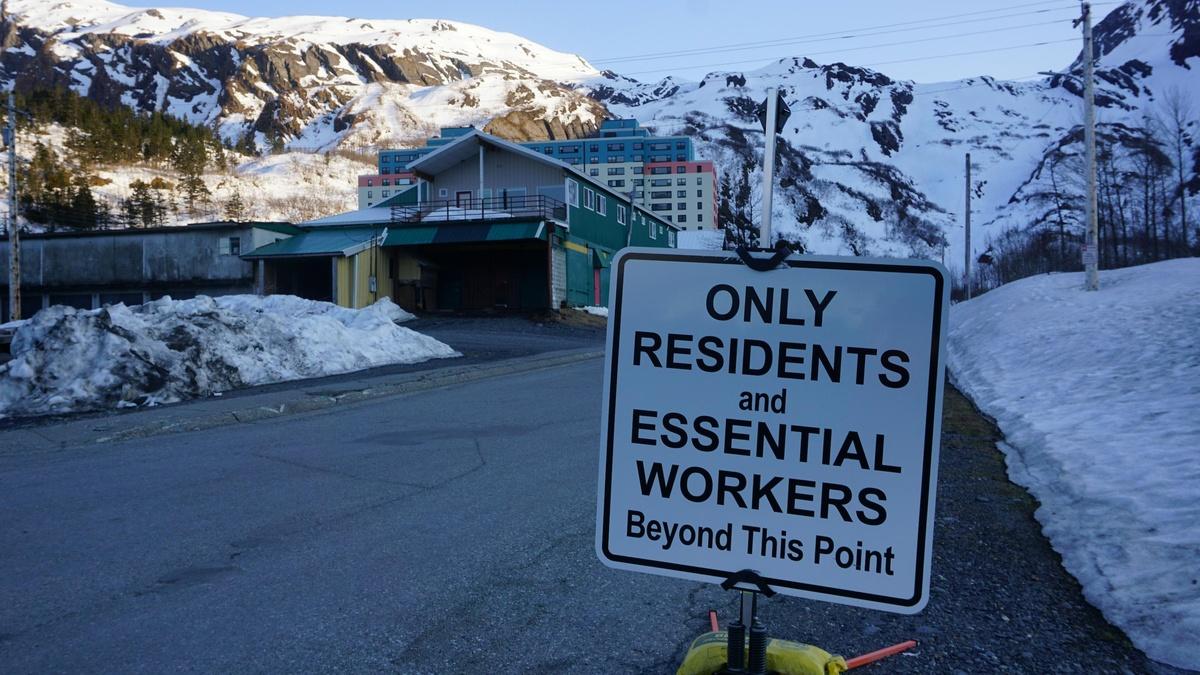 CLIP
Alaska's geography delayed virus -- but hasn't prevented it
Alaska's distance from the U.S. mainland delayed its pandemic pain -- but hasn't prevented it. Indeed, the mayor of Anchorage recently described the situation there as a coming "COVID storm." New emergency orders restricting businesses and gatherings are being implemented as cases rise and the economy reels from major blows to the fishing and tourism industries. Stephanie Sy reports.
TRANSCRIPT

JUDY WOODRUFF: A coming COVID storm -- that's how the mayor of Anchorage, Alaska, recently

described the pandemic in his city, as he announced new emergency orders restricting

businesses and gatherings.

As Stephanie Sy reports, the unique geography of the Last Frontier State has not spared

it from the pain.

STEPHANIE SY: Removed from other states, mostly wilderness, the pandemic took longer to gain

a grip on Alaska. But now it has in what officials have described as a rapid acceleration and

exponential growth in cases.

Summer is usually a boom time in Alaska for tourism and fishing, pillars of the economy

that some locals worry will now expose them to an unwanted guest, the virus.

DESI BOND, Alaska: As a mother, you're always concerned for your -- the safety of your children.

STEPHANIE SY: Desi Bond, who is Yupik, lives in Dillingham, a small town in the Bristol

Bay region known for its sockeye salmon. During the summer fishing season, the population

of some 7,000 residents doubles with seasonal workers.

DESI BOND: My oldest and my youngest have asthma. You're always on the alert, you know,

are they OK, are they healthy? But then to have something come in that's so invisible

and such a big threat to our lives and our livelihood, it's been very -- it's been very

stressful.

THOMAS TILDEN, First Chief, Curyung Tribal Council: We're going to be very careful all

the way until end of August, first part of September.

STEPHANIE SY: Thomas Tilden is a tribal leader and commercial fisherman in Bristol Bay.

THOMAS TILDEN: The mayor of Dillingham and I had sent a joint letter to the governor

asking him to postpone the fishery, cancel the fishery.

STEPHANIE SY: But other local officials, including Dan O'Hara, pushed to keep the fishery open,

concerned about the economic hit.

DAN O'HARA, Mayor of Bristol Bay Borough, Alaska: And then you're sitting here, and

the community is broke, and we create another disaster upon that.

STEPHANIE SY: A compromise was worked out, and seafood companies took steps, like testing

seasonal workers before they could work, that so far have prevented outbreaks in Bristol

Bay, not easy in canneries and fisheries, where workers live together.

THOMAS TILDEN: They put gates around their living quarters, gates around their facilities.

Got to give them credit for what they did to keep us all safe.

STEPHANIE SY: But other coastal fishing villages have not dodged the virus. Hundreds of seafood

industry workers have tested positive.

In Seward, on the Kenai Peninsula, more than a third of workers at an OBI Seafoods processing

plant tested positive for COVID-19, forcing the plant to temporarily shut down.

OBI Seafoods operates 10 processing plants across Alaska, staffed with both seasonal

and local workers.

MARK PALMER, CEO, OBI Seafoods: When you look at the remote facilities, like out in Bristol

Bay and in the Kodiak Island, the far reaches, those are closed campuses. They don't leave.

They don't interact with anyone in the communities.

STEPHANIE SY: Mark Palmer is CEO of the company. He says they work with local officials to

keep tabs on any employees who test positive.

MARK PALMER: Where you have some local work force, those employees come and go back and

forth to home every day. So, they're certainly not required to stay on campus. But we try

and keep them as separate as possible inside the facilities.

STEPHANIE SY: In addition to fishing, the tourism industry is vital to Alaska's economy.

Cruise ships bring in $1 billion a year.

VIVIAN MORK, Owner, Planet Alaska: We went from that to, of course, almost nothing.

STEPHANIE SY: Vivian Mork owns Planet Alaska, a gallery that sells Native-made goods in

downtown Juneau; 1.4 million cruise tourists were projected to come through the port this

summer, before coronavirus canceled cruises.

VIVIAN MORK: We went from maybe doing well to all of a sudden trying to figure out how

to keep the roof over our head and the food in their belly and the store open and bills

being paid.

STEPHANIE SY: That loss in business has meant a huge drop in income for many Alaskans.

VIVIAN MORK: At the same time as it hits us economically, it also helped to protect us

being inundated with positive cases.

STEPHANIE SY: They are far from being inundated. The cases have began seeping in to even the

most remote communities, where there is extremely limited access to health care.

Patients have been medevaced from places like Bethel in far West Alaska, and Fort Yukon

near the Arctic Circle, home of the Gwichyaa Zhee people.

DACHO ALEXANDER, Tribal Council Member, Gwichyaa: We have, we have lost our first tribal member,

a community member, to COVID a few days ago.

STEPHANIE SY: Tribal council member Dacho Alexander says they did their best to keep

their town isolated, but village and family life are remarkably interdependent, especially

during the crucial peak fishing months.

DACHO ALEXANDER: The reality of village life is, it requires multiple families in order

to basically survive, because you're having to put away food for the winter. We knew that

there was a matter of time before it did get here. And we just tried to hold it off as

long as we can.

STEPHANIE SY: It's not clear how the virus got to Fort Yukon. The village was under a

strict lockdown and curfews, but for a 10-day period in June, when rules were relaxed.

NATHAN MCCOWAN, George Tanaq Corporation: The rural areas are intertwined economically

with the larger communities.

STEPHANIE SY: Nathan McCowan is head of the St. George Tanaq village corporation. St.

George is an island in the middle of the Bering Sea.

NATHAN MCCOWAN: Once it gets into the rural communities, everybody understands the capacity

and the medical realities about how dangerous it can be.

DR. ROBERT ONDERS, Medical Director, Alaska Native Tribal Health Consortium: We're seeing

some larger events occur now.

STEPHANIE SY: Dr. Robert Onders is the medical director at the Alaska Native Tribal Health

Consortium. He says many Alaska Natives are at greater risk for severe impacts from COVID-19.

DR. ROBERT ONDERS: There is an increased burden of chronic disease, increased burden of smoking,

increased burden of crowded housing, increased challenges with water and sewer access. And

all those prevent -- incredible risk to the rural community.

STEPHANIE SY: Native Alaskans have survived in the face of many hardships, but not without

taking devastating losses. The 1918 Spanish Flu decimated many families, including Thomas

Tilden's.

THOMAS TILDEN: Apparently, someone bought that influenza into the village. One morning,

there was no more relatives. They had all died that night. And so they lost a vast number

of their village people.

STEPHANIE SY: That pandemic killed more than half of adults and elders across Alaskan villages.

More recently, the 2009 H1N1 flu hit the region hard. Alaska's geography is both an opportunity

and a vulnerability when it comes to COVID.

DR. ROBERT ONDERS: We want to rapidly identify and eradicate COVID in these rural communities,

not a mitigation strategy. We really need to prevent it entering those communities.

STEPHANIE SY: But an eradication strategy may be too late. And when the summer fish

harvest is over, Nathan McCowan worries, the cold season brings new peril.

NATHAN MCCOWAN: We can have seasonal storms that will ground all air travel for weeks.

STEPHANIE SY: By the numbers, Alaska has far fewer cases than other states, but Desi Bond

says the burden is no different.

DESI BOND: I know Alaska is a forgotten state. I know our people are overlooked. But we are

here. We, too, are fighting to keep ourselves safe, to keep our families healthy.

STEPHANIE SY: Fighting an invisible enemy, as memories of devastating pandemics loom

large in the minds of many Alaska Natives.

For the "PBS NewsHour," I'm Stephanie Sy.