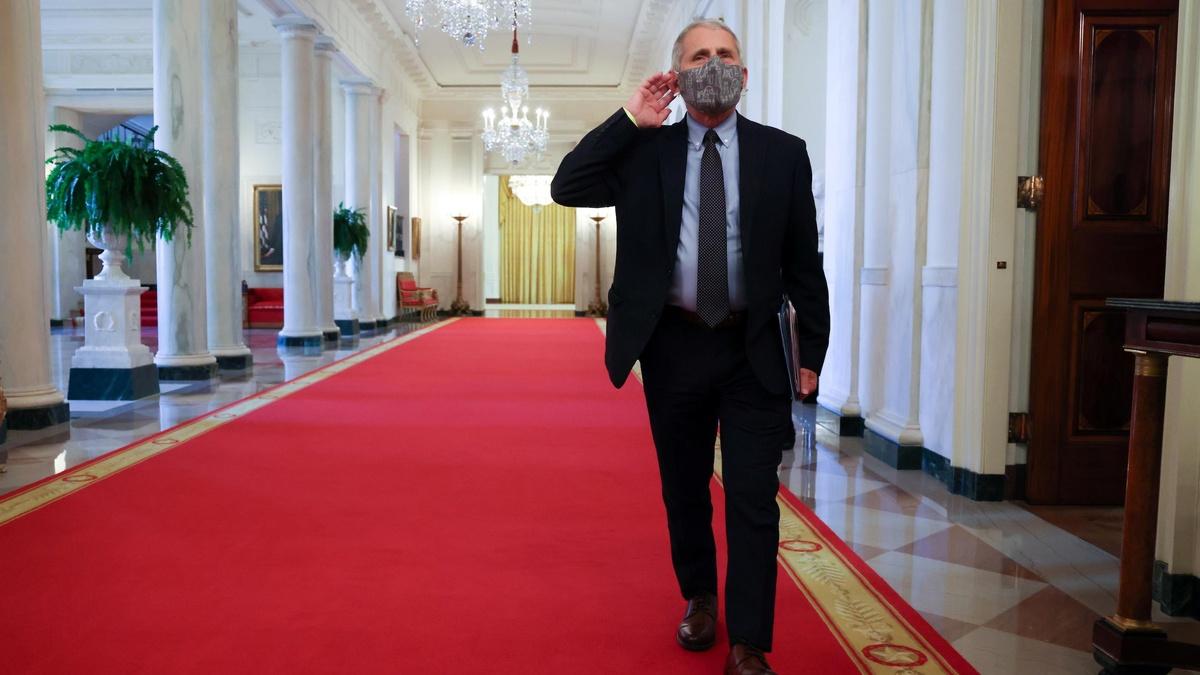 CLIP
Biden calls for a wartime approach to the pandemic
President Biden is calling for a full-scale wartime approach to the pandemic and its impact. Michael Osterholm, an epidemiologist and director of the Center for Infectious Disease Research and Policy at the University of Minnesota, joins William Brangham to discuss what needs to be done moving forward.
TRANSCRIPT

JUDY WOODRUFF: As we have been hearing, the president is calling for a full-scale wartime

approach to the pandemic and its effects.

William Brangham gets an assessment of what needs to be done and the challenges of matching

rhetoric with reality.

WILLIAM BRANGHAM: That's right, Judy.

To look a little deeper at the Biden administration's plan for the pandemic and just how steep a

hill it has to climb, I'm joined now by Dr. Michael Osterholm. He runs the Center for

Infectious Disease Research and Policy at the University of Minnesota, and he recently

served on the Biden team's Coronavirus Advisory Board.

Dr. Osterholm, great to have you back on the "NewsHour."

DR. MICHAEL OSTERHOLM, Director, University of Minnesota Center for Infectious Disease

Research: Thank you.

WILLIAM BRANGHAM: Before we get into the policy changes, can you just help us understand,

what has been the hiccup so far in our ability to get vaccines to people?

I mean, we know it's improving. But what have been the stumbling blocks so far?

DR. MICHAEL OSTERHOLM: Well, actually, there are three point to this.

First of all, there has been a lot of misunderstanding of what's happening. When you actually look

at the number of doses distributed to a state, which has been what everybody has been publicly

seeing, that actually means that the Operation Warp Speed has decided to send you the vaccine.

And, in many cases, for states, that vaccine doesn't arrive for days to a week. And so,

in a sense, we have been overestimating what the states can even put into people's arms.

Second of all is, the doses received by individuals has also been underreported, because, sometimes,

it takes up to two days to get that information from the time the person was vaccinated into

that system. So, the numbers are not nearly as far apart as one would think.

The second piece of it, though, is, we had no plans. When the -- one of the individuals

you were mentioning just now said the vaccine was virtually dumped into the states, and

that's what happened. They had plans that were general in nature for how to distribute

this vaccine, but they didn't know who was going to be prioritized.

They have had no financial resources to actually hire people who do vaccinating or who would

carry out the plans. And finally has been the uncertainty. There have been a number

of major clinics scheduled in states out there that had to get canceled at the last minute

because they suddenly found out the vaccine wouldn't be arriving for that clinic, which

has really held up trying to set up clinics five days, 10 days, 15 days in advance.

So, those three, in combination, have led to the challenge we see right now of getting

vaccine into people's arms.

WILLIAM BRANGHAM: So, the Biden administration comes in today and says, we're going to do

all of these things that we can to ramp up that process that you're describing. They're

going to set up these massive public vaccination sites that FEMA is going to work on, get pharmacies

working quicker, set up mobile clinics.

How difficult is it to start that process and to get that going? I mean, are we talking

weeks? Are we talking months? How long?

DR. MICHAEL OSTERHOLM: Well, first of all, we have to understand that the state health

departments, in some cases, local departments, depending on where you live, are the air traffic

control towers for your state.

They are the ones who have to coordinate across all populations, no matter where you live,

no matter what your racial ethnicity is, where you might work. They coordinate that. So,

what we're really talking about is the federal assets, which is really an important addition

to this, being coordinated in a statewide manner.

You don't want just a group of different organizations descending upon a state and said, hi, we're

going to open a vaccine shop. And so one of the challenges right now that is being addressed

is, how do the states and the federal government coordinate to do this kind of rollout?

State governments and health departments in general have a lot of ability to understand

how to do vaccinations. We do this every day, in terms of childhood immunizations. So, I'm

confident that, over the course of the next seven to 14 days, we're going to see that

kind of coordination resulting in more immunizations.

Finally, states need resources. We have to move that money that was just approved by

the Congress to the states as soon as possible, so that we can hire the kind of people who

can help us do this, who can serve as a coordinator for the volunteer organizations, who can help

bring the National Guard in where they can best be used, who can work with the pharmacies

to make sure that certain populations are covered.

And until we get that, that's still going to be a challenge.

WILLIAM BRANGHAM: The president also stressed that he was going to use the Defense Production

Act, which is his executive power to basically force companies to turn their attention where

it's needed.

What are the supplies that we are short of right now? And are there enough domestic companies

to fill those needs?

DR. MICHAEL OSTERHOLM: Well, the Defense Production Act obviously can be used for a variety of

different reasons, for developing personal protective equipment stockpiles, or at least

delivering those personal protective equipment to the front lines right away, and, surely,

as been pointed out, could potentially be used for the vaccine world.

I was not involved with the reviews of what the current manufacturing companies need in

way of resources they are not currently getting. It's not evident that that's going to be an

immediate tool that will need to be used.

But let's make no mistake about it. Right now, these companies are pledging to deliver

between 12 million to 18 million doses a week. Now, remember, a dose is just one-half of

the required need for one person. So, in other words, two doses mean that that's somewhere

between six million and nine million new people a week that can be vaccinated with both doses.

So, we are going to be challenged for some time. We have to understand that. We're hopeful

that additional companies will have their products approved that will then also bring

vaccine into the market and for us to use. But, right now, we can't sugarcoat it. We

have to tell the public we're doing best we can. The companies are putting out as much

vaccine as they can. And it's going to be short for some time, and that's just the reality

of it.

WILLIAM BRANGHAM: That's right. I think it was Dr. Fauci today said that, if we can get

roughly three-quarters of the country vaccinated by this summer, we might approach some level

of normalcy by the fall.

Of course, that is many, many months away. We know, also, that these new variants are

spreading around the country. They seem to be more contagious. Does that emergence of

these variants make you argue that we should change our public health measures in any way?

Are there things that we should be doing differently because these new strains are out there?

DR. MICHAEL OSTERHOLM: Well, first of all, we have to recognize what the implications

are.

And what I mean by that is, we have basically shifted our baseline of what we accept for

the COVID-19 in our communities. Remember back in April, when we had 32,000 cases reported

a day? and we got the case downs to 20,000 cases a day by Memorial Day. And then we hit

72,000 cases a day in July, when the Southern states were on fire, and we got our cases

back down to about 26,000 cases a day by Labor Day.

And then, of course, we saw these big peaks. We went from 26,000 cases a day to 100,000,

then 200,000, and finally we hit 300,000. Today, we are back to about 185,000 cases

a day being reported as our base.

Now, given that, if we do see this major transmission increase because of these variant isolates,

we are basically in for the very worst days of this pandemic, no mistake about it. We

have to understand that.

So, we have to start talking now about, how are we going to control it? What did the European

countries do to try to control this? They literally had to go and take major, major

restrictions in -- as everyday life in their countries.

And I think, based on what we see with these variants right now, I think the country has

to be aware that the next months could be very challenging.

WILLIAM BRANGHAM: Dr. Michael Osterholm, thank you for a very sobering assessment.

Good to have you back on the show.

DR. MICHAEL OSTERHOLM: Thank you very much.