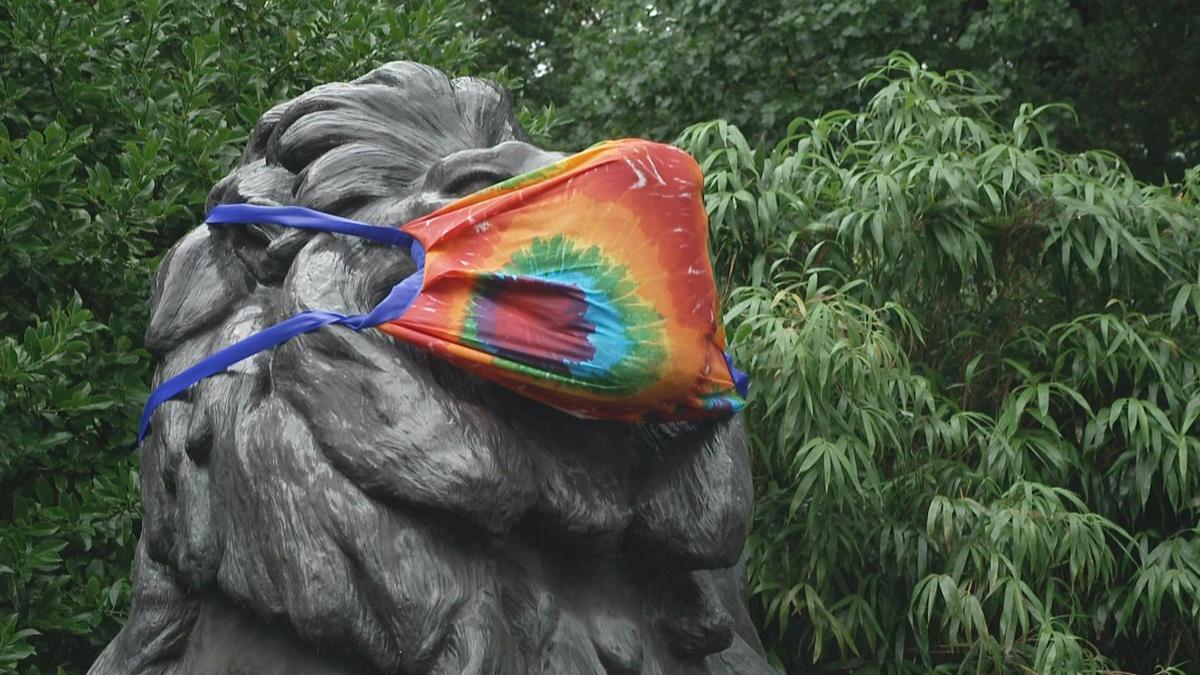 CLIP
Opening up the Smithsonian slowly and safely during COVID-19
How is the 173-year-old, sprawling Smithsonian Institution slowly starting to welcome back the public? Of the world's largest museum, education and research complex, only two attractions are currently open: the National Air and Space Museum's Udvar Hazy Center and the National Zoo. John Yang visited both to see how they are adapting, as part of our ongoing arts and culture series, Canvas.
TRANSCRIPT

JUDY WOODRUFF: Finally tonight, as more institutions across the country start to reopen and some

close again due to spikes in the coronavirus, we look at how the 173-year-old sprawling

Smithsonian Institution is gradually welcoming back the public.

John Yang visited two of the key attractions of the world's largest museum, education and

research complex.

This report is part of our ongoing arts and culture series, Canvas.

JOHN YANG: Its reopening day at the National Air and Space Museum's Udvar-Hazy Center in

Chantilly, Virginia, outside Washington, home to some of the greatest exhibits of air and

space travel.

There's no crush of thousands of visitors, as there would normally be this time of year,

instead, an orderly, timed entrance of no more than 1,500 people, the daily limit of

advance tickets available online.

WOMAN: They will scan it, and you will be good to go.

JOHN YANG: The same day, under a morning rain, animal lovers trickled into the Smithsonian's

National Zoo in Washington. These two sites are the tip of the spear for an institution

that has more than 150 million artifacts and works of art and each year usually attracts

more than 30 million visitors.

STEVEN MONFORT, Director, National Zoo: Our secretary, Lonnie Bunch, has described in

our opening and closing more like a thermostat or a switch that we can turn up and we can

turn back down.

JOHN YANG: The Smithsonian's 19 museums are free to the public. Officials say these two

facilities are uniquely positioned to open first.

Steve Monfort is director of the National Zoo.

STEVEN MONFORT: We have a large campus, 163 acres. Mostly, it's an outdoor experience.

We do have indoor houses, but we can restrict access to those. So, the idea was, if we can

provide enough social distancing, we can mandate the use of masks.

JOHN YANG: Following guidelines and regulations from the Centers for Disease Control and Prevention

and the District of Columbia, the zoo is admitting no more than 5,000 people each day, with timed

entry passes from 8:00 in the morning to 4:00 in the afternoon.

On an ordinary summer day, the zoo could have as many as 25,000 guests. Now every visitor

6 and older is required to wear a face covering.

The pandemic has also meant changes for zoo's permanent residents. Associate director Brandie

Smith oversees animal care.

Talk about what it was like here for the months that you were closed. Did the animals' behavior

change at all with people gone?

BRANDIE SMITH, Associate Director, National Zoo: Well, you know, the animals definitely

notice that people aren't here. You know, I can tell when I'm out in the park. When

I walk by, say, the lions and tigers, they definitely pay attention.

JOHN YANG: They perk up? Oh.

BRANDIE SMITH: Well, I think it's two things, right? So they're not used to seeing people.

So, when a person comes by, what are they doing here? What do they have to offer me?

Also, I think, sometimes, you know, the animals like seeing us as much as we like seeing them.

So, we offer them entertainment and distraction.

JOHN YANG: Another concern? The possibility that the animals could catch COVID-19 from

people. Even in normal times, some zoo workers wear protective gear to prevent what are called

zoonotic diseases, which are shared between animals and humans.

BRANDIE SMITH: Zoonotic diseases are not a new thing. They're something we deal with

all the time. Think about avian influenza. Think about rabies. Think about E. coli. So

we are always prepared to deal with and prevent zoonotic viruses.

JOHN YANG: First-day visitors said they came to get out of the house and see both animals

and other people.

NICK CHAUVENET, Father: What brings us to the zoo?

JOHN YANG: Nick Chauvenet had took daughters Maya and Sonya.

NICK CHAUVENET: We have been doing some nature trails and going to playgrounds, things like

that. But they usually like coming to the zoo.

So getting a chance to come back after a while has been nice.

QUESTION: Does it give you a sense of normalcy?

NICK CHAUVENET: A small amount, yes. It certainly feels like little tiny progress.

CLAIRE VANDERTUIN, Zoo Visitor: We have been waiting all summer long for the zoo to open.

JOHN YANG: Three generations of the Vandertuin family wanted an interesting environment for

baby Hendrick.

JOHN VANDERTUIN, Zoo Visitor: He was fascinated by the elephant over here.

QUESTION: Do you feel like that's important education? It's not just get out in the fresh

air?

JOHN VANDERTUIN: Oh, sure.

CLAIR VANDERTUIN: He just froze when he saw the elephant. He knows what an elephant is.

And now he's connecting that book as a real thing. That gobsmacking for a 1-year-old.

JOHN YANG: Air and Space Museum director Ellen Stofan says the Udvar-Hazy Center can offer

a hopeful message.

ELLEN STOFAN, Director, Air and Space Museum: This museum is about these stories of ingenuity,

stories of creativity, overcoming huge problems. And, to me, that's a message that maybe the

public could use right now, is, look what we're capable of.

JOHN YANG: Last year was the 50th anniversary of the moon landing, and the sort of resurgence

of that spirit of that summer of 1969, which I certainly remember, and now this summer,

which is quite different.

ELLEN STOFAN: You know, we have been thinking about that a lot, because, last summer, we

went all out and projected the Saturn V rocket on the Washington Monument and even launched

it up the monument.

How do you give that spirit to a new generation that, as Americans, we can conquer any challenge

we put our minds to? And so, obviously, even though we're not celebrating as much this

summer as we were last summer, that message of the American spirit, American ingenuity

- - we have our Apollo 13 face mask that has "Failure is not an option" on it.

JOHN YANG: For 90-year-old Wallace Coates of Newcastle, Pennsylvania, and his extended

family, seeing was believing.

GRACE MURDOCH, Udvar-Hazy Center Visitor: I do appreciate the chance to see this technology

that went behind the science. And I also like seeing that the museums are surviving and

adapting

JOHN YANG: Though funded mostly by Congress, both museums have lost millions of dollars

in parking fees and sales of food and souvenirs. That's as much as 40 percent of their yearly

revenue.

But just as important to officials is returning to Smithsonian founder James Smithson's mission:

the increase and diffusion of knowledge.

For the "PBS NewsHour," I'm John Yang in Washington, D.C.