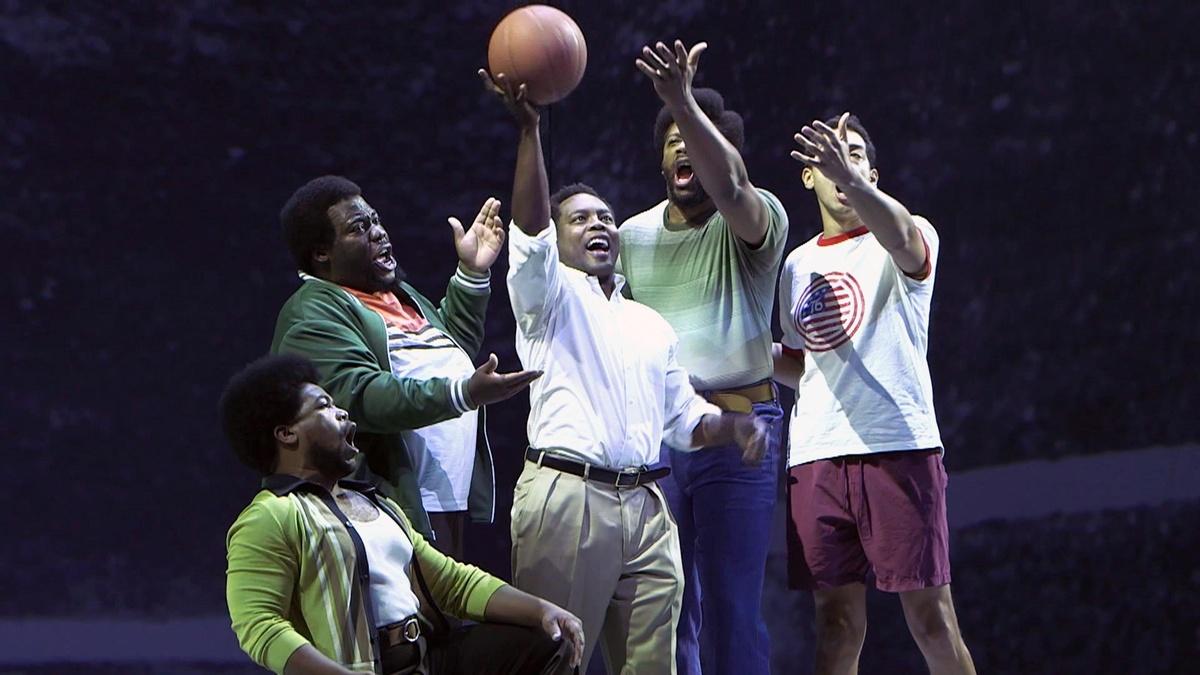 CLIP
Black experience, culture finds its way to The Met stage
History is being made Monday night at The Metropolitan Opera — one of the country's most important cultural organizations — and for several of the artists involved. Jeffrey Brown has a preview for our arts and culture series, CANVAS.
TRANSCRIPT

JUDY WOODRUFF: History is being made tonight at the Metropolitan Opera, one of the country's

most important cultural organizations, and for several of the artists involved.

Jeffrey Brown has a preview for our arts and culture series, Canvas.

JEFFREY BROWN:

When the opera "Fire Shut Up in My Bones" opens tonight at the Metropolitan Opera,

the stakes will be incredibly high,

the first production in 18 months at The Met, the country's largest performing arts company,

after the COVID shutdown, the first opera by a Black composer in The Met's 138-year history,

the first ever with a Black director.

But there's also a deeply personal side. Ask composer Terence Blanchard.

TERENCE BLANCHARD, Composer: When I was a kid, my father loved opera. And my father was a big fan

of it and always played his opera recordings at the house, man. And it was pretty funny.

I tell people all the time, as soon as he would put his records on, you would hear

doors slamming in the house, because people were trying to find some peace and quiet.

And he didn't care. He would just sit up in the front of

the house and listen to "La Boheme" or "Carmen" or any one of those classics.

JEFFREY BROWN: Everybody else is running away, but he's happy.

TERENCE BLANCHARD: Yes. Yes.

JEFFREY BROWN:

Terence Blanchard would come to love opera himself, and his father would be plenty

proud of this musical renaissance man, known first as a jazz Trump player and composer,

a six-time Grammy winner, and then for his 60 film scores, notably his work with Spike Lee,

including two recent Oscar nominations for "BlacKkKlansman" and "Da 5 Bloods."

This opera is his second, with a libretto by Kasi Lemmons,

best known as a filmmaker. It's based on the 2014 memoir by New York Times columnist Charles Blow,

the name taken from a verse from Jeremiah in The Old Testament.

It's a coming of age story of poverty, sexuality and race in the South,

moving and poignant, but also at times harrowing, including childhood molestation.

Does it makes sense to you that this is the stuff of an opera?

TERENCE BLANCHARD: Of course, because it's the stuff of real life.

The thing about Charles' book that really makes it operatic is the fact that

he says in his book he was a boy of peculiar grace.

It pulled me in, because I knew exactly what that means.

I was never molested as a kid, but being a kid who wanted to -- who had interest in the arts, who was

walking to the bus stop every Saturday with his horn to go for a lesson, while the other kids were

playing in the street, looking at me, I understand what that feels like, to be different in that way.

CAMILLE A. BROWN, Co-Director: With Terence,

I was so nervous the first day when he came into rehearsal to watch.

JEFFREY BROWN: Because?

CAMILLE A. BROWN: Because it's Terence Blanchard. And I don't want to disappoint.

JEFFREY BROWN: Camille A. Brown is co-directing "Fire Shut Up in My Bones" with James Robinson.

An acclaimed dancer and choreographer, this is her first time directing opera.

And, like Blanchard, she wanted to bring her full experience and

toolkit to the production. One likely showstopper?

A college fraternity hazing scene she choreographed using traditional step dance.

CAMILLE A. BROWN: There's a lot on the stage that probably or Metropolitan

Opera audiences have never seen before, in terms of step dance, the Black church.

JEFFREY BROWN: Some of the rough issues raised.

CAMILLE A. BROWN: The issues.

So -- but I think, in anything, in anything that you create,

of course, in the back of your mind, yes, you want people to like it and receive it, but that

can't be the thing that is driving you. What has to drive you is your personal connection to it.

If you believe in it, then that's what you have to move forward with.

JEFFREY BROWN: The Metropolitan Opera itself has seen plenty of drama recently off-stage. A $300

million-a-year operation, it lost half that in earned revenues during the shutdown, furloughed

workers, and wound up in bitter disputes with its unions that were settled only recently.

PETER GELB, General Manager, Metropolitan Opera: Well, it's been

incredibly painful for the entire company.

JEFFREY BROWN: Peter Gelb is The Met's general manager.

PETER GELB: The most difficult part for us is not to get, I think,

the local opera fans back. I think they will come back. The hardest part is the tourists.

JEFFREY BROWN: A recent performance of "Verdi's Requiem," the first time

The Met orchestra has performed, drew a packed audience and prolonged ovation.

"Fire Shut Up in My Bones" was planned several years ago, but Gelb is now hoping the historic

nature of this first offering will help bring in a new, more diverse and younger audience.

The obvious question is, why did it take so long?

PETER GELB: Well, that's a very good question. Part of it also is opportunities for composers and

for African-Americans in this art form have been limited.

One of the things that we need to create are greater pathways and

pipelines of talent, so that we can actually give opportunities to composers.

JEFFREY BROWN: Gelb points to new commissions and upcoming productions by Black composers,

as well as other programs designed to diversify backstage leadership roles.

PETER GELB: There's no question The Met was slow in terms of bringing works by

African-American composers to the theater. But we're not going to be slow going forward.

JEFFREY BROWN:

For her part, co-director Camille A. Brown told us she's pained it remains an issue in 2021.

CAMILLE A. BROWN: As I am in this position, I know that it's just not about me. It's not about

the opportunity that I'm given. It's about Katherine Dunham. It's about

Carmen de Lavallade. It's about Marlies Yearby and Dianne McIntyre and

all of those Black women that came before me and struggled and paved the way for me.

And I feel like it's a responsibility to show up, not just for myself, but for my community.

JEFFREY BROWN: Composer Terence Blanchard had a similar response to his history-making turn.

TERENCE BLANCHARD: I was shocked. I didn't know. Yes,

it seemed a little crazy to me. I was totally caught off-guard by it.

And my next thought was, well, I'm not the first qualified. And the thing that I have

been saying about my opera being here - - and it still feels weird to say that.

JEFFREY BROWN: It feels weird to say "my opera"

TERENCE BLANCHARD: Yes, it does. I mean, it still does.

JEFFREY BROWN: You got to get used to it.

TERENCE BLANCHARD: I know. Everybody keeps telling me that. Maybe in time.

But I think the thing that feels weird about it is how I really don't want this to be a token. I want

it to be a turnkey. You know, this -- I may be the first, but I sure don't want to be the last.

JEFFREY BROWN: An onstage story of personal trauma, a bigger story of an art form and

one of its leading institutions going forward. To that end, The Met is simulcasting opening

night in Times Square and, for the first time, in Marcus Garvey Park in Harlem.

For the "PBS NewsHour," I'm Jeffrey Brown at The Metropolitan Opera in New York.

JUDY WOODRUFF: So exciting, and it's about time.