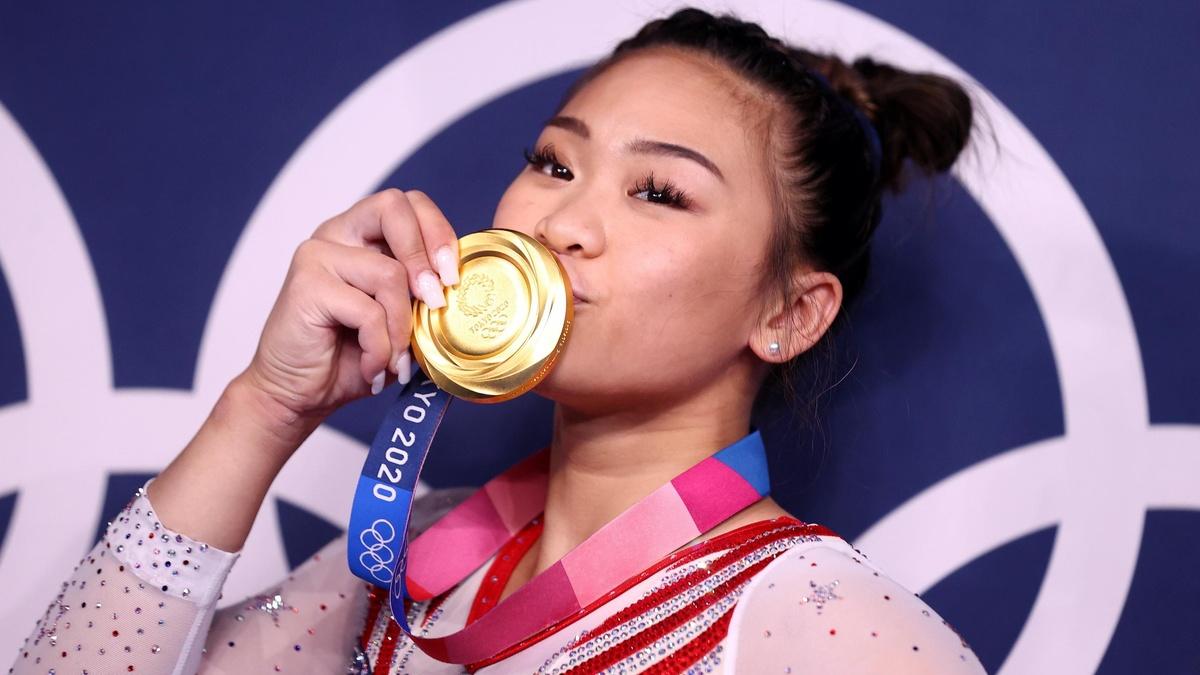 CLIP
What Suni Lee's gymnastics gold win means to Hmong Americans
American gymnast Sunisa Lee's gold medal in gymnastics Thursday makes her the first Hmong American to participate and win in the Olympics. Lee said she trains daily for first-generation Americans and wanted to win for Hmong Americans. John Yang reports on the reaction within the Hmong American community with Bo Thao-Urabe, founder and executive director of the Coalition of Asian American Leaders.
TRANSCRIPT

JUDY WOODRUFF: The U.S. Olympics team has had plenty of nice moments to celebrate over the past

24 hours. One of the brightest is Sunisa Lee's gold medal in gymnastics today.

John Yang looks at her accomplishments and how it is resonating in Hmong American communities.

JOHN YANG: Judy, some of today's most inspiring Olympic pictures come not only from the Tokyo

Games, but also the suburbs of St. Paul, Minnesota, a watch party that became a jubilant

celebration when the Minnesota native clinched the gold in the individual all-around competition.

(CHEERING AND APPLAUSE)

JOHN YANG: Lee, who is 18 and still nursing a fractured ankle,

went to Tokyo aiming for silver, assuming her idol and teammate Simone Biles would win gold.

Today, she hit routine after routine, even nailing the floor exercise

she and her coach and changed just this morning.

Afterward, Lee reflected on her road to the Olympics.

SUNISA LEE, U.S. Olympic Gold Medalist: The past two years have been absolutely crazy,

with COVID and just with my family and everything else.

This medal definitely means a lot to me, because there was a point in time where I wanted to quit.

And I just didn't think I would ever get there, including injuries and stuff. So, there are

definitely a lot of emotions, but I'm sure proud of myself for sticking with it and believing in

myself, because this medal would not be possible without my coaches, the medical team, my parents.

And it just is so surreal, and I haven't even let it sink it yet.

JOHN YANG: Lee has said she trains everyday for all first-generation

Americans whose parents came to the United States with so little,

and wanted to win for all Hmong Americans, who she feels are unseen.

Among those at today's watch-party-turned-celebration,

Bo Thao-Urabe, the founder and executive director of the Coalition of Asian American Leaders

and, as we can see, the proud wearer of a Suni Lee autographed T-shirt.

Thanks so much for being with us.

First of all, tell us what it was like this morning, and -- at that watch party.

I understand that Suni FaceTimed with her family before the medal ceremony.

BO THAO-URABE, Founder and Executive Director, Coalition of Asian American Leaders: Yes, she did.

I understand that that is a ritual that she and her sister have, to connect on FaceTime, just to

check in. And so that was a really nice moment, when she was just about to head to the ceremonies

to get her gold. And she did a quick FaceTime with everybody in the room.

So it was really special.

JOHN YANG: It must have been very exciting to be able to watch that.

BO THAO-URABE: Yes, absolutely. It was exciting. Everybody was just -- you know, it's historic,

right, to have the first Hmong American, Asian American woman take home the gold.

That was just, yes, so historic and epic, as I say.

(LAUGHTER)

JOHN YANG: You know, before today, I think a lot of casual Olympic watchers may not

have been familiar with her. Tell us a little bit about her and about her personal story.

BO THAO-URABE: Yes.

I mean, I think Suni is a first-generation Hmong American child. And so her parents, like me,

came as refugee children to this country. And the Hmong came post-Secret War in Laos. And so many

of us came with really no more than the bags we could carry in our hands, and started our lives

here in America with just great ambitions that our parents had about the future here.

And I think her father has told the stories of how

much they have worked to get -- support her and really to believe in her dreams, even building

the beams for her out of wood that they had at home because they couldn't afford to buy it.

So, right? So, it's really an American story. And

we couldn't have -- really could not be prouder of Suni and her parents.

JOHN YANG: And the Hmong, obviously, an ethnic group without a homeland,

suffered genocide, displacement in the closing days of the Vietnam War.

Suni talks about the Hmong community in America being unseen.

What does this -- what does this gold medal mean for the Hmong community in America?

BO THAO-URABE: Well, I think it's a community

that is maybe not always thought about because it's both small, spread out, and also

it's a community that doesn't have things written in history, right, because it's an oral culture.

And so stories that we know about our ancestors are passed down through generations by mouth. And

that means that it's really up to all of us to carry that forward. And

I am so grateful for Suni for really embracing

all of who she is and to always say that she is Hmong and that she carries that with her.

And that is, I think, so -- that's what makes her so special, because, sometimes,

our young people don't always understand and don't know that story. But I see her, and she is proud

to say she is Hmong American, and she carries that story, the story of her parents and her ancestors.

And that has given everybody so much

just inspiration and support. So, grateful for seeing her have this big win,

and it's a big win for all of us, but for her to have this moment is so special, yes.

JOHN YANG: And she did talk about wanting to win for the Hmong community in America.

In this week where we talk about the personal pressures on the Olympic athletes,

did that -- did she carry that like a burden, or did she carry

it like -- was it a lighter burden for her to do this for her -- the Hmong community?

BO THAO-URABE: Well, I don't think there's ever a lighter

burden when you are the first to anything. And so it must have felt heavy.

But I hear her talk about it, and it was motivation more than

a burden. And I hope that she felt that. She could have gotten anything or not placed,

and we would have been so proud of her for being the first, right, to get to the Olympics, and for

really believing in her dreams, and for being so - - having a passion and really going after it.

That doesn't really matter who she is, but I think the fact that

she always remembered who she is and that she brought that with her made

all of us feel like we were there, and that she did it for us too.

JOHN YANG: And I imagine that her family and all of you

in the Hmong community in the Twin Cities planning a big homecoming when she's -- when she gets back.

BO THAO-URABE: We're talking about some things.

(LAUGHTER)

BO THAO-URABE: So, but we're waiting for her when she gets back.

JOHN YANG: Great.

Thank you very much, Bo Thao-Urabe. Thank you very much.

BO THAO-URABE: Thanks for having me.