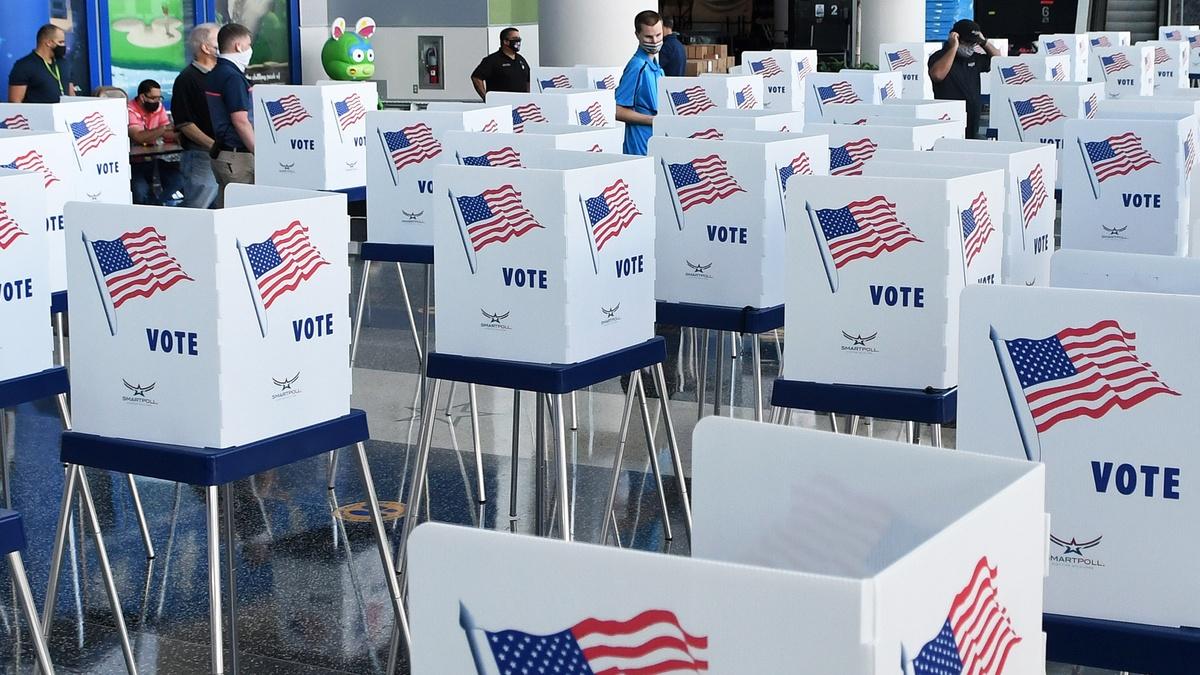 FULL EPISODE
October 18, 2020 - PBS NewsHour Weekend full episode
On this edition for Sunday, October 18, PBS NewsHour Weekend is in Ohio, reporting on how its cities are coping with the financial stresses unleashed by the pandemic, and the political state of play in the swing state as both campaigns appeal to voters weeks before the election. And, our report from
ground zero of the Azerbaijan - Armenia conflict. Hari Sreenivasan anchors from Columbus, OH.
TRANSCRIPT

>> Sreenivasan: ON THIS EDITION

FOR SUNDAY, OCTOBER 18: THE

PRESIDENTIAL CANDIDATES MAKE

THEIR APPEALS TO VOTERS IN THE

FINAL WEEKS OF THE CAMPAIGN.

ONGOING HOSTILITIES IN THE

NAGORNO-KARABAKH DISPUTE.

AND WE CONTINUE OUR ROADS TO

ELECTION 2020 SERIES FROM THE

STATE OF OHIO.

NEXT ON "PBS NEWSHOUR WEEKEND."

>>PBS NEWSHOUR WEEKEND IS MADE

POSSIBLE BY:

SUE AND EDGAR WACHENHEIM III.

THE ANDERSON FAMILY FUND.

BERNARD AND DENISE SCHWARTZ.

THE CHERYL AND PHILIP MILSTEIN

FAMILY.

BARBARA HOPE ZUCKERBERG.

THE LEONARD AND NORMA KLORFINE

FOUNDATION.

CHARLES ROSENBLUM.

WE TRY TO LIVE IN THE MOMENT,

TO NOT MISS WHAT'S RIGHT IN

FRONT OF US.

AT MUTUAL OF AMERICA, WE

BELIEVE TAKING CARE OF TOMORROW

CAN HELP YOU MAKE THE MOST OF

TODAY.

MUTUAL OF AMERICA FINANCIAL

GROUP, RETIREMENT SERVICES AND

INVESTMENTS.

>> FOR 25 YEARS, CONSUMER

CELLULAR HAS BEEN OFFERING

NO-CONTRACT WIRELESS PLANS,

DESIGNED TO HELP PEOPLE DO MORE

OF WHAT THEY LIKE.

OUR U.S.-BASED CUSTOMER SERVICE

TEAM CAN HELP FIND A PLAN THAT

FITS YOU.

TO LEARN MORE, VISIT

www.consumercellular.tv.

ADDITIONAL SUPPORT HAS BEEN

PROVIDED BY:

AND BY THE CORPORATION FOR

PUBLIC BROADCASTING, A PRIVATE

CORPORATION FUNDED BY THE

AMERICAN PEOPLE.

AND BY CONTRIBUTIONS TO YOUR

PBS STATION FROM VIEWERS LIKE

YOU.

THANK YOU.

>> Sreenivasan: GOOD EVENING AND

THANK YOU FOR JOINING US.

WE ARE CONTINUING OUR "ROADS TO

ELECTION 2020" SERIES THIS

SUNDAY FROM OHIO.

HERE IN THE CAPITAL OF COLUMBUS

AND ACROSS THE BUCKEYE STATE--

EARLY VOTING IS ALREADY

UNDERWAY.

AND AS WE ARE SEEING IN MANY

STATES, THE TURNOUT IS ALREADY

HIGH AND MAY REACH RECORD-

BREAKING LEVELS.

OHIO IS ALSO EXPERIENCING A

RESURGENCE OF CORONAVIRUS CASES

AND WE'LL HAVE THE SECOND OF OUR

TWO-PART SERIES ON HOW CITIES

HERE ARE COPING AS FEDERAL

RELIEF FUNDS RUN OUT.

OUR OHIO REPORTING IS COMING UP

RIGHT AFTER THE NEWS SUMMARY.

THE PRESIDENTIAL CANDIDATES BOTH

BEGAN TODAY WITH CHURCH SERVICES

AS THEY ENTER THE FINAL WEEKS OF

THE 2020 CAMPAIGN.

FORMER VICE PRESIDENT JOE BIDEN

ATTENDED MASS NEAR HIS HOME IN

DELAWARE AS HE DOES ALMOST EVERY

SUNDAY.

>> MR. PRESIDENT STEP RIGHT

THERE.

>> Sreenivasan: PRESIDENT DONALD

TRUMP-- WHO DOES NOT REGULARLY

ATTEND CHURCH-- WENT TO THE

INTERNATIONAL CHURCH OF LAS

VEGAS.

THE PRESIDENT IS ON A WESTERN

STATES CAMPAIGN SWING AFTER

RALLIES IN MICHIGAN AND

WISCONSIN LAST NIGHT.

IN MICHIGAN, THE PRESIDENT

ATTACKED DEMOCRATIC GOVERNOR

GRETCHEN WHITMER'S CORONAVIRUS

POLICIES.

WHITMER WAS THE TARGET OF A

KIDNAPPING TERROR PLOT EARLIER

THIS MONTH.

>> YOU'VE GOT TO GET YOUR

GOVERNOR TO OPEN UP YOUR STATE,

OKAY?

(CHEERS )

AND GET YOUR SCHOOLS OPEN.

GET YOUR SCHOOLS OPEN, 'CAUSE

SCHOOLS HAVE TO BE OPEN, RIGHT?

>> Sreenivasan: THE CROWD

RESPONDED, "LOCK HER UP."

>> LOCK HER UP, LOCK HER UP!

>> LOCK-- LOCK THEM ALL UP.

(CARS HONKING )

>> Sreenivasan: AT A DRIVE IN

EVENT IN NORTH CAROLINA THIS

AFTERNOON, FORMER VICE PRESIDENT

BIDEN AGAIN CRITICIZED THE

PRESIDENT'S RESPONSE TO THE

CORONAVIRUS PANDEMIC.

>> ON FRIDAY, WE SAW THE HIGHEST

NUMBER OF NEW CASES IN ONE DAY

SINCE JULY.

IN THE LAST TWO DAYS, WORST DAY

SINCE JULY.

YET THE OTHER NIGHT TRUMP SAID

AT ONE OF HIS RALLIES, "WE'VE

TURNED THE CORNER."

MY GRANDFATHER WOULD SAY THIS

GUY'S GONE AROUND THE BEND IF HE

THINKS WE TURNED THE CORNER.

(CARS HONKING )

>> Sreenivasan: IN WASHINGTON,

D.C., HOUSE SPEAKER NANCY PELOSI

SAID THIS MORNING THAT TALKS

WITH THE TRUMP ADMINISTRATION ON

NEW COVID-19 RELIEF SPENDING

CONTINUE BUT SAID TO PASS A BILL

BEFORE THE ELECTION THERE WILL

HAVE TO BE AGREEMENT ON THE

LANGUAGE IN THE NEXT 48 HOURS.

>> THEY TOOK OUT 55% OF THE

LANGUAGE THAT WE HAD THERE FOR

TESTING AND TRACING.

AND THE TRACING PART IS SO

IMPORTANT, BECAUSE COMMUNITIES

OF COLOR HAVE BEEN

DISPROPORTIONATELY AFFECTED BY

THIS.

SO, ON THIS SUBJECT WHERE WE

HAVE AGREEMENT, WE DON'T HAVE

AGREEMENT IN THE LANGUAGE YET,

BUT I'M HOPEFUL.

>> Sreenivasan: BOLIVIANS BEGAN

VOTING TODAY TO ELECT A NEW

LEADER FOLLOWING LAST YEAR'S

OUSTER OF FORMER PRESIDENT, EVO

MORALES.

THE FRONT RUNNERS INCLUDE LUIS

ARCE, WHO WAS FINANCE MINISTER

IN THE MORALES ADMINISTRATION

AND CARLOS MESA, A CENTRIST AND

FORMER PRESIDENT FROM 2003-2005.

TODAY'S ELECTION IS A REDO OF

THE 2019 VOTE THAT SAW SOCIALIST

PRESIDENT, EVO MORALES WIN--

ONLY FOR THE RESULTS TO BE

ANNULLED AMID ALLEGATIONS OF

FRAUD.

THE COUNTRY ERUPTED IN VIOLENCE

FORCING MORALES TO FLEE, ENDING

HIS ALMOST 14-YEAR RULE.

AN INTERIM GOVERNMENT HAS BEEN

IN POWER EVER SINCE.

BUT A WIN FOR ARCE COULD SEE

MORALES RETURN TO BOLIVIA.

RESULTS ARE NOT EXPECTED TO BE

RELEASED TODAY AND POLLS

INDICATE THERE MAY BE A RUNOFF

VOTE.

IN THAILAND TODAY, THOUSANDS OF

ANTI-GOVERNMENT DEMONSTRATORS

PROTESTED IN THE COUNTRY'S

CAPITAL FOR A FIFTH CONSECUTIVE

DAY, DEFYING A BAN ON SUCH

GATHERINGS.

THE PROTESTERS ARE CALLING FOR

THE PRIME MINISTER TO RESIGN AND

REFORM OF THE MONARCHY.

THAILAND'S CURRENT PRIME

MINISTER, PRAYUTH CHAN-OCHA, A

FORMER MILITARY OFFICER, ROSE TO

POWER FOLLOWING A COUP IN 2014.

HE SECURED A SECOND TERM IN

OFFICE IN LAST YEAR'S DISPUTED

ELECTION.

PROTESTORS CHARGE THE PRIME

MINISTER RIGGED THE 2019

ELECTION, AN ACCUSATION HE

DENIES.

TODAY, THE PRIME MINISTER CALLED

FOR TALKS WITH THE DEMONSTRATORS

DESPITE MORE ARRESTS.

THERE WERE AT LEAST A DOZEN

OTHER RALLIES ACROSS THE

COUNTRY.

IRAN'S GOVERNMENT MARKED THE END

OF THE DECADE-LONG UNITED

NATIONS ARMS EMBARGO TODAY WITH

THE COUNTRY'S FOREIGN MINISTER

JAVAD ZARIF CALLING IT A

"MOMENTOUS DAY."

THE EMBARGO BARRED IRAN FROM

PURCHASING FOREIGN WEAPONS AND

EXPIRED UNDER THE TERMS OF THE

2015 NUCLEAR DEAL WITH SIX WORLD

POWERS.

PRESIDENT TRUMP PULLED OUT OF

THE NUCLEAR AGREEMENT IN 2018.

IN AUGUST, THE U.N. SECURITY

COUNCIL DEFEATED A U.S. ATTEMPT

TO EXTEND THE ARMS SANCTIONS.

TODAY SECRETARY OF STATE MIKE

POMPEO TWEETED THAT THE U.S. IS

"PREPARED TO USE DOMESTIC

AUTHORITIES TO SANCTION

INDIVIDUALS OR ENTITIES" IF THEY

SELL ARMS TO IRAN."

IRAN IS CURRENTLY SUFFERING A

SEVERE ECONOMIC CRISIS AND THE

WORST OUTBREAK OF COVID-19 CASES

IN THE MIDDLE EAST.

FOR MORE INTERNATIONAL AND

NATIONAL NEWS VISIT

pbs.org/newshour.

>> Sreenivasan: NEW CLASHES HAVE

ERUPTED IN THE CONTESTED REGION

OF NAGORNO-KARABAKH.

THE FIGHTING BETWEEN AZERBAIJANI

AND ARMENIAN FORCES HAS BEEN

GOING ON FOR NEARLY THREE WEEKS

THERE, DESPITE EFFORTS OF A

RUSSIAN-BROKERED CEASE FIRE LAST

WEEKEND.

THE DESTRUCTION HAS SWEPT

THROUGH THIS REGION WITH

DEVASTATING FORCE, AND IS

ERODING ASSURANCES THAT HAVE

HELD FOR NEARLY 30 YEARS.

SPECIAL CORRESPONDENT SIMON

OSTROVSKY HAS BEEN REPORTING IN

THE REGION WITH SUPPORT FROM THE

PULITZER CENTER AND HAS THE

LATEST.

A WARNING: SOME OF THE IMAGES IN

THIS SEGMENT ARE DISTURBING.

(EXPLOSIONS )

>> Reporter: ETHNIC ARMENIANS

WON CONTROL OF THIS REGION IN A

BITTER AND BLOODY WAR BETWEEN

THE FORMER SOVIET REPUBLICS OF

ARMENIA AND AZERBAIJAN THAT

BROKE OUT AS THE SOVIET UNION

DISINTEGRATED.

THEY CEMENTED THEIR RULE OVER

THESE MOUNTAINS, DECLARING

INDEPENDENCE AND FORGING

OVERLAND LINKS WITH ARMENIA.

AZERBAIJAN DOESN'T YET RULE THE

MOUNTAINS, BUT IN THIS NEW WAR,

IT RULES THE SKY WITH AN ARSENAL

OF SOPHISTICATED WEAPONRY

PURCHASED WITH ITS OIL WEALTH.

IT'S A WAR IN WHICH YOU NEVER

SEE YOUR ENEMY FACE TO FACE.

ETHNIC-ARMENIAN FORCES ARE LEFT

TO WARILY SCAN THE SKY SEARCHING

FOR THE NEXT SUICIDE DRONE OR

GUIDED MISSILE.

>> (translated ): IT'S A PLANE!

IT'S A PLANE!

IT'S NOT SAFE HERE!

THE SAME THING HAPPENED

YESTERDAY.

WE WERE HIT WITH BOMBS, SOME

KIND OF SMERCH ROCKETS OR

ARTILLERY.

I DON'T REALLY KNOW, I'M A

DOCTOR, I DON'T KNOW THESE

WEAPONS VERY WELL.

(EXPLOSION )

SEE?

>> Reporter: HERE IN MARTAKERT,

A MILITARY HOSPITAL WAS

DESTROYED IN A STRIKE ON

WEDNESDAY AS STAFF REMOVED

BODIES FOR TRANSPORTATION

HOMEWARDS.

TWO MEDICS WERE INJURED.

THIS TOWN, LIKE OTHER PARTS OF

KARABAKH, HAS REMAINED UNDER

FIRE DESPITE A CEASE FIRE THAT

WAS BROKERED BY RUSSIA LAST

WEEK.

RUSSIA ONCE RULED OVER BOTH

ARMENIA AND AZERBAIJAN, BUT

LATELY, THERE IS A NEW POWER

PLAYER IN THE REGION: TURKEY.

IT HAS SUPPLIED ITS ALLY

AZERBAIJAN WITH AN ARSENAL OF

KILLER DRONES AND SENT IN SYRIAN

MERCENARIES ON BAKU'S BEHALF.

ANKARA'S INVOLVEMENT IS EVOKING

MEMORIES OF THE 1915 ARMENIAN

GENOCIDE.

MARTEN SARGIYAN FEARS THE WORST.

>> (translated ): GENOCIDE FOR

US.

THEY DON'T WANT US HERE.

>> Reporter: FOR ALMOST THREE

WEEKS SARGIYAN HAS CALLED THIS

CELLAR UNDERNEATH A KINDERGARTEN

IN THE TOWN OF MARTUNI HIS HOME.

HE SHARES IT WITH SEVERAL OTHER

PENSIONERS, ONE OF WHOM WAS HIT

WITH SHRAPNEL WHEN HIS GUARD

BOOTH WAS DESTROYED BY A BOMB.

HERE ON THE FRINGES OF KARABAKH

UNLIKE IN THE BIG CITIES, THE

CEASE FIRE NEVER CAME INTO

EFFECT, THE WAR NEVER ENDED.

THE MEN HERE ARE FRAIL AND OLD,

THEY SAY THEY HOPE FOR PEACE,

BUT THEY'RE ALSO READY FOR WAR.

>> (translated ): HALF AN HOUR

AGO THERE WERE EXPLOSIONS 100

METERS FROM HERE.

WE WANT PEACE.

WE WANT OUR SONS AND

GRANDCHILDREN TO COME HERE...

TO BE NEAR ME.

THAT'S WHAT I WANT.

>> Reporter: MARTUNI HAS BEEN

TRANSFORMED INTO A GHOST TOWN.

THE STREETS ARE POCKMARKED AND

DESERTED.

THE SOUND OF DISTANT ARTILLERY

FIRE HANGS IN THE AIR.

YET, VIOLETTA TUMANYAN REFUSES

TO FLEE.

"MY SON IS ON THE FRONTLINE,"

SHE SAYS.

"IF WE STAY HERE, OUR SONS WILL

FIGHT HARDER KNOWING THEY NEED

TO DEFEND US."

FURTHER BACK FROM THE FRONTLINE

IN THE TOWN OF LACHIN, WE MEET

THE OWNER OF A SUPERMARKET.

STEPAN SARGSYAN LIVED IN LOS

ANGELES FOR 20 YEARS BEFORE

DECIDING TO PLANT ROOTS ALONG

THE ONLY FUNCTIONING ROAD

CONNECTING KARABAKH TO THE

REPUBLIC OF ARMENIA.

>> (translated ): ON FRIDAY, A

BRIDGE HERE WAS TARGETED WITH AN

AIR STRIKE IN AN ATTEMPT TO

SEVER THAT LINK.

>> Reporter: HE TELLS US IT HAS

BECOME MORE DIFFICULT TO FILL

STORE SHELVES WITH DAIRY

PRODUCTS AND MEAT SINCE THE

CONFLICT BEGAN.

>> IT WAS A VERY, VERY BIG

ATTACK.

WE DIDN'T EXPECT IT TO BE THIS

BAD.

I DIDN'T THINK THAT THE WORLD

WOULD STAND BY AND LOOK AT IT,

AND MAKE SOME REGULAR STANDARD

STATEMENT AND THEN FORGET ABOUT

IT.

I SAY THAT IT WILL BE FINE.

THEY WON'T WIN.

BUT LET'S HOPE THAT GOD WILL

HELP US, THAT ENDS UP BEING

TRUE.

>> Reporter: DISTRICTS LIKE

LACHIN ARE AT THE CENTER OF

AZERBAIJAN'S GRIEVANCES WITH

ARMENIANS.

WHEN ETHNIC-ARMENIAN FORCES WON

THE FIRST WAR THEY DIDN'T JUST

TAKE CONTROL OF THE MOSTLY

ARMENIAN KARABAKH REGION, THEY

ALSO TOOK OVER SEVEN SURROUNDING

DISTRICTS OF AZERBAIJAN, FORCING

OUT THE ETHNIC-AZERI POPULATION.

ARMENIANS, TOO, HAD TO FLEE

AREAS THAT REMAINED UNDER

AZERBAIJAN'S CONTROL.

KARABAKH'S REPRESENTATIVE TO THE

UNITED STATES, ROBERT AVETISYAN,

TOLD ME THESE AZERBAIJANI

DISTRICTS, WHICH ARE NOW LARGELY

DEPOPULATED, SERVE AS AN

IMPORTANT SECURITY BUFFER FOR

NAGORNO KARABAKH, WHICH

ARMENIANS CALL ARTSAKH.

DO YOU THINK THERE IS A SCENARIO

IN WHICH NAGORNO KARABAKH WILL

EVER TRADE LAND FOR RECOGNITION

WITH AZERBAIJAN AS PART OF A

LASTING PEACE SETTLEMENT?

>> WHATEVER IS THE REPUBLIC OF

ARTSAKH TODAY IS EVEN LESS

GEOGRAPHICALLY AND HISTORICALLY

THAN HISTORIC ARTSAKH, WHICH WAS

PART OF ARMENIA FOR MILLENNIA.

>> Reporter: SO THAT'S A "NO?"

>> THAT IS THE CLEAR

UNDERSTANDING THAT THE SECURITY

OF THE REPUBLIC OF ARTSAKH IS IN

THE HAND OF THE POLITICAL

LEADERSHIP AND THE DEFENSE ARMY

OF THE REPUBLIC OF ARTSAKH.

>> Reporter: AZERBAIJAN, TOO,

HAS TAKEN AN UNCOMPROMISING

STANCE, DEMANDING ALL THE

TERRITORY CONTROLLED BY

ARMENIANS WITHIN IT'S

INTERNATIONALLY RECOGNIZED

BORDERS BE RETURNED TO ITS

CONTROL.

>> (translated ): BUT, AT THE

SAME TIME, WE HAVE PROPOSED THAT

IN THE FUTURE THE ARMENIAN

COMMUNITY AND THE AZERBAIJANI

COMMUNITY SHOULD PEACEFULLY

COEXIST THERE.

>> Reporter: THE OVERALL DEATH

TOLL CONTINUES TO RISE.

ACCORDING TO ARMENIA, 633

SOLDIERS AND 34 CIVILIANS HAVE

DIED FROM ITS SIDE.

AZERBAIJAN REPORTS 43 OF ITS

CIVILIANS HAVE BEEN KILLED, BUT

ISN'T RELEASING FIGURES FOR

MILITARY CASUALTIES.

JUDGING BY THE GRIM FOOTAGE

COMING OUT FROM THE BATTLEFIELD,

IT, TOO, IS SUSTAINING HEAVY

LOSSES.

WHILE AZERBAIJAN HAS MADE SOME

MODEST TERRITORIAL GAINS, IT

HASN'T SWEPT THE BOARD AS IT'S

MILITARY LEADERSHIP HAD

ORIGINALLY HOPED.

A TEMPORARY CEASE FIRE WAS

AGREED TO ON SATURDAY, BUT THE

TWO SIDES APPEAR TO BE LOCKED IN

A GRUELING WAR WITH NO END IN

SIGHT.

>> Sreenivasan: TONIGHT WE

CONTINUE OUR SERIES OF REPORTS

FROM HERE IN OHIO ON HOW CITIES

ARE COPING WITH FUNDING

UNCERTAINTIES IN THE WAKE OF

COVID-19.

IT'S BEEN MORE THAN SIX MONTHS

AFTER THE CARES ACT PROVIDED

SOME FUNDING FOR CITIES AND

STATES TO COVER COVID-19-RELATED

COSTS.

NEGOTIATIONS OVER A NEW RELIEF

BILL ARE BOGGED DOWN-- IN PART

OVER WHETHER CITIES AND STATES

NEED MORE MONEY.

IN THE CITY OF LANCASTER, ABOUT

30 MILES SOUTHEAST OF THE STATE

CAPITAL, THE COVID-19 PANDEMIC

CAUSED A SHARP DECLINE IN TAX

REVENUE.

BUT EVEN BEFORE THE PUBLIC

HEALTH CRISIS HIT, LANCASTER WAS

ALREADY IN ROUGH FINANCIAL

SHAPE.

(SIREN )

NINE OUT OF TEN TIMES THE

LANCASTER FIRE DEPARTMENT GETS A

CALL, IT'S FOR MEDICAL REASONS.

SO WHEN COVID-19 HIT, CHIEF DAVE

WARD'S MEN AND WOMEN WERE ON THE

FRONT LINE AND ALREADY THIN

RESOURCES WERE STRETCHED EVEN

FURTHER.

>> AT ONE TIME I THINK I HAD SIX

OR SEVEN FIREFIGHTERS OFF WITH

DIAGNOSED COVID.

SO, THAT PUT OUR OVERTIME

THROUGH THE ROOF.

>> Sreenivasan: BY JULY, THE

DEPARTMENT BLEW THROUGH ITS

BUDGET AND REDUCED THE NUMBER OF

FIREFIGHTERS ON DUTY EACH DAY.

>> WE'RE AN ESSENTIAL SERVICE.

IT'S ONE OF THE BASIC TENETS OF

LIVING IN A CITY.

AND SO, WE WERE HERE TO PROTECT

THE PEOPLE, BUT WE JUST DIDN'T

HAVE THE RESOURCES TO PAY OUR

FIREFIGHTERS.

>> THERE'S A GIANT WET BLANKET

OVER CITY FINANCES THAT IS

KEEPING EVERYTHING DOWN.

>> Sreenivasan: REPUBLICAN DAVID

SCHEFFLER IS THE MAYOR OF

LANCASTER, AND A RETIRED

ACCOUNTANT HIMSELF.

TO HELP CLOSE THE BUDGET GAP,

THIS CITY OF 40,000 PEOPLE WILL

RECEIVE ABOUT $2.7 MILLION AS

PART OF THE FEDERAL CARES ACT.

THAT'S ABOUT 2% OF THE CITY'S

OVERALL ANNUAL BUDGET.

AND BY LAW, THAT MONEY ALL HAS

TO BE USED THIS YEAR AND FOR

COVID-RELATED PURPOSES.

BUT EVEN BEFORE THE PANDEMIC

HIT, THE CITY HAD NOT FIGURED

OUT A STEADY WAY TO REPLACE

MILLIONS IN LOST REVENUE FROM

THE STATE OF OHIO OVER THE LAST

DECADE.

MAYOR SCHEFFLER SAYS THEY'VE CUT

COSTS AS MUCH AS POSSIBLE.

>> WE'RE DOWN TO THE NUBS.

I MEAN, AT SOME POINT YOU'RE

DOWN WHERE YOU CAN'T CUT ANY

MORE.

AND THAT'S-- THAT'S THE PLACE

WHERE WE ARE RIGHT NOW.

>> Sreenivasan: LANCASTER IS NOT

PLANNING ON ANY NEW FEDERAL

STIMULUS MONEY.

WHAT THEY ARE PLANNING TO DO TO

STAY WITHIN THEIR BUDGET IS TO

CUT SERVICES LIKE FIRE AND

POLICE.

THE ONLY WAY TO AVOID THAT IS BY

RAISING REVENUE.

THAT MEANS RAISING TAXES.

THIS IS A PRETTY CONSERVATIVE

AREA.

NOT MANY PEOPLE ARE REAL PSYCHED

ABOUT THE IDEA OF MORE TAXES.

>> NOPE, IT IS NOT A POPULAR

SUBJECT.

>> Sreenivasan: HOW DO YOU

CHANGE THEIR MIND?

>> FACTS AND DATA.

>> Sreenivasan: BRAD HUTCHINSON

HAS SPENT HIS WHOLE LIFE IN

LANCASTER, OWNS FIVE BUSINESSES

HERE, INCLUDING THIS TRUE VALUE

EQUIPMENT RENTAL STORE.

HE'S ALSO HELPING RUN A NON-

PARTISAN CAMPAIGN TO ASK VOTERS

TO APPROVE A LESS THAN HALF OF

1% INCREASE IN THE LOCAL INCOME

TAX.

IT'S THE CITY'S THIRD TRY ASKING

RESIDENTS TO VOLUNTARILY RAISE

MORE REVENUE.

OVER THE LAST YEAR, VOTERS HAVE

ALREADY REJECTED THE SAME TAX

INCREASE TWICE.

>> NOBODY LIKES MORE TAX.

I PAY A LOT OF TAX.

BUT WHAT I LIKE EVEN LESS IS NOT

HAVING A POLICE AND A FIRE

DEPARTMENT WHO CAN RESPOND IN

CASE OF AN EMERGENCY.

>> Sreenivasan: HUTCHINSON

POINTS OUT THAT AS THE

POPULATION HAS GROWN, POLICE IN

LANCASTER DO ABOUT TWICE AS MANY

RUNS AS THEY DID 40 YEARS AGO,

WHILE THE NUMBER OF OFFICERS HAS

ONLY SLIGHTLY INCREASED.

THE FIRE DEPARTMENT DOES MORE

THAN THREE TIMES AS MANY RUNS

AND HAS FEWER PEOPLE THAN IT DID

40 YEARS AGO.

>> YOU CAN'T SPEND WHAT YOU

DON'T HAVE.

SO, THEY HAVE TO UNDERSTAND THIS

IS NOT A, THIS ISN'T A NONSENSE

REQUEST.

IF WE DON'T GET THIS DONE, IT'S

GOING TO HURT, AND IT'S GOING TO

HURT BAD FOR A LONG TIME.

>> Sreenivasan: ENGINE HOUSE

NUMBER ONE IS A 120-YEAR-OLD

BUILDING THAT WAS ORIGINALLY

DESIGNED FOR HORSE-DRAWN FIRE

ENGINES.

AND DESPITE SOME MODERN

UPGRADES, THE STATION HAS ITS

QUIRKS.

>> THIS HAS GOT SPRINGS FROM A

MODEL T FORD.

YOU STEP ON IT...

>> Sreenivasan: FIRE CHIEF DAVE

WARD SAYS THE DEPARTMENT HAS

ALREADY CUT WHAT IT CAN,

INCLUDING A ROUND OF LAYOFFS

BACK IN 2011.

>> IF IT DOESN'T PASS AND THEY

ASKED ME TO CUT BUDGET, IT'S

PERSONNEL.

AND WE WOULD AT LEAST HAVE TO

SHUT DOWN ONE ENGINE HOUSE AND

POSSIBLY TWO TO MAKE ENDS MEET.

AND THEN I THINK THE PEOPLE

WOULD REALIZE, HOW DID WE GET

THERE?

>> I UNDERSTAND THE CITY IS IN

NEED, I TRULY DO, BUT AT THIS

POINT IN TIME, IT'S JUST NOT

RIGHT.

I DON'T HAVE MORE MONEY TO GIVE

TO THE CITY RIGHT NOW.

AND, TO BE HONEST WITH YOU, I

CONSIDER MYSELF ONE OF THE LUCKY

ONES.

>> Sreenivasan: FLOYD FRYE HAS

LIVED IN LANCASTER FOR 15 YEARS

AND WAS FURLOUGHED FROM HIS JOB

AS A WAREHOUSE SUPERVISOR FOR

SIX WEEKS EARLIER THIS YEAR.

HE SAYS THE CITY NEEDS TO

TIGHTEN ITS BELT, EVEN IF THAT

MEANS REDUCED PUBLIC SAFETY

SERVICES.

>> I'VE LOST MY JOB BEFORE IN MY

LIFE.

I GET IT.

YOU KNOW, I DON'T WANT THAT TO

HAPPEN TO ANYBODY, BUT WE'RE IN

A SITUATION WHERE WE'RE GOING TO

HAVE TO MAKE SOME REALLY TOUGH

DECISIONS.

AND SOME OF THOSE DECISIONS

MIGHT INCLUDE SACRIFICE.

AND I UNDERSTAND THE SACRIFICE,

AT THE END OF THE DAY, YOU KNOW,

WHEN YOU'RE TALKING ABOUT FIRE

AND POLICE, IT MIGHT MEAN LIFE.

>> Sreenivasan: HOW DO YOU

CONVINCE SOMEONE AROUND HERE

THAT SAYING IT'S JUST GOTTEN SO

MUCH HARDER TO MAKE ENDS MEET,

IS THIS THE RIGHT TIME TO ASK

FOR A NEW TAX?

>> AND IT'S HARDER FOR CITIES TO

MAKE ENDS MEET.

WE CAN SYMPATHIZE WITH THAT, BUT

WE'RE FACING THE SAME ISSUE THAT

A HOMEOWNER OR A WAGE EARNER IS

FACING.

>> Sreenivasan: AND WHILE THE

INCOME TAX LEVY WILL BE DECIDED

BY LANCASTER VOTERS IN NOVEMBER,

MAYOR SCHEFFLER STILL THINKS

THERE'S A NEED FOR ADDITIONAL

FEDERAL HELP.

>> OUR POSITION IS, SHEESH,

YOU'VE BAILED OUT EVERYBODY

ELSE.

YOU BAILED OUT THE AIRLINES, THE

HOSPITALS, SMALL BUSINESSES, BUT

YET WE ARE SUFFERING FROM LOST

REVENUE, BASICALLY BECAUSE THE

GOVERNMENT SHUT EVERYTHING DOWN.

>> Sreenivasan: WHILE "YES FOR

LANCASTER" SIGNS COMPETE FOR

FRONT YARD REAL ESTATE WITH

EVERY OTHER KIND OF POLITICAL

SIGN, AND VOTERS WILL HAVE THE

FINAL SAY, MAYOR SCHEFFLER

INSISTS THAT IN LANCASTER, THIS

IS NOT POLITICAL.

BUT HE SAYS THAT IF IT DOESN'T

PASS, IT WILL BE PAINFUL.

>> CITY SERVICES WILL HAVE TO

SUFFER.

I MEAN, THERE'S NO CHOICE.

WE CAN ONLY PROVIDE WHAT WE HAVE

MONEY TO DO.

>> Sreenivasan: JUST A FEW WEEKS

AGO, AND A COUPLE OF HOURS NORTH

EAST OF HERE, PRESIDENT DONALD

TRUMP AND FORMER VICE-PRESIDENT

JOE BIDEN, SQUARED OFF IN THEIR

FIRST, AND SO FAR ONLY, DEBATE

AT CASE WESTERN RESERVE

UNIVERSITY IN CLEVELAND.

OHIO HAS HISTORICALLY BEEN THE

QUINTESSENTIAL SWING STATE, AND

I RECENTLY SAT DOWN WITH PAUL

BECK, PROFESSOR EMERITUS OF

POLITICAL SCIENCE AT OHIO STATE

UNIVERSITY.

I BEGAN BY ASKING HIM WHY THIS

SWING STATE WAS NOT SO CLOSE IN

2016.

THE LAST PRESIDENTIAL ELECTION,

OHIO DIDN'T SEEM NEARLY AS MUCH

OF A BATTLEGROUND STATE AS IT

HAS IN THE PAST.

>> THAT'S RIGHT.

>> Sreenivasan: WHY IS IT HEATED

UP AGAIN NOW?

>> WELL, I THINK IT'S COME BACK

TO NORMAL.

CLINTON WAS NOT A PARTICULARLY

GOOD CANDIDATE FOR OHIOANS, AND

THAT WAS PRETTY CLEAR.

AND YOU CAN SEE THE EVIDENCE OF

THAT.

SHE LOST SUPPORT FROM WHAT OBAMA

HAD HAD IN RURAL AREAS, IN

APPALACHIA.

THERE WAS LOWER TURNOUT IN THE

CLEVELAND AREA, LARGELY AMONG

AFRICAN-AMERICANS.

AND SO, THERE WERE ALL OF THESE

HITS TO THE DEMOCRATIC TICKET IN

2016 THAT I DON'T THINK ARE

GOING TO BE THERE.

IN FACT, THE POLLS ARE SHOWING

THEY'RE NOT THERE IN 2020.

BIDEN, I THINK, APPEALS BOTH TO

URBAN OHIOANS, YOU KNOW, KIND OF

WHITE WORKERS, MALES AND

FEMALES, MORE TO FEMALES THAN

THE MALES.

HE APPEALS TO PEOPLE IN THE

RURAL AREAS AND SMALL TOWNS--

NOT THAT HE'S GOING TO WIN A

MAJORITY THERE, BUT WHAT HE WILL

DO IS PICK UP MAYBE AN ADDED 10%

OR 15% ABOVE WHAT CLINTON WAS

ABLE TO DO BACK IN 2016.

>> Sreenivasan: AND YOU'RE

ALREADY SEEING A TREMENDOUS

AMOUNT OF ENERGY AT THE POLLS.

>> ABSOLUTELY.

NOW, YOU NEVER KNOW WHAT THAT

MEANS.

IS IT JUST REGULAR VOTERS WHO

ARE MOVING UP THEIR VOTES?

>> Sreenivasan: BUT DON'T WANT

TO BE IN THE LONG LINE ON

ELECTION DAY.

>> YEAH.

AND, YOU KNOW, THERE COULD BE

SOME OF THAT.

BUT I THINK THE ESTIMATES ARE

THAT MAYBE TWO THIRDS OF OHIO

VOTERS WILL VOTE ABSENTEE.

SOME OF THEM GOING TO THE EARLY

VOTING SITES, WHICH IS ALSO AN

ABSENTEE VOTE, BUT IT'S AN

ABSENTEE IN-PERSON VOTE AND

THAT'S VERY DIFFERENT THAN IT

WAS IN 2016.

AND I THINK WE'LL NEVER GO BACK.

I THINK PEOPLE WILL GET USED TO

ABSENTEE VOTING AND THEY'LL LIKE

IT.

SO, I THINK WE'RE SEEING, YOU

KNOW, REALLY KIND OF A CHANGE, A

MAJOR CHANGE IN HOW PEOPLE VOTE.

>> Sreenivasan: HERE WE ARE IN

AN IMPORTANT YEAR, AND THE

CENSUS COUNTING HAS BEEN

SHORTENED.

THESE ARE BIG CONSEQUENCES FOR

THE NEXT TEN YEARS FOR THIS

STATE.

>> IN OHIO, THE RURAL AREAS ARE

LOSING POPULATION.

THE URBAN AREAS, AND

PARTICULARLY THE SUBURBS, ARE

GAINING IN POPULATION THAT MAY

GET REGISTERED IN THE CENSUS,

BUT IT MAY NOT.

AND I DON'T THINK WE REALLY KNOW

FOR SURE WHAT'S GOING TO HAPPEN.

OHIO, UNDER ORDINARY

CIRCUMSTANCES, WOULD LOSE A

SEAT.

AND THAT THEN MEANS THAT EVERY

DISTRICT HAS TO BE REDRAWN.

AND THE QUESTION IS, WHO REDRAWS

THE DISTRICTS?

AND WE'VE CHANGED THROUGH

SEVERAL BALLOT INITIATIVES HOW

WE ACTUALLY DO THE

REDISTRICTING.

AND IT MAY WELL BE THAT IT'LL BE

MORE BALANCED THAN IT WAS TEN

YEARS AGO WHEN THE REPUBLICAN

LEGISLATURE AND REPUBLICAN

APPORTIONMENT BOARD REALLY WAS

THE ONE THAT CONTROLLED THE

REDISTRICTING AND OHIO WAS

HEAVILY GERRYMANDERED.

>> Sreenivasan: SO, WHAT ARE YOU

WATCHING FOR ON ELECTION NIGHT?

>> I'M GOING TO GO TO BED

EARLIER THAN I NORMALLY DO,

BECAUSE I DON'T THINK THINGS ARE

GOING TO BE RESOLVED ON ELECTION

NIGHT.

AND WE'RE REALLY TALKING ABOUT,

I THINK, 13 STATES AND TWO

CONGRESSIONAL DISTRICTS THAT ARE

BATTLEGROUNDS.

NOW, ABOUT HALF OF THE

BATTLEGROUNDS ARE IN STATES

WHERE THERE ARE GOING TO BE

ABSENTEE VOTES THAT ARE CAST

AFTER THE DAY BEFORE THE

ELECTION THAT MAY NOT GET

COUNTED ON ELECTION DAY OR LEAST

FOLDED IN TO THOSE TOTALS.

OHIO IS ONE OF THEM.

SO, IN OHIO, IF AN ABSENTEE

BALLOT COMES IN AFTER ELECTION

DAY, IT CAN STILL BE COUNTED FOR

UP TO TEN DAYS.

AND THEN, TO TOP THAT OFF, OHIO

DOESN'T RELEASE ITS OFFICIAL

RESULTS UNTIL NOVEMBER THE 24th,

THREE WEEKS LATER.

AND, OF COURSE, IF THE ELECTION

IS REALLY CLOSE NATIONWIDE AND

OHIO IS A PIVOTAL STATE, WE JUST

HAVE TO WAIT FOR THAT RESULT.

OHIO IS UNUSUAL.

MOST STATES ARE GOING TO COUNT

THEIR BALLOTS EARLIER THAN THAT.

BUT THERE ARE A FEW THAT ARE

GOING TO BE LATE COUNTS.

>> Sreenivasan: PAUL BECK,

THANKS SO MUCH.

>> THANK YOU.

>> Sreenivasan: THAT'S ALL FOR

THIS EDITION OF "PBS NEWSHOUR

WEEKEND."

FOR THE LATEST NEWS UPDATES

VISIT pbs.org/newshour.

I'M HARI SREENIVASAN.

THANKS FOR WATCHING.

STAY HEALTHY, AND HAVE A GOOD

NIGHT.

>>PBS NEWSHOUR WEEKEND IS MADE

POSSIBLE BY:

SUE AND EDGAR WACHENHEIM III.

THE ANDERSON FAMILY FUND.

BERNARD AND DENISE SCHWARTZ.

THE CHERYL AND PHILIP MILSTEIN

FAMILY.

BARBARA HOPE ZUCKERBERG.

THE LEONARD AND NORMA KLORFINE

FOUNDATION.

CHARLES ROSENBLUM.

WE TRY TO LIVE IN THE MOMENT,

TO NOT MISS WHAT'S RIGHT IN

FRONT OF US.

AT MUTUAL OF AMERICA, WE

BELIEVE TAKING CARE OF TOMORROW

CAN HELP YOU MAKE THE MOST OF

TODAY.

MUTUAL OF AMERICA FINANCIAL

GROUP, RETIREMENT SERVICES AND

INVESTMENTS.

ADDITIONAL SUPPORT HAS BEEN

PROVIDED BY:

CONSUMER CELLULAR.

AND BY:

AND BY THE CORPORATION FOR

PUBLIC BROADCASTING, A PRIVATE

CORPORATION FUNDED BY THE

AMERICAN PEOPLE.

AND BY CONTRIBUTIONS TO YOUR

PBS STATION FROM VIEWERS LIKE

YOU.

THANK YOU.