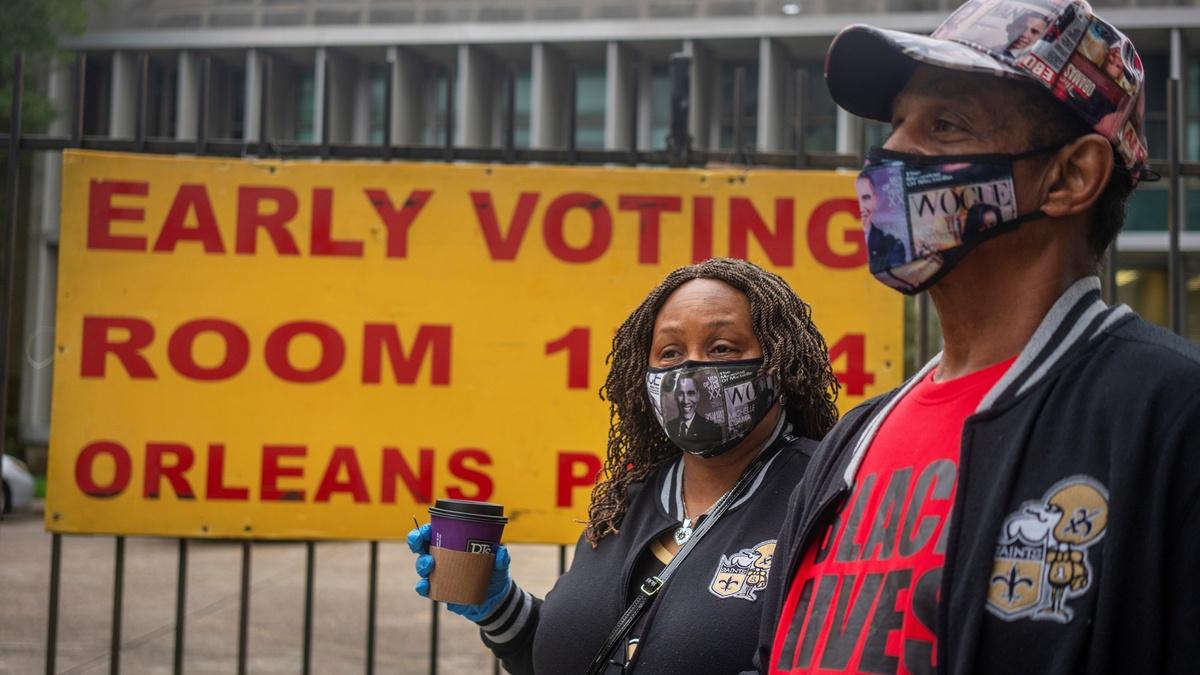 FULL EPISODE
October 17, 2020 - PBS NewsHour Weekend full episode
On this edition for Saturday, October 12, PBS NewsHour Weekend comes to you from the battleground state of Ohio where we look at how different cities in the state were impacted by the COVID-19 pandemic and the political state of play. Also, with less than three weeks to go for the election, the Biden and Trump campaigns double down on swing states. Hari Sreenivasan anchors from Columbus, OH.
TRANSCRIPT

Captioning sponsored by WNET

>> Sreenivasan: ON THIS EDITION

FOR SATURDAY, OCTOBER 17:

WITH LESS THAN THREE WEEKS TO GO

BEFORE ELECTION DAY, PRESIDENT

TRUMP AND FORMER VICE PRESIDENT

JOE BIDEN HIT THE CAMPAIGN TRAIL

WITH A FOCUS ON SWING STATES.

AND, IN OUR "ROADS TO ELECTION:

2020" SERIES, WE VISIT THE

BATTLEGROUND STATE OF OHIO.

NEXT, ON PBS NEWSHOUR WEEKEND.

>>PBS NEWSHOUR WEEKEND IS MADE

POSSIBLE BY:

SUE AND EDGAR WACHENHEIM III.

THE ANDERSON FAMILY FUND.

BERNARD AND DENISE SCHWARTZ.

THE CHERYL AND PHILIP MILSTEIN

FAMILY.

BARBARA HOPE ZUCKERBERG.

THE LEONARD AND NORMA KLORFINE

FOUNDATION.

CHARLES ROSENBLUM.

WE TRY TO LIVE IN THE MOMENT,

TO NOT MISS WHAT'S RIGHT IN

FRONT OF US.

AT MUTUAL OF AMERICA, WE

BELIEVE TAKING CARE OF TOMORROW

CAN HELP YOU MAKE THE MOST OF

TODAY.

MUTUAL OF AMERICA FINANCIAL

GROUP, RETIREMENT SERVICES AND

INVESTMENTS.

ADDITIONAL SUPPORT HAS BEEN

PROVIDED BY:

CONSUMER CELLULAR.

AND BY:

AND BY THE CORPORATION FOR

PUBLIC BROADCASTING, A PRIVATE

CORPORATION FUNDED BY THE

AMERICAN PEOPLE.

AND BY CONTRIBUTIONS TO YOUR

PBS STATION FROM VIEWERS LIKE

YOU.

THANK YOU.

>> Sreenivasan: GOOD EVENING AND

THANK YOU FOR JOINING US.

THIS WEEKEND, AS PART OF OUR

"ROADS TO ELECTION: 2020"

SERIES, WE ARE REPORTING FROM

OHIO-- A BATTLEGROUND STATE

WHERE EARLY VOTING IS ALREADY

UNDERWAY.

IN JUST 17 DAYS, THE UNITED

STATES WILL HAVE ITS TRADITIONAL

ELECTION DAY, ON THE FIRST

TUESDAY IN NOVEMBER.

BUT THIS YEAR, IN THE MIDST OF A

GLOBAL PANDEMIC, AMERICANS ARE

EXERCISING THEIR RIGHT TO VOTE

MUCH EARLIER, AND IN RECORD

NUMBERS.

WE WILL GET THE LATEST NEWS AND

PERSPECTIVE ON OHIO'S POLITICAL

SCENE FROM THOSE WHO KNOW THE

STATE BEST, AND WE'LL BRING YOU

A TWO-PART REPORT ON HOW THE

CITIES OF DAYTON AND LANCASTER

ARE COPING, AS CONGRESS REMAINS

STALLED ON PROVIDING MORE COVID-

19 RELIEF FUNDING.

OUR OHIO REPORTING IS COMING UP

RIGHT AFTER THE NEWS SUMMARY.

AMERICANS ARE VOTING IN-PERSON

WHERE EARLY VOTING IS UNDERWAY

AND WITH MAIL-IN OR DROP-OFF

BALLOTS IN MANY STATES.

ON THE CAMPAIGN TRAIL, BOTH

PRESIDENTIAL CANDIDATES ARE

FOCUSED ON KEY BATTLEGROUND

STATES.

>> WE WILL HAVE A RED WAVE, THE

LIKES OF WHICH THEY'VE NEVER

SEEN BEFORE.

AND THAT INCLUDES FOUR YEARS

AGO.

>> Sreenivasan: PRESIDENT TRUMP

CAMPAIGNED IN FLORIDA AND

GEORGIA YESTERDAY.

VICE PRESIDENT BIDEN HELD TWO

EVENTS IN MICHIGAN, INCLUDING A

DRIVE-IN RALLY IN DETROIT.

>> DETROIT!

(HONKING )

THERE'S NO BETTER, NO MORE

APPROPRIATE PLACE TO HOLD A

DRIVE-IN RALLY THAN IN MOTOR

CITY, U.S.A.

(HONKING )

>> Sreenivasan: TOMORROW, FORMER

VICE PRESIDENT BIDEN WILL HEAD

TO NORTH CAROLINA.

PRESIDENT TRUMP IS HOLDING

RALLIES AND FUNDRAISING EVENTS

IN MICHIGAN, WISCONSIN, NEVADA,

AND CALIFORNIA THIS WEEKEND.

WITH POLITICAL CAMPAIGNS IN HIGH

GEAR, THE U.S. CONTINUES TO HAVE

A NEW RESURGENCE IN CORONAVIRUS

CASES.

ACCORDING TO THE "NEW YORK

TIMES," THERE WERE MORE THAN

70,000 NEW CASES REPORTED

NATIONWIDE YESTERDAY.

THE AVERAGE NUMBER OF NEW CASES

PER DAY IN THE PAST WEEK

INCREASED 29% OVER THE AVERAGE

TWO WEEKS EARLIER.

THE VIRUS IS ALSO RESURGING IN

MANY EUROPEAN COUNTRIES.

GERMANY REPORTED A RECORD NUMBER

OF NEW CASES TODAY.

CHANCELLOR ANGELA MERKEL TOLD

THE COUNTRY, "DIFFICULT MONTHS

ARE AHEAD," AND URGED PEOPLE TO

REDUCE CONTACTS AND LIMIT

TRAVEL.

>> (translated ): WE HAVE TO DO

EVERYTHING TO PREVENT THE VIRUS

FROM SPREADING OUT OF CONTROL.

EVERY DAY COUNTS.

>> Sreenivasan: IN ENGLAND, MORE

THAN HALF OF THE POPULATION IS

NOW UNDER TIGHTER CORONAVIRUS

RESTRICTIONS.

IN LONDON LAST NIGHT, DINERS AND

PUB-GOERS WERE OUT BEFORE THE

CAPITAL WAS PUT ON THE SECOND-

HIGHEST ALERT LEVEL WHICH BANS

PEOPLE FROM DIFFERENT HOUSEHOLDS

MEETING INDOORS STARTING TODAY.

BUT THERE WAS SOME GOOD NEWS IN

AUSTRALIA, WHERE THE STATE OF

VICTORIA, WHICH INCLUDES THE

CITY OF MELBOURNE, RECORDED ONLY

ONE NEW CASE OF COVID-19 AND NO

DEATHS IN THE PAST 24 HOURS.

RESIDENTS THERE MAY SEE

RESTRICTIONS LIFTED THIS

WEEKEND.

CURRENT RESTRICTIONS IN

MELBOURNE INCLUDE MANDATORY FACE

MASKS FOR EVERYONE WHEN THEY

LEAVE HOME.

>> NEW ZEALAND HAS SHOWN THE

LABOUR PARTY ITS GREATEST

SUPPORT IN AT LEAST 50 YEARS.

(CHEERS AND APPLAUSE )

>> Sreenivasan: IN NEW ZEALAND,

PRIME MINISTER JACINDA ARDERN

WON A LANDSLIDE VICTORY TODAY,

SECURING HER SECOND TERM.

WITH MOST VOTES TALLIED,

ARDERN'S CENTER-LEFT LABOUR

PARTY WAS WINNING 49% OF THE

VOTE, COMPARED TO ITS CHALLENGER

AT 27%.

POLLS OPENED TODAY AT 9:00 A.M.

LOCAL TIME, BUT A RECORD NUMBER

OF VOTERS HAD ALREADY CAST EARLY

BALLOTS.

MANY SEE ARDERN'S WIN AS A

REWARD FOR HER SUCCESSFUL

PANDEMIC RESPONSE.

HER "GO HARD, GO EARLY" APPROACH

TO FIGHTING COVID-19 ELIMINATED

COMMUNITY SPREAD OF THE VIRUS IN

THE NATION OF FIVE MILLION.

FOR HER NEXT TERM, ARDERN HAS

PLEDGED TO IMPLEMENT CLIMATE-

FRIENDLY POLICIES AND RAISE

TAXES ON THE COUNTRY'S TOP

EARNERS.

>> Sreenivasan: FOR MORE

ELECTION COVERAGE AND THE LATEST

NATIONAL AND INTERNATIONAL NEWS,

VISIT www.pbs.org/newshour.

>> Sreenivasan: IT HAS BEEN

MORE THAN SIX MONTHS SINCE THE

CARES ACT WAS PASSED BY AN

OVERWHELMING BIPARTISAN MAJORITY

AND SIGNED INTO LAW BY PRESIDENT

TRUMP.

THE LAW INCLUDED NEARLY $140

BILLION TO HELP STATE AND LOCAL

GOVERNMENTS COVER COSTS RELATED

TO THE CORONAVIRUS PANDEMIC.

WHETHER OR NOT THEY NEED MORE IS

NOW ONE OF THE BIGGEST STICKING

POINTS IN REACHING AN AGREEMENT

ON A NEW COVID-19 RELIEF

PACKAGE.

WITH LESS THAN THREE WEEKS UNTIL

THE ELECTION, IT SEEMS LESS AND

LESS LIKELY THAT ANY DEAL WILL

BE REACHED.

TONIGHT, WE BEGIN A SERIES OF

TWO REPORTS FROM TWO DIFFERENT

CITIES HERE IN OHIO.

WE LOOK AT HOW THEY WERE

AFFECTED BY THE CRISIS, AND HOW

THEY'RE APPROACHING THE

UNCERTAINTY OF FUNDING THEIR

CITIES AMID FALLING REVENUES.

WE BEGAN IN DAYTON.

EARLIER THIS WEEK, A FEW DOZEN

VOLUNTEERS GATHERED TO CLEAN UP

THE AREA AROUND THE SIDE OF THE

FUTURE GEM CITY MARKET.

IT'S A NEARLY-16,000 SQUARE FOOT

FOOD COOP AND RETAIL SPACE BEING

BUILT ON DAYTON'S WEST SIDE;

A FOOD DESERT THAT HAS ONLY ONE

GROCERY STORE SERVING MORE THAN

40,000 PEOPLE.

KENYA BAKER IS THE COMMUNITY

ENGAGEMENT DIRECTOR FOR THE GEM

CITY MARKET.

>> AND WE'LL HAVE ABOUT SIX

RESIDENTIAL-STYLE COOKING

STATIONS WITH APPLIANCES.

AND WE'LL HAVE MEMBERS FROM THE

COMMUNITY THAT COME IN AND

ACTUALLY TEACH HOW TO MAKE A LOT

OF THE PRODUCE THAT WE HAVEN'T

HAD ACCESS TO.

>> Sreenivasan: THIS NEARLY $6

MILLION PROJECT IS SCHEDULED TO

OPEN EARLY NEXT YEAR.

IT'S A BRIGHT SPOT IN A

RUST BELT CITY THAT WAS STILL

RECOVERING FROM THE HOUSING

CRISIS MORE THAN A DECADE AGO,

WHEN COVID-19 HIT.

>> IT'S PRETTY HEARTBREAKING

TIMING, FRANKLY.

JANUARY AND FEBRUARY BEFORE

COVID WERE TWO OF THE BEST

MONTHS THE STATE HAS EVER SEEN

ECONOMICALLY SINCE THE GREAT

RECESSION.

>> Sreenivasan: DEMOCRAT NAN

WHALEY HAS BEEN DAYTON'S MAYOR

SINCE 2014.

WHEN THE COUNTRY CAME TO A

SCREECHING HALT THIS SPRING,

WHALEY, LIKE MANY MAYORS AROUND

THE COUNTRY, WAS FACING A

DAUNTING PUBLIC HEALTH CRISIS,

AND A BUDGET CRISIS.

>> PEOPLE DIDN'T KNOW WHAT THE

BUDGET WAS GOING TO HOLD, SO,

I REMEMBER, LIKE LATE MARCH,

AKRON DID A FURLOUGH, AND SO,

WE FOLLOWED THAT FURLOUGH,

BOTH FOR SAFETY MEASURES TO

KEEP PEOPLE DISTANCED IN OUR

WORKFORCE, BUT ALSO TO SAVE

SOME MONEY, FRANKLY.

>> Sreenivasan: DAYTON INITIALLY

FURLOUGHED 480 PEOPLE, ALMOST A

QUARTER OF ALL OF THE CITY'S

WORKERS.

THE TEMPORARY LAYOFFS AFFECTED

EVERY DEPARTMENT EXCEPT FOR FIRE

AND POLICE.

ONCE OHIO STARTED TO EASE

RESTRICTIONS IN MAY, THE CITY

CALLED ABOUT THREE-QUARTERS OF

THOSE WORKERS BACK, BUT SEEING

A BIG DROP IN TAX REVENUE,

DAYTON OFFERED CASH PAYMENTS FOR

EMPLOYEES TO RETIRE OR QUIT.

>> WE STARTED TAKING, I THINK,

DECISIONS THAT ARE GOING TO BE

HELPFUL FOR US IN '21, BUT ARE

PAINFUL FOR THE COMMUNITY,

RIGHT?

I MEAN, WE HAD TO, YOU KNOW, TO

COMMUNICATE TO THE CITIZENS OF

DAYTON, LIKE, "LOOK, WE'RE NOT--

WE'RE NOT GOING TO HAVE AS MUCH

STAFF, WE'RE NOT GOING TO BE

ABLE TO GET TO YOU AS QUICKLY,

AND THAT'S JUST THE WAY IT'S

GOING TO BE."

AND THAT'S NOT A MESSAGE A MAYOR

LIKES TO GIVE, BUT YOU KNOW,

THERE'S ONLY SO MUCH MONEY,

AND, YOU KNOW, WE AREN'T IN A

PLACE THAT CAN, YOU KNOW,

BUDGET INTO THE RED, LIKE THE

FEDERAL GOVERNMENT.

AND SO, THAT BECOMES VERY

DIFFICULTY MESSAGING, AND

JUST DIFFICULT FOR THE COMMUNITY

AS A WHOLE.

>> Sreenivasan: IT WAS ALSO A

BURDEN ON THE CITY'S WORKFORCE.

SEAN HARBOR AND YOLANDA SANDERS

BOTH WORK FOR DAYTON AND ARE

OFFICERS AT AFSCME LOCAL 101,

THE UNION WHICH REPRESENTS CITY

WORKERS.

SANDERS WORKS AS AN

ADMINISTRATIVE ASSISTANT AT

DAYTON'S AIRPORT, WHICH LOST

DOZENS OF WORKERS TO VOLUNTARY

SEPARATIONS, WHILE MANY OTHERS

HAD PAY CUTS.

>> THE EMPLOYEES ARE STILL DOING

THEIR JOB, YOU KNOW.

THEY MAY NOT BE HAPPY WITH IT,

BUT THEY'RE STILL-- EVERYBODY IS

STILL DOING THEIR JOB.

>> IT USED TO BE, I COULD--

I COULD TELL YOU, YOU KNOW--

YOU KNOW, IF YOU-- IF YOU

WORKED HARD, AND DID WHAT YOU

WERE SUPPOSED TO, THIS WAS A--

YOU KNOW, A JOB YOU COULD RETIRE

FROM.

AND I COULDN'T TELL ANYBODY WITH

A STRAIGHT FACE THAT ANYMORE.

>> Sreenivasan: HARBOR IS A PARK

AND MAINTENANCE CREW LEADER, AND

HAS WORKED FOR DAYTON OFF AND ON

FOR MORE THAN 30 YEARS.

HE SAYS CITY WORKERS ARE ALREADY

BEING ASKED TO DO MORE WITH

LESS, AND THE PANDEMIC IS NO

EXCEPTION.

>> WE KNOW RIGHT NOW THAT WE'VE

HAD A HIRING FREEZE, WHERE WE

DON'T HAVE THE SUPPLIES OR MONEY

TO DO CERTAIN PROJECTS THAT

MIGHT HAVE BEEN ON THE PLANNING

BOOKS FOR THIS YEAR.

AND, MAYBE NOT EVEN NEXT YEAR.

SO IT'S BEEN A REAL STRUGGLE

TRYING TO FIGURE OUT HOW TO COPE

WITH WHAT IN THE FUTURE MAY OR

MAY NOT HAPPEN.

>> Sreenivasan: DAYTON HAS

RECEIVED ABOUT $15 MILLION IN

FEDERAL CARES ACT FUNDING SO

FAR, GOING TOWARDS FIRST

RESPONDERS, COVID-RELATED

COMMUNITY ASSISTANCE FOR SMALL

BUSINESS AND ARTS ORGANIZATIONS,

AND SUPPLIES LIKE P.P.E.

BUT BY LAW, THAT CARES ACT MONEY

HAS TO BE SPENT THIS YEAR, AND

MAYOR WHALEY SAYS, WITHOUT

ADDITIONAL FEDERAL OR STATE AID,

NOTHING IS OFF THE TABLE IN

2021.

>> WE'RE LOOKING AT KICKING BACK

BOTH POLICE AND FIRE RECRUIT

CLASSES, WHICH WILL PUT LESS

POLICE AND FIRE ON THE GROUND.

WE'RE LOOKING AT RECREATION,

YOUTH SERVICES GOING COMPLETELY

AWAY.

THESE ARE THE KIND OF DECISIONS

THAT WE'RE HAVING TO MAKE.

>> Sreenivasan: BUT SOME

RESIDENTS ON THE WEST SIDE OF

THE GREAT MIAMI RIVER SAY THE

CITY'S DECISIONS, EVEN BEFORE

THE PANDEMIC, HAVE OFTEN LEFT

THEM BEHIND.

DAJ'ZA DEMINGS WAS ONE OF THE

VOLUNTEERS AT THE GEM CITY

MARKET EVENT THIS WEEK.

SHE'S A LIFE-LONG DAYTONIAN,

AND THE LEADER OF A GROUP

SHE CO-FOUNDED CALLED THE

DAYTON YOUNG BLACK

PROFESSIONALS, AND SHE TOOK US

ON A TOUR OF WEST DAYTON.

ABOUT A MILE FROM THE SITE OF

GEM CITY MARKET IS THE

WRIGHT-DUNBAR HISTORIC DISTRICT.

IT'S THE SITE OF THE WRIGHT

BROTHERS BICYCLE SHOP, NOW PART

OF A NATIONAL HISTORIC PARK, AND

THE BIRTHPLACE OF AFRICAN

AMERICAN POET PAUL LAURENCE

DUNBAR.

RIGHT ON THIRD STREET IS THE

ENTREPRENEURS SHOP, WHICH SELLS

PRODUCTS MADE BY LOCAL VENDORS.

OWNER TAE WINSTON WAS JUST IN

THE PROCESS OF OPENING THE STORE

WHEN THE COVID-19 SHUTDOWN HIT.

>> I LITERALLY ATE HAM

SANDWICHES EVERY DAY.

AND EVERYTHING-- EVERYTHING I

HAD, I JUST PUT IT IN HERE.

LIKE, I'M NOT PLAYING.

>> Sreenivasan: WINSTON SAID

THAT SINCE SHE WAS A NEW

BUSINESS, SHE DID NOT QUALIFY

FOR THE FEDERAL PAYCHECK

PROTECTION PROGRAM, OR CITY

FUNDING FOR STRUGGLING

BUSINESSES.

SHE'S HAD TO DIG INTO HER OWN

SAVINGS TO KEEP HER STORE OPEN.

>> ANYTHING THAT THEY OFFER

DAYTON, THEY NEVER INCLUDE

WRIGHT-DUNBAR OR UP THIS WAY.

IT'S ALL PUT FOR DOWNTOWN.

>> Sreenivasan: DEMING SAYS

THE WEST SIDE OF THE CITY,

WHICH IS PREDOMINANTLY BLACK,

HAS SUFFERED FROM CHRONIC

UNDER-INVESTMENT, ESPECIALLY

COMPARED TO THE CITY'S DOWNTOWN.

>> THERE'S NEVER BEEN A TIME

WHERE WEST DAYTON HAS, LIKE,

"HEY, LET'S JUST DO IT, LET'S GO

MAKE SURE WEST DAYTON IS OKAY."

THAT'S NEVER THE CASE.

THAT'S NEVER BEEN THE CASE.

AND THE MORE THAT THINGS ARE

GOING ON WITH THE PANDEMIC AND

WE'RE STILL ASKING FOR THINGS,

SHOWS THAT EVEN MORE.

>> Sreenivasan: MAYOR WHALEY

ACKNOWLEDGES THAT THE CITY HAS

LONG STRUGGLED WITH INEQUALITY,

BUT SAYS THE PANDEMIC, AND

PROTESTS THIS SUMMER OVER

SYSTEMIC RACISM, HAS EXPOSED

MANY TO THE NEED TO MAKE THE

CITY MORE JUST.

>> WE STILL HAVE A LOT OF WORK

TO DO, PARTICULARLY WITH DEALING

WITH INEQUITIES, AND YOU KNOW,

WE'RE TRYING TO DO THAT THROUGH

THIS YEAR AS WELL.

BUT I MEAN, YEAH, THE INVESTMENT

INTO WEST DAYTON HAS BEEN

IGNORED FOR 100 YEARS, YOU KNOW,

SO THIS ISN'T SOMETHING THAT'S

GOING TO CHANGE OVERNIGHT.

>> Sreenivasan: LIKE MANY MAYORS

AROUND THE COUNTRY, WHALEY IS

URGING THE FEDERAL GOVERNMENT TO

PROVIDE MORE AID TO HELP CITIES

LIKE HERS RECOVER.

BUT AS LAWMAKERS IN WASHINGTON

CONTINUE TO DEBATE A NEW RELIEF

BILL, AID FOR CITIES LIKE DAYTON

HAS BECOME AN OBSTACLE.

>> THE DEMOCRATS, THEY WANT--

REALLY, THEY WANT BAILOUT MONEY

FOR CITIES THAT HAVE BEEN BADLY

RUN.

>> Sreenivasan: AND SENATE

MAJORITY LEADER MITCH McCONNELL

HAS CALLED THE AID "BLUE STATE

BAILOUTS."

>> IT JUST SHOWS JUST HOW THEY

JUST REALLY DON'T WANT TO

SUPPORT PEOPLE ON THE GROUND.

I THINK THEY'VE BECOME

COMPLETELY OUT OF TOUCH ON THIS.

WE'RE TALKING ABOUT POLICE

OFFICERS, WE'RE TALKING ABOUT

FIREFIGHTERS, WE'RE TALKING

ABOUT PICKING UP YOUR TRASH.

I MEAN, THESE ARE NOT FANCY

THINGS THAT WE'RE DOING.

AND THE WHOLE IDEA THAT THEY

DON'T WANT TO SUPPORT LOCAL

CONTROL JUST SHOWS HOW FAR AWAY

THEY'VE GOTTEN FROM CONSERVATIVE

VALUES.

>> Sreenivasan: MONTGOMERY

COUNTY, WHICH INCLUDES DAYTON,

VOTED NARROWLY FOR DONALD TRUMP

IN 2016, MARKING THE FIRST TIME

IN 28 YEARS IT WENT REPUBLICAN.

AND IN A STATE THAT REMAINS

COMPETITIVE THIS ELECTION,

WHALEY SAYS WHETHER DAYTON WILL

GET MORE FEDERAL HELP IS JUST

ONE MORE ISSUE WEIGHING ON LOCAL

VOTERS.

TOMORROW, WE'LL CONTINUE OUR

REPORTING FROM THE CITY OF

LANCASTER, OHIO, WHERE VOTERS

WILL DECIDE IF A TAX INCREASE

CAN HELP OFFSET A DECADE OF

LOST REVENUE.

>> Sreenivasan: IN ADDITION TO

THE PRESIDENTIAL CONTEST, OHIO

VOTERS ARE FACING NUMEROUS

CHOICES ON THEIR BALLOTS THIS

YEAR, INCLUDING ALL 16

CONGRESSIONAL SEATS.

THERE HASN'T BEEN A COMPETITIVE

RACE FOR THE LAST TWO ELECTIONS,

IN PART BECAUSE OF HOW DISTRICT

MAPS ARE DRAWN.

FOR MORE ON THE STATE OF PLAY

HERE IN OHIO, I SPOKE WITH KAREN

KASLER, OHIO STATE HOUSE BUREAU

CHIEF FOR OHIO PUBLIC RADIO AND

TELEVISION.

RIGHT NOW, THERE IS SO MUCH

ATTENTION BEING PAID TO VOTING

IRREGULARITIES, ESPECIALLY

CONSIDERING SO MANY PEOPLE ARE

ALREADY VOTING.

WHAT ARE SOME THINGS IN OHIO

THAT PEOPLE ARE CONCERNED ABOUT?

>> OHIOANS HAVE BEEN EARLY

VOTING SINCE 2006.

SO, THIS IS NOT NEW TO OHIOANS.

IT'S NOT A BRAND NEW EXPERIMENT.

BUT THIS YEAR, 2.1 MILLION

OHIOANS HAVE ASKED FOR ABSENTEE

BALLOTS BY MAIL, AND THAT IS

MUCH BIGGER THAN THE PREVIOUS

RECORD OF TWO MILLION BACK IN

2012.

SO THIS IS A HUGE NUMBER.

AND THEY'VE BEEN FLOODING BOARDS

OF ELECTIONS WITH THESE ABSENTEE

BALLOT REQUESTS.

AND NOW, WITH EARLY VOTING

IN-PERSON UNDERWAY, THEY'VE ALSO

BEEN COMING TO THE EARLY VOTE

CENTER IN EACH COUNTY.

RIGHT NOW, WE HAVE TRIPLE THE

NUMBER OF PEOPLE WHO CAME IN THE

FIRST WEEK.

193,000 OHIOANS CAST BALLOTS

IN PERSON THE FIRST WEEK.

THAT'S TRIPLE THE NUMBER THAT

CAST BALLOTS IN 2016 IN THE

FIRST WEEK.

SO THESE ARE HUGE NUMBERS THAT

ARE COMING IN.

MOST OF THEM ARE UNAFFILIATED

VOTERS, BECAUSE THEY HAVEN'T

VOTED IN PRIMARIES.

AND THE NUMBER OF PEOPLE WHO ARE

AFFILIATED WITH THE DEMOCRATIC

PARTY HAS REALLY BEEN MUCH

LARGER THAN THE NUMBER OF VOTERS

WHO'VE SAID THEY'RE GOING TO

VOTE EARLY FROM THE REPUBLICAN

PARTY.

AND IT'S INTERESTING TO WATCH

THOSE NUMBERS-- NOT THAT

THERE'S AN ASSUMPTION THAT A

DEMOCRATIC-AFFILIATED VOTER WILL

VOTE FOR A DEMOCRAT, IT'S JUST

INTERESTING TO WATCH THAT

PARTISAN BREAKDOWN.

>> Sreenivasan: WHAT ARE SOME OF

THE ISSUES THAT ARE ACTUALLY

DRIVING PEOPLE TO THE POLLS

HERE?

>> WELL, I THINK THE ECONOMY IS

ALWAYS AN ISSUE.

OHIO IS TYPICALLY A STATE THAT

GOES INTO RECESSION FIRST, COMES

OUT OF RECESSION LAST.

THERE ARE CERTAINLY SOME ISSUES

WITH LORDSTOWN, AND LOSING THAT

PLANT UP IN YOUNGSTOWN.

THERE'S BEEN A LINGERING EFFECT

OF THE OPIOID CRISIS IN OHIO.

13 PEOPLE WERE DYING A DAY, AT

ONE POINT.

SO THESE ISSUES WERE EXISTING

BEFORE THE PANDEMIC.

THEN YOU HAD THE PANDEMIC.

NOW YOU'VE GOT, YOU KNOW, HUGE

NUMBERS OF PEOPLE WHO HAVE FILED

FOR UNEMPLOYMENT CLAIMS.

61% OF OHIO'S RESTAURANTS AND

BARS SAY THAT THEY'RE NOT GOING

TO COME BACK AFTER THIS.

THE STATE HAD TO BUILD A WHOLE

SYSTEM TO TRY TO PAY OUT THOSE

FEDERAL BENEFITS TO THOSE

PEOPLE.

AND-- AND THERE'S A REAL

STRUGGLE FOR PEOPLE TO FIND

WHAT'S HAPPENING NEXT.

OHIO IS ONE OF THE FIRST STATES

TO SHUT DOWN.

SHUT DOWN EARLY.

OHIO WAS THE FIRST STATE TO SHUT

DOWN SCHOOLS, FOR INSTANCE.

AND SO, ALL OF THESE THINGS HAVE

CONTRIBUTED TO PEOPLE DECIDING,

I THINK THIS TIME, THAT THEY ARE

GOING TO CAST A BALLOT, AND WE

HAVE EIGHT MILLION REGISTERED

VOTERS RIGHT NOW IN OHIO.

THAT'S THE LARGEST NUMBER WE'VE

HAD SINCE 2008.

AND IT WILL BE INTERESTING TO

SEE WHAT THE PERCENTAGE OF THAT

EIGHT MILLION THAT ACTUALLY

TURNS OUT TO VOTE.

>> Sreenivasan: ARE THERE

PARTICULAR RACES THAT WE SHOULD

BE PAYING ATTENTION TO?

ARE THERE PARTICULAR PRECINCTS

OR ANYTHING THAT WE SHOULD BE

LOOKING FOR ON ELECTION NIGHT?

>> WELL, IN 2016, DONALD TRUMP

WON OHIO BY EIGHT POINTS.

SINCE THEN, THE REPUBLICANS HAVE

HAD SOME LOSSES.

DEMOCRATS HAVE HAD SOME GAINS.

WE DIDN'T HAVE A BLUE WAVE IN

OHIO IN 2018.

WE HAD BLUE TORNADOES, OR BLUE

STORMS, KIND OF.

BECAUSE THE FIVE EXECUTIVE

OFFICES-- GOVERNOR, SECRETARY OF

STATE, AUDITOR, TREASURER AND

ATTORNEY GENERAL-- WENT TO

REPUBLICANS.

BUT DEMOCRATS WERE ABLE TO FLIP

FIVE SEATS IN THE OHIO HOUSE IN

TOTAL, AND THEY WERE IN SUBURBS.

THREE OF THEM WERE AROUND

COLUMBUS, ONE WAS AROUND THE

AKRON AREA, AND ONE WAS AROUND

CINCINNATI.

AND THOSE ARE THE RACES THAT,

THEY KIND OF GO ALONG WITH THE

RACES THAT WE'RE LOOKING AT NOW

FOR ELECTION NIGHT.

I THINK, IN THE FIRST DISTRICT,

STEVE CHABOT IS RUNNING AGAINST

KATE SCHROEDER.

WE HAVE, IN THE 10th DISTRICT,

MIKE TURNER RUNNING AGAINST

DESIREE TIMS.

AND THEN IN THE DISTRICT RIGHT

ABOVE COLUMBUS, IN THE 12th

DISTRICT, WE HAVE TROY BALDERSON

RUNNING AGAINST ALAINA SHEARER.

WHAT'S INTERESTING ABOUT ALL

THOSE RACES IS, THOSE WERE AREAS

THAT STARTED TO SEE SOME BLUE

CREEPING IN, IN 2018.

THOSE ARE THREE WELL-KNOWN

CONGRESS MEMBERS, ALL MEN,

RUNNING AGAINST WOMEN.

AND THE WOMEN HAVE BEEN

OUTRAISING THE MEN.

AND THIS IS REALLY MAKING THOSE

RACES SOMETHING TO WATCH.

WE HAVEN'T SEEN A CONGRESSIONAL

RACE IN OHIO FLIP SINCE 2012.

THE MAP WAS DRAWN VERY

DELIBERATELY TO MAKE SURE THAT

THERE ARE 12 REPUBLICANS AND

FOUR DEMOCRATS.

AND SO, TO SEE THAT THERE MIGHT

BE A FLIP HERE WOULD BE REALLY

EXTRAORDINARY.

>> Sreenivasan: AN EVALUATION OF

U.S. CENSUS DATA BY THE

BROOKINGS INSTITUTION FOUND

THAT, IN 2019, MILLENNIALS AND

YOUNGER GENERATIONS, ALL BORN

BEFORE 1980, NOW MAKE UP MORE

THAN HALF OF THE POPULATION FOR

THE FIRST TIME.

THEY ALSO REPRESENT A

SIGNIFICANT SHARE OF ELIGIBLE

VOTERS.

TRADITIONALLY, YOUTH TURNOUT IN

PREVIOUS ELECTIONS HAS BEEN LOW,

BUT THIS HAS NOT BEEN A

TRADITIONAL YEAR, WITH RECORD

NUMBERS OF YOUNG PEOPLE

ORGANIZING AGAINST CLIMATE

CHANGE, POLICE BRUTALITY AND

CIVIL INJUSTICE.

ONE ORGANIZATION HERE IN OHIO IS

HELPING TO DEVELOP THE YOUTH

ELECTORATE.

NEWSHOUR WEEKEND'S IVETTE

FELICIANO SPOKE WITH PRENTISS

HANEY, CO-EXECUTIVE DIRECTOR OF

THE OHIO ORGANIZING

COLLABORATIVE.

>> Reporter: SO, WE KNOW THAT

IN-PERSON VOTING STARTED IN OHIO

THIS WEEK, AND WE'VE SEEN

REPORTS ABOUT REALLY LONG LINES

AND HOURS-LONG WAIT TIMES.

WHAT HAVE YOU BEEN SEEING ON THE

GROUND THERE?

>> WELL, WHAT I'VE MOSTLY BEEN

SEEING IS EXCITEMENT.

YOU KNOW, WE'VE-- WE'VE BEEN

WAITING FOR THIS MOMENT ALL

YEAR, AND SOME PEOPLE FOR THE

LAST COUPLE YEARS.

WE HAVE A VERY DIVERSE GROUP OF

YOUNG PEOPLE WHO ARE ENGAGED IN

OUR ELECTIONS.

THERE'S ABOUT 400,000-PLUS YOUNG

PEOPLE OF COLOR WHO ARE IN OHIO.

EVEN THOUGH THE PANDEMIC REALLY

SLOWED DOWN SOME OF OUR EFFORTS

IN THE FIELD, WE SAW REPORTED BY

THE OHIO VOTER CONTACT CENTER

THAT 912,000 NEW PEOPLE HAVE

REGISTERED TO VOTE SINCE 2016.

AND SPECIFICALLY, 250,000 OF

THOSE FOLKS ARE YOUNG PEOPLE

BETWEEN 18 AND 25.

SO THERE IS A LOT OF EXCITEMENT

FOR YOUNG PEOPLE TO COME OUT AND

VOTE THIS YEAR.

>> Reporter: WHAT ARE YOU

HEARING FROM THOSE YOUNG PEOPLE

ABOUT VOTING IN THE CONTEXT OF A

PANDEMIC, AN ECONOMIC RECESSION,

AND ALSO THE NATIONAL UPRISINGS

AGAINST RACIAL INJUSTICES?

>> THE MAIN THING THAT I'M

HEARING IS THAT PEOPLE

UNDERSTAND THAT THIS IS ONE OF

THE MOST IMPORTANT ELECTIONS IN

THEIR LIFETIME.

THEY HAVE LIVED IN A COUNTRY

THAT HAS ALMOST HAD TWO

DIFFERENT REALITIES.

ONE IS LIKE, YOU KNOW, SEEING

YOURSELF MORE REFLECTED ON

TELEVISION AND CULTURE AND ARTS

AND, LIKE, BEING ABLE TO TELL

DIVERSE STORIES.

AND MEANWHILE, THERE IS, LIKE,

CRIPPLING STUDENT DEBT AND AN

ECONOMY THAT IS NOT PREPARED FOR

YOUNG PEOPLE TO ENTER INTO THE

WORKFORCE.

AND SO, THE YOUNG PEOPLE, WHO,

LIKE, I THINK, YOU KNOW,

ESPECIALLY AROUND-- AROUND MAY,

WITH GEORGE FLOYD, WERE, LIKE,

DEALING WITH THIS SORT OF LIKE

TWO DUAL REALITIES OF, LIKE,

"I SEE MYSELF AS AN AGENT OF

CHANGE; I SEE MYSELF AS SOMEONE

WHO IS FIGHTING FOR, YOU KNOW,

CHANGING THE WORLD, AND I SEE

ALL THESE THINGS."

AND THOSE YOUNG PEOPLE TURNED

THAT PAIN INTO POWER IN THE

STREETS.

AND SO NOW I THINK THAT THIS IS

THE COMPLETION OF THAT CYCLE.

THOSE SAME YOUNG PEOPLE ARE

SAYING, LIKE, "NOT ONLY AM I

SHOWING UP IN THE STREETS, BUT

I'M GOING TO SHOW UP TODAY,

ELECTION DAY, AND EVERY DAY THAT

FOLLOWS, TO MAKE SURE THAT A

DEMOCRACY WORKS FOR ALL OF US."

>> Reporter: AND YOU'RE THE

CO-EXECUTIVE DIRECTOR OF THE

OHIO ORGANIZING COLLABORATIVE.

WHAT'S THE MISSION THERE?

AND WHAT HAVE YOU AND YOUR TEAM

BEEN DOING TO GET THE VOTE OUT?

>> THE OHIO ORGANIZING

COLLABORATIVE IS A STATEWIDE

INNOVATIVE COMMUNITY ORGANIZING

GROUP.

WE BELIEVE THAT EVERY-DAY

OHIOANS FROM ALL WALKS OF LIFE,

STUDENTS-- PEOPLE OF FAITH,

STUDENTS, YOUNG PEOPLE, PEOPLE

WHO HAVE BEEN DIRECTLY IMPACTED

BY MASS INCARCERATION, WOMEN OF

COLOR WHO WORK IN THE CARE

ECONOMY-- ARE ALL PEOPLE WHO

ARE SEARCHING FOR AND TRYING

TO FIND A WAY TO BE ABLE TO

LIVE OUT THEIR VALUES IN THE

PUBLIC ARENA.

WITHOUT TRADITIONAL TACTICS,

SUCH AS DOOR-KNOCKING, YOU KNOW,

BEING ABLE TO GO TO COMMUNITY

EVENTS, BECAUSE OF COVID, WE

HAVE TURNED OUR EYE TOWARD WHAT

WE CALL RELATION ORGANIZING,

WHICH IS SIMPLY JUST TALKING TO

YOUR FRIENDS OR FAMILY ABOUT WHY

THIS ELECTION IS IMPORTANT TO

YOU AND WHY YOU NEED TO SHOW UP.

WHEN YOU TALK TO SOMEONE THAT

YOU KNOW, THAT YOU LOVE, ABOUT

SOMETHING YOU CARE ABOUT,

THEY'RE MORE LIKELY TO LISTEN,

TO TAKE SERIOUS THE ISSUE YOU

CARE ABOUT, AND TO TAKE ACTION,

BECAUSE YOU ASKED THEM TO DO IT.

>> Reporter: AND AS YOU'RE

HAVING THESE CONVERSATIONS WITH

PEOPLE, ARE THEY CONCERNED ABOUT

VOTER SUPPRESSION IN OHIO?

>> I THINK MOST PEOPLE WANT TO--

WANT TO BE ABLE TO TRUST THAT

THE PLAN THAT THEY HAVE IS A

PLAN THAT THEY CAN EXECUTE.

SO, THERE IS A LOT OF

DISINFORMATION OUT ABOUT THE

ELECTION, ABOUT HOW TO CAST YOUR

BALLOT.

AND THE PERSON WHO IN YOUR LIFE

THAT YOU'LL TRUST THE MOST TO

HELP YOU GET THROUGH THAT IS

PROBABLY SOMEONE YOU KNOW.

AND SO WHAT WE'VE BEEN DOING TO

COMBAT SOME OF THE CONFUSION

THAT FOLKS MAY FEEL, AND TO KEEP

THEM EXCITED ABOUT SHOWING UP,

IS MAKING SURE THAT THEY'RE

CONNECTING AND TALKING TO

FRIENDS THAT THEY KNOW THAT

THEY'RE AMPLIFYING ON SOCIAL

MEDIA-- TRUSTED SOURCES-- ABOUT

HOW YOU GO OUT TO VOTE AND HOW

DO YOU CAST YOUR BALLOT.

AND I THINK THAT HAS REALLY

CHANGED SOME OF THE TIDES AROUND

PEOPLE BEING A LITTLE NERVOUS.

EVIDENT IN LIKE SOME OF THE

HISTORIC EARLY VOTE WE SEE--

WE'RE SEEING IN OHIO.

>> Reporter: AND YOU WERE A

FIELD ORGANIZER FOR THE OBAMA

CAMPAIGN IN OHIO.

HOW DOES 2020 FEEL DIFFERENT?

>> I THINK 2012 FELT LIKE--

FELT LIKE CONTINUING CHANGE.

AND I THINK 2020 FEELS LIKE A

RENEWAL.

ESPECIALLY FOR NEW VOTERS WHO

ARE VOTING FOR THE FIRST TIME.

THEY ARE MAKING THE COMMITMENT

THAT PEOPLE MADE IN 2008.

AND THEN THEY'RE CONVINCING

OTHER FOLKS WHO MADE THAT

COMMITMENT BEFORE TO RENEW THAT

COMMITMENT MOVING FORWARD.

THE BIGGEST TURNOUT TOOL IS THE

PEOPLE ON YOUR PHONE, ON YOUR

FACEBOOK PAGE, IN YOUR D.M.s.

AND IF YOU CAN HARNESS THE

REASON WHY YOU'RE SHOWING UP

THIS YEAR, AND TAKE THAT ENERGY

AND HAVE THAT COURAGEOUS

CONVERSATION WITH SOMEONE IN

YOUR LIFE, TO GET THEM TO MAKE A

VOTE PLAN, YOU ARE JUST AS

IMPORTANT AS EVERY OTHER VOTER,

EVERY PERSON RUNNING FOR ELECTED

OFFICE.

YOU CAN MAKE THAT CHANGE.

AND SO, THAT IS THE POWER THAT

WE HAVE THIS YEAR, IS THAT OUR

RELATIONSHIPS WILL MAKE THE

DIFFERENCE.

AND I'M SO EXCITED ABOUT THAT.

>> Reporter: PRENTISS HANEY OF

THE OHIO ORGANIZING

COLLABORATIVE, THANK YOU SO MUCH

FOR JOINING US.

>> THANK YOU ALL.

>> Sreenivasan: WE'LL HAVE MORE

ON OUR "ROADS TO ELECTION 2020"

COVERAGE FROM OHIO ON TOMORROW'S

BROADCAST.

THIS IS A PRETTY CONSERVATIVE

AREA.

NOT MANY PEOPLE ARE REAL PSYCHED

ABOUT THE IDEA OF MORE TAXES.

>> NOPE!

IT IS NOT A POPULAR SUBJECT.

>> Sreenivasan: HOW DO YOU

CHANGE THEIR MIND?

>> FACTS AND DATA.

>> Sreenivasan: THAT'S ALL FOR

THIS EDITION OF PBS NEWSHOUR

WEEKEND.

FOR THE LATEST NEWS UPDATES,

VISIT www.pbs.org/newshour.

I'M HARI SREENIVASAN.

THANKS FOR WATCHING.

STAY HEALTHY, AND HAVE A

GOOD NIGHT.

Captioning sponsored by WNET

Captioned by

Media Access Group at WGBH

access.wgbh.org

>>PBS NEWSHOUR WEEKEND IS MADE

POSSIBLE BY:

SUE AND EDGAR WACHENHEIM III.

THE ANDERSON FAMILY FUND.

BERNARD AND DENISE SCHWARTZ.

THE CHERYL AND PHILIP MILSTEIN

FAMILY.

BARBARA HOPE ZUCKERBERG.

THE LEONARD AND NORMA KLORFINE

FOUNDATION.

CHARLES ROSENBLUM.

WE TRY TO LIVE IN THE MOMENT,

TO NOT MISS WHAT'S RIGHT IN

FRONT OF US.

AT MUTUAL OF AMERICA, WE

BELIEVE TAKING CARE OF TOMORROW

CAN HELP YOU MAKE THE MOST OF

TODAY.

MUTUAL OF AMERICA FINANCIAL

GROUP, RETIREMENT SERVICES AND

INVESTMENTS.

>> FOR 25 YEARS, CONSUMER

CELLULAR'S GOAL HAS BEEN TO

PROVIDE WIRELESS SERVICE THAT

HELPS PEOPLE COMMUNICATE AND

CONNECT.

WE OFFER A VARIETY OF

NO-CONTRACT PLANS, AND OUR

U.S.-BASED CUSTOMER SERVICE TEAM

CAN HELP FIND ONE THAT FITS YOU.

TO LEARN MORE, VISIT

www.consumercellular.tv.

ADDITIONAL SUPPORT HAS BEEN

PROVIDED BY:

AND BY THE CORPORATION FOR

PUBLIC BROADCASTING, A PRIVATE

CORPORATION FUNDED BY THE

AMERICAN PEOPLE.

AND BY CONTRIBUTIONS TO YOUR

PBS STATION FROM VIEWERS LIKE

YOU.

THANK YOU.