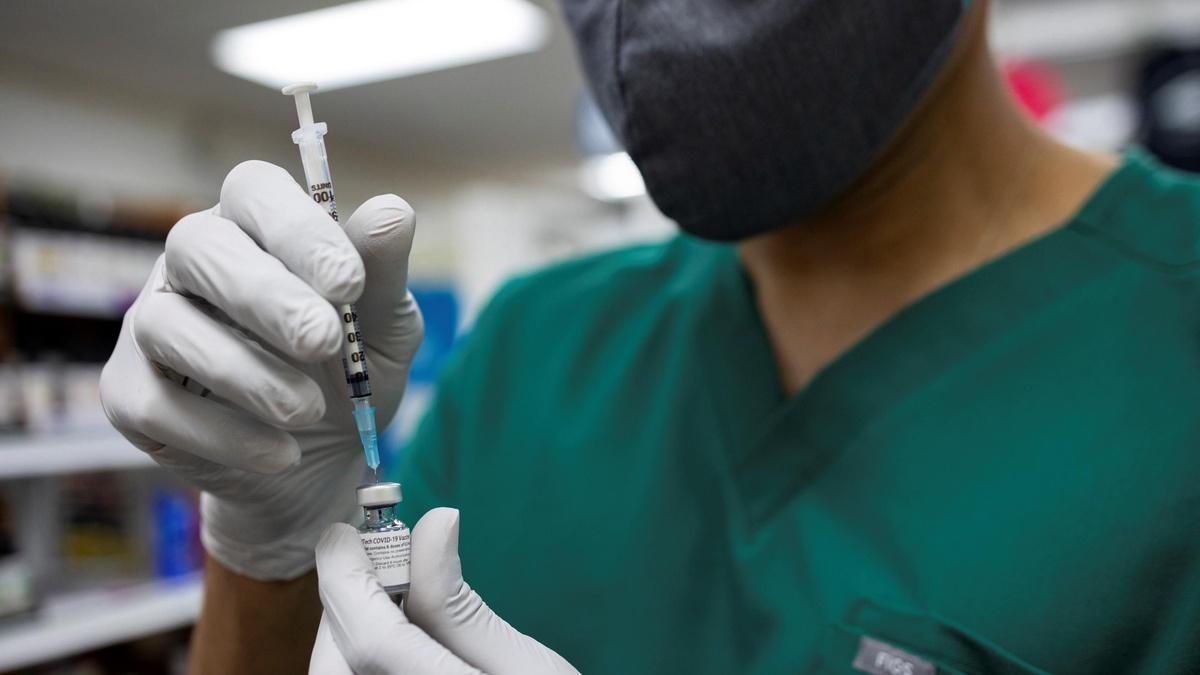 CLIP
News Wrap: CDC approves boosters for older, high-risk adults
In our news wrap Friday, the Centers for Disease Control and Prevention approved booster shots for older and high-risk Americans, adding frontline workers to the list. Vice President Kamala Harris had her own COVID scare moments before an interview with ABC's "The View." A migrant encampment in Del Rio, Texas where thousands of Haitian migrants had converged this week has now been cleared.
TRANSCRIPT

JUDY WOODRUFF: In the day's other news: Millions of Americans who got Pfizer's COVID-19 vaccine

are now eligible to receive a booster shot. That's after the CDC's director, Dr. Rochelle

Walensky, signed off on her agency's advisory panel recommendations for extra doses for

older and high-risk Americans.

She also overruled her advisers to expand eligibility to include front-line workers,

to side with the FDA's recommendation.

President Biden praised the decision and pleaded with Americans who have yet to receive their

first dose.

JOE BIDEN, President of the United States: Listen to the voices of the unvaccinated Americans

who are lying in hospital beds, taking their final breaths, saying -- and, literally, we

have seen this on television -- "If only I had gotten vaccinated."

Please don't let this become your tragedy. Get vaccinated. It can save your live -- your

life. It can save the lives of those around you.

JUDY WOODRUFF: Vice President Harris had her own COVID scare today, just moments before

an interview with ABC's "The View." Two of the show's hosts, Sunny Hostin and Ana Navarro,

tested positive for COVID. They were pulled from the set in front of a live audience.

The vice president, who was later interviewed remotely from another room, did not have any

contact with them.

A migrant encampment in Del Rio, Texas, where thousands of Haitian migrants had converged

this week has now been cleared.

Homeland Security Secretary Alejandro Mayorkas said some 12, 400 were allowed into the U.S.

to seek asylum. He also expressed outrage over scenes of Border Patrol agents whipping

at migrants.

ALEJANDRO MAYORKAS, U.S. Secretary of Homeland Security: The images horrified us in terms

of what they suggest and what they conjure up, in terms of not only our nation's history,

but, unfortunately, the fact that that page of history has not been turned entirely. And

that means that there is much work to do, and we are very focused on doing it.

JUDY WOODRUFF: Mayorkas said about 2,000 migrants have been flown back to Haiti since Sunday,

and more could be expelled in the coming days.

The U.N. now says the death toll from the Syrian civil war is far higher than it previously

believed. Its human rights office has documented more than 350,000 civilian and combatant deaths

during the decade-long conflict.

But it acknowledged the true toll is likely much greater.

MICHELLE BACHELET, U.N. Human Rights Commissioner: It is not and should be not seen as a complete

number of conflict-related killings in Syria during this period.

It indicates a minimum verifiable number and is certainly an undercount of the actual number

of killings. Tragically, there are also many other victims who left behind no witnesses

or documentation as to their death.

JUDY WOODRUFF: The U.N.'s death toll numbers are still far lower than the tally from the

Syrian Observatory of Human Rights, which estimates more than 606,000 people have died.

Ex-Minneapolis police officer Derek Chauvin plans to appeal his convictions and his 22.5-year

sentence for the murder of George Floyd. In documents filed Thursday, he argued the judge

abused his discretion and erred multiple times during the trial. Chauvin is representing

himself in the appeals process after he was denied a public defender.

President Biden will not invoke executive privilege to shield former President Trump's

records from the House committee investigating the January 6 insurrection. White House Press

Secretary Jen Psaki said that they will cooperate with Congress to help get to the bottom of

what happened that day.

The GOP audit of 2020 election results in Arizona's largest county has confirmed President

Biden won the state. The findings released today further discredit former President Trump's

claims of election fraud.

Meanwhile, Texas is launching its own election audit in four counties, under pressure from

Mr. Trump.

We will return to Arizona's audit after the news summary.

The U.S. House of Representatives approved a bill to protect a woman's right to an abortion.

It was in response to a highly restrictive Texas law that went into effect earlier this

month that has the effect of banning most abortions.

House Speaker Nancy Pelosi celebrated today's vote.

REP. NANCY PELOSI (D-CA): This is about women's right to choose, yes, but it's about freedom,

freedom of that choice, and freedom from the vigilantes, the bounty hunters that the Texas

government has -- legislature has set in motion.

JUDY WOODRUFF: The bill's passage in the House is largely symbolic, since it's not likely

to get the support it needs to advance in the Senate.

The Senate's oldest Republican, Chuck Grassley of Iowa, announced today that he will run

for reelection next year. The 88-year-old has held his seat for four decades. His announcement

gives Senate Republicans more hope that they will be able to hold onto his seat in next

year's midterm elections.

The chief financial officer of Huawei has reached a deal with the U.S. Justice Department

to resolve criminal charges against her and allow her to return to China. Meng Wanzhou

admitted to misleading a bank about the Chinese communications giant's business with Iran.

She's been in Canada since her 2018 arrest on a U.S. warrant.

And trading was light on Wall Street today, after a volatile week. The Dow Jones industrial

average gained 33 points to close at 34798. The Nasdaq fell four points, and the S&P 500

added six.

Still to come on the "NewsHour": a controversial Republican-led election audit in Arizona confirms

Biden won the state in 2020; German voters chart a new future, as the Angela Merkel era

draws to a close; the jury begins deliberations in the trial of embattled singer R. Kelly;

and much more.